Smothered okra and tomatoes is a dish that was around every summer when tomatoes and okra were abundant. But its one of those dishes I never really thought about. Lets face it I prefer fried okra. 
However when I was working in Pakistan during the summer they served Bhindi Masala. It was a dish made with okra, tomatoes, onion and garlic. It was a basic curry dish but tasted very familiar. That is when I decided to learn how to make this dish.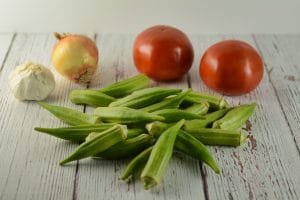 You can use frozen okra and canned tomatoes but when I can get ingredients this fresh from our local farmers market I do prefer to use fresh. I do peel the tomatoes but you do not have to.
Before heating up the oil I do like to have all of the prep done. The ratio I like it more okra than tomatoes but that is not set in stone.
One note: Okra does have a slime problem. This is why the first thing I do is slightly cook it in oil before adding ingredients that can have liquid.
I do prefer to eat it with corn bread but it not required.
Ingredients
2 1/4

cup

okra

cut

2

cup

tomatoes

pealed and diced / 2 large

1/2

cup

onion

pealed and diced / 1 small

1

clove

garlic

pealed and diced

2

Tablespoons

oil

1/4

teaspoon

salt

to taste

1

pinch

black pepper

to taste
Instructions
Wash, dry and prepare all the ingredients. Cut okra into rounds. Dice onion and tomato mince garlic

In two Tablespoons oil on medium high heat fry okra for 3 minutes. This will help reduce the slime.

Add the onion and garlic and cook for 2 minutes or until onion is slightly translucent.

Reduce heat to medium, add tomatoes, salt and pepper.

Cook for 15 minutes. Taste for seasoning if you need to add salt etc. If its getting dry add some water.

Cook until the okra is done (should be around another 5 minutes) then serve.
Notes
Nutrition
Calories:
141
kcal
|
Carbohydrates:
17
g
|
Protein:
4
g
|
Fat:
8
g
|
Saturated Fat:
1
g
|
Polyunsaturated Fat:
4
g
|
Monounsaturated Fat:
3
g
|
Sodium:
137
mg
|
Potassium:
731
mg
|
Fiber:
6
g
|
Sugar:
6
g
|
Vitamin A:
30
%
|
Vitamin C:
76
%
|
Calcium:
13
%
|
Iron:
8
%