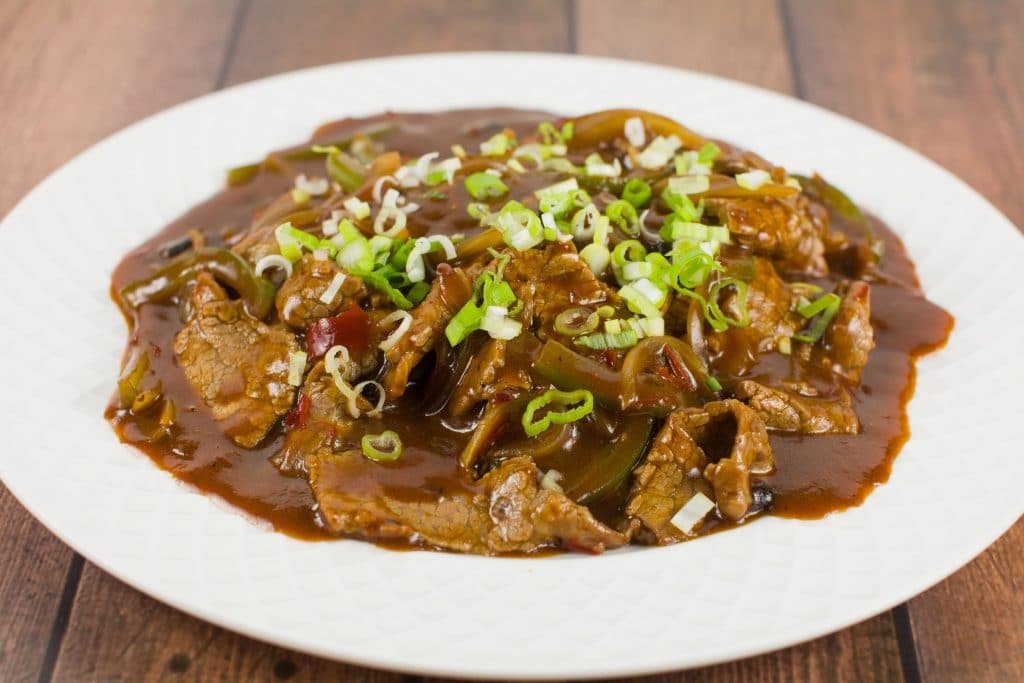 To prevent gout attacks I do eat a lot of meatless meals. This helps me comply with the Mayo Clinics guidelines for a gout diet. Stir Frys are great for limiting the amount of meat consumed allowing you to eat like a king but still stay within the guidelines.
Todays recipe is from author Grace Young and is this month's contest recipe for the group Wok Wednesdays on Facebook Currently the group is cooking recipes from "The Breath of a Wok." This months recipes are Cousin Zane's Sichuan Beef, p. 95 or Curried Cauliflower, Napa Cabbage and Carrots, on p. 179.
Today I am cooking Cousin Zane's Sichuan Beef. By making minor modifications to the recipe (using veggie broth rather than chicken stock). It can still be within the guidelines. The entire recipe uses 8 oz of beef, split it with someone and your still safe.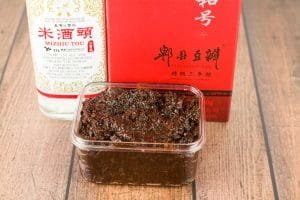 The star ingredient today is 3-year-old Pixian chili bean paste the closest thing to it I can think of is the Korean red bean paste Gochujang. They are made in a very similar way. I bought this one from The Mala Market. The recipe in the book called for 2 teaspoons but I miss read it and used 2 Tablespoons. If you do not mind spicy go with 2 Tablespoons. But do not tell Grace you dievated for the recipe.
To respect that this is a copyrighted recipe I will not go into a lot of details in the book. But let's get started.
This is 17 oz of flank steak. It has some marbling but no large chunks of fat. All of it gets sliced up but only use 8 oz for this recipe. Save the rest for latter.
Flank Steak
First thing we need to do is cut with the grain into 2 pieces.
Now we will put it in the freezer for 15 minutes. Then flip it over and back into the freezer for 5 minutes. This makes it easier to cut thin slices.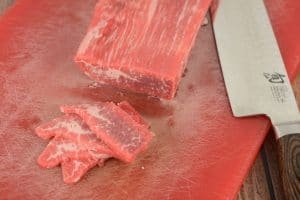 Going across the grain we cut it into 1/8 inch thick slices. This will allow for even and quick cooking.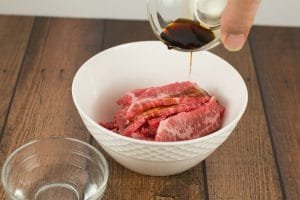 Marinate the beef with soy sauce and rice wine.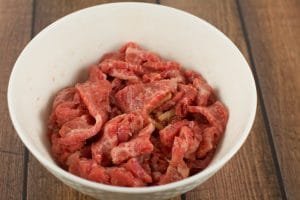 After the beef has soaked out the marinade add ginger and cornstarch.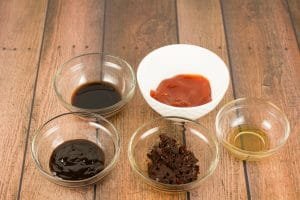 Soy sauce, ketchup (yes ketchup), sesame oil, Hoisin sauce and bean paste. Mix it all up and set beside the stove
Prepared Veggies: Onion, green bell pepper and ginger.
Also make a cornstarch slurry. Measure out your veggie stock.
When you have everything ready and within arms reach its time to cook.
Heat you wok, swirl in some oil. Add the ginger and cook for a few seconds. Sear the beef, after it loses its pink color remove it and set aside. Add your onion and bell peppers cook until the pick up some color. Add the veggie stock and bring to a boil. Add the sauce and stir in. Add the cornstarch slurry and stir it in. Add the beef back and heat thru and coat with sauce. Garnish with green onion and it's ready to serve.