For the most part, soy products are safe for people with gout. Notice I said, for the most part, some gout sufferers do report that soy causes flare ups. So if you, not one of the people that soy is a problem, tofu can be a great source of complete protein. But it does have an image problem. Mostly it's soft and tasteless. This recipe will show you have to take on the soft tissue. With a few simple steps and you will be able to make extra crispy tofu.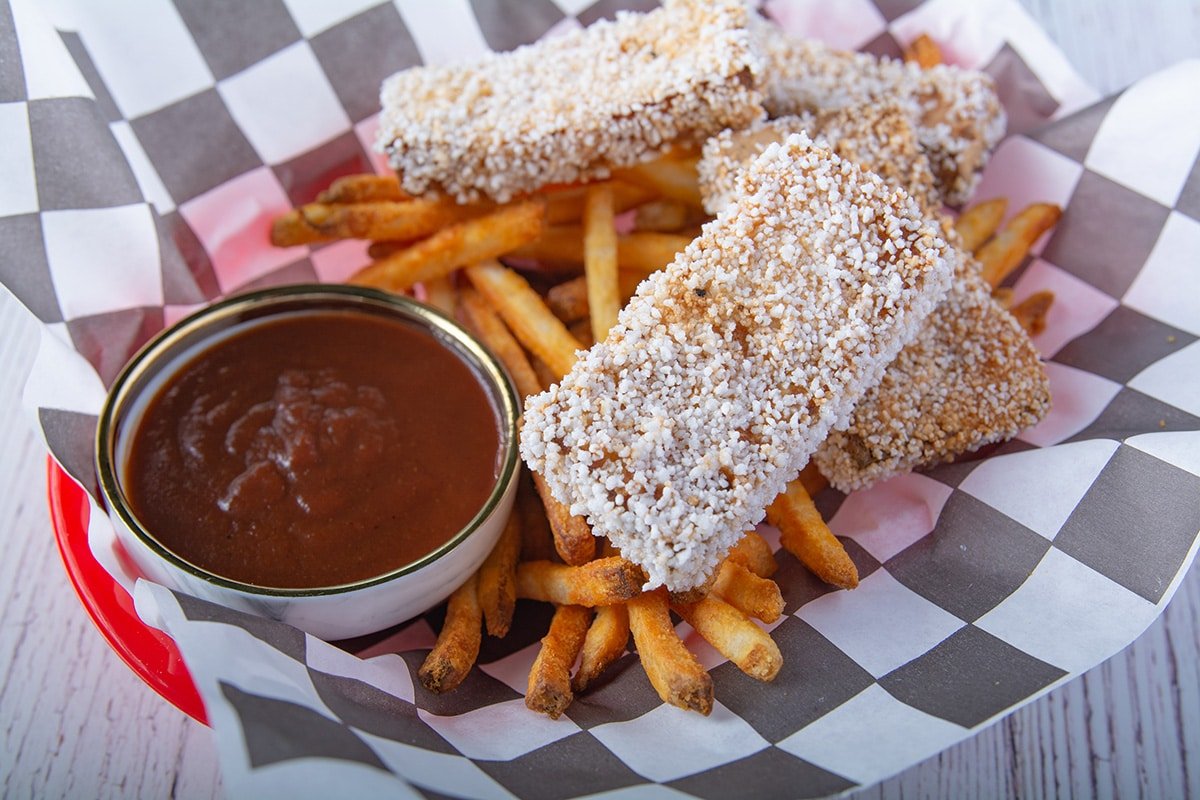 To firm up the tofu, we will press it to remove excess moisture. I am using firm tofu but not silken tofu. You can press silken tofu and remove some moisture, but the regular tofu will firm up more. If you want a chewy texture to freeze the tofu overnight, then defrost it and press.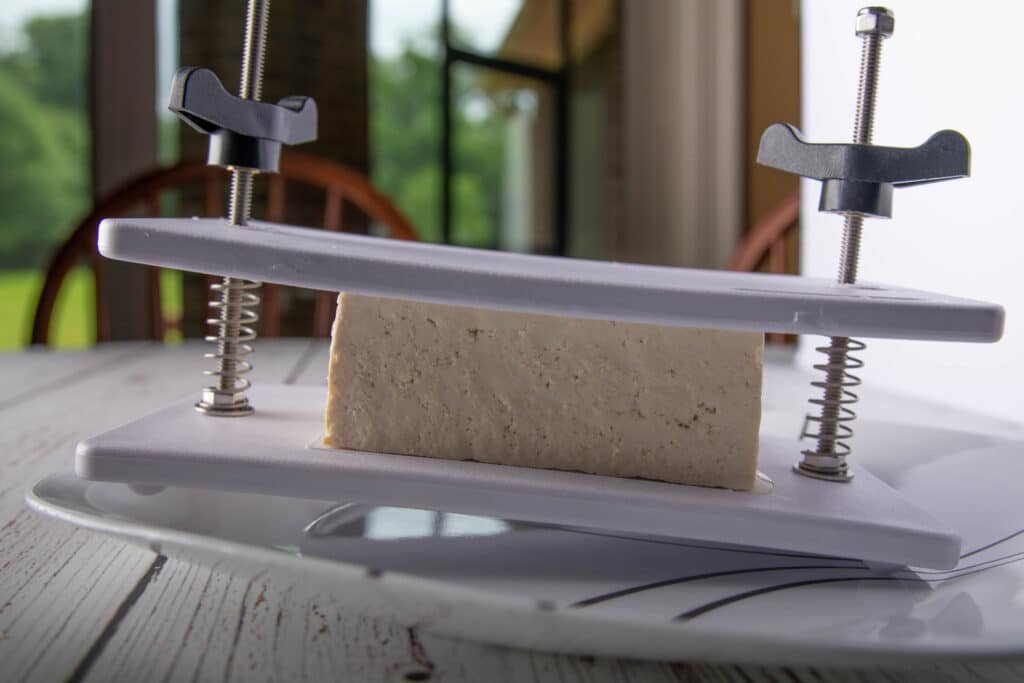 This tofu is in my tofu press before tightening down on the screws. To press the tofu, you tighten down on the screws, and the plates come together to press on the tofu. The instructions say to tighten a few turns and wait, then tighten more and wait some more. I usually press mine for about an hour or so, depending upon what I have going on.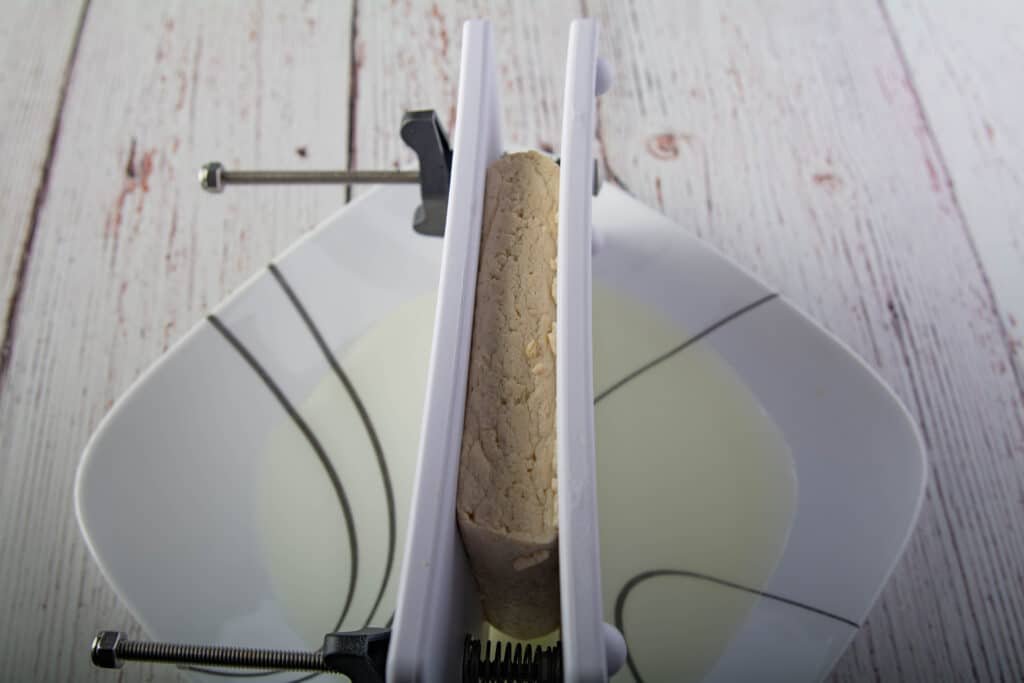 This is the thickness that I am looking for. Notice all of the water that has come out of the tofu.
Alternatively, to using a fancy press, you can place the tofu between two plates and add weight on top to mash out the water. That is cheaper and works just as well. But sometimes the cans fall off books work better than cans.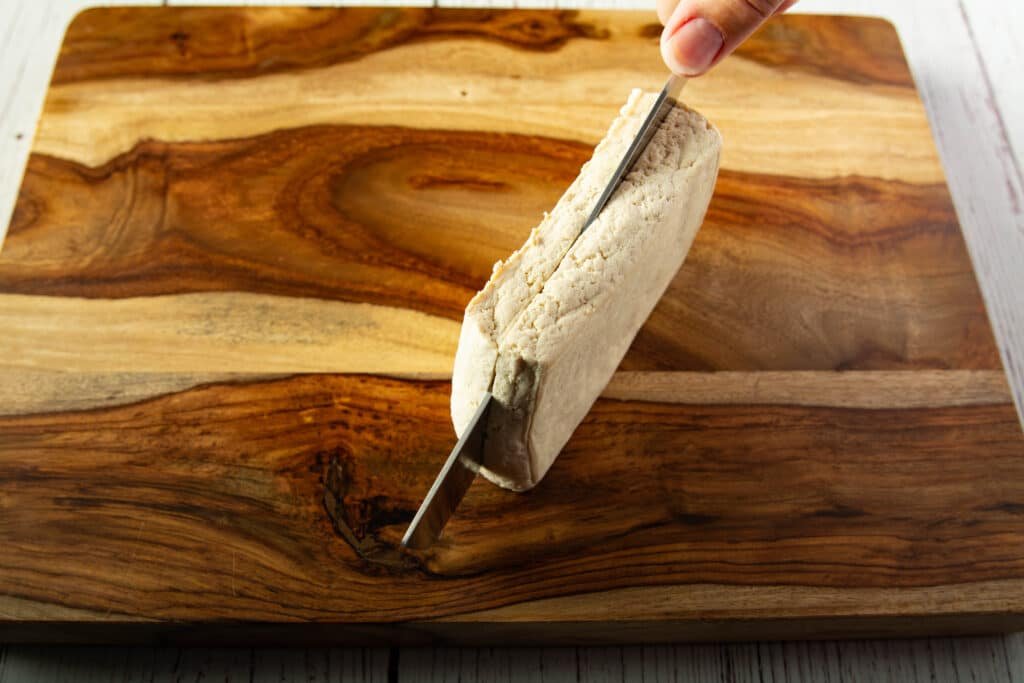 Normally we would cut the tofu into squares about the size of how thick the tofu is now. That gives a crunchy outside and a soft inside. But this recipe is for extra crunchy tofu, so that we will cut it into half.
Each half gets cut into three sections. After this, sprinkle on a little bit of salt and wait for it to soak in.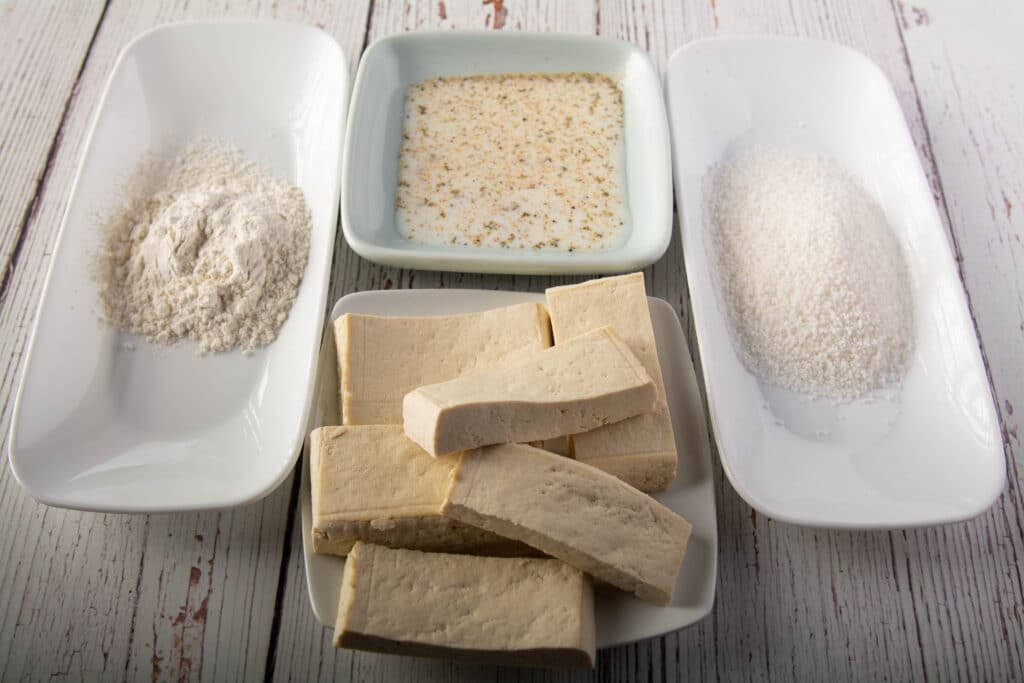 How to bread tofu
Here we have our breading station setup. On one plate, we have all-purpose flour. In a bowl, we have plant-based milk with cajun seasoning. We used unsweetened soy milk. On another plate, we have granulated tapioca. The granulated tapioca is what is going to make this extra crunchy.
The tofu is right there, and a plate to put the tofu on after breading is also close by.
If you really want to add flavor, season your flour and plant-based milk with as much seasoning as you like. In fact, add a little more the granulated tapioca has almost no flavor.
If you do not have granulated tapioca use bread crumbs or panko.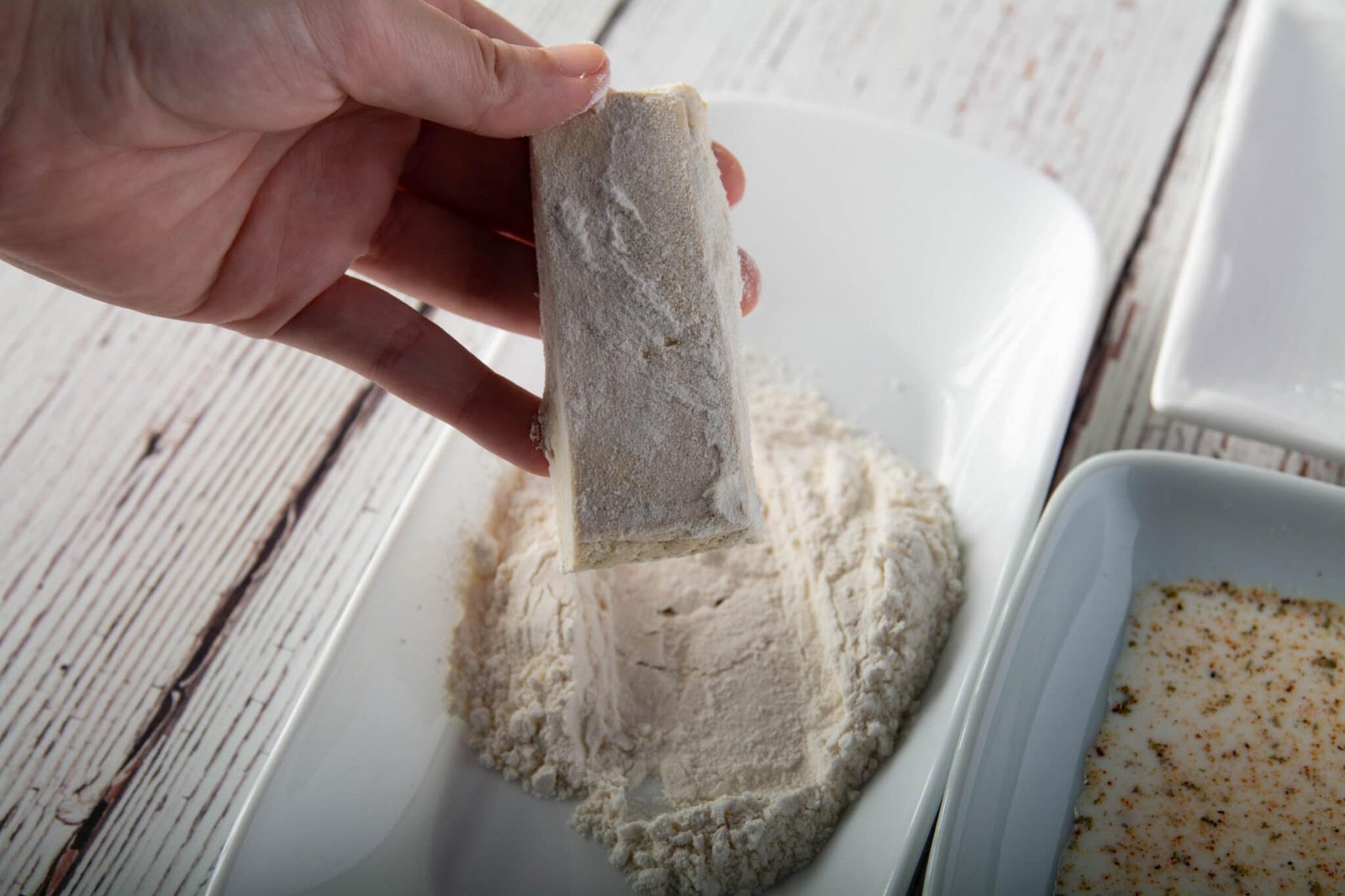 Step one, dip your tofu into the flour and coat on all sides. Shake off any excess flour.
Tofu, soy milk, and tapioca are all gluten-free (check your brands to make sure). To keep this recipe gluten-free, use tapioca or potato starch instead of flour.
Step two dip the tofu into the plant-based milk / seasoning mixture.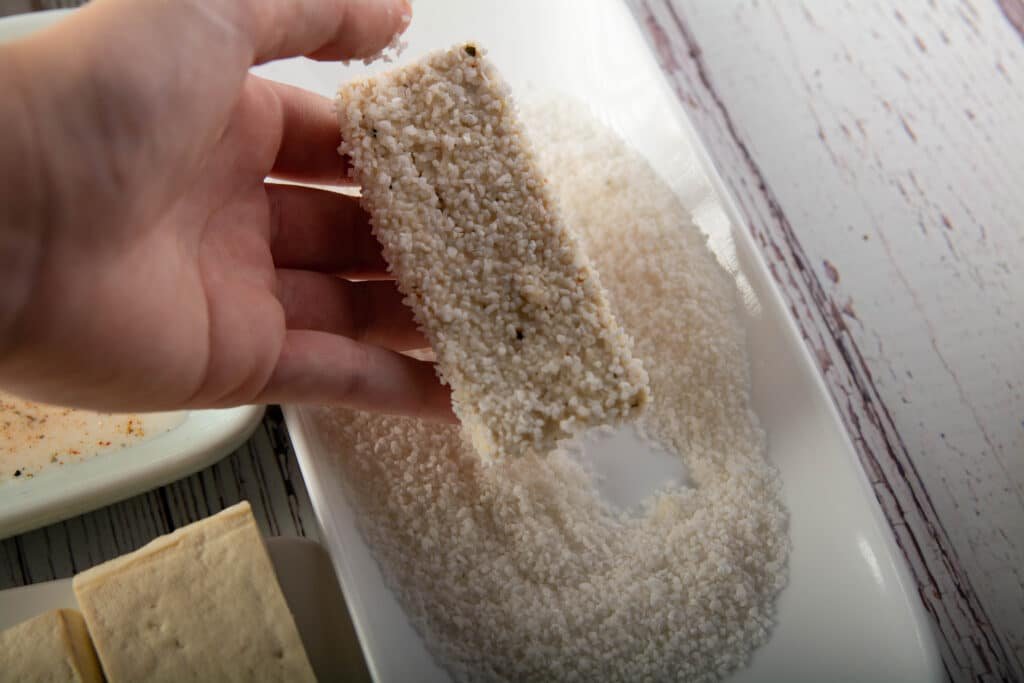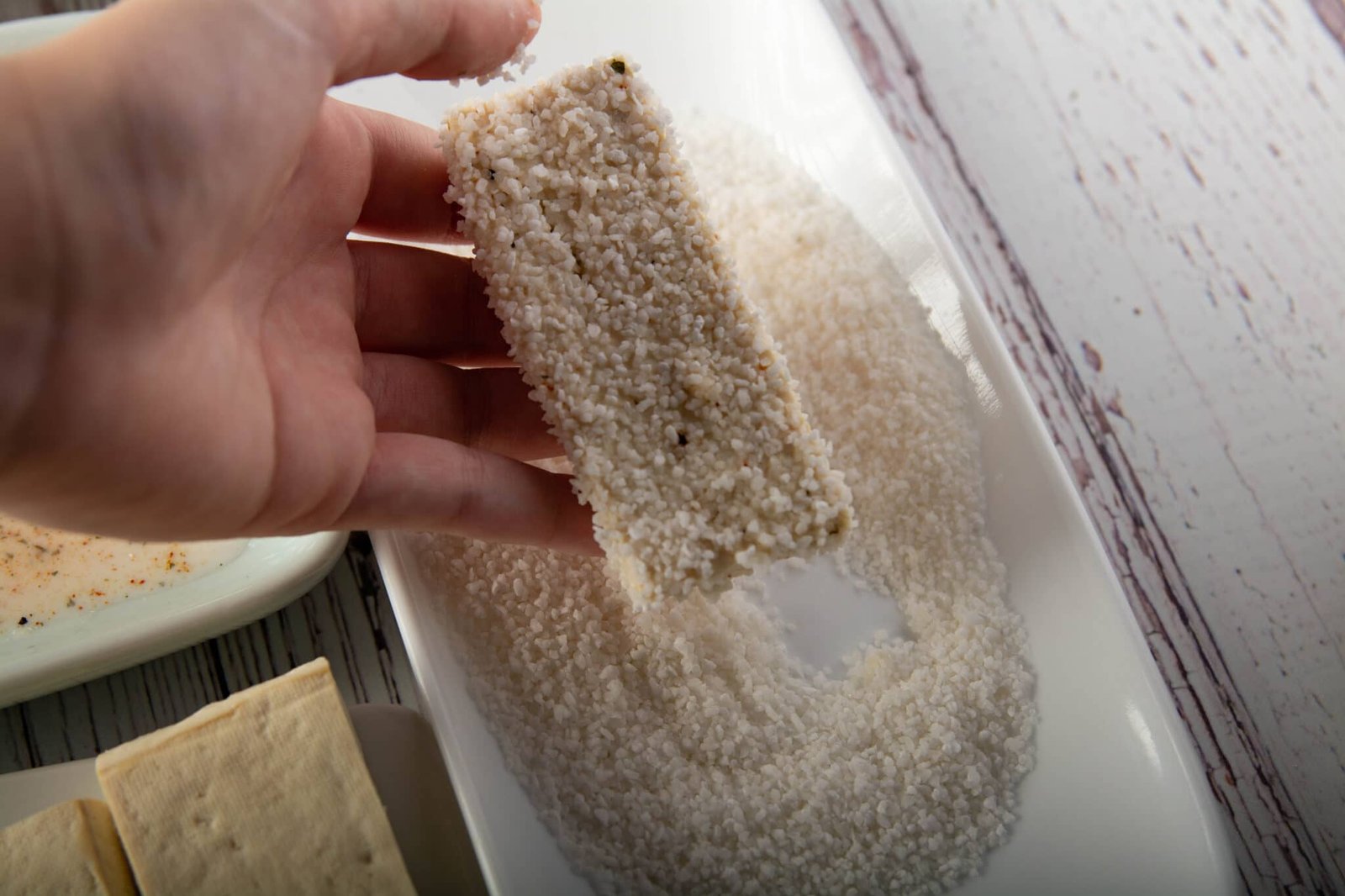 Step three, roll the tofu into the granulated tapioca to coat on all sides. Press it in a little bit to make sure it's stuck.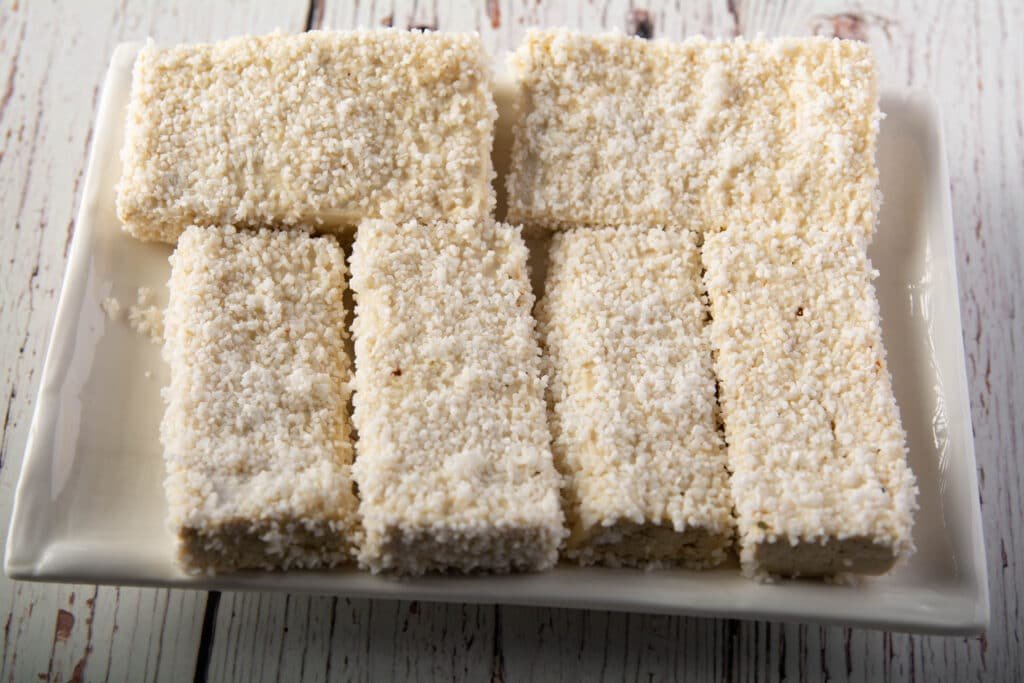 Step four. Let the tofu rest for at least ten minutes to allow the breading to dry and firm up.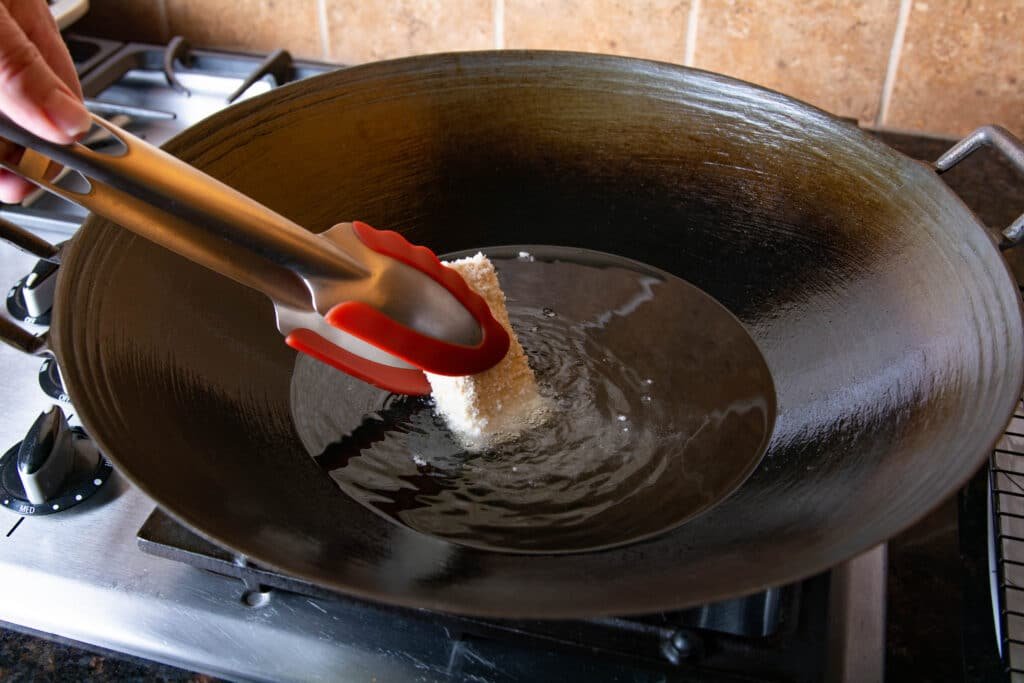 I like to use my wok for frying. Due to the wok's shape, it takes less oil to fry a small batch, and it helps to season the wok.
Heat the oil to 350 to 375 F and carefully add the tofu. If you add the tofu before the oil is hot, the breading will soak up a lot of oil and may come off.
Ideally, to test the oil temperature, use a frying thermometer. I used an infrared heat gun, but that is the engineer coming out.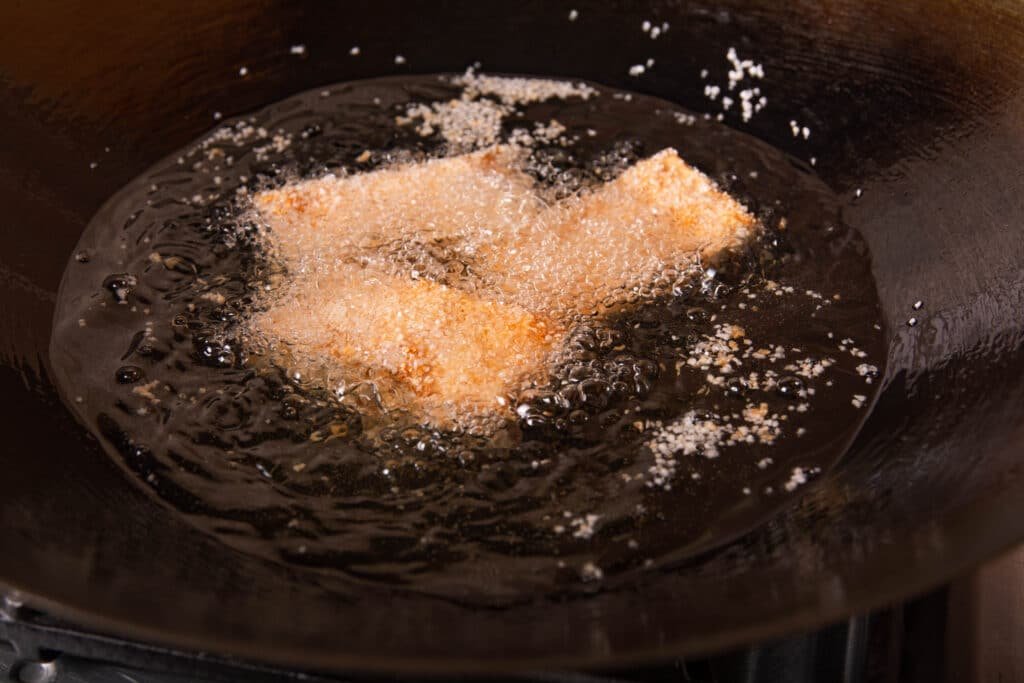 Due to the small amount of oil I was using, I cooked the tofu in two batches. When the oil was 360 F, I added half of the tofu, and the oil temperature went down, so I turned up the burner to bring it back to 350F, then turned the burner back down. It took about five minutes per batch to cook the tofu.
Just before I started heating my oil, some frozen fries went into the air fryer. They were done just before the tofu was done. Yes, I could have cooked them in the already hot oil, but they make a lot less mess in the air fryer.
As the tofu came out of the hot oil, it was placed on a wire rack to allow excess oil to drip off.
The tofu was served with french fries and BBQ sauce.
If you have any tofu left over it should be consumed within a few days.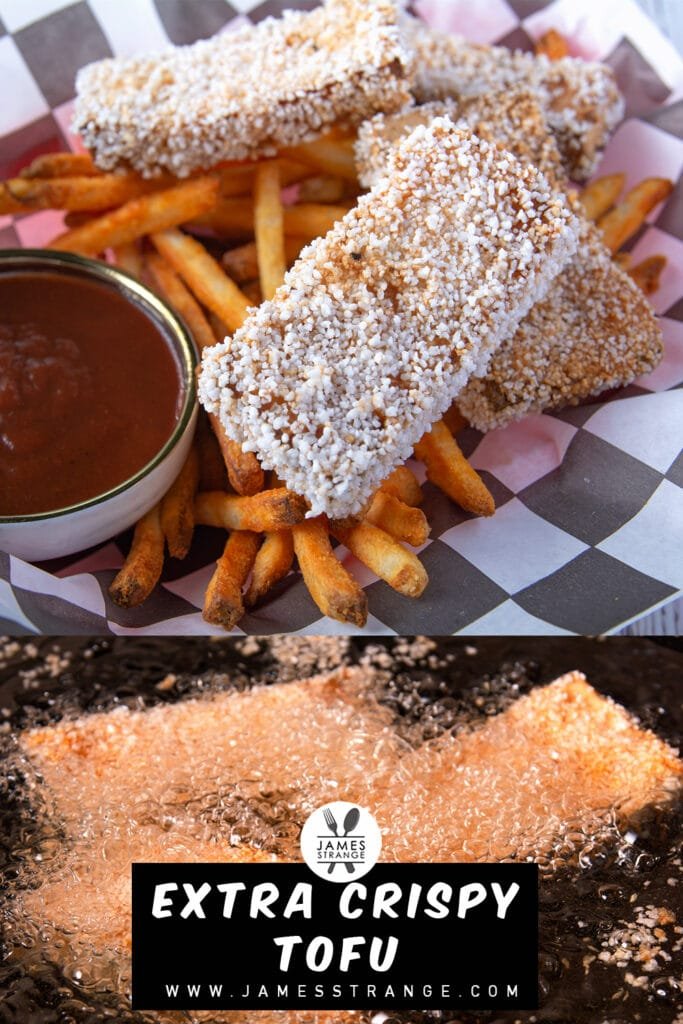 If you enjoyed this recipe, please share it with your friends. Or, if you did not like the recipe, share it with some folks you do not like.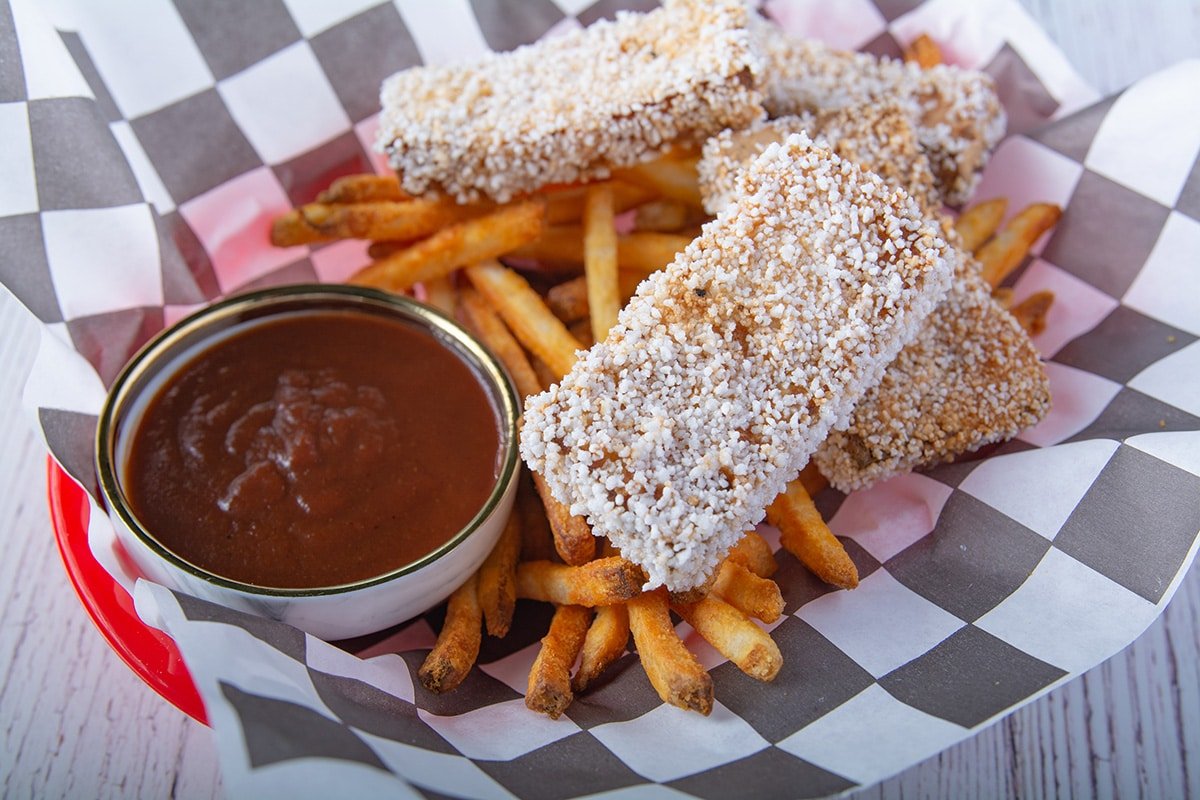 Ingredients
12

oz

Tofu

1 block of firm tofu

1/8

teaspoon

Salt

1/4

Cup

Flour

All purpose

1/4

Cup

soy milk

Any plant based unsweetened milk

1/4

teaspoon

cajun seasoning

1/2

Cup

Tapioca

granulated

2

Cups

Oil for frying
Instructions
Press the tofu
Press the tofu for 45 minutes to 1 hour to remove excess moisture.

Cut the tofu into desired shapes

Lightly salt the outside of the tofu
Bread the tofu
Dip the tofu into the flour and coat on all sides. Shake off any excess flour.

Dip the tofu into the milk / seasoning mixture.

Let the tofu rest for at least ten minutes
Frying
Heat the oil to 350 to 375 F

Carefully add the tofu to the hot oil

Working in batches fry until the tofu is starting to turn brown

Remove the tofu and place on a wire rack
Nutrition
Calories:
384
kcal
|
Carbohydrates:
51
g
|
Protein:
18
g
|
Fat:
12
g
|
Saturated Fat:
1
g
|
Sodium:
168
mg
|
Potassium:
42
mg
|
Fiber:
2
g
|
Sugar:
3
g
|
Vitamin A:
116
IU
|
Vitamin C:
2
mg
|
Calcium:
262
mg
|
Iron:
4
mg