I am not going to call this a traditional falafel recipe but it was developed after reading a lot of traditional recipes. It is made with dried chickpeas, sorry fava beans. It's easier for most people to find chickpeas so I stuck with those. But this gout friendly anciently vegan recipe is delicious.
My version of falafel is vegan and gout friendly.
JamesStrange.com is a participant in the Amazon Services LLC Associates Program, an affiliate advertising program designed to provide a means for sites to earn advertising fees by advertising and linking to amazon.com. In simple terms this means that if you click and buy something we are paid a fee. This fee is used to help recover some of the cost of running the site.
To start with we need one cup of dried chickpeas. Sort out any ugly ones like the black one at the top of the picture and give them a rise. Place them is a bowl quite a bit larger than the chickpeas and cover with water. The water should cover by at least three quarters of an inch. Let them soak at least eight hours but longer is better.
Our Ingredients:
Half a bunch of flat leaf parsley. You can also use cilantro but if you use cilantro cut back on how much parsley you use by an equal amount. Give your leafy vegetables a rough chop before adding to the food processor. Have you ever wanted to know why the inside of the falafel is green? It's the parsley and cilantro.
Soaked chickpeas. Soaked chickpeas work a lot better than the canned ones.
Garlic. Got to have garlic (unless your a vampire)
Onion. I roughly chop it before adding to the food processor to ensure it gets chopped up finely.
Salt. The taste would be bland without it.
Green onion. I like a bit of green onion in mine. You can leave it out.
Optional seasonings. Cumin and coriander are very common seasonings found in falafel. You can e=add something spicy if you like. Let your taste buds be your guide.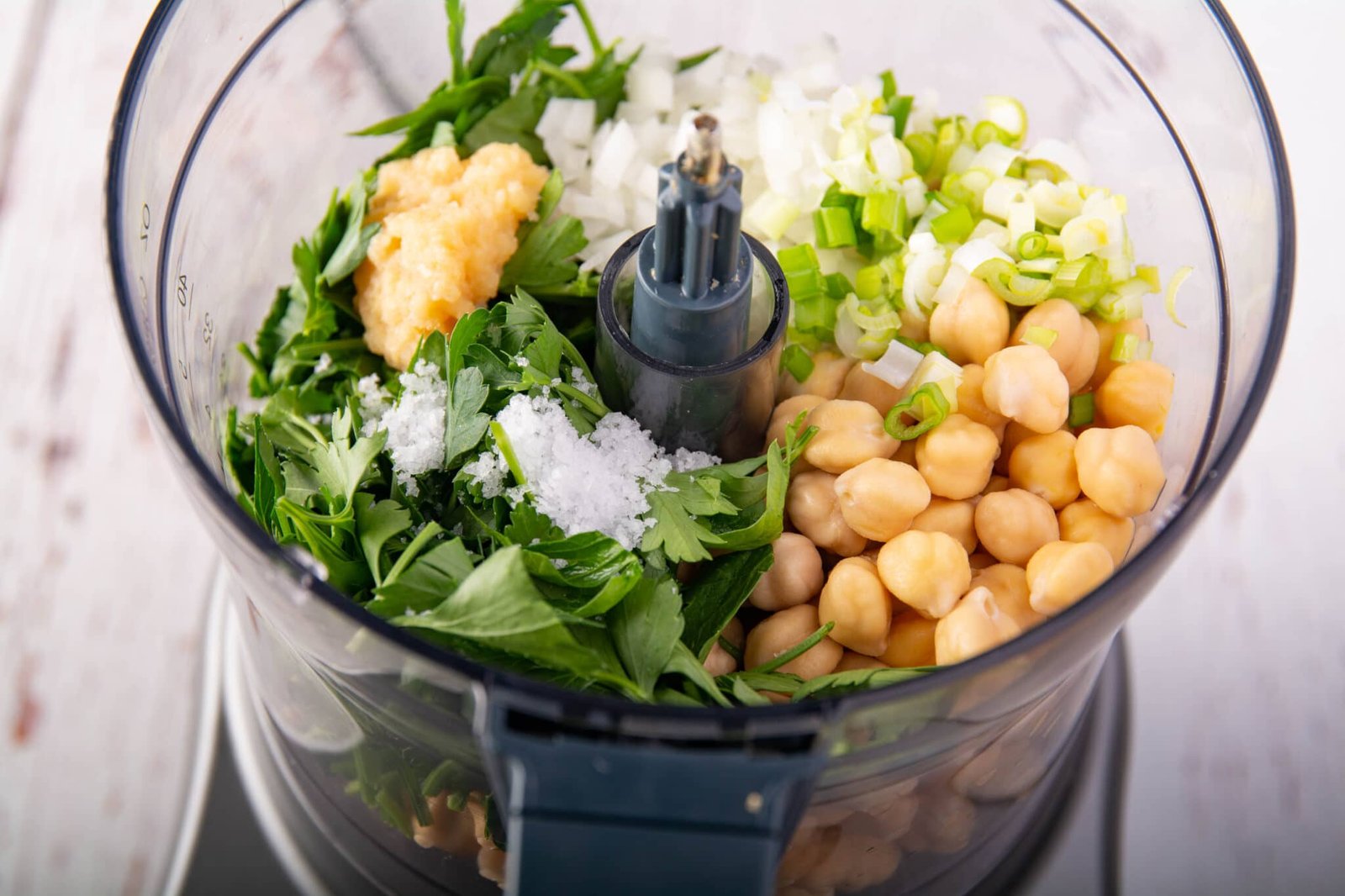 Add everything to a food processor.
I am really happy with this photo but I do hope no one notices that I forgot to put the blade in the food processor before putting the ingredients in.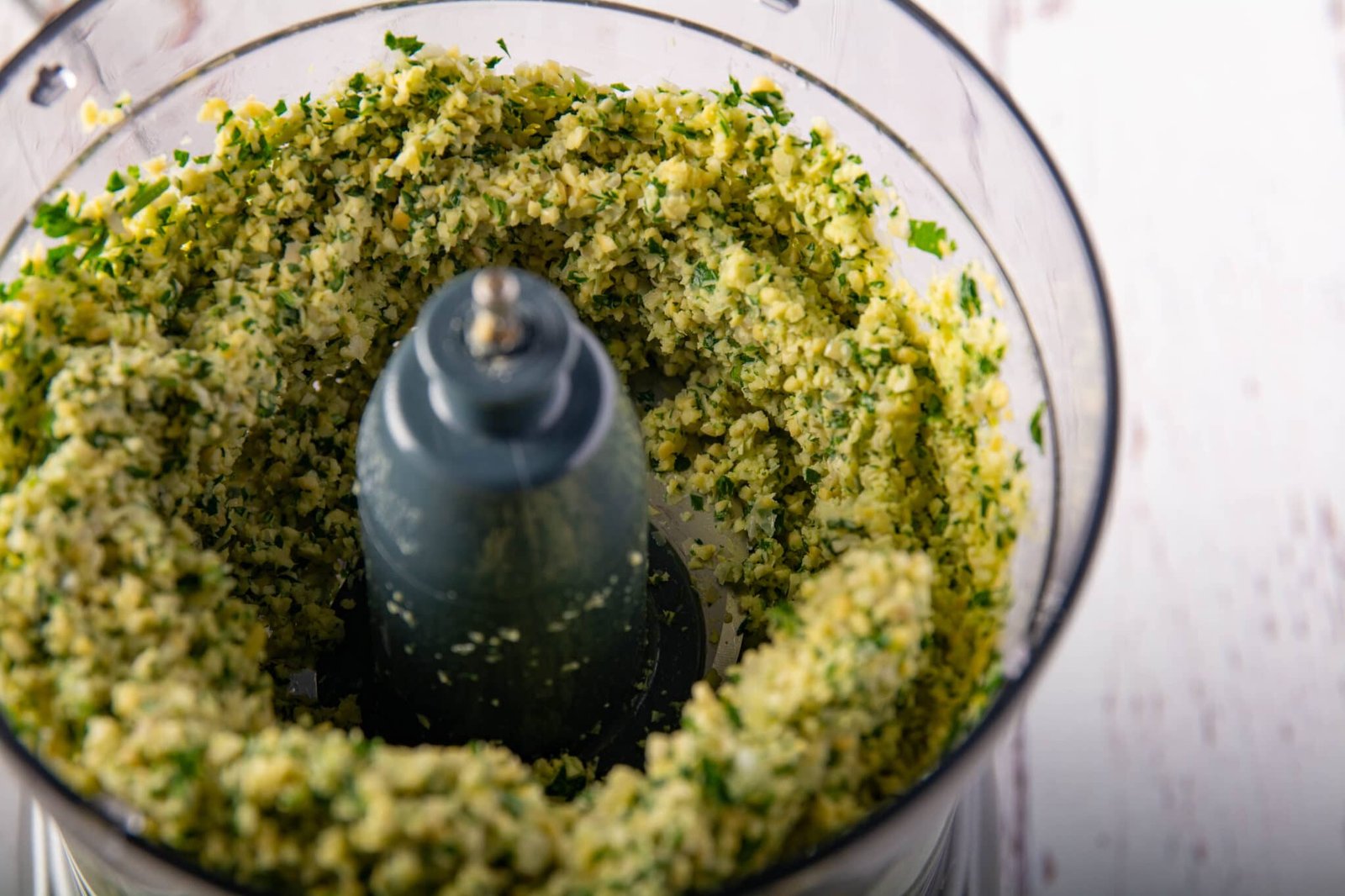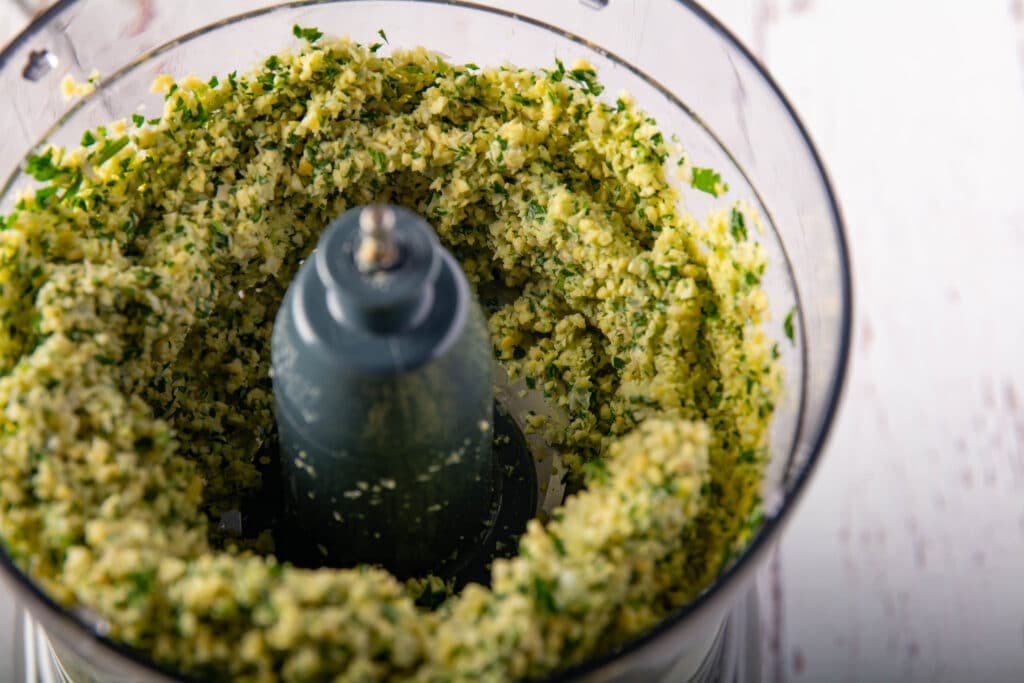 After adding your blade to the food processor start to process to small pieces. You will know that you're almost done when the mix starts to climb up the wall of the processor. When this happens scrape the bowl to push everything back in. When it does this the second time you should be done.
This is what the mixture looked like when I was done.
If your not going to use all your falafel mixture right away You can keep it in the fridge for a few days. If you need to store it longer than that you can freeze and use it latter.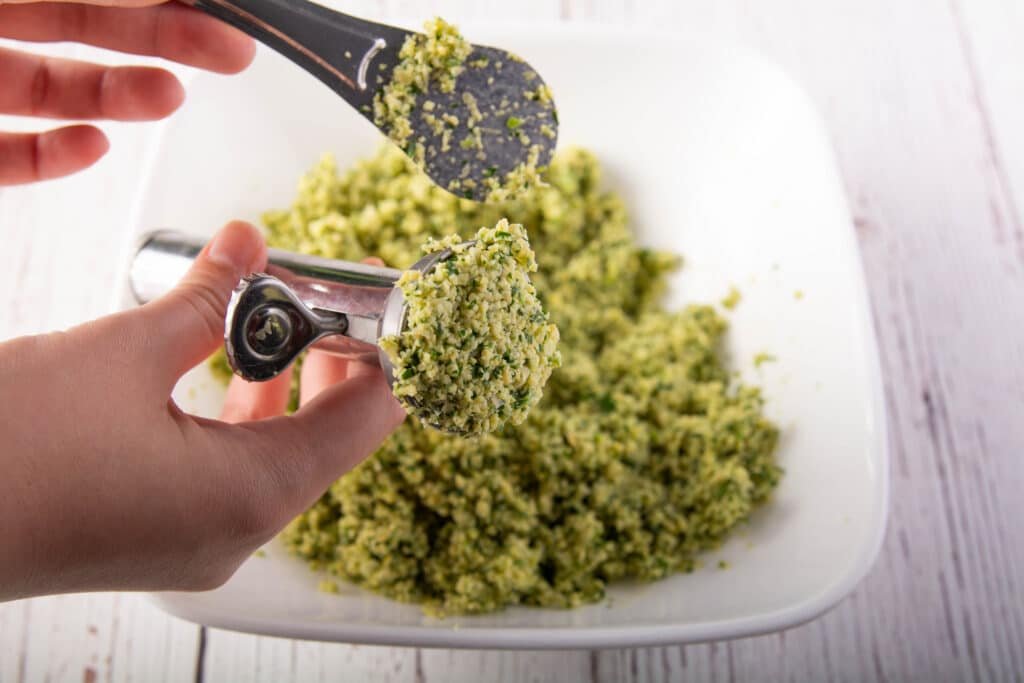 To form your falafel you can use a falafel scoop or just your hands. The things I like about using a scoop is my falafel are the same size. This way they look nice and it helps to keep them from falling apart.
To make them with a scoop press some of the mixture into the scoop and trim off the edges. My scoop came with a flat spoon that I use for scoping, pressing and trimming. After the falafel is formed and trimmed over the hot oil push it out using the spoon to keep it from popping out and splashing hot oil.
If using your hands its quite simple. Scoop up some of the mixture and in the palm of your hands push to form a ball. Then ease them into the hot oil.
When I tried forming my falafel ahead of time they would fall apart as I pick them up. So now I form them while cooking.
Why does falafel fall apart when cooking?
Traditionally falafel does not have any binder to hold it together. Then when exposed to moving hot oil and the steam coming out it can fall apart.
After learning how to successfully fry falafel I got the bright idea to make a burger sized patty. When I was done frying the regular sized falafel I eased my burger patty into the oil. After a few seconds its started to bubble and things were looking good. Then I watched as it just broke apart into lots a tiny pieces.
The following is a list of tips to keep your falafel from falling apart. During the first part of the cooking process. You just need them to hold together long enough to form a crust. As soon as you get a crust your safe from making tiny crunchy bits. (not that tiny crunchy bits are a bad thing)
Your falafel is to large. Start out making them small. They will quickly form a crust and hold together. If they are to big the weight of the inside will break your crust as it forms. Thumbs up for a falafel scoop.
Start with dry ingredients. Before adding your ingredients to the food processor they should be dry. Definitely wash your pasley and or cilantro. But then dry them between paper towels and let them air dry a bit before using. After soaking your chickpeas drain them in a colander and then spread them out to air dry.
Under or over processing your ingredients. If ingredients are still in big chunks they will fall apart
Using canned chickpeas. Canned chickpeas have been cooked and will act completely different than raw chickpeas. If you want to use canned chickpeas you will need to use something as a binder.
The vegetable to chickpea ratio is wrong. Vegetables like parsley and onion are necessary to flavor the falafel and keep them moist. But they contain water that is released during the cooking process. When this is released it causes a violent reaction that can break up your falafel. (the bubbles you see when frying are from this steam release). When the vegetables release steam they also shrink and this creates air gaps.
Oil tempature. If your oil is cold they will soak up oil and when the oil get hot they will break apart. Shoot for 350F. If your oil is too hot you will quickly make lots of steam and they will break apart.
Your falafels were not pressed tight (but not to tight). Or you formed them ahead of time. As you form them ease them into 350F oil. If you make them ahead of time the excess handling will break them apart. This works best as a two person team. Teamwork is the key to success.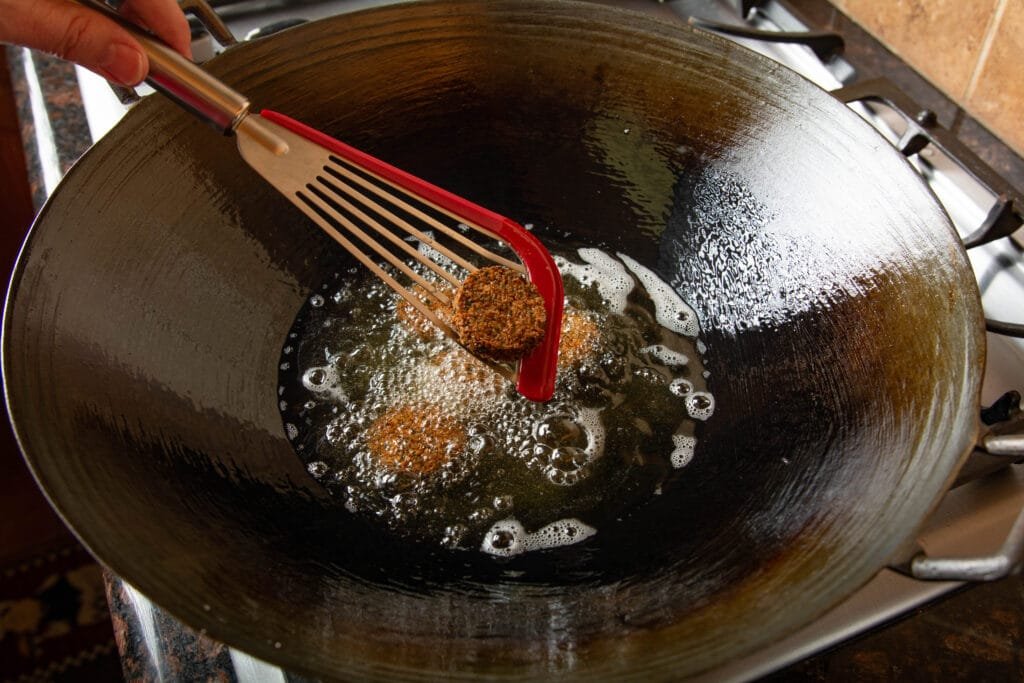 Making falafel is a team sport, one person forming the falafel and one cooking them. Make the falafel carefully ease into the oil. Start making another one. When it just starts to brown the other person flips it over. After a few seconds on the other side they remove it and place it on a rack. This way you can fry several at a time.
If you try and do it by yourself you will constantly go back and forth between shaping and frying. They are small so they cook quickly. It's hard to keep up.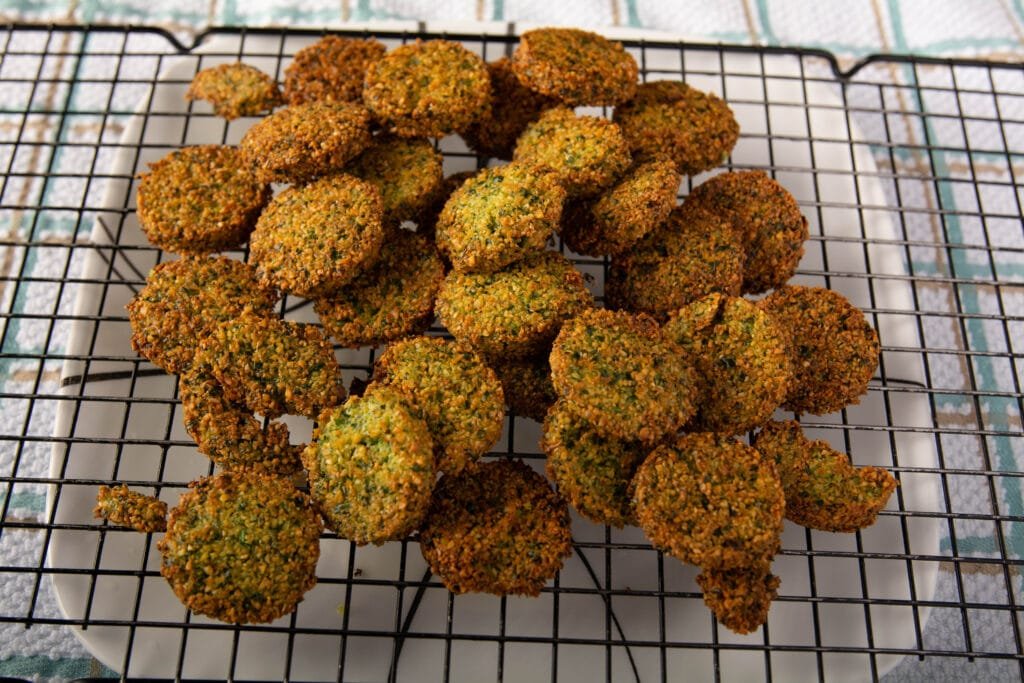 When you remove them from the oil place them on a rack to cool and let the oil drip off.
I like to spread hummus inside a pita pocket, add my falafel and veggies with tahini sauce on the side.
Can you reheat falafel? The answer is yes you can. You can microwave them for a few seconds of reheat them in the oven. But the best way is to get the oil hot again and fry them for a few seconds.
If you liked this recipe please share it with your friends.
Ingredients
1

Cup

Dried Chickpeas

Soaked overnight

1

Cup

Parsley

Flat leaf / roughly chopped

1

Tablespoon

Garlic

Minced

1/4

Cup

Onion

Diced

1

teaspoon

Salt

1

green onion

minced

2

Cups

Neutral flavored oil for frying
Instructions
Cover the chickpeas and soak for at least 8 hours.

To a food processor add all of the ingredients (except the oil) and process until everything is in small pieces.

Form the falafel and ease into oil heated to 350F

When they start to brown flip them over and cook another 30 seconds.

Remove from the oil and place onto a wire rack
Nutrition
Calories:
213
kcal
|
Carbohydrates:
33
g
|
Protein:
10
g
|
Fat:
5
g
|
Saturated Fat:
1
g
|
Sodium:
603
mg
|
Potassium:
535
mg
|
Fiber:
9
g
|
Sugar:
6
g
|
Vitamin A:
1327
IU
|
Vitamin C:
24
mg
|
Calcium:
77
mg
|
Iron:
4
mg