These vegan biscuits are super tender and have a nice crumb. They are not flaky; perhaps I will take on that challenge another time.
Growing up in the South, I have had the opportunity to eat a lot of biscuits. Most were good, and some really good, mixed in there were some not so good. But I have not really been a biscuit maker. Most of the ones that I cooked were store-bought and came in a cardboard tube. These used to be referred to as whop em biscuits. The tubes used to be hard to open, so people would whop em on the edge of the counter to get them to pop open.
So it was quite the challenge to learn how to make good vegan biscuits.
While learning how to make vegan biscuits that were tasty and tender, we did eat some failures. In one batch of biscuits, my youngest daughter said they taste good, but they must have a nice personality. So I asked, why do you think they have a nice personality? So I was like, cause they are ugly!
From that point forward, my failures were called personality biscuits. I do not know if these have a personality or not, but they did turn out beautiful.
Ingredients are straightforward. I am not sure why it is hard to make something with so few ingredients, but this works for me.
Plant-based milk or water. Traditionally buttermilk would have been used. If you wanted to, you could add some lemon juice to turn your plant-based milk, but it's not required. I did have good results just using water. But whichever you use, it should be cold. For the record, I used unsweetened soy milk.
All-purpose flour. If you use self-rising flour, you can drop the baking powder from the list of ingredients. But since all-purpose is more common, I went with that. The brand that I use is Gold Medal.
Plant-based butter. The butter will provide the needed fat to give our biscuits a nice crumb and provide lubrication allowing the biscuits to rise. We want fluffy biscuits, not hockey pucks.
Baking powder. This will give the biscuits lift so that they are tender; if you use self-rising flour, it already has baking powder, so you will need to add any baking powder.
Raw sugar. I really tried to make good biscuits without sugar. But adding just a little sugar really helps with the personality thing. This is an organic raw sugar processed without bone char.
Salt. Notice we are not using salt. All of the plant-based butter that I found already have enough sodium. If you are using real unsalted butter, you will need to add some salt. I suggest from a teaspoon to one half a tablespoon.
To measure my three cups of flour, I use a spoon. Dip into the bag of flour and dump that into my measuring cup. Just for reference, I did weigh the flour, and it came out to 375 grams or 13.22 ounces.
For this portion of the recipe, I used eight Tablespoons or four ounces of a plant-based butter. It needs to be cold right out of the refrigerator. What I do is take it out of the refrigerator and cut it into cubes. Not exact cubes since it does try to fall apart, and they do not need to be exact. After they are cut up, place them back into the fridge.
To your flour add the baking powder and raw sugar and mix.
When your ready to add to the flour, dump them into the flour and toss to coat with flour. Then using your fingers, pick up a few cubes and mash them into flour. Drop them back, pick up a few more. Mix into the flour and repeat until they are tiny balls of butter and flour.
Place the flour mixed with butter back into the refrigerator until your ready to bake. You can do this step the night before and store it in the refrigerator; then it is ready to go in the morning.
Grease a baking dish with one Tablespoon of plant-based butter. The dish that I used is a two-quart, eleven inches by seven inches Pyrex. This step ensures that the biscuits do not stick to the dish, and they get just a little crust on the edges.
To ensure the biscuits brown on the top, we will need a milk wash. This step really helps with the personality thing. For the wash in a microwave-safe dish, add two Tablespoons of the plant-based milk with one Tablespoon of plant-based butter. Pop that into the microwave for ten seconds, just long enough to melt the butter.
Measure out one and a half cup of milk and return it to the refrigerator.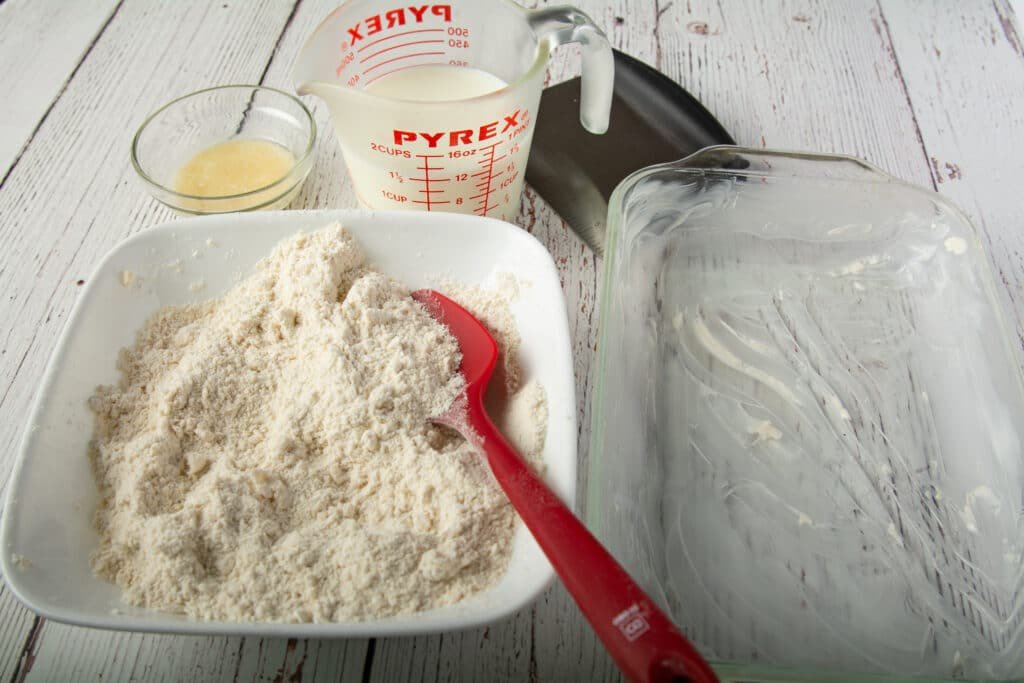 After the oven has preheated 425F or 218C, start getting everything ready. As soon as you pour the milk into the flour, the gluten will start to activate. The more that the gluten activates, the tougher your biscuits will be. We want our biscuits to be light and airy. Having everything cold and adding liquid at the last second will help make the biscuits light and airy.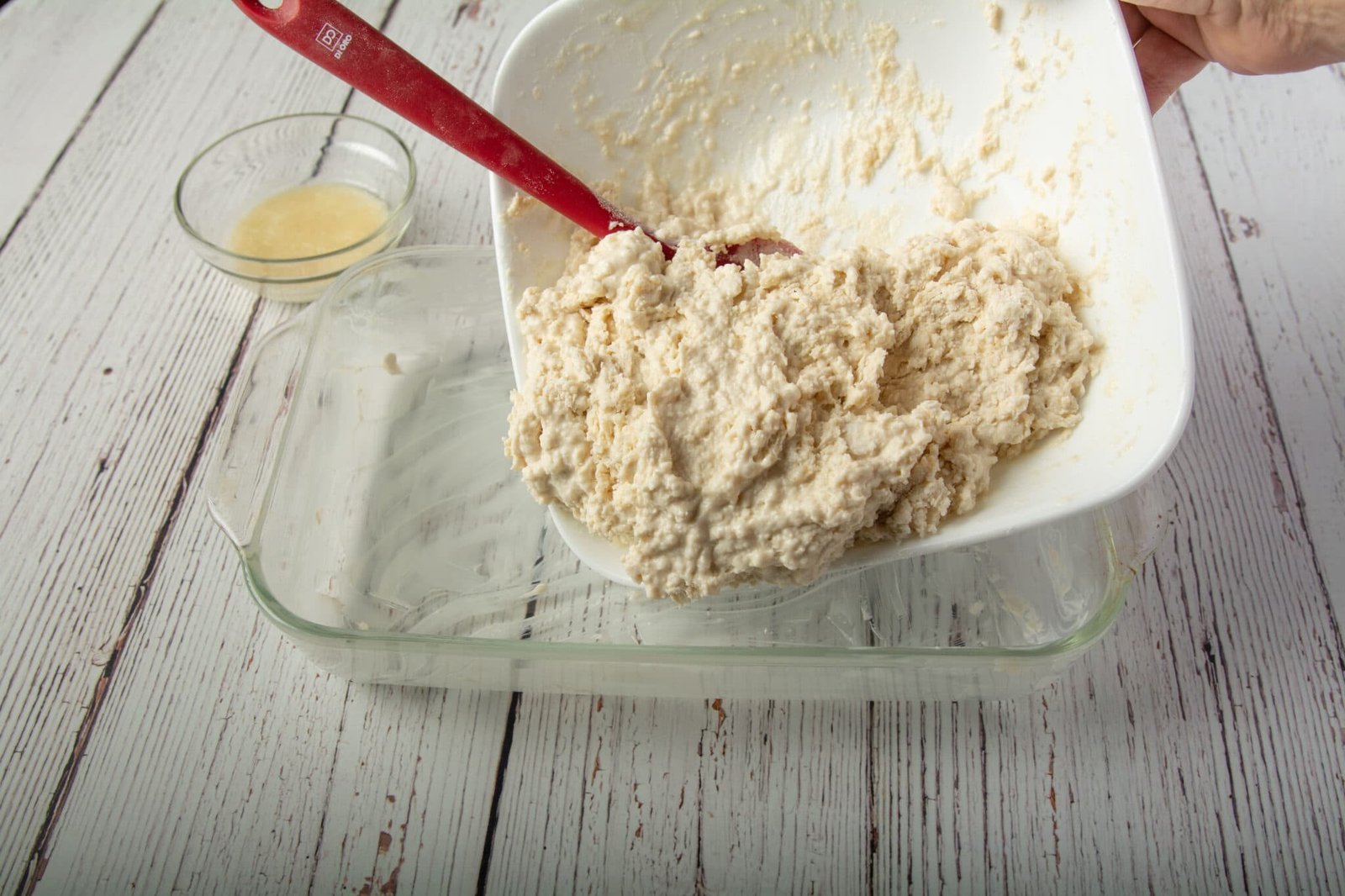 The main culprit for tough biscuits is overworking the dough. Since I am the type of guy that wants to do everything perfect (OCD), I am very guilty of doing a perfect mix, patting them out the perfect thickness and cutting into the correct size, etc. I always overworked my dough and made a big mess.
Then one day, it hit me. Eliminate most of the steps. Now I give the dough a mix, not even a good one, and pour it into the dish.
When the oven is preheated and you're ready to cook, pour the cold milk into the cold flour. Gently mix with a mixing spatula, just enough to combine. Then pour it into your greased pan.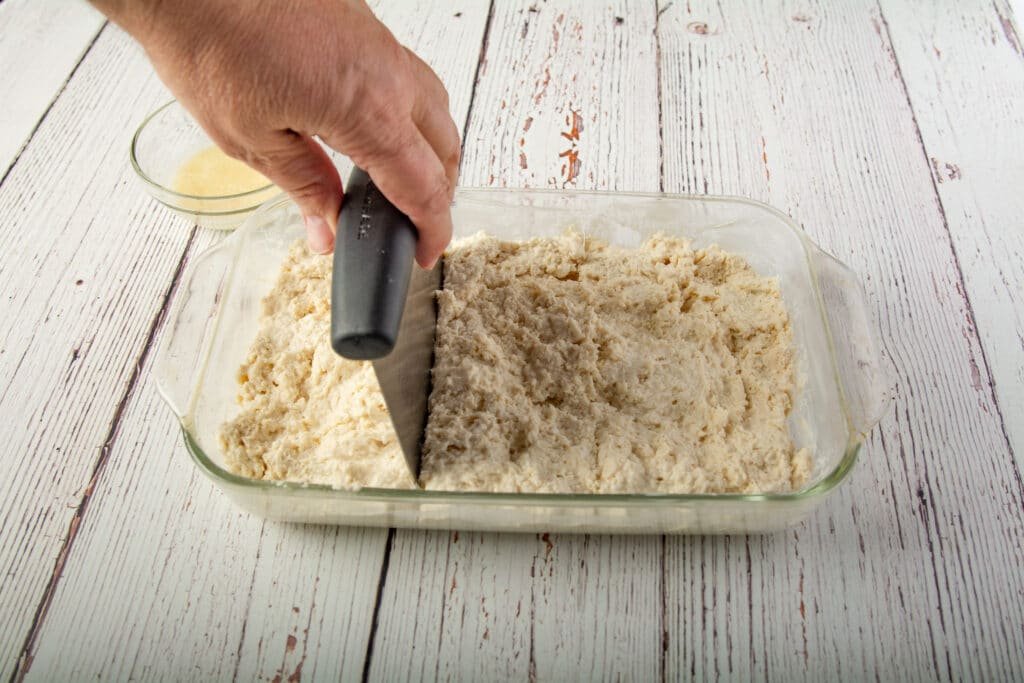 After pouring the dough into your pan, spread it out as evenly as you can. Then cut the biscuits by pressing down with a knife or bench scraper. Press down and wiggle from side to side to make a small gap. These were cut into six biscuits. But most people would cut them into eight biscuits. But the choice is yours.
After your biscuits are cut out, pour your milk wash over the top. Let some go into the gaps; if your OCD, use your finger to spread out the milk wash and smooth out the tops. Sorry, no personality biscuits today.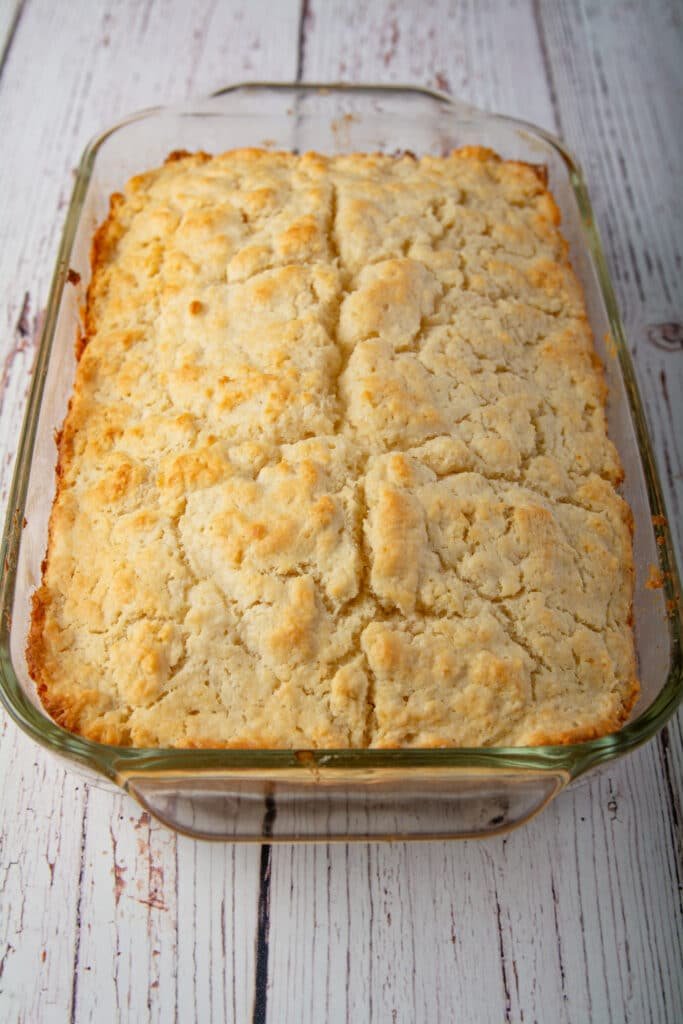 Place the pan of biscuits in your preheated oven and cook for twenty-five minutes. At that time, the edges should be a little crispy, and the tops nice and brown. Take them out and let them cool a little bit, then serve with jelly.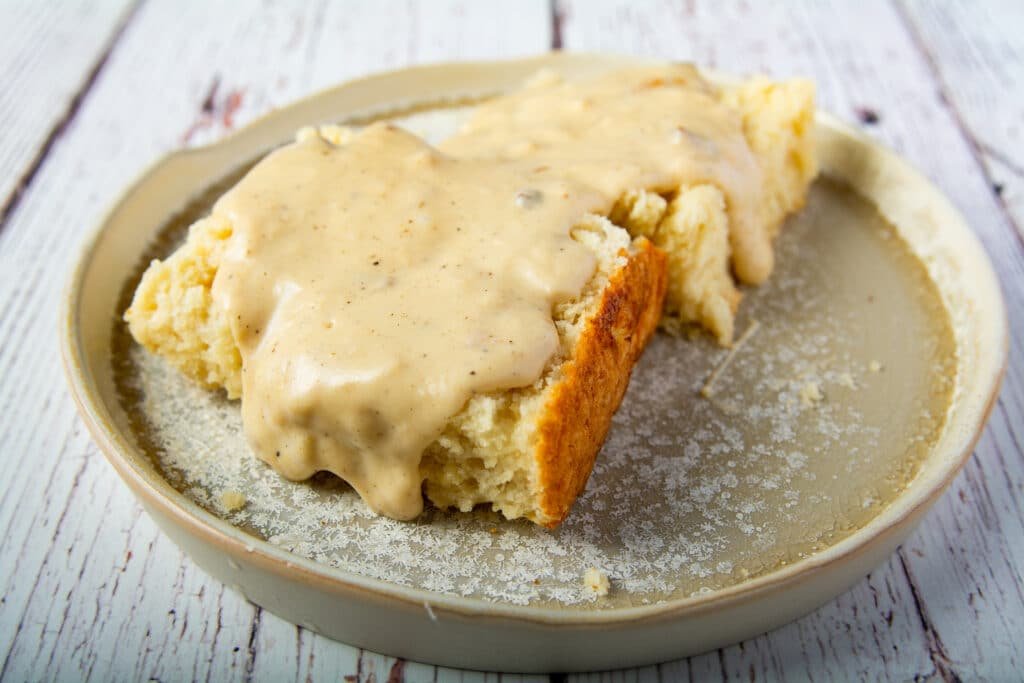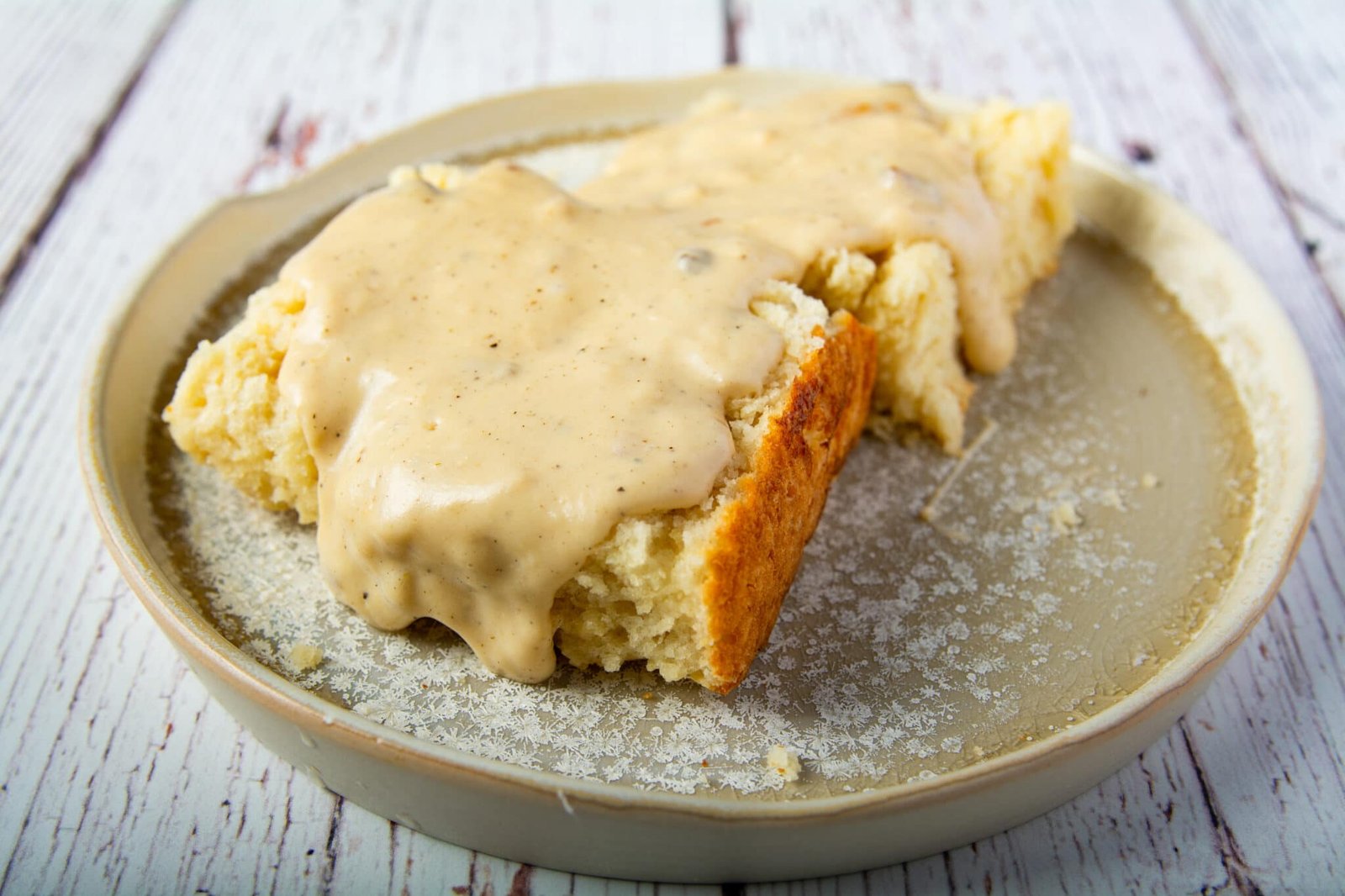 If you enjoyed this recipe please pin it for latter.
Ingredients
375

grams

All purpose flour

3 cups spooned out of the bag and poured into the measuring cup

8

Tablespoons

Vegan Butter

2

Tablespoons

Baking powder

1

Tablespoon

Raw sugar

1.5

Cups

Soy milk

Or plant based milk of choice.
Milk wash
2

Tablespoons

Soy milk

Or plant based milk of choice.

1

Tablespoon

Vegan Butter
Butter for the pan
1

Tablespoon

Vegan Butter
Instructions
Make the dough
Cut the plant based butter in cubes, return to the refrigerator

Measure out 3 Cups of flour add the 2 Tablespoons baking powder and one Tablespoon raw sugar.

Add cold butter to your flour and use your fingers to combine the flour and butter. Place into the refrigerator until ready to use.
Preheat your oven
Preheat your oven to 425 F (218 C)
Preparation
Use one Tablespoon of plant based butter to grease an 11 X 7 inch baking dish

In a microwave safe bowl add one Tablespoon of plant butter with two Tablespoons of plant based milk. Microwave the butter and milk ten seconds to melt the butter.

Measure out 1.5 cups of milk.

Gather up a spatula and bench scraper
Cook
Pour the 1.5 cups of cold milk into the bowl with the flour.

Gently mix to just combine the milk with the flour.

Scrap the dough into a greased 11 by 7 inch baking dish and spread the dough out

Use a bench scraper to cut out your biscuits

Pour the milk with melted butter over the biscuits.

Use a brush or your finger to spread the milk wash over the top of the biscuits

Place into a preheated (425F) oven and bake for 25 minutes.

Remove from the oven and allow to cool.
Nutrition
Calories:
402
kcal
|
Carbohydrates:
53
g
|
Protein:
8
g
|
Fat:
17
g
|
Saturated Fat:
4
g
|
Sodium:
608
mg
|
Potassium:
157
mg
|
Fiber:
2
g
|
Sugar:
4
g
|
Vitamin A:
1143
IU
|
Vitamin C:
5
mg
|
Calcium:
334
mg
|
Iron:
4
mg