Learn to use a Blackstone griddle to make homemade Hibachi-style chicken fried rice. This delicious fried rice recipe is loaded with vegetables of your choice, scrambled eggs, and marinated chicken. You can make delicious fried rice right in your own backyard.
This post does contain Amazon affiliate links that do earn the site a small commission. Being an Amazon associate helps to cover the cost of running the site.
Blackstone chicken fried rice ingredients.:
Chicken: My preference is thigh meat but chicken breast also works. I do think that free range is the best chicken. To keep the recipe vegan you can use vegan chicken.
White rice: I like to use short-grain Calrose rice. Some people like to use jasmine rice. No matter which rice you use you should be using leftover rice that has had a chance to dry out just a little bit. But the old rice from last week will be too dry. For best results use day-old rice. You can rush the drying out a bit by spreading it out on a sheet pan and putting it in the fridge for a few hours.
Fat: To fry and flavor the rice we will use olive oil and butter. Vegetable oil is also a good choice.
Sesame oil: Used to add flavor. I only add a little bit at the very end of the cooking process.
Green onions: They add a very nice flavor to the dish they also add some color.
Yellow onion: Adds a nice flavor.
Fresh garlic: Fried rice needs garlic.
Oyster sauce: Adds a debt of flavor to the dish.
Soy sauce: Brings umami.
Sesame seeds: They are tasty and make a nice garnish.
Beaten eggs: Eggs bring richness to the dish. To make the dish vegan you can use JUST eggs.
Carrots: For a nice crunch and color.
Mushrooms: We like them but you mushroom haters can leave them out.
White pepper: Can also use black pepper.
Optional ingredients:
Garlic powder, fresh ginger, onion powder, bell pepper, and frozen peas (you can add them right from the freezer). You can add whatever kind of fresh vegetables that you like.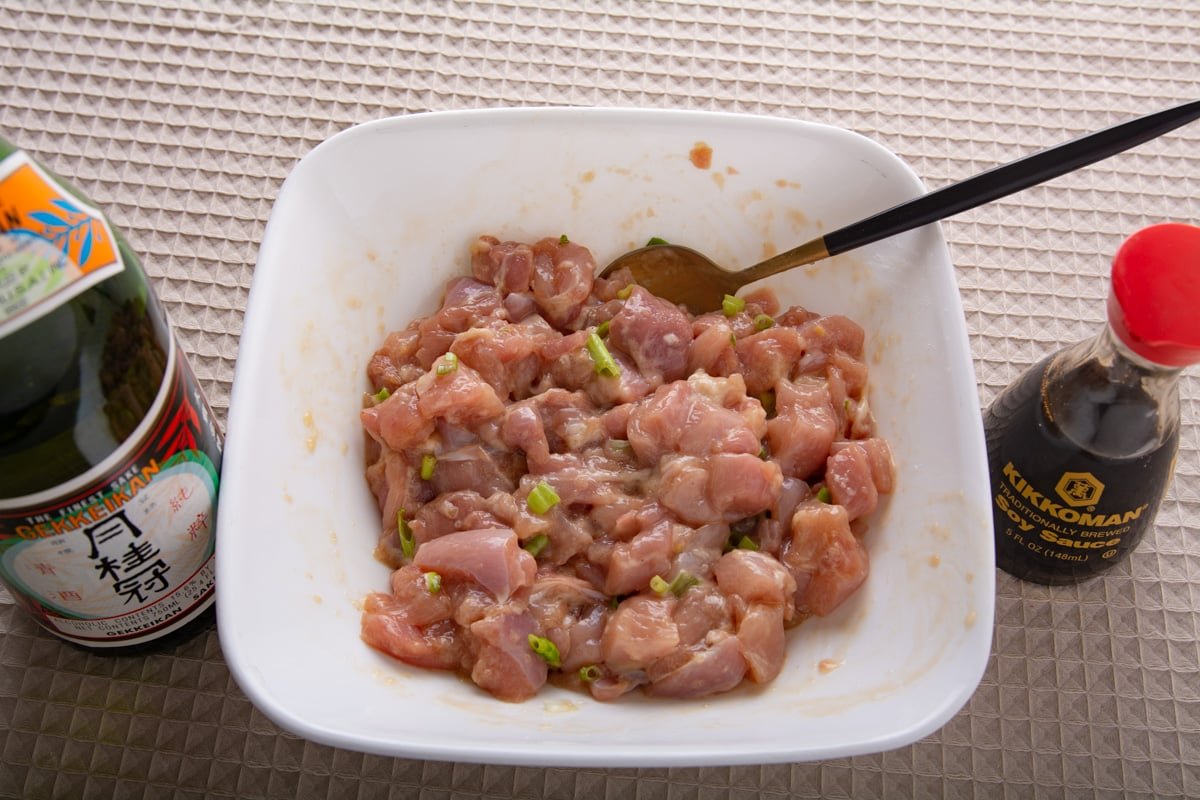 Let's marinate the chicken. To the diced chicken, I will add rice wine, soy sauce, salt, and mix. Then I will add a little water to the chicken, this is a trick I learned from a Chinese restaurant. The chicken will soak up the water and stay moist. Then I add some green onion and minced garlic and give another mix. Then I add some corn starch and mix.
Cut your veggies into small pieces.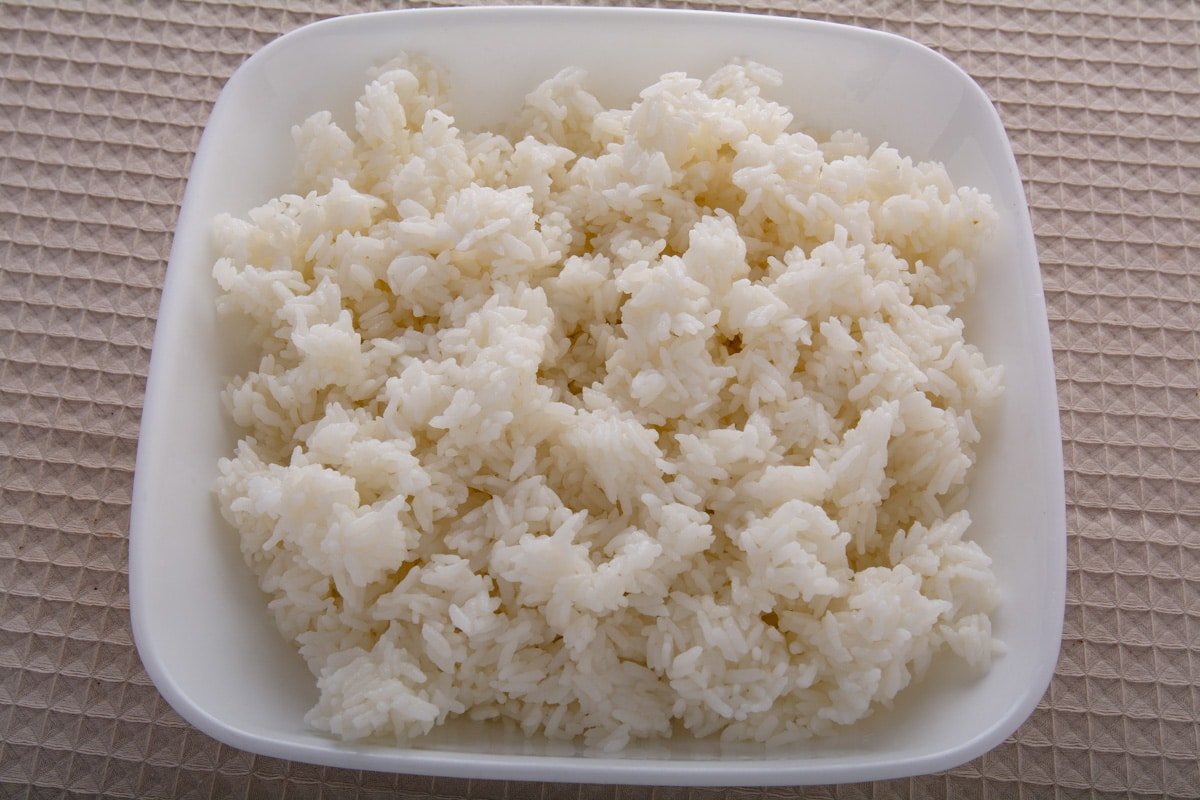 Rice, so we have a very expensive rice cooker and my wife always have rice ready. But not everyone has a nice induction Cockoo rice cooker. Of course, you can buy cooked rice from your local Chinese restaurant. But I wanted to post something that more people can do. With the popularity of Instant Pot, I found this recipe for Instant Pot Asian rice. And it works. Measure out your rice. Give the rice a rise to remove excess starch. Let it soak for 20 to 30 minutes. Pour off the water. Put rice into your Instant Pot and add an equal volume of water to the rice. Manual cook for two minutes natural release (no heating) for ten minutes and it is cooked.
Let the rice cool down for about one hour place it into a bowl and cover it with plastic wrap. Keep in the fridge until you are ready to cook.
Shortly before cooking take your cold rice and break it up into smaller clumps. No need to break up every grain of rice.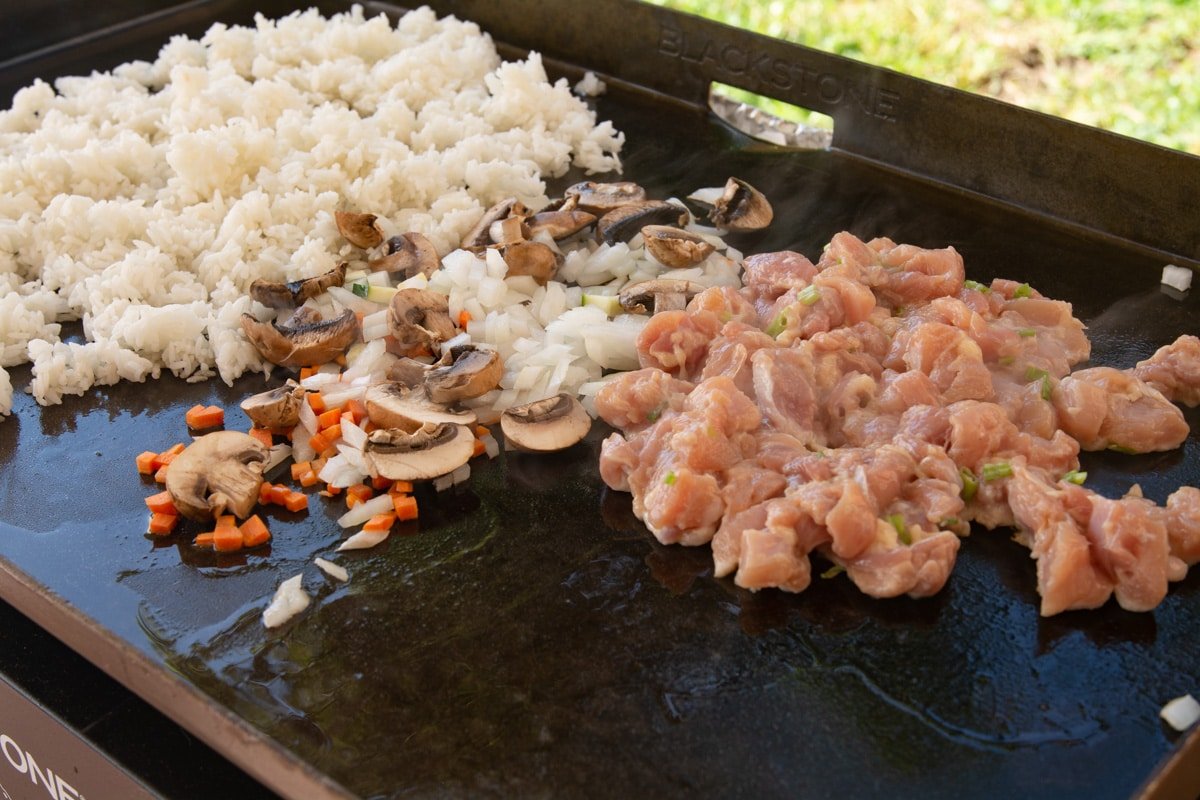 Use medium heat to preheat your griddle while gathering all of your ingredients. You will want everything close by before you start cooking. When you are ready to cook turn your grill up to high heat.
Add some oil to the grill and spread it out into a thin layer. Add your rice and spread it out so as to maximize contact. Add your hard veggies (onion, carrots, and mushrooms) and spread them out. Then add your marinated chicken and spread it out.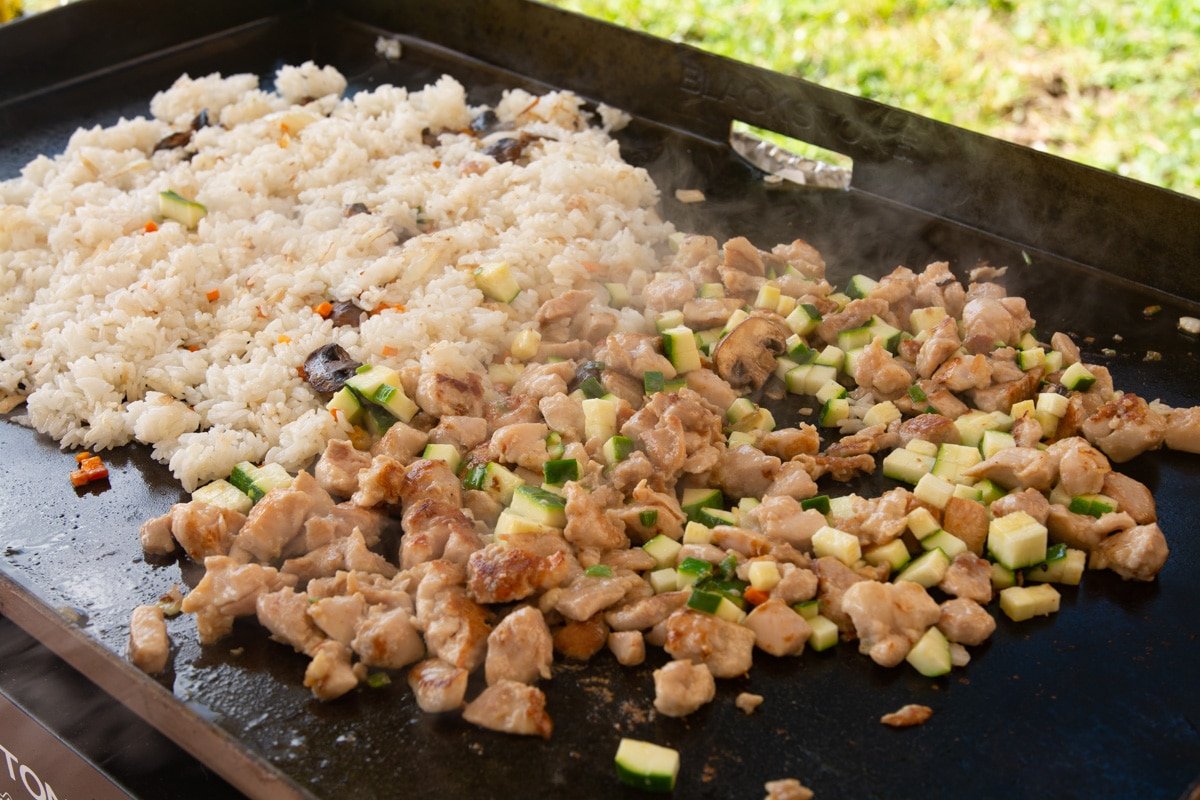 After everything has cooked for about two minutes use your hibachi spatulas to start to turn everything over.
When it looks like your chicken is about half the way cooked add your softer veggies like squash and you can add more green onion. At this point season your rice with butter, soy sauce, and oyster sauce.
When the chicken is almost done you can start to mix everything up and stir fry everything together.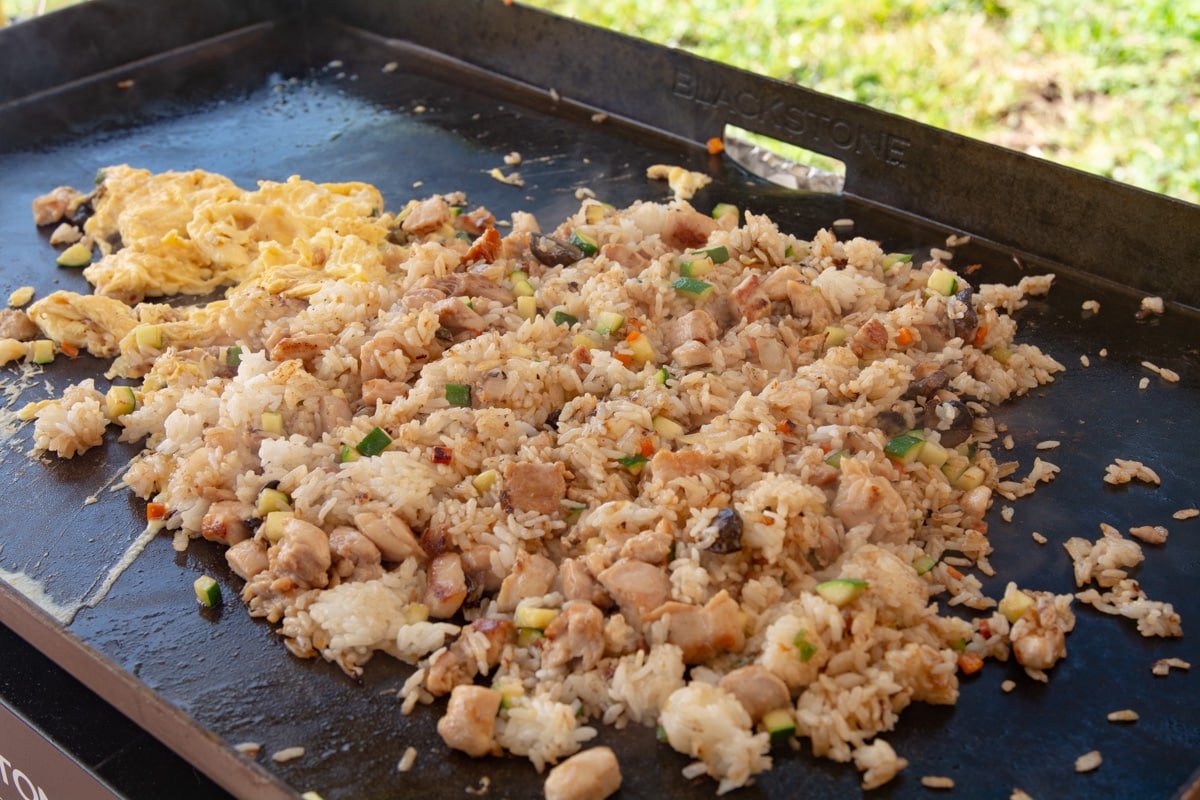 To a clean area of your flat top grill add some oil and butter. To this area add your eggs and scramble them. Once they are scrambled place them on top of the rice and cut them in.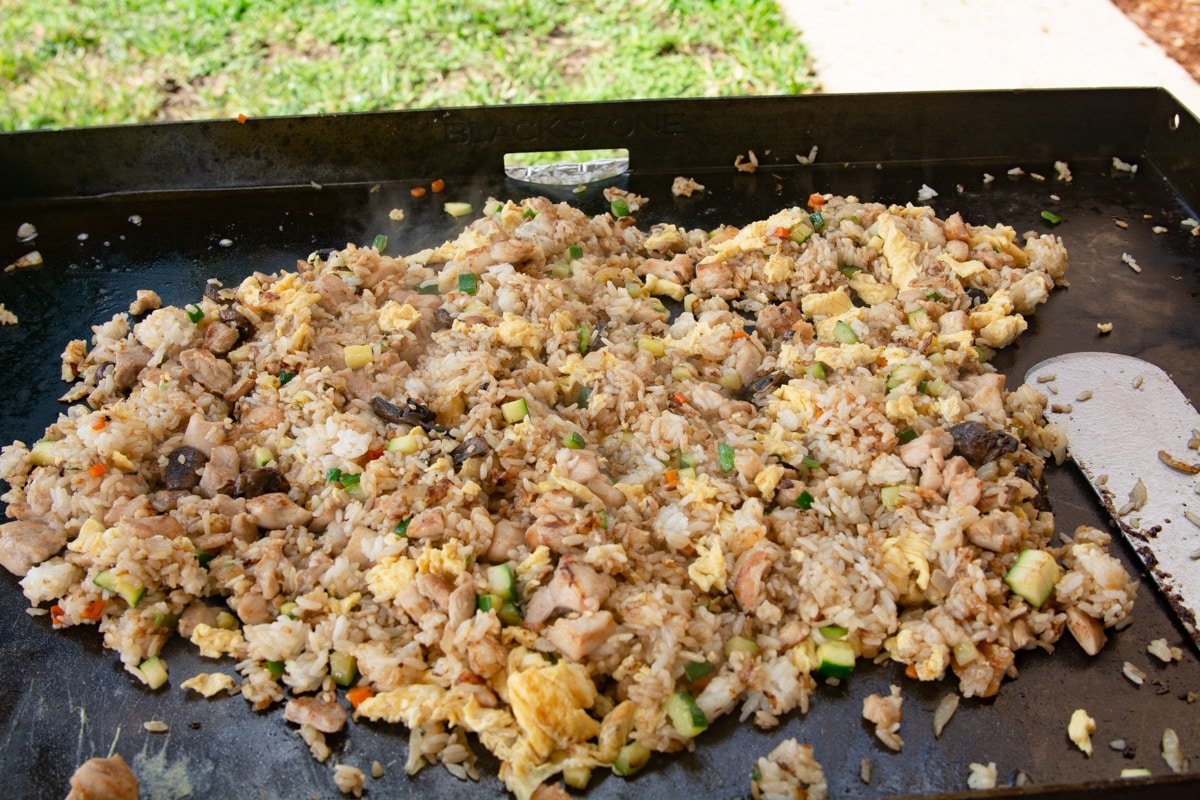 Turn off the burners and drizzle on some sesame oil, garnish with sesame seeds and green onions if desired. Your fried rice is now ready to serve.
You might also enjoy a recipe from my friend Sherry for a Blackstone wet burrito.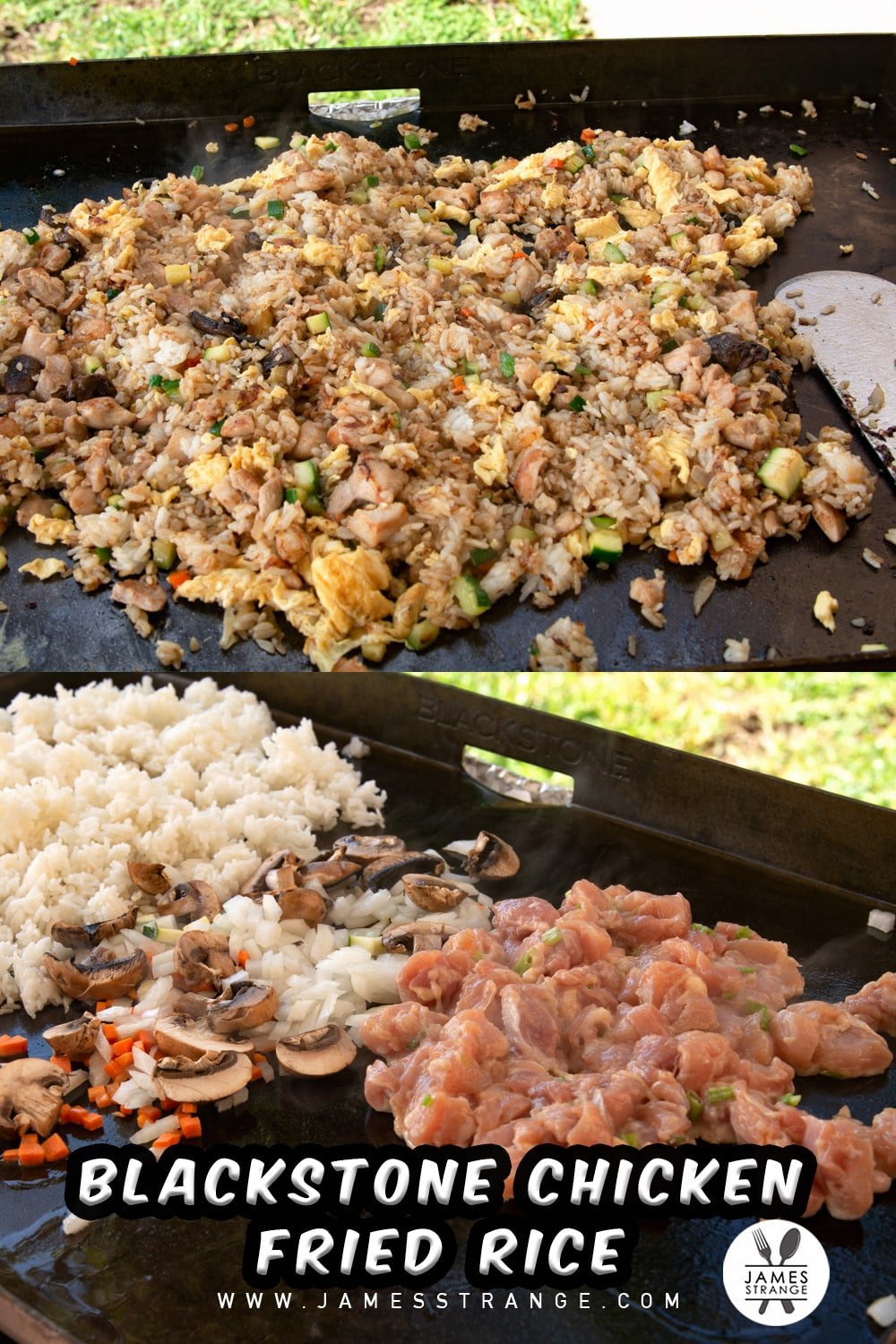 If you enjoyed this recipe then please share it with your friends.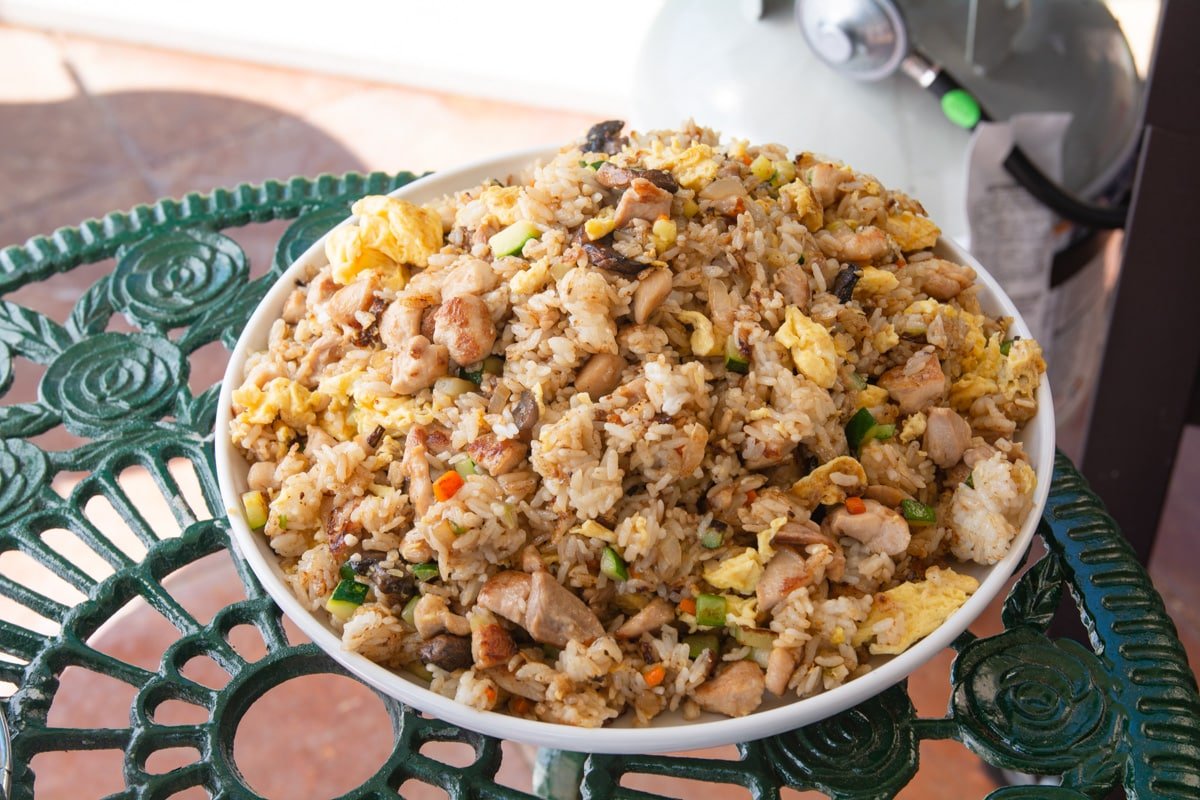 Ingredients
Chicken marinade
1.3

pounds

Chicken thigh

1

Tablespoon

Sake

1

Tablespoon

soy sauce

1

pinch

salt

1/2

Tablespoon

Water

1

pinch

White pepper

1

clove

garlic

Fine minced

2

each

Green onion

1/2

teaspoon

Corn starch
Rice
2

cup

rice

Short grain Calrose

2

cups

water

4

Tablespoons

Butter
Veggies
1

each

Zucchini

6

each

cremini mushrooms

1/4

each

onion

small

2

Tabelspoons

Carrot

fine minced
Rice Seasoning
2

Tablespoons

Oyster sauce

1/2

Tablespoon

Soy Sauce

1/2

teaspoon

sesame oil
Eggs
4

each

eggs

1

Tablespoon

Butter
Garnish
1/2

teaspoon

sesame seeds
Instructions
Prepare rice (day before)
Rinse the rice then let it soak for 20 to 30 minutes.

Drain the rice and add to Instant Pot. Manual cook for 2 minutes. Natural release for 10 minutes.

Remove rice from Instant Pot and let cool for one hour.

Place rice into a bowl and cover with plastic wrap. Stor in the fridge overnight.

Shortly before cooking use your hands to break the rice into small clumps.
Chicken marinade
To the diced-up chicken add rice wine, soy sauce, salt, water, white pepper, garlic, and green onion. Give it a good mix.

Add the corn starch and give it a good mix, ensure no white specks of corn starch are remaining.
Prepare veggies
Chop up the veggies into small pieces.
Cooking
Preheat the Blackstone griddle and arrange all of the ingredients close by.

Add a thin layer of oil to the cooktop then add the rice to one area. The veggies (reserving the squash) in one area and the chicken in another area. Make sure everything is spread out for faster cooking.

After about two minutes flip everything over and cook for another two minutes.

Add the squash to the grill.

To the rice add 4 Tablespoons butter, soy sauce, and oyster sauce. Mix the seasoning and butter into the rice.

Mix everything together and move to allow room to cook the eggs.

To a clean area of the griddle add oil and 1 Tablespoon of butter. Add the eggs and scramble them.

After the eggs are cooked add them to the fried rice and combine.

Turn off the burners and drizzle sesame oil onto the rice. Mix it in and garnish with sesame seeds and green onion.
Nutrition
Calories:
468
kcal
|
Carbohydrates:
51
g
|
Protein:
18
g
|
Fat:
20
g
|
Saturated Fat:
9
g
|
Polyunsaturated Fat:
3
g
|
Monounsaturated Fat:
7
g
|
Trans Fat:
0.4
g
|
Cholesterol:
78
mg
|
Sodium:
552
mg
|
Potassium:
224
mg
|
Fiber:
1
g
|
Sugar:
0.2
g
|
Vitamin A:
448
IU
|
Vitamin C:
1
mg
|
Calcium:
36
mg
|
Iron:
1
mg