This is an easy recipe for creamy cajun chicken alfredo pasta with just the right amount of cajun spice. This pasta dish with a creamy sauce can be ready and on the table in less than thirty minutes. It is made with simple ingredients so it is appropriate for a busy weeknight meal or when you're trying to impress someone special. I'll show you how to make cajun pasta sauce from scratch that your whole family will love.
This post does contain affiliate links that earn the site a commission. This helps to cover the cost of operating the site.
So what is Cajun alfredo sauce?
Cajun alfredo sauce is an American version of alfredo that has a little bit of spice to it. It's not authentic Italian it is a simple and creamy sauce made from fat (usually butter), cream, cheese, and seasonings. Here in the New Orleans area, it is a very common restaurant menu item. Of course, every restaurant puts a different spin on it.
Is homemade alfredo sauce keto or low carb?
Since it is made with cream and not milk then yes it is low carb and keto. But pasta is not you can use heart of palm noodles or serve over cooked broccoli.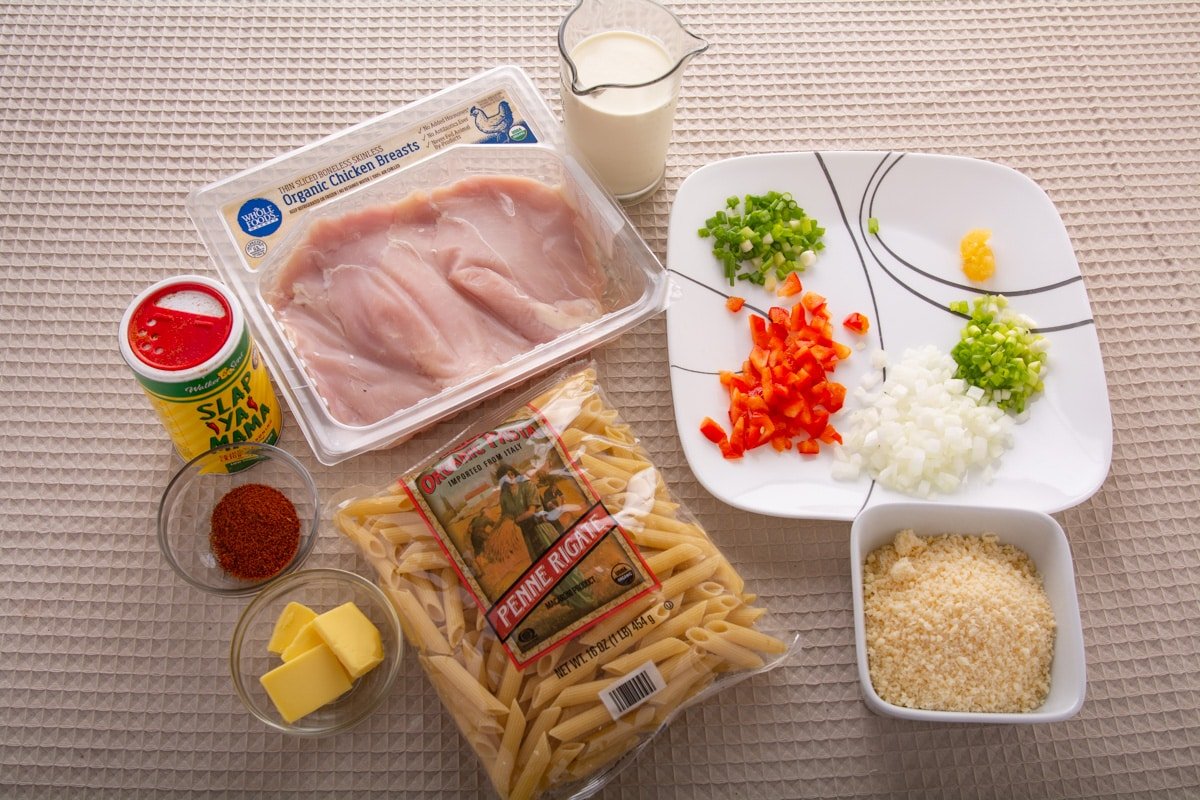 Ingredients for Cajun creamy alfredo sauce with chicken.
Pasta: Traditionally restaurants served it with fettuccine noodles but to make it easier to eat without making a mess penne is a good choice.
Boneless and skinless chicken breasts: The ones that I bought were already thin sliced but you can also cut them up into bite-sized pieces. This is a similar recipe with chicken thighs.
Olive oil: Just a little for cooking the chicken.
Cajun seasoning: it has a little spice from cayenne pepper but also contains salt, paprika for color, black pepper, herbs, garlic powder, and onion powder. My preference is for the lower sodium versions with less salt. Our preferred brand is Slap Ya Moma but you can use the one that your grocery store carries.
Heavy cream: My preference is to use heavy cream or heavy whipping cream (they are the same thing). With the addition of more cheese, you can use half and half.
Parmesan cheese: It melts nicely and gives a good flavor to the dish. Romano is also a good choice.
Bell peppers: Bell peppers, onions, and celery are part of the Cajun trinity and show up in a lot of dishes. For color and a bit of sweet flavor, we like to use red bell pepper.
Fresh garlic: Fresh finely minced garlic really makes the dish, but in a pinch, you can use garlic powder.
Optional ingredients:
Cream cheese: Adding a bit of cream cheese will help prevent your cream sauce from breaking. It will also allow you to use thinner less rich liquid instead of cream (milk or chicken broth).
Milk: Is cheaper than cream but not as rich.
Chicken stock: Some people like to add some chicken flavor to the sauce.
Smoked sausage: Sometimes I will add andouille sausage for a smoky flavor.
Red pepper flakes: For an extra bit of heat.
My YouTube for this recipe.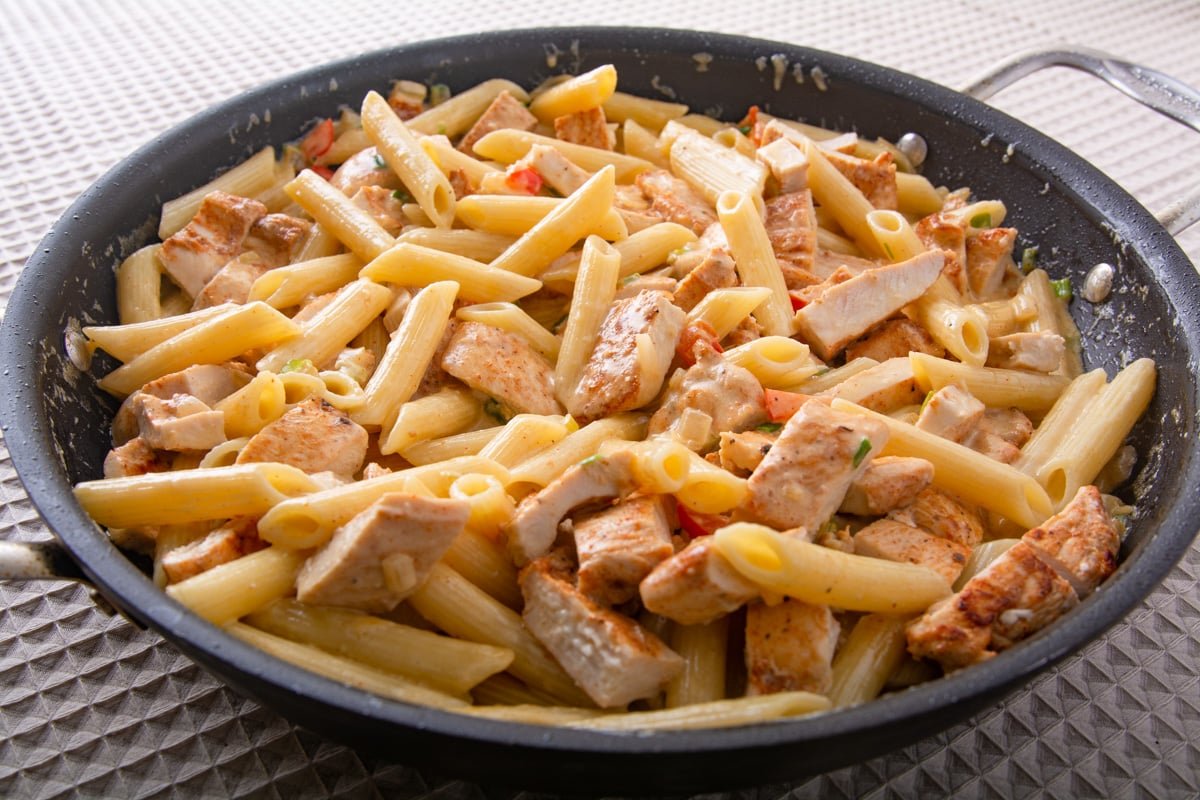 Let's start cooking our Cajun chicken pasta recipe.
Prepare your chicken breast. Either slice thinly or cut into bite-sized pieces. Cutting into bite-sized pieces will be the less stressful way to do it. Season your chicken with Cajun seasoning.
Bring a large pot of water to a rapid boil.
Heat a large skillet on the stovetop. Add olive oil and sear the chicken breast on high heat. After it has been seared on all sides, you can remove it from the pan and set it aside.
Add your veggies to the pan along with the rest of the Cajun seasoning.
Add the pasta to the boiling water and prepare according to the package instructions to achieve your desired texture. You may like your pasta al dente or you may prefer it cooked to mush. It's your pasta, cook it however you like.
After the onions are translucent add your heavy cream to the pan, reduce the burner to medium heat and bring the cream to a boil. Add the parmesan cheese and stir until the cheese melts. Reduce the burner to low heat. Simmer the sauce to your desired consistency. If it is too thin add more cheese or some cream cheese. If it is too thick, add more cream.
While the sauce is reducing cut your chicken up into bite-sized pieces.
When the pasta is done strain the pasta but do not rinse the pasta. We want to keep the extra starch on the outside of the pasta. After straining the pasta add it to the sauce along with the chicken. Give it a big stir and it is now ready to serve with some crusty garlic bread.
Store leftovers in an airtight container but keep in mind the sauce will start to break when you reheat it. It will still be delicious but it can get kind of oily.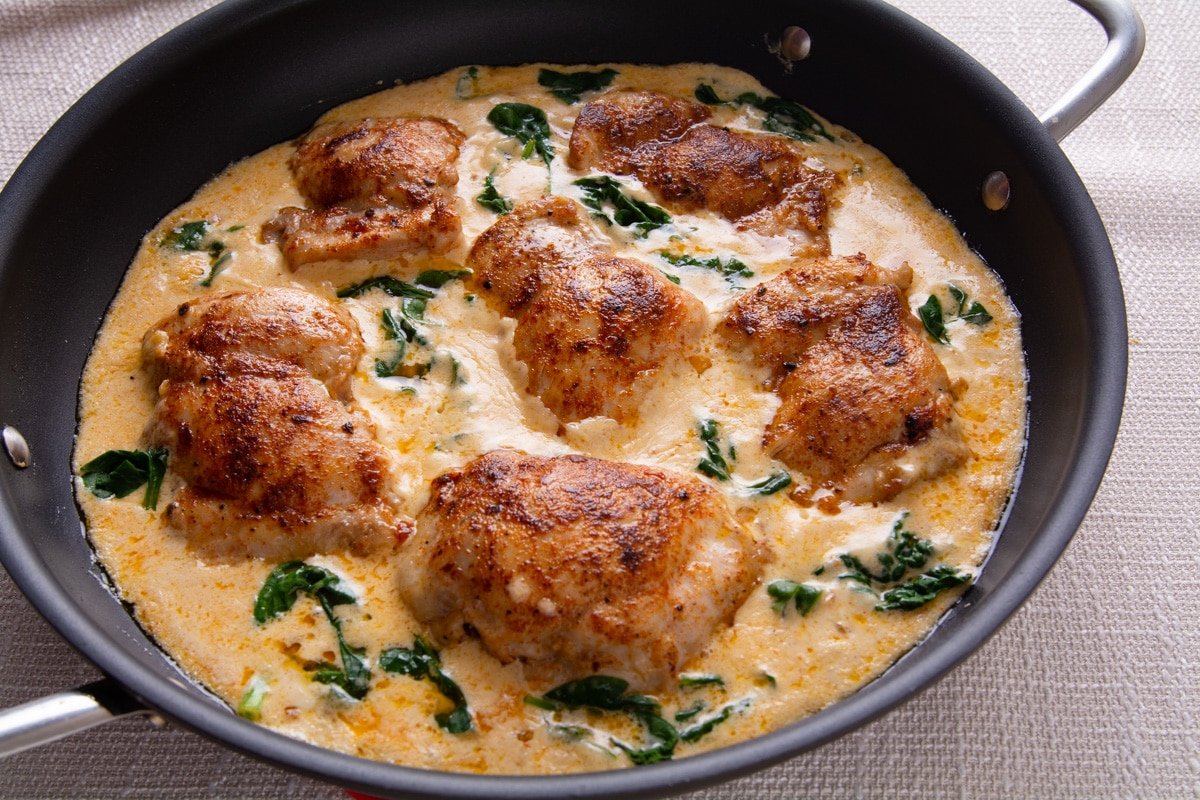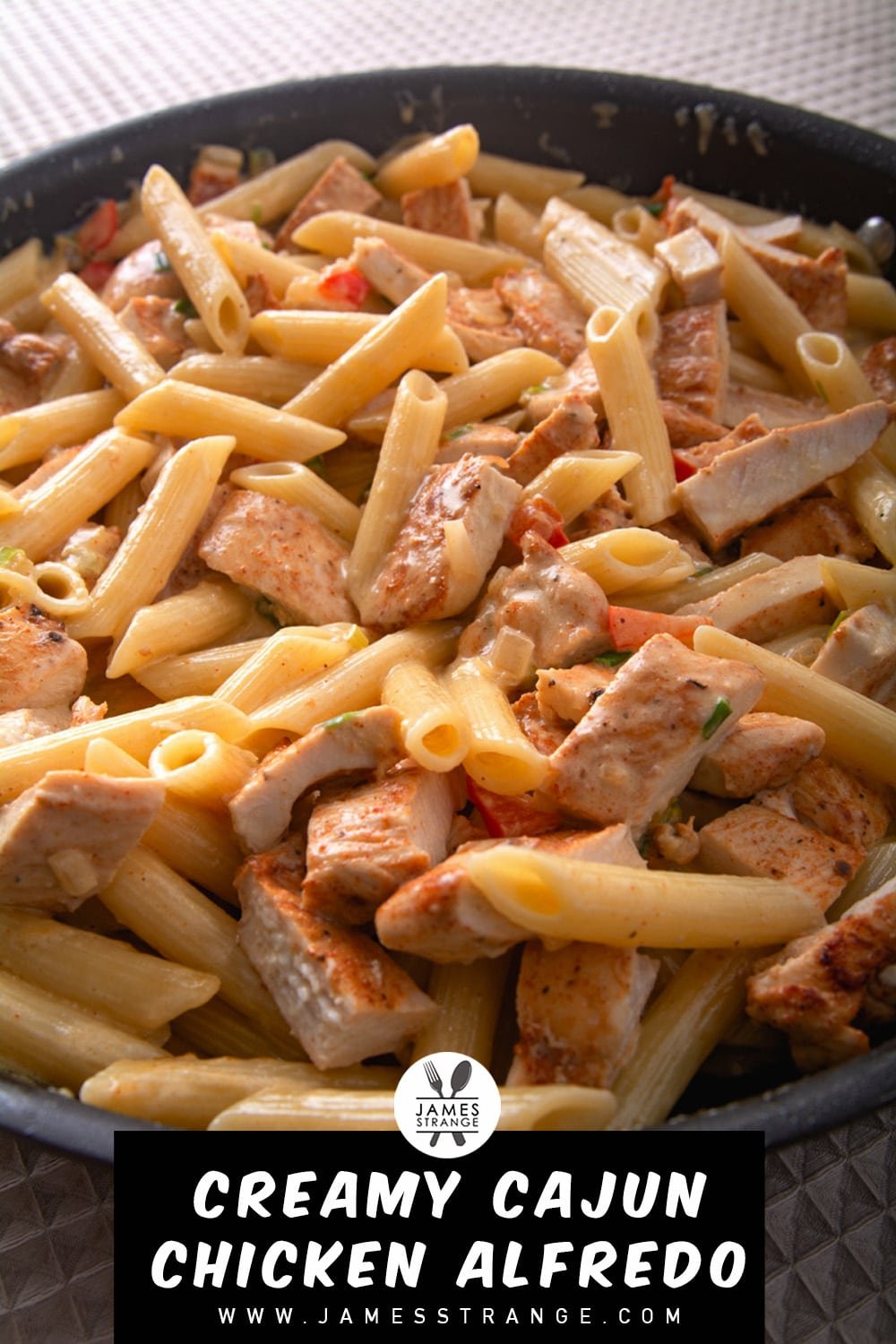 If you enjoyed this easy cajun chicken alfredo recipe then please share it with your friends.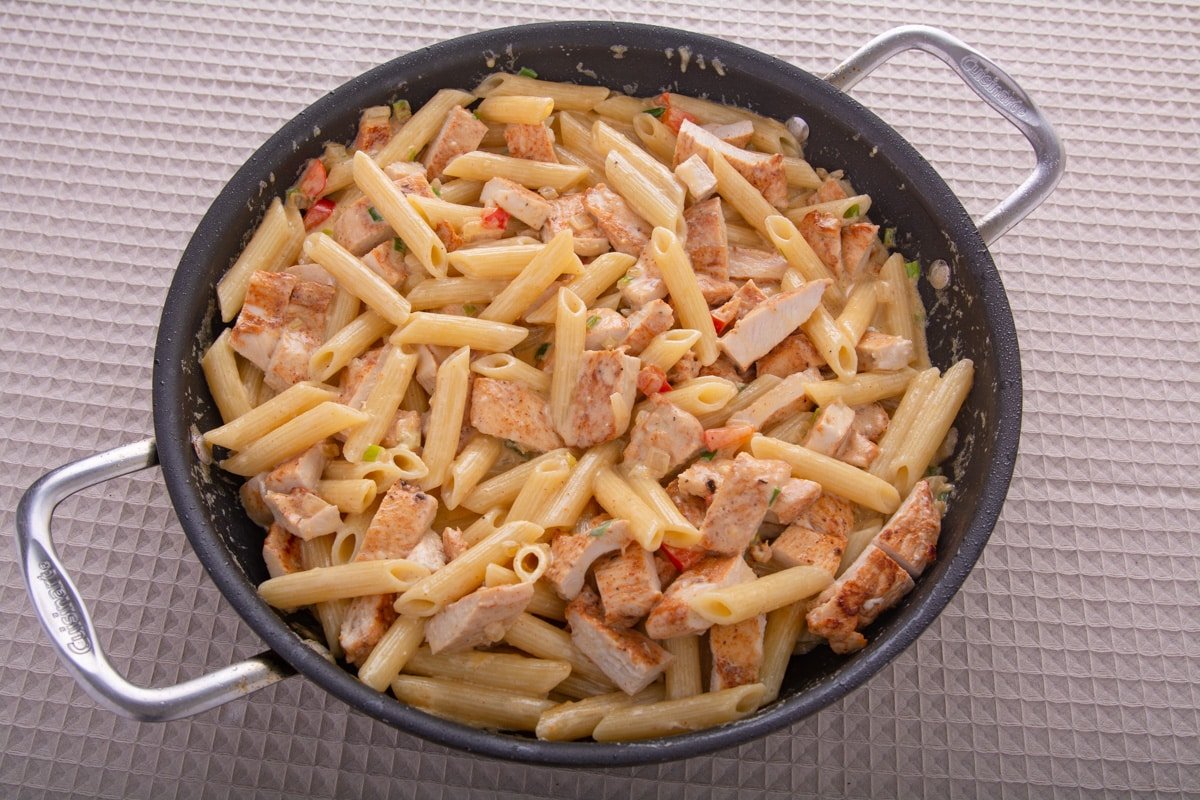 Ingredients
8

oz

Penne pasta

1.3

pounds

chicken breast

thin sliced or diced

1

Tablespoon

Cajun seasoning

2

Tablespoons

Olive Oil

4

Tablespoons

Butter

1/4

cup

Bell pepper

diced

1/4

cup

Onion

diced

2

each

Green onion

diced

2

cloves

Garlic

minced

1

cup

Heavy cream

1

cup

parmesan cheese
Instructions
Bring a large pot of water to a rapid boil.

Cut the chicken breast into thin strips (Or cut into bite-sized pieces), Season with most of the Cajun seasoning. (reserve 1/2 teaspoon for the sauce(.

Add two tablespoons of olive oil to a hot large pan. Add chicken and sear.

Add pasta to rapidly boiling water. Cook according to package instructions.

When the chicken is seared on both sides remove it from the pan and set it aside.

To the pan add 4 tablespoons of butter, 1/4 cup bell pepper, 1/4 cup onion, 2 cloves of garlic, half of the green onion, and remaining Cajun seasoning. Cook until onions become translucent.

Cut cooked chicken strips into bite-sized pieces.

Add 1 cup of heavy cream to the pan and bring to a boil.

Add 1 cup of parmesan cheese to the pan and the remaining green onion. Stir to combine the melting cheese.

When the pasta is cooked strain it but do not rinse the pasta.

Add the hot pasta to the sauce, and add the chicken to the sauce. Stir to combine.
Nutrition
Calories:
855
kcal
|
Carbohydrates:
48
g
|
Protein:
50
g
|
Fat:
51
g
|
Saturated Fat:
27
g
|
Polyunsaturated Fat:
3
g
|
Monounsaturated Fat:
17
g
|
Trans Fat:
0.5
g
|
Cholesterol:
209
mg
|
Sodium:
683
mg
|
Potassium:
836
mg
|
Fiber:
3
g
|
Sugar:
4
g
|
Vitamin A:
2623
IU
|
Vitamin C:
15
mg
|
Calcium:
368
mg
|
Iron:
2
mg