Hey, foodie friends! Ready for a flavor-packed adventure? I've got the perfect recipe for you – creamy Cajun chicken Alfredo pasta. It's the ideal blend of creamy goodness and just the right kick of Cajun spice. The best part? You can have this scrumptious dish on your table in less than thirty minutes!
Perfect for a busy weeknight or when you want to impress that special someone, this recipe uses simple ingredients that you probably already have in your kitchen. Let me guide you through crafting a Cajun pasta sauce from scratch, ensuring a dish that'll have your whole family singing its praises.
But wait, what exactly is Cajun Alfredo sauce? Cajun Alfredo sauce is a delightful twist on the classic, infusing a bit of spice into the creamy goodness. While not authentically Italian, it's a luscious blend of fat (usually butter), cream, cheese, and the perfect medley of seasonings. Down here in New Orleans, it's a staple on restaurant menus, each place giving it its unique flair.
And for our keto and low-carb pals: You're in luck! Homemade Alfredo sauce can be keto and low carb, thanks to its creamy concoction with cream, not milk. Pair it with heart of palm noodles or serve it over cooked broccoli for a guilt-free, delicious experience.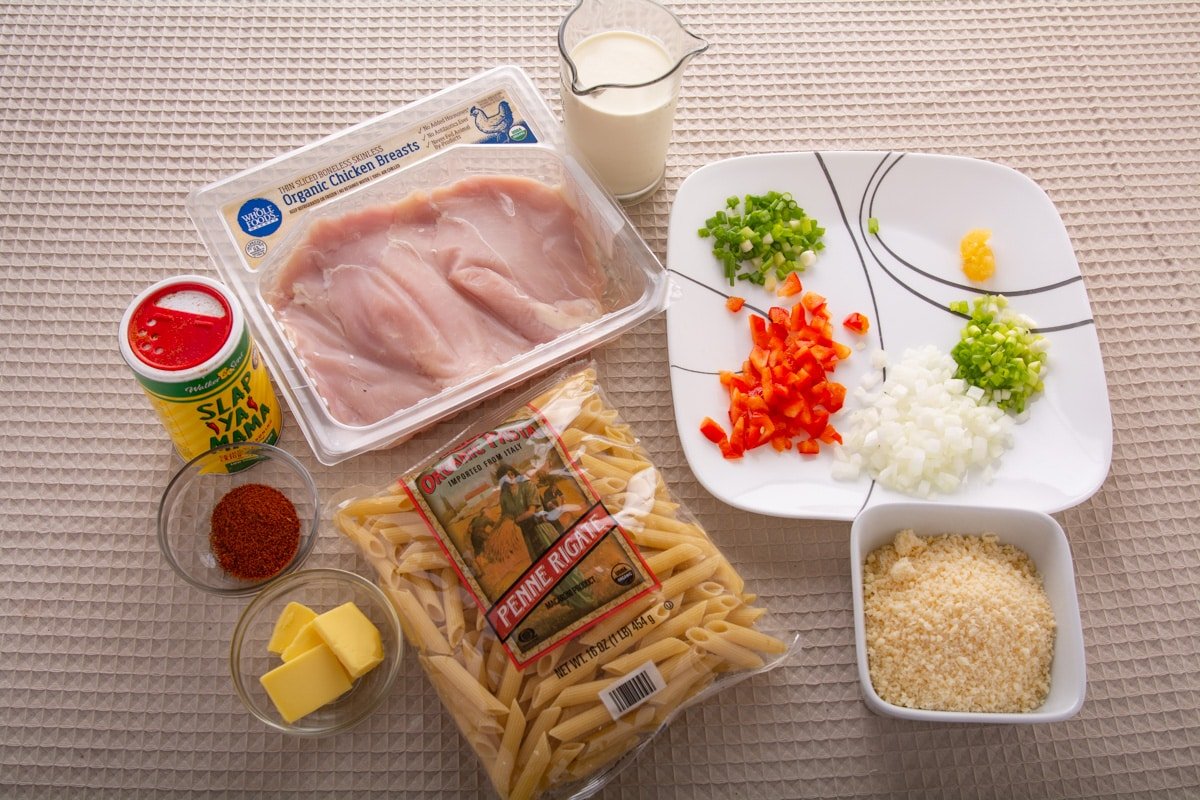 Ingredients for Cajun creamy alfredo sauce with chicken.
Pasta: For a Cajun creamy Alfredo sauce with chicken recipe, you have several pasta options to choose from. Here are some pasta varieties that work well with this flavorful dish:
Fettuccine:

A classic choice for Alfredo sauce, the wide and flat noodles perfectly capture the creamy goodness.

Penne:

The tube-like shape of penne allows the luscious sauce to cling to the pasta, creating a delightful bite.

Linguine:

Similar to fettuccine but slightly narrower, linguine offers a sleek alternative for a lighter feel.

Farfalle (Bowtie):

The unique shape of the farfalle catches the sauce, and the bowties add a playful element to each forkful.

Cavatappi:

The corkscrew shape of cavatappi is excellent for holding onto the Cajun Alfredo sauce, providing a satisfying texture.

Rigatoni:

The ridges of rigatoni make it a great choice for hearty sauces, ensuring each bite is full of flavor.
Ultimately, the best pasta choice depends on your personal preference. Whether you go for the classic fettuccine or opt for something a bit more adventurous, each pasta variety can complement the Cajun creamy Alfredo sauce and chicken beautifully. Enjoy your culinary adventure!
Boneless, skinless chicken breasts readily absorb flavors, making them a versatile choice for flavor-infused recipes like Cajun creamy Alfredo sauce. They take on the Cajun seasoning and Alfredo sauce flavors beautifully.
Olive oil is a versatile cooking oil that pairs well with a variety of flavors. It can seamlessly blend with the Cajun spices, garlic, and creamy elements in the Alfredo sauce without overpowering the dish.
Cajun seasoning: Cajun cuisine is known for its bold and robust flavors. Incorporating Cajun seasoning stays true to the culinary tradition, infusing the dish with the distinctive taste associated with Louisiana's Cajun cooking. Our preferred brand is Slap Ya Moma but you can use the one that your grocery store carries.
Heavy cream contributes a luxurious and velvety texture to the sauce. This is essential for creating the smooth and creamy consistency that defines a classic Alfredo sauce. The richness of heavy cream adds a decadent mouthfeel to the dish.
Parmesan cheese: The slightly salty and nutty flavor of Parmesan helps balance the spiciness of the Cajun seasoning. It adds a complementary element that tempers the heat, creating a well-rounded and harmonious taste experience.
Bell peppers are a common ingredient in Cajun and Creole cuisine. Including them in a Cajun-inspired dish maintains the authenticity of the culinary style, infusing the recipe with a touch of Louisiana flavor.
Fresh garlic provides a robust and pungent flavor that elevates the taste of the dish. Its aromatic qualities infuse the sauce with a savory and distinct garlic essence, enhancing the overall flavor profile.
Optional ingredients:
Cream cheese acts as a stabilizing agent, helping to prevent the sauce from breaking or curdling. Its emulsifying properties contribute to a smooth and stable sauce, especially when subjected to heat.
Milk: Using milk instead of heavy cream can significantly reduce the caloric content of the dish. This makes the recipe a potentially healthier option for those looking to manage their calorie intake.
Chicken stock adds a rich and savory flavor to the sauce, providing an additional layer of depth to the overall taste profile. The combination of chicken stock with the Cajun seasoning, cream, and Parmesan cheese creates a complex and flavorful sauce.
Andouille sausage is a staple in Cajun cuisine, known for its distinctive smoky, spicy, and savory profile. Including it in the recipe adds an authentic Cajun touch, infusing the dish with the bold flavors associated with Louisiana cooking.
Red pepper flakes add a kick of heat and spiciness to the dish, intensifying the overall flavor profile. In Cajun cuisine, the incorporation of spicy elements is characteristic, and red pepper flakes contribute to the desired level of heat.
Below is my YouTube for this recipe.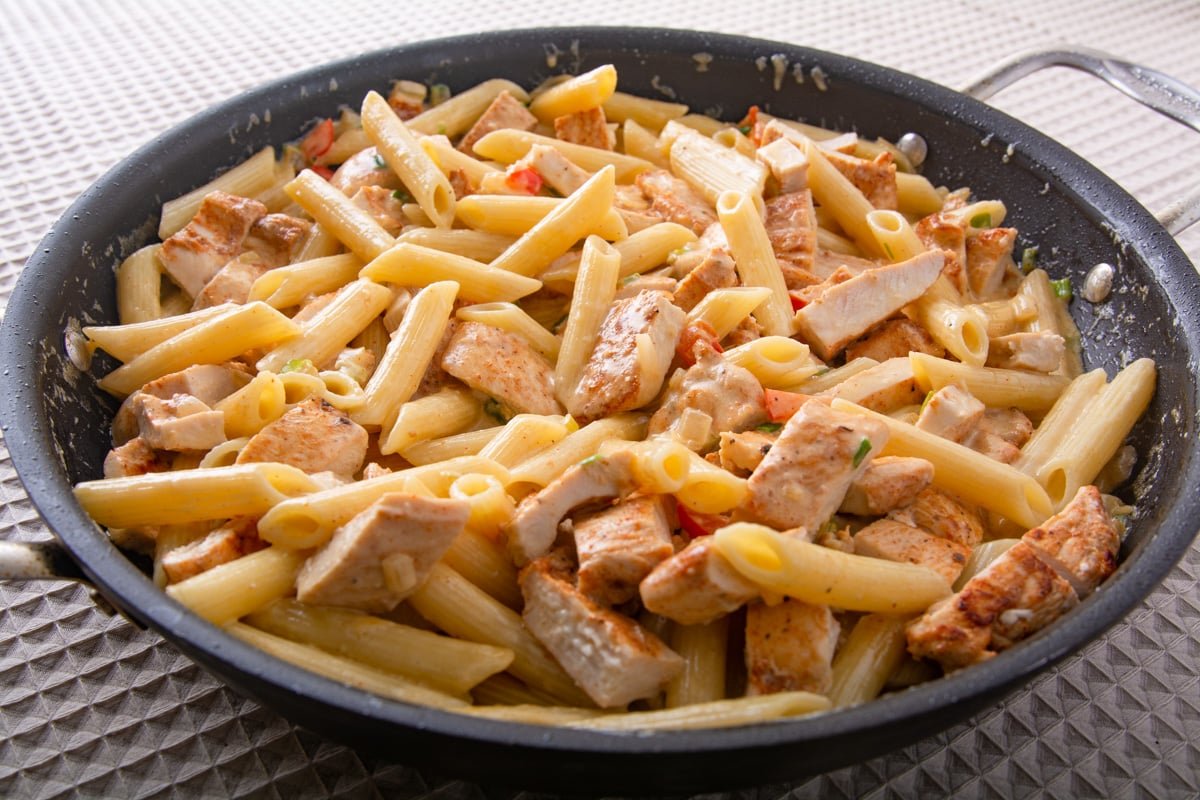 Alright, culinary comrades, let's get this Cajun party started! Here's your step-by-step guide to crafting a mouthwatering Cajun chicken pasta:
Prep the Chicken:

Thinly slice or bite-size those chicken breasts. Less stress? Bite-sized pieces. Season generously with Cajun seasoning for that perfect kick.

Boil the Pasta:

Get that pot of water to a lively boil. We're on the express train to pasta perfection!

Sear the Cajun Chicken:

Heat up a spacious skillet, pour in some olive oil, and let those chicken pieces sizzle. Once seared on all sides, set them aside for a flavor-packed return.

Veggie Tango:

Toss your veggies into the skillet, sprinkling them with more Cajun seasoning. Let the flavors dance to a Cajun beat.

Pasta Prima Donna:

Drop your pasta into the boiling water, following the package instructions. Whether you're an al dente aficionado or prefer a softer touch, cook it your way.

Creamy Magic:

Once the veggies are playing nice, add the heavy cream to the pan. Reduce the heat, let it gently boil, then sprinkle in that parmesan cheese. Stir until the cheese melts into creamy perfection. Adjust the thickness to your liking with more cheese or a bit of cream cheese.

Chicken Encore:

While the sauce works its magic, cut up that Cajun-kissed chicken into bite-sized gems.

Pasta-Sauce-Chicken Tango:

Strain the pasta, but hold off on the rinse – we're keeping that starchy charm. Toss the pasta into the creamy sauce along with the glorious chicken. Give it a twirl, and voilà, it's ready to dazzle your taste buds!

Serve with Panache:

Dish it up with some crusty garlic bread, and you've got a Cajun creation fit for a feast.

Leftovers 411:

Pop any extras into an airtight container. Just a heads up, reheating may make the sauce a bit oily, but fear not – the flavor game is still strong!
Time to savor the flavor! Enjoy your Cajun chicken pasta masterpiece!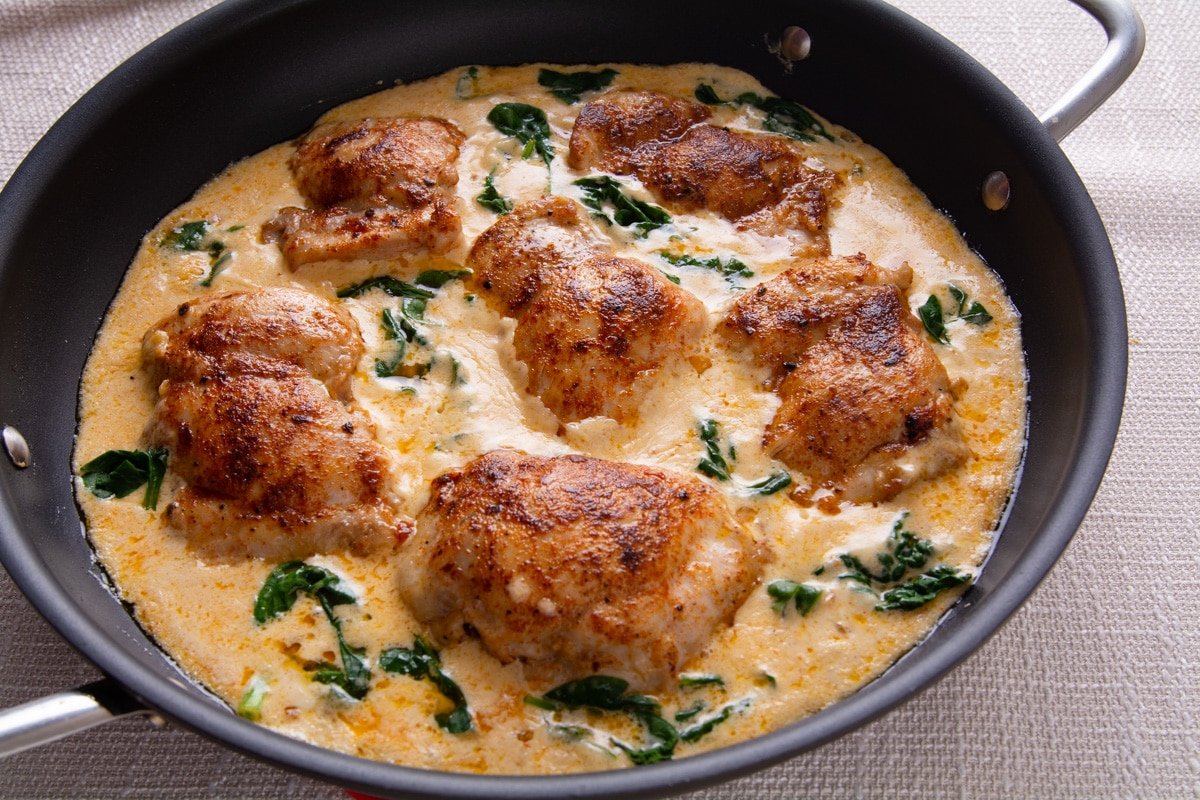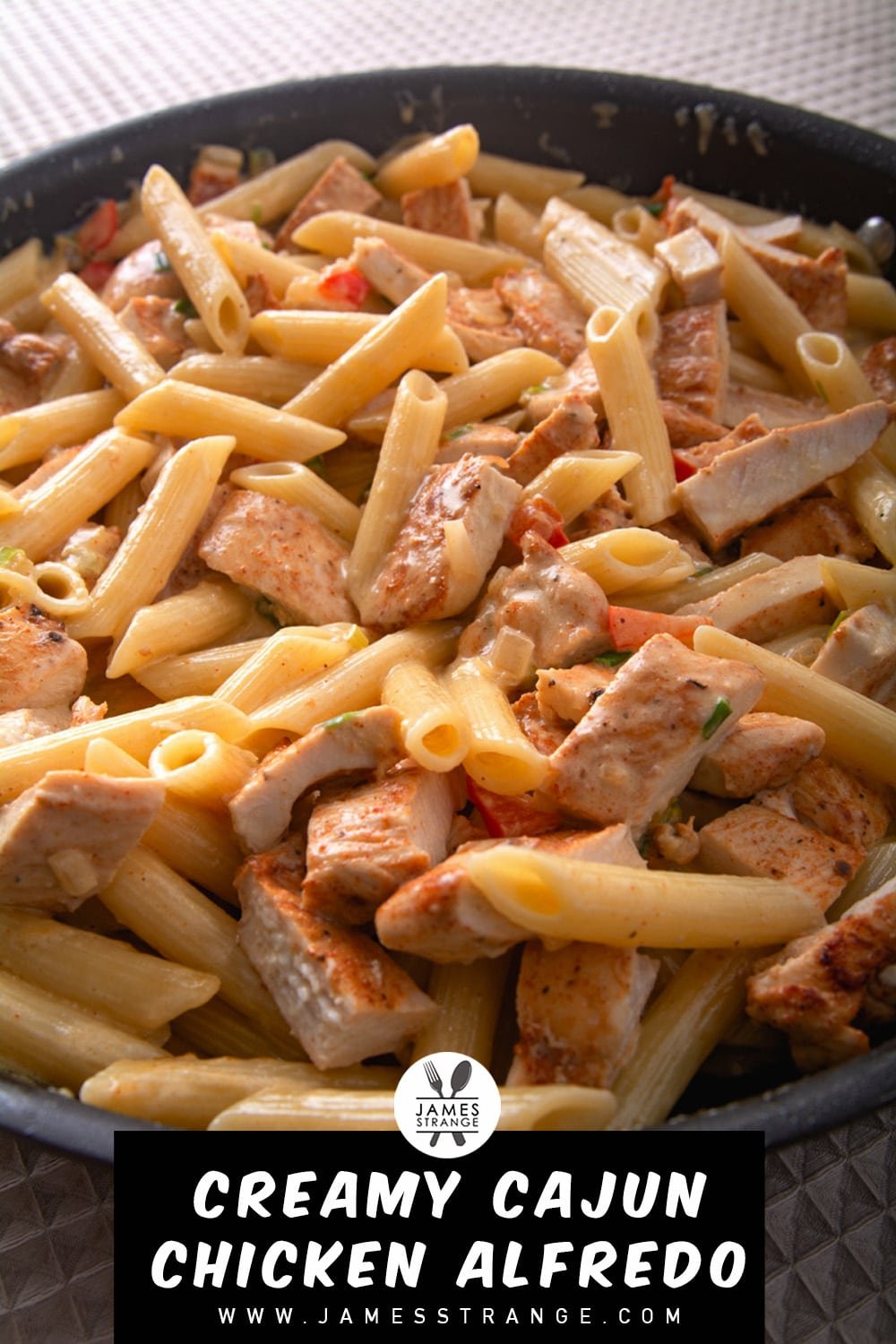 If this easy Cajun chicken Alfredo brought a smile to your taste buds, why not spread the joy? Share it with your friends, and let's create a circle of culinary happiness together! 🌟🍝😊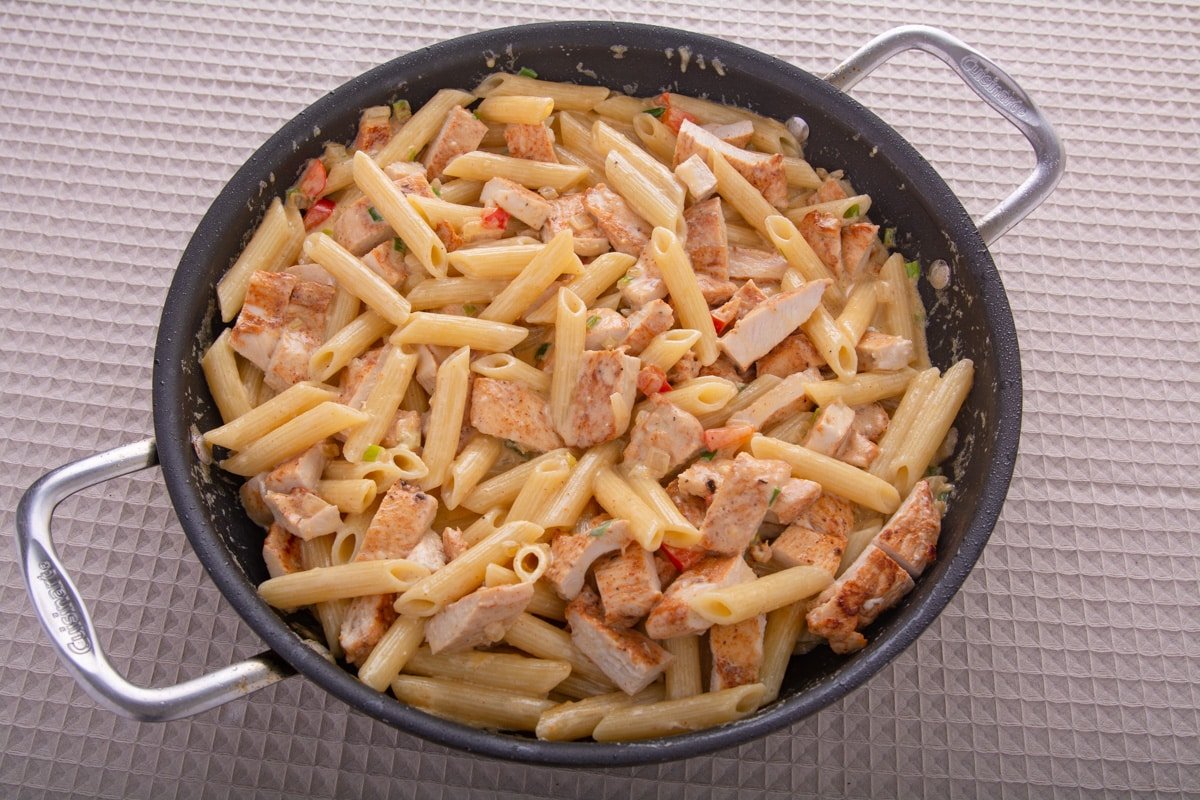 Ingredients
8

oz

Penne pasta

1.3

pounds

chicken breast

thin sliced or diced

1

Tablespoon

Cajun seasoning

2

Tablespoons

Olive Oil

4

Tablespoons

Butter

1/4

cup

Bell pepper

diced

1/4

cup

Onion

diced

2

each

Green onion

diced

2

cloves

Garlic

minced

1

cup

Heavy cream

1

cup

parmesan cheese
Instructions
Bring a large pot of water to a rapid boil.

Cut the chicken breast into thin strips (Or cut into bite-sized pieces), Season with most of the Cajun seasoning. (reserve 1/2 teaspoon for the sauce(.

Add two tablespoons of olive oil to a hot large pan. Add chicken and sear.

Add pasta to rapidly boiling water. Cook according to package instructions.

When the chicken is seared on both sides remove it from the pan and set it aside.

To the pan add 4 tablespoons of butter, 1/4 cup bell pepper, 1/4 cup onion, 2 cloves of garlic, half of the green onion, and remaining Cajun seasoning. Cook until onions become translucent.

Cut cooked chicken strips into bite-sized pieces.

Add 1 cup of heavy cream to the pan and bring to a boil.

Add 1 cup of parmesan cheese to the pan and the remaining green onion. Stir to combine the melting cheese.

When the pasta is cooked strain it but do not rinse the pasta.

Add the hot pasta to the sauce, and add the chicken to the sauce. Stir to combine.
Nutrition
Calories:
855
kcal
|
Carbohydrates:
48
g
|
Protein:
50
g
|
Fat:
51
g
|
Saturated Fat:
27
g
|
Polyunsaturated Fat:
3
g
|
Monounsaturated Fat:
17
g
|
Trans Fat:
0.5
g
|
Cholesterol:
209
mg
|
Sodium:
683
mg
|
Potassium:
836
mg
|
Fiber:
3
g
|
Sugar:
4
g
|
Vitamin A:
2623
IU
|
Vitamin C:
15
mg
|
Calcium:
368
mg
|
Iron:
2
mg