Usually, in a Korean restaurant, the spicy fish stew will be labeled maeuntang (매운탕). Maeuntang is made with cod, but the soup can be made with any fish. Since our version is made with pollock, it is called Dongtae Jjigae / 동태찌개.
Common seasoning ingredients are salted shrimp and anchovy sauce. It's also quite common to add shellfish into the stew or the fish stock. This means that I can no longer eat spicy fish stew in a Korean restaurant. But It also means that I have to take a few extra steps to ensure a good-tasting stew.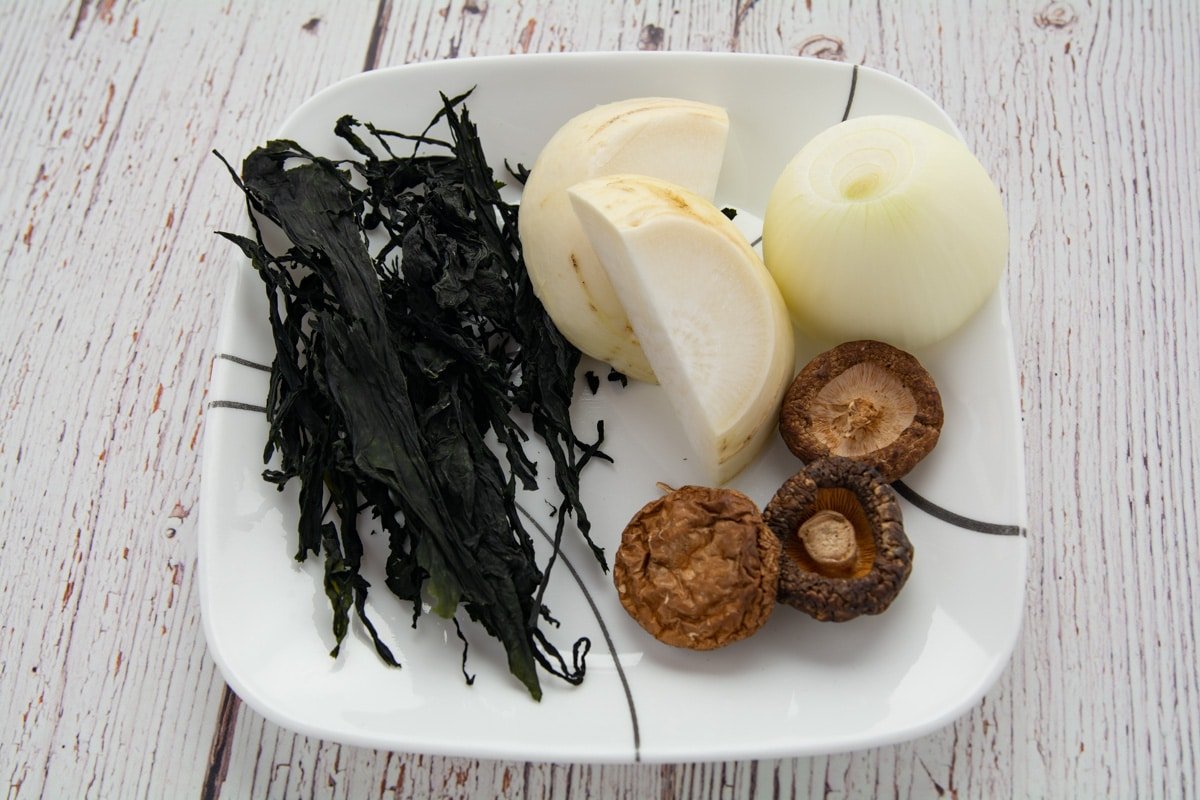 Since this version cannot contain any salted shrimp or anchovy sauce, we need to make umami-rich veggie stock. To do this, we will use seaweed and shiitake mushrooms.
Seaweed: Seaweed is loaded with umami. The one that we are using today is Ottogi seaweed. You can use kelp or any other seaweed that you have.
Dried shiitake mushrooms: The dried ones work better than the fresh ones.
Onion: How can you make stock without onion?
Korean radish: When in season, Korean radish or Mu adds a nice mild flavor. But in the summer they can be quite strong. If you can not get it, daikon radish will work.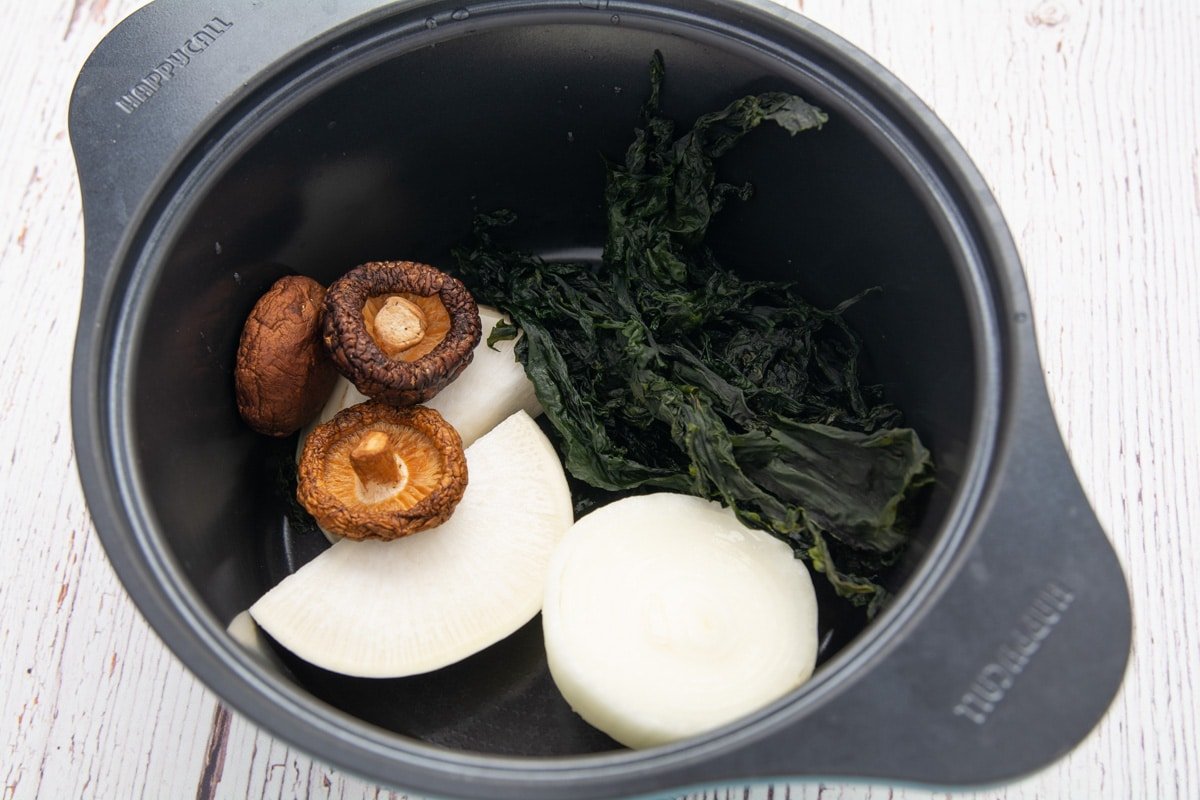 To make the stock, wash the mushrooms and seaweed. Add the seaweed, mushrooms, onion, and Korean radish and cover water to a pot. Bring to a simmer and simmer for one hour. Add water as needed. For rough numbers, use 1.5 liters of water and reduce 30%. this will give you one litter of umami-rich veggie stock.
After simmering, let the veggie stock cool down, then strain. The onion and seaweed are done and can be discarded. The radish and mushrooms can be saved. The radish was used in a side dish, and the mushrooms were cut up and used in the stew.
To make a stew with pollock or "dongtae" we need some pollock. I like to buy frozen but already cleaned pollock. If you buy the whole fish, sometimes they still have scales, etc. I am just too lazy to deal with that.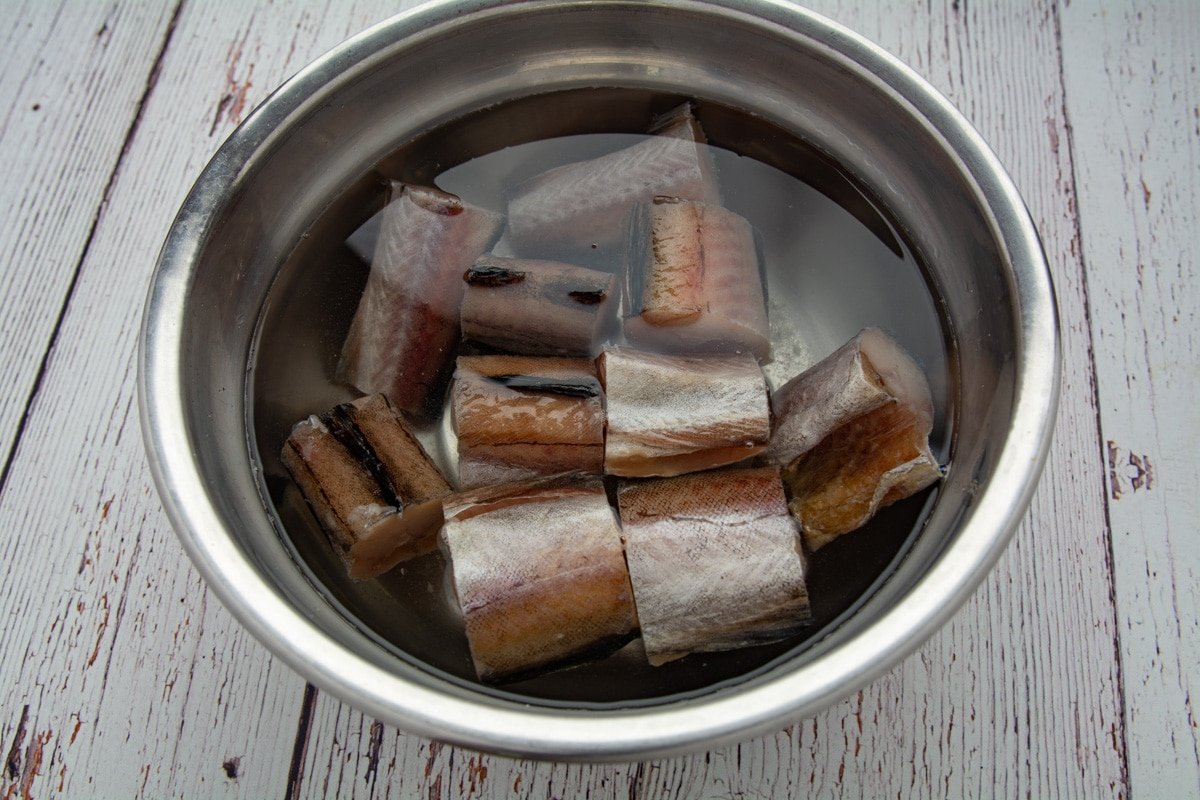 To defrost and remove some of the funky smell, cover the fish with saltwater. Let the fish sit in the saltwater for one hour, then rinse off in clean water.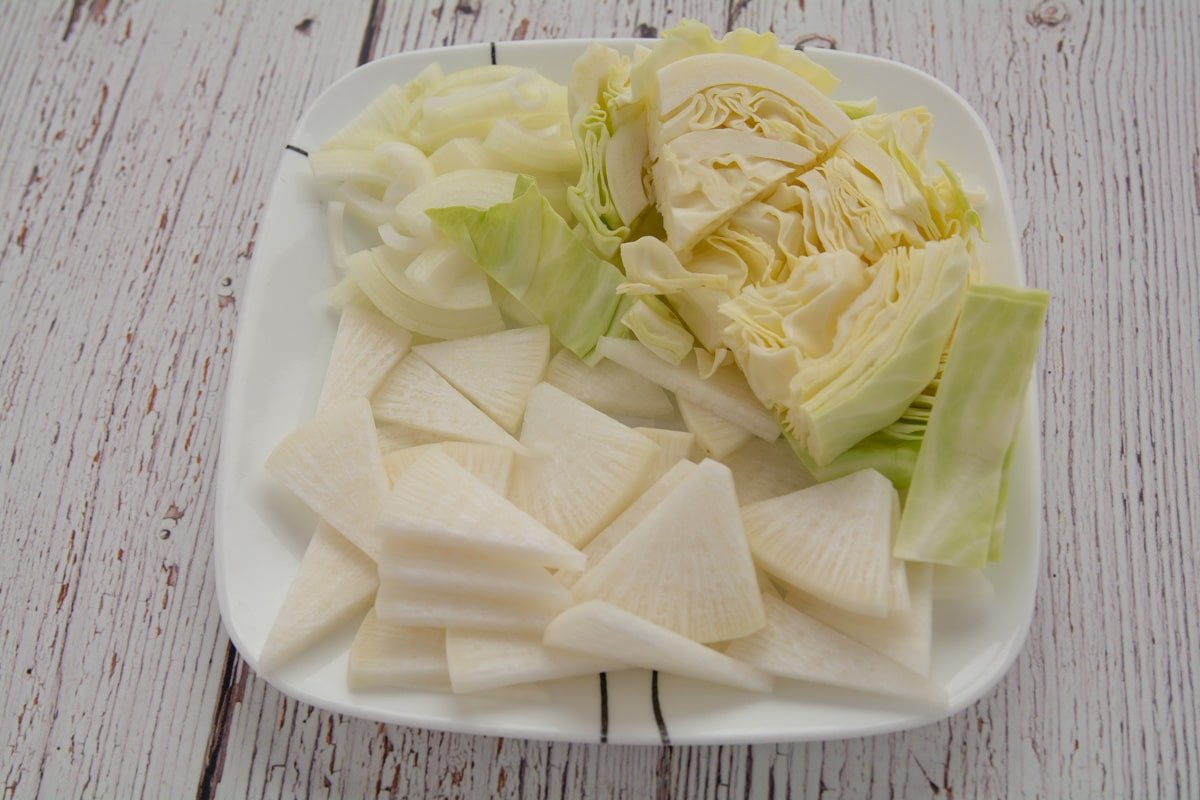 Veggies for the stew pot:
Korean radish: Yes we are adding more fresh Mu.
Onion: Yes we are adding more fresh onion.
Cabbage: Some folks like to add onion, which was my plan. My wife had other plans, and the onion was left out. But the choice is yours.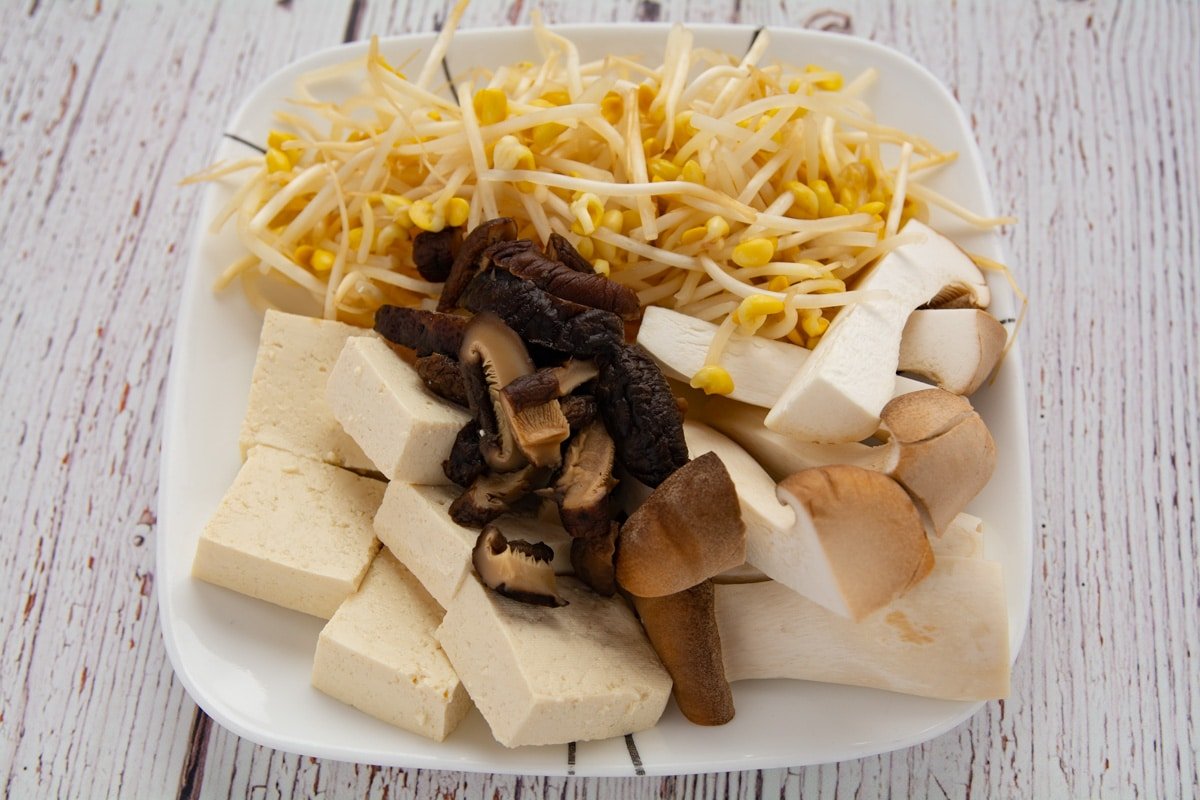 Bean sprouts: These look a little sad but will add a nice texture and flavor to the stew. Some folks like to add them early, but I prefer to add them later to keep some crunch.
Tofu: Tofu soaks up many flavors simmering in the rich broth. But if your not a fan of the texture, you can leave it out. But if the Korean food police arrest you for your crime against humanity, you are on your own.
Mushrooms: We like to use a variety of mushrooms. We start with the shiitake mushrooms used to make the stock then add others. Today we also added some king oyster mushrooms. Enoki or button mushrooms are also good choices.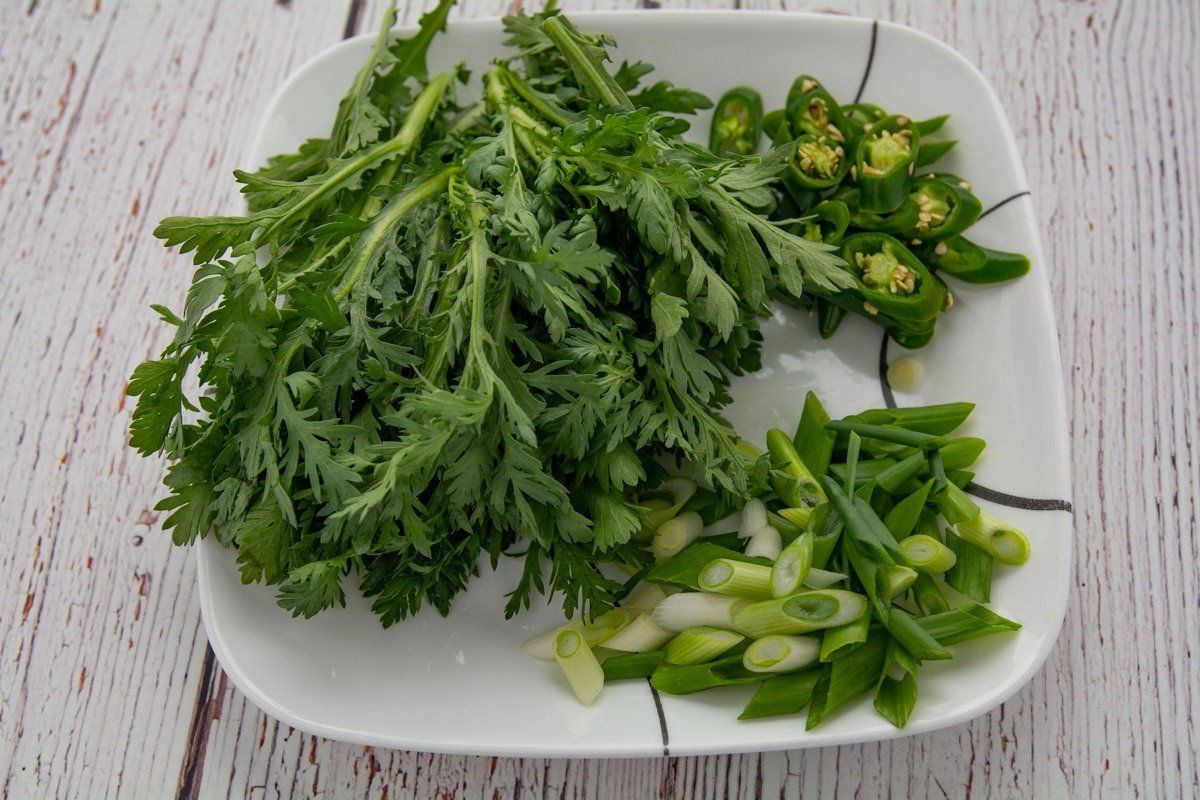 Ssuk-gat: The herb in the picture above is called ssuk-gat (crown daisy) and has a very strong flavor. I used one bunch but my wife said I should have only used one stalk. An alternative herb that is normally found in Korean fish soups and stews is minari (water dropwort). Minari has a much fresher flavor but is harder to find.
Green onion: Yep the dish needs lots of green onion.
Spicy peppers: Today, we stuck with green Korean peppers, but the red is also a good choice. Normally we do not have the Korean ones, but jalapenos also work.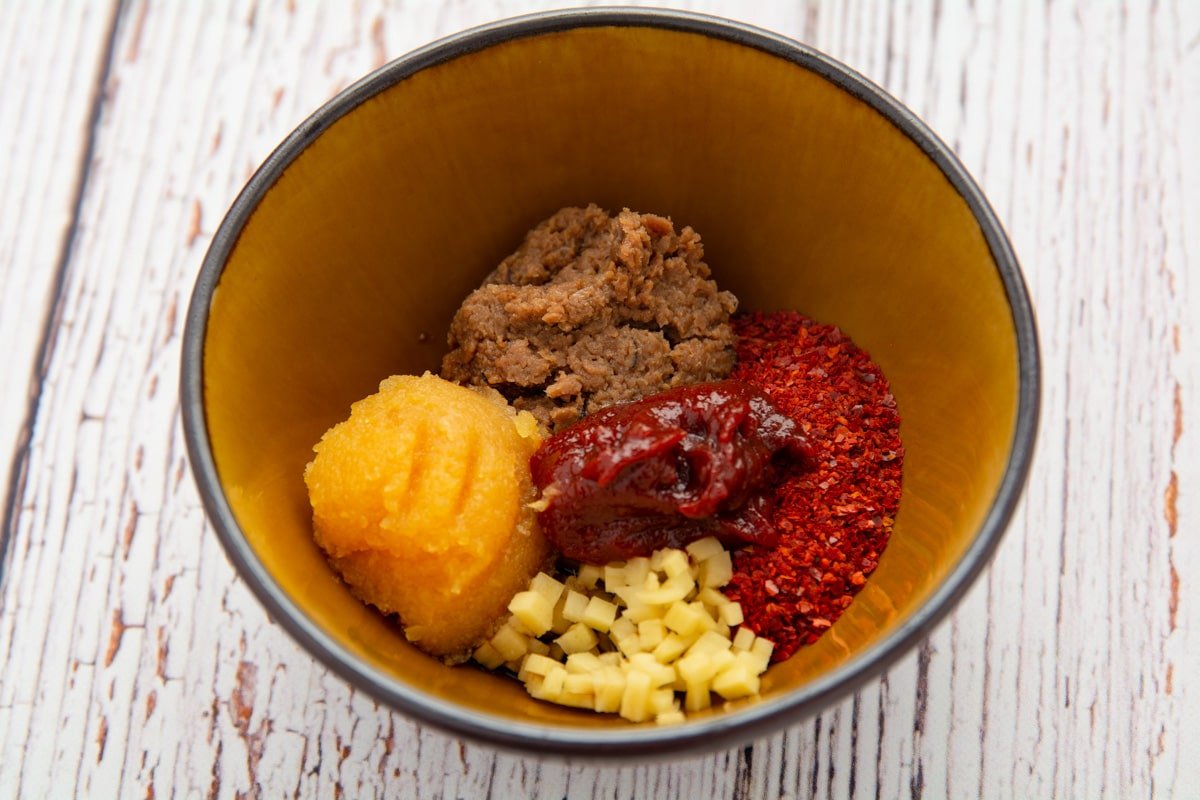 Seasoning paste: To make the cooking less stressful, I like to mix all of my seasoning ingredients before cooking. This can be done a day or two ahead of time.
Korean soybean paste: Doenjang is a fermented product with a lot of umami. It really does add a nice depth of flavor to the dish.
Soy sauce: When making doenjang is one of the byproducts. So it is also loaded with umami. On the Korean cooking blogs, they will specify soup soy sauce, which is stronger than the regular kind. But use what you have.
Korean red pepper flakes: Gochugaru is simple ground up dried chili peppers. We prefer the brands from Korea but the ones from China also work.
Korean red pepper paste: Gochujang is a fermented product of rice, peppers, and sweetener. It adds a sweet and savory element to the dish. It is an optional ingredient; not everyone adds it. But since we're leaving out the salted shrimp, we need all the flavor we can get.
Garlic: Yes lot of garlic.
Ginger: Yes, lots of ginger. The flavor goes with fish and covers some of the fishy smell.
Mix the seasoning paste ingredients and have them ready when your cooking.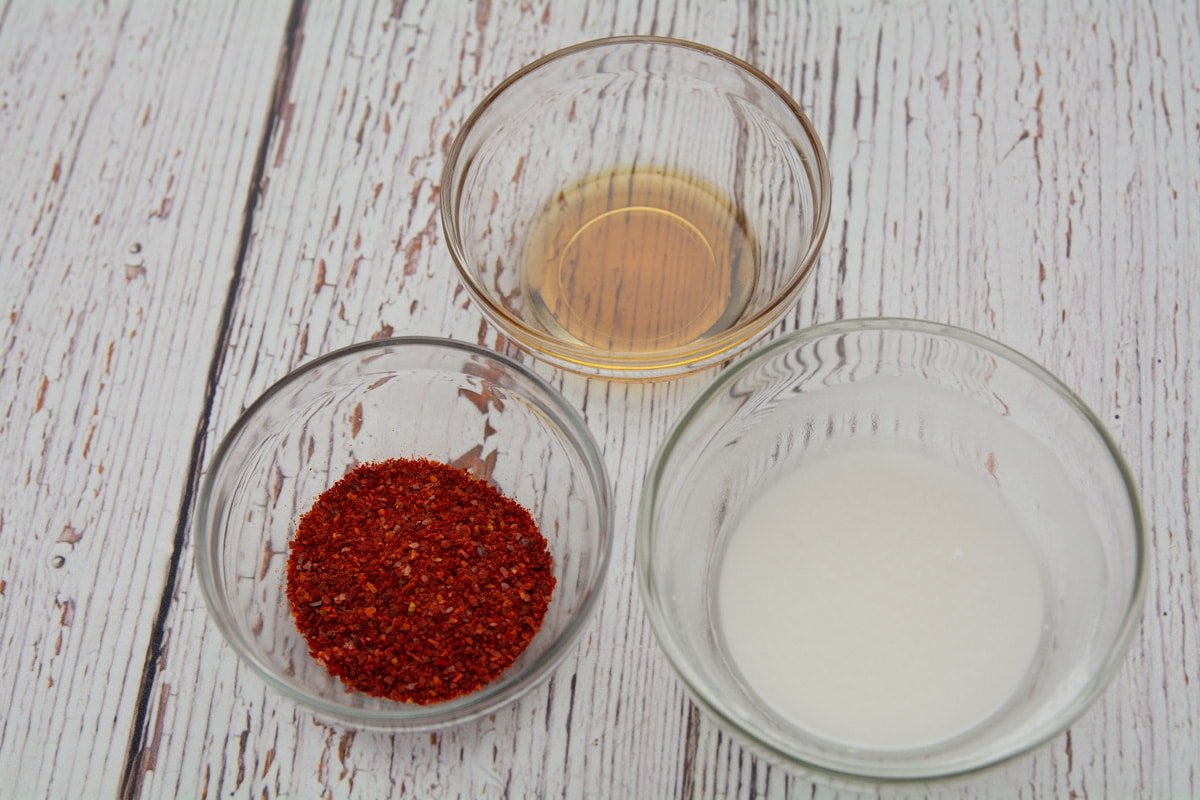 Korean red pepper flakes: Gochugaru, we did add some to the seasoning paste, but we will also toast some for a slightly different flavor.
Sesame oil: We will toast the gochugaru in sesame oil.
If you do not want to toast the red pepper flakes, add them and the sesame oil to your seasoning paste.
Rice flour: Optionally, you can add some rice flour mixed with water. I did have a translation error and thought it should be a Tablespoon of rice flour. But my wife said it was a teaspoon. But from now on, I will leave it out and use water from washing rice.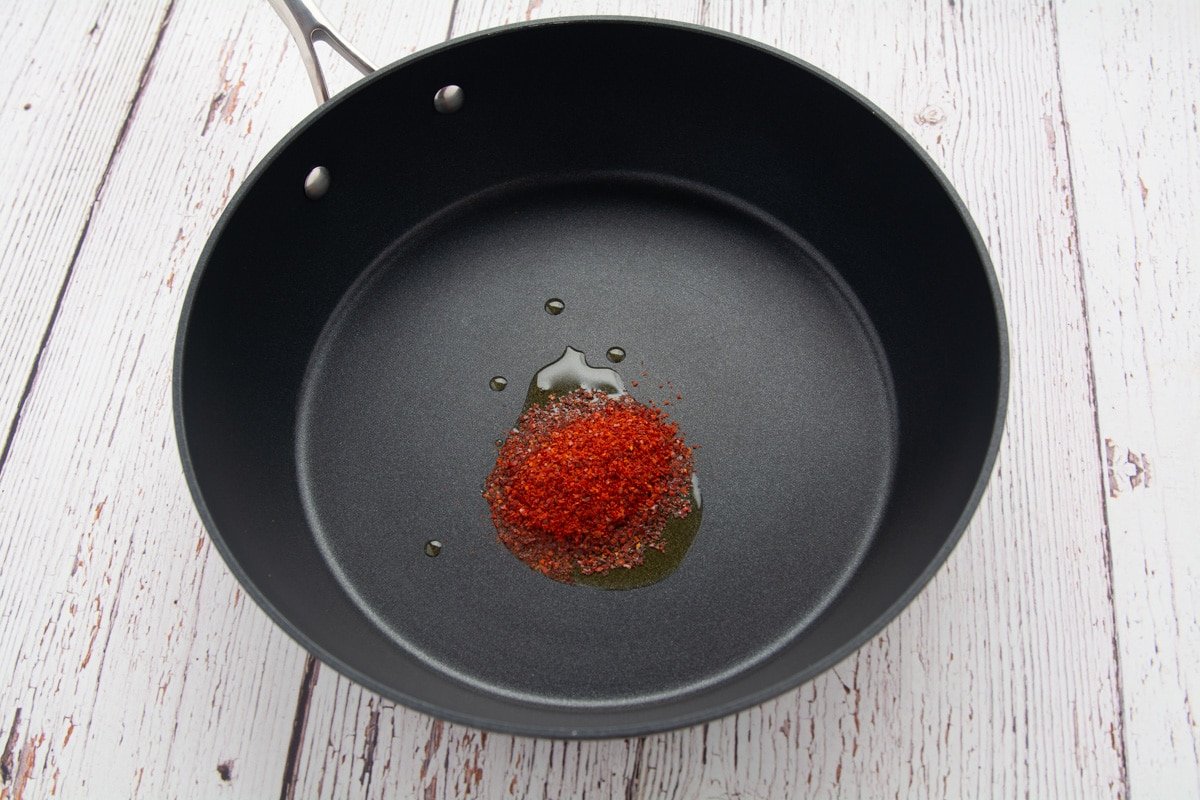 Toasting the red pepper flakes is straightforward. To a pan on low to medium heat add the sesame oil and the red pepper flakes.
Keep stirring until the red pepper flakes pickup some color and start to smell. But keep an eye on them, they burn quickly. If they burn toss them and start over.
When the red pepper flakes have some nice color add the onion, radish, fish, veggie stock, and enough water to almost cover the fish. In total, I used two liters of liquid—one liter of veggie stock and one little of the water from washing rice. The starch from washing the rice helps to make the stew thicker.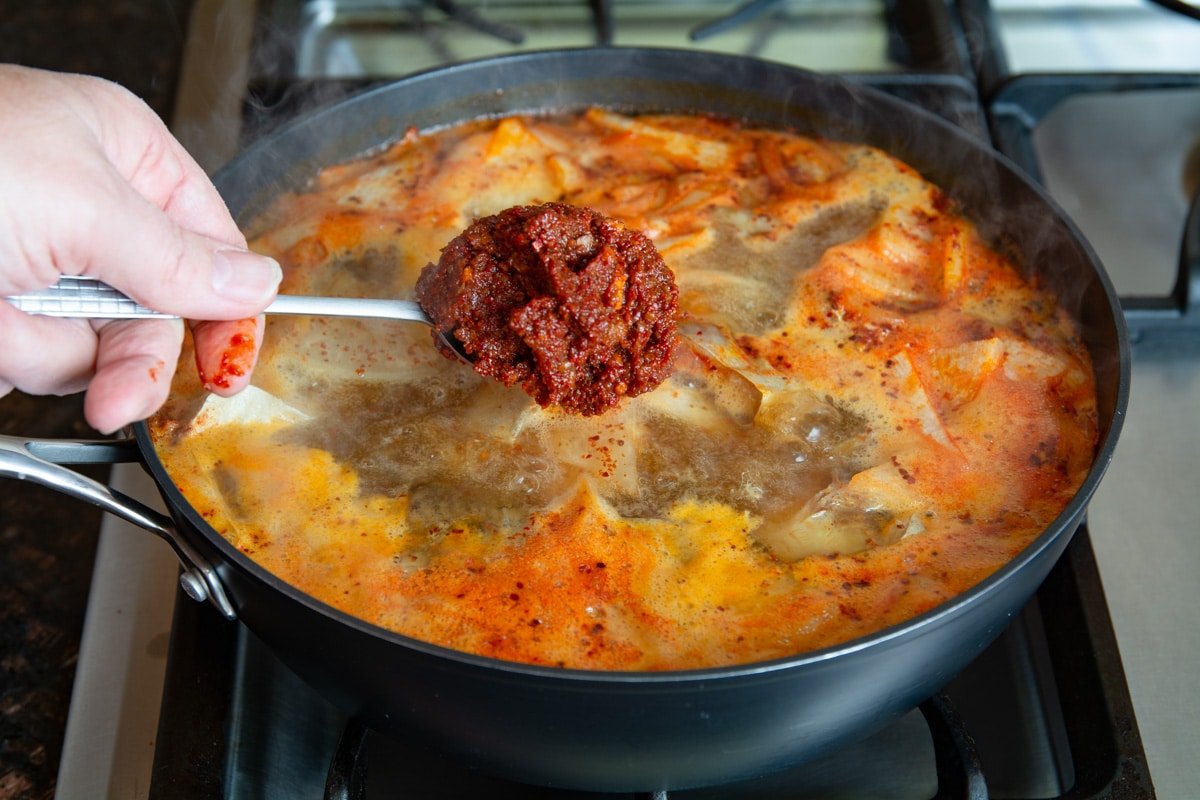 Bring the stew to a slow boil and add the seasoning paste. When the radish is tender, the fish should be done. This took me about twenty minutes.
After fifteen minutes, taste the stew and adjust for salt. We added one tablespoon of soy sauce and one teaspoon of sea salt. After adjusting seasoning to your liking, add the tofu, bean sprouts, and mushrooms.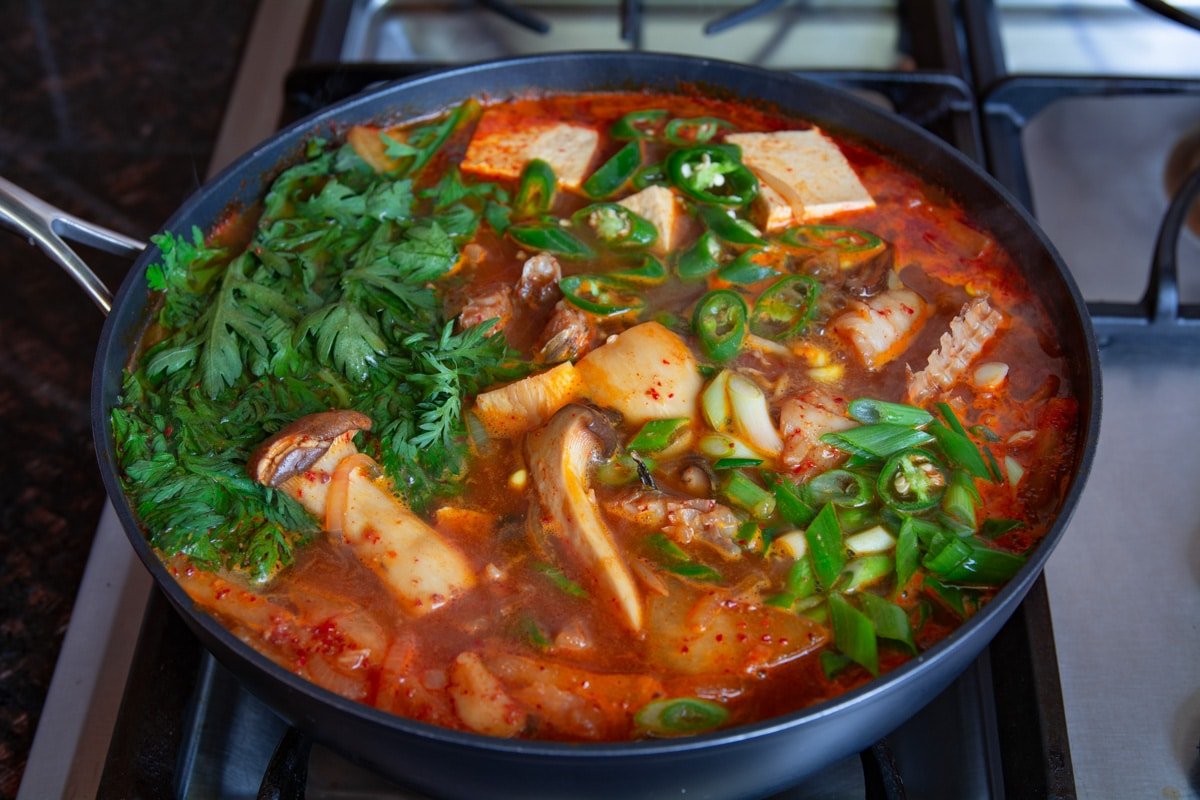 Just before serving we added the ssuk-gat, green onion and peppers. Keep in mind this is a spicy dish so have lots of rice and water closeby.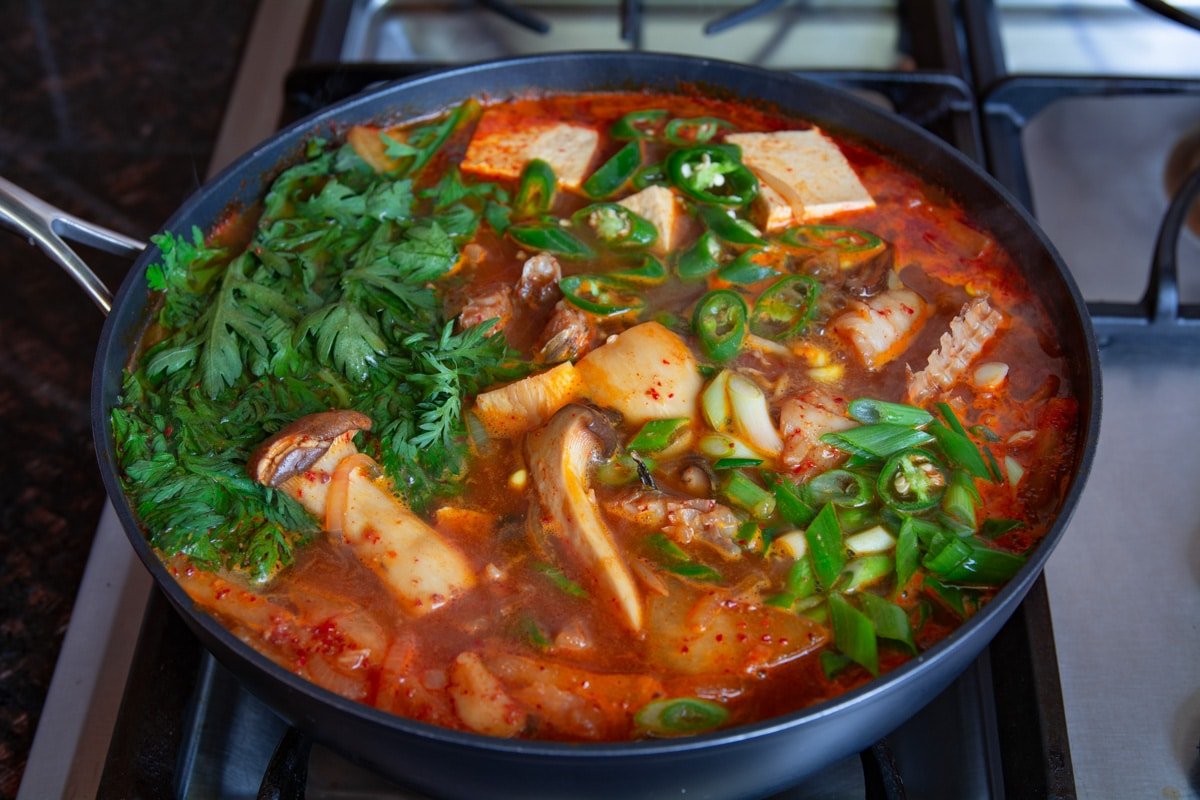 Ingredients
Veggie Stock
5

grams

Ottogi seaweed

3

Shiitake mushrooms

Dried

200

grams

Korean radish

Mu

1

Onion

medium

1.5

Liters

Water
Vegetables
200

grams

Korean radish

1/2

Onion

8

oz

Tofu

150

grams

Bean sprouts

200

grams

Mushrooms

1

sprig

Ssuk-gat

Or one bunch of Minari

4

Green onions

2

Green peppers
Seasoning paste
1

Tablespoon

Korean soybean paste

1

Tablespoon

Korean red pepper flakes

1

Tablespoon

Korean red pepper paste

1

Tablespoon

Garlic

1

Tablespoon

Ginger

1/2

Tablespoon

Soy sauce
Other
1

Tablespoon

Sesame oil

1

Tablespoon

Korean red pepper flakes

1

Liter

Water
Instructions
Make the veggie stock
Wash the dried shitake mushrooms and seaweed

To a pot, add the mushrooms, seaweed, one onion, Korean radish, and 1.5 liters of water.

Simmer the stock until it has reduced by 30%

Strain the stock and chopup the mushrroms.
Prepare the fish
Soak the frozen fish in saltwater for 1 hour

Rinse the fish in freshwater and sit aside
Prepare the veggies
Chop up the Korean radish, onion, tofu, green onions, peppers, and mushrooms.

Wash the beansprouts and Ssuk-gat.
Make the Seasoning paste
Mix all seasoning paste ingredients, including Korean soybean paste, soy sauce, red pepper flakes, red pepper paste, garlic, and ginger.
Cook
On medium heat, toast 1 tablespoon of red pepper flakes in 1 tablespoon of sesame oil.

Add 100 grams of sliced radish, 1/2 medium onion, fish, 1 litter of veggie stock, and 1 liter of water. Bring to a slow boil.

When the pot comes to a boil, add the seasoning mix.

After 10 to 15 minutes, adjust seasoning. Add salt and soy sauce to taste.

Add the tofu, bean sprouts, and mushrooms.

When the radish is tender, add the Ssuk-gat, green onion, and green peppers. The stew is now ready to serve.
Nutrition
Calories:
324
kcal
|
Carbohydrates:
23
g
|
Protein:
42
g
|
Fat:
9
g
|
Saturated Fat:
1
g
|
Cholesterol:
73
mg
|
Sodium:
480
mg
|
Potassium:
1497
mg
|
Fiber:
7
g
|
Sugar:
10
g
|
Vitamin A:
1616
IU
|
Vitamin C:
84
mg
|
Calcium:
179
mg
|
Iron:
4
mg