Whipping up this uncomplicated dry-rubbed chicken in the Pit Barrel Cooker is a game-changer. It's not just moist; it's bursting with a delightful mix of savory, sweet, and spicy flavors—all crafted from pantry staples. Today, I've got chicken halves hanging in the spotlight, but this magic works wonders for whole chickens too, especially when you've got the turkey hanger in play. And here's the beauty: it's not picky—it plays well with any cut of chicken. Cooking it up in the Pit Barrel Cooker is a breeze and the results? Well, let's just say my family can't get enough!
This post may contain affiliate links that earn the site a commission.
Ingredients for our homemade dry rub recipe:
The combination of smoked paprika, brown sugar, salt, black pepper, onion powder, garlic powder, cayenne pepper, chili powder, oregano, and thyme creates a symphony of savory, sweet, and spicy notes. It's a well-balanced blend that promises to elevate the taste of your chicken, adding depth, complexity, and a hint of smokiness. With such a lineup, your Pit Barrel Cooker creations are bound to be a hit.
Link to my smoked chicken rub recipe, but feel free to use a rub of your personal preference. Note: I am using a double batch.
Hey there! When you're gearing up to use the rub, pop it into a small bowl or shaker. This way, you keep things tidy and avoid spreading it all over the place. Plus, any extra rub that's untouched can hang out in an airtight container until your next flavor-packed adventure!
Guess what? My local grocery store had this awesome deal on whole chickens, so I snagged a couple. Just a tip: when you've got a whole chicken, try cutting it in half. And if you're feeling extra handy, use a sharp knife to remove the backbone – you can stash that goldmine for making some delish chicken stock later on. Waste not, want not, right?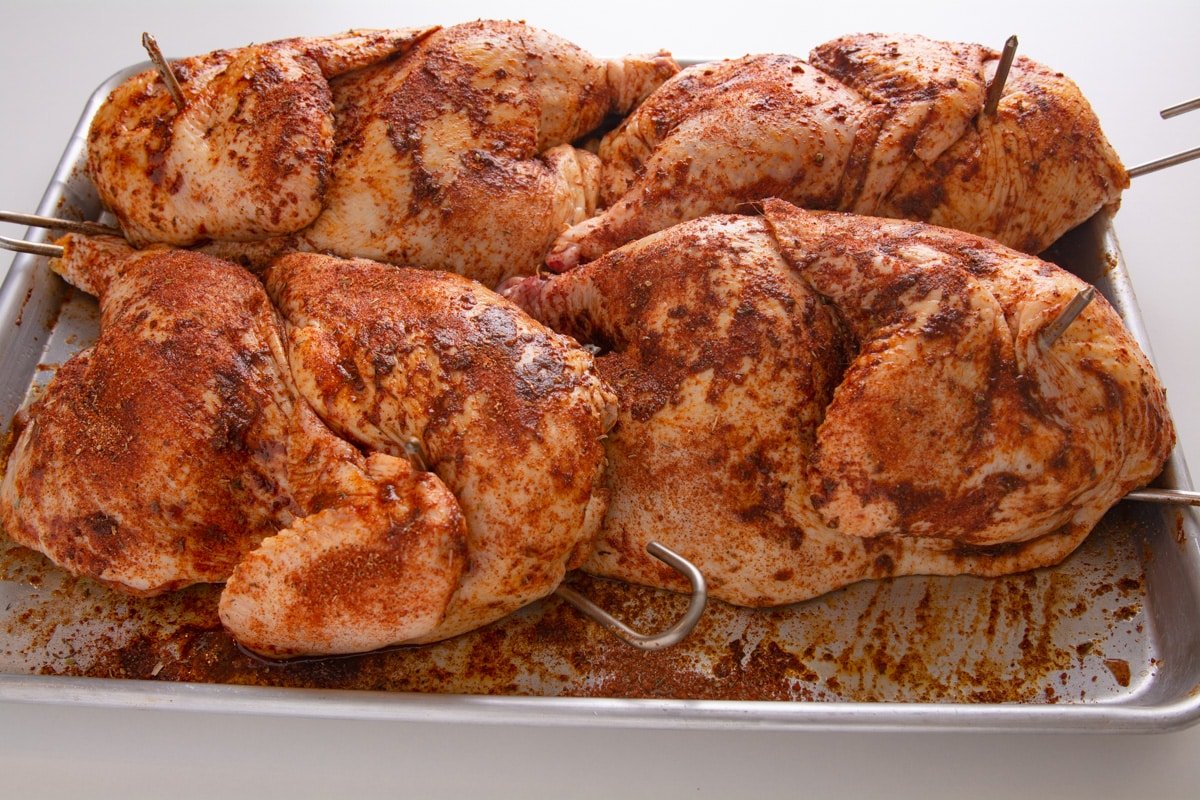 Alright, let's get this chicken show on the road! Start by giving those chicken halves a gentle pat-down with paper towels to get them nice and dry. Now, here's the trick for a flavor-packed punch: coat the outside with a touch of olive oil – it acts like a magic binder. Once you've got that golden sheen, generously sprinkle your fantastic dry rub all over. Don't forget to hook those babies under the breastbone for some extra barbecue flair!
Now, onto the Pit Barrel prep. Fire it up, aim for a cozy temperature range of 225F to 275F (107C to 135C). If you're feeling fancy, toss in some wood chips for that extra flavor kick. Just a heads up, though – wood chips might play hard to get with your temperature control game.
Hang your chicken halves from the rebar, and insert a temperature probe in the thickest part of the breast or thigh. Pro tip: dual-zone setup rocks, so hang a probe to keep an eye on the barrel temperature. If you're going for that smoky vibe with wood chips, throw 'em in now. Lid down, and let the magic begin.
Now, the delicate dance between fully cooked and crispy. We want the chicken cooked through, but we're not about that rubbery skin life. Starting low and slow is my go-to move – barrel temp at 200 to 225 F with the lid sealed tight. Cook the chicken until it hits 150F internally. Quick pit stop: peek in, and rearrange if needed (because life isn't always fair on both sides of the barrel). The lid is back on, but not too snug. Crack it open a bit, maybe adjust the vent. Now, we're aiming for a rocking 275 to 300F to prevent rubbery skin.
Keep that barbecue ballet going until your digital thermometer shouts 165F. Give your chicken a little break, and check the legs and thighs with an instant-read thermometer. Once you're rocking above 165F (74C), you're in business – time to serve up that flavor-packed perfection!
If you're a fan of Pit Barrel Cooker goodness, you're gonna love my recipe for leg quarters It's a flavor explosion that'll have you coming back for more. Ready to take your barbecue game up a notch? Let me share the delicious details with you!
Hey, if this recipe brought some BBQ joy to your taste buds, why not spread the love? Share it with your friends, and let them in on the flavor-packed secret! After all, good food is meant to be shared.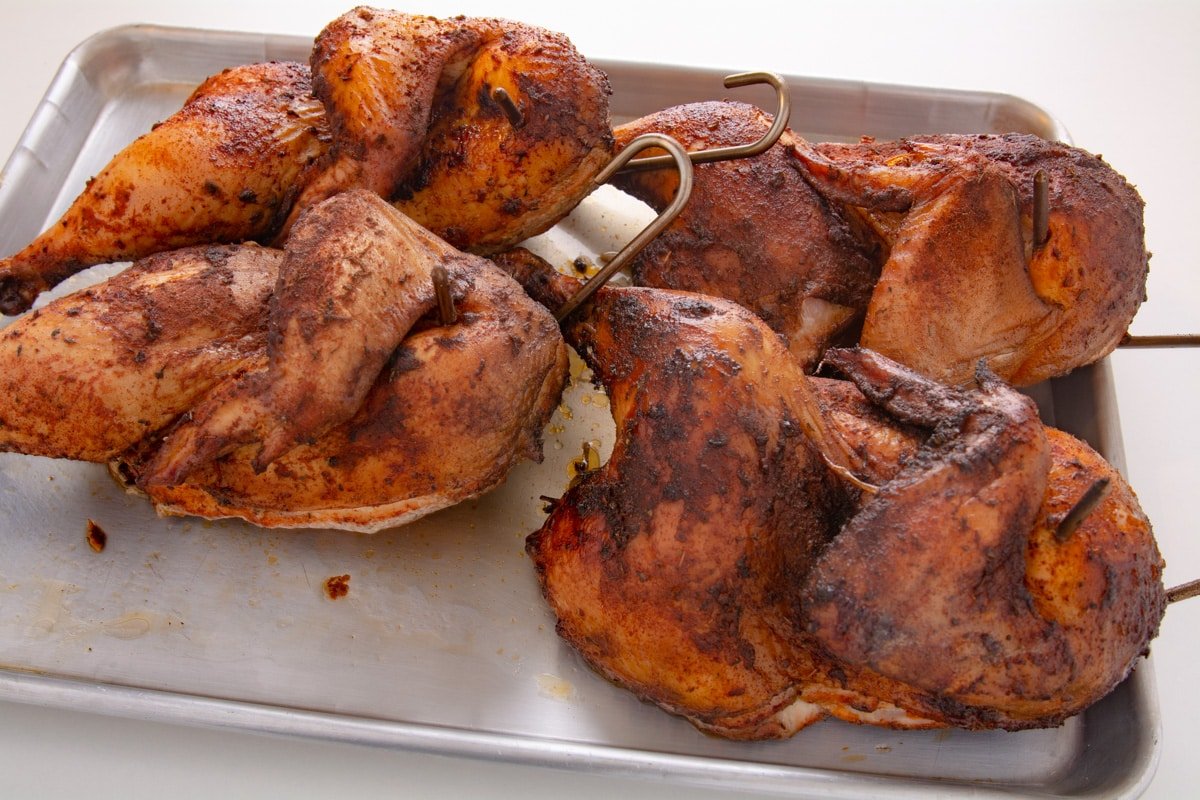 Ingredients
2

each

Chickens

2

Tablespoons

Olive oil

4

Tablespoons

Smoked paprika

2

Tablespoons

Brown sugar

2

teaspoons

Salt

2

teaspoons

Onion powder

4

teaspoons

Granulated garlic

2

teaspoons

Cayenne pepper

1

teaspoon

Oregano

2

teaspoons

Thyme

2

teaspoons

Chili powder

1

teaspoon

Black pepper
Instructions
Split the chickens into halves. If desired remove the backbone.

Coat the outside of the chickens with olive oil.

In a bowl add the smoked paprika, brown sugar, salt, onion powder, granulated garlic, cayenne pepper, oregano, thyme, chili powder, and black pepper. Give the seasoning mix a good stir.

Liberally season the with the seasoning mix. Run the hooks under the breastbone.

Start a fire in the pit barrel cooker and adjust the barrel temperature to 225F.

Hang the chickens and close the lid.

Cook the chickens to an internal temperature of 150F. Then adjust the barrel temp to 275F.

Cook the chickens to a minimum internal temperature of 165F.

They are now ready to serve.
Nutrition
Calories:
64
kcal
|
Carbohydrates:
7
g
|
Protein:
1
g
|
Fat:
4
g
|
Saturated Fat:
1
g
|
Polyunsaturated Fat:
1
g
|
Monounsaturated Fat:
3
g
|
Cholesterol:
0.2
mg
|
Sodium:
595
mg
|
Potassium:
137
mg
|
Fiber:
2
g
|
Sugar:
3
g
|
Vitamin A:
2112
IU
|
Vitamin C:
1
mg
|
Calcium:
24
mg
|
Iron:
1
mg