Sopa de Conchas, Mexican Shell Pasta Soup or sopita, is a classic homemade Mexican dish. The recipe is popular among busy moms trying to feed their children. Comfort food at its finest, this soup of shells recipe is easy to make and delicious. Your little picky eater will love it and it's ready in minutes.
This post does contain affiliate links that earn the site a commission. This commission helps to offset the cost of operating the site.
This sopa de conchas recipe is my quick and easy way to make Mexican sopita. But I will also discuss variations of the dish so that you can make your very own version of sopa.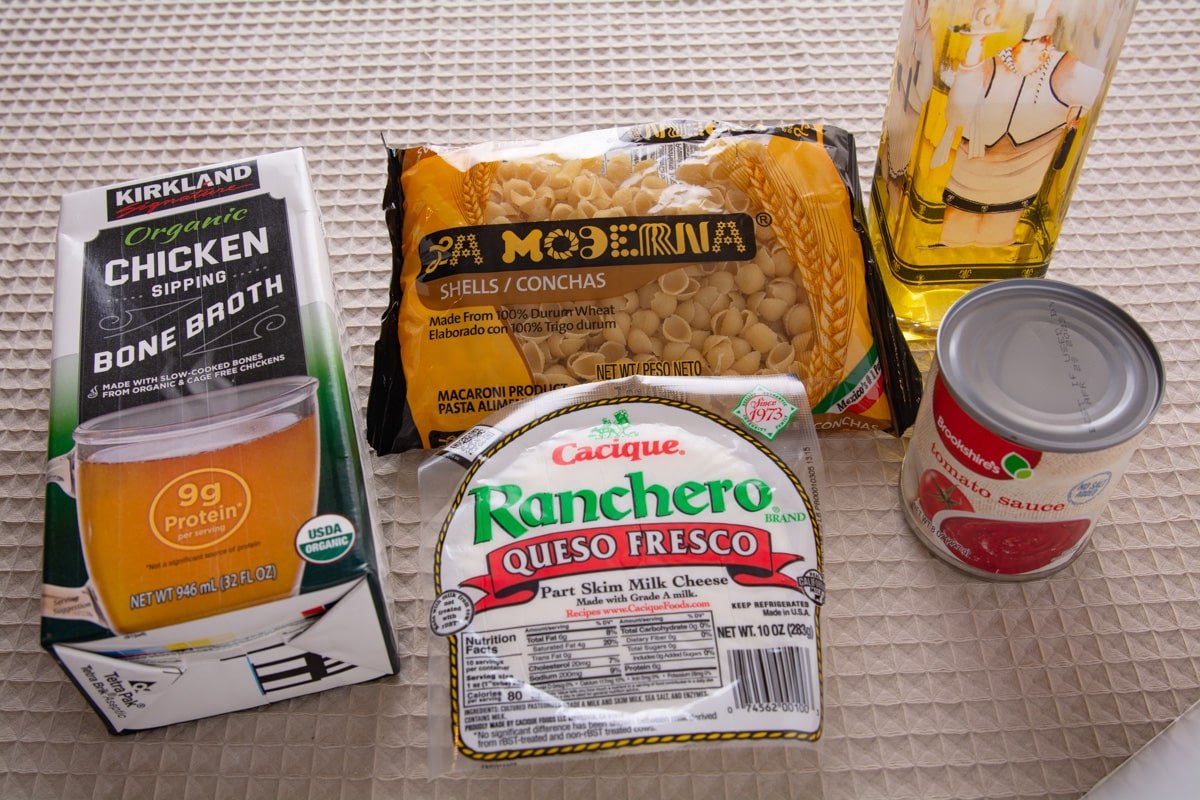 Sopa with shells ingredients:
Pasta shells: Small shells are the classic shape of pasta so I am using dry shell pasta. But you can experiment with different types of pasta.
Oil: I am using olive oil since that is what we for almost everything. Corn oil is a very popular choice.
Onion: White onion or yellow onion both work quite well in this recipe. I used 1/4 of a medium onion.
Garlic: I used two garlic cloves that were finely minced.
Tomato sauce: I used a can of tomato sauce but if you have time make your own flavorful tomato sauce. In your blender add a cup of water, 3 or 4 Roma tomatoes, onion, and garlic, and blend until everything is liquid. In a pinch, you can use tomato paste.
Liquid: My preference is chicken broth but vegetable broth (to keep it vegetarian) or even a few cups of water work.
Seasoning: Salt, black pepper, and cumin are my basic seasoning. (under optional ingredients I will discuss a very popular seasoning).
Cheese: You do have to do this but I like to add queso fresco to my Mexican pasta soups.
Cilantro: Adding a few cilantro sprigs just before serving adds a great flavor to the soup. Unless you are like my wife who prefers I never bring cilantro into the house.
For garnish: Lime wedges (or lemon juice), diced avocado, chopped cilantro, onion, or even sour cream are good choices.
Optional ingredients:
Ground beef: Brown up some hamburger and add it to the soup for a little extra protein.
Vegetables: Shell's soup is a great way to sneak a few veggies into your kid's diet. Add some green beans, squash, or even corn.
Tomato or chicken bullion: Caldo de tomate, caldo de pollo, or a mix of the two are very common in this soup. But they contain MSG which is not allowed on my anti-inflammatory diet. If you do use them (they do add more flavor) you will need to cut back on or cut out the salt.
Sopa de fideo:
Sopa de fido is a very similar recipe other than the type of pasta that is used, the exact ingredients are used.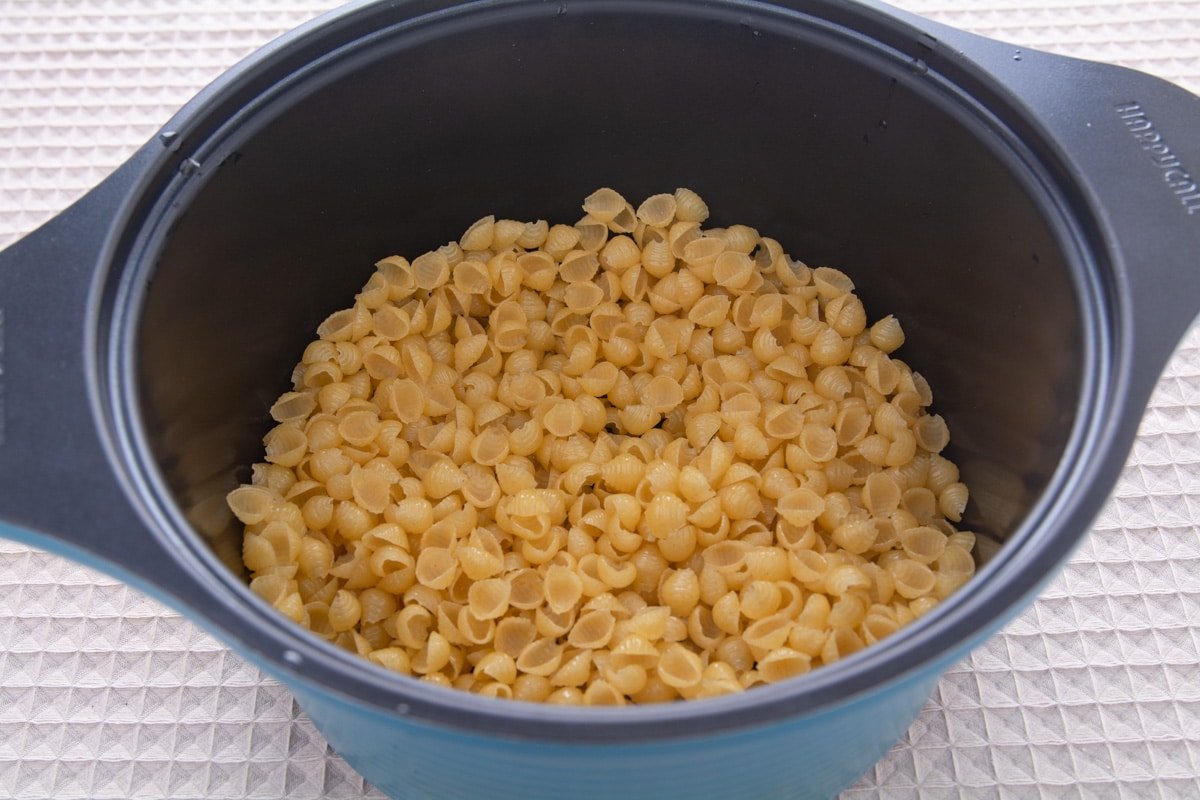 Place a pot on the stove with the burner on medium heat then add some oil to the pot. Add the pasta shells and stir them to coat with oil. All of the pasta should have a little bit of oil with no oil pooling up on the bottom of the pot. Turn the burner up to medium-high heat and start to toast the pasta.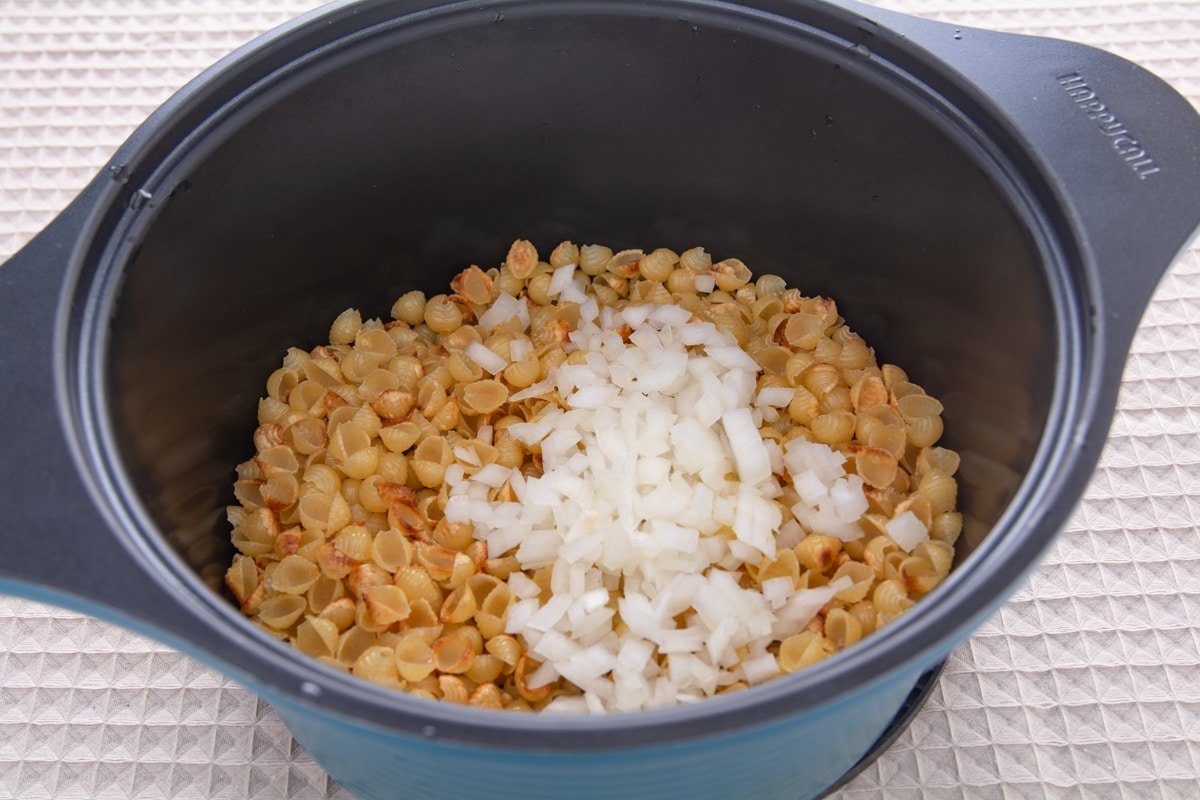 When the pasta starts to get some color, add the diced onion and garlic.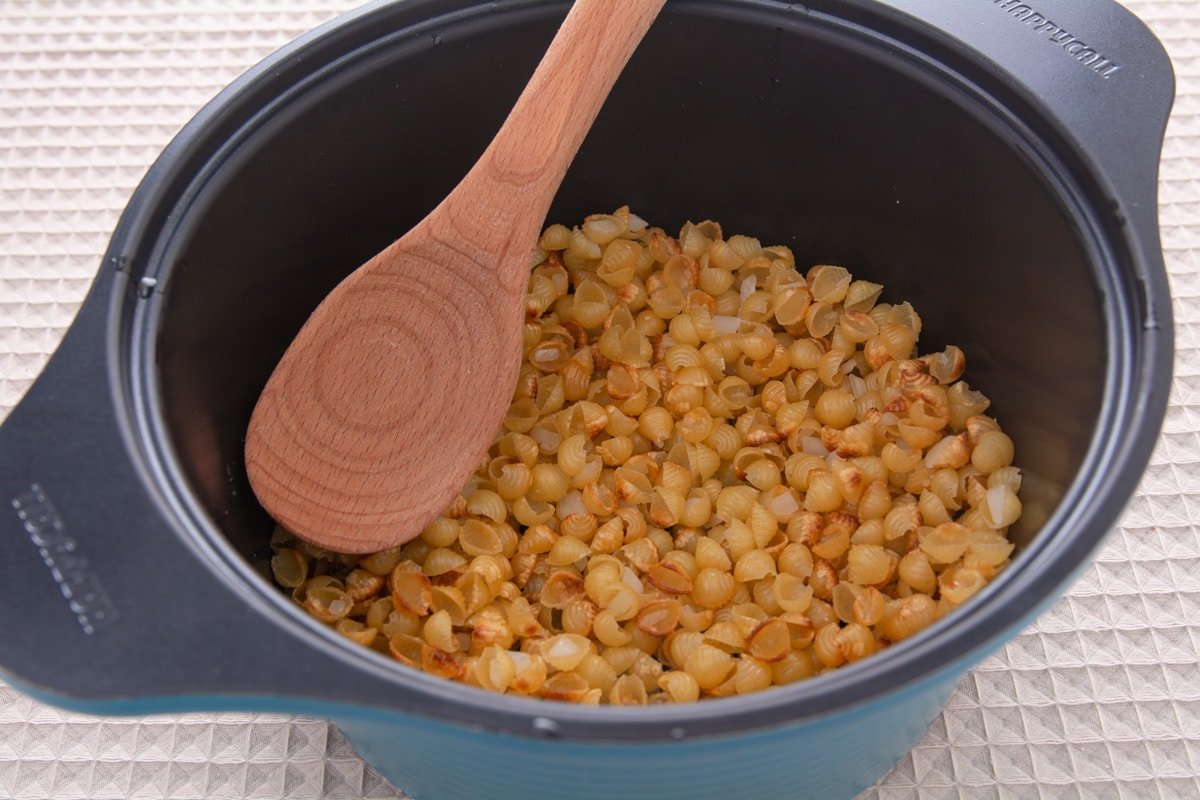 Continue to toast the pasta until it has a nice golden brown color. Add your tomato sauce and chicken broth. Raise the heat to high and bring it to a boil. When your seasoning. Cook your pasta until al dente or your desired texture. I prefer it cooked a little more. If you do not have enough liquid you can add
Add the queso fresco and bring it back to a boil. The queso fresco will not melt but it will get a little more liquidy. When it comes back to a boil turn off the heat and add the chopped cilantro.
Add your shells soup to a bowl and garnish with diced avocado, a little extra cheese crumbled on top, and lime wedges on the side.
Hopefully, this simple Mexican soup recipe will become a family favorite at your house.
Perhaps you would also enjoy my pollo asado tacos recipe.
If you enjoyed this easy recipe then please share it with your friends.
Ingredients
1.5

Tablespoons

Oil

198

grams

Pasta

Shells shape

1/4

Cup

Onion

Chopped

1

Cloves

Garlic

Finely minced

8

oz

Tomato sauce

4

Cup

Chicken broth

1/2

teaspoon

Salt

1/4

teaspoon

Black pepper

1/8

teaspoon

cumin

ground

5

of

Queso fresco

1/4

Cup

Cilantro

chopped
Instructions
To a pot on medium heat add 1.5 Tablespoons of oil. Add your shells pasta and stir to coat the pasta with oil.

Lightly toast the pasta and add 1/4 cup diced onion and 2 cloves of garlic that have been finely minced.

When all of the pasta is toasted and the onions are translucent add 1 8 oz can of tomato sauce. Stir to coat the pasta.

1/4 Cup Onion,

1 Cloves Garlic,

8 oz Tomato sauce

Add 4 cups of chicken broth and bring the pot to a slow boil.

Add 1/2 teaspoon salt, 1/4 teaspoon black pepper, and 1/8 teaspoon of ground cumin.

1/2 teaspoon Salt,

1/4 teaspoon Black pepper,

1/8 teaspoon cumin

Cook until the pasta is almost done (approximately 8 minutes) then add 5 ounces of diced queso fresco.

Bring back to a slow boil and turn off the heat. Add the cilantro and stir into the soup.

The sopita is now ready to serve garnished with lime wedges and diced avocado.
Nutrition
Calories:
298
kcal
|
Carbohydrates:
41
g
|
Protein:
8
g
|
Fat:
7
g
|
Saturated Fat:
1
g
|
Polyunsaturated Fat:
2
g
|
Monounsaturated Fat:
4
g
|
Trans Fat:
0.03
g
|
Cholesterol:
1
mg
|
Sodium:
668
mg
|
Potassium:
306
mg
|
Fiber:
3
g
|
Sugar:
4
g
|
Vitamin A:
325
IU
|
Vitamin C:
5
mg
|
Calcium:
31
mg
|
Iron:
1
mg