Red sauce is a simple but delicious, comfort food recipe. The red sauce that most of us grew up eating was made with cheap ground beef. It made for an easy, low-cost meal that could feed an army.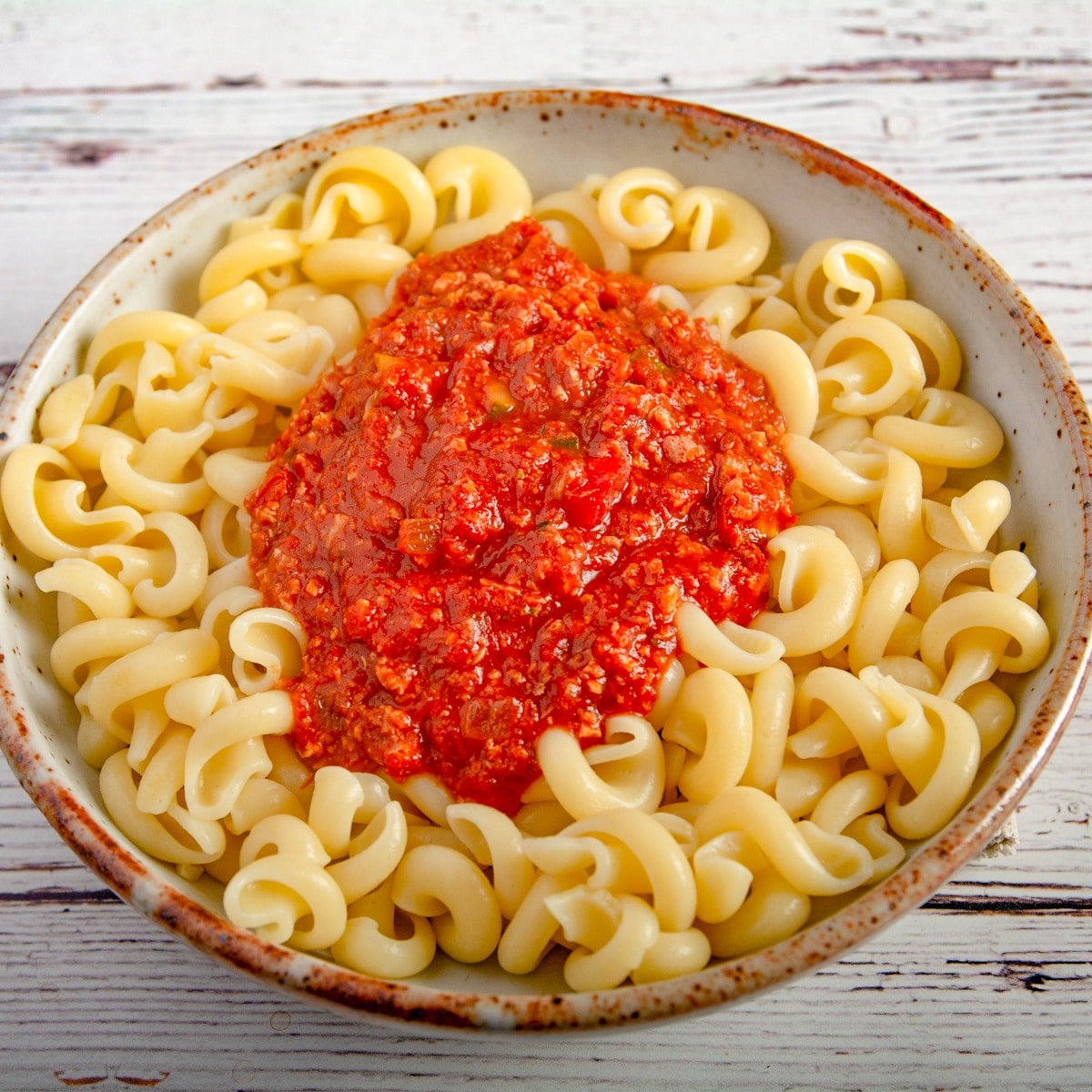 To make this recipe gout friendly and vegan, we will replace the ground beef with textured vegetable protein or TVP.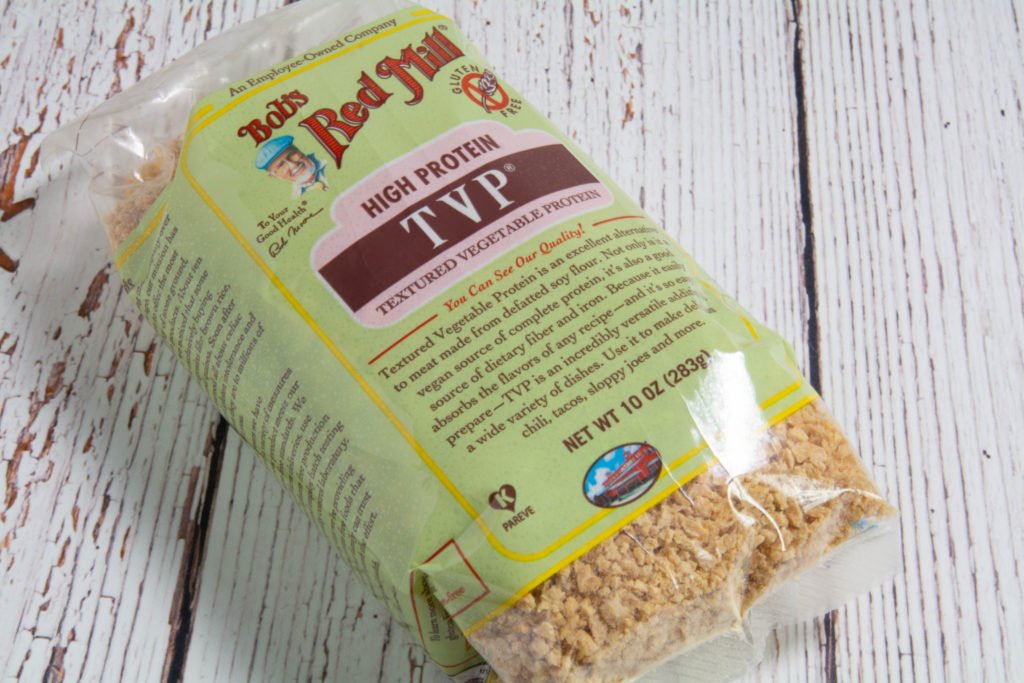 Normally I use Bob's Red Mill; it is easy to find when I travel around the country, and it's a good product. Some health food stores sell TVP in the bulk section for the best prices. Sometimes I wind up in areas where I can not find TVP locally. When I find myself in that situation, Amazon is my go to.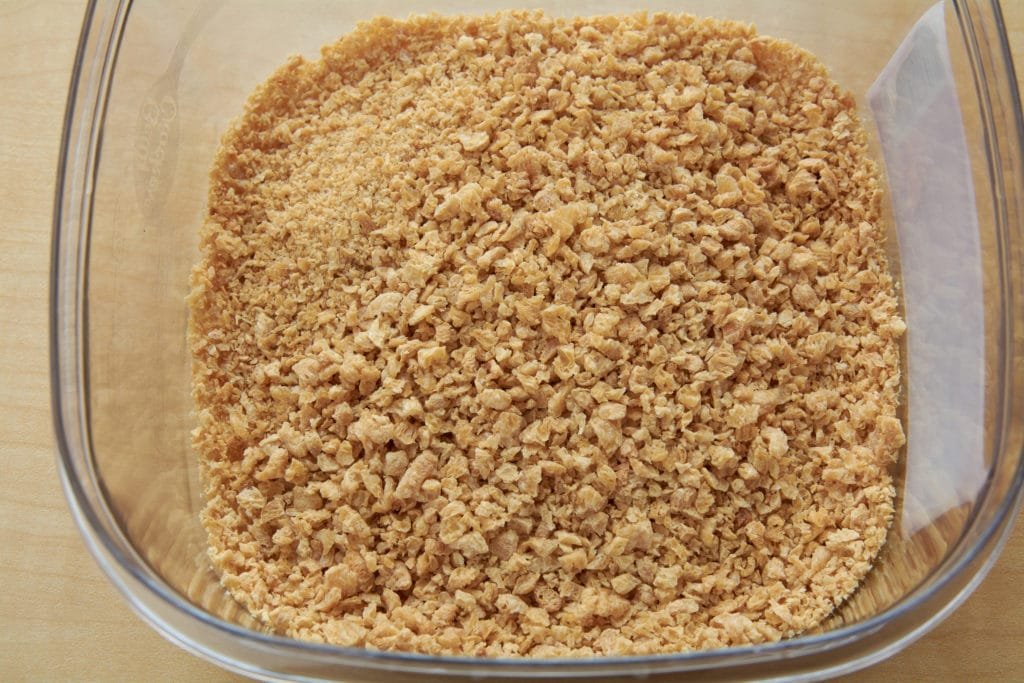 Textured vegetable protein (pictured above) is made from defatted soy. It will last quite some time on the self—great survival food when the zombies are roaming outside when a hurricane knocks out the power. Or it would be best if you had a recipe without ground parts unknown. Some parts of the animal have higher purine levels than other parts.
Rib loin has 74.2 mg of purine per 100 g than the heart, 185 mg per 100 g. The heart has a very beefy taste and is lean, but demand for it is low, so it gets goes into the grinder, but rib loin or rib eyes are not going into the grinder. This is why I avoid prepackaged ground beef, even leaner grinds.
That explains why I use textured vegetable protein.
The next question is, how do we prepare the textured vegetable protein? It is actually easy and quick to prepare. It has a long shelf life, so it is not a problem to keep extra in the cabinet. Then when you need it, it's ready to be rehydrated. When the zombie's attack, it's ready!
Rehydrating TVP is straightforward. To every one cup of TVP, add two cups of water. You can use hot or cold water. Using hot water requires about five minutes of soaking time. Coldwater requires twenty minutes of soaking time. I use cold water. The twenty minutes gives me time to prepare my veggies etc. After soaking, squeeze out the excess moisture. This will help reduce the raw soybean taste and make it easier to fry.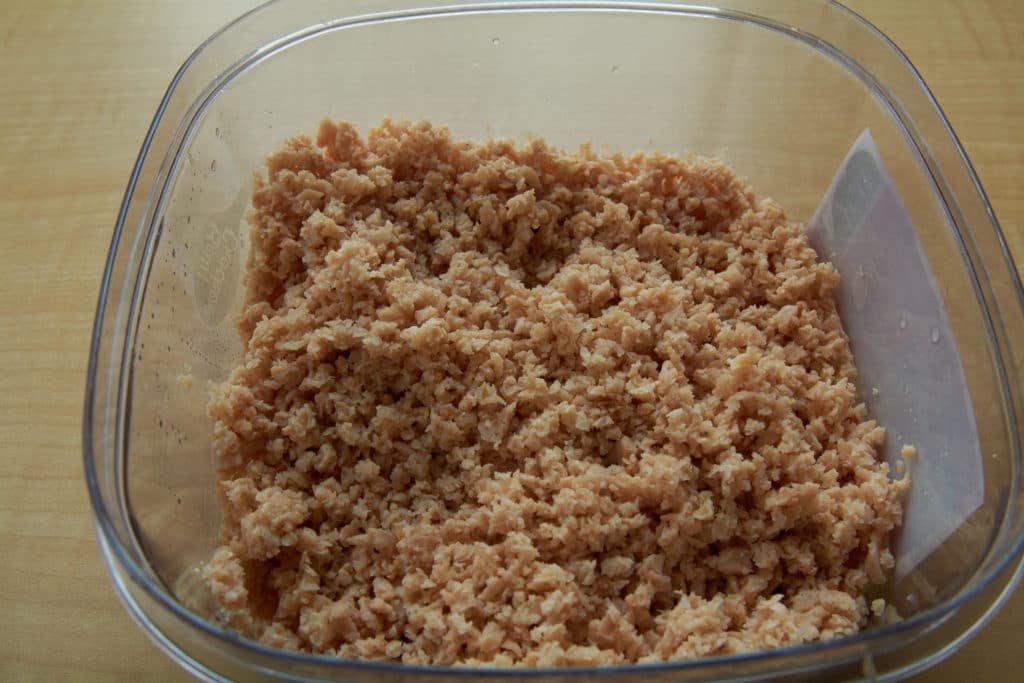 This is what it looks like after soaking and squeezing out the excess moisture. I know it's not very appealing at this point, but we will change that.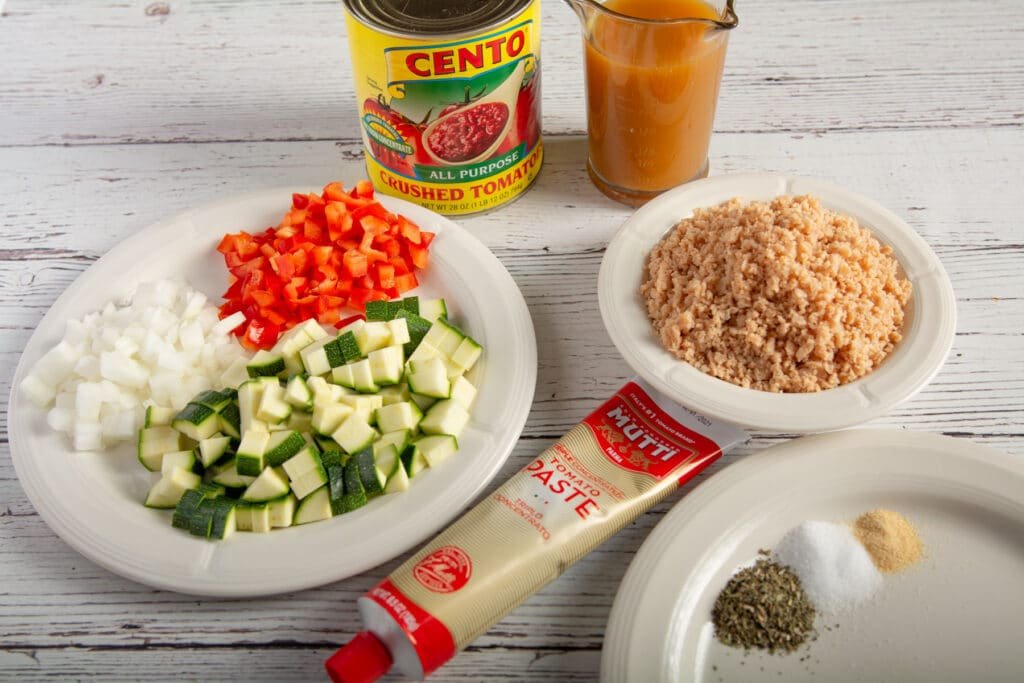 This version of pasta sauce has lots of hidden veggies. The TVP is quite bland and not a lot of texture, so we make up for adding lots of veggies. TVP tends to soak up flavors, not add them, so keep that in mind when adjusting to your liking.
We used zucchini, red bell pepper (sweeter than green), onion, and garlic for this batch.
Carrot, celery, and mushrooms are great additions, but I did not have any. You want somewhere around two cups of veggies. The more veggies you add, the more nutrients you can pack into your sauce.
Salt: I do try to limit my sodium intake. But salt makes food taste good. Use springily during the cooking process and adjust at the end. For the recipe, I used a total of one teaspoon. Put a teaspoon of salt in a small container that will sit by the cooktop. When needed, you will have it ready, but this will keep you from adding too much.
Oil: This is extremely important to the cooking process, but the more that I find out about home, the more made me shake my head. During the processing of canola oil, hexane solvent is used. Now I only use cold-pressed oils. But that is me you should use whatever oil that you like.
Spices: At home, I use individual spices, but when traveling, the spice blend "Italian Seasoning" is a lifesaver. This batch of sauce was made in a hotel room.
Canned tomatoes: Canned tomatoes have one advantage over fresh ones. They are the same year-round. Unlike fresh tomatoes that have a peak season, then the rest of the year they have been shipped from half way around the world and taste like nothing. The canned ones are canned at the peak of freshness and are cheap. I like to use petite diced or crushed tomatoes. If making a big batch of red sauce, I will use both.
As to brand, I like Cento but also use other brands. The acid/sweetness balance is what I like about the brand. Use any brand that is available to you.
Veggie stock, my old method beef stock, was preferred. But anything with bone is not gout friendly. Luckily for us, the veggie stock is gout friendly, so we will use that.
Tomato paste. Since I regularly need a little for this and that. I buy the stuff in the tube when I need a little to grab the tube out of the fridge and use what I need. When it in cans, I hate to open a can for 1/2 a Tablespoon of tomato paste.
Garlic. For a batch of this size, I like two cloves of fresh garlic. Fresh garlic is the best choice. But sometimes, like when making this batch, 1/2 Tablespoon prepared garlic was used.
Garlic powder. No matter how much fresh garlic, it never gives me the taste that I am looking for. It must be my experience growing up where Mom used garlic powder. For me, a mix of fresh garlic and garlic powder. Here in the Southern United States, where the humidity is high granulated garlic does not clump up as much as garlic powder.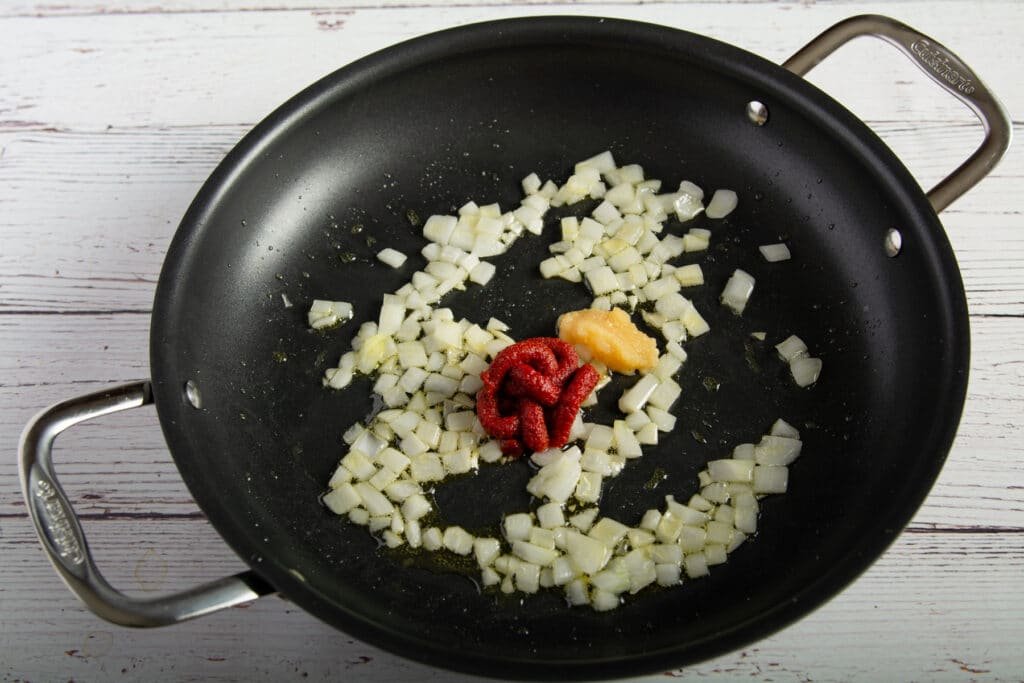 One of the simple things you can do that has a big impact on flavor to fry your tomato paste. This will help to caramelize the sugar in the tomato paste. This will help balance out the acidity of the tomatoes without adding sugar.
The first step in our Red Sauce is to add olive oil to a pan on medium heat. When the oil is hot, add the diced onion and a pinch of salt (from the one teaspoon). Cook for about two minutes to soften the onion.
Then add the tomato paste and garlic.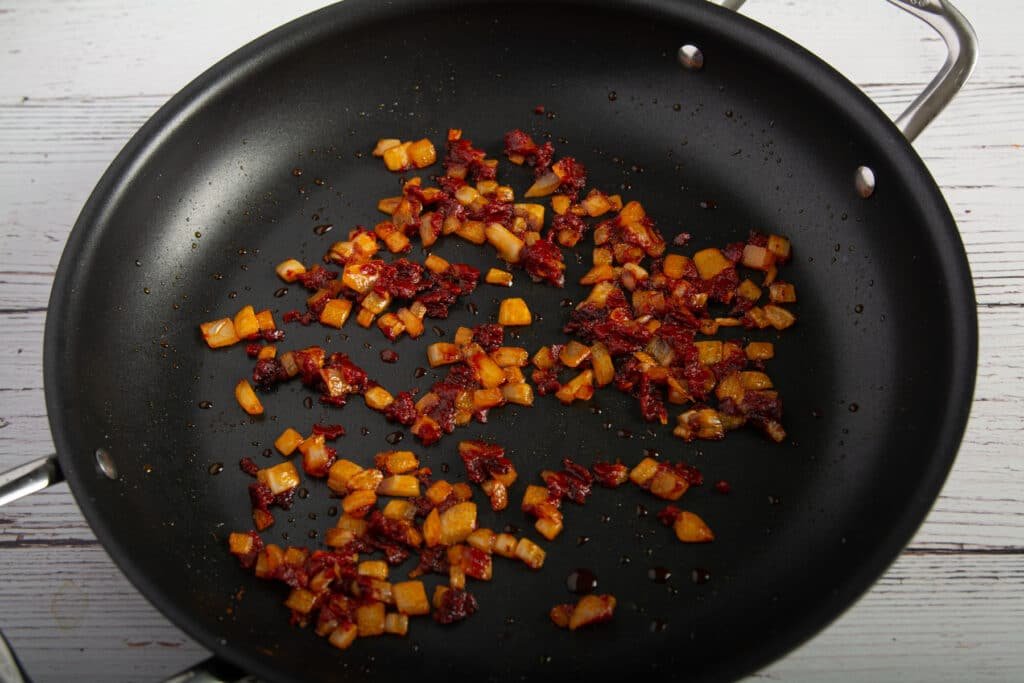 While stirring often cook on medium heat for about 10 minutes or until the onion has softened, the tomato paste has slightly darkened. You can turn up the heat and rush this, but low and slow gives the best results.
After the tomato paste has changed color, add the rest of your veggies. Add another pinch of salt (from the one teaspoon).
While continuing to stir, cook your veggies for about 5 minutes or so. You want them to start releasing some water but do not burn the tomato paste.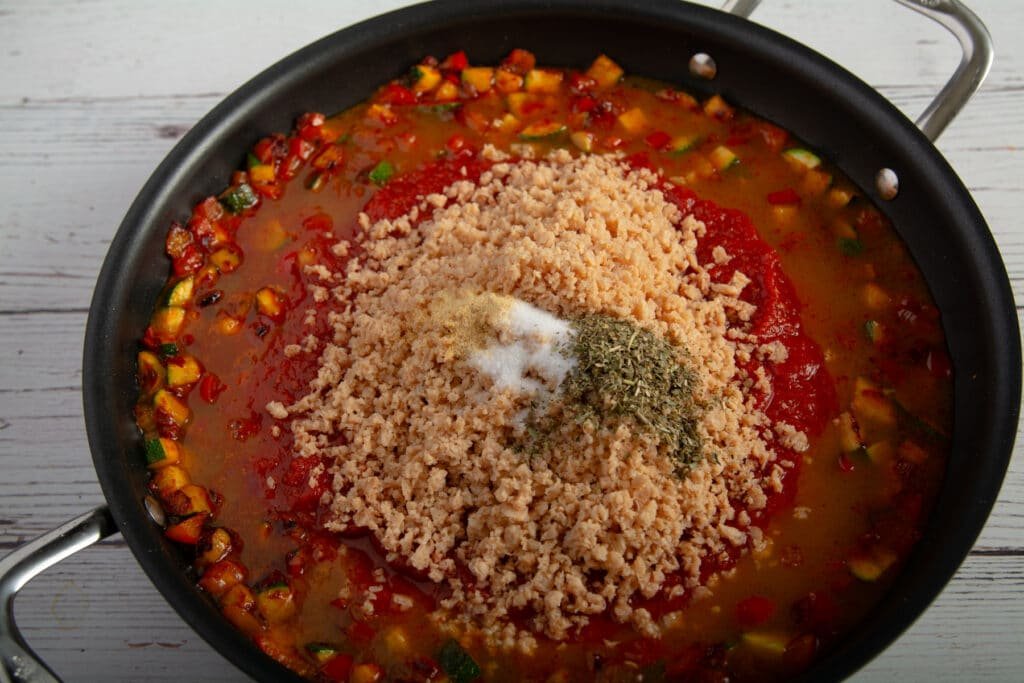 If the tomato paste tries to burn or your veggies are ready, add the canned tomatoes, re-hydrated TVP, veggie stock, and seasoning (salt, Italian seasoning, and garlic powder). But you may want to add only some of the remaining salt.
Depending upon your personal taste, veggie stock, and canned tomatoes, you will need to adjust your salt level. Add about half of the remaining salt and adjust when the sauce is almost done. You can add more later, but you can not take it out.
While occasionally stirring, cook on medium to low heat for about fifteen minutes. As the sauce reduces, it will bubble and try to spray sauce all over the place. Just keep slowly stirring and reduce the heat. Taste your sauce and adjust your seasoning. Suppose it needs more salt, garlic, or whatever; add it now and cook on low for five more minutes. Your sauce is now ready.
Suppose you have fresh basil at the last second before serving, chop or shred it up and add it to your sauce after it's on the plate. It will taste best this way and still be green. You do not want to serve guests black basil.
Cook your favorite pasta, and top with some of the sauce. It really could use some fresh basil, but the store only had large packages for five dollars. So no fresh basil on this plate.
I did have a lot of sauce leftover. The leftover sauce was put in individual containers, and into the freezer it went. Now a quick meal is ready anytime it's needed.
Leftover TVP pasta sauce will keep in the refrigerator for four or five days. It will keep in the freezer for three months.
The above video I posted on YouTube using some of the same techniques used in this recipe. The meatballs were made using ground beef, but I am working on one with black beans.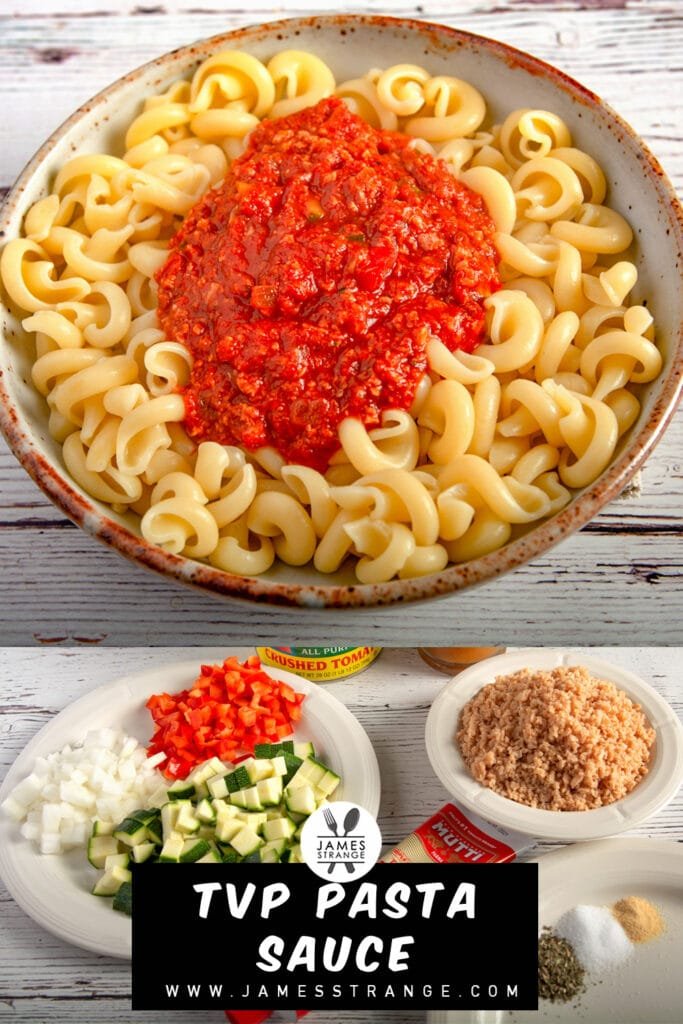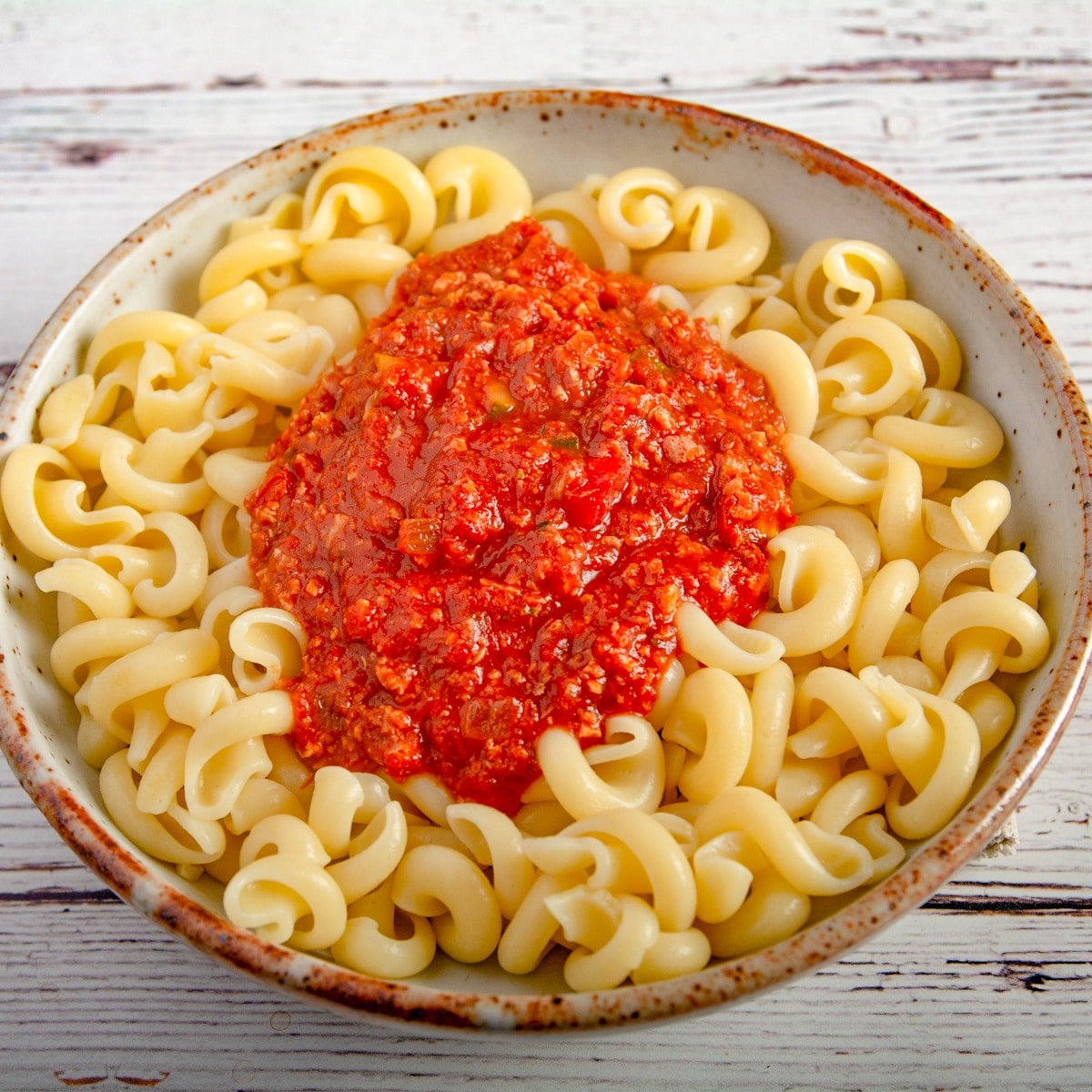 Ingredients
TVP
1

Cup

textured vegetable protein

2

Cups

Water
Veggies
1

Tablespoon

Olive Oil

extra virgin

2

cloves

Garlic

minced

1/2

Cup

Onion

diced

2

Tablespoons

Tomato Paste

1/2

Cup

Bell Pepper

diced

1

Cup

Zucchini

diced
Seasoning
1

teaspoon

salt

1

teaspoon

Italian Seasoning

1/4

teaspoon

garlic powder
Other
28

oz

tomatoes

1 28 oz can tomatoes

1

Cup

Veggie Stock
Instructions
Hydrate the TVP
To one cup of textured vegetable protein add two cups of water.

Squeeze out excess water and set aside.
Cook the veggies
To a pan on medium heat add one tablespoon of olive oil. Add the onion and cook until the onion has softened (about two minutes). Add the fresh garlic, tomato paste and a small pinch of salt. While stirring often cook on medium heat for about 10 minutes or until the tomato paste has slightly darkened.

After the tomato paste has changed color add the rest of your veggies. Add another pinch of salt. While continuing to stir cook your veggies for about 5 minutes or so.
Finish the sauce
After the veggies have cooked add the can of tomatoes, rehydrated TVP, veggie stock and seasoning. While occasionally stirring cook on medium to low heat for about fifteen minutes.

Check and adjust seasoning. Cook for an additional five minutes.

Now the sauce is ready to serve.
Nutrition
Calories:
116
kcal
|
Carbohydrates:
14
g
|
Protein:
9
g
|
Fat:
3
g
|
Saturated Fat:
1
g
|
Sodium:
602
mg
|
Potassium:
467
mg
|
Fiber:
5
g
|
Sugar:
8
g
|
Vitamin A:
1697
IU
|
Vitamin C:
40
mg
|
Calcium:
81
mg
|
Iron:
2
mg