I have been eating kimchi for a long time. But usually, we buy it. Most kimchi in the Korean markets have seafood, including shellfish; as someone who suffers from gout, shellfish is off the menu.
Why do we normally buy kimchi? It is a lot of time-consuming work. But making your own is cheaper, lasts longer, and you can season it how you like it.
Today's recipe is a veganised version of Maangchi's napa cabbage recipe. She uses salted shrimp in her kimchi, but I will use my Vegan Fish Sauce.
BTW: Walmart now sells Vegan kimchi from Korea that is not too bad. But it is expensive.
The main vegetable ingredients are cabbage, carrot, green onion, Korean radish (Mu), garlic, and ginger.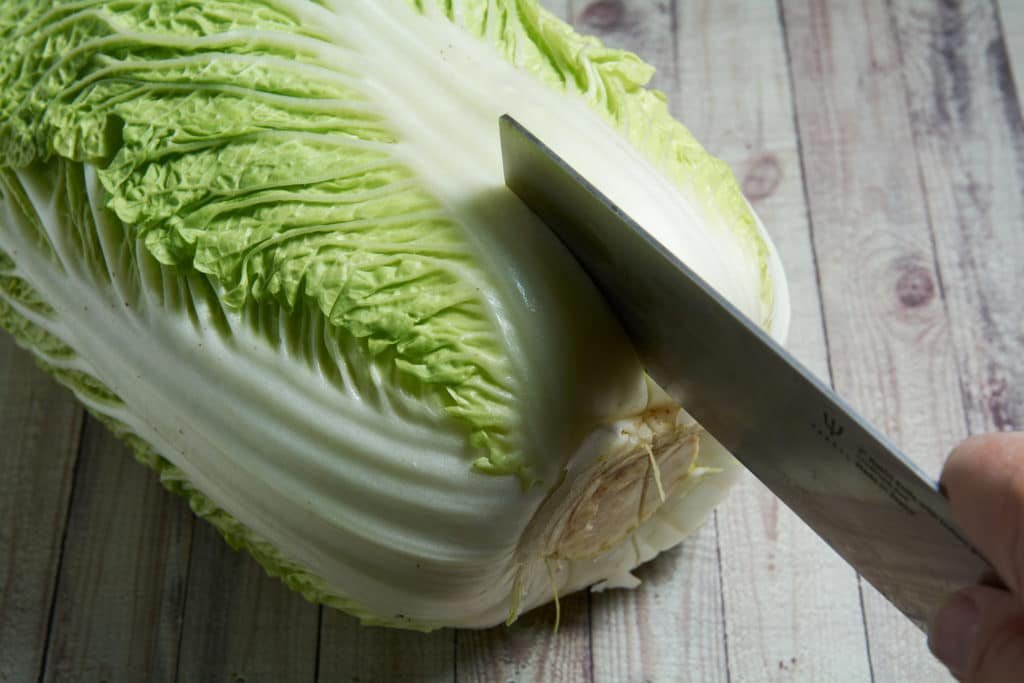 Cabbage is best in late fall, so we will only make a small batch today. Later, when cabbage is at its prime, we will make a large batch.
To open the cabbage, make about a two inch cut into it. Then pull the cabbage apart.
As you can see, I need more practice. If you want whole cabbage, this is when you would salt the cabbage. But to make it easy, I cut mine up into two-inch pieces.
One five and a half pound cabbage filled this bowl up. Remember how this looks.
To preserve the cabbage, we need to salt it. Salting the cabbage will pull out moisture and help the good bacteria grow faster than the bad bacteria. You can use any grade of salt, but it needs to be free from iodine. Iodine is a disinfectant, and we want bacteria to grow.
To salt, the cabbage sprinkles some on, then mix. Sprinkle on some more and mix again. Then add what is left of the salt and mix. The cabbage needs to salt for two hours. Mix the cabbage every twenty to thirty minutes.
While the cabbage is salting we can get our seasoning mix made up.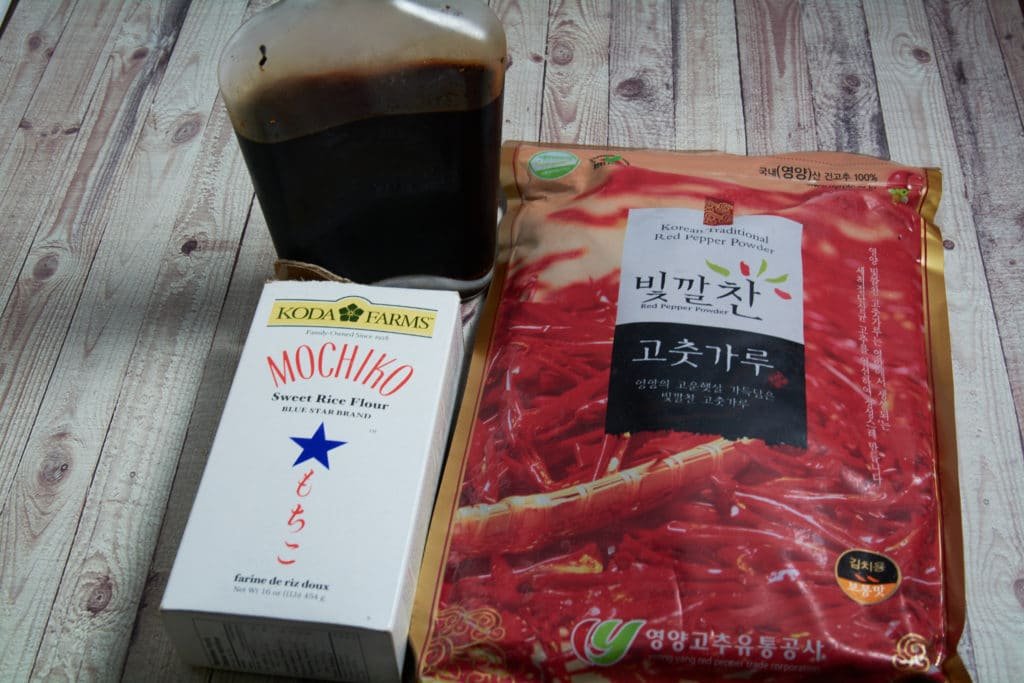 You can see my Vegan fish sauce, sweet rice flour, and Korean red pepper flakes. For red pepper flakes, I always look for the ones from Korea. Even in the Korean market, most are imported from China.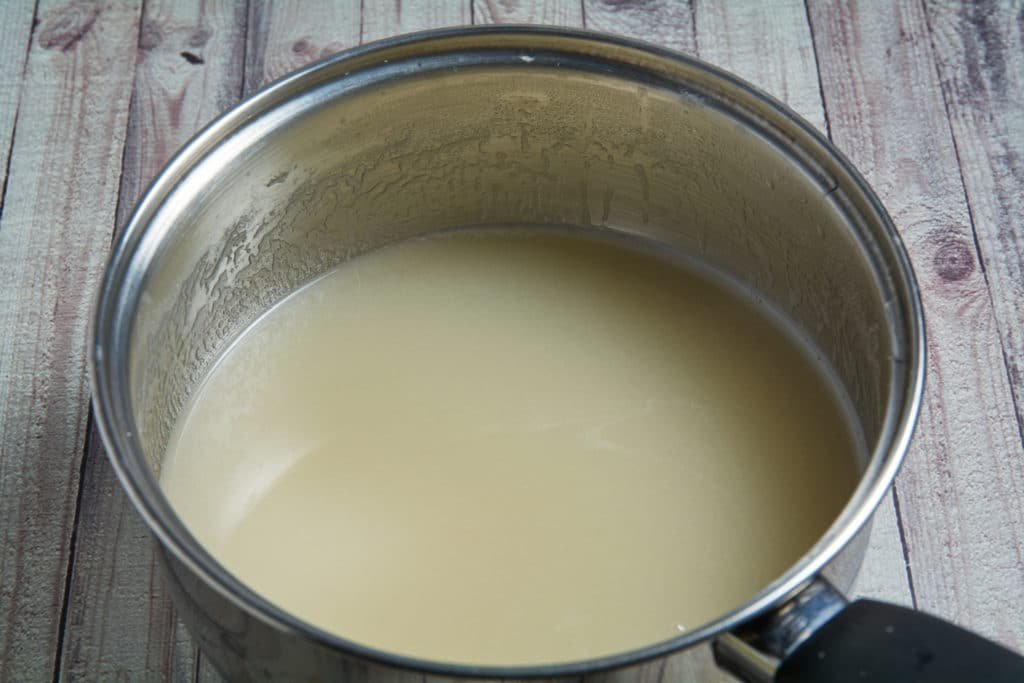 The first thing you need to do is make sweet rice porridge. This will give the bacteria some carbs to get the fermentation started. To a pan, add water and sweet rice flour. Mix, then heat to a boil while stirring. When it comes to a boil, and you feel it start to thicken, add some raw sugar. Please take off the heat and let it cool down.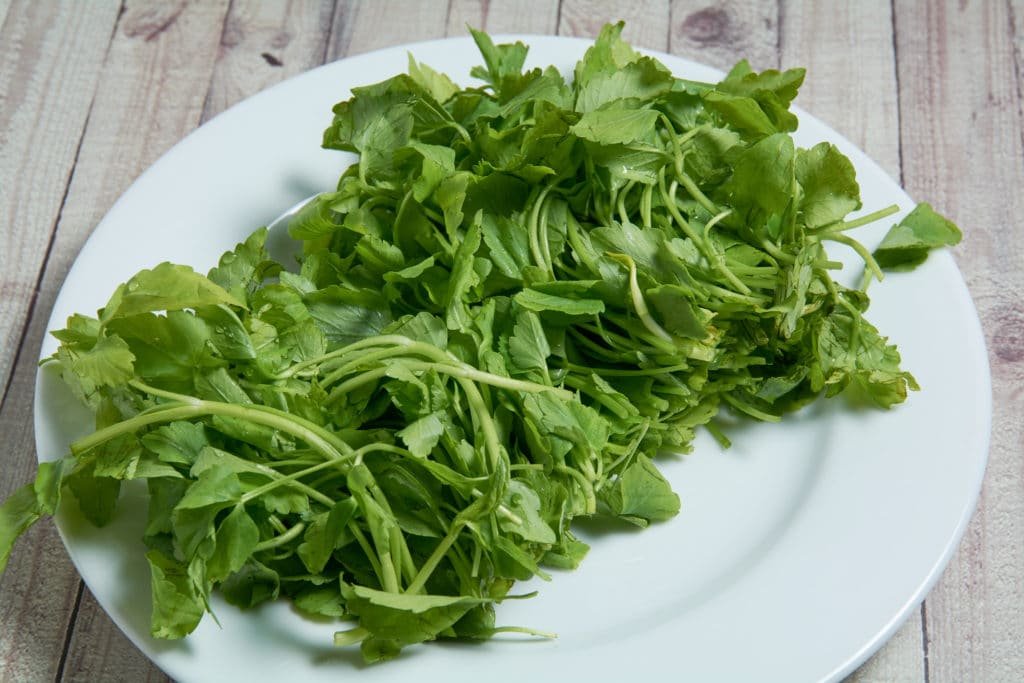 This is dropwort or minari. My wife loves this in kimchi. It's usually only available in the cooler months. If you can not find it, it's ok to leave it out.
There is a lot of chopping involved to make kimchi. Here we have chopped onion, green onion, carrot, dropwort, garlic, ginger, and the Korean red pepper. To that, we add sweet rice porridge.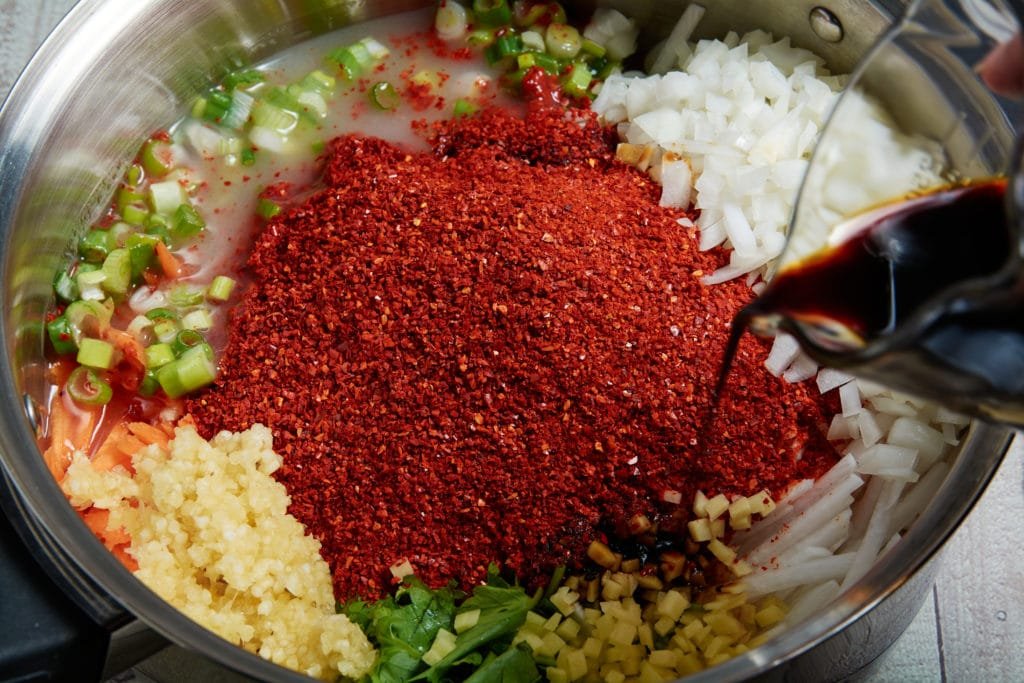 Add we add our Vegan fish sauce.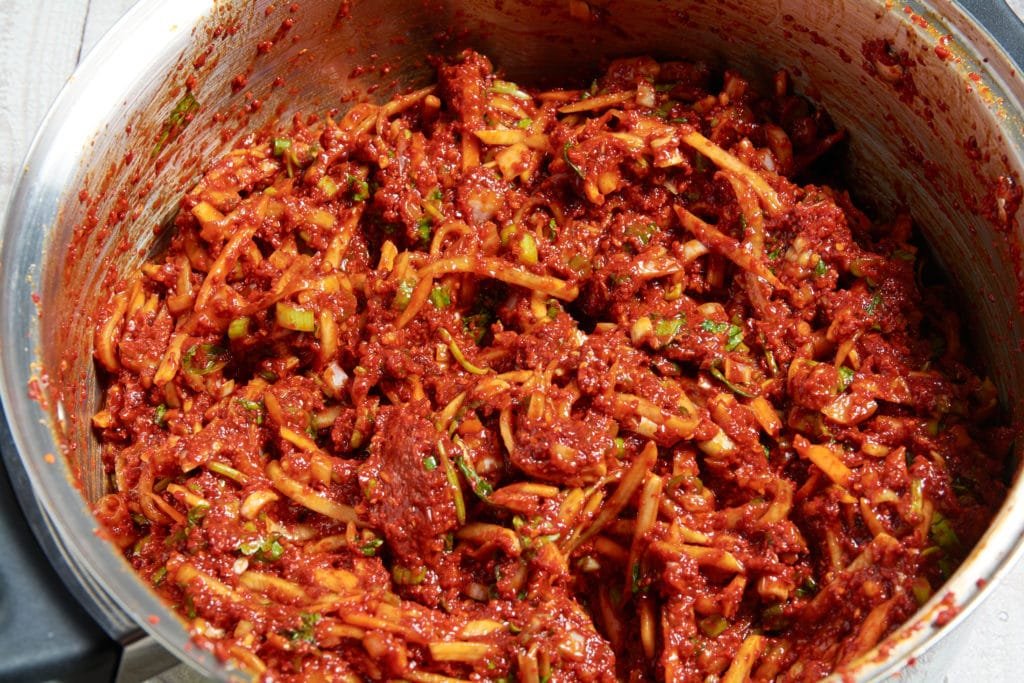 Mix it all. I like to let these ingredients mingle for a little bit before using but it not a requirement.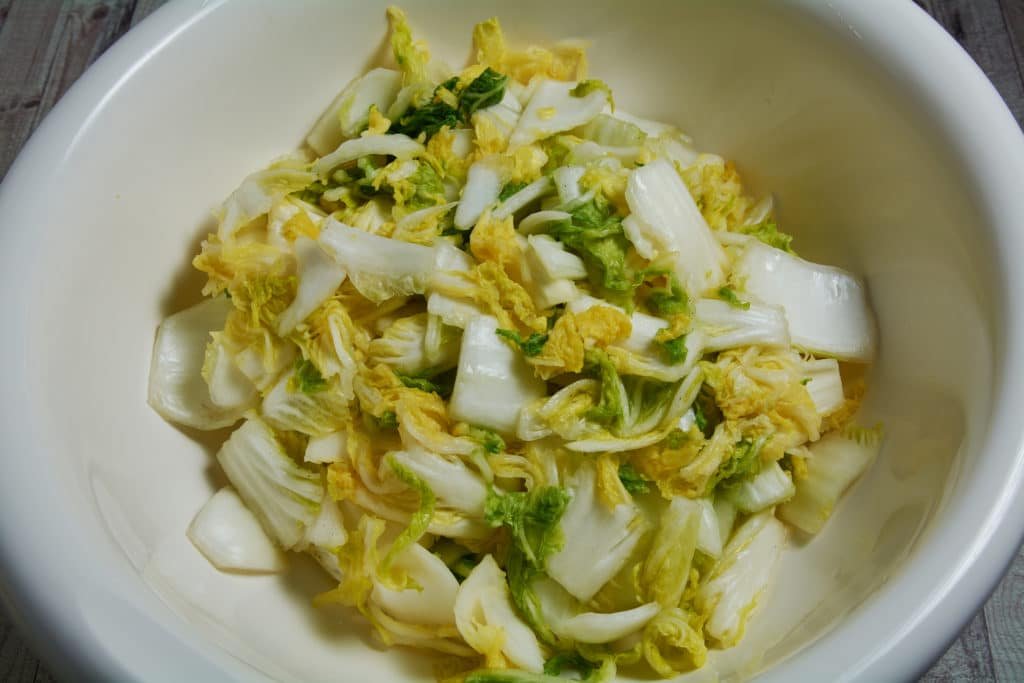 After two hours, rinse the cabbage to remove excess salt. Then drain the water off. Notice how much it has the volume has reduced.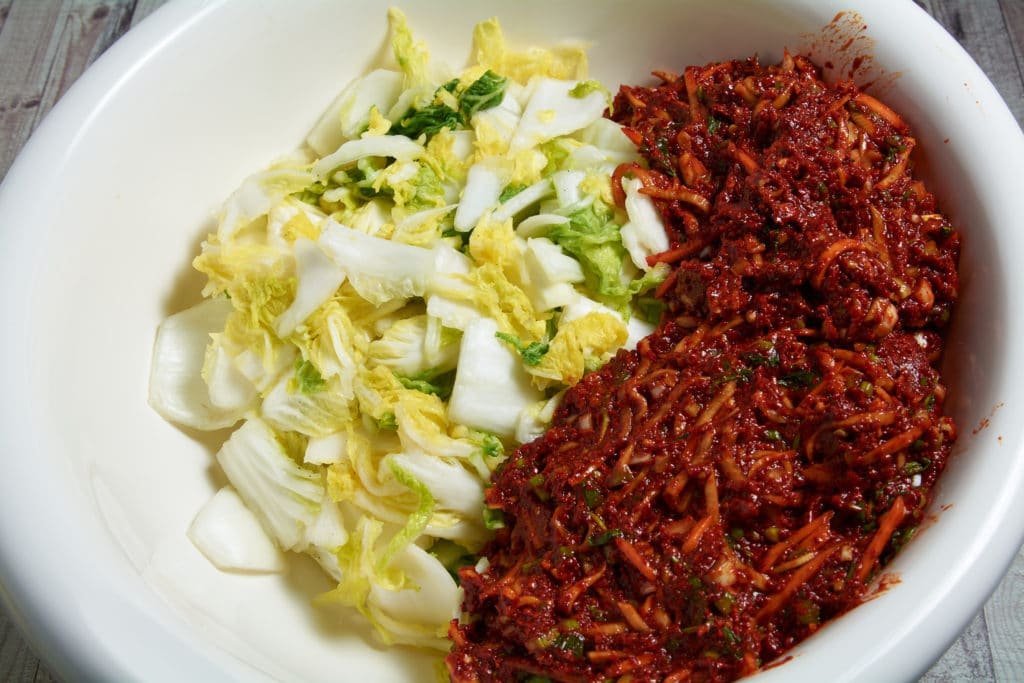 Put on rubber or plastic gloves. Add the seasoning mix and mix everything up.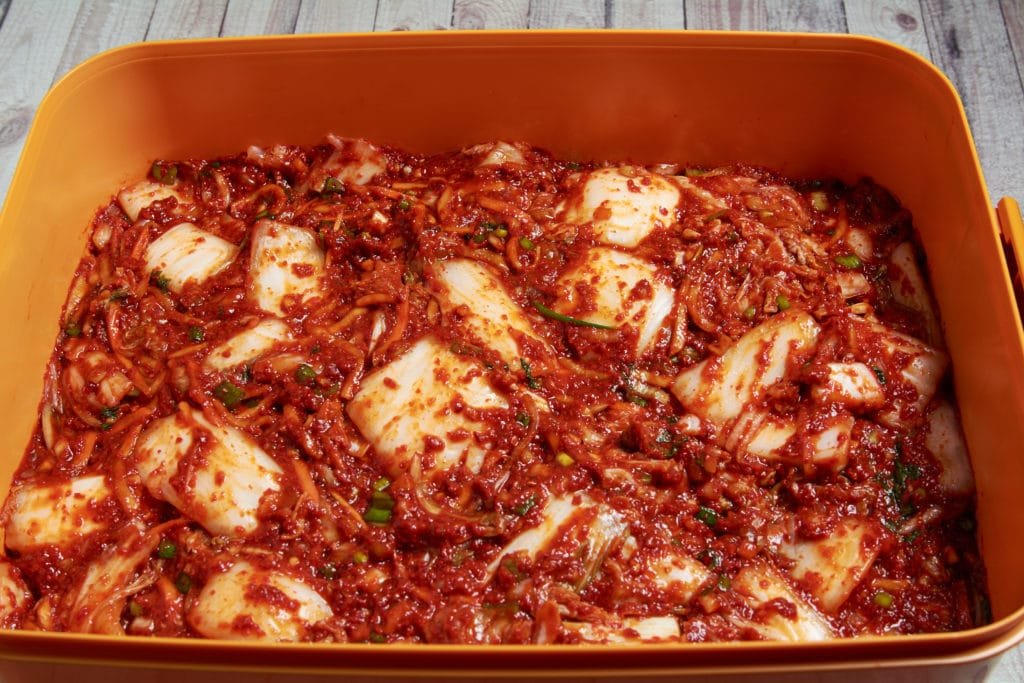 Put into your container and mash out any air pockets. It is now ready to ferment. How much it should ferment before you put it into the refrigerator depends upon how quickly you want it to get sour.
At a minimum, let it sit out overnight the first night. But it would be best if you let it sit out until it starts to have a slight fermentation smell. At 70F, that should be twenty-four to forty-eight hours.
Ingredients
Cabbage
1

head

Napa Cabbage

5 to 6 pounds

72

grams

salt

no iodine
Sweet rice porridge
2

cups

water

2

Tablespoons

Sweet Rice Flour

2

Tablespoons

Raw Sugar
Instructions
Salt the cabbage
Chop the cabbage into 1.5 to 2 inch pieces.

Add the remainder of salt and mix.

The cabbage needs to salt for two hours. Mix the cabbage every twenty to thirty minutes.

Rise the cabbage in clean water and drain.
Make the sweet rice porridge
To a pan add two cups of water and two tablespoons of sweet rice flour. Mix well.

Turn on the burner and while stirring bring to a boil.

After it comes to a boil and starts to thicken turn off the heat and add two Tablespoons raw sugar.
Make the seasoning
To a large bowl add the chopped onion, green onion, carrot, dropwort, garlic, ginger and the Korean red pepper.

Then add the cooled sweet rice porridge and vegan fish sauce.
Make the kimchi.
In a large bowl add the drained cabbage and seasoning.

Put on gloves to protect your skin from the peppers.

Mix well to ensure the seasoning mix coats the cabbage.

Put your kimchi in the storage container and press down to remove air.

Let sit at room temperature until the kimchi starts to ferment. Twelve to forty eight hours.

Your kimchi is now ready to enjoy.
Notes
The sodium value is off due to the software using regular fish sauce. Soon I can import data from another recipe. At that time I will update. 
Nutrition
Calories:
20.44
kcal
|
Carbohydrates:
4.25
g
|
Protein:
1.04
g
|
Fat:
0.11
g
|
Saturated Fat:
0.03
g
|
Sodium:
1610.67
mg
|
Potassium:
140.01
mg
|
Fiber:
0.68
g
|
Sugar:
1.92
g
|
Vitamin A:
134.2
IU
|
Vitamin C:
12.07
mg
|
Calcium:
38.91
mg
|
Iron:
0.25
mg