I'd love to share my special tips for cooking pork shoulder (Boston butt) in the slow cooker, resulting in perfection every single time! Whether you're craving a mouthwatering pork roast or delicious pulled pork, I'm here to show you how to make it incredibly tender and juicy, never dry!
I will give you tips so that your pork shoulder turns out tender and juicy every time. Whether you want a pork roast or pulled pork. BTW this post does contain affiliate links that earn the site a commission.
Ingredients:
Pork shoulder:
Boston butt, also known as pork shoulder, is a cut of pork that comes from the upper shoulder of a pig. Despite its name, it is not actually from the rear end of the pig (the "butt" in this case refers to the wooden barrels, called "butts," that were used to store and transport pork in the past).
Boston butt is a relatively inexpensive and flavorful cut of meat that is commonly used for barbecue, pulled pork, and other slow-cooked dishes. It is well-marbled with fat, which makes it ideal for long, slow cooking methods like roasting, smoking, or braising. When cooked low and slow, the fat and connective tissues in the meat break down, resulting in tender, succulent, and flavorful pulled pork.
BBQ Rub: Today, to keep things easy-peasy, I'm going with Bad Byrons Butt Rub Barbecue Seasoning. But hey, feel free to pick any seasoning that tickles your taste buds! Just remember, don't be shy with it—sprinkle on a generous amount before you start cooking.
Two reasons I am using bone-in Pork Butt
Flavor: Bones contain collagen, marrow, and connective tissue that can impart rich, savory flavors to the meat as it cooks.
Cost savings: In many cases, bone-in cuts can be more affordable than boneless cuts, making them an economical choice for budget-conscious cooks.
So it adds more flavor and is cheaper, to me this is a win-win!
Should you trim the fat or leave it? That is up to you but I leave it on.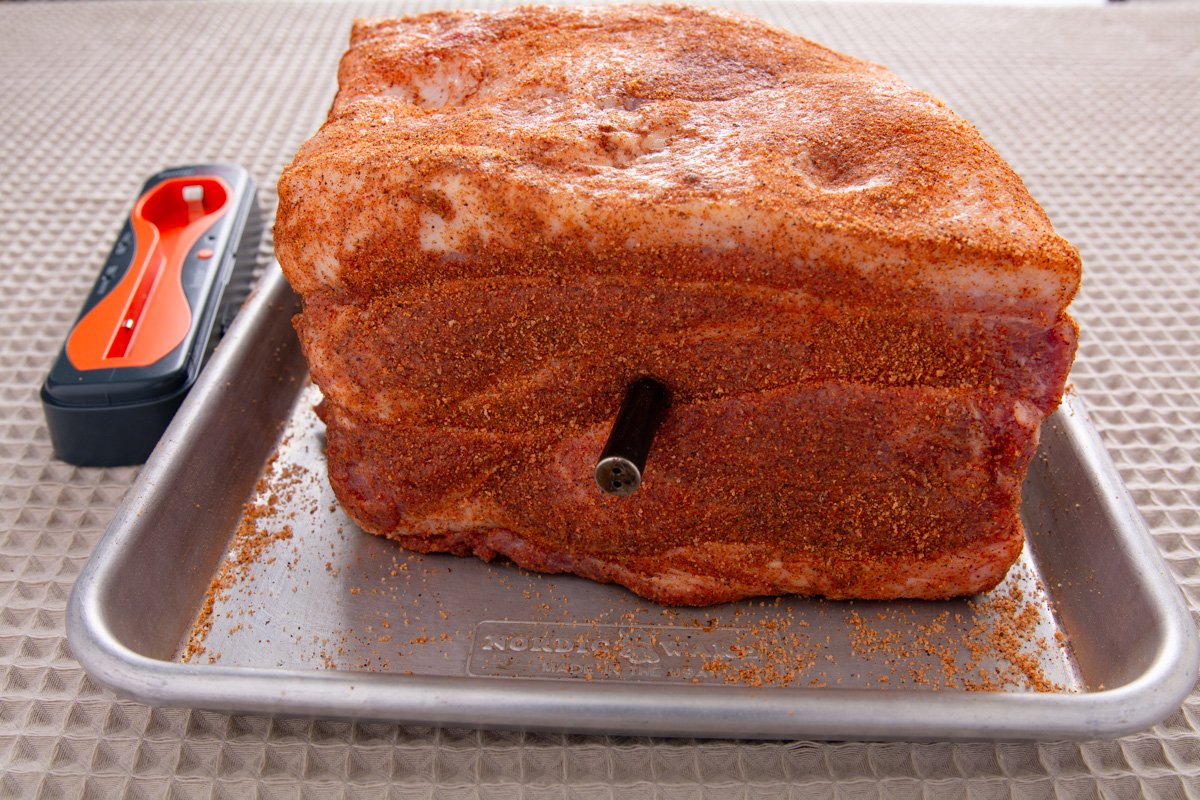 Cooking a pork roast in the crockpot is like a little adventure with many factors at play. You've got the size and thickness of your roast, the kind of slow cooker you're using, and even the room temperature! To make sure I don't accidentally overdo it, I like to play it safe and use a trusty meat thermometer. It's my cooking buddy for keeping things just right!
Right now, I absolutely love the ThermoPro TempSpike as my go-to meat thermometer!
Now, let's chat about the perfect temperatures for your Boston butt! 🌡️ For a melt-in-your-mouth, juicy roast, I aim for around 195°F. But if you're craving that incredible pulled pork texture, I'd say go all the way to 205°F.
Once your pork reaches the ideal temperature, give it some love by removing any excess fat, and it's ready to be served!
Now, onto the big question: How long did I cook my pork? Well, I let it work its magic for a cozy six hours until 205°F internal, using a trusty probe I then checked for that mouthwatering tenderness.
For the ultimate pulled pork perfection with a saucy twist, after hitting 205°F, shred that pork to pieces and generously add your favorite BBQ sauce. Then, set your crockpot to "keep warm" and let it mingle for an extra hour of flavor bliss!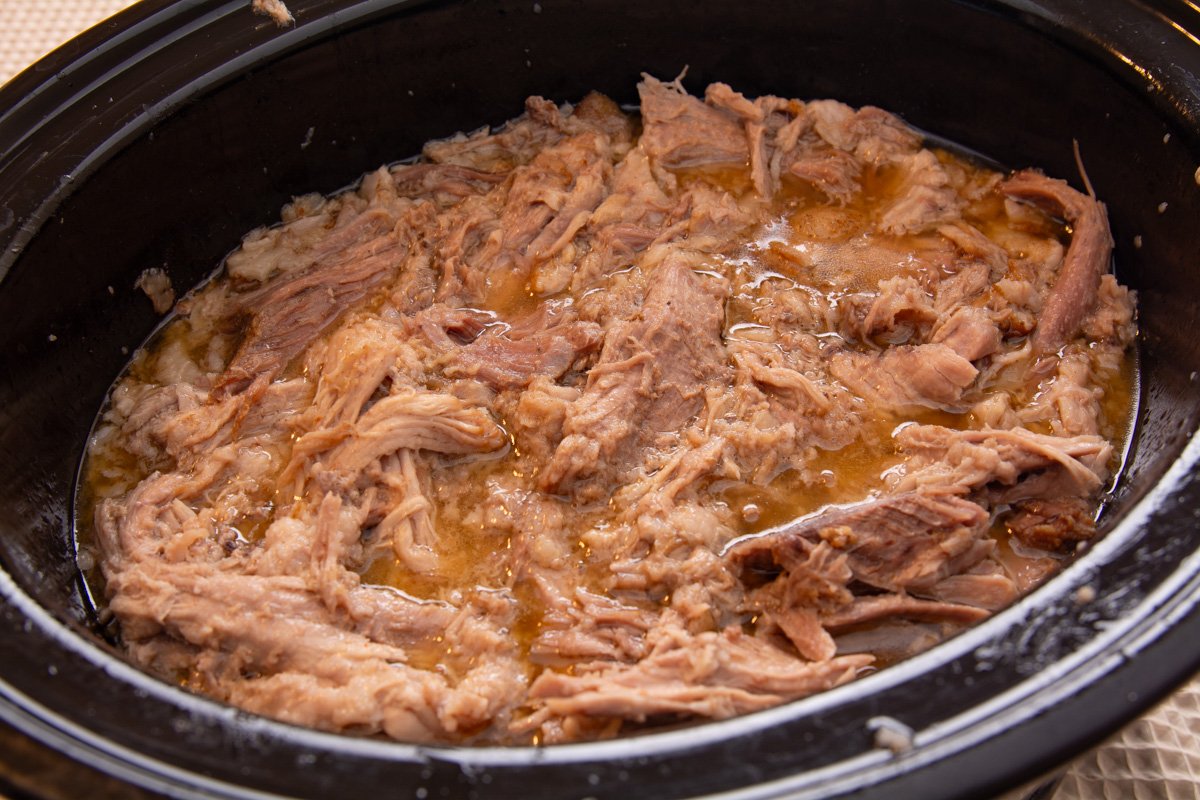 Ingredients
7

pounds

Pork Shoulder

(Boston Butt)

2

Tablespoons

BBQ rub
Instructions
Season your pork shoulder with plenty of BBQ rub.

Insert a thermometer into the center of the meat without touching the bone.

Place into the slow cooker and cook until the internal temperature is between 195 and 205. This depends upon how tender you want the meat.

Skim off / remove excess fat and tear into the size pieces that you want.
Nutrition
Serving:
8
oz
|
Calories:
358
kcal
|
Protein:
47
g
|
Fat:
17
g
|
Saturated Fat:
6
g
|
Polyunsaturated Fat:
2
g
|
Monounsaturated Fat:
8
g
|
Cholesterol:
162
mg
|
Sodium:
184
mg
|
Potassium:
826
mg
|
Vitamin A:
15
IU
|
Vitamin C:
2
mg
|
Calcium:
34
mg
|
Iron:
3
mg