A simple but tasty plant-based taco/burrito filling recipe. Cauliflower, mushrooms, and pecans give a nice, almost meaty flavor to the tacos.
Earlier this month, when posting the recipe for Chicken and Veggie Stir Fry, I mentioned that it had been two years since my last gout attack. Well, I recently had another one. Not sure if it was not drinking enough water, too many donuts/king cake at work, or too much wine in the evening. Anyway, it's time to get back to being careful.
I have been craving tacos; to satisfy the craving, I made a gout friendly taco filling. The pinto beans add protein and a nice texture.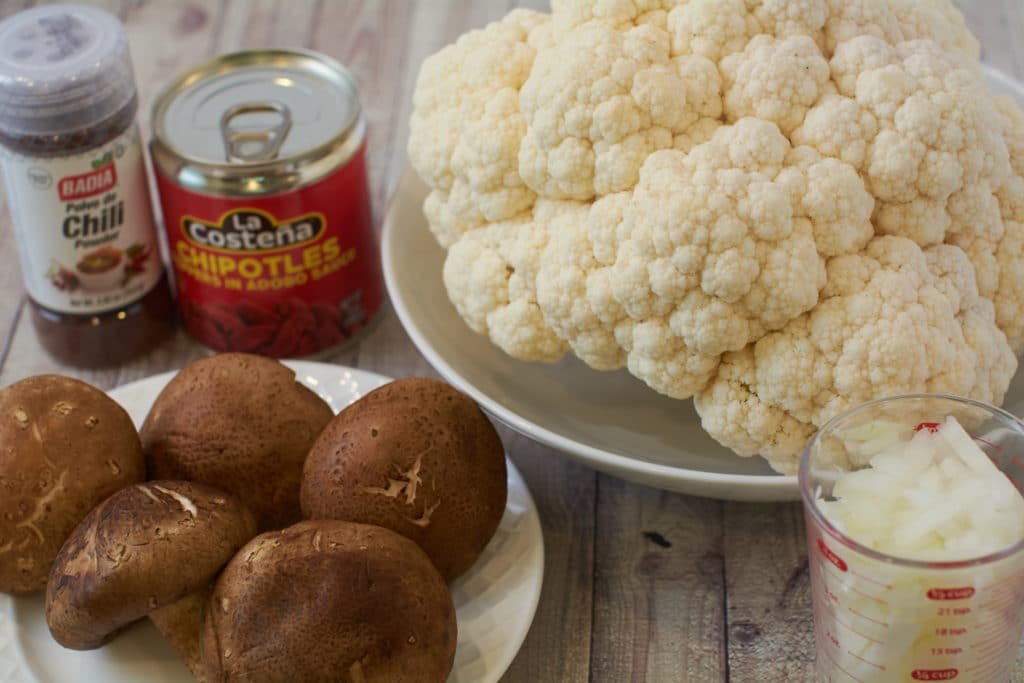 The main ingredients for the taco "meat" are cauliflower, mushrooms, and pecans. We had a huge head of cauliflower, so we only used half of it. That would be equal to a small head. For flavor, we used chili powder and chipotle pepper in adobo. Powdered chipotle would also work, but I really like using the canned ones.
In the food processor, chop the pecans (or nut of your choice) and mushrooms. Then add to a large bowl.
Then use the food processor to chop up the cauliflower. Add it to the pecan mushroom mixture.
To the cauliflower, mushroom mixture add: salt, chili powder, and garlic powder.
Heat your pan and olive oil. When the oil is hot, add your cauliflower mushroom mixture. Let it cook to release moisture. Let it cook, mix, let it sit to cook and mix. It should reduce by around 50% and pick up some color.
When it's reduced and has some color, add the soy sauce, chopped up chipotle pepper in adobo, and the pinto beans. Reduce the heat and cook occasionally stirring until the liquid from the beans has been absorbed.
Add to a tortilla. I should have heated mine in a pan until they had some black spots. But I was lazy and heated them in the microwave. And since I was sluggish, I topped the tacos with store bought guacamole.
All I can say is that they were really good. This mixture would work great in a burrito.
Ingredients
1

head

caulifower

1 small or 1/2 large

1/4

Cup

pecans

4

ounces

mushrooms

I like the brown ones

2

Tablespoons

soy sauce

1/4

teaspoon

salt

1/4

teaspoon

chili powder

1/4

teaspoon

garlic powder

1

Tablespoon

olive oil

1

Tablespoon

chipotle pepper

with the adobo sauce

1

can

pinto beans

16 ounce
Instructions
In the food processor chop the pecans (or nut of your choice) and mushrooms. Then add to a large bowl.

Use the food processor to chop up cauliflower. Add it to the pecan mushroom mixture.

To the cauliflower mushroom mixture add salt, chili powder and garlic powder.

Heat your pan and olive oil. When the oil is hot add your cauliflower mushroom mixture. Let it cook to release moisture. Let it cook, mix, let it sit to cook and mix. It should reduce by around 50% and pick up some color.

When its reduced and has some color add the soy sauce, chopped up chipotle pepper in adobo and the pinto beans. Reduce the heat and cook occasionally stirring until the liquid from the beans has been absorbed.

Serve on a warm tortilla with your favorite salsa
Nutrition
Calories:
99
kcal
|
Carbohydrates:
2
g
|
Protein:
2
g
|
Fat:
10
g
|
Saturated Fat:
1
g
|
Polyunsaturated Fat:
2
g
|
Monounsaturated Fat:
6
g
|
Sodium:
436
mg
|
Potassium:
47
mg
|
Fiber:
1
g
|
Sugar:
1
g
|
Vitamin A:
50
IU
|
Vitamin C:
0.2
mg
|
Calcium:
10
mg
|
Iron:
0.5
mg