Jump to Recipe
Most of the ingredients in the traditional marinade for bulgogi are not keto. My challenge was to create a marinade that was not too far from traditional but was still delicious. I think this recipe does just that. In fact, today's batch was a test run to test the idea and it turned out so good I had to post the recipe.
In the past few months, I have had some big changes. After starting intermediate fasting and clean keto (with some cheats) my blood pressure is in the normal range. My fasting blood sugar and uric acid are in normal ranges and I have lost a few pounds. I have also changed jobs and we have relocated.
We are just now getting settled in the new house with my office/photo studio is now set up. So hopefully I can start posting more recipes and videos.
Choice of meat. Bulgogi can be made with any cut of meat. Thinly sliced ribeye works really well and is my preferred cut. But when I was at Costco I saw this flap meat and I picked it up for Fajitas. Last night was Fajitas, this is what was leftover so that is what I used.
To help pay the bills running the site I do have affiliate ads and links. By clicking on them I can earn a commission.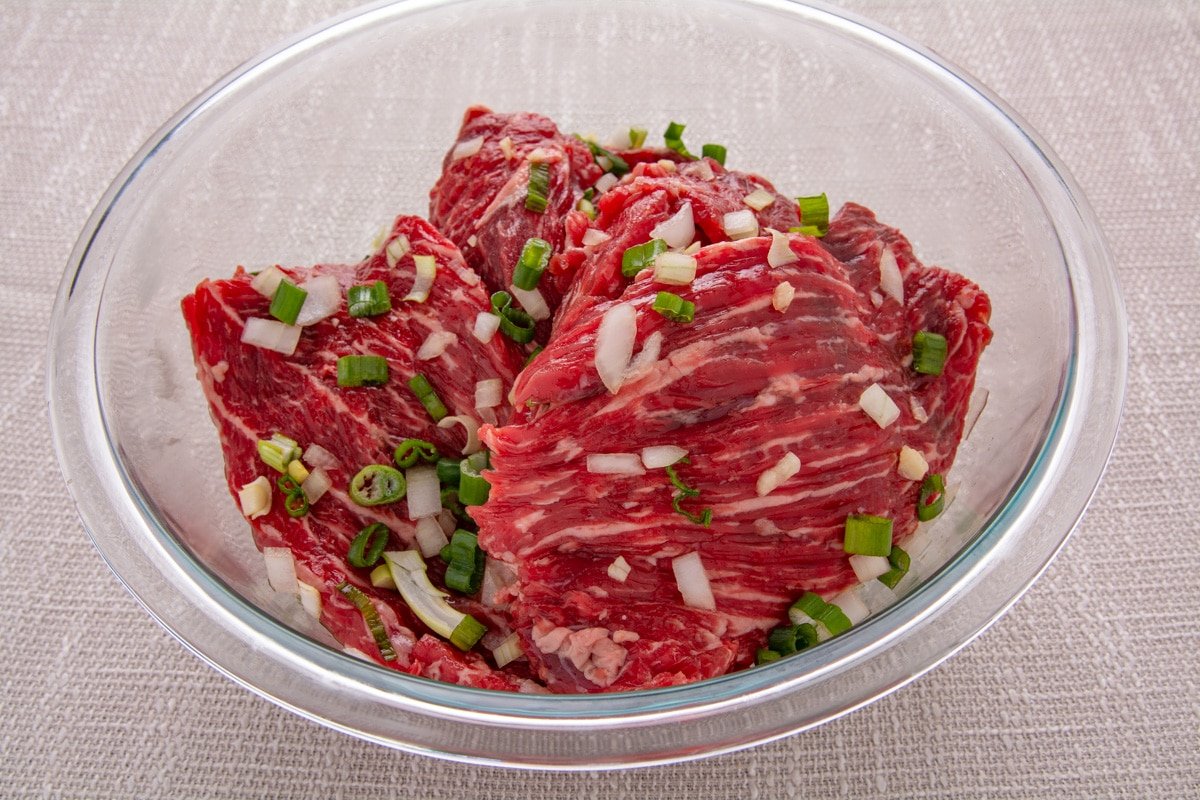 For the marinade:
Salt. We sprinkled on a pinch of salt to round out the saltiness. If you need to watch your sodium levels you can leave it out.
Liquid Aminos is to replace the soy sauce. Beans are not considered keto so soy is out.
Freshly chopped garlic. Lots of garlic, please.
Green onion. Chopped up.
Onion. Also chopped.
Add those ingredients to the meat and toss. Cover with plastic wrap and place in the fridge for a few hours. I went for four hours. During that time once an hour or so give the meat a toss to spread the flavors.
What is not in the marinate:
Sugar is usually added but since it spikes blood sugar we are leaving it out. We are also leaving out any artificial sweeteners.
Soy sauce, sorry no beans.
Fruit, fruit is usually added for flavor and makes the meat tender.
Sesame oil contains Omega 6 fatty acids. When heated to high temps they can break down into possibly toxic by-products. Since we are going to cook right over open flame this is not a good idea.
It was a little on the cool side today but since we did spring ahead it was time to break out my Webber Grill. After the charcoal was ready to cook I added some wood chips to give a little extra flavor. Gas grills will also work just fine.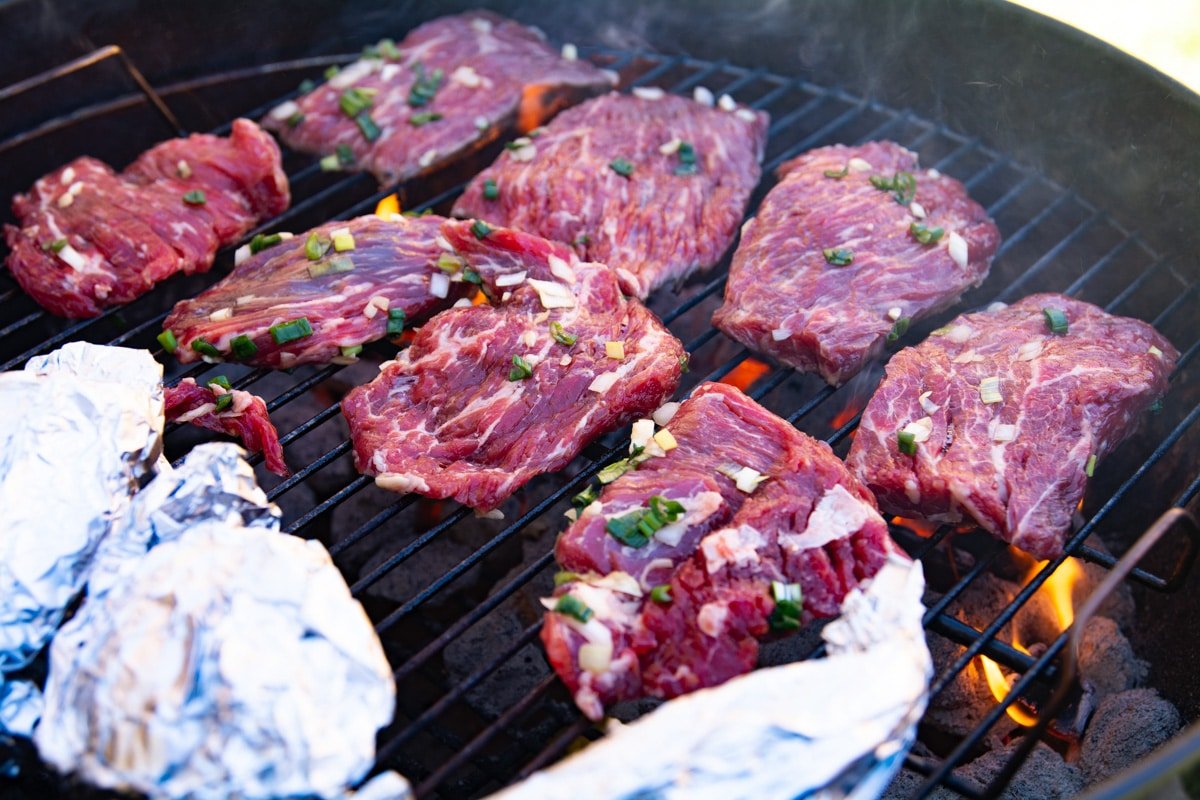 To cook the meat I put it fat side down to cook off most of the fat. The fat dripping on the fire creates more smoke flavor. For even cooking I flip often and move the pieces of meat around.
If you are curious about what is wrapped in aluminum foil it's my wife's Korean sweet potatoes. Anytime the grill or smoker are fired up I have to cook her some. I just do not eat them.
When the meat is cooked to temperature take it off the grill and let it rest for a few minutes. Slice across the grain and serve wrapped in lettuce. I am still working out items to add to my wrap since most of the traditional ones are not keto.
This wrap is kimchi (yes it can be made keto) and meat. I was also adding roasted cauliflower. That did work pretty good but I was missing ssamjang. If my uric acid numbers stay low I can add salted shrimp but I am not ready to try shellfish.
If you enjoyed the recipe please pin it for later.
Ingredients
3

pounds

beef

1

pinch

Salt

3

Tablespoons

Liquid Aminos

3

each

Green Onion

Chopped

1/4

Cup

Onion

Diced

3

cloves

Garlic

Chopped
Instructions
Marinate
To your sliced beef add the salt, liquid aminos, green onion, onion and garlic. Toss to coat and let marinate in the fridge for a few hours.
Cook
Place the meat on the hot grill, fat side down

Cook until desired internal tempature.

Remove from the grill, slice and serve with lettuce.
Nutrition
Calories:
586
kcal
|
Carbohydrates:
1
g
|
Protein:
40
g
|
Fat:
45
g
|
Saturated Fat:
17
g
|
Polyunsaturated Fat:
1
g
|
Monounsaturated Fat:
20
g
|
Trans Fat:
3
g
|
Cholesterol:
161
mg
|
Sodium:
639
mg
|
Potassium:
629
mg
|
Fiber:
1
g
|
Sugar:
1
g
|
Vitamin A:
5
IU
|
Vitamin C:
1
mg
|
Calcium:
45
mg
|
Iron:
4
mg