Growing up in the South, I was surrounded by people who could make great homemade biscuits. My Mom and my Grandmother could make great biscuits. But the best buttermilk biscuits were made by my Greatgrandmother in an old wood-fired oven. She would be working in the kitchen and talking to everyone, and at the right time, she would open her oven, give the biscuits a turn, close the oven and go back to talking. Her biscuits always turned out fluffy and golden brown, exactly what I look for in perfect biscuits. Until recently, I have always struggled to make good biscuits and had to make do with canned biscuits. You do not have to use canned biscuits today; I will share my easy homemade biscuit recipe; these are fluffy biscuits with a golden brown top. In the future, I will share my flaky biscuits recipe.
The write-up will include many tips that I have learned in developing this recipe, including substations, etc., to allow you to make the best biscuits for your taste. But if you want the recipe click the jump to recipe button.
Basic Ingredients:
Flour: Growing up, I did not even know about bread flour. Biscuits were always made with all-purpose flour or self-rising flour. If you use self-rising flour, you can leave out the baking soda. Bread flour will work, but since it has a higher protein content. This higher protein content makes it more susceptible to gluten formation. My Mom always loved Gold Medal flour, but lots of folks I know swear by White Lily flour. Discussions about which brand of flour makes the best biscuits can become very heated. If at all possible, do not get involved in them. To keep our flour dry, we also store it in an airtight container.
I did weigh my flour for this recipe. One cup of all-purpose flour is 120 grams. Our recipe uses 3 3/4 cups of flour; this gives a weight of 450 grams. This works well in my kitchen with my brand of flour. You may need to make slight adjustments in your kitchen, but this should give you a great start.
Salt: Salt keeps food from tasting bland. I use fine sea salt but any fine salt will work.
Baking powder: Baking powder is what will give our biscuits lift and keep them from being heavy. Were not looking for something super light as in dinner rolls. To make biscuits without baking powder, use self-rising flour.
Sugar: During my experimenting, I found that using a little bit of sugar helps with rising and browning. I am using raw sugar, but most folks use white sugar.
Fat: Fat is a lubricant to help with rising and makes rice delicious biscuits. Traditionally in the South, lard was widely used and is still a good choice. Lard, butter, and vegetable shortening all give a nice crumb to the biscuits. Of the three, vegetable shortening has the most neutral flavor. Using unsalted butter makes nice buttery biscuits and is my wife's favorite fat. This recipe calls for vegetable shortening, but you can use any of the three or even use neutral-tasting cooking oil. But when made with oil, they tend to fall apart.
Milk: I had a friend request this recipe without buttermilk, which was developed with regular milk. It was tested with whole milk and skim milk, and the ratio worked. When I went to make this batch, we only had oat milk, which I used, and it also worked. To get the tangy flavor that only comes from using buttermilk, you would need to add a little bit more than the recipe calls for. Some recipes say to add lemon juice to milk. That does not make buttermilk; it makes sour milk; the only way to make Southern buttermilk biscuits is with buttermilk.
Oil or melted butter: This is used to ensure that the biscuits' top turns out with a nice golden brown color. You could always cook them longer, but then you risk making hockey pucks. What good is a hockey puck in the South? Today I used olive oil, but butter is my wife's favorite.
Since biscuits are a type of bread made from simple ingredients, it all comes down to the dough and handling the dough. This easy biscuit recipe is for fluffy biscuits; we want to handle the dough are little as possible. We also want to add liquid to the dry ingredients at the last second. Both of these will limit gluten formation. Gluten formation in bread is an excellent thing but not so good when making biscuits.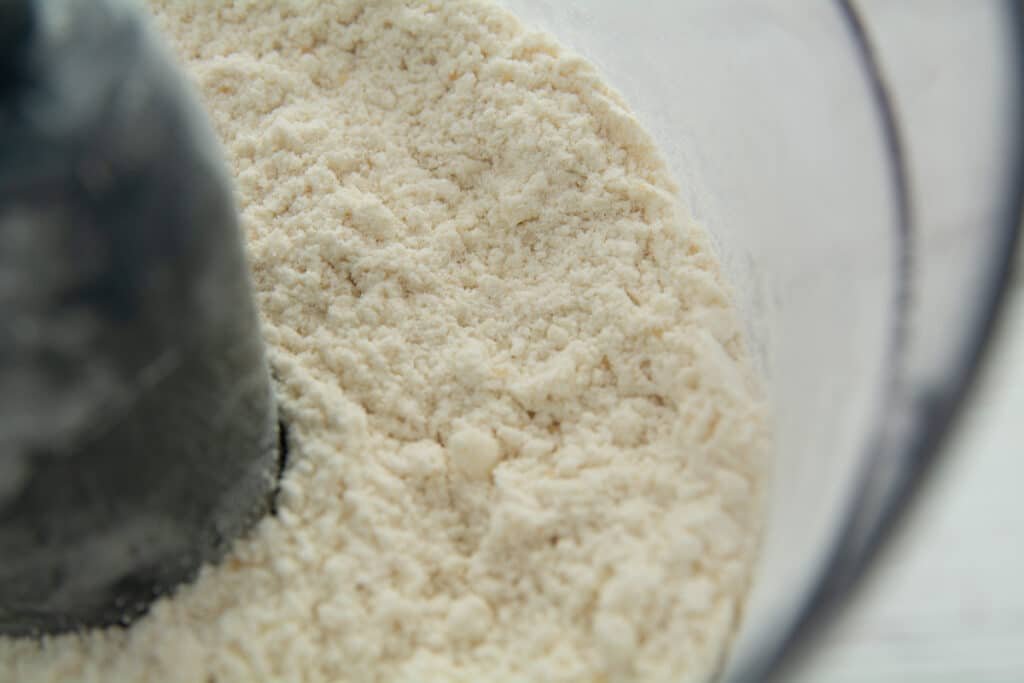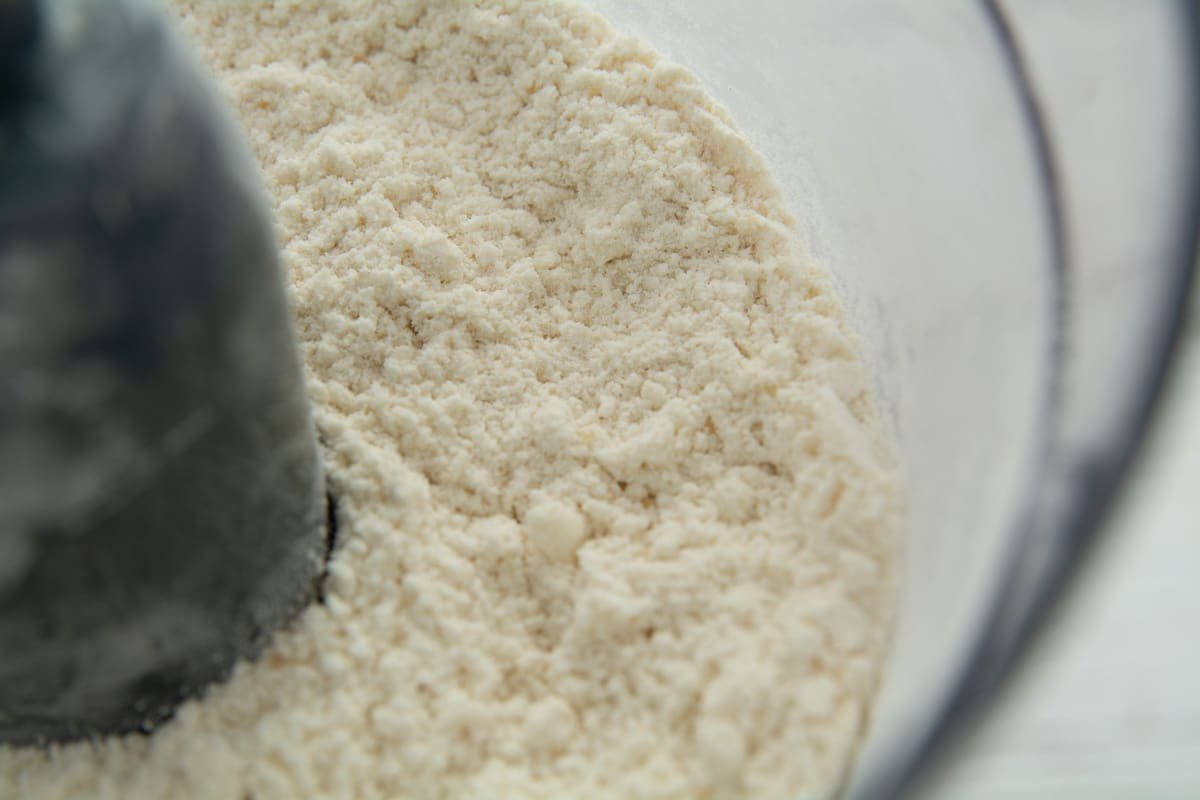 The first step in making our biscuit dough is to cut our fat of choice into the flour. Traditionally this was done with a pastry cutter or your hands. Combining the fat and flour this way shortens the protein strands in the flour. By shortening the protein strands, our biscuits will turn out tender and flaky (have a nice crumb). Lard or vegetable shortening can be cut in at room temperature. If you decide to use butter, use cold butter. But to make this an easy recipe, I will use the food processor. To the food processor, I add half of the flour, all of the other dry ingredients, and the vegetable shortening. I pulse the food processor until the fat is mixed with the flour, and it looks like petite balls.
Note when I did this with all of the flour. Flour shot out of the food processor and made a big mess. My wife was not happy, just something to keep in mind.
Now is probably a good time to preheat your oven.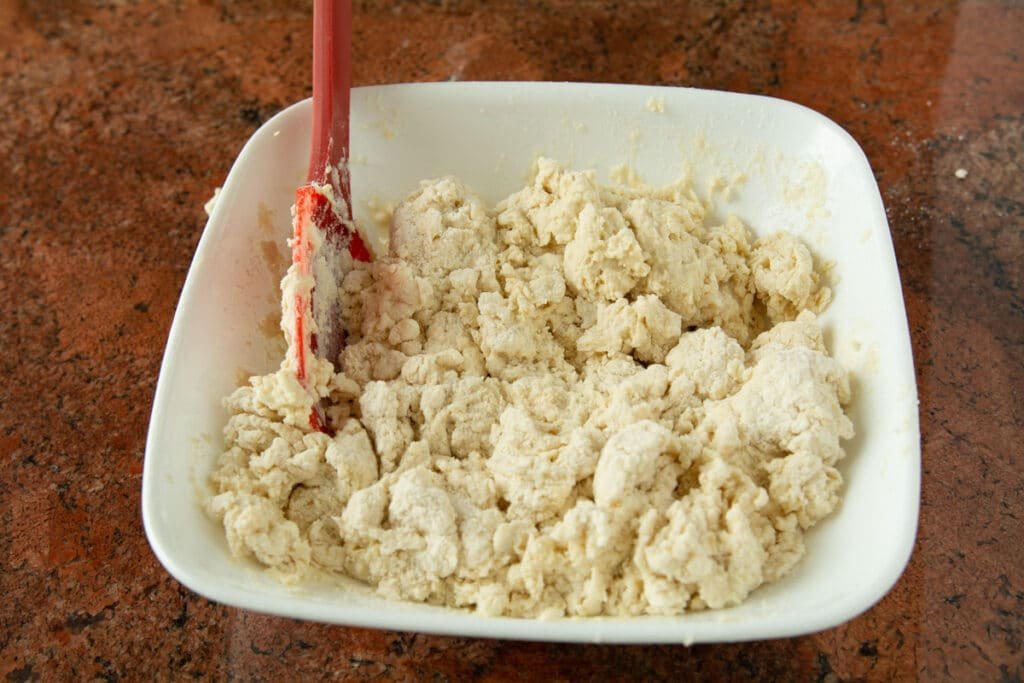 Some folks make biscuits on a parchment paper-lined baking sheet. But for a better rise, a single layer in a dish works best. This recipe was made in a glass 11 X 7 oven-safe dish. A cast-iron skillet will also work. Before adding the biscuits, the dish was greased with about one-half of a Tablespoon of vegetable shortening. Butter or oil will also give the same end result.
To a large mixing bowl, add the remaining flour and the flour mixture from the food processor. Using a silicone spatula (for easier cleanup), gently stir to combine. I should have used a larger mixing bowl. A larger bowl makes it easier to mix without making a mess. A mess in the kitchen equals an angry wife, but I did clean up before she saw it. So life is good.
When the oven is preheated and your dish is greased, it is time to add the milk to your biscuit dough. Use a spoon to fold the milk into your flour. When you have a crumbly dough with a few dry spots, turn the dough out onto your work surface.
Your dough should be a little sticky but if it's really sticky, add some flour to your work surface. Small dry spots are ok; no need to overwork the dough.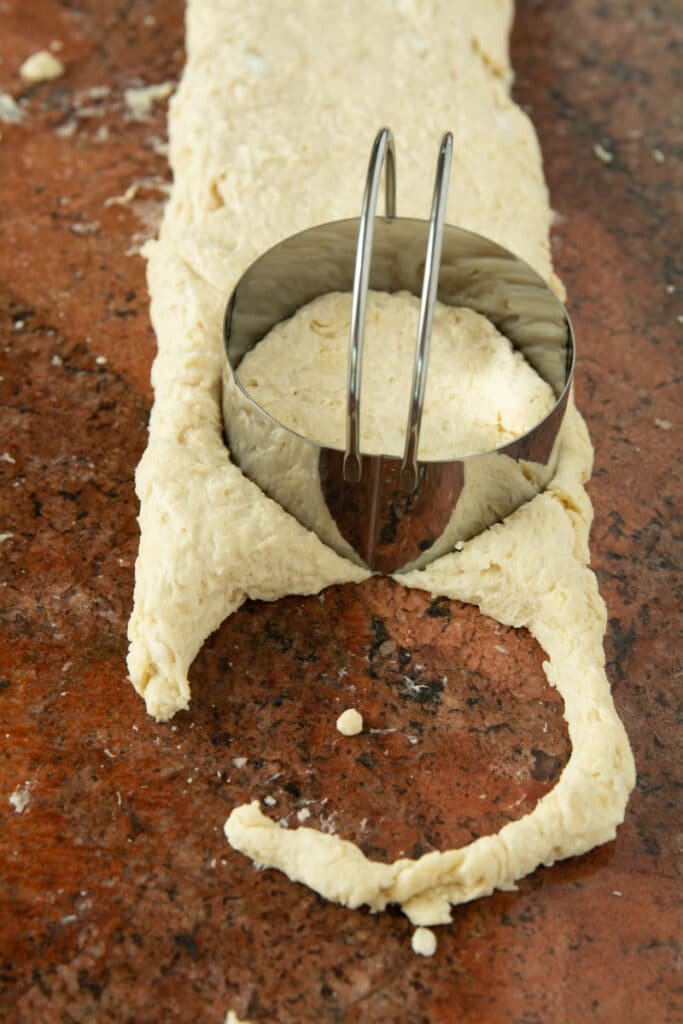 Using your hands (no rolling pin), form your dough into a long flat log between 1/2 and 3/4 of an inch thick. It should be long enough to form five biscuits. Then using a round biscuit cutter, cut out five biscuits. To cut them out, push down, then gently wiggle the cutter to free the biscuit from the log. As you cut them out, biscuits place them into your baking dish.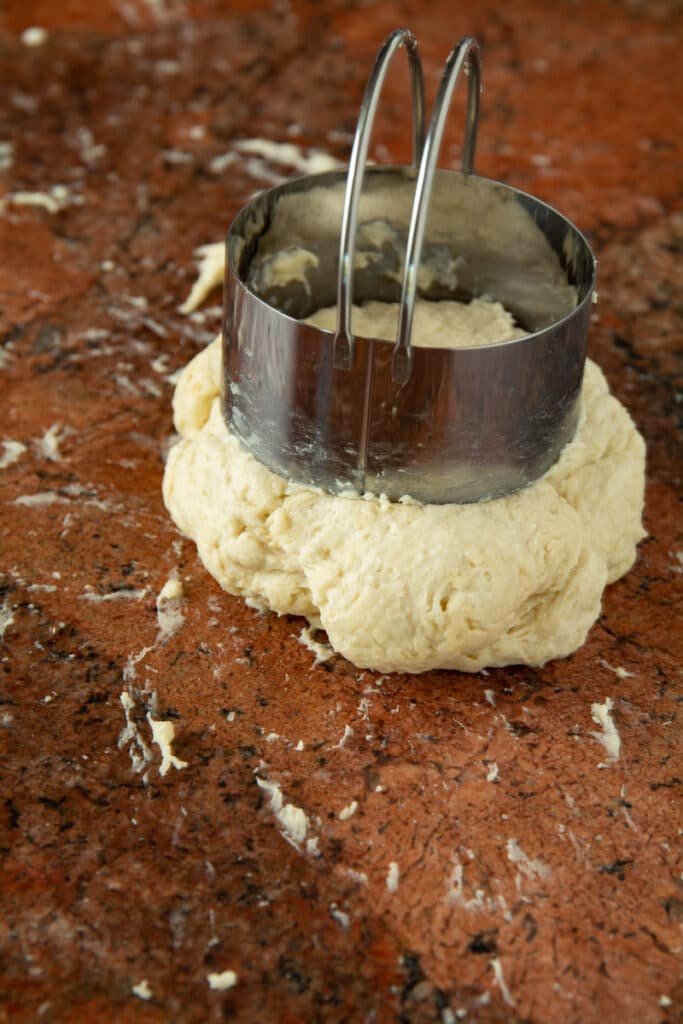 After you have cut out the five biscuits, take all the scrap dough and make one more biscuit. Now your pan should have six, and touching is a good thing. If they are touching each other and the sides of the dish, they will rise to the occasion. But they not quite ready for the oven.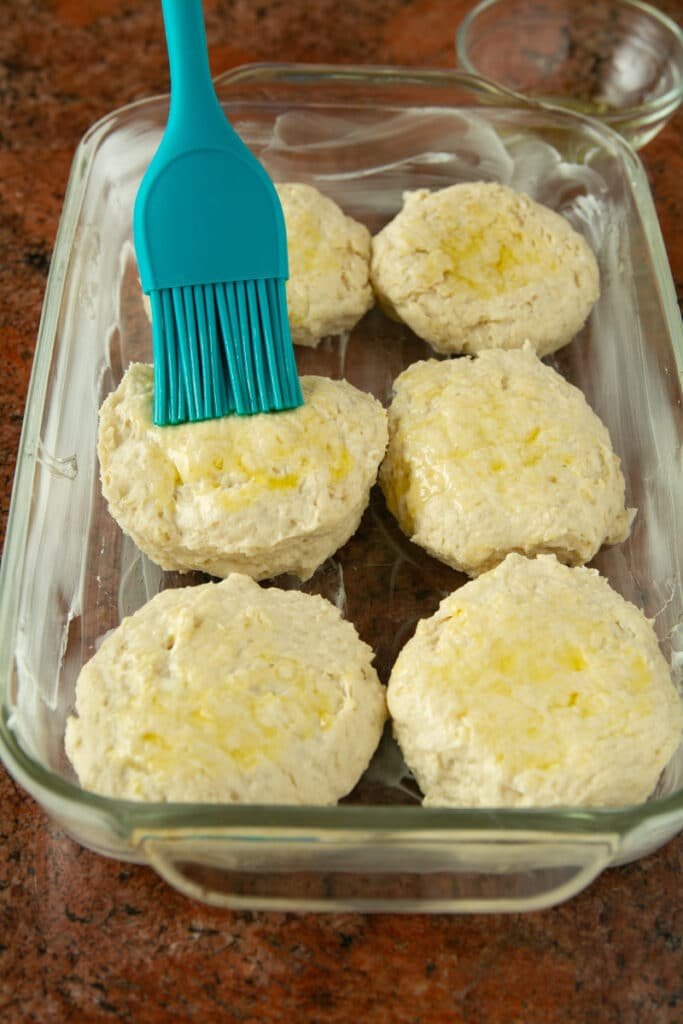 Before baking, we need to top these guys with some fat. Today I brushed on some olive oil, but you can use whatever you have. Melted butter works really well.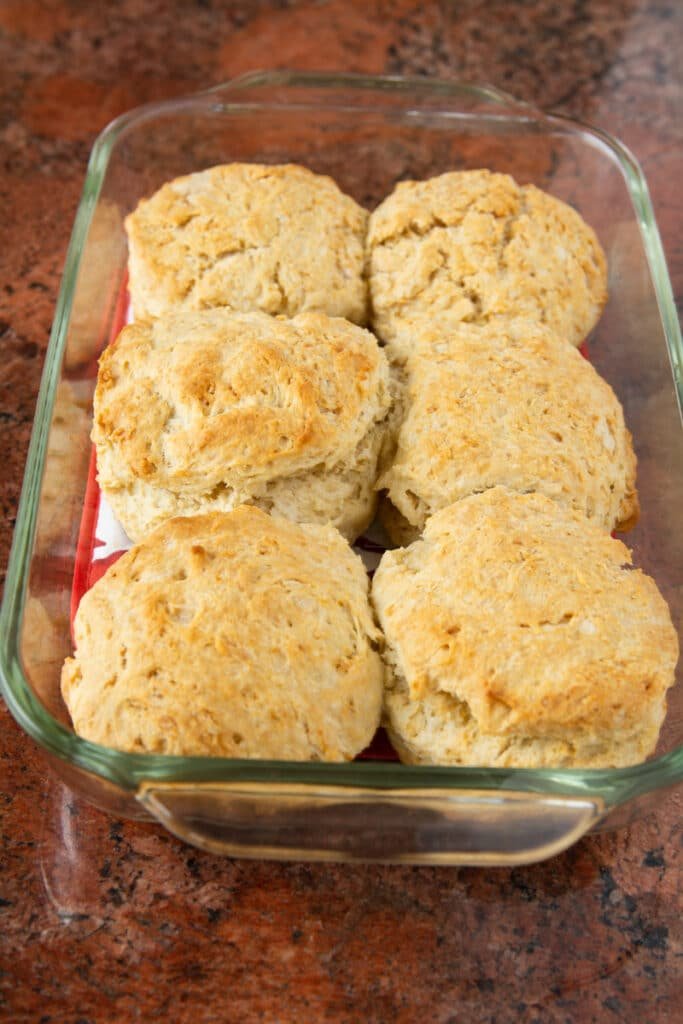 Bake your biscuits at 425 F or 218 C until they are golden brown. In my oven, this took thirty-five minutes.
Now that you know how to make good biscuits, you can use them for breakfast sandwiches or top them with country gravy.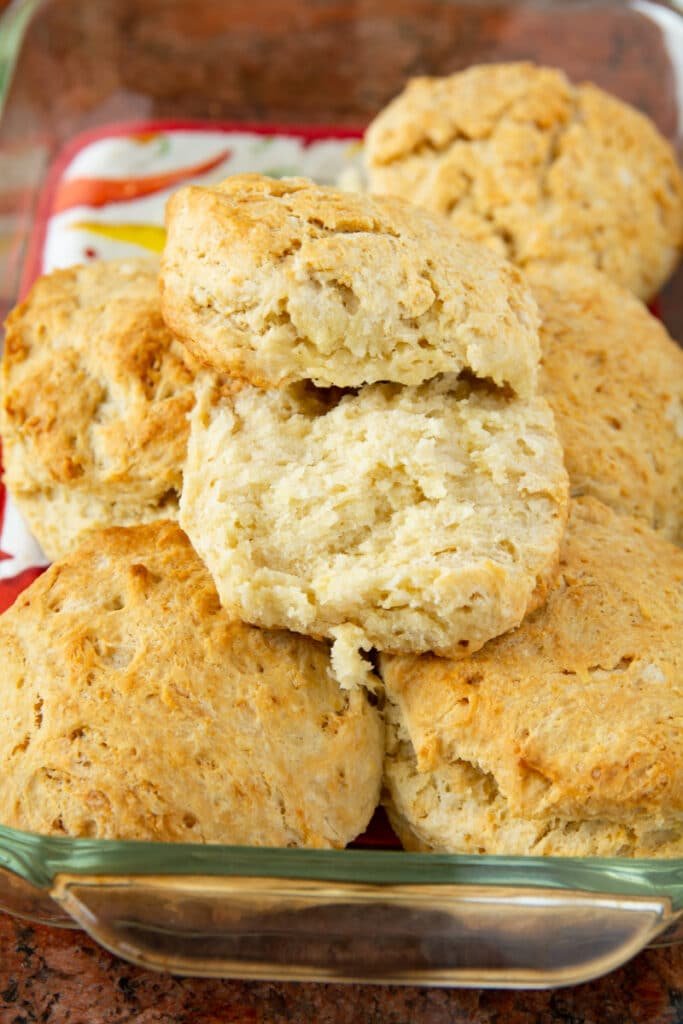 That is what I call a nice crumb.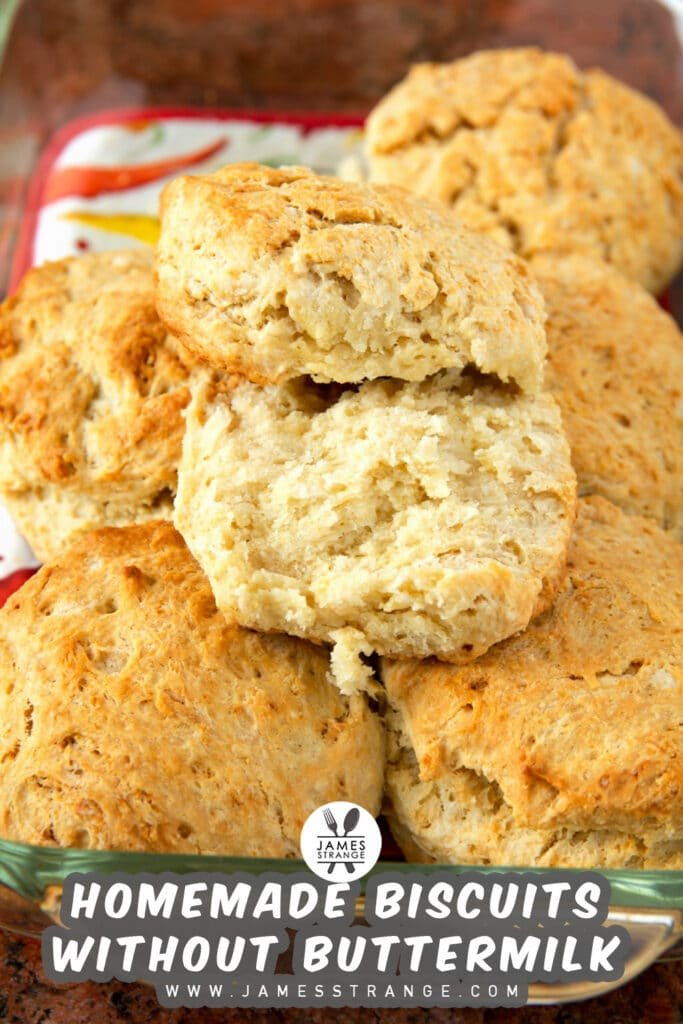 If you enjoyed the recipe please share it with your friends.
Ingredients
Biscuit dough
3.74

Cups

All purpose flour

3 3/4 Cups or 450 grams

5

Tablespoons

Vegetable shortening

2

Tablespoons

Baking powder

1

Tablespoon

Sugar

1.5

teaspoons

Salt

1.25

Cups

Milk

1 1/4 Cup of regular milk
Other
1/2

Tablespoon

Vegetable shortening

To grease the pan

1/2

Tablespoon

Oil

Or butter for the top of the biscuits

1

Tablespoon

Flour

For dusting the counter (if needed)
Instructions
Preheat your oven to 425F or 218C

Grease a baking pan with vegetable shortening
Prepare Dough
Combine the flour, salt, sugar, baking powder, and mix.

Add the vegetable shortening, then using your hands, pastry cutter of a food processor, cut the shortening into the flour. When finished, the dough should look like petite balls.

Add your milk to the flour mixture. Gently combine the flour and milk.

Turn the dough out onto your work surface (if need dust with a little flour) and shape into a long log 3/4 of an inch thick.

Using a biscuit cutter cut our your biscuits and place them into your greased pan.

Gather up any dough scraps and form them into more biscuits.

Add oil or melted butter to the top of your biscuits
Bake
Bake your biscuits in an oven preheated to 425 F until the tops are golden brown. They are now ready to serve.
Nutrition
Calories:
443
kcal
|
Carbohydrates:
66
g
|
Protein:
10
g
|
Fat:
15
g
|
Saturated Fat:
4
g
|
Trans Fat:
2
g
|
Cholesterol:
5
mg
|
Sodium:
1029
mg
|
Potassium:
153
mg
|
Fiber:
2
g
|
Sugar:
5
g
|
Vitamin A:
82
IU
|
Calcium:
305
mg
|
Iron:
4
mg