Hey pizza roll enthusiasts, it's James Strange here, your go-to snack aficionado! Today, I'm thrilled to share my latest kitchen discovery that has revolutionized my pizza roll game – the air fryer oven. Say goodbye to oven preheating and messy deep-frying; we're talking crispy goodness in less time and with less oil. Plus, no more settling for soggy microwave results!
But before we dive into the magic of air frying, let me take you on a journey of experimentation to find the perfect way to air fry those delightful Totino's pizza rolls. Brace yourselves; it's a tale of crunchy triumphs and molten cheese challenges.
This post does contain affiliate links that earn the site a commission. This commission helps to cover the cost of operating the site.
First things first, I armed myself with my trusty Instant Vortex Plus Air Fryer Oven – the unsung hero of even cooking. No more shaking things around halfway through – just pop those rolls on the middle rack, and you're good to go.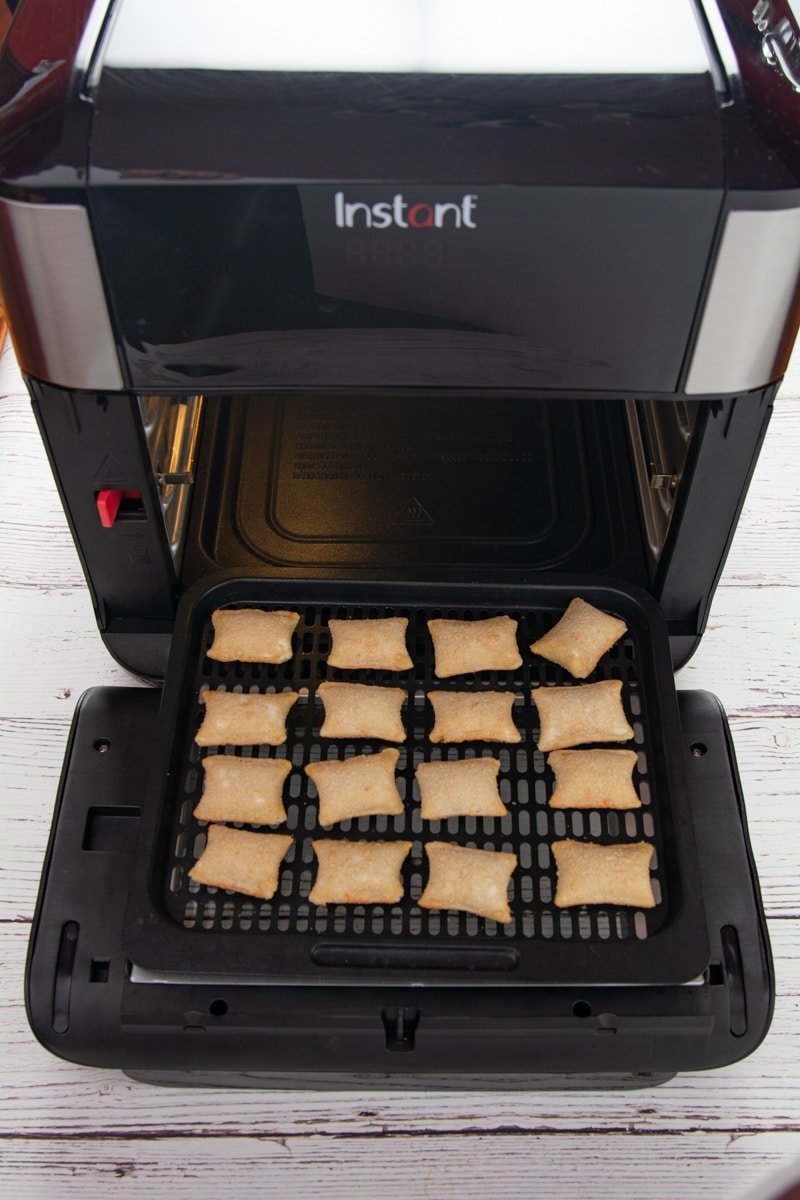 Now, let's talk about the notorious blowout problem. I scoured Reddit for wisdom and Totino's official recommendations. The consensus: higher temperatures lead to blowouts. Armed with this knowledge, I embarked on my air-frying adventure.
Ah, the inaugural adventure into air-frying bliss! Picture this: my trusty air fryer preheated to a cozy 390°F, and in went the frozen pizza rolls, arranged lovingly in a single layer in the heart of the oven. The anticipation was real as I set the timer for a thrilling six minutes.
Now, here's where the culinary drama unfolds. As the countdown hit zero, out came the pizza rolls, and the moment of truth had arrived.
Behold, my friends, a spectacle of blowouts! While none of them turned into pizza roll fireworks, the drip tray at the oven's base became an unexpected saucy canvas. These babies were undeniably the crispiest of the bunch, a true triumph in the world of air-frying. But, and there's always a but, some were sadly lacking in the sauce department.
Thank goodness for quick thinking and a jar of marinara sauce on standby. A dip, a taste test, and we were back in crispy business, learning valuable lessons for the next delicious round. The journey of a thousand pizza rolls begins with the first crispy blowout – or something like that!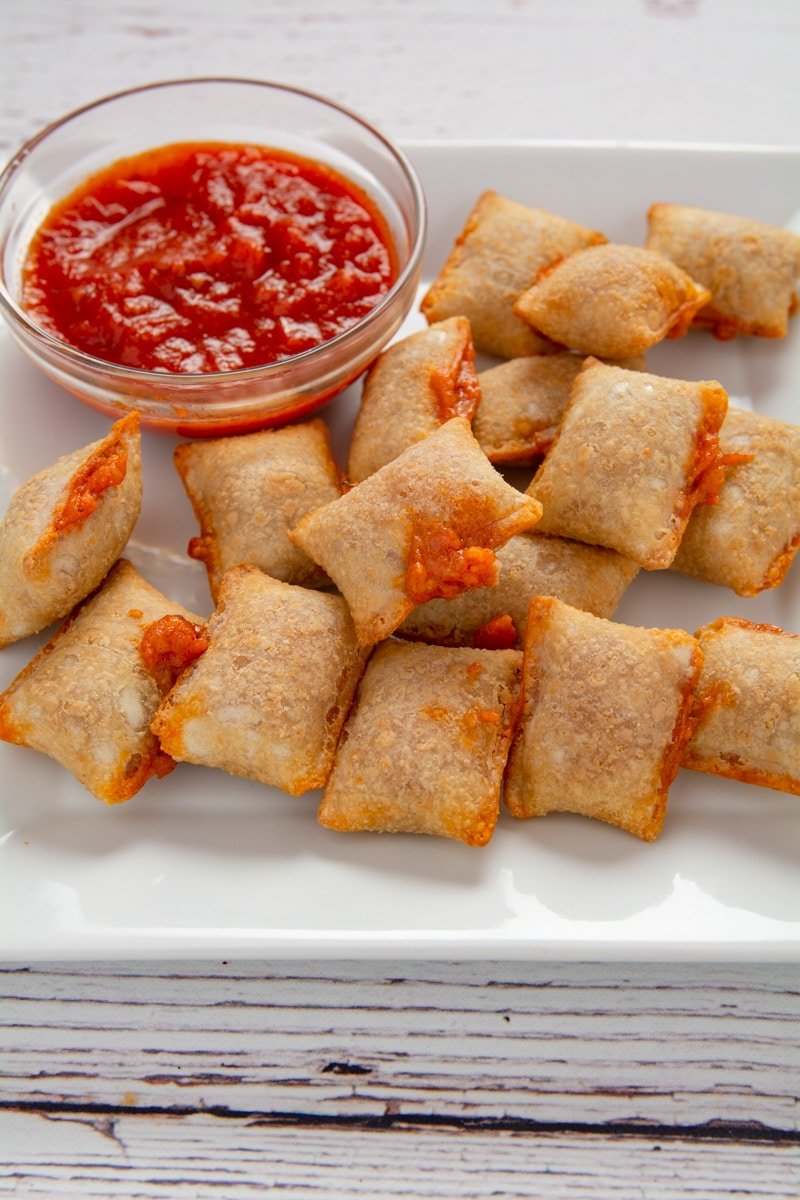 Once we tidied up the oven, it was onto the exciting sequel – Batch Number Two! Following the same dance of culinary magic, we cranked up the oven to a toasty 375°F and set the timer for a tantalizing six minutes. Voila! Behold, the masterpiece:
This batch was like the first's close cousin, sharing that golden hue and inviting aroma. But here's the kicker – the drip tray at the oven's base caught only two tiny drops of sauce. Can we get a hooray for a clean kitchen? And let me tell you, these little wonders were the epitome of crunchy perfection, with molten hot sauce and cheese doing a delightful dance. It's official – Batch Number Two stole the show and earned the title of my personal favorite. Crunch on, my friends!
Now, onto the third batch – same routine, folks! We set the oven to a cozy 350°F and let the timer dance for six minutes. Here's the scoop: they came out crispy, though not quite hitting the crunchy jackpot like our first two batches. Picture this – most of them were still huddled up, keeping that super hot filling to themselves. A couple of rebels started to let the goodness peek out, but fear not, no major blowouts to report. It's like they were keeping the excitement contained but still delivering on that delightful flavor. Cheers to batch number three and its unique, slightly rebellious charm!
Hopefully, this experiment helps you find the perfect cooking time and temperature for your air fryer.
Now, here's a little extra tip for you pizza roll connoisseurs: for an extra crisp, give them a spritz of neutral-flavored oil (think vegetable oil, not overpowering olive oil) or a dash of garlic powder. And why stop there? Post-fry, sprinkle some parmesan cheese for an extra flavor boost!
As for dipping, I'm a marinara aficionado, but my daughter swears by a drizzle of maple syrup. Hey, don't knock it till you try it!
Just a friendly reminder: fresh out of the air fryer, these babies are full of cheesy lava – handle with care, and enjoy the crispiness! Now, who's ready to elevate their pizza roll game with the wonders of air frying? Happy snacking, everyone!
If your looking for another quick and easy air fryer snack recipe Wendy Polisi has a super simple air fryer pecans recipe you should check out.
Hey, fellow pizza enthusiasts! 🍕✨ I just embarked on a thrilling air-frying odyssey with Totino's pizza rolls, and the results are too good not to share! From crispy triumphs to unexpected saucy escapades, it's a journey worth recounting.
Feel free to share this tasty tale with your friends – the more pizza lovers, the merrier! Let the crispy adventures begin!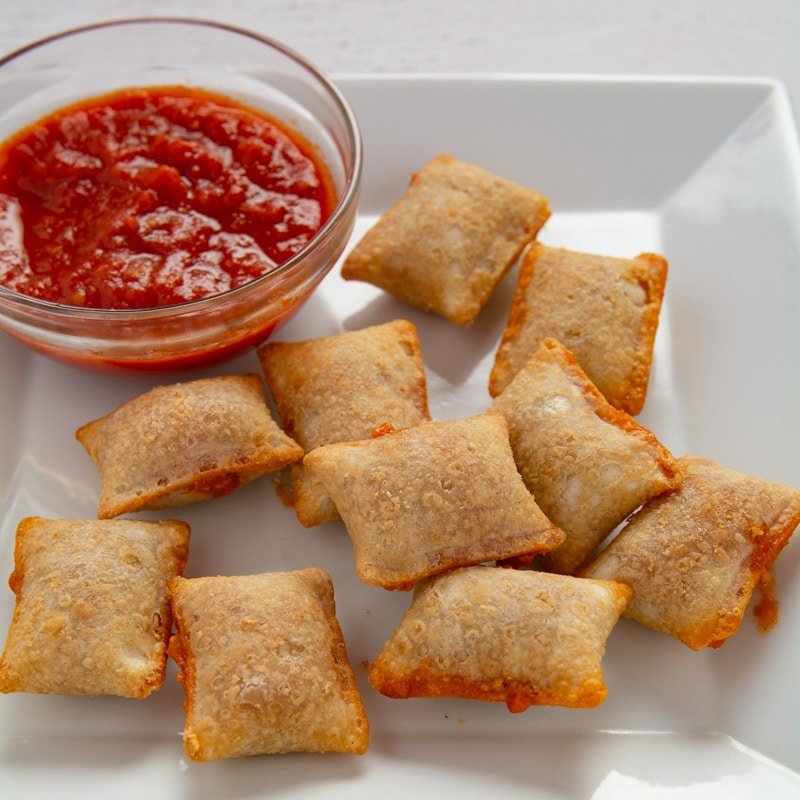 Instructions
Preheat the air fryer to 350F

In a single layer, place the pizza rolls into the air fryer, ensure that they do not touch.

Cook for 6 minutes. For even cooking, turn halfway thru the cooking time.
Nutrition
Calories:
220
kcal
|
Carbohydrates:
30
g
|
Protein:
6
g
|
Fat:
8
g
|
Saturated Fat:
2
g
|
Cholesterol:
5
mg
|
Sodium:
380
mg
|
Fiber:
1
g
|
Sugar:
2
g