Embrace the delightful world of Dal Palak, a scrumptious lentil curry that's not only quick and easy but also a cherished tradition in both Pakistan and India. Bursting with lentils, spinach, herbs, and spices, this recipe adds a touch of magic to your kitchen. Whether you're a vegetarian or vegan, this dish is your perfect companion.
Now, the beauty of Dal Palak lies in its versatility. Every chef has their spin on it, and today, I'm sharing a super-easy version that's destined for your regular kitchen rotation. Picture a pot or pressure cooker transforming lentils, spinach, and a medley of spices into a soul-satisfying dish.
In households across India, Dal Palak is more than a meal—it's a soulful experience. A daily companion to steamed rice, it's tasty, nutritious, and oh-so-filling. The best part? Homemade means you control the spice, making it a family-friendly treat even for the little ones. Get ready to savor a bowlful of warmth and goodness!
Dal Palak Ingredients:
Dal (Lentils)
Dive into the world of lentils and discover a treasure trove of health benefits! Beyond being a powerhouse of nutrient-dense plant proteins, lentils, often associated with savory dishes, can surprise you in the sweet department too—cue the delightful moong dal halwa!
For today's recipe, we're featuring split masoor dal as the star, but feel free to switch things up with your preferred dal. Better yet, why not create a flavor symphony by combining different dals in one dish? The possibilities are as exciting as they are delicious! Get ready for a sweet twist to your lentil adventure.
There are several types of Dal
Ever found yourself in an Indian market, surrounded by a dazzling array of dals, unsure which one to pick? It's a common dilemma with so many enticing options. Let's unravel the mystery of dals, those protein-packed wonders adored by vegetarians.
In the realm of Indian groceries, dals and beans reign supreme. Dals, or lentils, are characterized by their width at the center and tapering at the ends. Beans, in contrast, boast a larger size.
Now, let's meet some popular players:
Moong Dal (Yellow Moong Dal):

Variations: Whole green lentil, split dal with skin, skinless split dal.
Versatility: Used in both savory and sweet dishes.

Urad Dal:

Forms: Whole, split with skin, skinless split.
Distinct Taste: Urad dal adds a unique flavor to dishes.

Chickpeas (Chana):

Varieties: Black and white.
Split Variety: Chana dal.

Masoor Dal (Red Lentils):

Appearance: Black-brown skin, vibrant red interior.
Options: Whole masoor dal, split masoor dal without the skin.

Pigeon Pea (Toor Dal):

Alias: Also known as Toor Dal.
Appearance: Beige exterior, sunny yellow core.
Flavor: Provides a distinctive flavor to dishes.

Black-eyed Peas (Lobia):

Alias: Familiarly called lobia.
Versatility: Suitable for curries, dals, salads, and more.
Distinctive Shape: Stands out with a unique shape.
These legumes not only contribute to the taste and texture of dishes but also offer various nutritional benefits. Exploring different ways to incorporate them into your cooking can add diversity and richness to your meals. Whether you're preparing traditional recipes or experimenting with new ones, these ingredients can play a key role in creating delicious and wholesome dishes.
Navigating the dal aisle just got a bit easier.
Spinach has a slightly earthy and mild flavor that complements the lentils well without overpowering them.
Green chilies have a unique and fresh flavor that contributes to the complexity of the dish. This flavor complements the earthy taste of the lentils and the mildness of spinach.
Dried chilies, when toasted or sautéed, develop a rich, smoky flavor that adds complexity to the dish. This depth enhances the overall taste of the dal palak.
Onions add a natural sweetness to the dish as their sugars caramelize during the cooking process. This sweetness balances the savory and slightly bitter flavors of spinach and lentils, creating a harmonious taste.
Ginger is known for its digestive properties and is often included in Indian cuisine to aid digestion. Including ginger in Dal Palak may help make the dish more easily digestible.
Garlic: The savory and slightly spicy nature of garlic complements the earthy taste of lentils, the mildness of spinach, and other spices in the dal palak, resulting in a well-balanced dish.
Tomatoes contribute to the thickness and body of the dal palak. They break down during cooking, creating a luscious and slightly thickened texture for the curry.
Turmeric has a warm and slightly bitter flavor that adds depth to the dish. It complements the other spices used in the recipe and enhances the overall taste profile of the dal palak.
Cumin seeds: The toasting of cumin seeds releases aromatic compounds, contributing to the overall aroma of the dish. This enhances the sensory experience of eating the dal palak
Salt is often added in layers throughout the cooking process to ensure that each component of the dal palak is well-seasoned. This approach helps create a more harmonious final dish.
Red chili powder provides a distinct spiciness that adds depth to the flavor profile of the dal palak. It contributes a warm and lingering heat that complements the other spices in the dish.
Garam masala contributes a warm and slightly spicy flavor to the dal palak. The combination of spices in garam masala complements the other ingredients, adding depth and complexity to the dish.
Oil is used to sauté aromatics like onions, garlic, and ginger. Sautéing these ingredients in oil helps release their flavors and aromas, creating a flavorful base for the dal palak.
Feel free to toss in some curry leaves! These little wonders bring a unique and special aroma that elevates the overall fragrance of your dal palak. Whether you're sautéing them in oil or adding them during tempering, these curry leaves release delightful aromatic compounds, making your dish even more enticing. Give it a try and let the magical aroma enhance your cooking experience!
Directions for Dal Palak Recipe 
Dal Palak is a delightful and healthy recipe that packs a punch of delicious taste without breaking the bank. Follow these simple steps to create this wholesome dish:
Prep the Lentils:
Take 1.5 cups of split masoor dal. Spread it on a white plate to check for any small rocks. Wash the dal thoroughly in a bowl to remove loose dirt.
Cooking the Dal:
In a large pot, combine the washed dal with seasoning, ginger paste, red chili powder, salt, turmeric powder, and a few cups of water. Stir well and bring it to a simmer over medium to high heat. Let it cook for 20 minutes, stirring occasionally. Achieve a creamy texture by whisking the mixture after 20 minutes of cooking.
Add Spinach:
Add chopped spinach to the cooked dal. Allow it to cook with the dal for one or two minutes
Prepare Dal Tadka:
In a small pan, heat oil and add cumin seeds. Once they crackle, add minced garlic cloves, red chilies, and green chili. Incorporate one medium chopped onion and sauté until golden brown.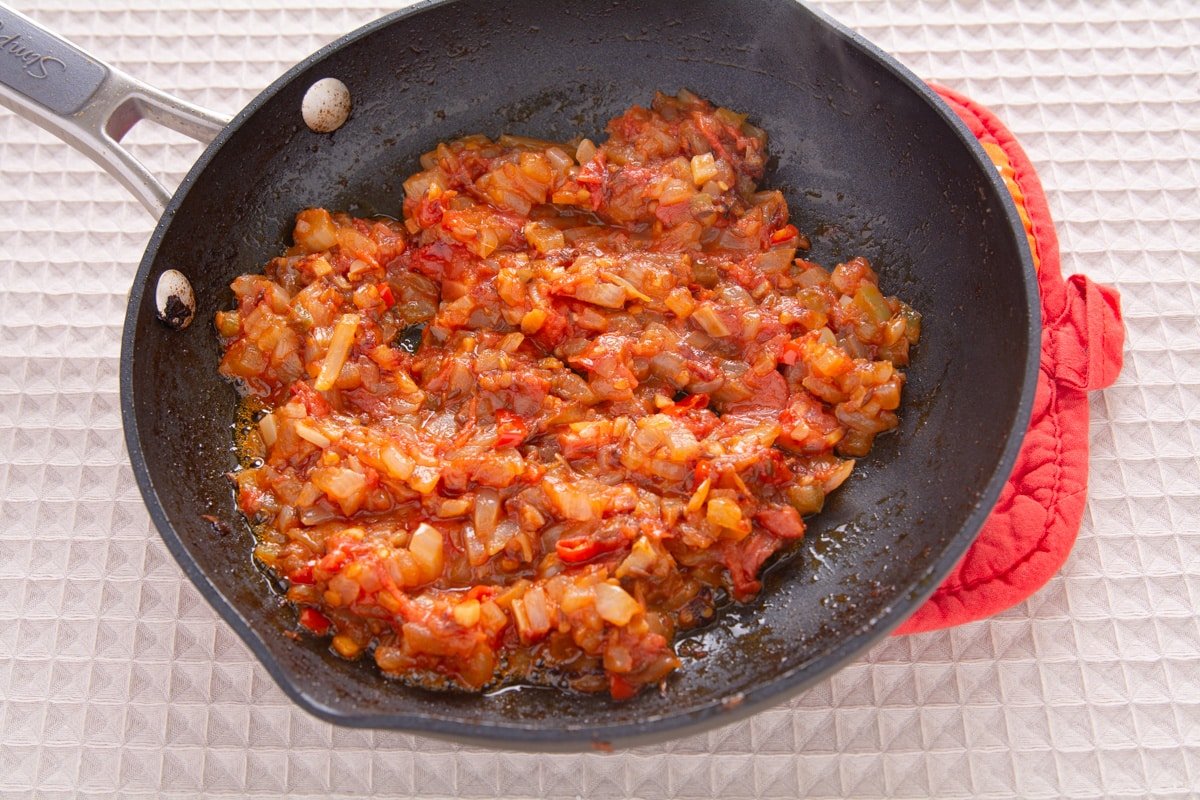 Add Tomatoes:
Add one medium chopped tomato to the tadka. Sauté until soft and mushy, cooking for 3 to 5 minutes on a slow to medium flame.
Combine Tadka with Dal Palak:
Add the prepared tadka to the cooked dal palak and stir well.
Adjust Consistency and Seasoning:
Adjust the consistency of the dal by adding water if necessary. Season according to taste. Optionally, add garam masala at this stage.
Serve and Enjoy:
Your delicious Dal Palak is ready to be served. Enjoy it with rice or chapati for a wholesome and satisfying meal!
If you loved trying out this recipe, you might also find joy in exploring my Instant Pot Dal Makhani recipe. And for another delightful treat, consider pairing it with a fantastic Vegan Biryani from Moon and Spoon and Yum! Happy cooking!
If you had a great time with this recipe, why not spread the joy? Share it with your friends and let them savor the goodness too!
Ingredients
Dal
1.5

cups

Red lentils

masoor dal

1

Tablespoon

Ginger paste

1

teaspoon

Red chili powder

1

teaspoon

Salt

1/2

teaspoon

Turmeric powder

5

cups

Water
Tadka
3

Tablespoons

Oil

1

teaspoon

Cumin seeds

4

cloves

Garlic

Chopped

4

each

Peppers

1

cup

Onion

Finely diced

1

cup

Tomato

Finely diced
Instructions
Cook the lentils
Inspect and wash the lentils.

To a pot add the washed lentil and all of the dal ingredients (red lentils, ginger paste, red chili powder, salt, turmeric powder, and water). Bring to a simmer.

Cook until the lentils are tender (about 20 minutes).

Use a whisk to break up some of the lentils.
While the lentils are simmering prepare the tadka.
To a pan on medium heat add oil. When the oil is starting to get hot add the cumin seeds so that they pop.

After the cumin seeds start crackling add the garlic, chili peppers, and chopped onion.

Sauté until the onion starts to change color. Add the chopped tomato and cook until the tomatoes are mushy and have changed color.

Set aside until ready to use.
Finish
Add the spinach to the dish and stir it in. Cook for two minutes.

Add the tadka to the dish and mix. The dish is now ready to serve.
Nutrition
Calories:
186
kcal
|
Carbohydrates:
24
g
|
Protein:
10
g
|
Fat:
6
g
|
Saturated Fat:
0.5
g
|
Polyunsaturated Fat:
2
g
|
Monounsaturated Fat:
3
g
|
Trans Fat:
0.02
g
|
Sodium:
318
mg
|
Potassium:
494
mg
|
Fiber:
11
g
|
Sugar:
2
g
|
Vitamin A:
1577
IU
|
Vitamin C:
10
mg
|
Calcium:
50
mg
|
Iron:
3
mg