Dal Palak or palak dal is a delicious and easy-to-make lentil curry that is quick to prepare and delicious. Dal palak is a traditional dish that can be found in both Pakistan and India. In addition to lentils, spinach, herbs, and spices, Dal Palak can also be cooked with spices and herbs. This spinach dal recipe is so easy I am sure that it will be on a regular rotation in your kitchen.
This recipe is suitable for vegetarians and vegans alike.
It is possible to prepare Dal Palak in a number of different ways. The way it is cooked varies from one chef to another. You'll love the Dal Palak recipe I'm about to share with you because it's so easy to make and gives you the most delicious results.
The traditional method of preparing dal is to add lentils, spinach, spices, and many other ingredients at the same time. This spinach dal can be prepared on the stovetop using a pot or a pressure cooker.
Dal palak is regarded as a soul food by Indians and Pakistanis alike. In an Indian household, it is common for dal to be eaten every day with steamed rice as part of the staple diet. In addition to being tasty and nutritious, it is also filling. The advantage of cooking it at home is that you can control the amount of spice so even your tiny children can enjoy a bowl of it.
Ingredients:
Dal (Lentils)
There are many health benefits associated with lentils. There is no doubt that legumes are a good source of nutrient-dense plant proteins. In general, when people hear the word Dal (lentil), they assume that it is only for use in savory dishes. 
However, lentils can also be found in desserts, such as moong dal halwa, which is made from lentils.
To prepare this recipe, I will be using split masoor dal as the main ingredient. This recipe can be substituted with any other dal of your choice. There is also the possibility of making a combination of dals within the same dish.
There are several types of Dal
Have you ever ventured to a market in India and had no idea what to choose from the dal section? There are a lot of options that I have, which makes it difficult for me to choose the right one. The following is a brief description of dal (lentil). It is important to note that dal contains a lot of protein. As a result of their protein-rich nature, lentils and beans are especially popular among vegetarians. Lentils and beans are commonly used in Indian cuisine. 
In all the Indian grocery stores around you, you will be able to get dal and beans. Let me try to describe the difference between dal and beans by describing their shapes. Lentils or dal are wide from the middle and narrow from the ends. On the other hand, if we talk about beans, they are large in size as compared to dal
Some of them are listed below with their details. 
Moong dal: Or yellow moong dal It is green from the outside with a yellow inside. It is known for its use in savory and sweet dishes. It is available in different forms, like whole green lentil, split dal with skin on, and split dal without skin.
Urad dal: It is the same as moong daal in size and shape but different in taste. It is available in 3 forms, whole urad daal, split urad daal with skin on, and without skin.
Chickpeas, also called chana, are sold in two colors, black and white. Split chickpeas are sometimes known as chana dal. 
Massor dal: are often called red lentils. It is a black brown-skinned dal with red inside. It is also available in two variations. Whole masoor dal and split masoor daal without skin.
Pigeon pea: It is also known as Toor Daal. It is beige with yellow inside. It gives you a unique taste.
Black-eyed peas: You can call them lobia. This staple is different in shape from others. It is common to use in curries, dals, salads, etc.
Hopefully, this short explanation of dal will help remove some of the confusion.
Palak (Spinach) 
Spinach is an iron-rich plant-based food. It is a source of vitamin C and E. 
It is beneficial for your bones, hair, and skin.
In this recipe, I am using baby spinach. You can use a regular one as well. We are adding baby spinach as it saves our time from removing stems.
In Indian recipes, palak is used in many dishes. Palak recipes include Aloo Palak, Dal Palak, Palak Paratha, Palak Poori, and Palak Paneer.
Aromatics: To add aromatics to our curry, we add green chilies, onion, ginger, garlic, and dried red chilies.
Tomato: Tomatoes are not mandatory to add to this recipe, but they add natural sweetness.
Spices: Spices like turmeric, cumin seeds, salt, red chili powder, and garam masala powder, are the basics to give this curry a restaurant-style flavor.
Oil: I am using oil in this recipe in order to keep it vegan. In case you are not vegan, you can use ghee to add more richness.
Dal Palak Recipe
There is no doubt you will enjoy this recipe. You can find the ingredients needed and the cooking process below.
Optionally you can add curry leaves, but fresh ones are almost impossible to find here. Mustard seeds can also be used. Some people will also add lemon juice or lime juice.
Directions for Dal Palak Recipe 
Dal palak is a healthy recipe that gives you the most delicious taste, and it is not an expensive recipe.
The simple procedure for cooking dal palak is as follows:
Take one and a half cups of split masoor dal. It is smart to spread it out on a white plate to check for small rocks. Place them into a bowl and wash them to remove any loose dirt.
Into a large pot, place the dal, add the seasoning, ginger paste, red chili powder, salt, turmeric powder, and a few cups of water then stir to combine. Bring the pot to a simmer by heating it over medium to high heat. Let it simmer for 20 minutes, stirring it once or twice during the cooking process. A creamy texture can be achieved by whisking the mixture after it has been cooking for 20 minutes.
Add chopped spinach to the cooked dal. Let it cook with dal for one or two minutes. 
It's time to prepare dal tadka for dal palak. Add some oil and cumin seeds to a small pan. Once the cumin seeds begin to crackle, mix in 4-5 minced garlic cloves, 3-4 red chilies, and green chili. Then add one medium chopped onion and let it all cook together. Sauté it until the onion changes its color to a golden brown.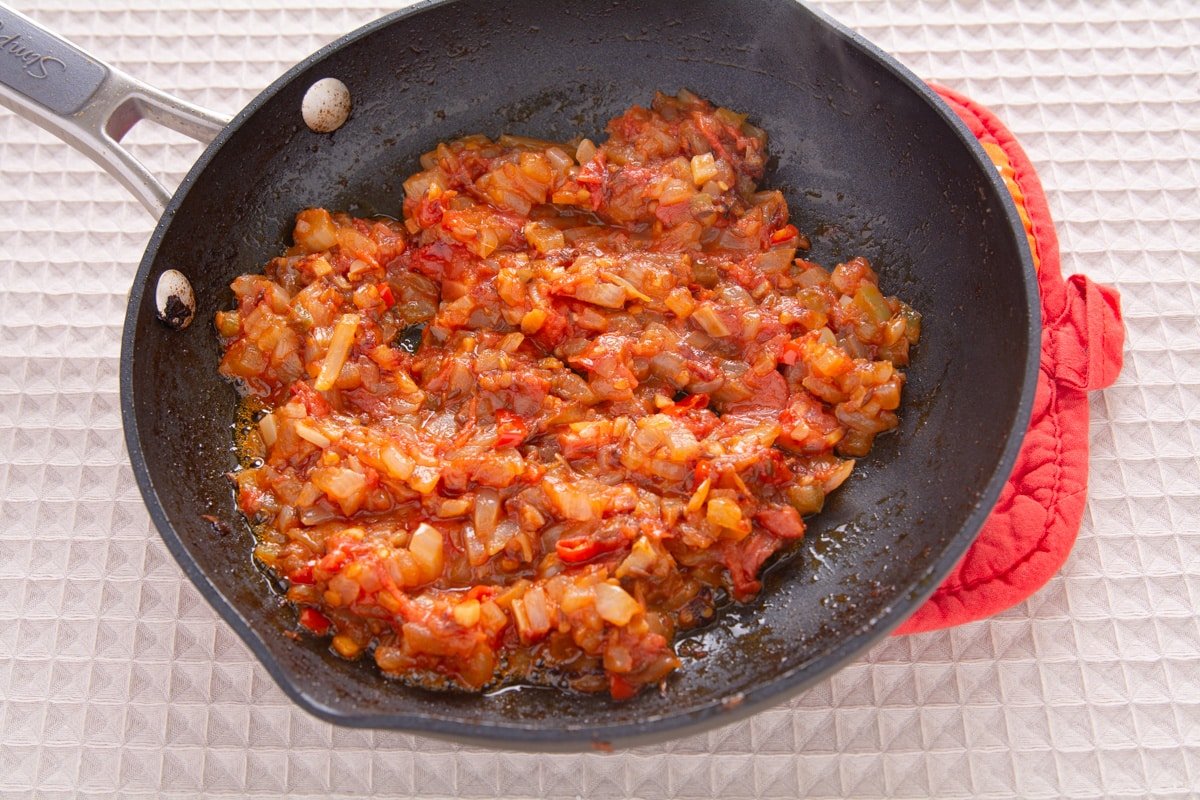 Add one medium chopped tomato and sauté on medium heat until soft and mushy. Cook it for 3 to 5 minutes on slow to medium flame. Add this tadka to the cooked dal palak and give it a good stir.
Finally, adjust the consistency of the dal by adding water if you want. Adjust the seasoning here as well. You can add the garam masala here. 
NOTE: You can make this recipe in one pot on the stovetop or you can use a pressure cooker or an instant pot. Add all of the ingredients, and cook for five minutes with a natural pressure release. Add the spinach leaves to the cooked lentils after opening the pressure cooker, this will prevent overcooking the spinach.
I believe that Dal Palak tastes best when it is made from the most basic ingredients, no reason to overcomplicate it. . Most people enjoy dal with a steaming bowl of basmati rice.
If you enjoyed this recipe then perhaps you will also enjoy my Instant pot dal makhani recipe. You could also enjoy it with a great vegan biryani from Moon and Spoon and Yum.
Ingredients
Dal
1.5

cups

Red lentils

masoor dal

1

Tablespoon

Ginger paste

1

teaspoon

Red chili powder

1

teaspoon

Salt

1/2

teaspoon

Turmeric powder

5

cups

Water
Tadka
3

Tablespoons

Oil

1

teaspoon

Cumin seeds

4

cloves

Garlic

Chopped

4

each

Peppers

1

cup

Onion

Finely diced

1

cup

Tomato

Finely diced
Instructions
Cook the lentils
Inspect and wash the lentils.

To a pot add the washed lentil and all of the dal ingredients (red lentils, ginger paste, red chili powder, salt, turmeric powder, and water). Bring to a simmer.

Cook until the lentils are tender (about 20 minutes).

Use a whisk to break up some of the lentils.
While the lentils are simmering prepare the tadka.
To a pan on medium heat add oil. When the oil is starting to get hot add the cumin seeds so that they pop.

After the cumin seeds start crackling add the garlic, chili peppers, and chopped onion.

Sauté until the onion starts to change color. Add the chopped tomato and cook until the tomatoes are mushy and have changed color.

Set aside until ready to use.
Finish
Add the spinach to the dish and stir it in. Cook for two minutes.

Add the tadka to the dish and mix. The dish is now ready to serve.
Nutrition
Calories:
186
kcal
|
Carbohydrates:
24
g
|
Protein:
10
g
|
Fat:
6
g
|
Saturated Fat:
0.5
g
|
Polyunsaturated Fat:
2
g
|
Monounsaturated Fat:
3
g
|
Trans Fat:
0.02
g
|
Sodium:
318
mg
|
Potassium:
494
mg
|
Fiber:
11
g
|
Sugar:
2
g
|
Vitamin A:
1577
IU
|
Vitamin C:
10
mg
|
Calcium:
50
mg
|
Iron:
3
mg