Use your Pit Barrel Cooker to make a succulent smoked pulled pork shoulder recipe made with a fantastic sugar-free BBQ rub. This could be your new go-to pulled pork recipe.
This post may contain affiliate links that earn the site a commission.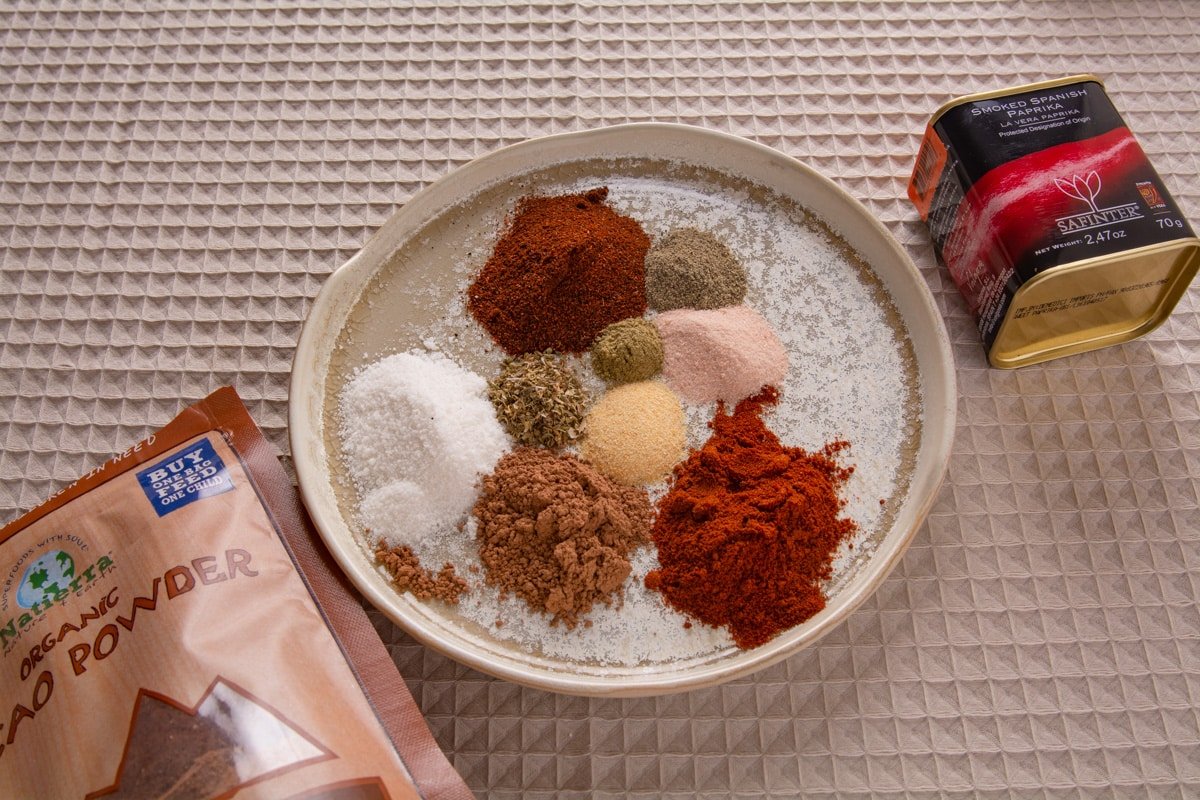 For the spice rub, I am using
Smoked paprika, to add color along with some smoky flavor.
Swerve, is an artificial sweetener that does not spike blood sugar. If that's not a concern for you then use raw sugar.
Cacao powder, I am using 100% cacao powder.
Chili powder, for a bit of spice.
Salt, I used Himalayan pink salt but any salt will work
Garlic powder
Dried oregano 
Black pepper
Ground Cumin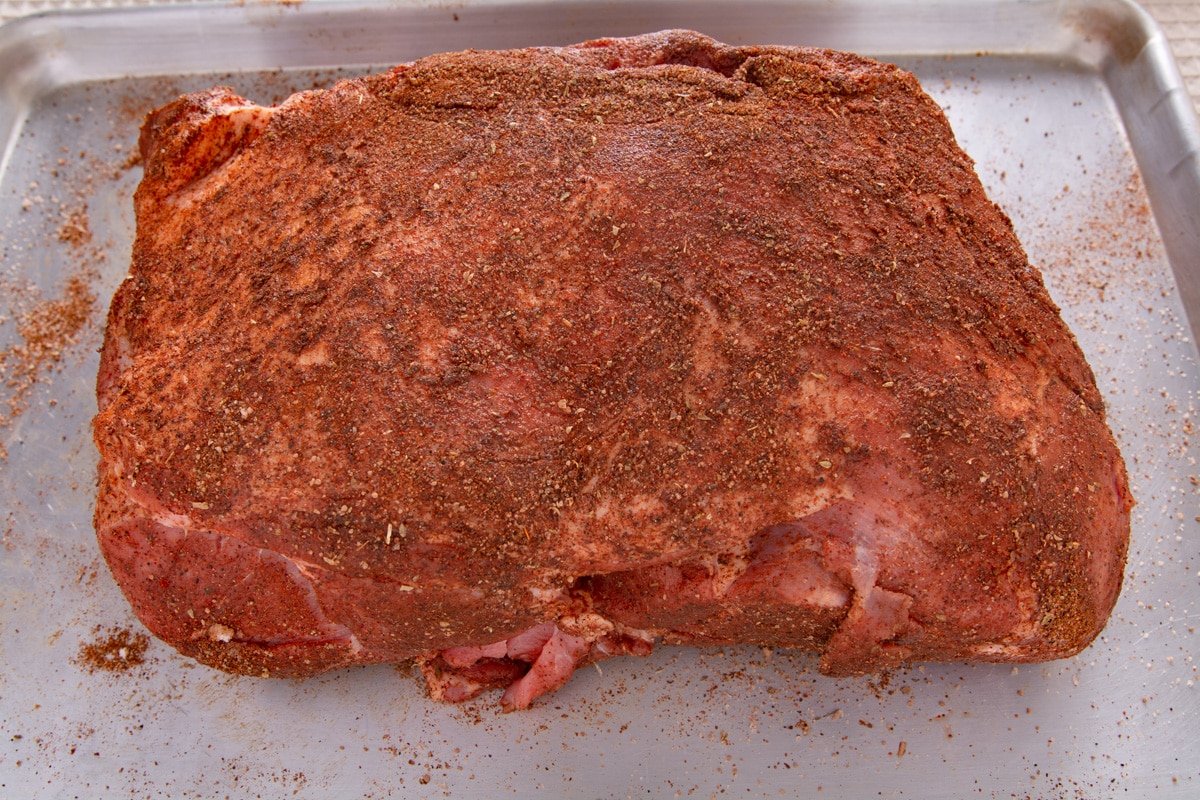 Today I used a boneless pork shoulder also called pork butt. For me, pork butt bone-in or boneless is the best cut of pork for making pulled pork. This one is boneless since that is what was on sale at Costco.
Use some paper towels to pat the pork dry then apply the spice mixture to the meat. Some people will spread a thin layer of mustard before adding the spices but I have never done that.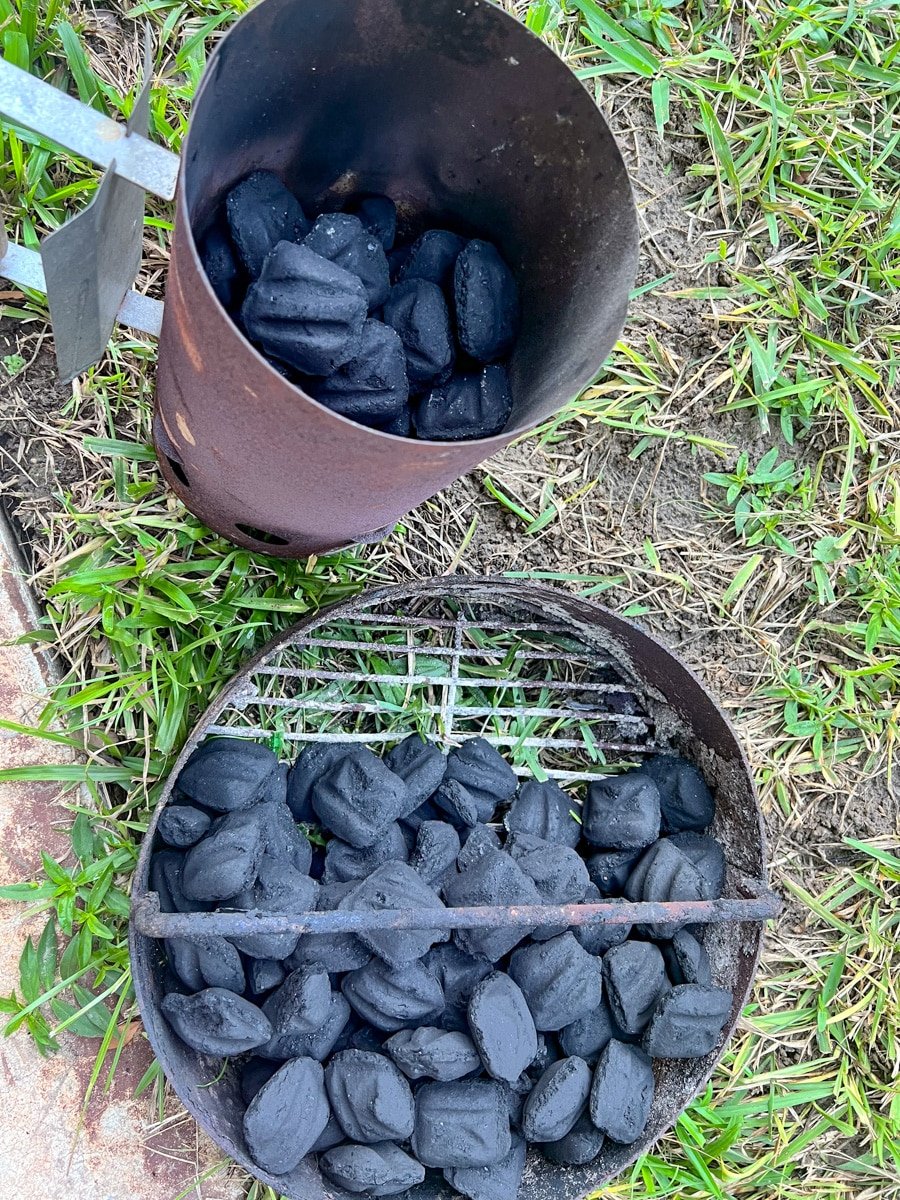 After seasoning the meat it is time to get the fire started. First I fill the coal basket up with charcoal. Since this is a long cook I remove some from one side and add them to my chimney. If it was a regular cook I take them from the middle.
Then I place a fire starter on the grate, place the chimney on top and light the fire starter.
After about then minutes I have a good flame. Then I place the coal basket into the pit barrel and dump the burning charcoal into the empty side. Place the gate into the barrel setup my temperature probes. Add the rebar, return the lid (but leave it slightly ajar) and adjust the damper to almost closed.
Let the fire burn for about ten minutes Place a thermometer probe into the thickest part of the meat and place it on the grate of the barrel. Close the lid and adjust the barrel temperature to between 225F to 275F. 250F is my target but depending upon weather conditions I will take what I can get.
You want to cook until the internal temperature of the pork roast is 205F (96C). This took me just over 10 hours. After seven hours my barrel temperature started falling off even with the damper full open. So at that point, I added more burning charcoal.
For extra cook time, You can just bring the pork inside and use your oven.
Once the pork reached 205F I removed it from the cooker and tented it with aluminum foil and let it rest for thirty minutes. If you need to hold it longer wrap it with aluminum foil and place it into a small ice chest (no ice of course). This will keep it hot without overcooking it. In fact, some pit masters do this so that it will continue to get even more tender without drying out.
After resting it is time to shred. If your want to add BBQ sauce now is a good time.
You might also be interested in my Pit Barrel beef brisket or chuck roast recipes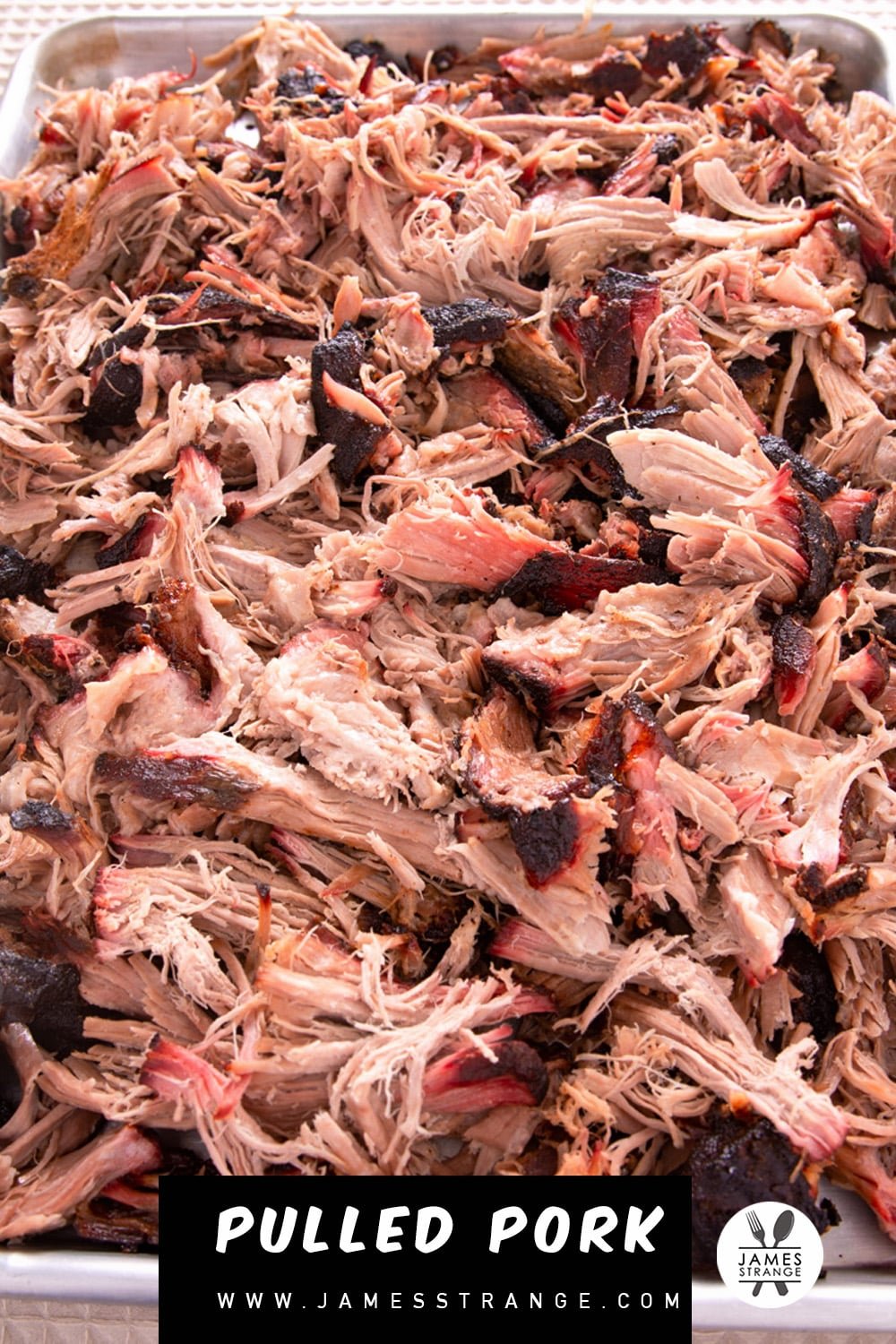 If you enjoyed the recipe then please share it with your friends.
Perhaps you will also like these recipes smoked chuck roast or smoked chicken leg quarters.
Ingredients
9

pounds

Pork shoulder

boneless boston butt
Spice rub
1

Tablespoon

Smoked paprika

1

Tablespoon

Swerve

Or sweetener of choice

1

Tablespoon

Cacao powder

Pure

1

Tablespoon

Chili powder

1

teaspoon

Salt

I used pink

1

teaspoon

Garlic powder

1

teaspoon

Oregano

Dried

1

teaspoon

Black pepper

1/2

teaspoon

Cumin

Ground
Instructions
Trip your pork roast of excess fat.

Mix all ingredients for the spice rub.

1 Tablespoon Smoked paprika,

1 Tablespoon Swerve,

1 Tablespoon Cacao powder,

1 Tablespoon Chili powder,

1 teaspoon Salt,

1 teaspoon Garlic powder,

1 teaspoon Oregano,

1 teaspoon Black pepper,

1/2 teaspoon Cumin

Evenly distribute the spice rub onto the pork roast.

Start a fire and preheat the cooker.

Place the pork roast onto the grate, and inset probe into the thickest part of the roast.

Place the lid onto the cooker and maintain the temperature of the cooker from 225F to 274F.

Cook until the internal temperature is 205F (approximately 10 hours).

Remove the roast from the cooker and cover with foil and allow to rest for 30 minutes.

Pull the pork into shreds and serve.
Nutrition
Calories:
376
kcal
|
Carbohydrates:
3
g
|
Protein:
49
g
|
Fat:
18
g
|
Saturated Fat:
6
g
|
Polyunsaturated Fat:
2
g
|
Monounsaturated Fat:
8
g
|
Cholesterol:
167
mg
|
Sodium:
436
mg
|
Potassium:
899
mg
|
Fiber:
1
g
|
Sugar:
0.2
g
|
Vitamin A:
603
IU
|
Vitamin C:
2
mg
|
Calcium:
45
mg
|
Iron:
4
mg