In the northern Mexican state of Sonora, I had the opportunity to work for more than a year and a half. As a result of my experience during that time, I learned a bit about the recipe for carne asada as well as the carne asada event itself. This post is going to be about the best carne asada recipe that I think you will find anywhere online. The best way to enjoy this recipe is to invite friends and family over to have a fiesta of music, cold Mexican beer, and carne asada tacos.
This post does contain affiliate links that do earn the site commissions.
Carne Asada: what is it? 
As the name suggests, carne asada refers to a variety of beef cuts, typically thin strips of steak marinated in a hot grill, grilled on a hot grill, and then cut into strips for serving. That's what carne asada is all about. There is no need to overcomplicate this process since it really is that easy.
Carne asada is a Spanish term that literally means grilled meat. In reality, however, almost anything can be grilled, whether it is shrimp, fish, chicken thighs, pork ribs, or fatty sausages. A Mexican carne asada usually consists of grilled corn, peppers, green onions, and fresh guacamole, so if you're invited to one, you're likely to expect these things as well.
I would like to begin by talking about the quality of the meat. In Northern Mexico, where beef is world-class, carne asada is a specialty. Just look at the region's neighbors across the border; it's Texas, a state with beef that's as good as any in the world! 
What is the most suitable meat to use for carne asada? No one will stop you from grilling fancy rib-eye steaks, but people have traditionally relied on less expensive and often tougher cuts of meat for grilling parties. Carne asada can be prepared with flank steak, skirt steak, strip steak, flat iron steak, and to a certain extent, sirloin steak. Cut of beef is entirely up to you and your budget; with proper marinating, any kind of meat can be used. Don't worry, carne asada isn't chewy! The marinade holds the key. 
Carne Asada Marinade
Beer is a common ingredient in all carne asada marinades. It contains tannins and acids that help break down the chewier fibers in the meat. When we talk about beer, we're talking about a regular lager, nothing too fancy. Beers like Mexican brown or amber lagers are the go-to choice for meat dishes like carne asada. The most popular brands include Victoria and Indio, but any beer will do. Today we are using Modelo. Typically, lime juice works best with beer because it is another acidic ingredient. For the acid component, some people will use orange juice since it is also slightly sweet.
You might also want to add a bit of black pepper, dried herbs, or other spices to your marinade along with garlic, Worcestershire sauce, or soy sauce in order to make it as unique as you want.
It is said that every Mexican house with a grill has its own recipe for tenderizing meat. It is always the same goal – tenderizing those steaks for a delicious bite that is as tender as possible. For you to get the best results, it is important to experiment with marinades until you find one that works best for you.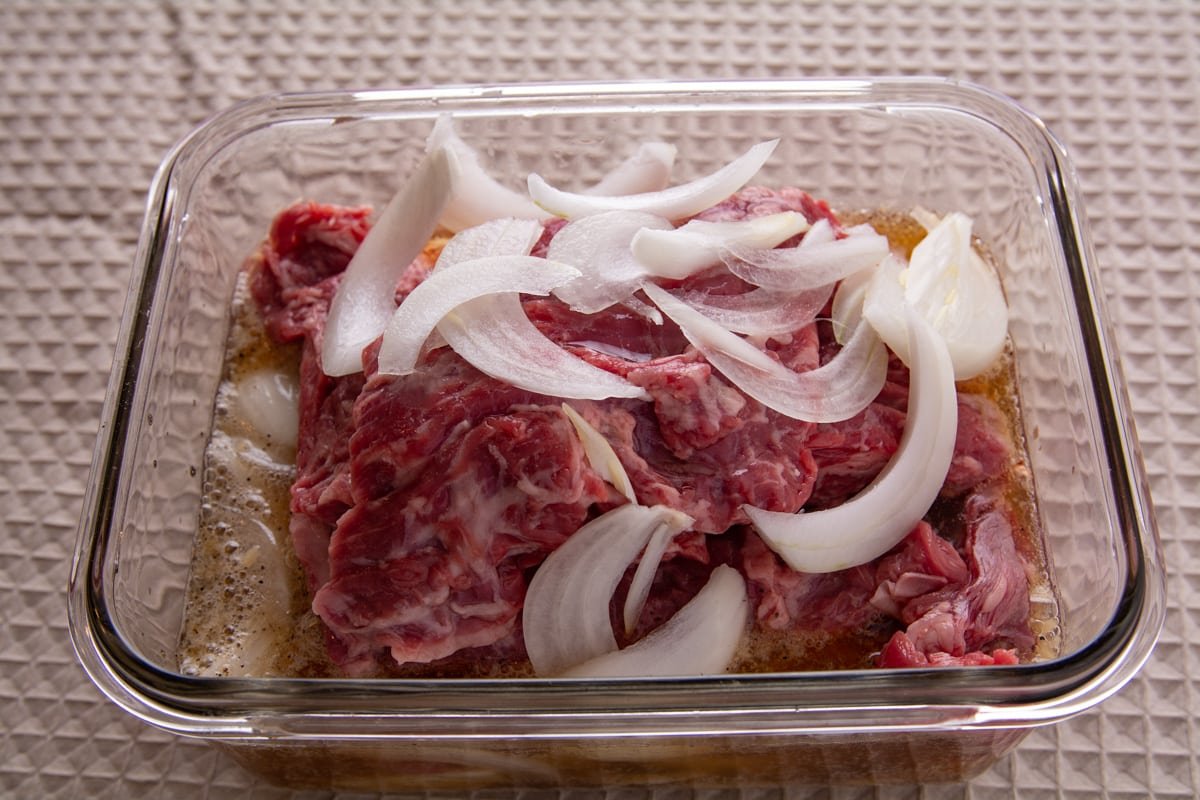 In order for any marinade to be successful, time is the most critical ingredient. To ensure the marinade has an effect on your steaks, you will need to marinate them in the fridge for at least two hours for the marinade to work its magic. Today, I marinated the meat for four hours before cooking it. Before cooking the meat, it is important to remove it from the refrigerator at least one hour before it is going to be cooked.
Prepare the grill
I would recommend preparing your charcoal grill about an hour before you plan to serve your carne asada. I remember when I was in Sonora the charcoal of choice was mesquite, depending on where you live this may be a challenge to find. In the event that you can't locate it locally, Amazon does sell it. Although lump charcoal would also work well, I opted for the more common charcoal briquets today which have a good amount of heat.
It is a smart idea to get the wood burning and let it burn until it ashes over. On one side of the outdoor grill, spread the wood out so that it covers a reasonable portion of the grill. Ideally, we would like one side of the grill to be hot for direct cooking and the other side to be warm for indirect cooking. For the hot side your looking for medium-high heat.
The grill is now ready for use, so let's ensure that we have everything else we need near the grill at all times. For turning the meat, you will want to use tongs. It is a wise idea to have a paper towel or two on hand for cleaning up. For cutting up the cooked meat after it has been cooked, you will need a cutting board and a sharp knife. In order to do quality control checks while cooking, it is imperative that you have warm tortillas and lime wedges handy.
It is recommended that you place your meat directly on the grill over the fire. There will be some charred bits on the meat, and we want them to be somewhat charred, but we do not want them to be burned. As soon as the first side of the meat appears to be cooked, flip it over so that the other side can be cooked as well.
If you wish, you can grill some green onions as well as jalapeno peppers while the meat is cooking.
Whenever I grill, I keep an instant-read thermometer close by for checking the internal temperature of the meat. But since skirt steak is thin I will rely on the touch method. During the cooking process, the steaks will become more firm as they cook.
In order to ensure that all the pieces are cooked equally, you may need to move them around while they are cooking. After the meat has finished cooking, take it off the grill and let it rest for five to ten minutes before serving it.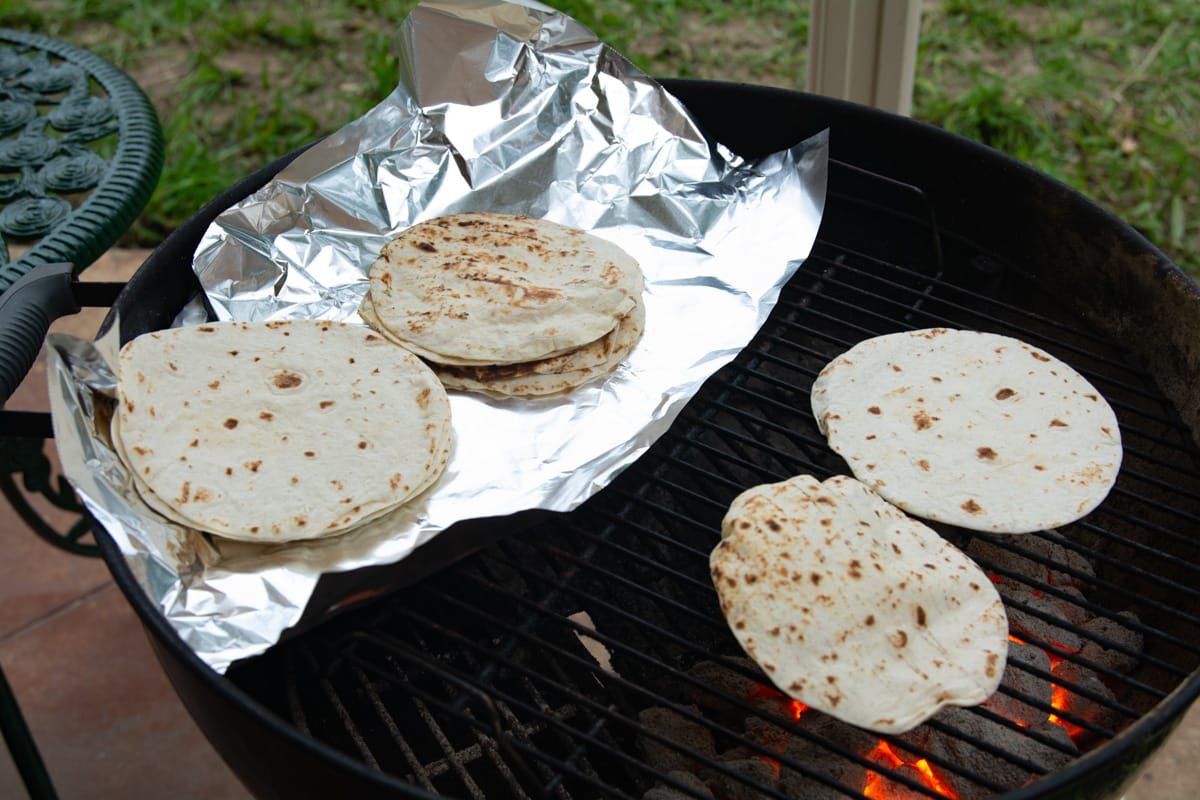 In addition to resting the meat, you can toast tortillas at the same time. There is no right or wrong choice when it comes to flour or corn tortillas. It was very common to find flour tortillas where I worked. As you travel further south in Mexico, you will be more likely to find corn tortillas the most popular choice. After your tortillas are toasted you can put them in a tortilla warmer or do like I do and wrap them in aluminum foil. 
Now that your authentic carne asada has rested you can serve it as a main dish. If you will serve it for tacos or carne asada burritos slice the meat against the grain then chop it up into small pieces.
You can serve your carne asada with fresh limes, sour cream, pico de gallo, and fresh cilantro. My air fryer salsa roja would also go great with carne asada.
If you have any leftover cane asada, you can store it in an airtight container in the refrigerator for up to one week. There is nothing better than leftover carne asada fries made with leftovers. Think nachos but instead of tortilla chips use french fries.
Perhaps you would also enjoy my pollo asado tacos recipe.
If your looking for a grilled chicken wings recipe this is a great one from Matej.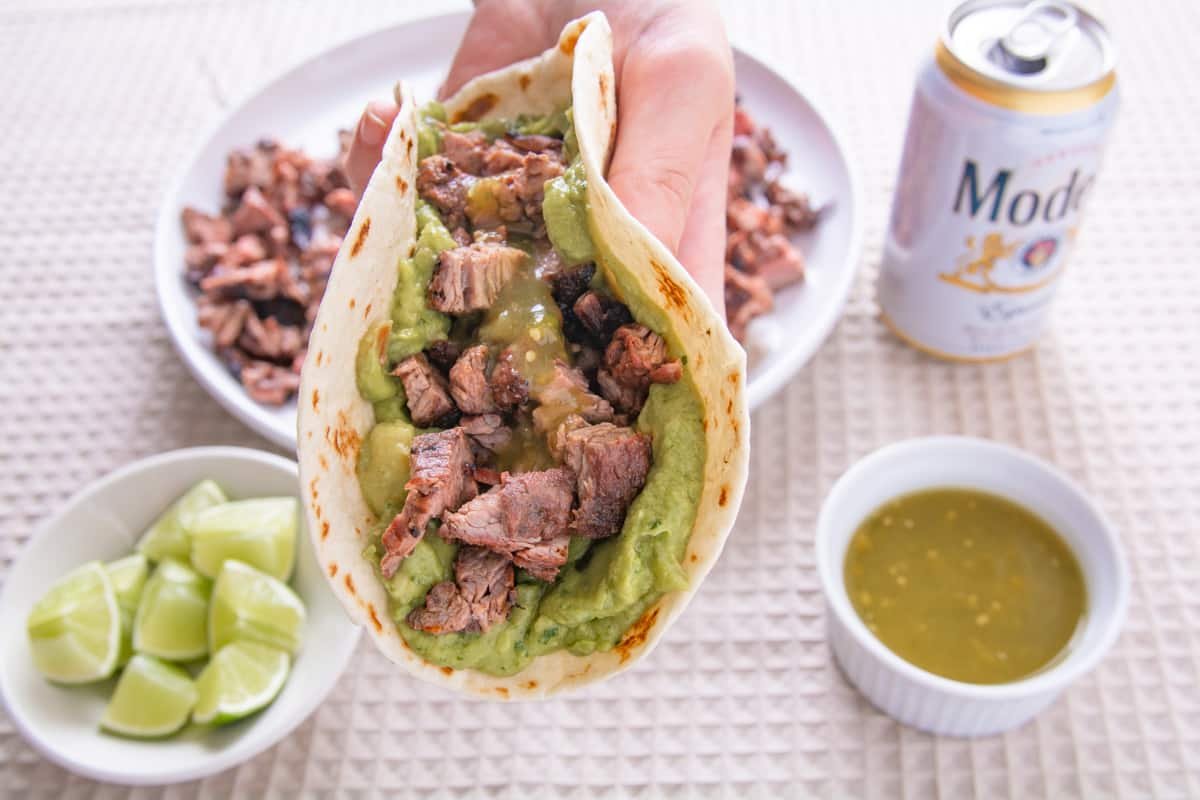 Ingredients
2

pounds

skirt steak

12

oz

beer

2

tablespoons

Worcestershire sauce

1

tablespoon

Lime juice

2

cloves

garlic

1/8

teaspoon

salt

1/8

teaspoon

black pepper
Instructions
Remove excess fat from the meat and cut into manageable pieces

For the marinade mix the beer, Worcestershire sauce, lime juice, garlic, salt, and pepper.

12 oz beer,

2 tablespoons Worcestershire sauce,

1 tablespoon Lime juice,

1/8 teaspoon salt,

1/8 teaspoon black pepper,

2 cloves garlic

Add the meat to the marinade and mix. Place into the fridge for at least one hour. Remove one hour before cooking

Cook the meat on a hot grill using direct heat. Cook until the desired doneness.

Let the meat rest for 5 minutes before serving.
Nutrition
Calories:
393
kcal
|
Carbohydrates:
6
g
|
Protein:
50
g
|
Fat:
17
g
|
Saturated Fat:
6
g
|
Polyunsaturated Fat:
1
g
|
Monounsaturated Fat:
7
g
|
Trans Fat:
1
g
|
Cholesterol:
143
mg
|
Sodium:
337
mg
|
Potassium:
764
mg
|
Fiber:
0.1
g
|
Sugar:
1
g
|
Vitamin A:
27
IU
|
Vitamin C:
3
mg
|
Calcium:
30
mg
|
Iron:
4
mg