Beef stew is perfect on a cold winter day. But even on a summer day beef stew just screams comfort food. Unforcahntly traditional beef stew is loaded with bad carbs. Whether you are diabetic or following a low carb diet including keto that just will not work. This keto beef stew is so full of flavor that you will not be missing the carbs.
We need some beef (how else could we have beef stew?) I like to use a beef chuck roast. Look for one that has some marbling but not too many big chunks of fat. Marbling will help the become nice and tender. The package above contains two chuck roasts but I will only use one. The other will go into the freezer, perhaps I will use it to make chili.
You can buy stew meat at the grocery store but you do not know what cut of meat they used. Sometimes it's nice and tender but sometimes it's tough dry cuts. So I do prefer to cut up my own.
The recipe calls for daikon radish instead of potatoes. Daikon is a lot lower in net carbs. Surprisingly taste-wise daikon works really well, it's not the same but works. Nutrition-wise daikon has a lot of potassium, fiber, and vitamin C. Alternatively you can use turnips and or cauliflower.
Other veggies called for in the recipe include celery, mushroom, and onions.
Beef broth is also used home-made is best and clean but if you can not make your own be sure to read the nutritional label.
To make our stew meat we need to cut up our roast. First cut off any excess fat and any silver skin that you can see. You will also find more silver skin between the different muscles. As you run across that cut that off also. Siver skin will never break down no matter how long you simmer the stew. It's best to remove it now.
Cut the beef into cubes of approximately three-quarters of an inch. There is no need to use a tape measure but try to keep them close to even. Then the cooking time will be similar.
Now it's time to add our seasoning to the meat. We will be adding more to the broth later on. This will let us build our flavor in layers.
Season the meat with salt (1/2 tsp), pepper (1/4tsp), and garlic powder (1/4). Be generous with the seasoning. Add some then give the meat a toss, then add more and toss again to evenly distribute the spices. Add the Now it's time to add our seasoning to the meat. Now add the carbquik and give the meat a toss.
Carbquik will help the meat brown and give the broth a nice rich flavor. But it does not thicken the same as regular flour.
Time to cut up the veggies. One medium onion is roughly chopped, with one and a half cups of daikon radish roughly chopped. Three stalks of celery were roughly chopped and four ounces of brown button mushrooms quartered.
You can add other low glycemic index veggies like zucchini. If you add things like carrots do so sparingly it is a keto recipe after all. The goal is to make a low-carb beef stew that we can enjoy without spiking our blood sugar.
This step is optional but I think beef fat adds extra flavor. We paid for the fat we might as well use it, right? To a pan on medium heat add the fat that was cut off from the meat. When the fat starts to sizzle turn the heat to low. This will render out the fat that we will use to start browning the meat.
If you are planning to add chopped bacon to your stew this would be the time to add it. Let the bacon crisp up while you're rendering the fat. I did not add any but it's up to you.
Every few minutes turn the pieces over and move them around. When they are very brown and hard all of the fat has rendered out. This meat cooked out about three tbsp of rendered fat. The dog got some nice snack bites. If you're worried about the calories from the rendered fat, I would need to add olive oil anyway to sear the meat.
Time to sear the first batch of meat in the rendered fat or olive, your choice. To a heavy-bottomed pot or a large dutch oven on high heat add the meat and let it sit until that side has browned and released. Flip the meat over. Try to brown three or four sides of the meat then set it aside. Were not cooking the meat only searing it to add color. This color will translate into flavor later on. 
The pot that I am using is an 8qt AllClad LTD stockpot. I have been using it for about twenty-five years. And yes I still love it. But you do not have to use something like that you can sear the meat in a cheap cast iron pan and then cook the stew in a slow cooker. You could also use an Instant Pot.
When needed add some extra virgin olive oil to your pot and sear the second batch of meat. By this time you probably have a nice build-up of brown bits on the bottom of the pan. These brown bits are called fond and are very precious. As long as it's not burnt this is a good thing.
Reduce the heat to medium. Return your first batch of beef back to the pot along with tomato paste, roughly chopped garlic, and one-half cup of beef broth(optionally you can use red wine). Start to scrape the bottom of the pot to release the brown bits.
Keep stirring and scraping the bottom of the pan for five minutes then add the chopped onion, daikon, celery, and three and a half cups of beef broth. Ensure everything is covered with liquid. Bring the pot to a simmer then reduce the heat to low.
Time to add seasonings to our low-carb stew. Today I keep it simple salt, pepper, and garlic. Optional seasonings include Worcestershire sauce, bay leaf, rosemary, and thyme. Place the lid on the pot slightly askew so that it catches most of the steam.
Continue to simmer until a fork can easily be pushed into the meat. While simmering continue to add beef broth as needed. I added one more cup for a total of 5 cups of beef broth.
Then in a separate pan, we will saute the mushrooms in olive oil to add some color to them. After sauteing the mushrooms add them to the pot and cook another 30 to 45 minutes.
It's now time to thicken our keto stew, for that we will use xantham gum. While the pot is still simmering sprinkle one-half teaspoon at a time onto the stew then whisk in. Continue doing this until it is as thick as you want it. I added three teaspoons of xantham gum to get it how I like it.
Your low-carb stew is now ready to serve, hopefully, you made enough to have some for leftovers.
If you enjoyed this recipe then please share it on Pinterest or Facebook, That does help me out.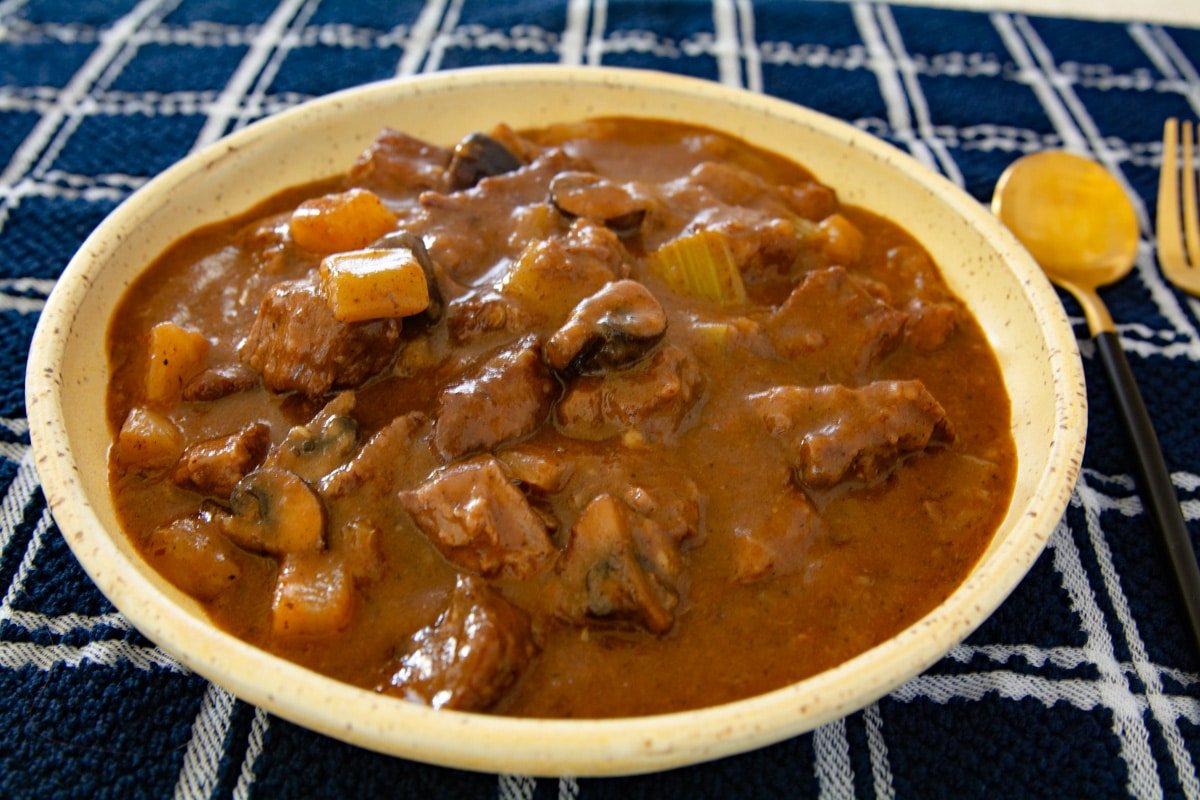 This recipe would be great served with garlicy mashed cauliflower or creamy cauliflower potato salad.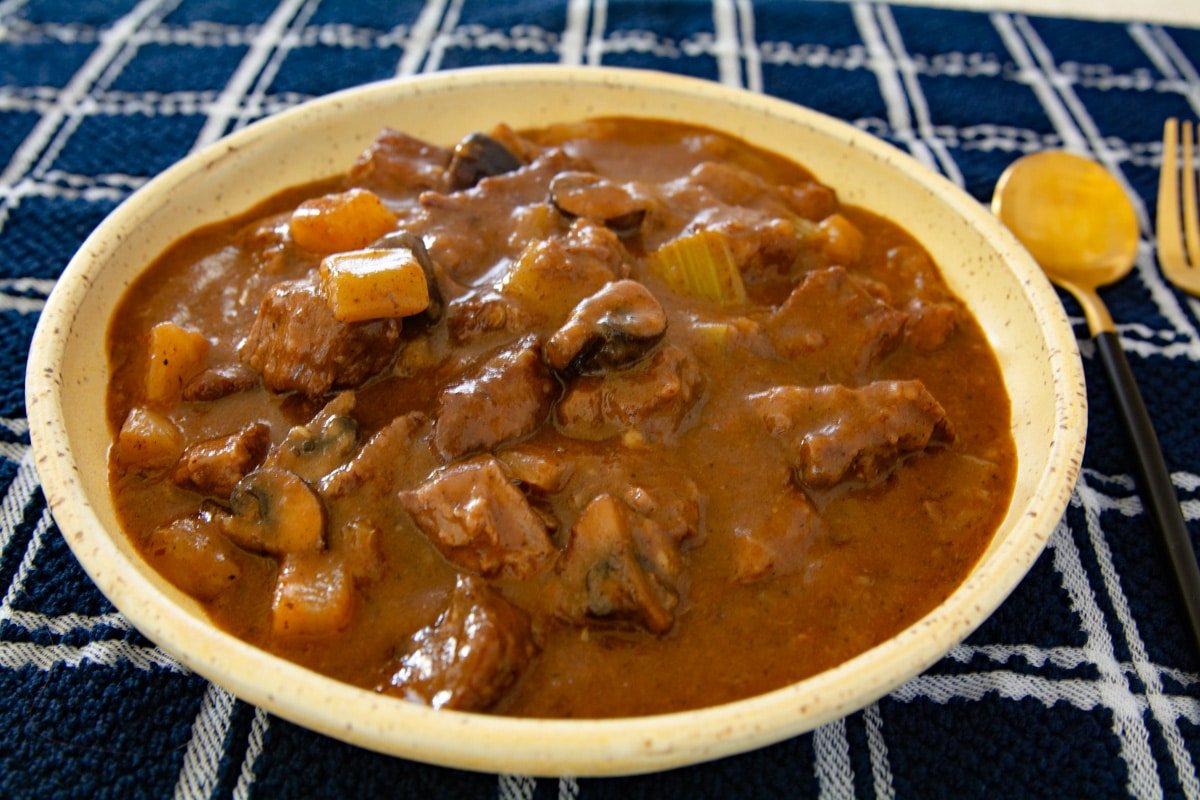 Ingredients
3

pounds

Chuck roast

grass fed if possible

1/2

teaspoon

salt

1/4

teaspoon

black pepper

1/4

teaspoon

garlic powder

1/3

cup

carbquik

1/4

cup

olive oil

extra virgin

2

tablespoons

tomato paste

3

cloves

garlic

1

each

onion

1 1/2

cups

daikon radish

3

stalks

celery

5

cups

beef stock

no sugar

4

oz

mushrooms

2

teaspoons

xantham gum
Instructions
Prepare the meat
Trim the meat of excess fat and silver skin. Cut into 3/4 inch cubes.

Season the meat with salt pepper and garlic powder. Add the carbquik and toss the meat to coat.

1/2 teaspoon salt,

1/4 teaspoon black pepper,

1/4 teaspoon garlic powder,

1/3 cup carbquik

Dice the onion, peel and dice the daikon, chop up the celery, wash and quarter the mushrooms, and roughly chop the garlic.

3 cloves garlic,

1 each onion,

1 1/2 cups daikon radish,

3 stalks celery
Cooking
Place a heavy bottom pot on the burner, add some oil, and working in batches brown the meat.

3 pounds Chuck roast,

1/4 cup olive oil

Return all of the meat back to the pot. Add tomato paste, chopped garlic, and one cup of tomato paste bring to a simmer.

2 tablespoons tomato paste,

5 cups beef stock

Start scraping the brown bits from the bottom of the pot and add enough beef stock to cover all of your ingredients. Bring to a simmer. Make sure to get all of the brown bits from the bottom of the pot.

Simmer until the meat just starts to get fork-saute tender and saute the mushrooms then add them to the pot.

Taste your stew to check for seasoning.

Cook another 30 to 45 minutes to cook the mushrooms and make sure that the meat is tender.

When you are ready to serve your stew sprinkle a little xantham gum onto the stew then whisk it into the stew. Do a little at a time until the stew is your desired consistency.
Nutrition
Calories:
548
kcal
|
Carbohydrates:
9
g
|
Protein:
50
g
|
Fat:
36
g
|
Saturated Fat:
13
g
|
Polyunsaturated Fat:
4
g
|
Monounsaturated Fat:
20
g
|
Trans Fat:
2
g
|
Cholesterol:
156
mg
|
Sodium:
874
mg
|
Potassium:
1364
mg
|
Fiber:
4
g
|
Sugar:
3
g
|
Vitamin A:
201
IU
|
Vitamin C:
9
mg
|
Calcium:
77
mg
|
Iron:
6
mg