This recipe does have a few steps but each one is easy and can be done ahead of time. Then when you are ready to serve it's just assembly line work.
I do want to point out that the calculated nutrition information is based on using all of the sauce in four servings. The sauce recipe makes quite a bit so I do not expect you to use that much but who knows you might like it that much.
The base of the burger sauce is mayonnaise. If you're using store-bought mayo you can skip ahead to the next step. But to keep it clean as possible and for the best taste, I will make fresh mayo.
Oil: Mayo is basically thick oil. I used to use canola or soybean oil to make mayo. But to avoid inflammation I will use extra virgin olive oil. Avocado oil is actually a better choice but a family member has an avocado oil allergy so olive oil it is.
Egg: Egg is what will thicken the oil. If you're doing it the old fashion way with a whisk you should only use the egg yolk. But I am using a stick blender so I can leave it in the white part. That said in this recipe I use one whole egg and one egg yolk.
Acid: To aid in making the emulsion we need to change the PH of the oil. You can use vinegar or lemon juice. Today I went with apple cider vinegar.
Mustard: It helps to maintain the emulsion and adds a little flavor. Dijon is commonly used but I went with stone-ground mustard. Check the labels for sugar, I was surprised how many brands have sugar.
Salt: It's just for flavor.
To make our clean keto mayo into a tall container add the olive oil, salt, mustard, vinegar, egg, and egg yolk. Place your stick blender in the container going all the way to the bottom. Turn it on high speed and blend until you start to see mayo forming. Then slowly raise the blender to incorporate all of the oil.
You should have about one cup of clean keto mayo. It does have raw egg so store it in the refrigerator and use it up within one week.
Now to make our low carb kind of like Thousand Island burger sauce.
Mayo: This is the base of our burger sauce. You will need one cup or close to one cup.
Pickles: Normally Thousand Island dressing uses sweet pickle relish. Of course while on keto sugar is a big NO. For this recipe, I used dill pickles. Naturally fermented is better for you but today I did not have any.
As a shortcut to add flavor I am using unsweetened ketchup.
Sweetener: I am still learning about which one works best and is easy to work with. Today I used Swerve. In this recipe, I used one Tablespoon for me that was a little too much but my wife thought it was just right.
Cloves: For flavor, I added a pinch of ground cloves. Cloves are a classic ingredient in Thousand Island dressing, but not everyone likes them.
To the mayo add pickles, unsweetened ketchup, ground clove, and sweetener. Give it a good mix and place it in the refrigerator. It is best to make the sauce at least an hour ahead of time. This lets the flavors meld a little bit.
Feel free to experiment with flavor combos.
For a burger, we need ground beef. This beef was purchased at a local farmers' market. I love buying food that was grown locally. When buying from a supermarket I usually buy grass feed ground beef.
You can certainly form the beef into patties and cook them but since I was feeling lazy at this point I did not bother with that.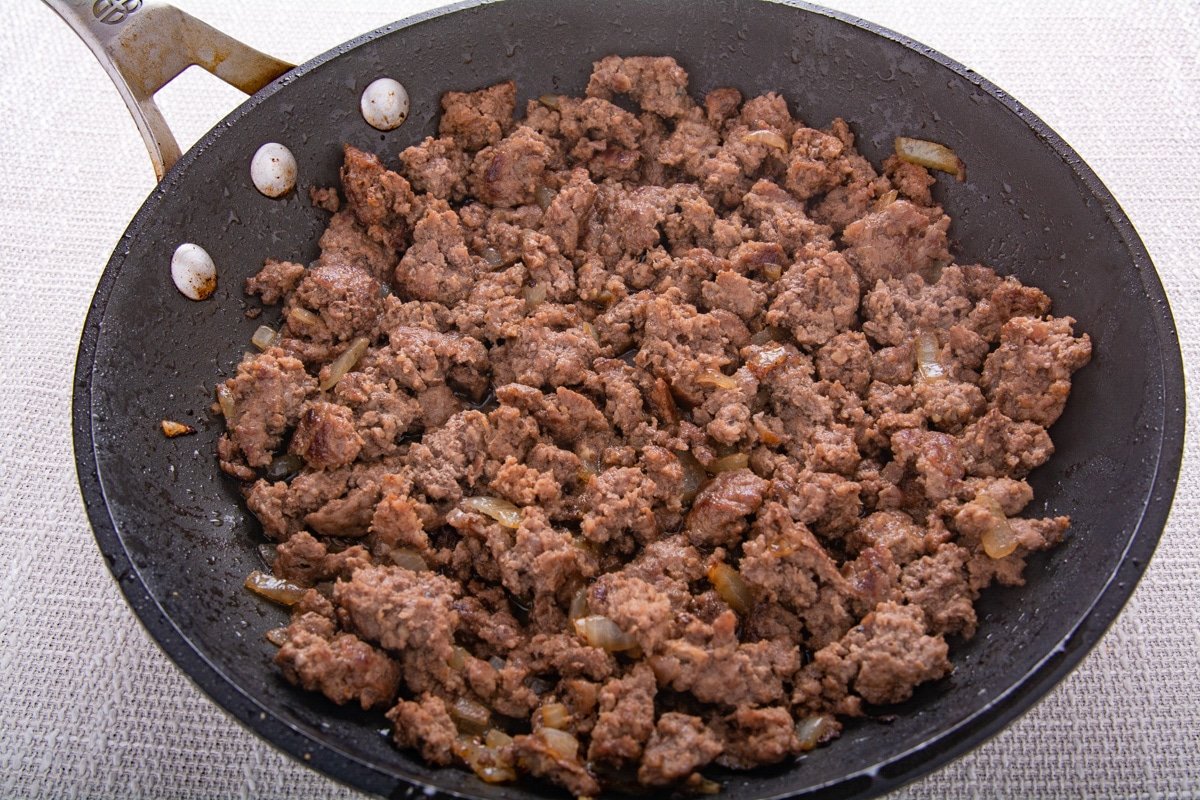 To a hot pan add one Tablespoon of olive oil, one pound of ground beef, and a quarter cup of diced onion. Season with salt, pepper, and granulated garlic. Cook until the beef is brown. Remove any excess oil.
To a bowl add lettuce, tomato, burger sauce, and ground beef. Feel free to add other toppings that you may like.
If you liked this recipe then please share it with your friends.
Ingredients
Mayo
1

each

Egg

1

each

egg yolk

3/4

Cup

Olive oil

1/4

teaspoon

Salt

1

Tablespoon

Apple cider vinegar

1

teaspoon

mustard
Burger sauce
1/4

Cup

Dill pickles

Chopped

2

Tablespoons

Unsweetened ketchup

1

Tablespoon

Swerve

1

pinch

Ground Cloves
Burger
1

pound

ground beef

1/4

Cup

Onion

diced

1/4

teaspoon

Salt

1/8

teaspoon

Black pepper

1/8

teaspoon

granulated garlic
Salad
4

Cups

Lettuce

2

each

Tomatoes
Instructions
Make the Mayo
To a tall container add the olive oil, egg, egg yolk, salt, vinegar, and mustard. Use the stick blender at high speed to make the mayo.

1 each Egg,

1 each egg yolk,

3/4 Cup Olive oil,

1/4 teaspoon Salt,

1 Tablespoon Apple cider vinegar,

1 teaspoon mustard
Make the burger sauce
To the mayonnaise add chopped dill pickle, swerve, and the unsweetened ketchup. and mix.

1/4 Cup Dill pickles,

2 Tablespoons Unsweetened ketchup,

1 Tablespoon Swerve,

1 pinch Ground Cloves
Cook
To a hot pan add 1 Tablespoon of olive oil, hamburger meat, onion, salt, black pepper, and garlic powder. Use a spatula to keep breaking up the meat. Cook the meat until it has browned. Around 10 to 15 minutes.

1 pound ground beef,

1/4 Cup Onion,

1/4 teaspoon Salt,

1/8 teaspoon Black pepper,

1/8 teaspoon granulated garlic,

1 Tablespoon Olive oil

When the meat is done you can drain off extra oil.
Prep the veggies
Shred the lettuce, and chop or slice the tomatoes.

4 Cups Lettuce,

2 each Tomatoes
Assemble the bowls
To each bowl add lettuce and tomatoes.

Top with cooked ground beef. You are now ready to serve.
Nutrition
Calories:
700
kcal
|
Carbohydrates:
8
g
|
Protein:
20
g
|
Fat:
67
g
|
Saturated Fat:
15
g
|
Polyunsaturated Fat:
5
g
|
Monounsaturated Fat:
42
g
|
Trans Fat:
1
g
|
Cholesterol:
84
mg
|
Sodium:
514
mg
|
Potassium:
441
mg
|
Fiber:
1
g
|
Sugar:
3
g
|
Vitamin A:
388
IU
|
Vitamin C:
3
mg
|
Calcium:
43
mg
|
Iron:
3
mg