One of the things that I miss on a keto/low carb diet is breaded fried foods. Recently when I was on Reddit I ran across a photo of fried chicken that looked so good I had to order the flour that he used. The flour was from King Arthur and it is Keto Wheat Flour. Since this product is made from wheat it is technically not keto. But I am going to call it dirty keto.
The product contains a high percentage of vital wheat gluten. So if you have issues with gluten this recipe is not for you.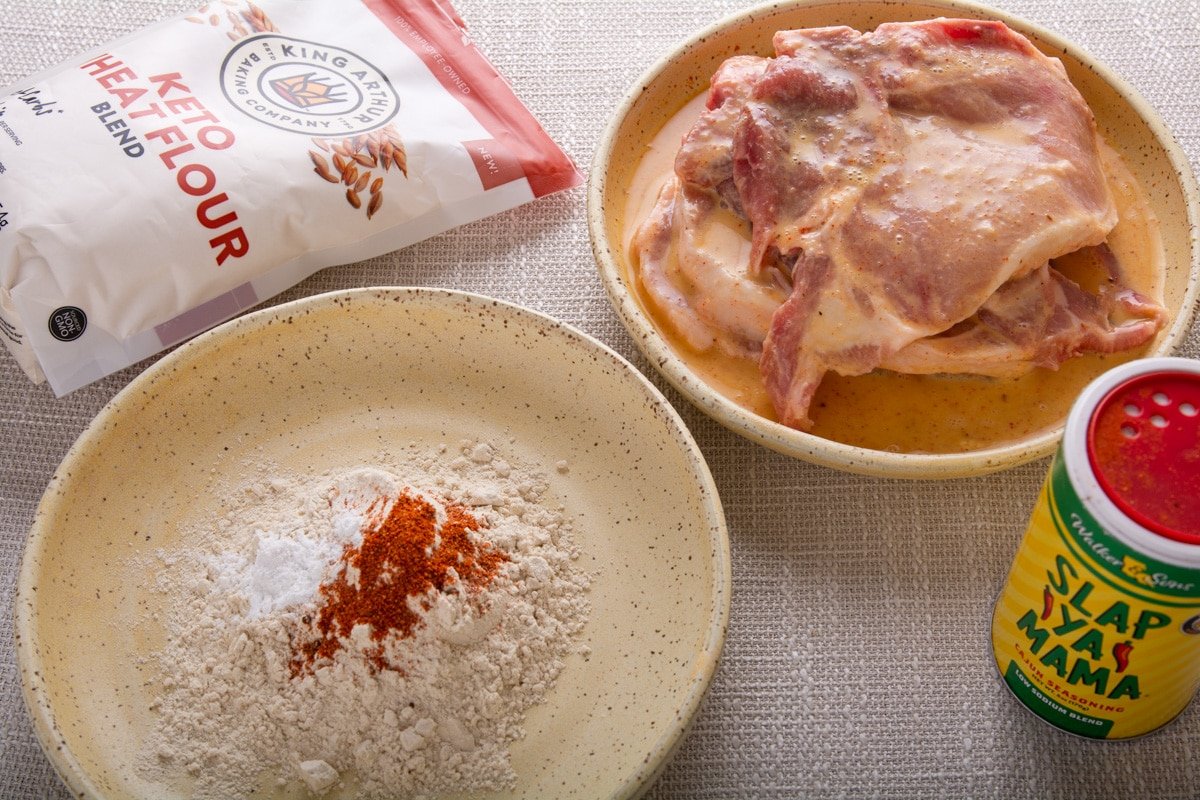 The recipe is very similar to any other battered and fried food. The only real difference is the flour. The vital wheat gluten in the flour does give food a slightly odd flavor. To cover that we will use a cajun spice mix.
We will do the normal dredging station, protein, egg wash, and, seasoned flour mix.
These are center-cut pork chops but this will work with any kind of chop that you have or find on sale.
For the egg wash, we use eggs, cream, and Cajun spice. The cream is low carb but milk is high in carbs.
For the seasoned flour mixture we will use King Arthur Keto Wheat Flour, backing powder (to keep it light), and Cajun seasoning.
Get everything within arms reach of where you will be cooking.
Place a quarter-inch of oil into your pan and heat it up. Avocado oil would work great but we have someone in the house with an avocado allergy to olive oil was used. I know you hear it over and over never fry in olive oil. It does mean that you have to watch it closely and not overheat it. But it works.
You can check to see if your oil is ready by dropping a pinch of flour into the oil. If the oil starts to bubble the oil is ready.
After your oil is ready, dip your pork chop into the egg wash. Then into the flour mixture. Shake off the excess and place it into the hot oil. Cook until it is golden brown and flip over to the other side. This should take about three minutes per side.
Work in batches to avoid crowding the pan. If you crowd the pan the oil temperature will drop too low and the breading can fall off.
When the chops are done place them onto a wire rack until ready to serve with garlic mashed cauliflower.
If you enjoyed this recipe please share it with your friends.
Ingredients
1.6

pounds

Pork Chops

My package had 4 pork chops
Egg wash
2

each

eggs

2

Tablespoons

Heavy Cream

1/2

Teaspoon

Cajun Seasoning
Seasoned Flour
1/2

Cup

Keto Wheat Flour

King Arthur

1/2

teaspoon

Baking powder

12

teaspoon

Cajun Seasoning
Instructions
Egg Wash
Mix together 2 eggs, 2 Tablespoons of heavy cream with 1/2 teaspoon of cajun seasoning, and set it aside.
Seasoned Flour
Mix together 1/2 cup of keto wheat flour, 1/2 teaspoon baking powder, and 1/2 teaspoon Cajun seasoning and set aside.
Cook
Heat up 1/4 inch of your oil of choice. While the oil is heating up set up your dredging station close to your cooktop. You will need your pork chops, eggwash, and your seasoned flour.

When your oil is hot, dip a pork chop into the egg wash. Coat both sides then dip into the seasoned flour. Shake off the excess flour and add the pork chop to the hot oil.

Cook until the bottom side is golden brown then flip over to the other side. Each side should take about three minutes. Remove the cooked chops and place them onto a wire rack. Work in batches do not crowd the pan.

Your pork chops are now ready to serve.
Nutrition
Calories:
381
kcal
|
Carbohydrates:
8
g
|
Protein:
49
g
|
Fat:
17
g
|
Saturated Fat:
6
g
|
Polyunsaturated Fat:
2
g
|
Monounsaturated Fat:
6
g
|
Trans Fat:
1
g
|
Cholesterol:
134
mg
|
Sodium:
228
mg
|
Potassium:
841
mg
|
Fiber:
4
g
|
Sugar:
1
g
|
Vitamin A:
3199
IU
|
Vitamin C:
1
mg
|
Calcium:
91
mg
|
Iron:
3
mg