There is nothing I love more than mashed potatoes, but unfortunately, they are very high in carbohydrates. Eating cauliflower instead of potatoes reduces the after-meal spike in blood sugar. My first few attempts at making mashed cauliflower were less than spectacular. But being a meat and potatoes kind of guy, I really needed and tasty low-carb alternative. So I keep trying and now I have a delicious recipe for garlic mashed cauliflower puree that is perfect for a keto diet.
In addition to having a low-calorie count, this vegetable is also a good source of potassium, fiber, protein, and vitamins C and B6. If you are following a low carb/keto diet, there is no doubt that it can be included in the diet (in moderation, of course).
The site earns commissions from affiliate links in this post. 
Ingredients:
Cauliflower, My preference is to use fresh cauliflower but of course, you can use frozen cauliflower.
Butter, I use good quality real butter. Since I follow more of a cleanish type of diet I will never use margarine. But that is my personal choice. If you are worried about the calories then only use a little butter.
Cream, You can use heavy cream or heavy whipping cream. My preference when I can find it is grass feed. In heavy cream and whipping cream, milk and milk fat are homogenized, and the fat is emulsified and incorporated into the milk to prevent separation. Both are keto-friendly, and you can use them interchangeably.
Garlic, When it comes to cauliflower mash, garlic adds something special. My preference is fresh garlic but there is nothing wrong with using garlic powder.
Salt helps to bring out the cauliflower flavor. Without salt, your cauliflower mash recipe will be very bland. We only have sea salt in the house but kosher salt also works.
Pepper, I use white pepper so that we do not see the black specks. But black pepper works just as well.
Optional Ingredients:
Cream cheese, to add a rich flavor and some extra creaminess you can add cream cheese.
Sour cream, I am not a big fan of sour cream but if you enjoy it on your potatoes add some to your creamy mashed cauliflower recipe. However, sometimes I will add greek yogurt.
Olive oil, as long as it is a good quality extra virgin olive oil feel free to add some.
Cheddar cheese or any cheese (including parmesan cheese) that you like is always a great topping.
Green onions, fresh chives, or fresh herbs are great to serve with mashed cauliflower. But to keep them looking fresh add them at the last second.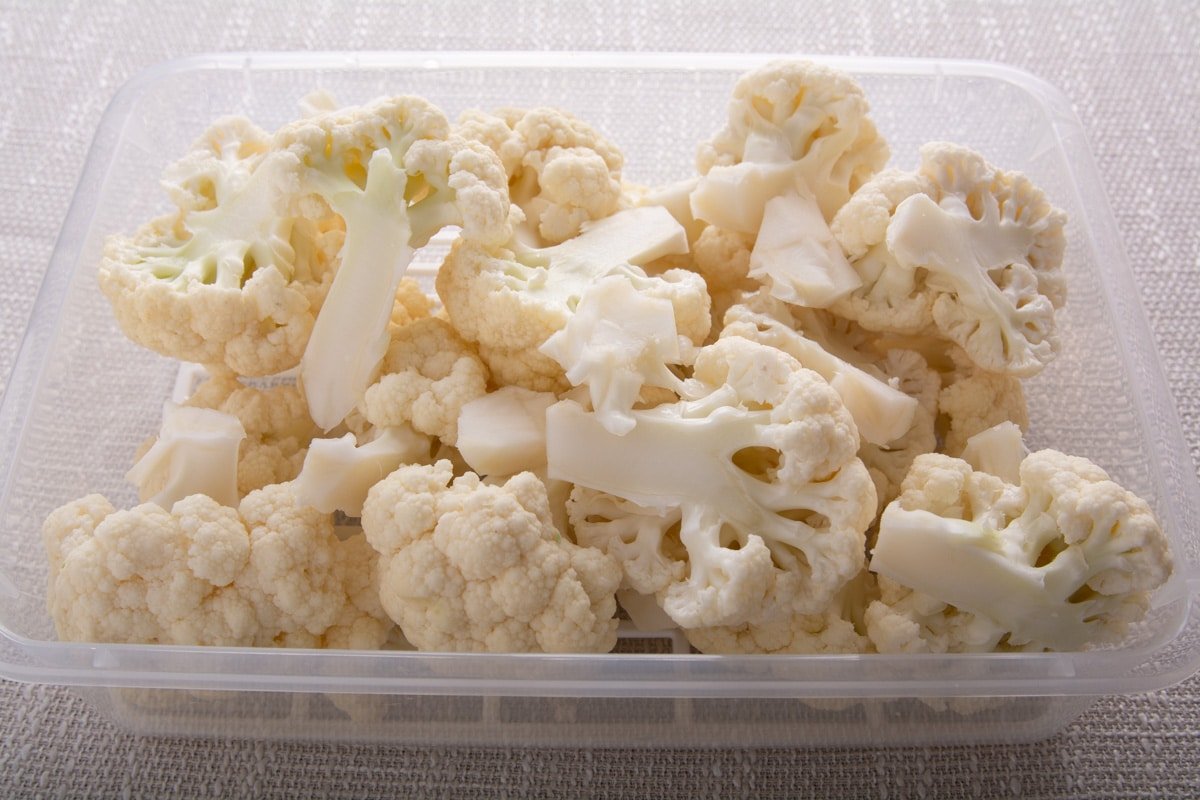 The most important thing that you need to make sure you do is cut the cauliflower into big chunks and split the really big ones into small ones so that the stems cook at the same rate. I think this is a much easier way of peeling and cutting potatoes than peeling and cutting them. It's another point for cauliflower!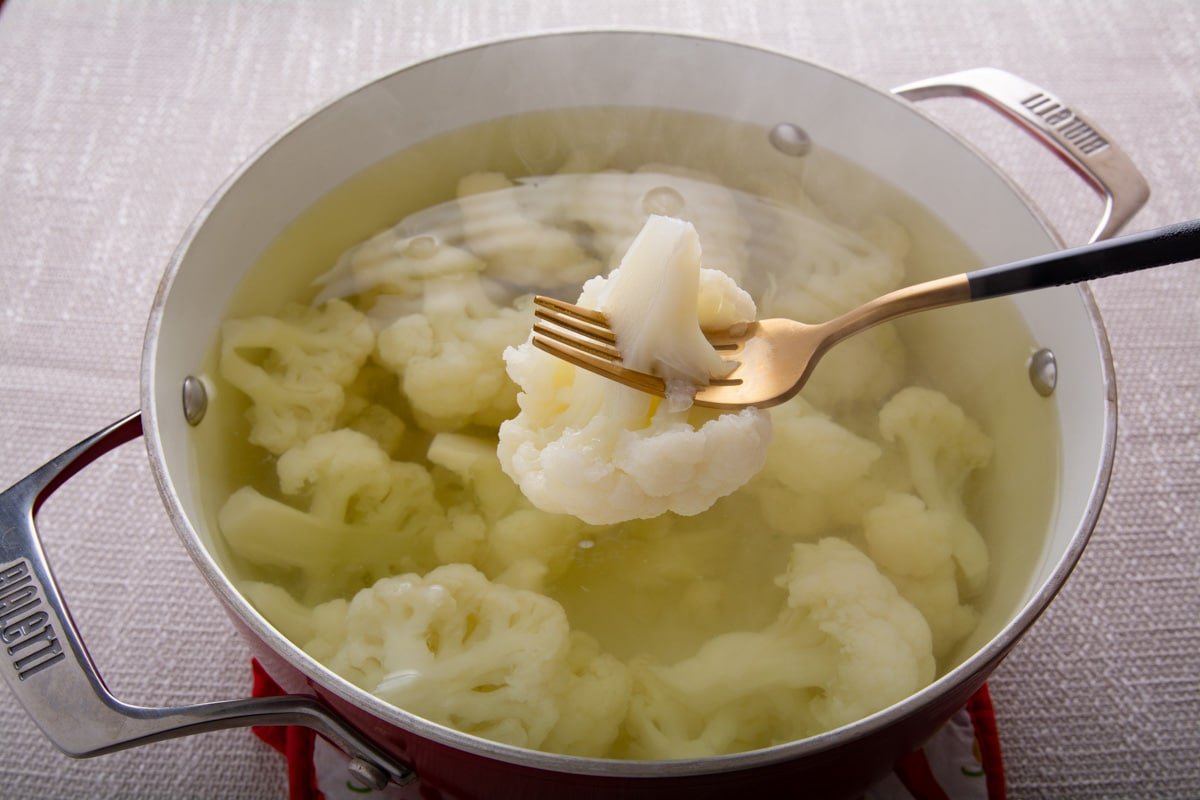 Put a large pot of water on the stove, bring it to a boil, and drop in the whole cloves of garlic and the cauliflower florets from a whole head of cauliflower. Then, bring it back to a boil and cook until the cauliflower is tender (about 15 minutes).
Alternatively, you can steam your cauliflower. Place a steamer basket over your pot of water until it starts to steam. Add the cauliflower and cover.
To cook your cauliflower in the instant pot add one cup of water with your cut-up cauliflower. Set for one minute and quick release.
When the cauliflower is cooked you should be able to easily pierce the stems of the cauliflower with a fork when the cauliflower is tender. It should also be difficult to pick them up as shown in the picture. When I was trying to take this photo some of them broke apart and fell off the fork.
Pour off the water and let them steam in the pot for about a minute or two until they reach their desired tenderness. As soon as you pour off the water from the cauliflower, you need to let it steam in order to get rid of any excess water that is on the surface of the cauliflower.
It is my preference to cook my garlic to prevent it from having a sharp bite. In any case, if you prefer the taste of raw garlic, you can add your fresh garlic later on if you desire.
There is no need to include garlic in this recipe if you are not a fan of it.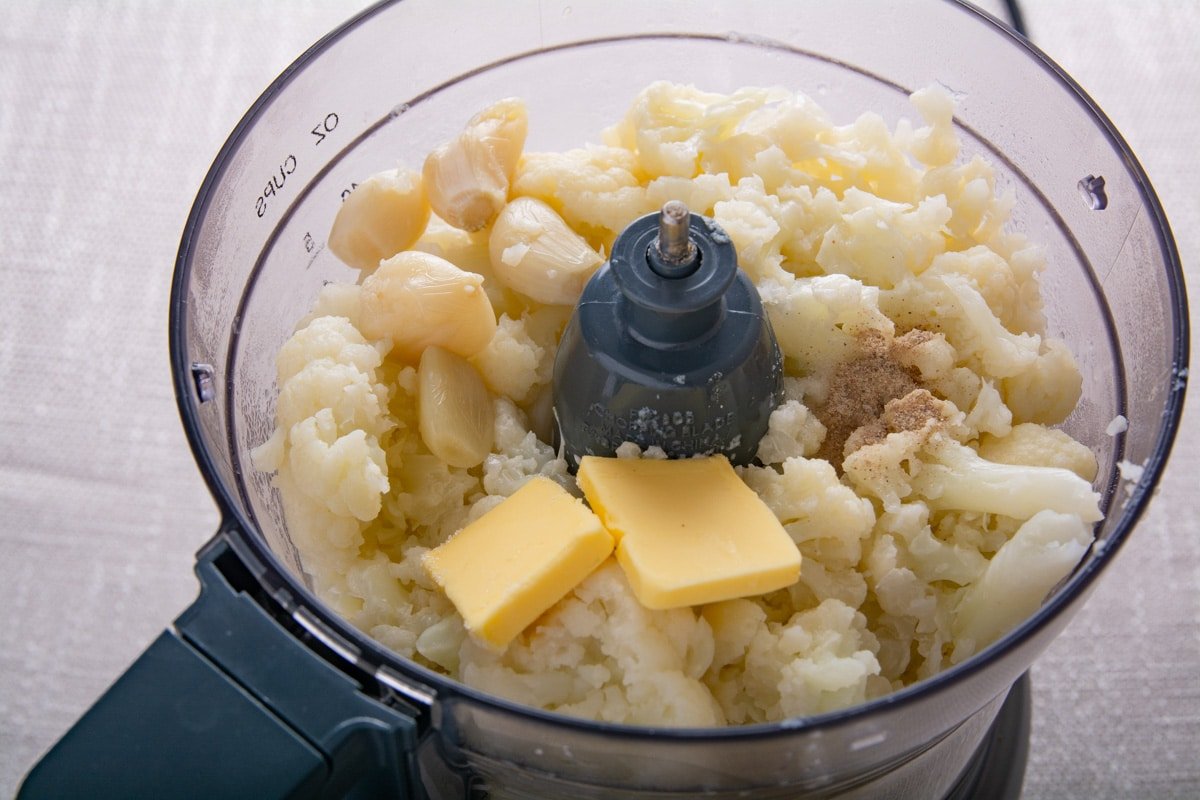 After your cooked cauliflower is mostly dry but still hot add them to a food processor with the garlic cloves (cooked or raw), butter, cream, and seasoning (salt and white pepper).
If you want cheesy mashed cauliflower add some cheese while it is still hot. An immersion blender also works really well at breaking down the cauliflower.
I have never had success using a hand potato masher, but you might be able to give that a try. In fact, the first time I tried making mashed cauliflower this is what I tried. The results were so bad I said never again. But for it to have a chance of working you will need to steam the cauliflower to the point that it is falling apart. Point to potatoes.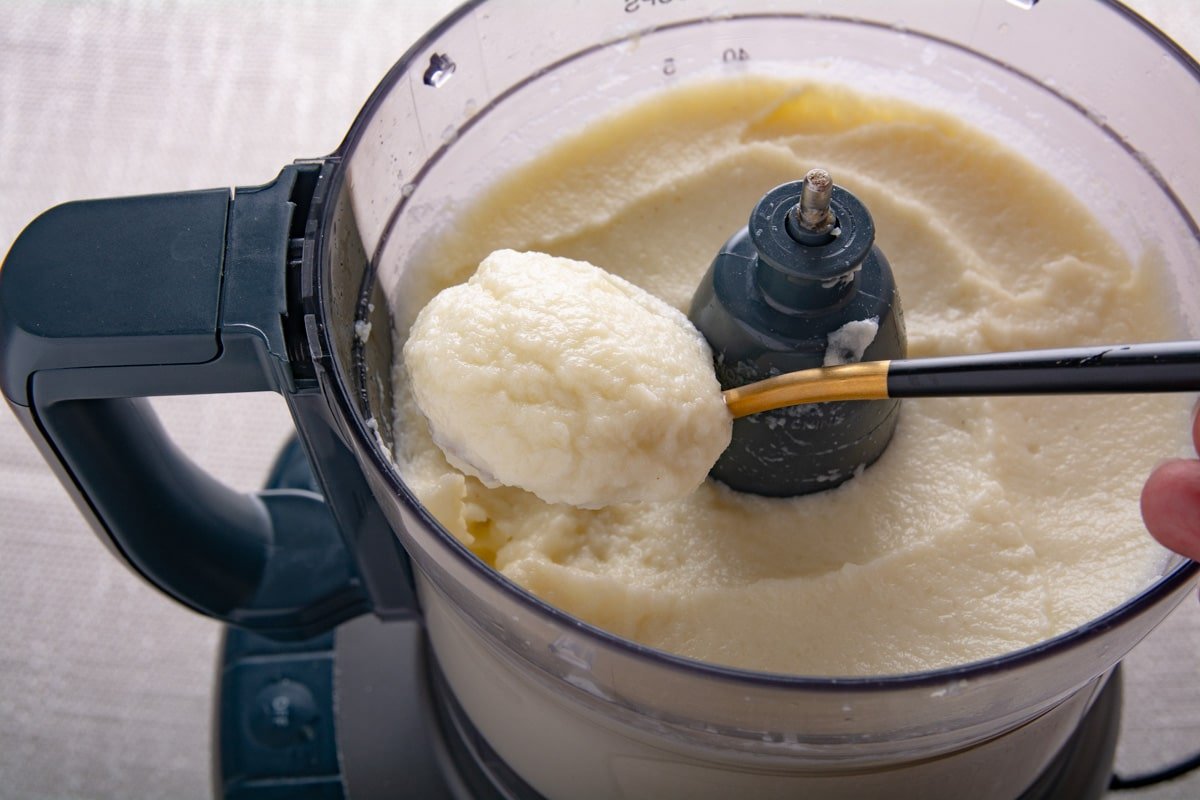 Using a food processor turn on the machine and let it run until you have a smooth puree of cauliflower. In about a minute, I scrape down the inside of the bowl and turn the machine back on. In my experience, it normally takes me less than five minutes to complete this task.
The salt content should be checked by tasting; if necessary, add more salt and give a quick pulse to combine everything.
Now you have a great recipe for a healthy and delicious side dish that is not a cauliflower pizza crust.
If you have any leftover mash cauliflower place it in an airtight container and store it in the refrigerator for up to one week.
I think this mashed cauliflower recipe is as good as mashed potatoes and is the perfect side dish with keto-fried pork chops or my keto beef stew recipe.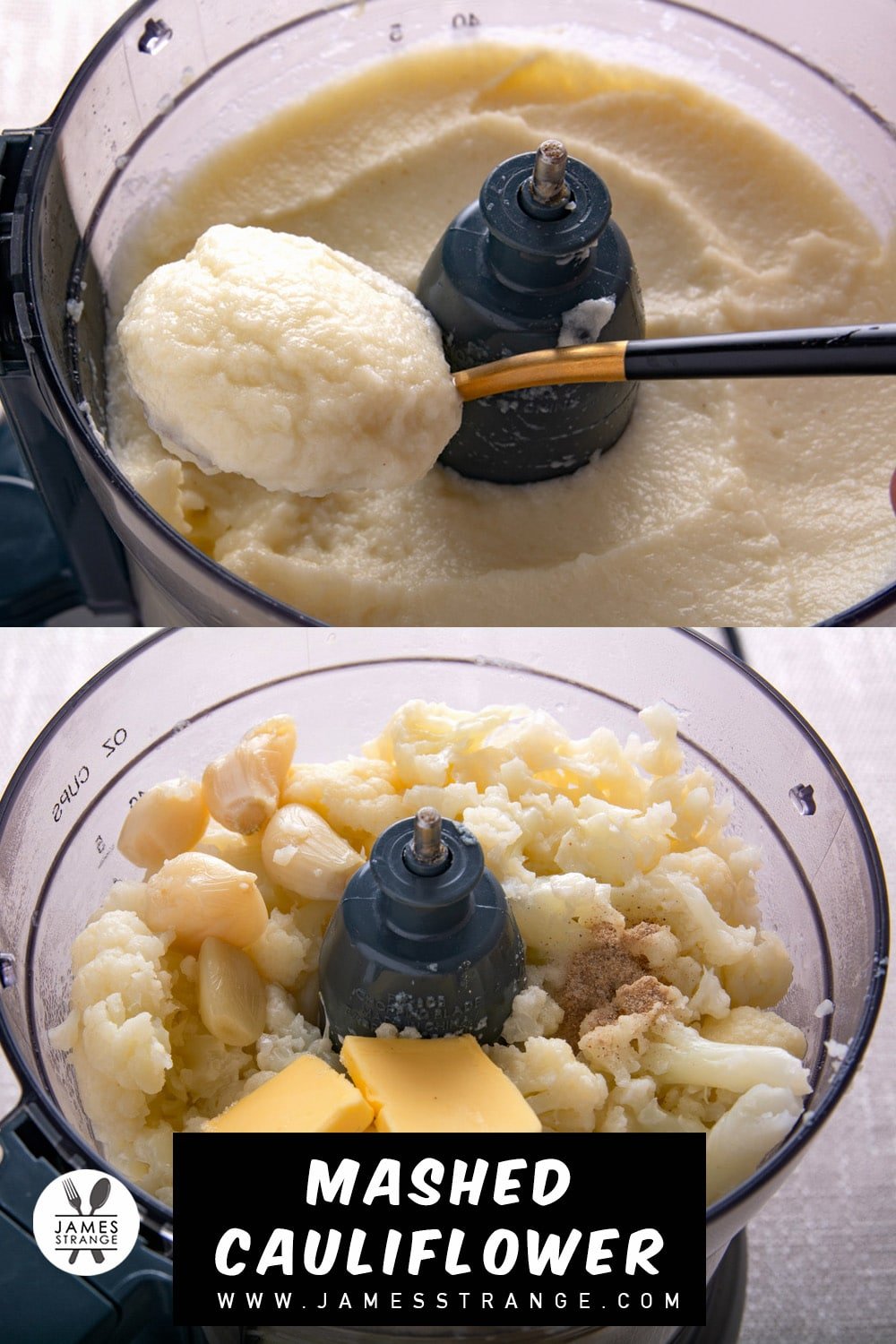 I would appreciate it if you would share this easy mashed cauliflower recipe with your friends and family if you liked it.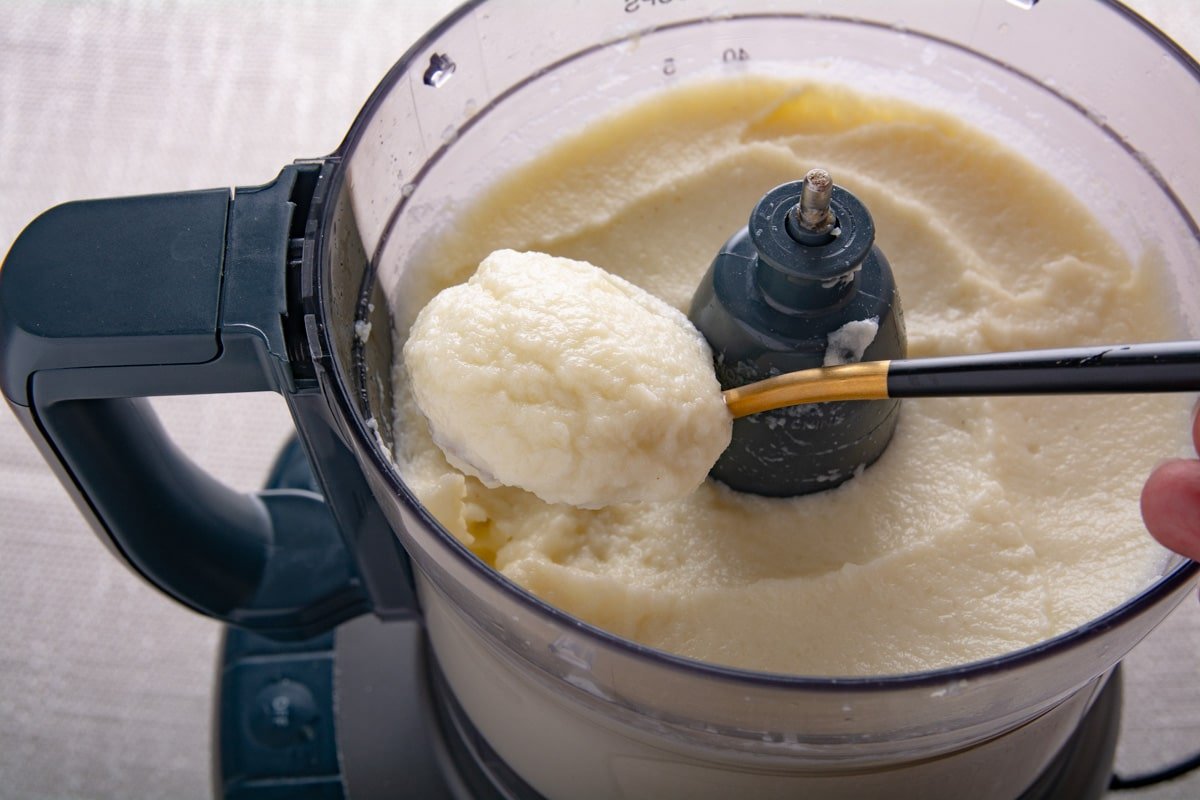 Ingredients
1

head

Cauliflower

2

Tablespoons

Butter

1/4

Cup

Heavy cream

1/4

teaspoon

salt

1/8

teaspoon

White pepper

4

cloves

Garlic
Instructions
Bring a pot of water to a boil peel the garlic cloves and cut up the cauliflower.

Add the garlic cloves and cauliflower to the pot of boiling water, bring back to a boil.

Boil for 15 minutes or until the cauliflower is tender.

Drain the water from the cauliflower.

To a food processor add the cauliflower, garlic, salt, white pepper, cream, and butter. Process until a smooth puree is formed.

You're now ready to serve with your favorite main dish
Nutrition
Calories:
91
kcal
|
Carbohydrates:
5
g
|
Protein:
2
g
|
Fat:
8
g
|
Saturated Fat:
5
g
|
Polyunsaturated Fat:
1
g
|
Monounsaturated Fat:
2
g
|
Trans Fat:
1
g
|
Cholesterol:
21
mg
|
Sodium:
158
mg
|
Potassium:
297
mg
|
Fiber:
2
g
|
Sugar:
2
g
|
Vitamin A:
262
IU
|
Vitamin C:
46
mg
|
Calcium:
29
mg
|
Iron:
1
mg