I absolutely love mashed potatoes, but they are very high in carbs. Eating cauliflower instead of potatoes reduces the after-meal spike in blood sugar. My first few attempts at making mashed cauliflower were less than spectacular. But being a meat and potatoes kind of guy I really a substitute. So I keep trying and now I have a great recipe for garlic mashed cauliflower puree.
Cauliflower is low in calories and high in potassium, fiber, protein (for a veggie), vitamins C and B6. So yes it should be included in a low barb/keto diet (in moderation of course).
This post does contain affiliate links that earn the site commissions.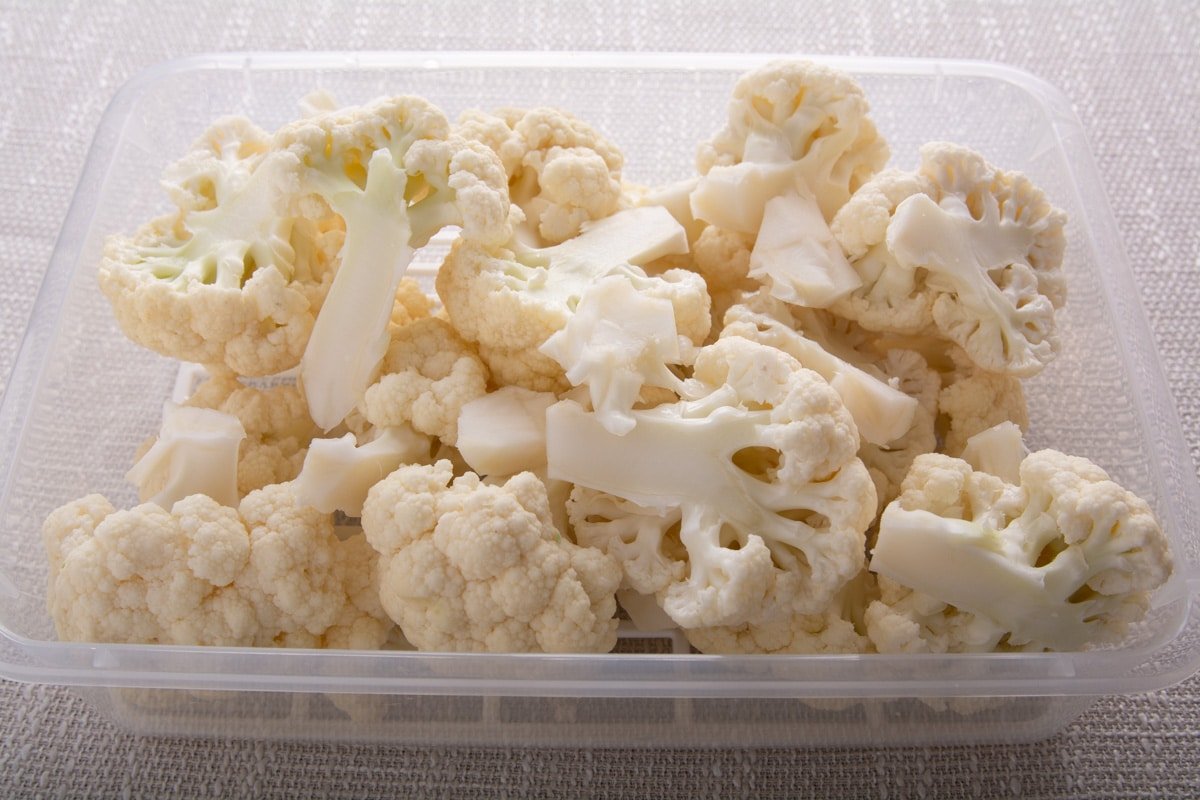 Cut the cauliflower into big chunks, split the really big ones so the steams can cook evenly. This is easier than peeling and cutting potatoes. Another point for cauliflower!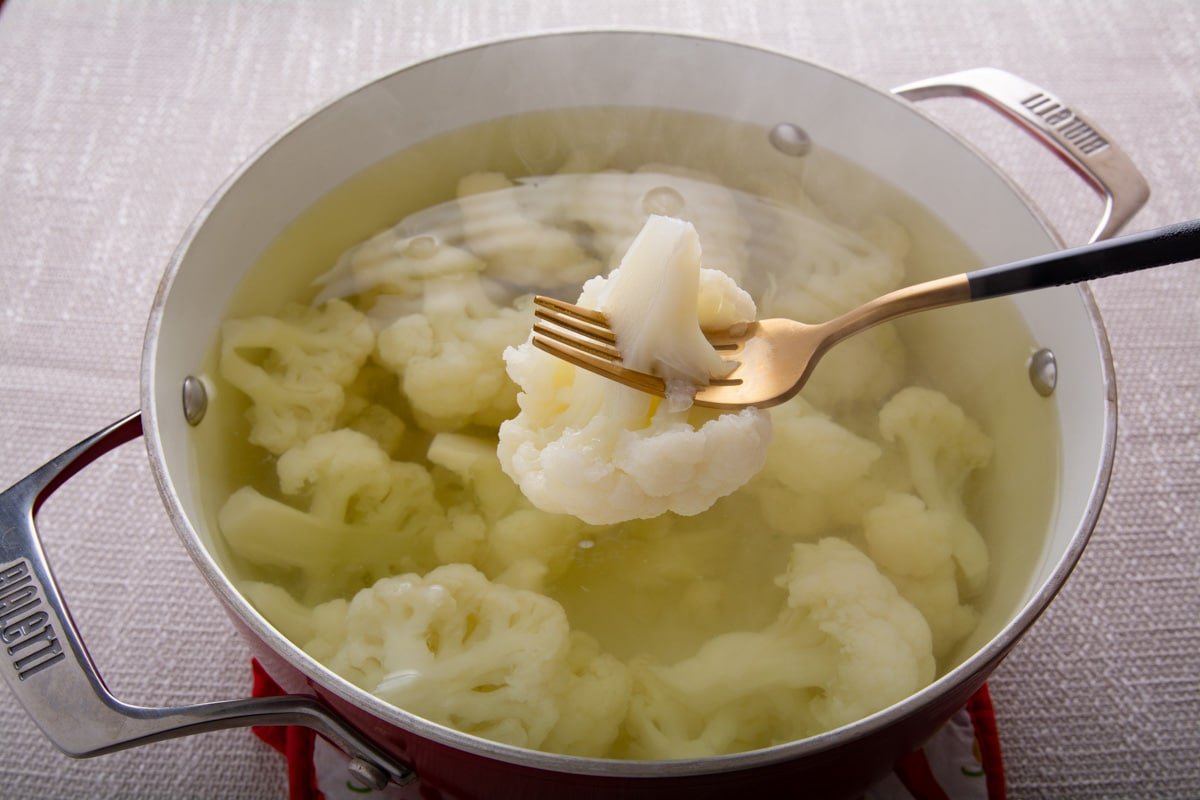 Bring a pot of water to a boil and add your whole garlic cloves and cauliflower florets. Bring back to a boil and cook until tender (about 15 minutes). Then pour off the water and let them steam in the pot for a minute or two.
When the cauliflower is tender you should be able to easily pork the steams with a fork. It should also be hard to pick them up like in the picture. When I was trying to make this some of them broke and fell off the fork.
Letting them steam after pouring off the water allows them to continue cooking and gets rid of excess water that is on the surface of the cauliflower.
I like to cook my garlic to avoid a sharp bite, you can add them raw later.
If you are not a fan of garlic you can leave it out.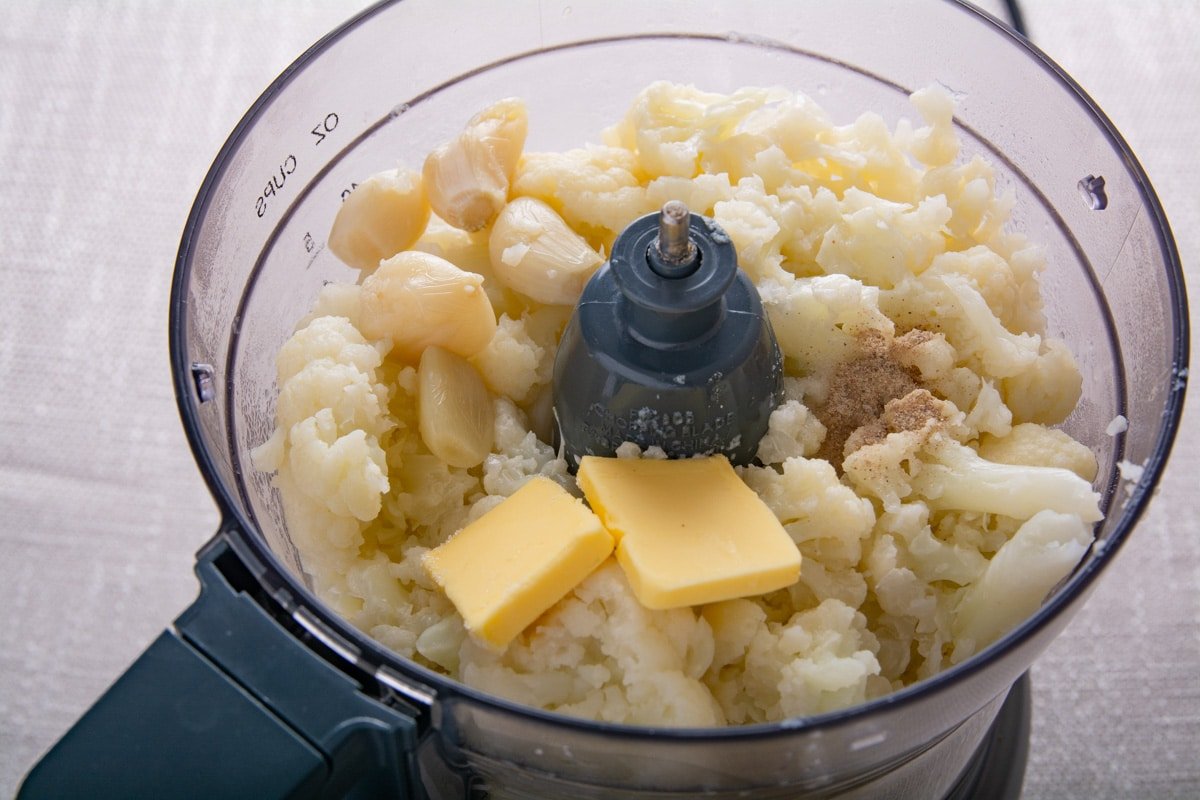 After your florets are dry but still hot add them to a food processor with the garlic cloves (cooked or raw), butter, cream, and seasoning (salt and white pepper).
If you want cheesy mashed cauliflower to add some cheese while it is still hot.
You can try using a hand masher but I never had good results doing that. Point to potatoes.
I use white pepper to avoid the black specks but black pepper works fine.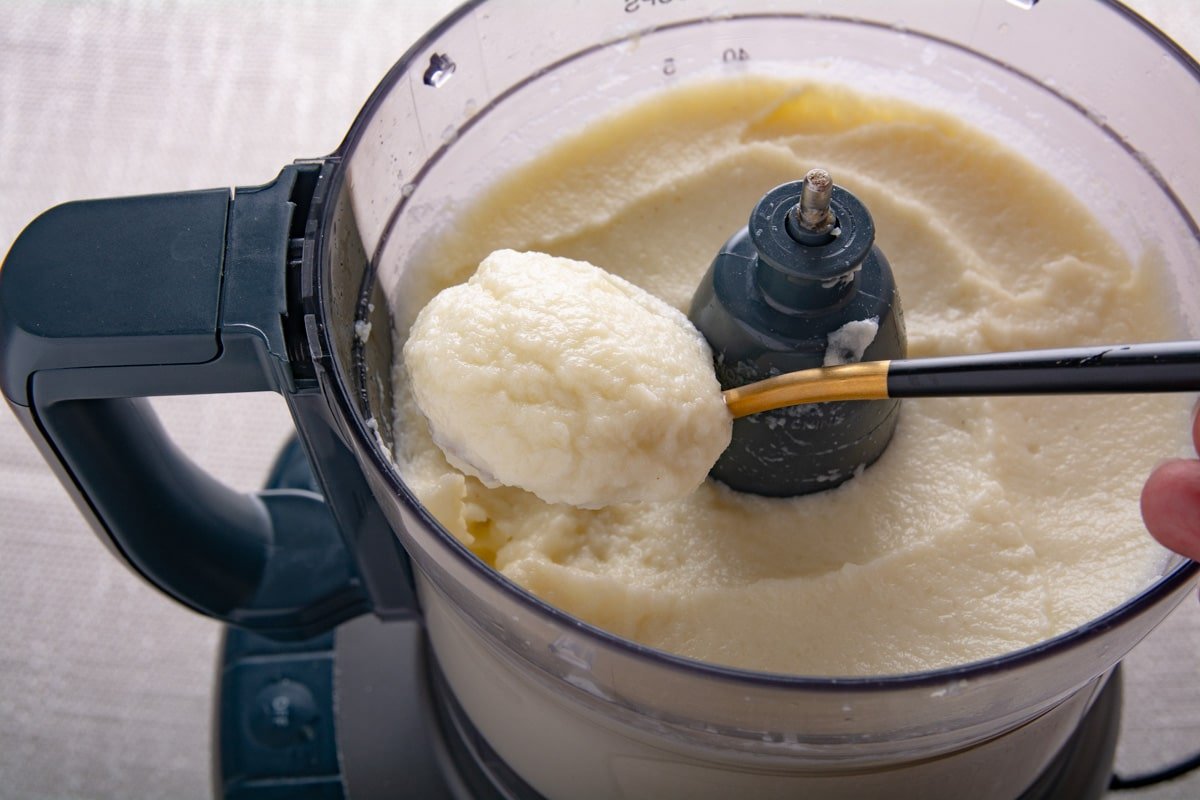 Turn on your food processor and let it run until you have a smooth cauliflower puree. After about one minute I scrape down the bowl and turn it back on. This normally takes me about two minutes total.
Taste to check for salt, if needed add more and give a quick pulse to combine.
I think this mashed cauliflower recipe is as good as mashed potatoes and they go great with keto-fried pork chops or my keto beef stew recipe.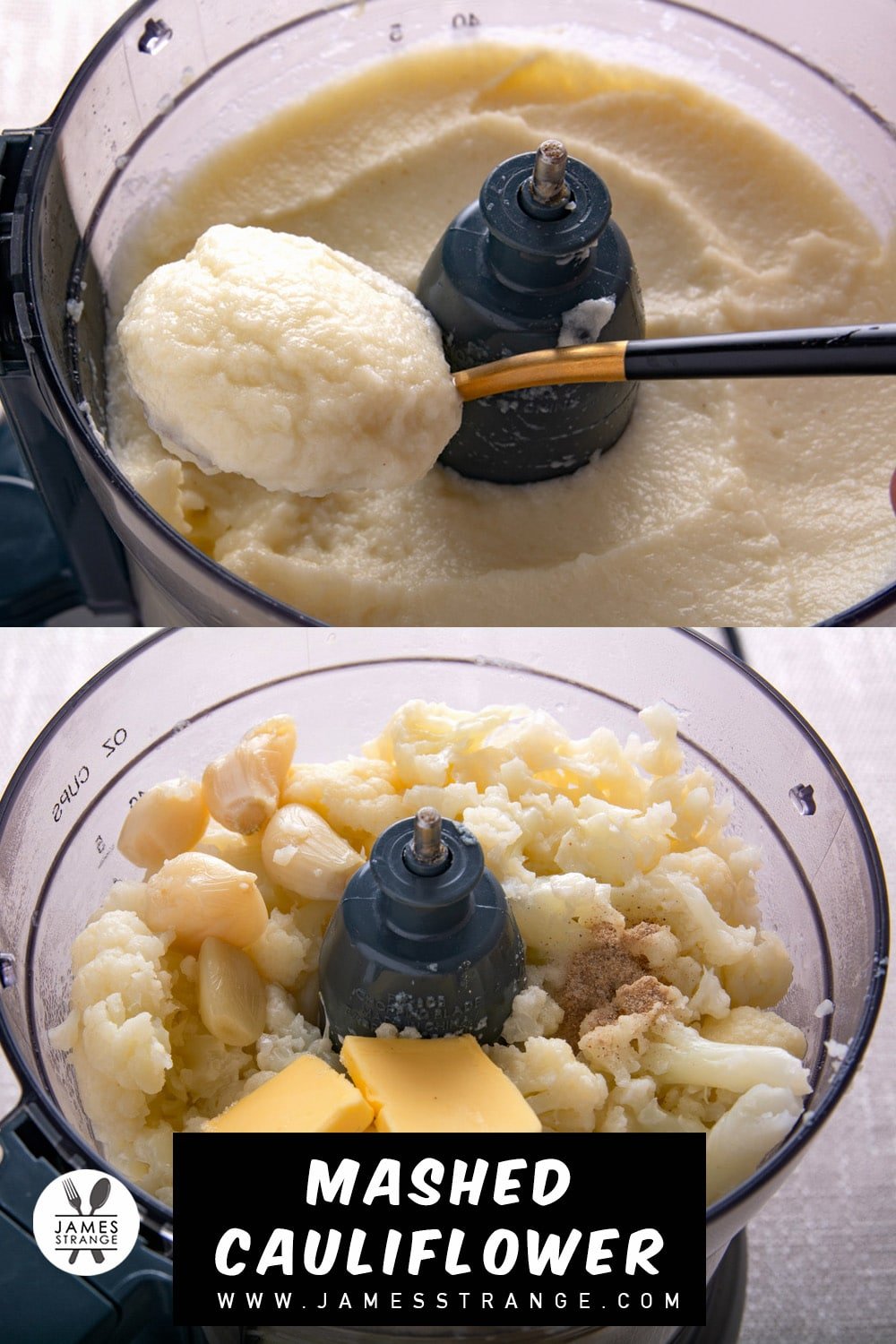 If you enjoyed this recipe please share it with your friends.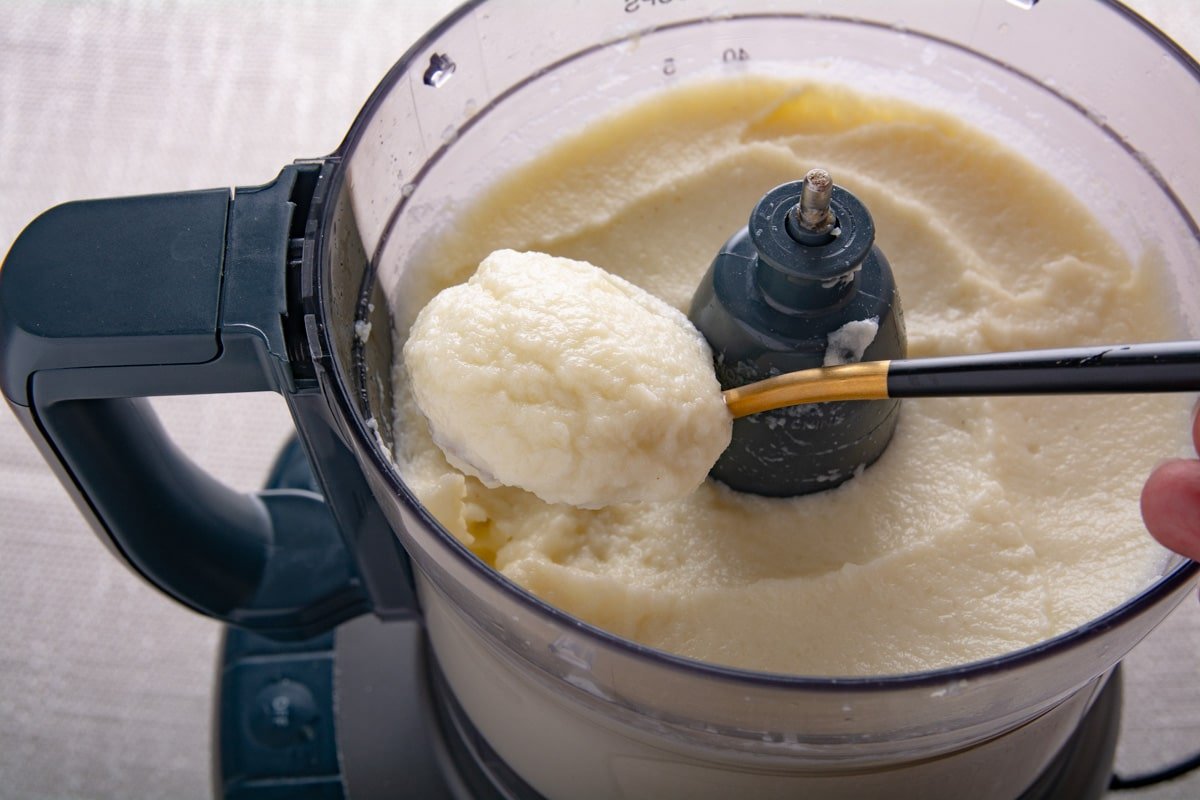 Ingredients
1

head

Cauliflower

2

Tablespoons

Butter

1/4

Cup

Heavy cream

1/4

teaspoon

salt

1/8

teaspoon

White pepper

4

cloves

Garlic
Instructions
Bring a pot of water to a boil peel the garlic cloves and cut up the cauliflower.

Add the garlic cloves and cauliflower to the pot of boiling water, bring back to a boil.

Boil for 15 minutes or until the cauliflower is tender.

Drain the water from the cauliflower.

To a food processor add the cauliflower, garlic, salt, white pepper, cream, and butter. Process until a smooth puree is formed.

You're now ready to serve with your favorite main dish
Nutrition
Calories:
91
kcal
|
Carbohydrates:
5
g
|
Protein:
2
g
|
Fat:
8
g
|
Saturated Fat:
5
g
|
Polyunsaturated Fat:
1
g
|
Monounsaturated Fat:
2
g
|
Trans Fat:
1
g
|
Cholesterol:
21
mg
|
Sodium:
158
mg
|
Potassium:
297
mg
|
Fiber:
2
g
|
Sugar:
2
g
|
Vitamin A:
262
IU
|
Vitamin C:
46
mg
|
Calcium:
29
mg
|
Iron:
1
mg