This simple Korean seasoned vegetable dish (Sigeumchi namul) is made with fresh spinach and seasoned with Korean fermented bean paste (Doenjang). In Korean restaurants, it is usually served with Korean BBQ, spicy foods, or kimbap.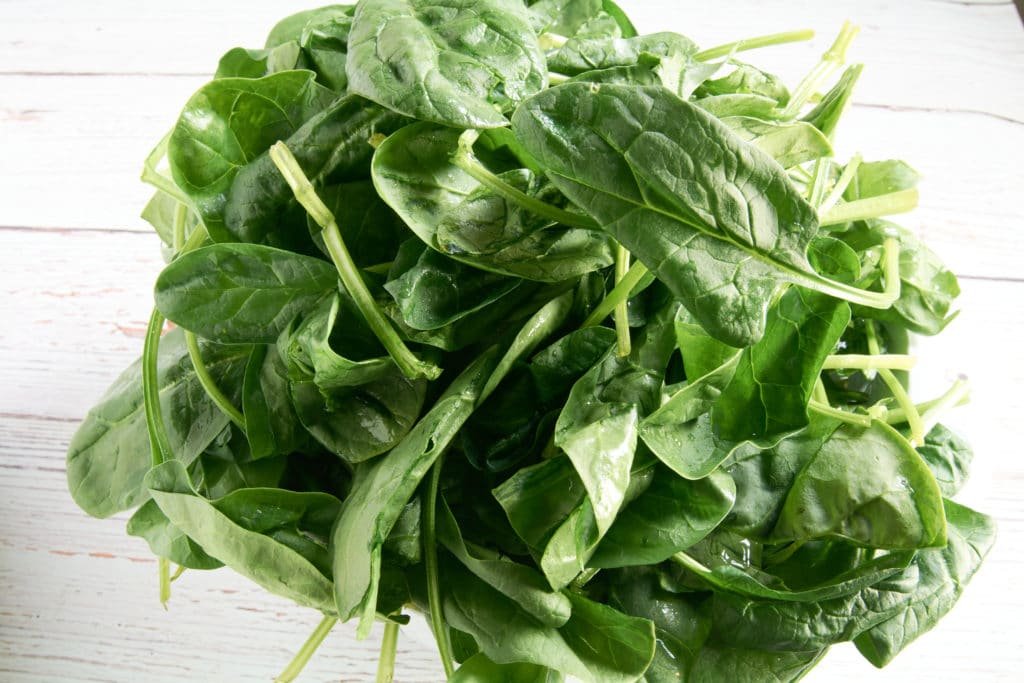 In Korean cuisine side dishes are just as important as the main dishes. A Korean meal will normally have several side dishes or banchan. This simple Korean side dish is a namul. Namul dishes are still banchan but are made from grassy plants or leaves. Traditionally, namul was made with what was fresh from the garden or found foraging in the mountains. Mature spinach works well for this method of cooking.
As the name implies, baby spinach is very young spinach. It's tasty in salads, but it loses much of its flavor and texture when blanched. Spinach that is mature in early spring and late fall is the most suitable spinach to use. In summer, spinach tends to be bitter, but it will still work.
Other leafy greens work just as well as spinach. Experiment as much as you like.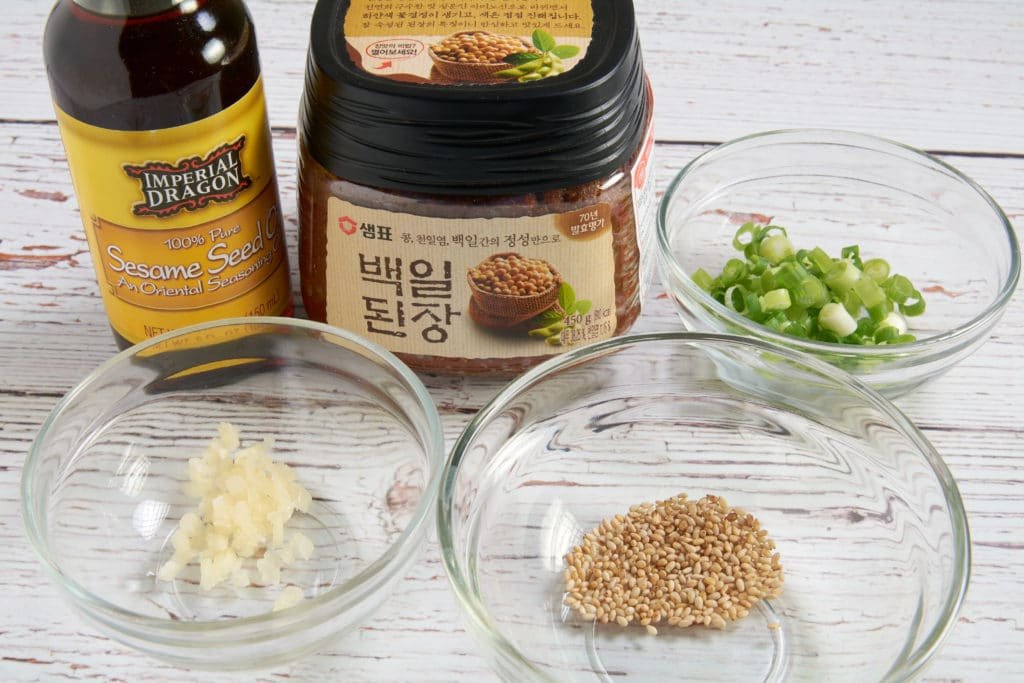 The following will be used as a seasoning.
Toasted sesame oil. Don't forget that a little goes a long way.
Korean bean paste or Doenjang. The dish will taste pleasantly salty and rich as a result.
Green onions. They should be very finely chopped.
Garlic. Fresh is best but I also use the stuff out of the jar. Either way, it should also be very finely chopped.
Toasted sesame seeds.
Salt.
Before cooking, give your spinach a thorough wash (this is the most difficult part). Spinach is usually grown in sandy soil, and we do not want to serve gritty spinach. Cut off any roots and remove any ugly leaves. Next, give the spinach a thorough rinse under cool running water. Fill a large bowl with cool water, add the spinach and gently stir it around to help remove sand or dirt. The sand should sink to the bottom of the bowl.
Let the spinach soak for a few minutes, then gently remove it from the bowl and place it into a colander. If you see sand or dirt in the bottom of the bowl, repeat until all of the sand is removed. If you do not see sand, give it one more rinse under running water to make sure all of the sand is washed away.
Optionally you can trim off the longer stems but I usually leave them on.
Blanching spinach is the next step after washing it. Bring a large pot of water up to a rapid boil.
While the water is heating, prepare an ice bath by filling a large mixing bowl with cold water and ice. Ensure this is within reach of where you will be cooking the spinach banchan.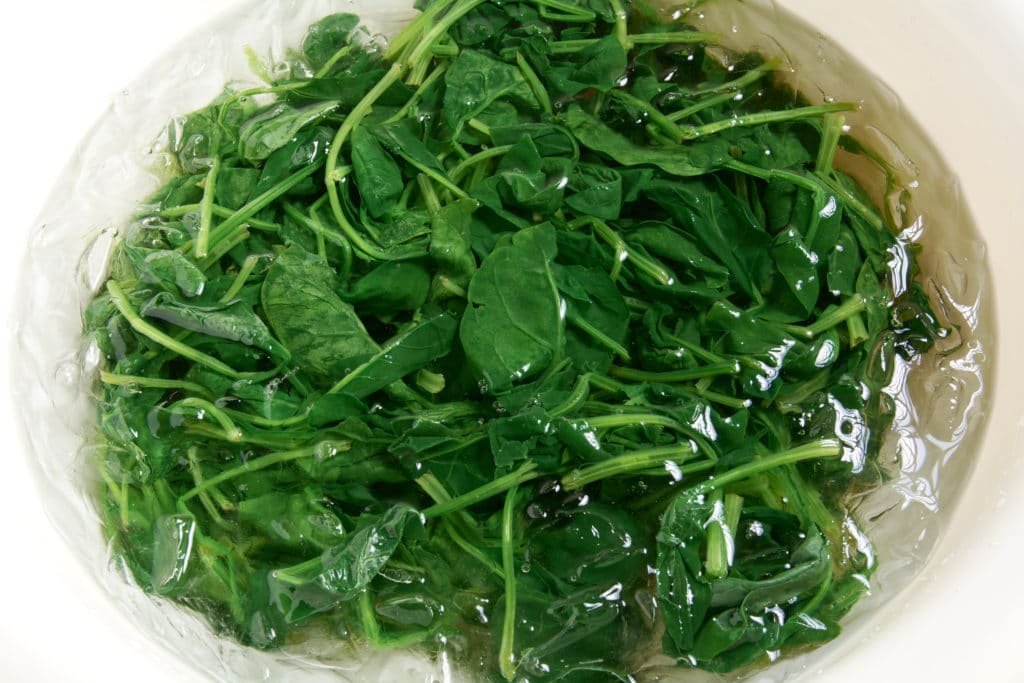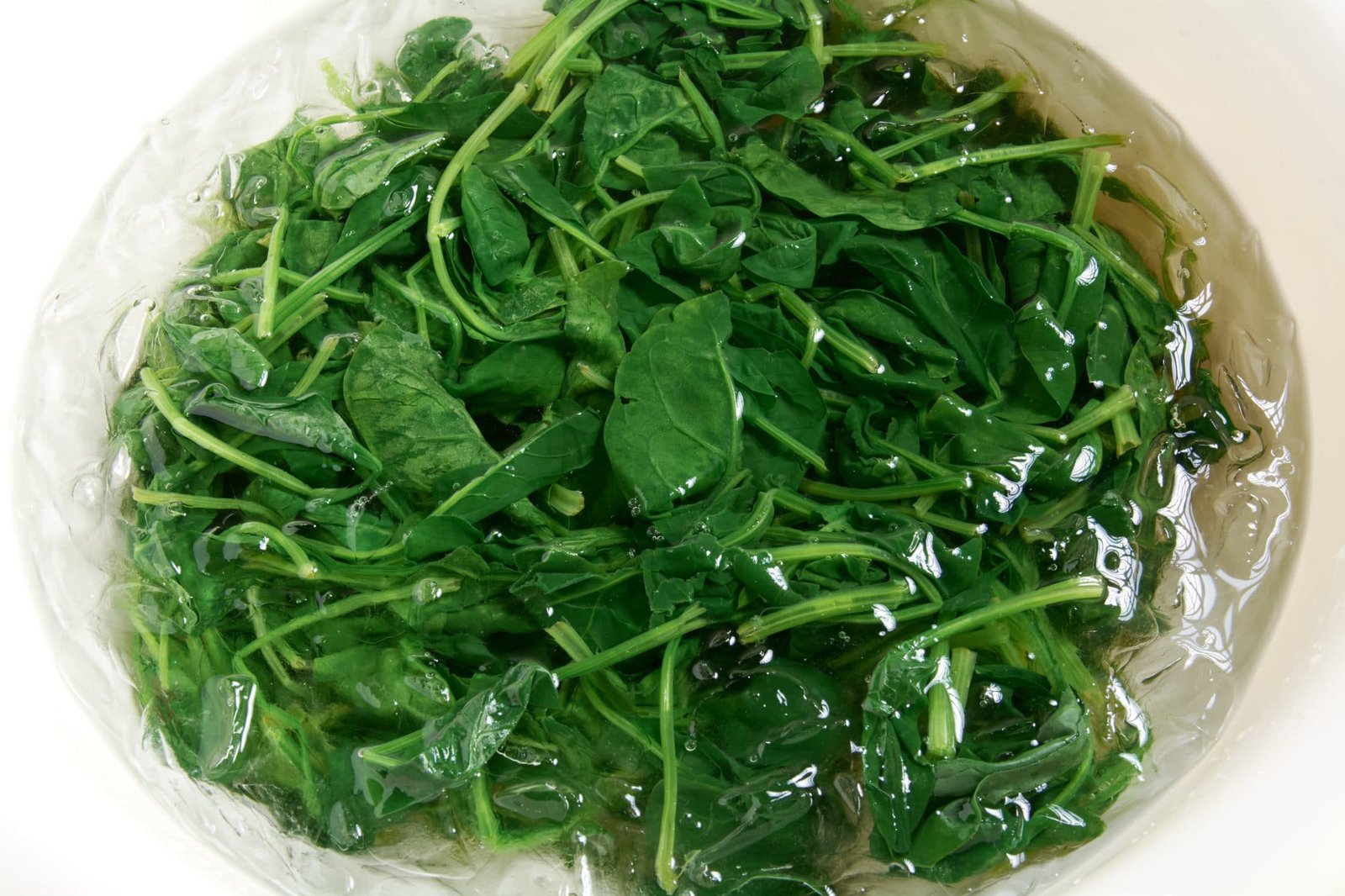 Dump the blanched spinach into hot boiling water and immediately start stirring with a slotted spoon. This brings all of the spinach into contact with hot water for even cooking. As the spinach starts to cook, it will quickly reduce in size. All that you really want to do is soften the spinach. This should take about thirty seconds.
Take out the spinach and place it into the ice water. Let it cool completely.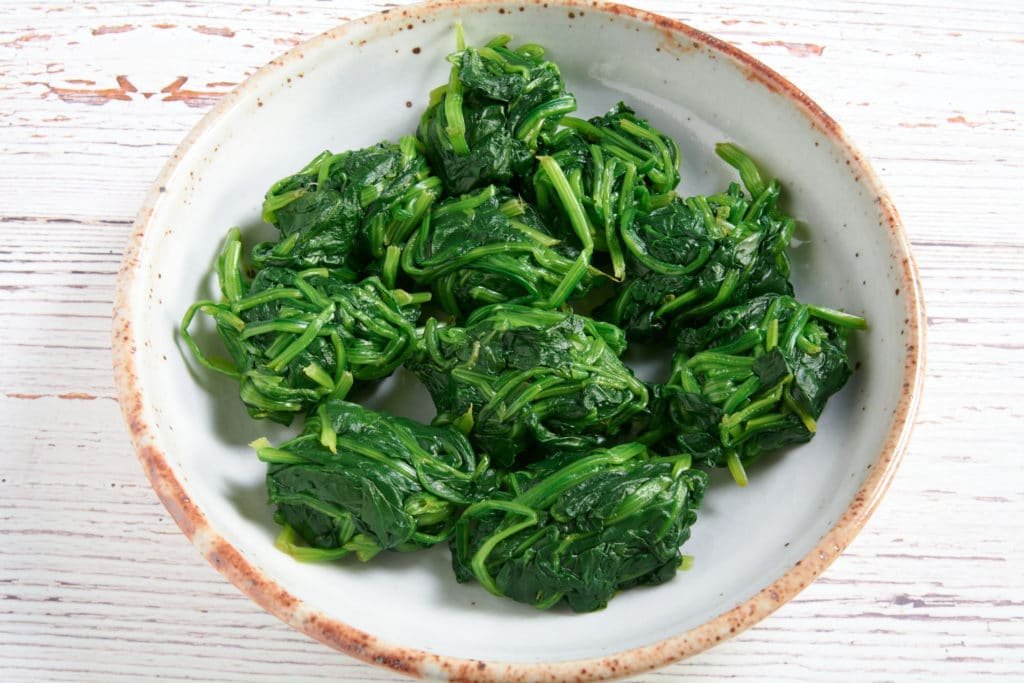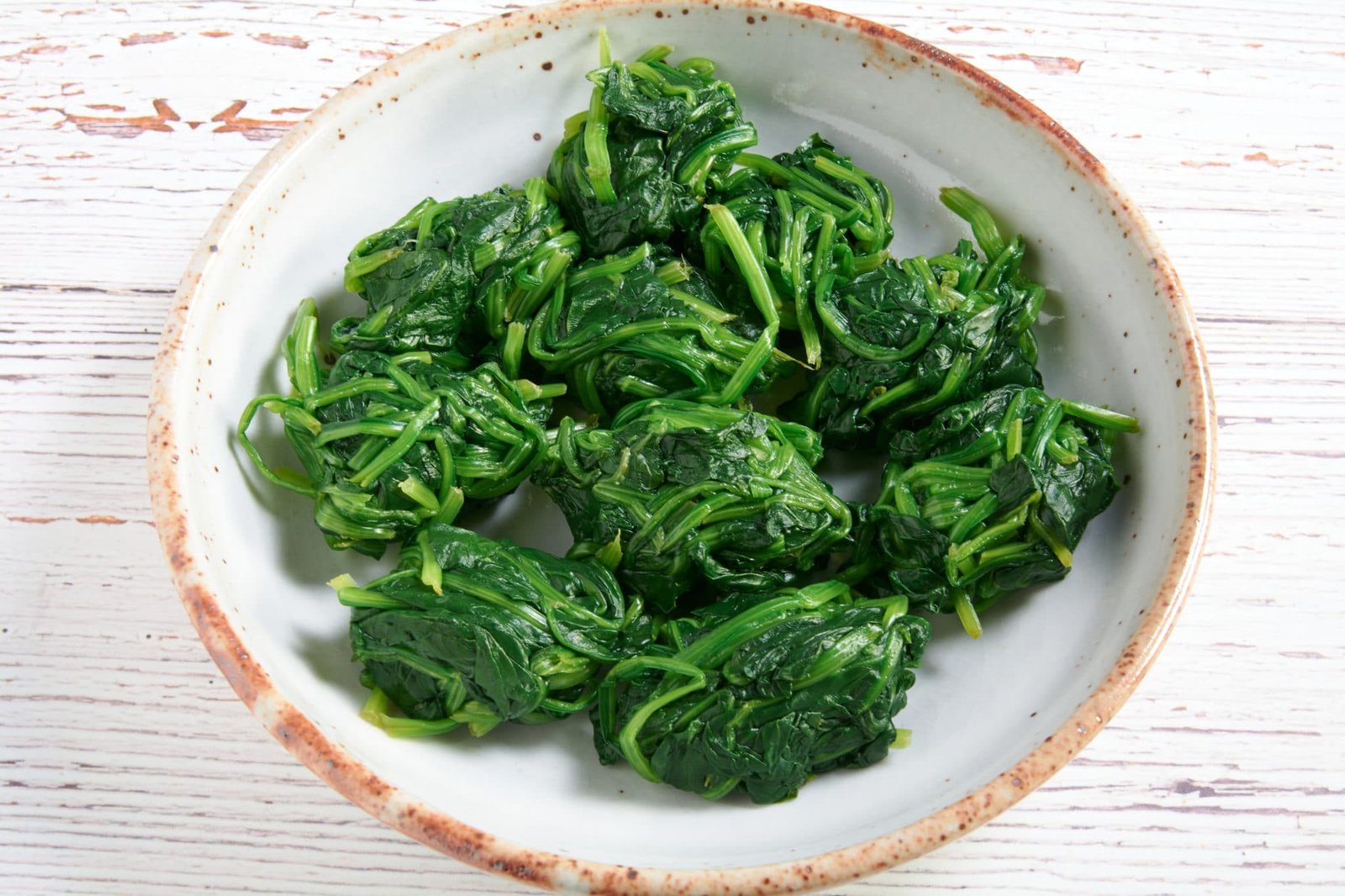 After the spinach has had a chance to cool (it does cool quickly), take it from the bowl and place it into a colander. After most of the water has drained off, please pick up a small amount of spinach, and give it a gentle squeeze. You want to remove most of the excess water. When most of the moisture has been removed, you will have a small ball of spinach. You can place this into a bowl.
Keep repeating until you have squeezed out the excess moisture from all of the spinach.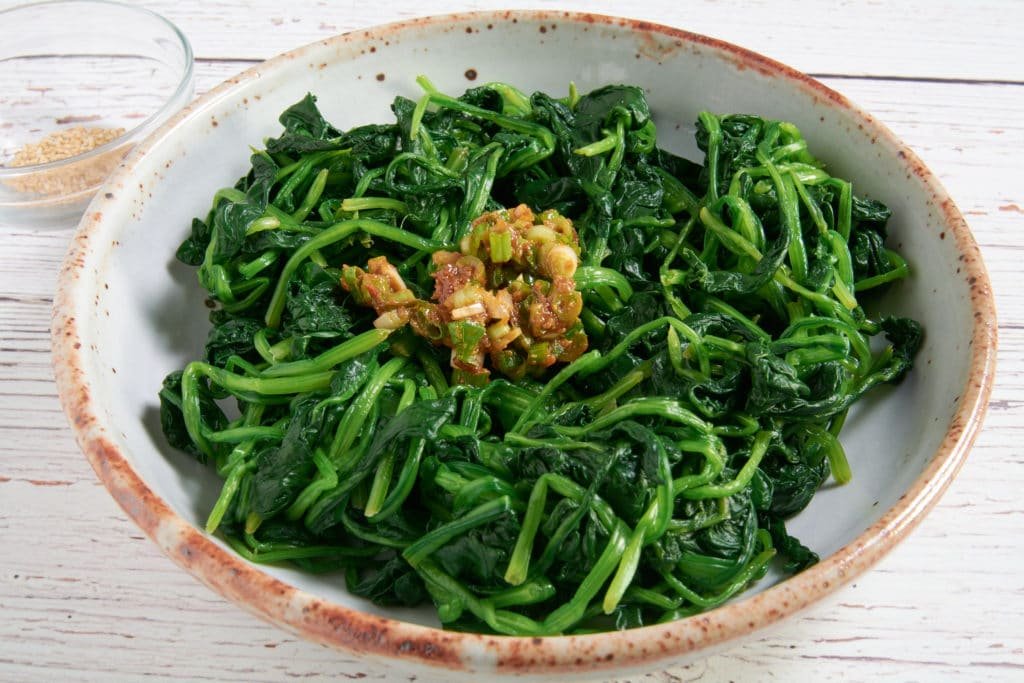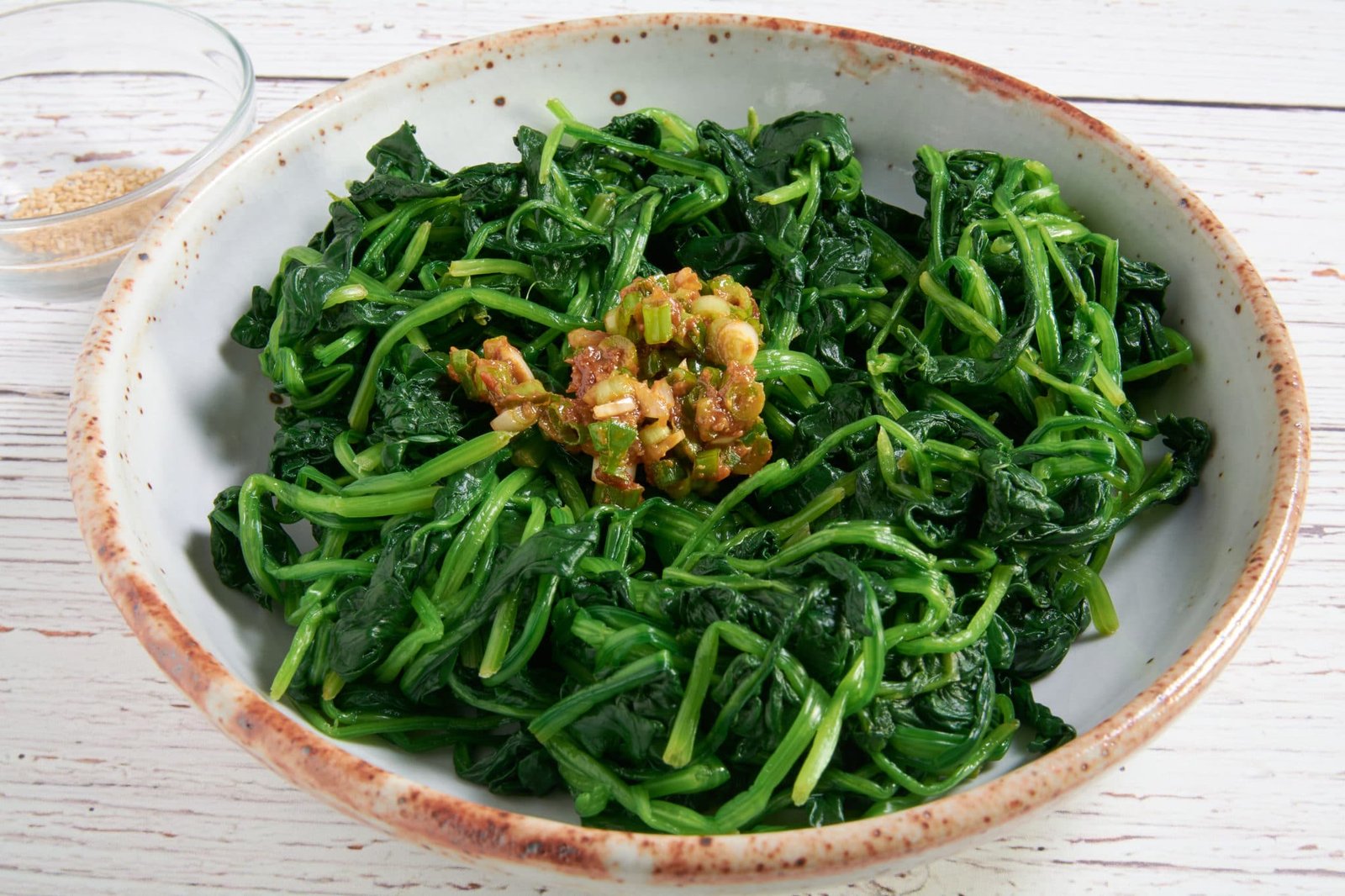 Now that you're ready to season your spinach break apart the small balls and spread out the spinach. Put in your seasoning mix. Prepare your seasoning mixture by adding the sesame oil, fermented bean paste, green onion, and garlic; mix well and add to the spinach.
The poor spinach has been a wash, boiled, dumped into ice water, then had the crap squeezed out of it. It is now time to treat poor spinach with a massage. Gently massage in the seasoning mix, ensuring that it is evenly distributed. I highly recommend wearing gloves for this unless you like your hands to smell like garlic.
Now it's time to salt your namul. Sprinkle on some table salt, mix, and taste. Continue to do this until you are happy with the taste of the dish. How much salt to add will depend upon your taste buds and the Doenjang brand that you use.
When you're happy with it, add some sesame seeds your namul is now ready to serve. This Korean spinach recipe would go perfectly with Korean spicy grilled pork.
Leftover spinach can be stored in an airtight container for four or five days, at our house, it never lasts that long.
If you are on Pinterest please share this pin.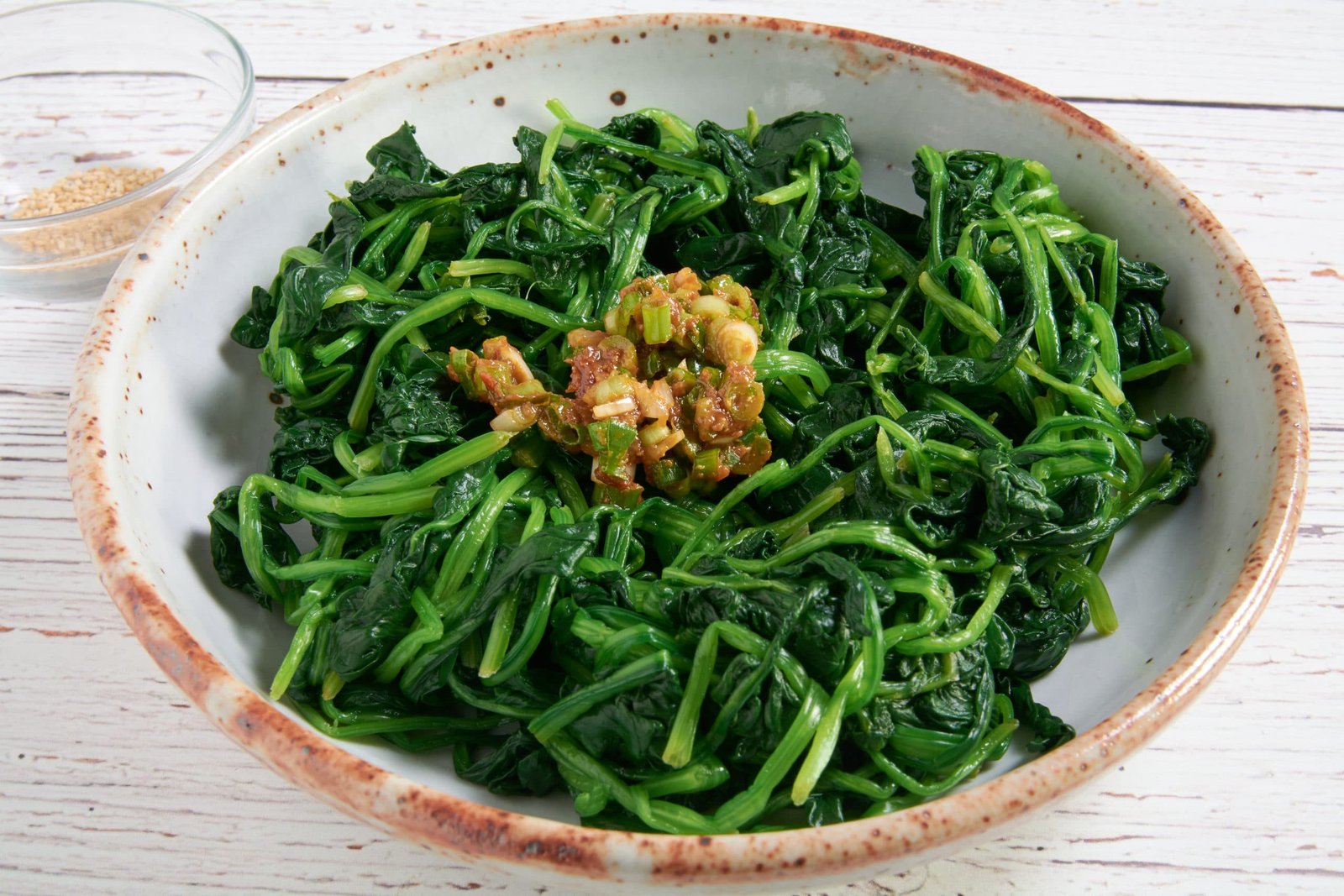 Ingredients
2

bunches

spinach

1/4

teaspoon

sesame oil

1

teaspoon

Korean bean paste

Doenjang

2

Tablespoons

Green onions

2

cloves

garlic

1/4

teaspoon

Sesame seeds

1

pinch

salt
Instructions
Seasoning mix
To a small bowl add the sesame oil, doenjang, green onion, garlic, give this a good mix and set aside.
Blanch the spinach
Bring a pot of water to boil and prepare a bowl of ice water.

Dump the spinach into the boiling water and immediately start stirring. Cook for 30 seconds.

Immediately remove the spinach and place it into the ice water. Let cool completely
Prepare the namul
Working in small batches squeeze the water out of the spinach.

Break apart the spinach, add the seasoning mixture and massage in.

Taste the dish and adjust with salt.

Season with sesame seeds.
Nutrition
Calories:
24
kcal
|
Carbohydrates:
4
g
|
Protein:
3
g
|
Fat:
1
g
|
Saturated Fat:
1
g
|
Sodium:
88
mg
|
Potassium:
474
mg
|
Fiber:
2
g
|
Sugar:
1
g
|
Vitamin A:
7985
IU
|
Vitamin C:
24
mg
|
Calcium:
86
mg
|
Iron:
2
mg