Using this recipe, you will be able to make chicken street tacos that will be full of amazing flavors and great for your next taco night. There is a good chance that this roasted chicken recipe will become one of your favorites.
When I worked in Mexico the job site had a small cafeteria serving basic meals. But when we worked on Sunday the cafeteria was closed so someone would run out and pick up something for the crew. One of my favorite places to pick up from was a place selling Sinaloa-style pollo asado. When you bought the chicken it came with beans, warm corn tortillas, lime wedges, and a very spicy pico de Gallo. The chicken was so delicious that it was addictive. But since it was Sinaloa style we did not want to know what made it addictive.
This post does contain affiliate links that do earn the site a commission. These commissions help to support the site.
It is the Mexican spices in the marinade that is responsible for the flavor of the meat. There is virtually no way to beat the combination of spices and citrus in this dish. Ideally, the chicken should marinate for several hours or overnight in order to achieve the most flavorful results.
Ingredient list:
Chicken: In terms of chicken, I prefer to use boneless skinless chicken thighs as they are a bit more forgiving when it comes to cooking on the grill. It is certainly possible for you to use boneless skinless chicken breasts if that is what you prefer.
Dried guajillo chilies add a nice flavor and color to the dish. They are not spicy. If your local grocery store does not have them you can substitute enchilada sauce.
Onion, you can use white or yellow onion.
Dried oregano, Mexican oregano is best.
Dried thyme, always goes well with chicken.
Fresh garlic, if you do not have fresh you can use garlic powder.
Orange juice, adds some sweetness and some acidity.
Apple cider vinegar helps to balance out the marinade.
Salt if you have it use sea salt
Black pepper
Tortillas, It is up to you whether you would like to use flour tortillas or corn tortillas for your taco.
Optional Ingredients:
Achiote powder / achiote paste. Adds some flavor but gives it a very nice color. A lot of recipes do call for this but I usually leave it out.
Lime juice, feel free to add some lime juice.
Queso fresco, feel free to crumble a little bit onto your best chicken tacos.
Bay leaf is a common ingredient but I usually do not use it.
Sour cream is not really Mexican but if you use some I will not call the food police.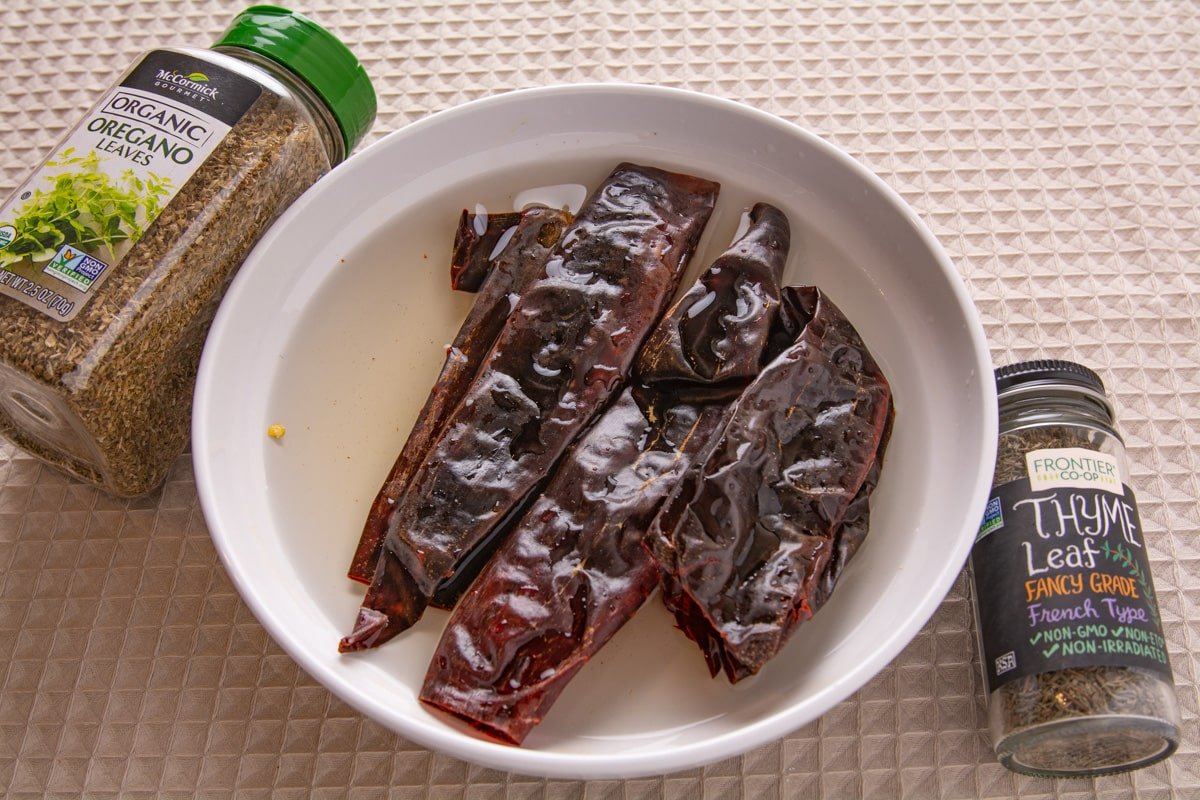 Make sure that you wash your dried guajillo chilies to wash off any dust that they may have on them. It is a must to remove the stems and seeds from the plant. It is possible for the seeds to add a bitter taste to the marinade as well.
After the stems and seeds have been removed from the guajillo chiles, place them in a large bowl and cover them with water. It is recommended that they are allowed to rehydrate for an hour.
Add all of your marinade ingredients including the guajillo chiles to a blender, and blend until smooth. Place your chicken into a large bowl or ziplock bag then add the marinade. Make sure that all of the chicken pieces are coated. Place into the refrigerator to marinate. Remove it from the refrigerator one hour before you are ready to cook, but leave it in the house out of the direct sunlight.
Before we start cooking out let's talk about food safety.
Chicken is considered safe to eat after it has reached an internal temperature of 165F / 74C using an instant-read thermometer. If you do not want a famous chef showing up at your BBQ yelling it is RAW invest in an instant-read thermometer.
Do not leave your raw chicken out for hours prior to grilling. What I normally do is take it out of the fridge and leave it in the kitchen. Then I start lighting my charcoal and getting everything ready. As soon as the grill is hot, my chicken is ready.
Cutting board, if you place raw meat on your cutting board it should be sanitized before placing raw meat on it. Same for your tongs. If you use tongs to put raw meat on the grill wash them before touching cooked meat.
Mexican street tacos are usually cooked on a charcoal grill. However, I do understand that not everyone has access to an outdoor grill. You can cook your chicken in the oven. Cook at 425F / 215C until the chicken is cooked all the way thru. This should take around 25 to 30 minutes. After they have cooked all the way thru turn on your broiler to give them some charred spots, but do not burn them.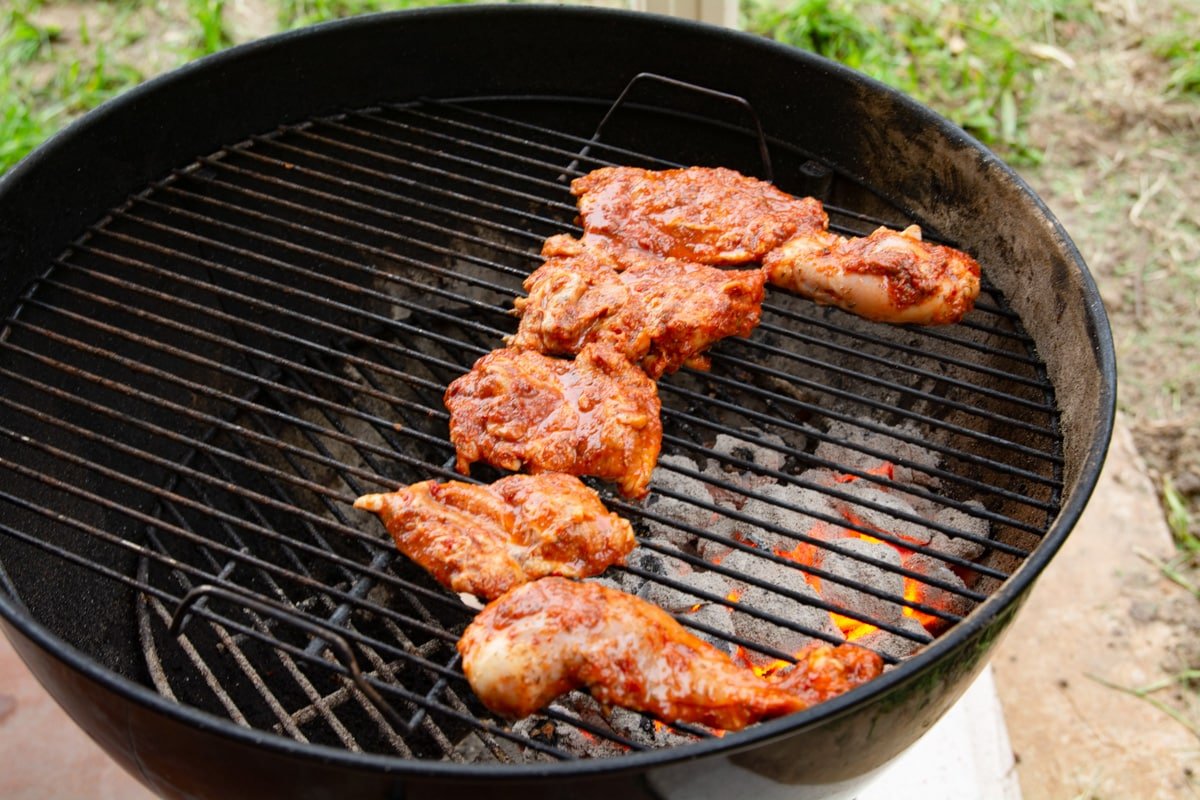 Now it's time to prepare the grill and cook our pollo asada.
In Mexico, the charcoal of choice is mesquite, depending on where you live this may be a challenge to find. In the event that you can't locate it locally, Amazon does sell it. Although lump charcoal would also work well, I opted for the more common charcoal briquets today. You can also use a gas grill if that is what you have.
I start off using a charcoal chimney starter to get my fire going, I never use lighter fluid.
How to start a charcoal grill using a chimney
First, remove the cooking grate from your grill.  
Then, fill your chimney starter at least half the way full with charcoal.
Set a lighter cube or newspaper on the charcoal grate and light.
Place the chimney starter directly on top of the lighter cube. As the cubes burn, the charcoal will catch fire and the flames will grow upwards. 
The coals should be ready to pour into the grill within 10 to 15 minutes, depending on the weather. When the top coals turn gray with ash, you'll know they're ready.
On one side of your grill, carefully pour your burning coals. Add more charcoal if necessary. For the fire to move from one briquette to another, make sure the charcoal is in contact. 
As soon as you've arranged the coals to your liking, put the cooking grate back in place and clean it thoroughly. 
After the grill has heated up sufficiently, you can begin cooking. This should take 10-15 minutes.
It is imperative to remember that the chimney starter is very hot, so put it somewhere safe after use.
Now that the fire in our grill is ready let's start cooking. Put some olive oil or vegetable oil onto a paper towel, and use your tongs to coat your grill with oil. Place the chicken on the grill. To start off I arrange my chicken for indirect cooking. For my carne asada I will start off with direct cooking but I do not want to burn the marinade on the chicken. I will continue moving the chicken pieces around so that they cook evenly. After the chicken has almost reached a safe internal temperature I will move them to the direct heat side of the grill. By placing the chicken right over the top of my charcoal I can add a few charred bits. But be careful not to burn your chicken. After your chicken has finished cooking remove it from the grill and set it aside.
You should chop up the meat just before making your tacos.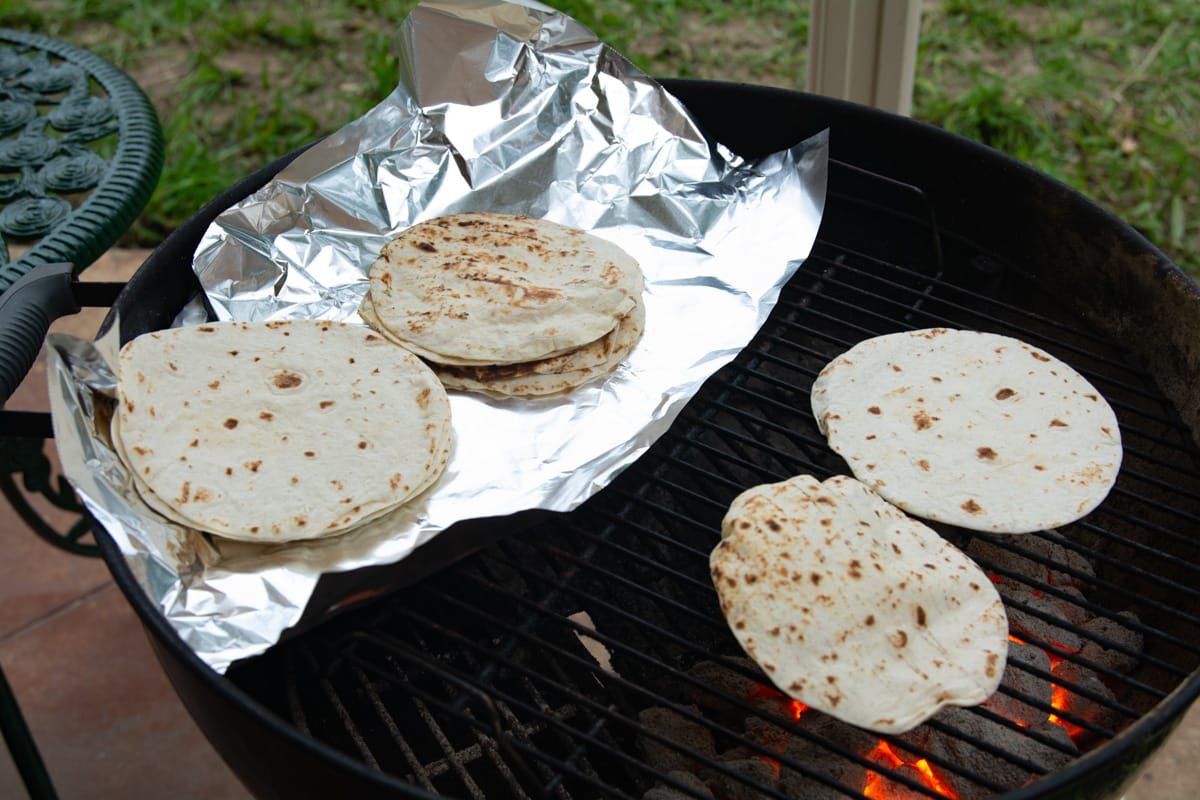 To get that pollo asado street tacos experience you should toast your tortillas on the grill. Yes, you can heat them up in the microwave but toasting them on the grill changes the texture. For this, I place some aluminum foil on the indirect side of the grill, then place the tortillas one at a time directly over the fire. Toast the tortillas until you have a few black spots on each side. If they puff up while cooking then they are ready to flip. After they are toasted place them in a stack on the foil. After you have cooked all of them wrap them up with the foil so they stay warm.
It's time to serve your chicken asada on warm tortillas. As long as you have meat inside of a tortilla with some salsa you are doing it the right way. What I like to do is put guacamole right on my tortilla then add my chopped-up meat then top with salsa. My avocado and roasted tomatillo salsa is a delicious choice. Then you can add things like diced red onion, cilantro, queso fresco, or hot sauce. Then you are ready to enjoy your tacos with family and friends.
Perhaps you would also like my carne asada recipe.
Normally I just do quick guacamole but when I want to do it right the video above is my favorite recipe.
It would be great if you could share this dish with your friends on Facebook and Pinterest if you enjoyed it. It is a great help to my website, I really appreciate it.
Ingredients
2.5

pounds

chicken

4

each

guajillo chili peppers

dried

1/2

each

onion

medium

1

cup

orange juice

1/2

cup

Apple cider vinegar

1

Tablespoons

Oregano

dried

1

Tablespoons

Thyme

Dried

1

teaspoon

Salt

1/2

teaspoon

Black pepper

12

each

flour tortillas
Instructions
Marinade
Wash the guajillo chili peppers, and remove the stems and seeds.

4 each guajillo chili peppers

Place the guajillo chiles into a large bowl and cover with water. Allow them to soak for one hour. Remove from the water.

Add all of the marinade ingredients to a blender (including the guajillo peppers). Blend until smooth.

4 each guajillo chili peppers,

1/2 each onion,

1 cup orange juice,

1/2 cup Apple cider vinegar,

1 Tablespoons Oregano,

1 Tablespoons Thyme,

1 teaspoon Salt,

1/2 teaspoon Black pepper

Cover the chicken with the marinade and marinate in the fridge overnight.
Cook
One hour before cooking remove the chicken from the refrigerator.

Start a fire on your grill, spread out the charcoal, and let them ash over.

Clean the grill grate and coat with oil.

Place the chicken on the grill for indirect cooking, and cook to an internal temperature of 165F.

Place the chicken directly over the fire to slightly char it. Remove and chop it up.

Toast the tortillas over the fire, then wrap in foil.
Nutrition
Calories:
57
kcal
|
Carbohydrates:
12
g
|
Protein:
1
g
|
Fat:
1
g
|
Saturated Fat:
0.2
g
|
Polyunsaturated Fat:
0.2
g
|
Monounsaturated Fat:
0.1
g
|
Sodium:
607
mg
|
Potassium:
225
mg
|
Fiber:
2
g
|
Sugar:
6
g
|
Vitamin A:
599
IU
|
Vitamin C:
37
mg
|
Calcium:
69
mg
|
Iron:
2
mg