Sausage gravy for breakfast? Well, that's about as Southern as it gets! Back in the day, Grandma would whip up biscuits and sawmill gravy for our morning meal. It was a budget-friendly, hearty, and downright delicious way to feed the whole gang. I must say, this recipe comes pretty close to my dear grandmother's mouthwatering gravy.
By the way, I want to be upfront with you – this post contains affiliate links. These links help support the site and keep it running smoothly. Your support means the world to us!
White pepper gravy ingredients:
Let's talk about the key players in this hearty Southern sausage gravy recipe:
Fat: Now, I personally use olive oil (a bit untraditional, I know). But my dear Grandmother always swore by bacon grease from a trusty can she kept by the stove. Let's be real, bacon fat just makes everything taste incredible.
Breakfast Sausage: Well, it's kinda impossible to have sausage gravy without the sausage, right? Our go-to brand is Jimmy Dean, but you can also get creative with bacon and those precious bacon drippings – just make sure to crisp it up before diving into the gravy.
Onion: Browning some onions adds a delightful flavor dimension to the gravy.
All-Purpose Flour: It might not be fancy, but it's what we usually have in the house, and it works perfectly.
Whole Milk: You can definitely go with skim milk or even plant-based milk, but keep in mind you'll need to tweak the flour-to-liquid ratio. By the way, if you're interested, I've got a vegan gravy recipe that's surprisingly good.
Evaporated Milk: Originally used in the days before iceboxes, this adds a rich, velvety texture to the gravy that regular milk can't quite match.
Black Pepper: The star of the show when it comes to seasoning our easy white gravy recipe is black pepper.
Salt: A little pinch of salt is necessary.
Ground Sage: This secret ingredient cranks up the sausage flavor and takes it to the next level.
And if you're feeling a bit adventurous, you can also toss in some cayenne pepper, onion, or garlic powder – just to keep things interesting!
Let's make the gravy
Let's get cookin' with these simple steps:
Heat the Pan: Grab a saucepan or a spacious skillet and set it over medium heat. Add two tablespoons of your chosen cooking oil.
Sausage Time: Once the pan is all warmed up, toss in the breakfast sausage. Now, grab a silicone or wooden spoon, and start breaking up that sausage into lovely bits.
Onion Magic: Once the sausage is all crumbled, go ahead and add those finely chopped onions into the mix. The sizzle and aroma will let you know something delicious is in the making.
Browning Bliss: Continue cooking until the sausage and onions have taken on a lovely brown color. That's where the magic happens, and the flavors come to life.
Collect the Drippings: Turn off the heat and slide the cooked sausage and onions to one side of the pan. Now, gently tilt the pan, so all those precious pan drippings flow to the other side. Get a trusty spoon and scoop up those fantastic drippings, transferring them into a heat-proof container.
These drippings are liquid gold for your Southern sausage gravy!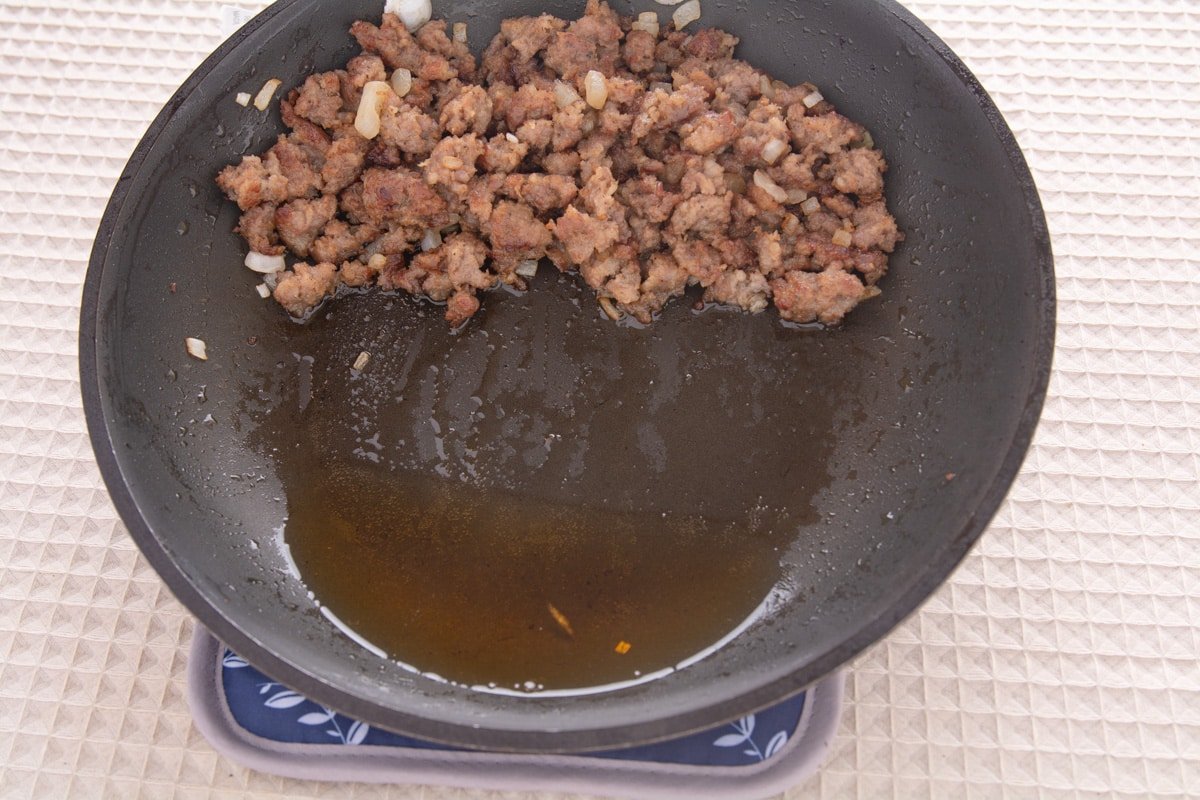 Time to make the roux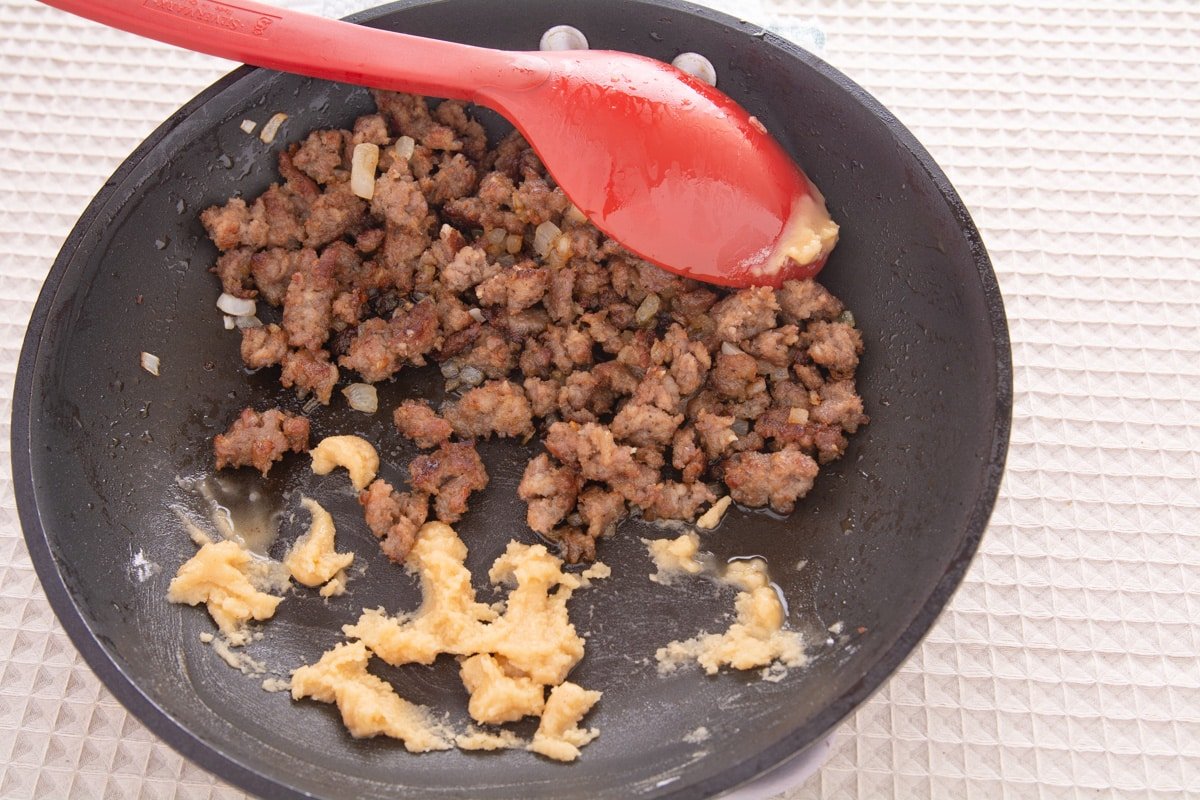 Now, let's dive into creating a simple yet flavorful roux. Here's how to do it:
Equal Parts Fat and Flour: We'll use equal parts of the fat from those precious pan drippings and flour – three tablespoons of each. So, start by adding three tablespoons of the pan drippings back to the pan. If you find yourself a bit short on fat, don't fret; you can add some cooking oil or unsalted butter (just make sure to melt the butter before adding the flour).
Combine and Stir: Add your three tablespoons of flour to the fat and give it a good stir to combine the two. You're looking to eliminate those white specks – that's your cue that things are on the right track.
Medium Heat: Now, turn on the burner to medium heat and keep that roux in motion. Continuous stirring is key here; it'll help cook out that raw flour taste and give your gravy a rich, delicious flavor.
Roux is the foundation of a great gravy, and you're nailing it!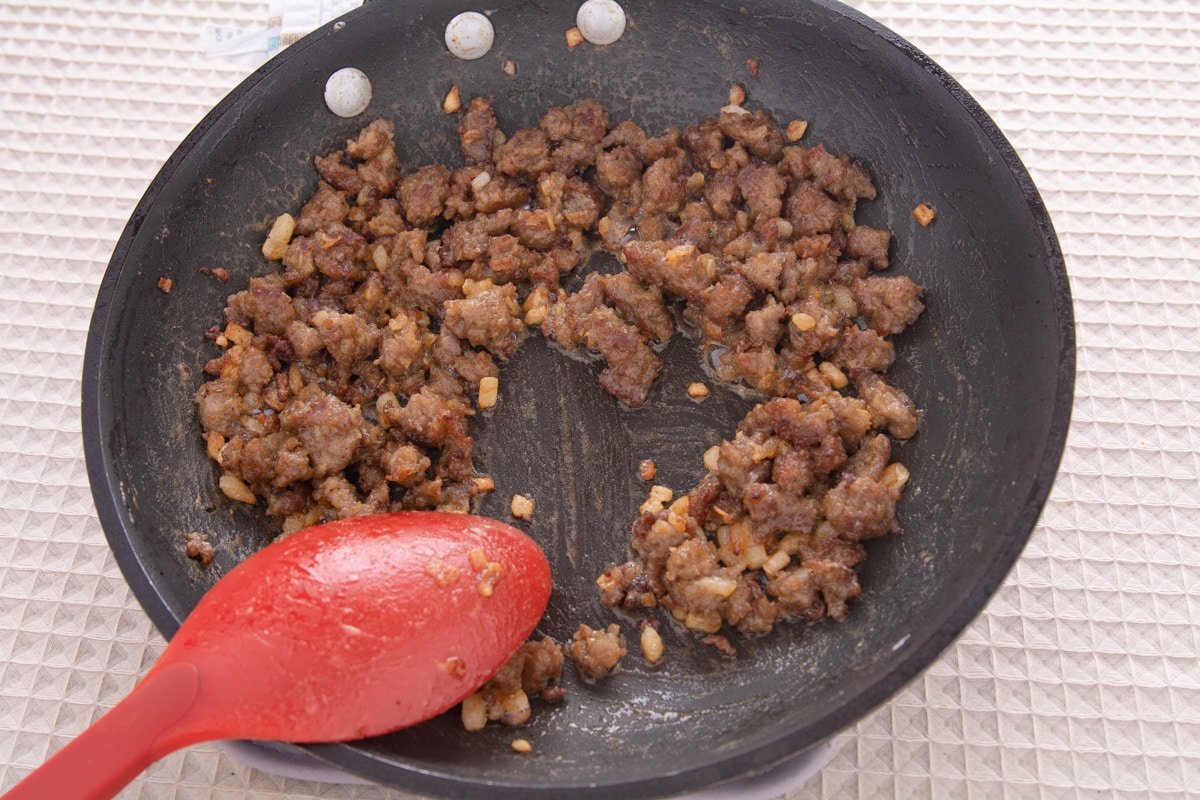 Your homemade sausage gravy is taking shape beautifully! Here are the next steps:
Add the Milk: When your roux has picked up a touch of color, it's time to introduce the whole milk. Pour it in and use a small whisk to combine the milk with the roux.
Add the Goodies: Now, add the evaporated milk, ground sage, salt, and that oh-so-essential black pepper. Whisk them all in with enthusiasm. Once they're in the mix, bring your pan to a gentle simmer. Then, lower the heat to low, and continue to give it an occasional stir.
Season to Taste: Don't forget to taste your homemade gravy! If you feel it needs a bit more seasoning, add a pinch of salt at a time until it's just right for your taste buds.
Simmer and Serve: Keep that gravy simmering until it reduces down a bit and reaches that creamy, irresistible texture. Your homemade sausage gravy is now ready to grace the breakfast table.
Pro tip: If your gravy isn't getting as thick as you'd like, here's a little trick. In a small saucepan, combine one tablespoon of fat and one tablespoon of flour. Brown the roux on the burner. Then, add some of your gravy and whisk it in. Continue adding more gravy until you have a liquid mixture. Pour that into your gravy pan, and it should do the trick in thickening things up.
This delicious white gravy is a perfect match for hot biscuits (even canned ones, if that's your thing). But hey, I've also got a recipe for homemade biscuits if you want to go all out.
Leftover homemade country gravy can hang out in the fridge in an airtight container for a few days. When you're ready to reheat it, just add a touch of milk, mix it in, cover the container, and pop it in the microwave until it's nice and hot. And don't forget, leftover milk gravy is fantastic over fried chicken or pork chops. Enjoy every bite!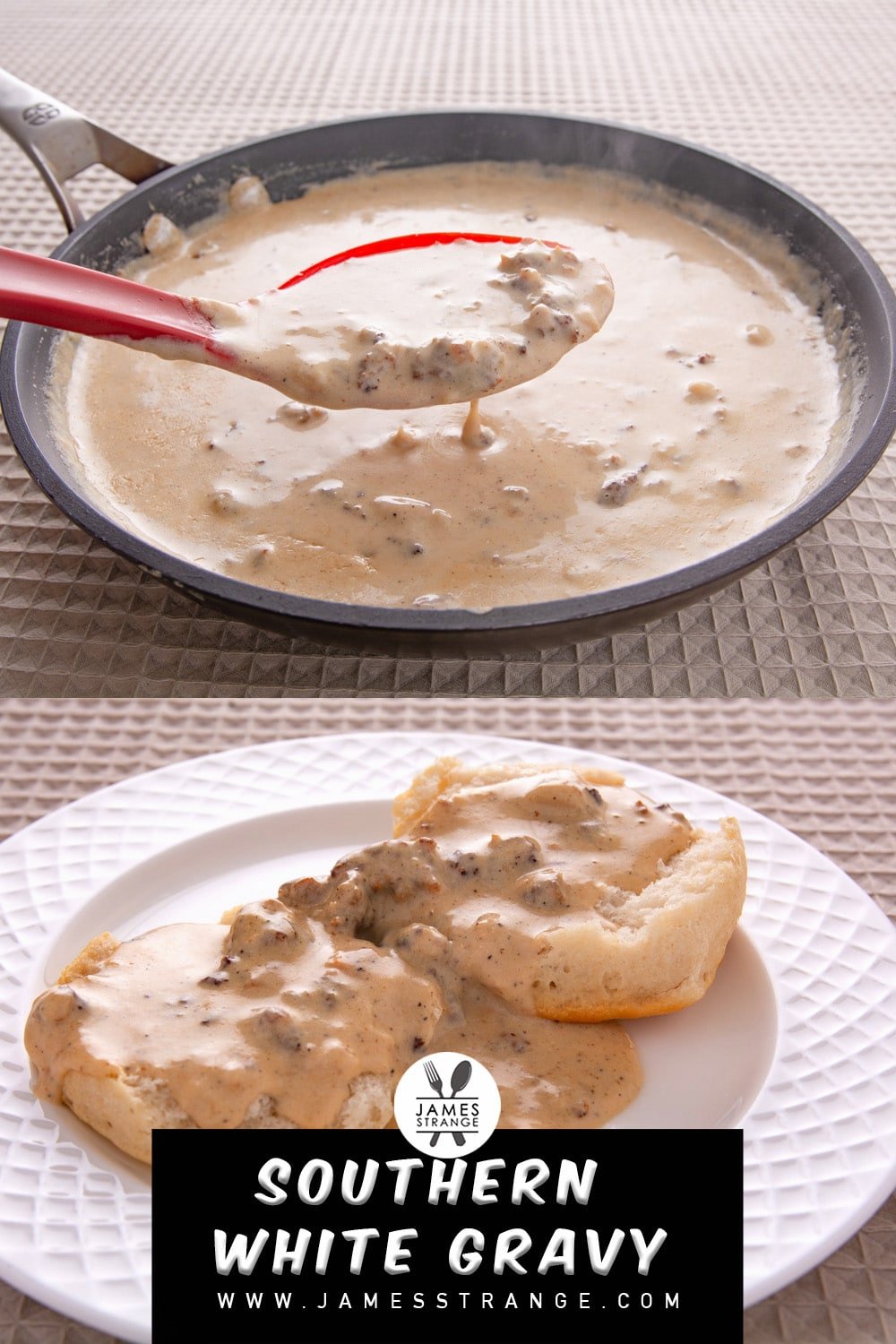 If this gravy recipe brought a smile to your taste buds, why not spread the joy? Share this fantastic recipe with your friends and let them savor the deliciousness too. After all, good food is even better when it's shared!
Ingredients
8

oz

sausage

2

Tablespoon

Oil

1/2

cup

onion

diced

3

Tablespoons

Flour

2

Cups

Milk

Whole milk

12

oz

Evaporated milk

1

teaspoon

Black pepper

1/4

teaspoon

Salt

1/4

teaspoon

Ground sage
Instructions
To a pan on medium heat add cooking 2 tablespoons of cooking oil and breakfast sausage.

8 oz sausage,

2 Tablespoon Oil

Break up the sausage and add 1/2 cup of diced onion.

Brown the sausage and onion.

Move the sausage and onion to one side of the pan and drain off the oil. Turn off the heat.

Return 3 tablespoons of oil to the pan, to the oil add 3 tablespoons of flour. Combine to form a paste.

Turn on the heat to medium and brown the flour.

Add 2 cups of whole milk and whisk to combine with the roux.

Add one 12 oz can of evaporated milk, 1 teaspoon of black pepper, 1/4 teaspoon salt, and 1/4 teaspoon ground sage. Whisk to combine.

12 oz Evaporated milk,

1 teaspoon Black pepper,

1/4 teaspoon Salt,

1/4 teaspoon Ground sage

Bring to a simmer and taste for seasoning. If required add a pinch of salt.

Continue stirring until the desired thickness has been achieved.

Your gravy is now ready to serve.
Nutrition
Calories:
452
kcal
|
Carbohydrates:
21
g
|
Protein:
19
g
|
Fat:
32
g
|
Saturated Fat:
12
g
|
Polyunsaturated Fat:
4
g
|
Monounsaturated Fat:
14
g
|
Trans Fat:
0.1
g
|
Cholesterol:
80
mg
|
Sodium:
643
mg
|
Potassium:
623
mg
|
Fiber:
1
g
|
Sugar:
15
g
|
Vitamin A:
447
IU
|
Vitamin C:
3
mg
|
Calcium:
385
mg
|
Iron:
1
mg