Oi-muchim or spicy Korean cucumber salad is one of the quickest and tastiest banchan (Korean side dishes) you can make. Some people even call this cucumber kimchi (I used to), but technically it is not kimchi. Since it is quickly prepared and not fermented and can be eaten fresh, it's not kimchi.
If you wanted to, you could allow this dish to ferment before eating slightly. But the cucumbers quickly lose their crunch.
This version is vegan and gout friendly.
Cucumbers have 7.3 mg of purines per 100 grams. This makes them very low purine food. Cucumbers are high in fiber and water, both of which are good for gout sufferers.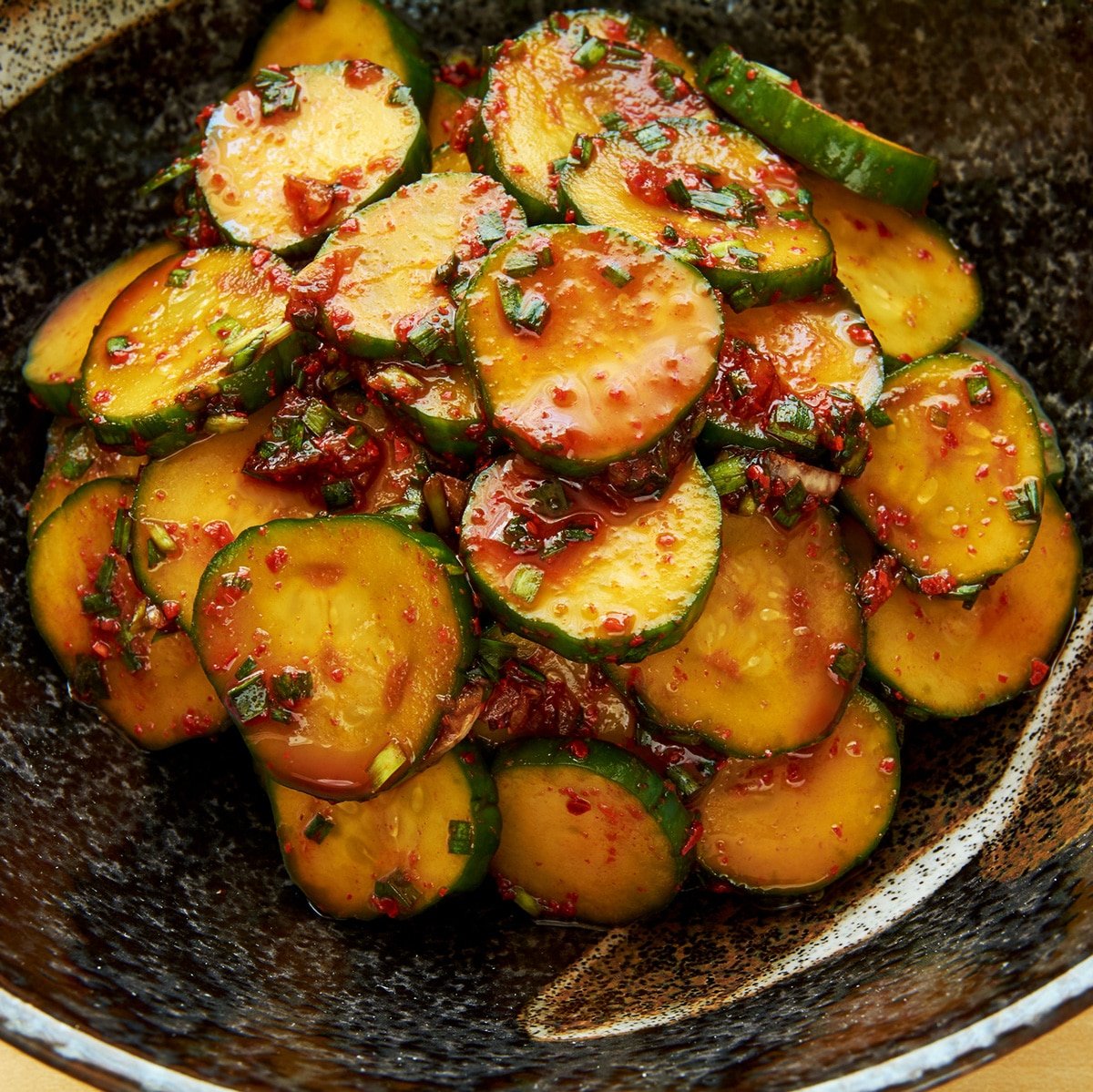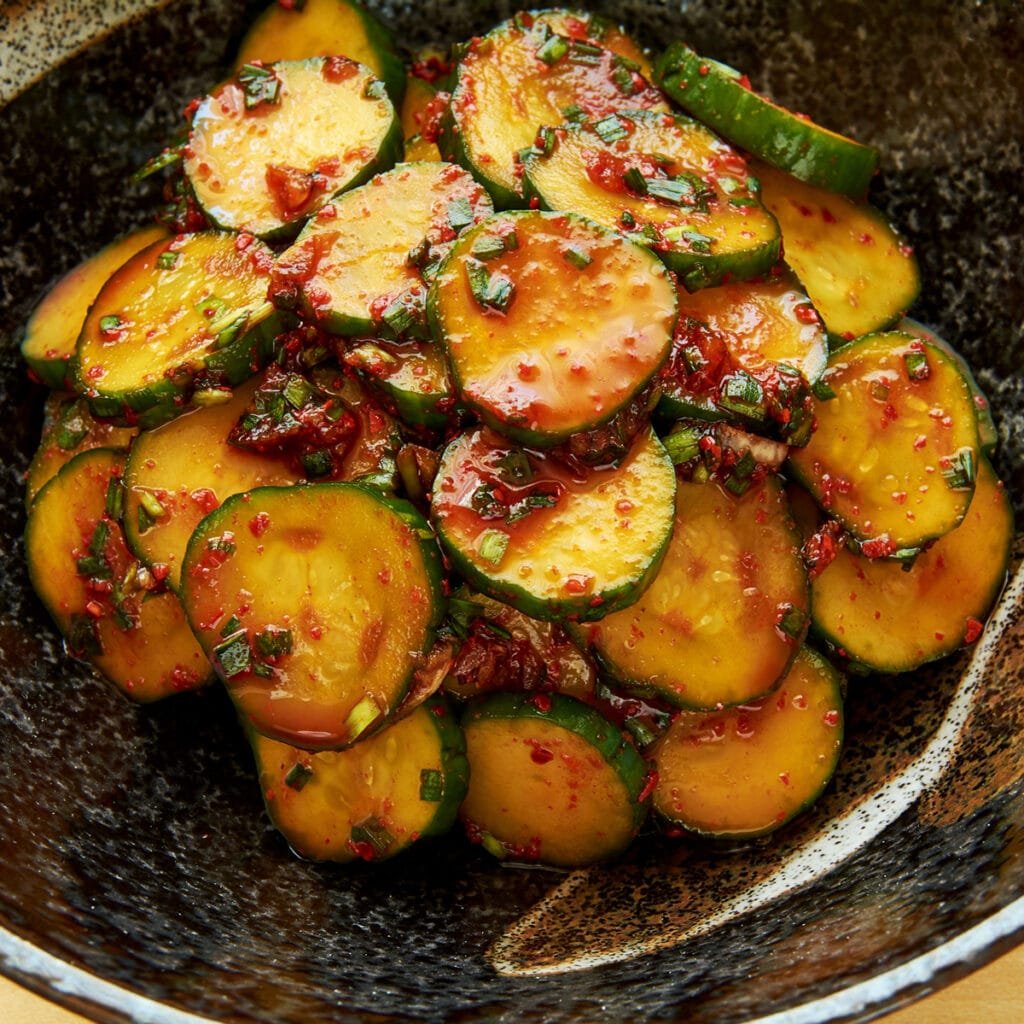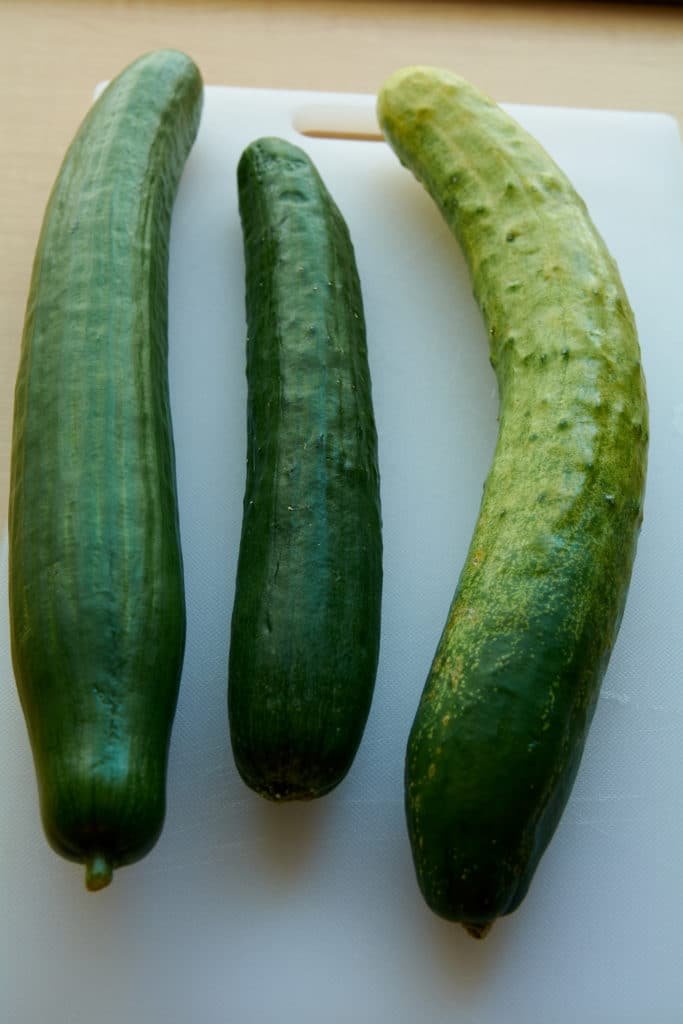 Any cucumber with thin skin will work for oi-muchim here; we have an English, Japanese, and Korean cucumber. Each one has an advantage.
The English cucumber can be found in almost any grocery store in the US year-round. The thinner ones are better; they have fewer seeds and less water.
I think the Japanese ones taste the best, but they are hard to find. When I had a garden, these are similar to the ones that I grew.
The Korean ones are traditional and have a good shelf life. They can be found in Korean markets. The picture is a little on the thick side, so it will have more seeds than I like.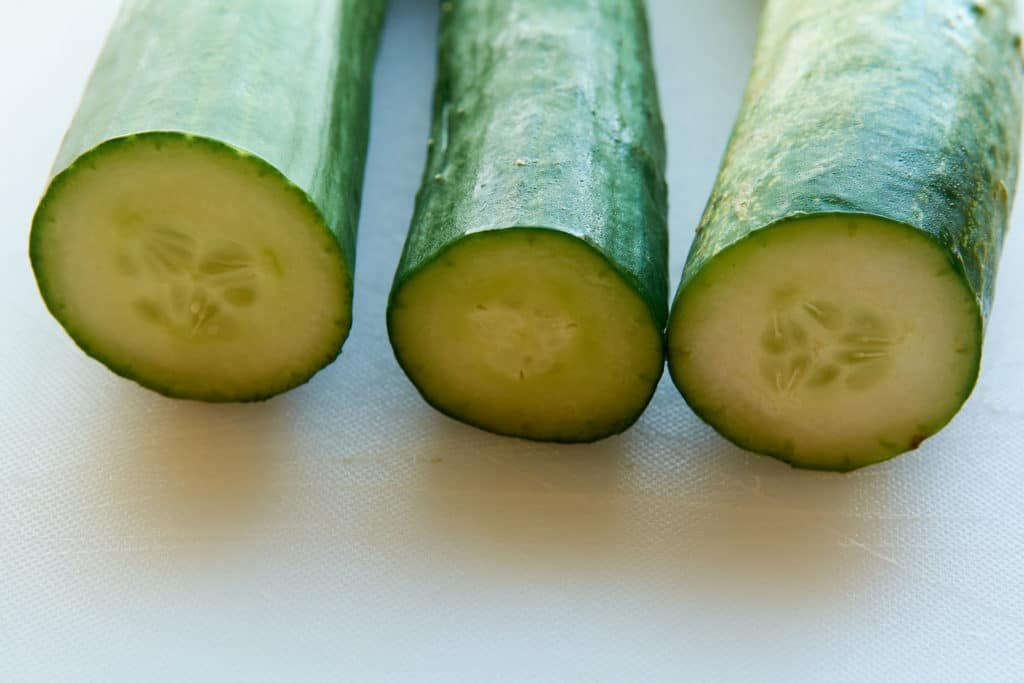 This is a view after I cut off the ends. As you can see, the English and Korean cucumbers have more seeds than the Japanese ones. Cucumbers with fewer seeds are crunchier.
This is Korean chives before being prepped. You can see some black spots and dirty roots. If you can find these, they make the best muchim but if not just use green onions. The Chinese chives are very tough, and I do not recommend using them.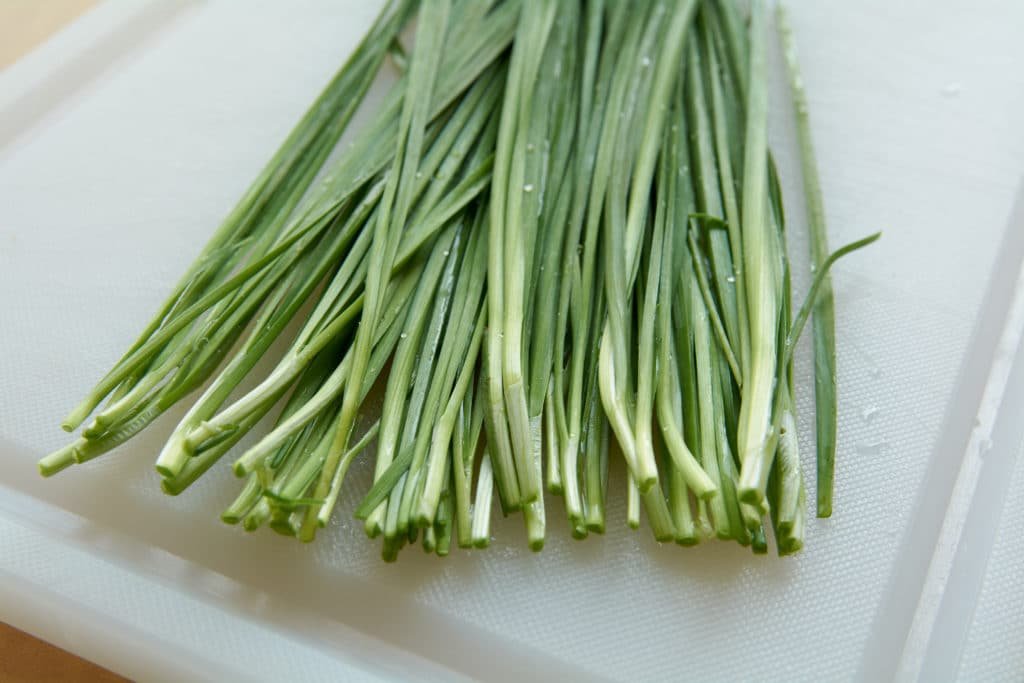 This is the chives after removing all the damaged areas, washing and trimming off the roots' end.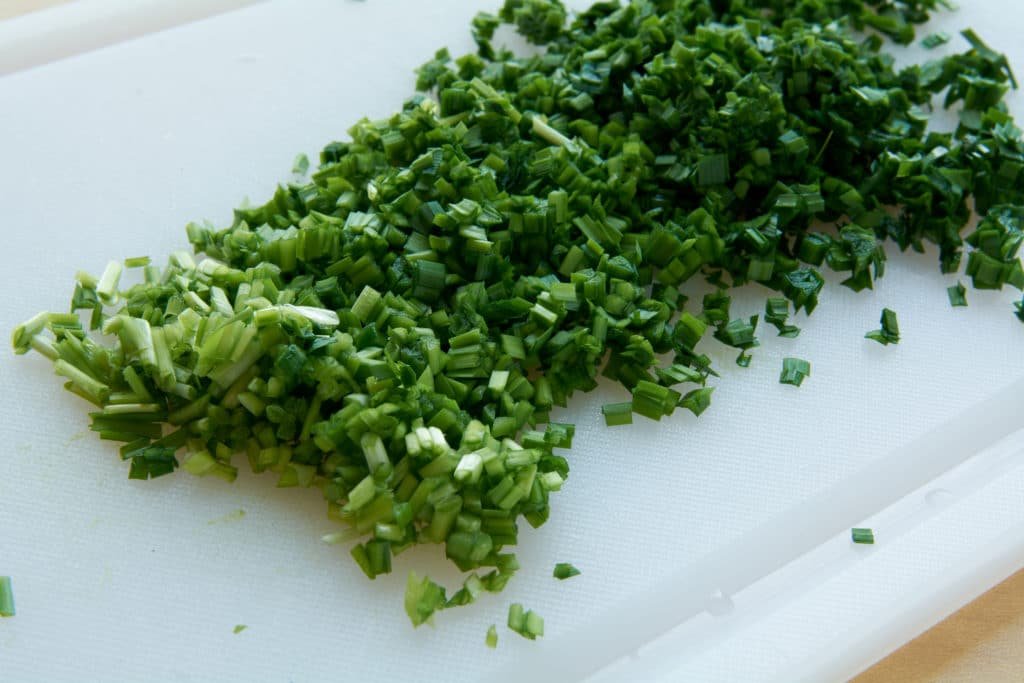 Using a sharp knife, finely chop them up. For this, the sharper the knife, the easier it is.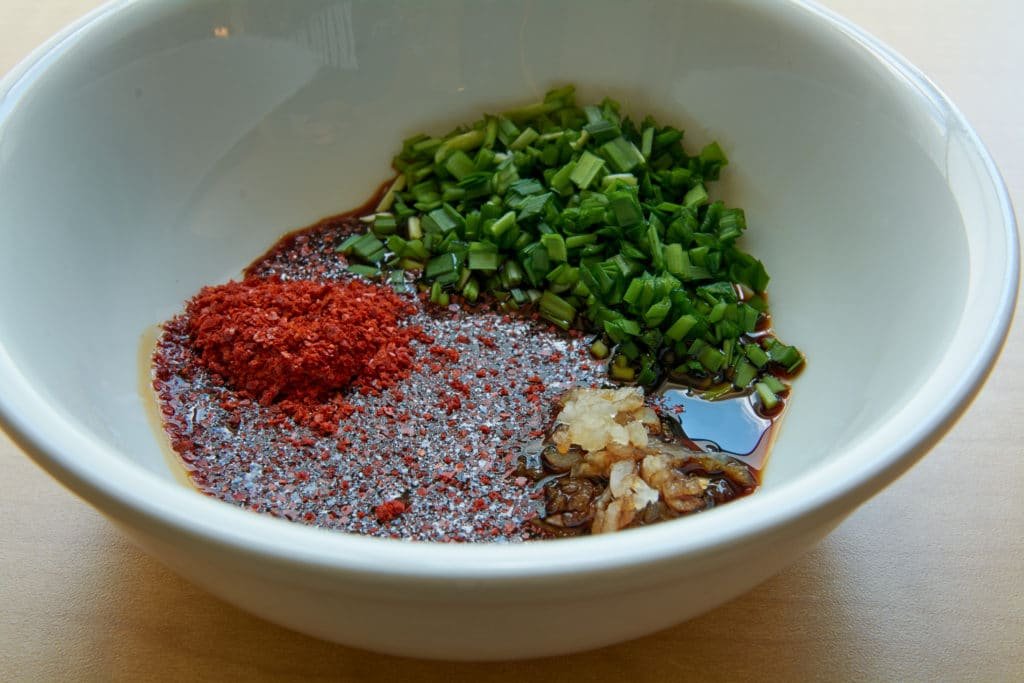 For our seasoning mix, I used 1/4 cup of the chives, one teaspoon of Korean red pepper flakes (Gochugaru), one clove of garlic finely minced, 1/4 teaspoon sugar, and one Tablespoon of vegan fish sauce. But you can use 1/2 soy sauce and 1/2 fish sauce. Or to keep it vegan and gout friendly soy sauce with some extra salt. Mix to combine and set aside.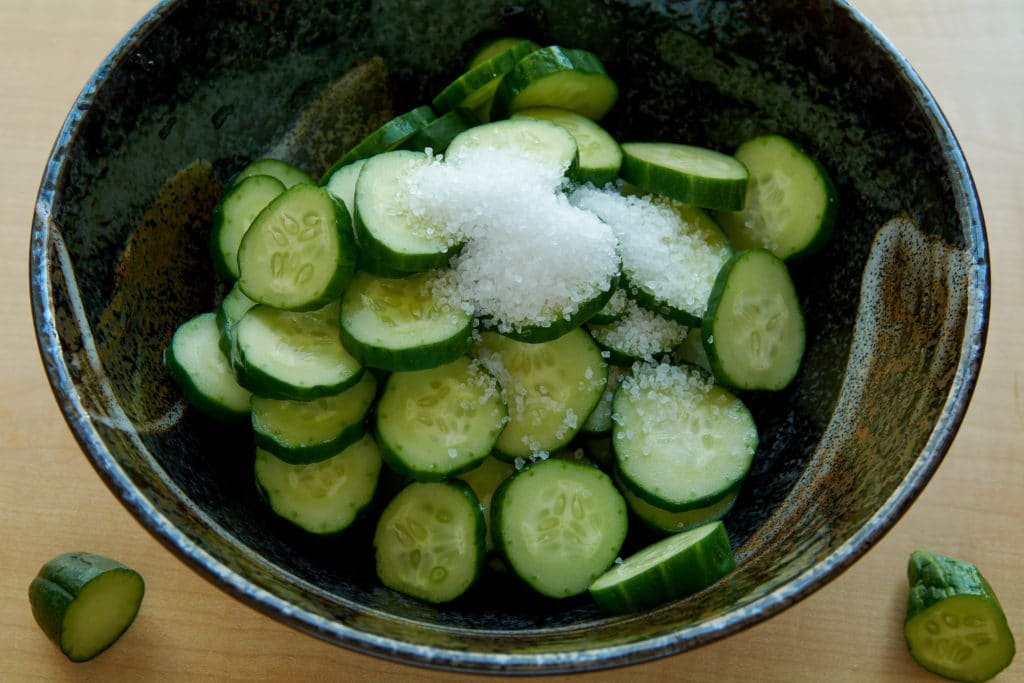 After slicing up the cucumbers, they need to be salted. These are two of the Japanese cucumbers. Since they are small, it takes two of them to equal one English or the big Korean ones. To salt them add 1/4 Cup, of course, sea salt. Toss them to coat. Toss every ten minutes for a total time of thirty minutes.
After thirty minutes, rinse them to remove the salt. Taste one; it should be bland. If it's salty, soak your slices in water for five minutes to pull out more of the salt.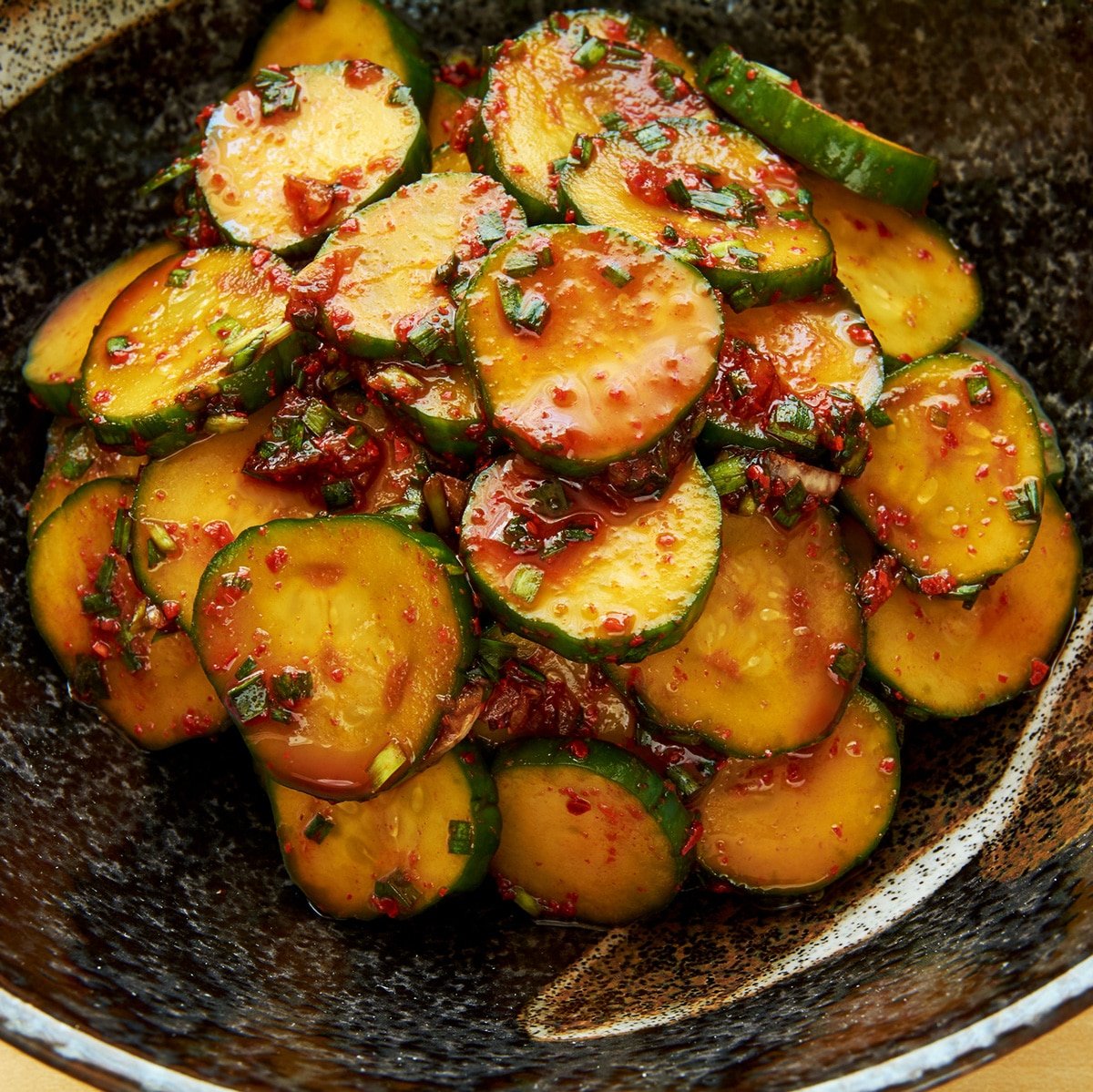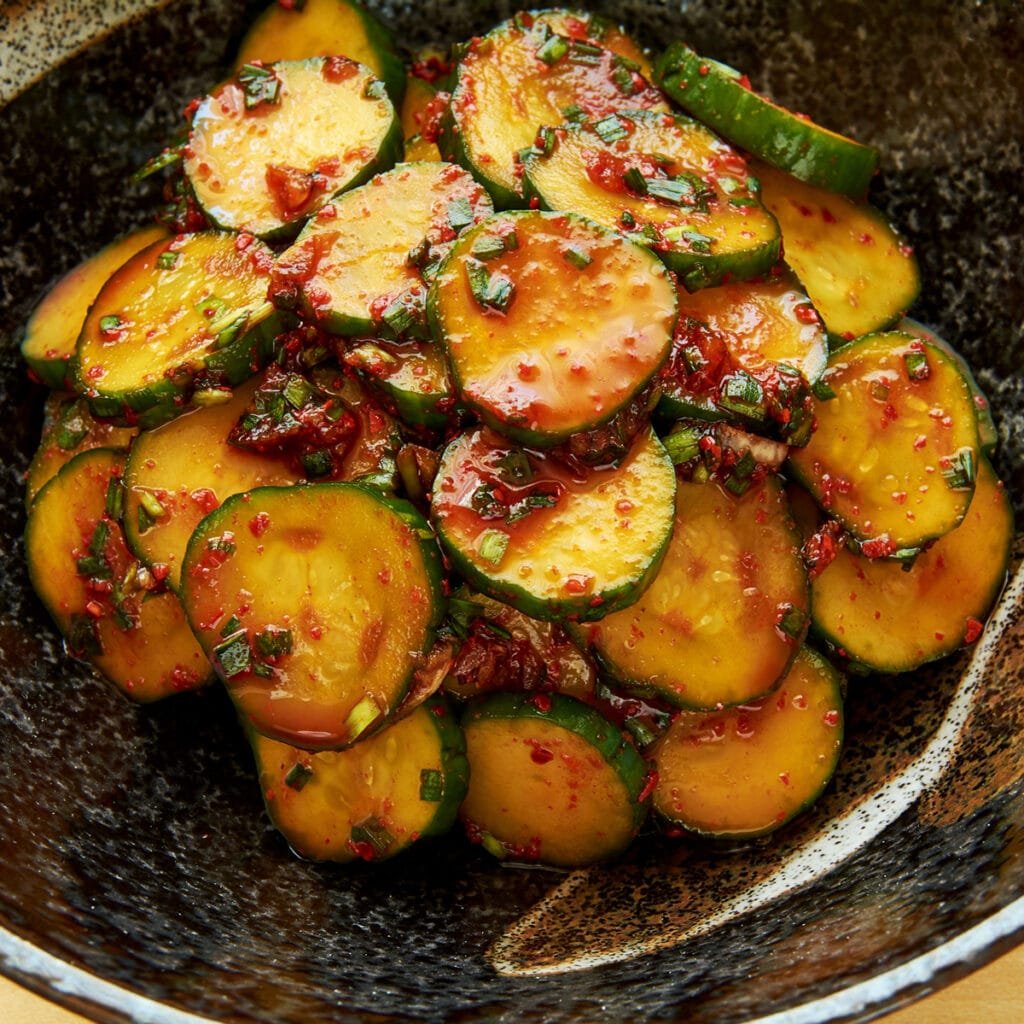 After removing the slices from the water, add the seasoning mix and coat the cucumbers. After one hour, your Oi-muchim will be ready to eat. It is best eaten within a few days. Oi-muchim is a perfect banchan with Korean spicy grilled pork.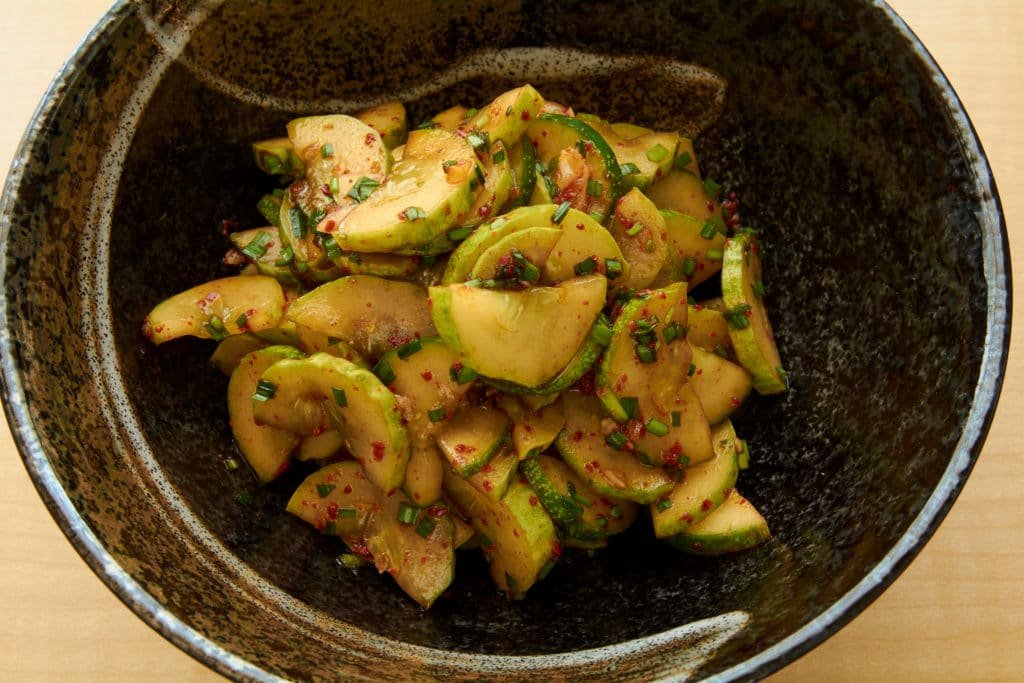 This version was made using one Korean cucumber and the same recipe for the seasoning mix. Due to the size, the cucumbers were cut in half. This keeps the slices bite size.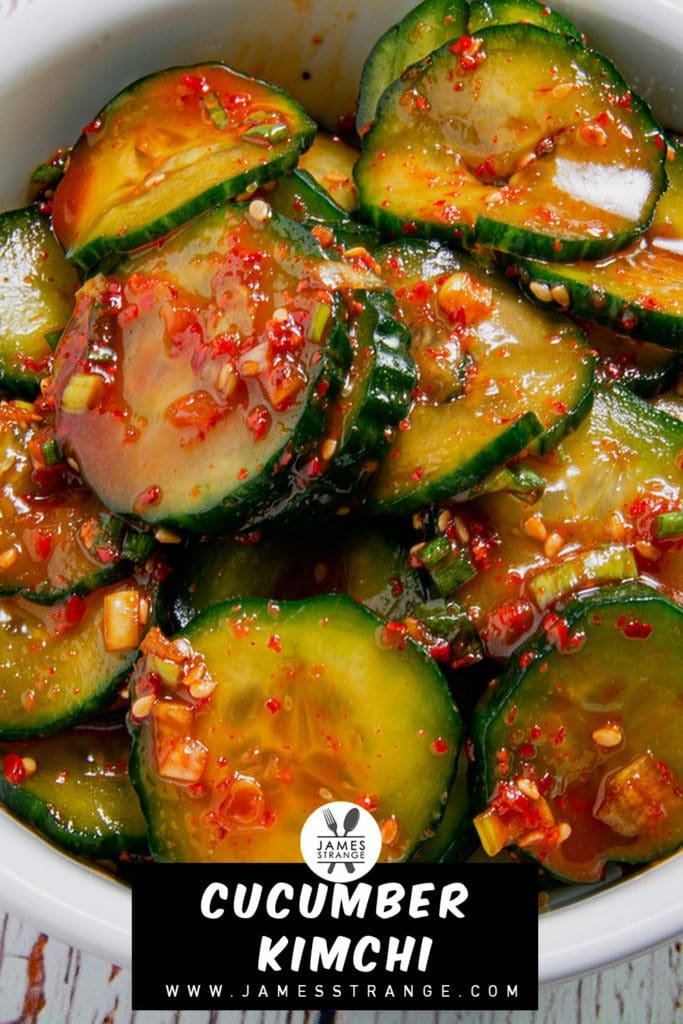 The sodium count in the recipe will be off. Most of the salt used on the cucumbers get washed off but still goes for the sodium count.
Ingredients
1

each

English Cucumber

Any thin skinned cucumber

1/4

Cup

Sea Salt
Seasoning Mix
1/4

Cup

Chives

Korean, chopped

1

teaspoon

Korean red pepper flakes

Gochugaru

1

clove

Garlic

Finely minced

1/4

teaspoon

Sugar

1

Tablespoon

Vegan Fish Sauce
Instructions
Prepare the cucumber
To the cucumber slices add 1/4 Cup of sea salt. Toss. Let sit for ten minutes then toss again.

After thirty minutes rinse in cold water.
Make the seasoning mix
Add 1/4 cup Korean chives (or green onion), one teaspoon of Korean red pepper flakes (Gochugaru), one clove of garlic finely minced, 1/4 teaspoon sugar and one Tablespoon of vegan fish sauce.
Mix
After the cucumbers have been drained add the seasoning mix and combine.
Nutrition
Calories:
3
kcal
|
Carbohydrates:
1
g
|
Protein:
1
g
|
Fat:
1
g
|
Saturated Fat:
1
g
|
Sodium:
3718
mg
|
Potassium:
11
mg
|
Fiber:
1
g
|
Sugar:
1
g
|
Vitamin A:
129
IU
|
Vitamin C:
1
mg
|
Calcium:
2
mg
|
Iron:
1
mg