This no-bake keto cheesecake recipe is made with pure cocoa powder and macadamia nuts are not a traditional cheesecake but it is still guaranteed to satisfy your sweet tooth. It is an easy recipe made with simple ingredients. This recipe is guaranteed to satisfy any cheesecake lover.
This is keto modified version of a cheesecake recipe I posted on Youtube in 2015. Below is the video.
Our base ingredients include:
Dry roasted macadamia nuts. For a nut, they have very few net carbs but I did use a lot of them in the recipe so you may want to cut back on how many you use or eat small portions. You can substitute any other nut that you like.
Confectioners Swerve (powdered sugar replacement). It is basically erythritol a type of sugar alcohol. For most people, it does not affect blood sugar so the net carbs are zero. The recipe app that I have does not subtract sugar alcohols. So the recipe card will show high grams of net carbs.
Cocoa powder, the one that I used only lists cacao powder for ingredients.
Salt, just a little but you can leave it out.
Olive oil will help make our cheesecake filling smooth.
Cream cheese, how are you going to make a cheesecake without cream cheese?
The first thing that I do is take the cream cheese out of the fridge so it can warm up to room temperature.
Then we will use the food processor to roughly chop one cup of macadamia nuts.
Since this is a crustless cheesecake I lined the springform pan with parchment paper. First I rubbed some cold butter onto the pan (this helps the paper to stay in place). Cut out a circle of parchment paper and place it in the bottom of the pan, cut out some strips, and place them on the sides of the pan. This will make it easier to remove later after the keto no-bake cheesecake has had time to set up.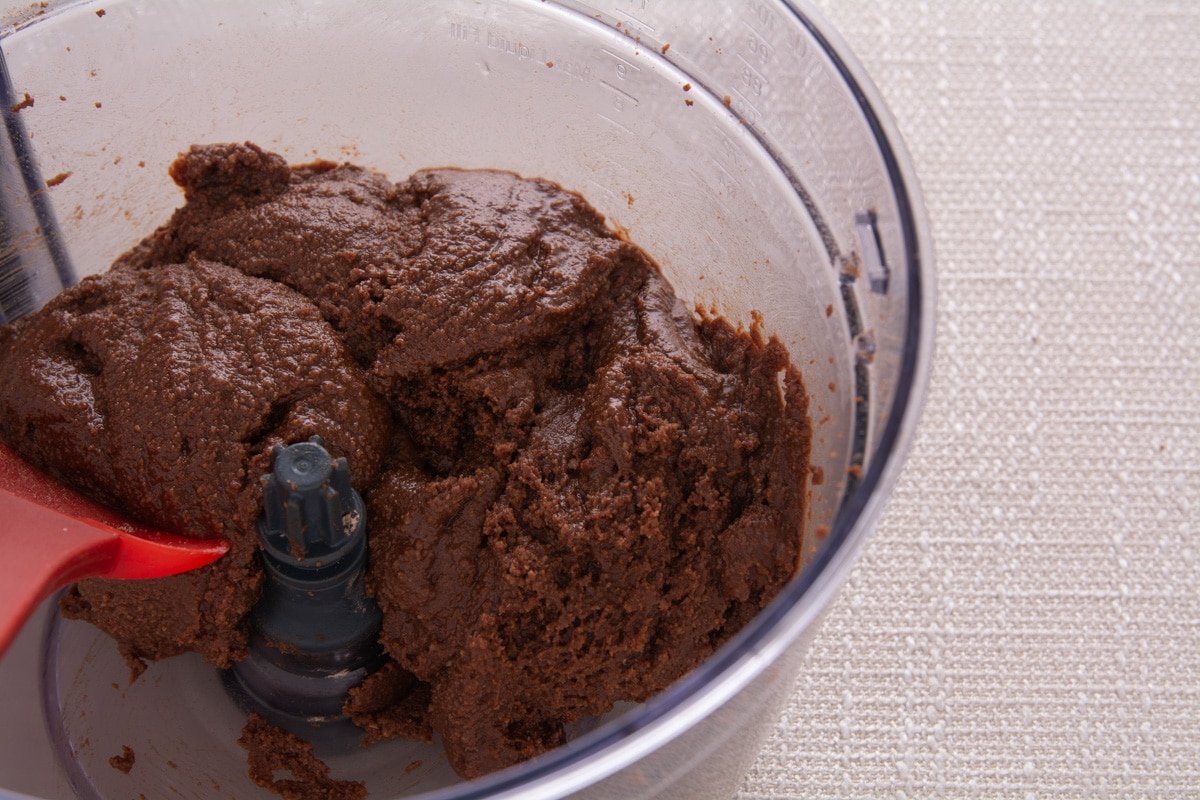 To the food processor add the rest of the macadamia nuts and process. When the nuts are reduced to a fine powder add the olive oil, salt, cocoa powder, and Swerve. Process until it is as liquid as possible. Ideally, you would have a nut butter consistency but that is hard to get with macadamia nuts.
Now to a large bowl add the softened Philadelphia cream cheese, and use an electric mixer on medium speed to whip the cream cheese. After it is nice and smooth add the mixture from the food processor to your mixing bowl and combine.
Use a rubber spatula to add your filling to the springform pan.
If you are topping with chopped nuts add them now. Then gently spread them out and mash them into the cheesecake. Cover with plastic wrap and place into the refrigerator until it has completely cooled. I like to give it a few hours.
Remove from the refrigerator, and open up the springform pan remove the sides and the paper on the sides. For taking photos I wanted mine on the cakestand. To do that I had to gently move the entire cheesecake from the pan to the stand. I did get lucky and it worked. But a better idea would have been to just leave it on the bottom of the springform pan.
Now the cheesecake is ready to cut into individual slices. Doing so now makes portion control a lot easier. A great idea for getting nice clean cuts is to use a little fishing line like a knife.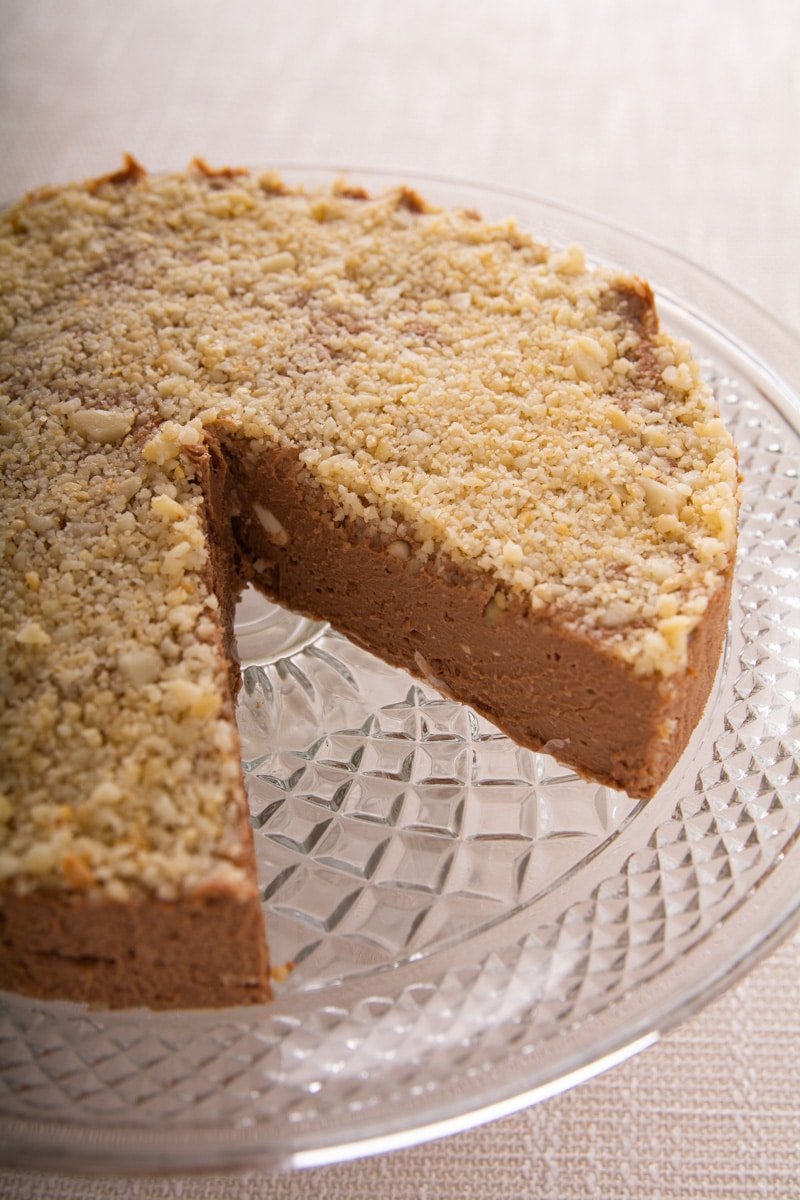 If you enjoyed this low-carb cheesecake recipe then please share it with your friends.
For an optional topping make some whipped cream, to do this add heavy cream and a little vanilla extract to a bowl then use a hand mixer to whisk until stiff peaks are formed. Place into an airtight container and keep it in the fridge until ready to use.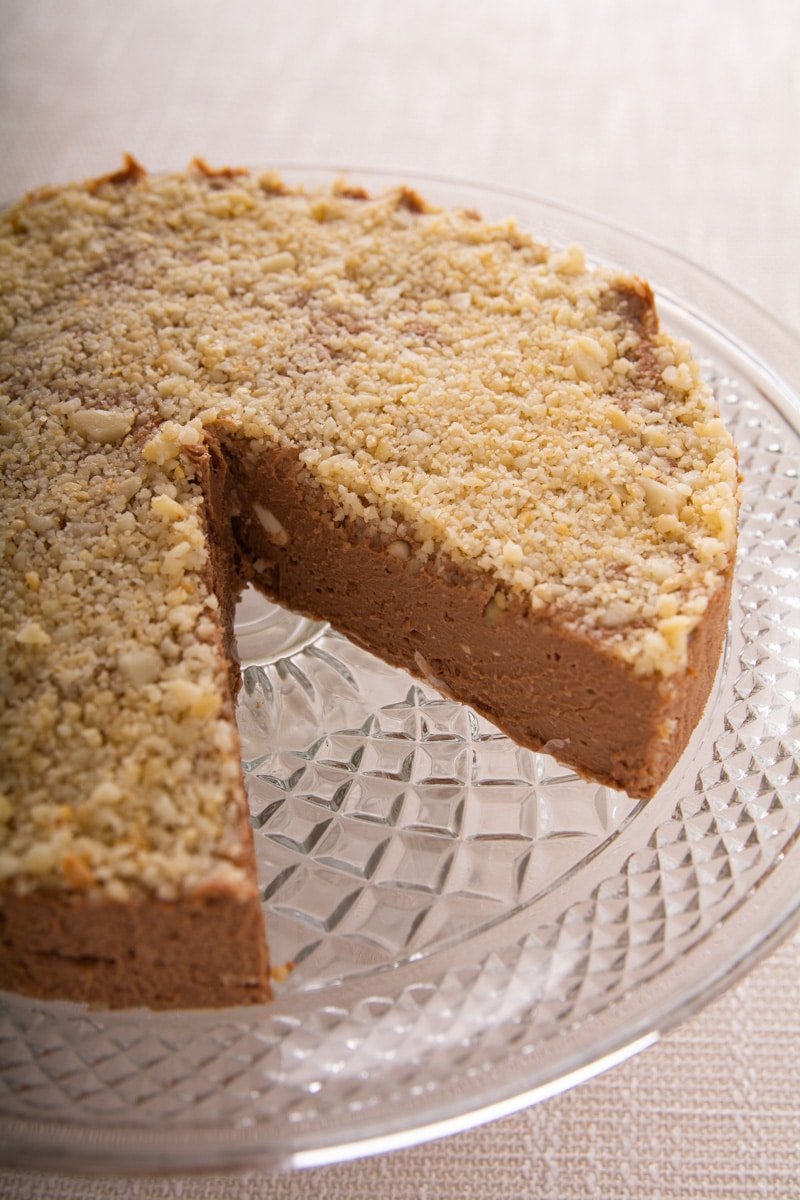 Ingredients
3

Cups

macadamia nuts

1.5

Cups

Swerve

Confectioners

1/3

Cup

Cocoa powder

Pure

1/4

teaspoon

Salt

1/4

Cup

Olive oil

2

pounds

Cream cheese
Instructions
Creamcheese
Remove 2 pounds of cream cheese from the fridge and allow it to soften.

Line a springform pan with parchment paper.
For the topping
Add 1 cup of macadamia nuts to the food processor and roughly chop.
For the chocolate nut filling
Add 2 cups of macadamia nuts to the food processor and finely chop.

To the food processor add salt, olive oil, Serve, and cocoa powder, and process until smooth.

1.5 Cups Swerve,

1/3 Cup Cocoa powder,

1/4 teaspoon Salt,

1/4 Cup Olive oil

To a large bowl add the cream cheese and whisk with a hand mixer until smooth.

To the bowl add the chocolate mixture from the food processor and combine.

Add the filling to a parchment-lined springform pan. Smooth out the top and add the chopped nuts.

Place into the fridge to cool down for a few hours.
Nutrition
Calories:
413
kcal
|
Carbohydrates:
25
g
|
Protein:
6
g
|
Fat:
42
g
|
Saturated Fat:
15
g
|
Polyunsaturated Fat:
2
g
|
Monounsaturated Fat:
22
g
|
Cholesterol:
57
mg
|
Sodium:
216
mg
|
Potassium:
195
mg
|
Fiber:
3
g
|
Sugar:
3
g
|
Vitamin A:
761
IU
|
Vitamin C:
1
mg
|
Calcium:
79
mg
|
Iron:
1
mg