It might be time to stop your search for the best keto buffalo wings as your search might be over. This crispy oven-baked chicken wings recipe is perfect for your low-carb diet since it is free of baking powder and served with a homemade blue cheese dressing that is low in carbs. If you prepare these low-carb chicken wings on game days, your friends will have no idea you are eating low-carb chicken wings.
I will make my own blue cheese dressing for this recipe, but of course, you can buy your own. I have found that the best way to control what I eat is to use quality ingredients and make my own. I do not make everything but when I have time I do. For me, the keto diet is more than just net carbs. Following a clean keto diet has really helped control my arthritis and gout.
The advantages of cooking wings in the oven over the deep fryer are:
You do not need to dirty up a large amount of oil.
Less mess.
You're not adding calories from the oil.
Frying without a breading means our keto buffalo chicken wings have practically zero carbs. The buffalo sauce has one gram of carbs but one gram of fiber for zero net grams of carbs.
The first step in making our blue cheese dressing is to make a very thick mayonnaise (or buy mayo).
Oil: Oil is the main ingredient in mayonnaise so use good quality one with minimal flavor. For this recipe, I used avocado oil it is not neutral in flavor like canola. But is better than olive oil. If you are only making mayo add one cup to one and a quarter cups of oil.
Eggs yolks: You need to separate your egg yolks from the whites and let the yolks come up to room temperature.
Dijon mustard: This will help the emulsion of oil and egg yolks hold together.
Apple cider vinegar: An acid is needed to change the PH, this helps to form the emulsion. You can also use lemon juice.
Salt: To keep it from tasting bland.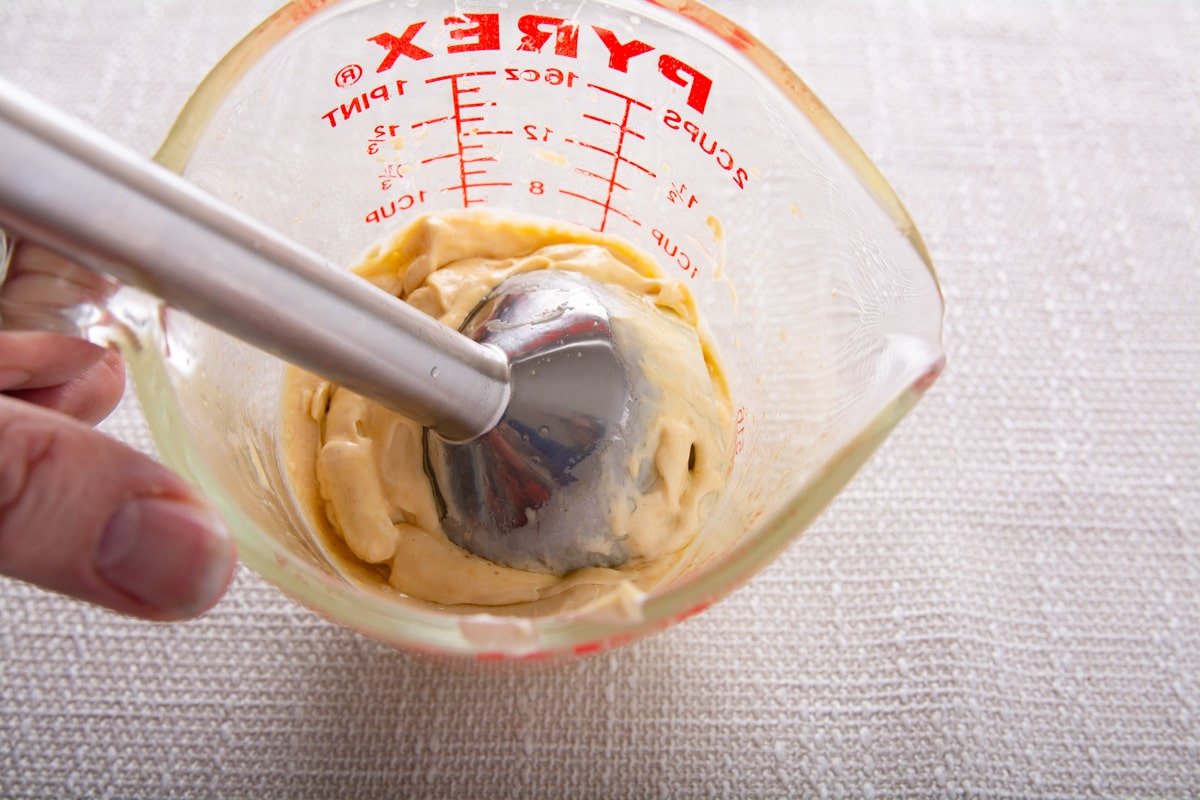 Place all of your mayo ingredients into a tall container. Put your immersion blender all the way to the bottom of the container and turn it on high speed. Hold it on the bottom until you can see mayo forming. Then slowly start to raise it up and low it down to combine all of the ingredients. You should now have a very thick mayo.
To your mayo add sour cream, blue cheese crumbles, and white pepper. Give it a stir to combine, put it into an airtight container, and place it into the fridge. After the flavors have combined it will be the best dip for this keto chicken wing recipe.
My personal preference is to buy whole wings and cut them myself. I use a sharp knife and cut them into three sections. The drumette, flat, and the tip. I will freeze the tips and then later use them for making chicken stock. Or save time you can buy wing sections that are already cut up.
After cutting up your wings you should use a paper towel to remove excess moisture. One of the kets to crispy skin is a dry surface. After the wings are dry you can season them. For this, I kept it simple salt, black pepper, and garlic powder. But you should feel free to experiment try some onion powder or to spice things up add some cayenne pepper. Lemon pepper? You have options.
It's not required but I do like to place them in the fridge for a while before cooking. So yes this step can be done a few hours ahead of time.

I have experimented with using a little baking powder but I have found that it is not necessary. Same with adding oil or cooking spray.
For crispy wings, you need a dry surface and maximum airflow. My new oven came with an air fryer basket (yes it has air fryer mode) but you can use a wire rack on a parchment paper-lined baking sheet. For more airflow allow some space between your wing pieces.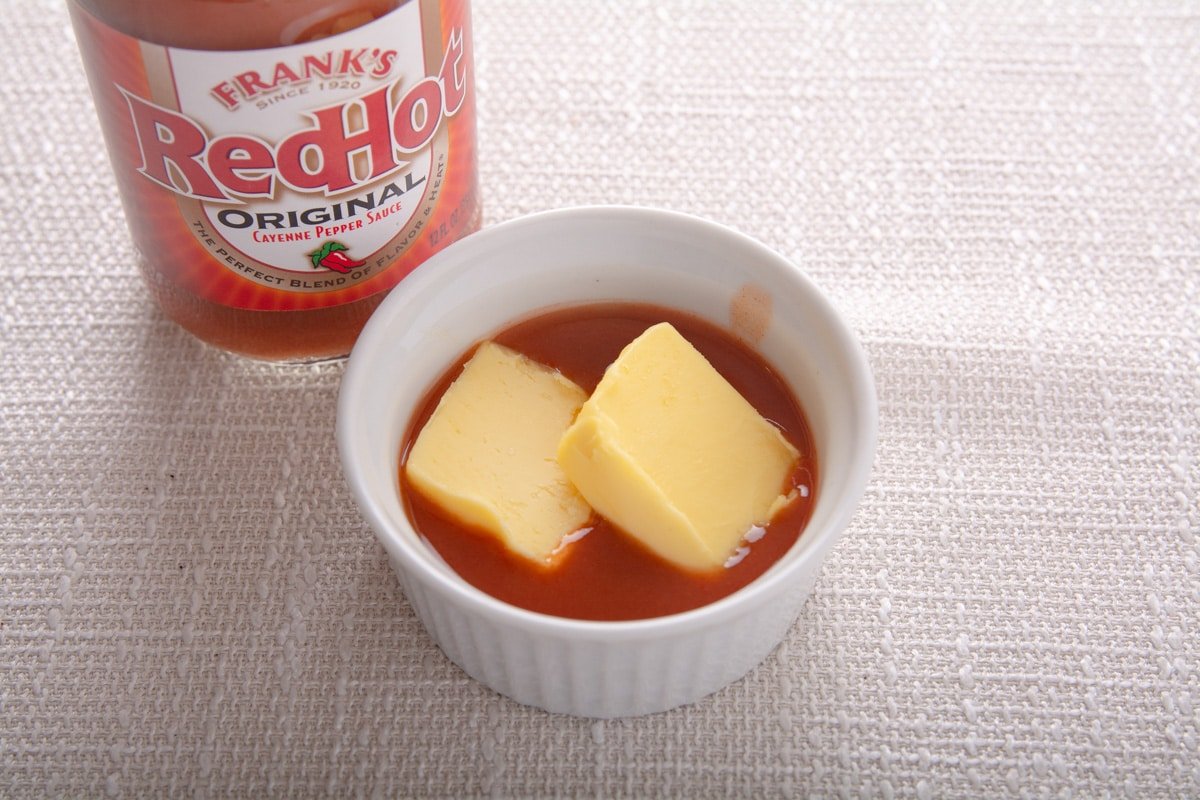 I keep the sauce for these hot wings very simple. It is just melted butter and Franks hot sauce this is the traditional buffalo wing sauce. But you should feel free to use any hot sauce that you like.
I cooked mine on convection mode at 400F for one hour. If you do not have a convection oven cook at 425F for one hour. Of course, the cooking time will vary depending upon your oven. To ensure crispy chicken skin cook until the skin is nice and brown and the skin starts to pull away from the bone at the joint.
For the wings to be considered done they should be cooked to an internal temperature of 165F.
When the keto wings are nice and crispy remove them from the oven place them into a large bowl add some sauce and give them a good toss. I only used about half of the sauce but you can feel free to add as much as you like.
Alternatively, you could make parmesan chicken wings. Melt some butter add some garlic pour that over your wings with parmesan cheese toss and serve.
To keep things traditional with your crispy keto chicken wings you can serve with celery sticks.
Gen at two cloves kitchen has a great recipe for air fryer fingerling potatoes that would be perfect with these wings.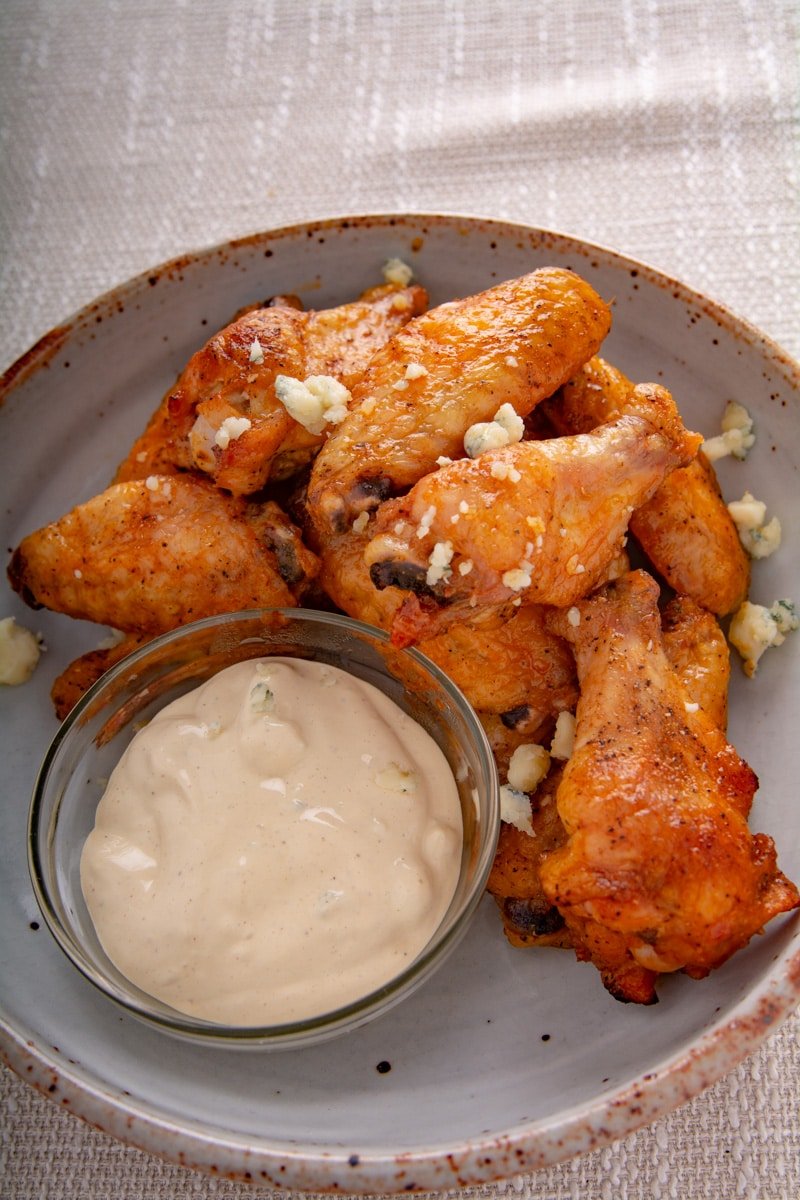 Ingredients
Wings
6

each

chicken wings

1/4

teaspoon

salt

1/4

teaspoon

black pepper

1/4

teaspoon

garlic powder
Buffalo Sauce
3

Tablespoons

Franks hot sauce

2

Tablespoons

Butter
Instructions
Cut the wings into 3 sections, and save the tips for chicken stock.

Season the wings with salt, pepper, and garlic powder. Let marinate until ready to cook.

1/4 teaspoon salt,

1/4 teaspoon black pepper,

1/4 teaspoon garlic powder

Preheat oven. 400F for a convection oven and 425F for a non-convection oven

Place wings on a wire rack and place them into the preheated oven.

Cook for 1 hour or until crispy and golden brown.

Heat the butter and hot sauce until the butter melts.

3 Tablespoons Franks hot sauce,

2 Tablespoons Butter

Pour some of the sauce over the wings and toss the wings.

the wings are now ready to serve
Nutrition
Calories:
218
kcal
|
Carbohydrates:
1
g
|
Protein:
2
g
|
Fat:
24
g
|
Saturated Fat:
15
g
|
Polyunsaturated Fat:
1
g
|
Monounsaturated Fat:
6
g
|
Trans Fat:
1
g
|
Cholesterol:
65
mg
|
Sodium:
2146
mg
|
Potassium:
32
mg
|
Fiber:
1
g
|
Sugar:
1
g
|
Vitamin A:
711
IU
|
Vitamin C:
1
mg
|
Calcium:
11
mg
|
Iron:
1
mg
Ingredients
Mayo
2/3

Cup

avocado oil

2

each

egg yolks

1/4

teaspoon

salt

1

Tablespoon

Dijon mustard

1

Tablespoon

Apple cider vinegar
Blue cheese dip
4

oz

sour cream

2

oz

blue cheese

1/4

teaspoon

white pepper
Instructions
To a container add egg yolks, oil, salt, mustard, and vinegar. Use an immersion blender to form into mayo.

To the mayo add sour cream, blue cheese crumbles, and white pepper. Stir to combine.

Place into the fridge until ready to use.
Nutrition
Calories:
216
kcal
|
Carbohydrates:
1
g
|
Protein:
2
g
|
Fat:
23
g
|
Saturated Fat:
5
g
|
Polyunsaturated Fat:
3
g
|
Monounsaturated Fat:
14
g
|
Cholesterol:
16
mg
|
Sodium:
179
mg
|
Potassium:
40
mg
|
Fiber:
1
g
|
Sugar:
1
g
|
Vitamin A:
147
IU
|
Vitamin C:
1
mg
|
Calcium:
54
mg
|
Iron:
1
mg