Your quest for the ultimate keto buffalo wings might just hit the jackpot with this crispy oven-baked chicken wings recipe – a dream for your low-carb lifestyle, sans baking powder, and accompanied by a homemade, low-carb blue cheese dressing. Whip these up on game days, and your pals won't suspect they're indulging in low-carb delights.
I'm personally crafting my blue cheese dressing for this, but hey, store-bought works too. I've learned that keeping control over what I eat involves using top-notch ingredients and creating my own when time allows. The keto journey for me extends beyond net carbs; a clean keto diet has notably tamed my arthritis and gout.
Now, why opt for oven cooking over the deep fryer?
Minimal oil, minimal mess.
Less cleanup hassle.
No extra calories from oil.
Plus, with no breading in our keto buffalo chicken wings, carbs practically vanish. The buffalo sauce brings in a mere gram, balanced by a gram of fiber, making it a zero-net-carb wonder. Ready to savor the flavor without the guilt?
The kickoff for our delectable blue cheese dressing adventure is crafting a luxuriously thick mayonnaise. You can either whip up your own (I've got you covered with a fantastic recipe) or opt for a quality store-bought mayo if you're short on time.
Oil:
In homemade mayonnaise, the type of oil used can vary based on personal preference and dietary considerations. Common oils for making mayonnaise include:
Light Olive Oil: This is a popular choice due to its mild flavor. Extra virgin olive oil can be used but might impart a stronger taste.
Avocado Oil: Known for its neutral taste and health benefits, avocado oil is another excellent option.
Grapeseed Oil: It has a light flavor and works well for creating a smooth mayonnaise.
Canola Oil: With its mild taste, canola oil is often used in homemade mayo.
Safflower Oil: This oil has a neutral flavor and is suitable for mayo.
When making your own mayonnaise, feel free to experiment with different oils to find the flavor profile that you enjoy the most.
Egg yolks contain lecithin, a natural emulsifier. Emulsification is the process of combining two liquids that don't normally mix, like oil and water. The lecithin in egg yolks helps stabilize and emulsify the oil and vinegar or lemon juice in mayonnaise, creating a smooth and creamy texture.
Dijon mustard: Mustard contains natural emulsifiers, which can help stabilize the mixture and improve the emulsification of oil and other liquids. This is beneficial for creating a smooth and stable mayonnaise.
Apple cider vinegar: The acidity of apple cider vinegar is crucial for balancing the richness of the oil and egg yolks in mayonnaise. It provides a bright and refreshing contrast, preventing the mayonnaise from becoming overly heavy or greasy.
Salt: is a fundamental seasoning that enhances the overall flavor of the mayonnaise. It helps balance the sweetness, acidity, and richness of the other ingredients, contributing to a more well-rounded and appetizing taste.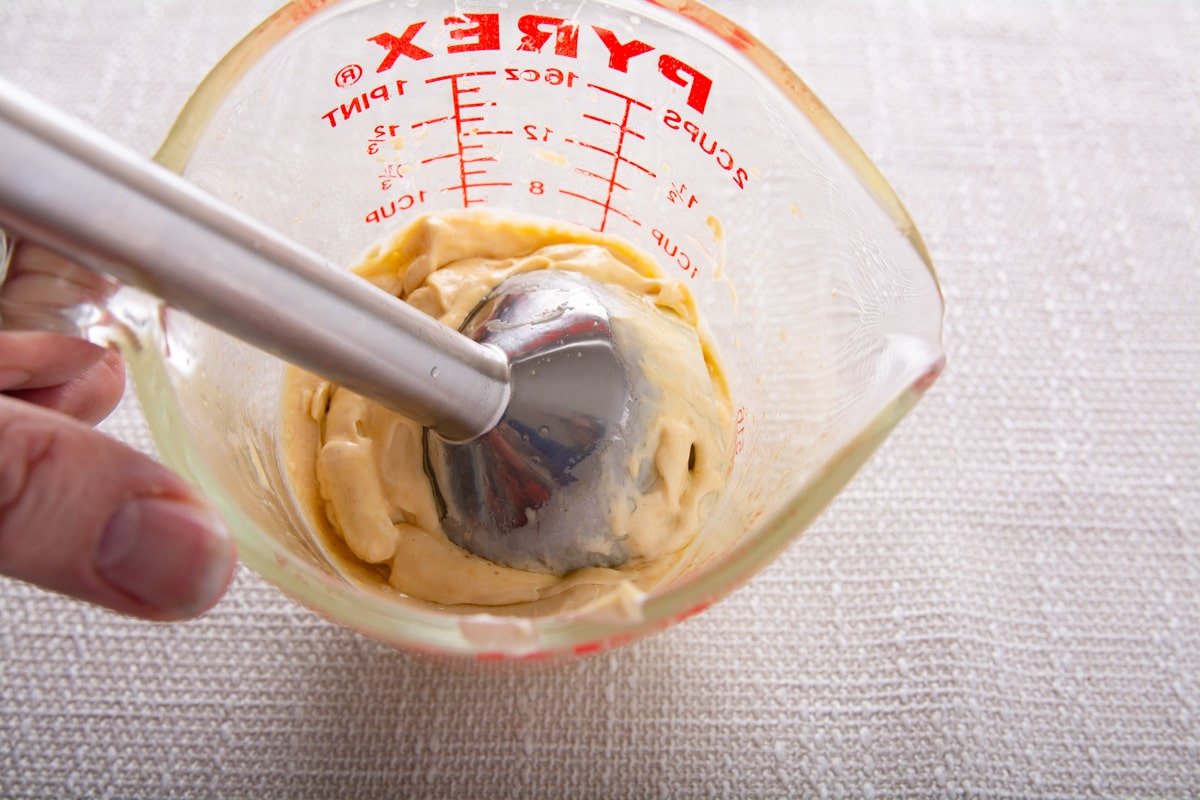 Pop all your mayo ingredients into a tall container, then wield your immersion blender like a kitchen superhero. Dive it all the way to the bottom and crank up the speed to high. Keep it snug at the bottom until the magic begins – you'll start to see that luscious mayo forming. Now, slowly lift and lower the blender to ensure every bit gets cozy together. Voilà! You've just whipped up a velvety, thick mayo. Kitchen triumph unlocked!
For the perfect dip to complement your keto chicken wing masterpiece, take your mayo and jazz it up by adding sour cream, blue cheese crumbles, and a hint of white pepper. Give it a good stir until everything blends harmoniously, then transfer the creamy goodness into an airtight container and let it chill in the fridge. As the flavors meld together, you'll end up with the absolute best dip to elevate your keto chicken wing experience. Get ready to dip into deliciousness!
I personally enjoy the process of buying whole wings and doing the cutting myself. A sharp knife works wonders in dividing them into three sections: the drumette, the flat, and the tip. I stash away the tips in the freezer for future chicken stock adventures. Of course, for a time-saving option, you can snag pre-cut wing sections.
Once they're sliced and diced, it's essential to pat them down with a paper towel, ensuring that a delightful dry surface crucial for crispy skin. When it comes to seasoning, simplicity reigns in my kitchen – a sprinkle of salt, black pepper, and garlic powder does the trick. Yet, the culinary world is your oyster, so don't shy away from experimenting with onion powder, cayenne pepper, or even a zesty lemon pepper twist.
While not obligatory, I prefer to let them chill in the fridge for a bit before the cooking extravaganza. Yes, this step can be tackled a few hours ahead if you're planning ahead.
Now, here's a tip: I've dabbled with baking powder in the past, but I've found it's not a must. Same goes for adding oil or cooking spray – not necessary, but feel free to spice things up as you like!
Achieving that perfect crispiness in wings is all about creating a dry surface and maximizing airflow. Lucky for me, my new oven has an air fryer mode, complete with a handy air fryer basket. But no worries if you don't have that – simply use a wire rack on a baking sheet lined with parchment paper. To amp up the airflow, make sure there's some breathing room between each wing piece. Crispy perfection awaits!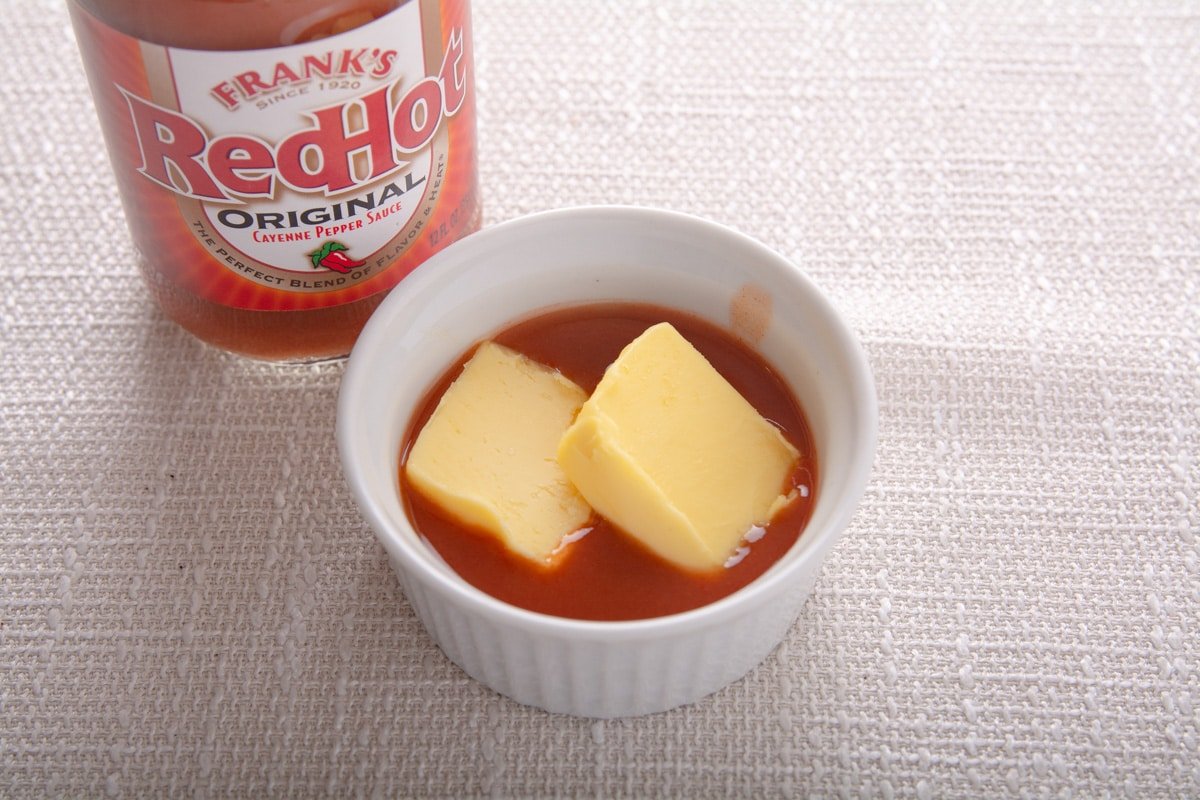 For the sauce on these hot wings, I like to keep it delightfully uncomplicated. It's a mix of melted butter and Frank's hot sauce, the classic buffalo wing combo. Of course, don't hesitate to switch it up with your favorite hot sauce if you're feeling adventurous. Spice it up just the way you love!
I opted for the convection mode at 400°F for an hour when cooking mine. If a convection oven isn't available, you can go for 425°F for the same duration. Keep in mind, that cooking times may fluctuate depending on your oven. To achieve that perfect crispy chicken skin, keep an eye out for a nice golden brown color and the skin gently pulling away from the bone at the joint.
And for that assurance of doneness, make sure the internal temperature reaches a safe 165°F.
Once your keto wings have achieved that perfect crispiness, take them out of the oven, transfer them into a spacious bowl, and generously toss them with your preferred sauce. I personally went with about half the sauce, but feel free to pour in as much as your taste buds desire.
Alternatively, for a flavorful twist, whip up some parmesan chicken wings. Melt a bit of butter, mix in some garlic, drizzle it over your wings along with a sprinkle of parmesan cheese, give it a good toss, and get ready to savor the deliciousness!
For a classic touch to your crispy keto chicken wings, serve them up with some crunchy celery sticks on the side.
Gen at two cloves kitchen has a great recipe for air fryer fingerling potatoes that would be perfect with these wings.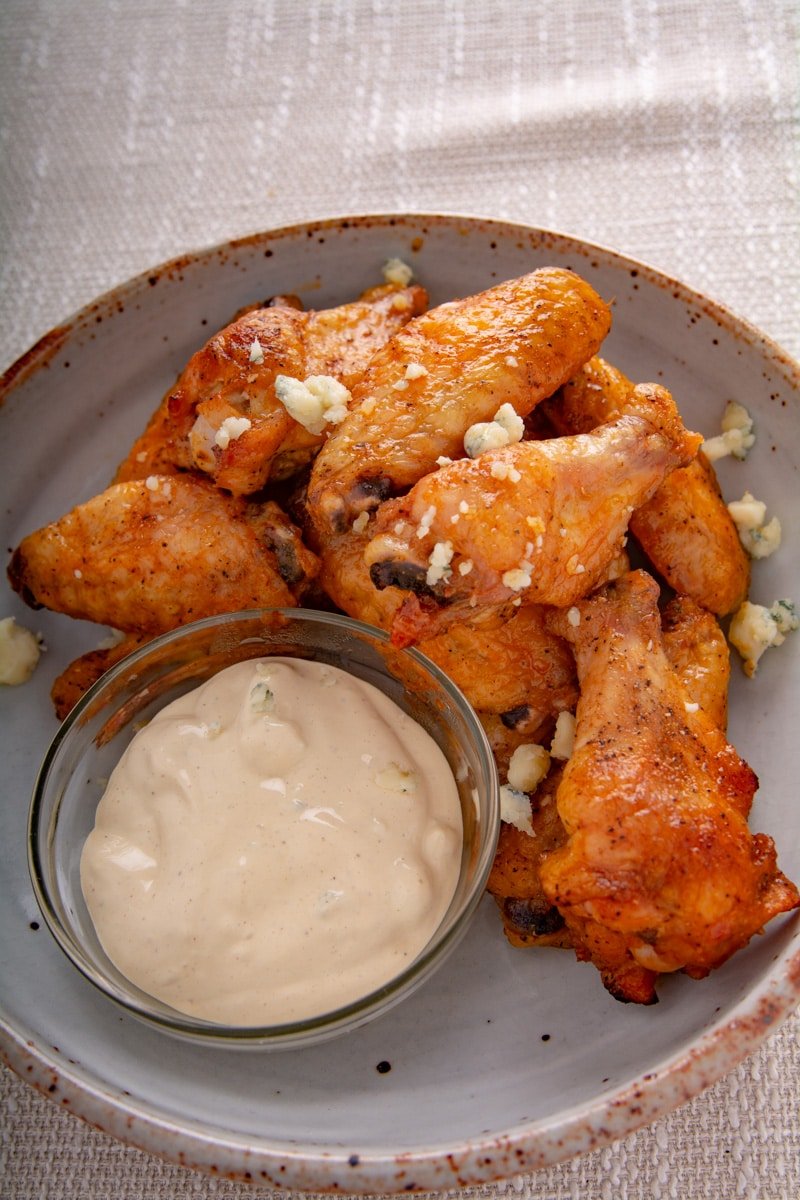 Ingredients
Wings
6

each

chicken wings

1/4

teaspoon

salt

1/4

teaspoon

black pepper

1/4

teaspoon

garlic powder
Buffalo Sauce
3

Tablespoons

Franks hot sauce

2

Tablespoons

Butter
Instructions
Cut the wings into 3 sections, and save the tips for chicken stock.

Season the wings with salt, pepper, and garlic powder. Let marinate until ready to cook.

1/4 teaspoon salt,

1/4 teaspoon black pepper,

1/4 teaspoon garlic powder

Preheat oven. 400F for a convection oven and 425F for a non-convection oven

Place wings on a wire rack and place them into the preheated oven.

Cook for 1 hour or until crispy and golden brown.

Heat the butter and hot sauce until the butter melts.

3 Tablespoons Franks hot sauce,

2 Tablespoons Butter

Pour some of the sauce over the wings and toss the wings.

the wings are now ready to serve
Nutrition
Calories:
218
kcal
|
Carbohydrates:
1
g
|
Protein:
2
g
|
Fat:
24
g
|
Saturated Fat:
15
g
|
Polyunsaturated Fat:
1
g
|
Monounsaturated Fat:
6
g
|
Trans Fat:
1
g
|
Cholesterol:
65
mg
|
Sodium:
2146
mg
|
Potassium:
32
mg
|
Fiber:
1
g
|
Sugar:
1
g
|
Vitamin A:
711
IU
|
Vitamin C:
1
mg
|
Calcium:
11
mg
|
Iron:
1
mg
Ingredients
Mayo
2/3

Cup

avocado oil

2

each

egg yolks

1/4

teaspoon

salt

1

Tablespoon

Dijon mustard

1

Tablespoon

Apple cider vinegar
Blue cheese dip
4

oz

sour cream

2

oz

blue cheese

1/4

teaspoon

white pepper
Instructions
To a container add egg yolks, oil, salt, mustard, and vinegar. Use an immersion blender to form into mayo.

To the mayo add sour cream, blue cheese crumbles, and white pepper. Stir to combine.

Place into the fridge until ready to use.
Nutrition
Calories:
216
kcal
|
Carbohydrates:
1
g
|
Protein:
2
g
|
Fat:
23
g
|
Saturated Fat:
5
g
|
Polyunsaturated Fat:
3
g
|
Monounsaturated Fat:
14
g
|
Cholesterol:
16
mg
|
Sodium:
179
mg
|
Potassium:
40
mg
|
Fiber:
1
g
|
Sugar:
1
g
|
Vitamin A:
147
IU
|
Vitamin C:
1
mg
|
Calcium:
54
mg
|
Iron:
1
mg