This stovetop version of southern-style navy beans or Navy bean soup recipe with ham bone is easy to prepare and might just become your new favorite recipe. It does take time but is not hard. It is a tasty way to use up leftover holiday ham or leftover ham bone.
Ingredients for Navy beans
My preference is to start with dried beans, but you can also use canned beans if you wish. With canned beans, the main problem is they are too salty, especially with the addition of ham. After soaking your dried beans overnight, you should rinse them off the next morning and they will be ready for cooking.
You can use chunks of ham, ham bone, or ham shank; all of them will work and will give the beans an extra rich and deep flavor. It is also possible to use smoked turkey wings if you do not eat pork.
Yellow onions: I always add chopped onion unless my brother is coming over (he does not like onion).
Garlic: I always add some cloves of garlic to my dishes, even when my brother comes over.
Pepper: I usually use black pepper but sometimes I will use white pepper. Black pepper adds black specks so white pepper will look a little nicer.
Salt: Due to the fact that ham has a lot of salt in it, you should be careful when using salt. The salt will be added beforehand, and it will be adjusted as necessary.
Ingredients that are optional.
There are some people who will add a bay leaf or two, but I prefer to leave them out.
In order to add a little extra flavor, you can use chicken stock instead of water when making this recipe.
Seasonings: I like to add a dash of creole seasoning or cajun seasoning to my dishes, but I tend to reduce the salt.
For a spicy kick, add some red pepper flakes.
Green bell pepper: Some people add bell pepper but I prefer not to add pepper.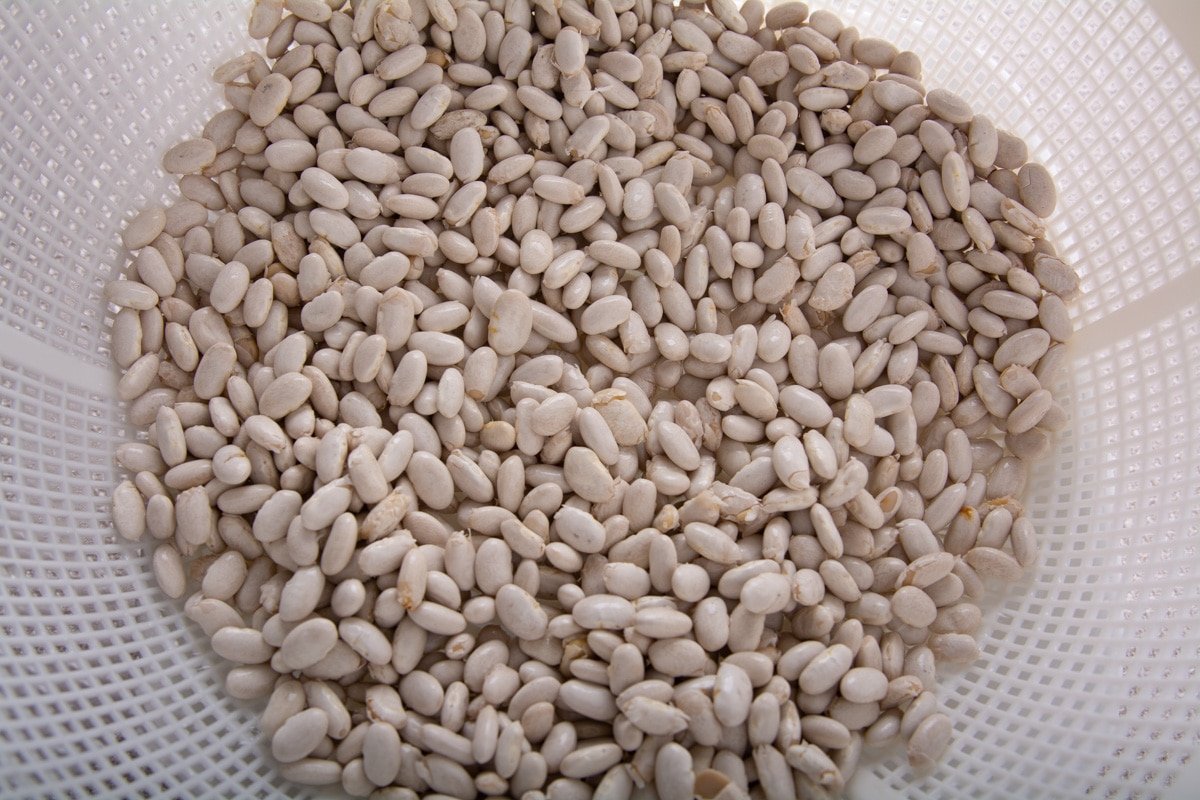 When I sort my beans before soaking I always keep an eye out for anything that doesn't belong and anything that looks unsightly. Afterward, I placed them into a colander and gave them a gentle rinse. They are then placed into a large bowl with water on top. Then, I will add a few more cups of water until I have enough to cover them by an inch and cover them with a towel. I will leave them to soak overnight.
Do navy beans require soaking?
Soaking your navy beans is not required but soaking them overnight or 8 hours will shorten the cooking time.
How to quick-soak dry beans.
When you wake up the next morning, you realize that you did not soak the beans that you plan to cook today. Do not freak out, it is not the end of the world. There is a simple way to soak your beans in about an hour. I will walk you through it. The first step is to wash and sort the beans. Put them in a large pot with one tablespoon of salt and then add water to cover them. Turn the heat up to high and bring them to a boil. Turn off the heat as soon as the pot reaches a rapid boil and cover it as soon as possible. Allow your beans to soak for one hour. After this, you can go ahead and continue cooking them.
It is my preference to cook my beans in a flavorful stock. You can use a premade stock, but since I already have a ham shank, I will make my own from scratch.
As soon as I put my ham shank and chopped onion into a large heavy pot or Dutch oven, and cover with plenty of water, I begin cooking. Cover the pot and cook on medium heat until the ham is tender on the bone. In my case, it took almost an hour. However, if you are using leftover ham the cooking time will be shorter. You will need to remove the bone and then chop up the ham meat. Once you have done that, return the ham and bone to your pot. As a result, you now have a stock with a mild smoky flavor.
Then add your soaked beans and cook them until they are tender. After one and a half hours, I tasted it and adjusted the salt accordingly. All in all, I used one and a half tablespoons of salt. You will need to determine how much you will need based on your taste buds and the kind of ham that you use.
The total amount of time that I spent cooking the beans was one hour and forty-five minutes. It is important to remember that cooking times will vary depending on your altitude. It is important to note that since I am at sea level, the higher the elevation, the longer it will take you to cook your beans.
During the process of cooking and soaking up liquid, you may need to add more water to keep your beans from drying out.
What beans are used in Navy bean soup?
It is possible to make Navy bean soup or Navy bean beans or any white beans. In keeping with the name, Navy beans or small white beans are usually used as they have a creamier consistency than other types of beans.
Great Northern beans are my second preference and also work well. Next, you will find cannellini beans followed by baby lima beans. There is a very informative blog post by Camellia (my favorite brand of dry beans) about the types of beans you can find here.
Instant Pot Version of Navy Beans
If you have an Instant Pot you can put all the ingredients you need for your stock including your ham hocks, put on the lid, and cook it on manual for ten minutes. After that, wait twenty minutes for it to naturally release the pressure. Remove the ham bone from the pot and chop up the meat into small pieces. Place the meat back in the pot and add the soaked beans. Make sure that the beans are fully covered with liquid, if they are not, add more liquid. Manual cook for twenty-five minutes. After that, let it naturally release for twenty minutes.
Crockpot or slow cooker version of Navy Beans
Navy beans can be prepared in a slow cooker in the most convenient way. Add all of the ingredients to the pot, including the soaked beans. Cover and cook on low for ten to twelve hours.
What if your beans will not soften?
One of the top reasons why beans do not get soft or tender when they are cooked is that they are old. In case you find a bag of beans in your cabinet and you have no idea how old they are, I recommend you buy new ones.
The hard water in your house may also prevent your beans from becoming tender if you cook them in the hard water. If you have hard water, use bottled water when you cook your beans.
Acid. You can also prevent your beans from getting soft if you cook them with acidic ingredients such as tomatoes. The tomatoes should be added after the beans are tender.
Salt. Several people firmly believe that you must add salt to the beans after they have softened in order for the beans to become tender. This is simply not the case. I like to add salt early in the process so that my beans do not taste bland.
How to serve your Navy bean soup?
A wonderful way to enjoy our Navy bean soup is by serving it with a big slice of homemade cornbread and collard greens, with a dash of our favorite hot sauce on top. I consider that to be a complete meal. While some people prefer white rice instead of cornbread, either way, this is Southern-style comfort food. You can also sprinkle some chopped green onions or fresh parsley on top if you want to get fancy.
How to store leftover Navy beans
In the event that there are any leftover beans, they can be kept in the refrigerator in an airtight container for up to one week. It is best to let them cool down and then place them in a freezer bag and press out the air before putting them in the freezer. Let them freeze flat in the freezer until they are completely frozen.
Is it possible to consume Navy beans on a Keto diet? Unfortunately, Navy beans do not qualify as ketogenic foods. However, they are a very good source of clean protein.
If you are suffering from gout, can you consume navy beans? By weight, beans are high in purines, and therefore should be consumed in moderation by those suffering from gout.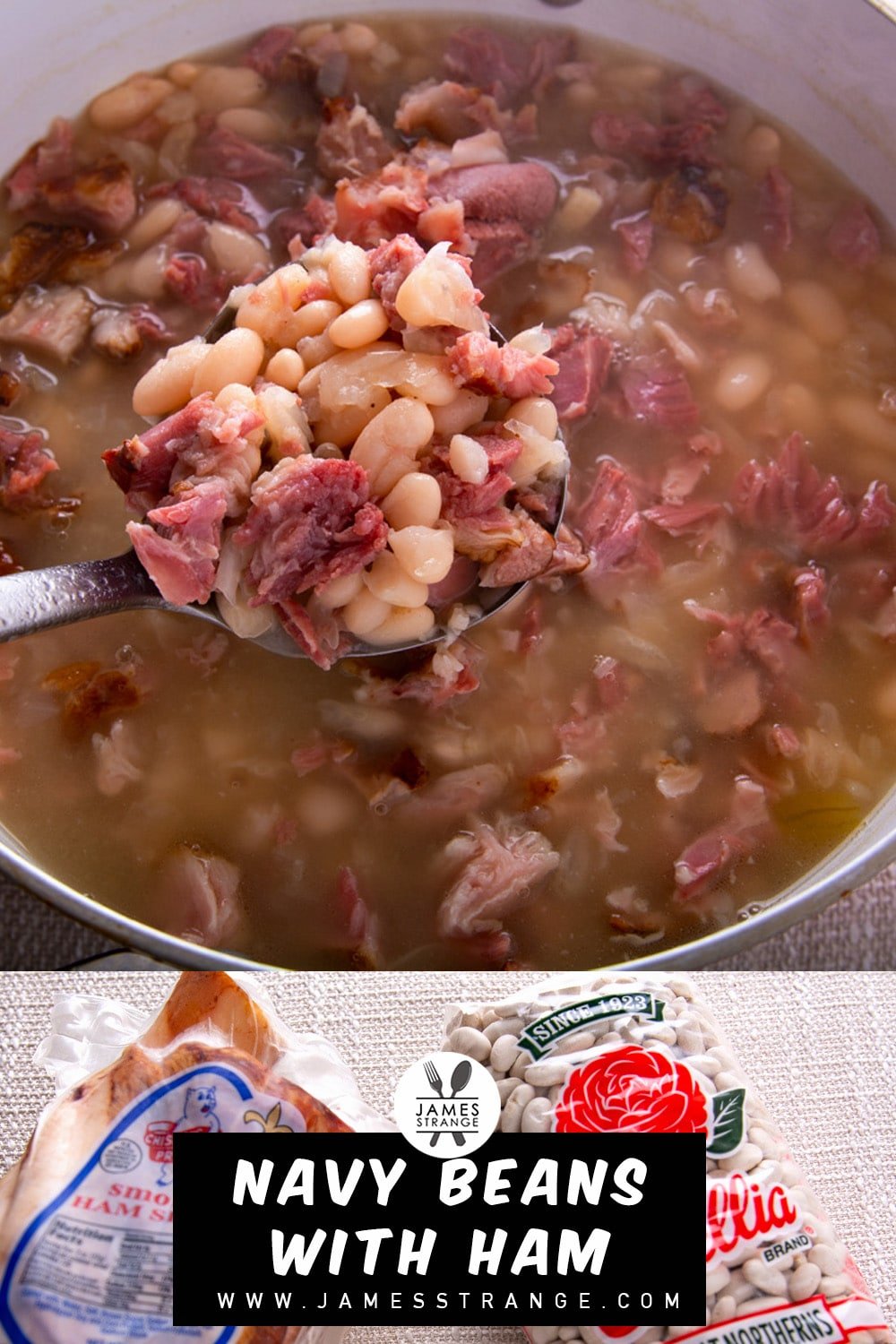 If you enjoyed this recipe then please share it with your friends.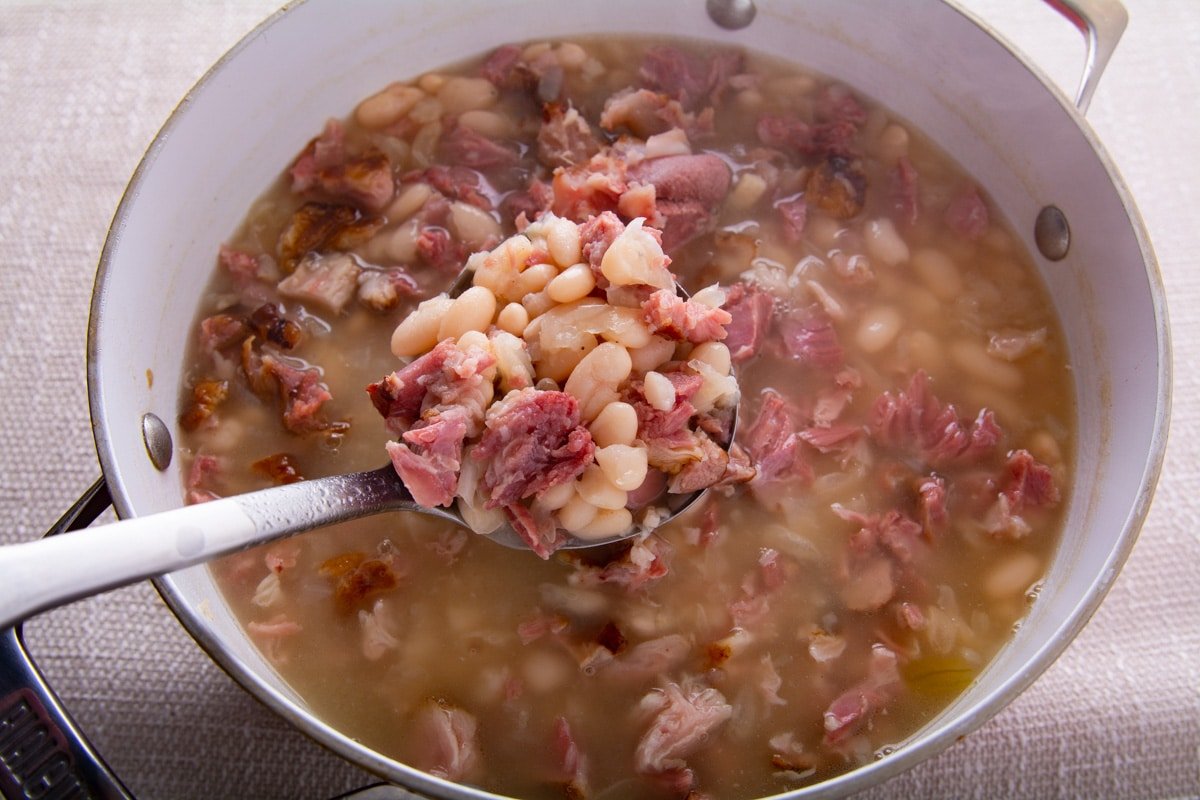 Ingredients
1

pound

Navy beans

Dry

1

pound

Ham

With hambone

1/2

each

onion

medium

2

cloves

garlic

chopped

1 1/2

Tablespoon

Salt
Instructions
Sort and soak beans overnight

Add chopped onion, garlic, and ham shank to the pot. Cover and cook until ham is tender.

1 pound Ham,

1/2 each onion,

2 cloves garlic,

1 1/2 Tablespoon Salt

Cut the ham into small pieces and return it to the pot. Add the soaked beans and cook until the beans are tender.

Taste and adjust seasoning as needed.

The beans are now ready to serve.
Nutrition
Calories:
175
kcal
|
Carbohydrates:
12
g
|
Protein:
14
g
|
Fat:
8
g
|
Saturated Fat:
3
g
|
Polyunsaturated Fat:
1
g
|
Monounsaturated Fat:
4
g
|
Cholesterol:
28
mg
|
Sodium:
1585
mg
|
Potassium:
309
mg
|
Fiber:
5
g
|
Sugar:
0.2
g
|
Vitamin A:
0.1
IU
|
Vitamin C:
1
mg
|
Calcium:
36
mg
|
Iron:
1
mg