This easy but delicious vegetable stock recipe is a great alternative to premade vegetable stocks. This one is made with shitake mushrooms, Korean radish or mu, and a little bit of umami from kelp.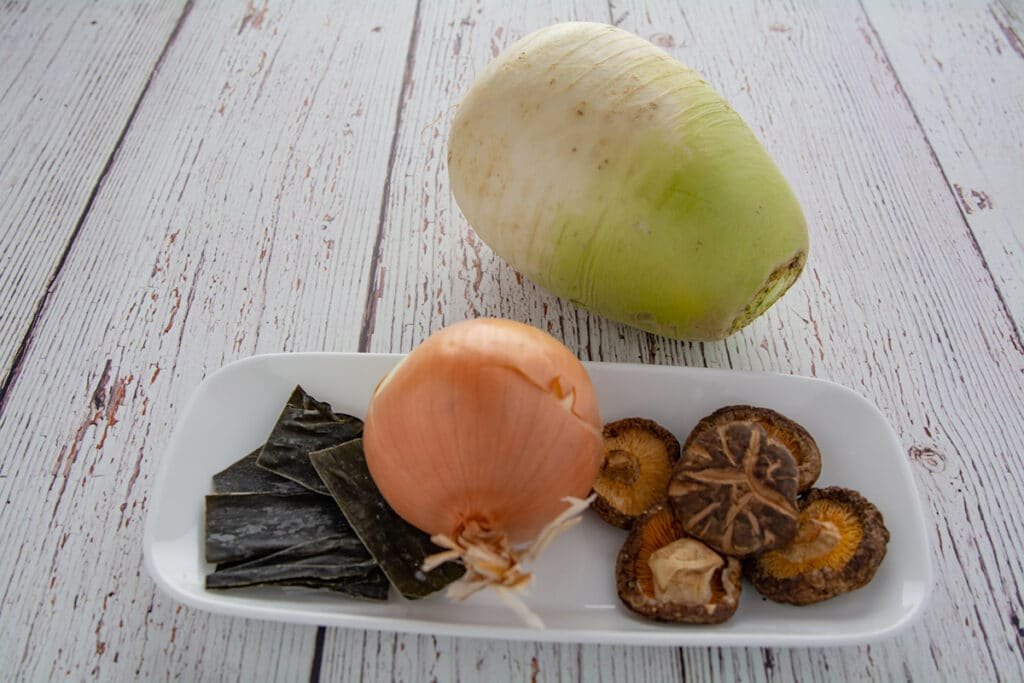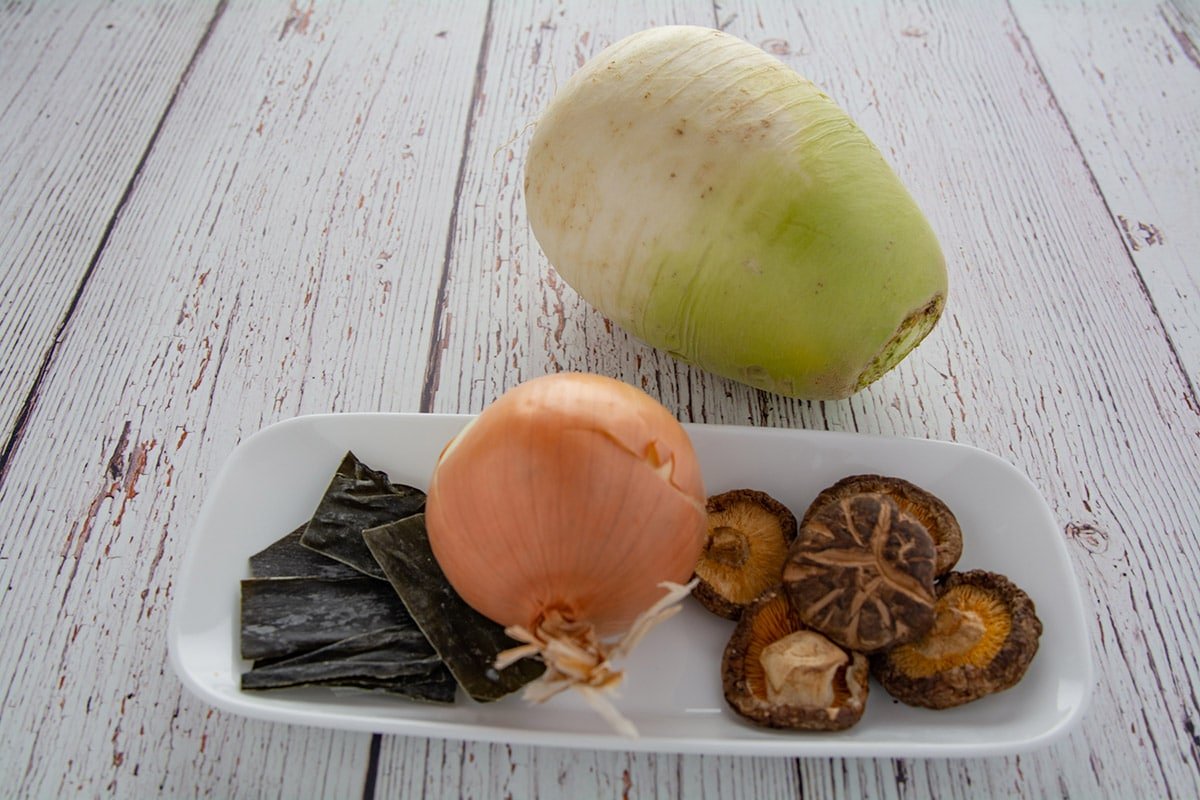 Our vegetable stock ingredients:
Korean radish: In Korea, it is referred to as Mu. Pronounced like a short "moo" cow. It is a cool-weather crop and is at its best in early winter. If you can not find it, the Japanese daikon will work.
Shiitake mushrooms: Dried ones work better than the fresh ones. After a quick wash, I throw them in dry.
Onion: For this batch I used a medium onion cut in half.
Kombu: Kombu is a type of kelp and is high in glutamic acid for the umami flavor. So if you're sensitive to MSG, then you should avoid it. Kombu is also high in iodine; if you have thyroid issues, then you should avoid kombu.
Garlic: Not pictured but I like to throw some garlic in my stock.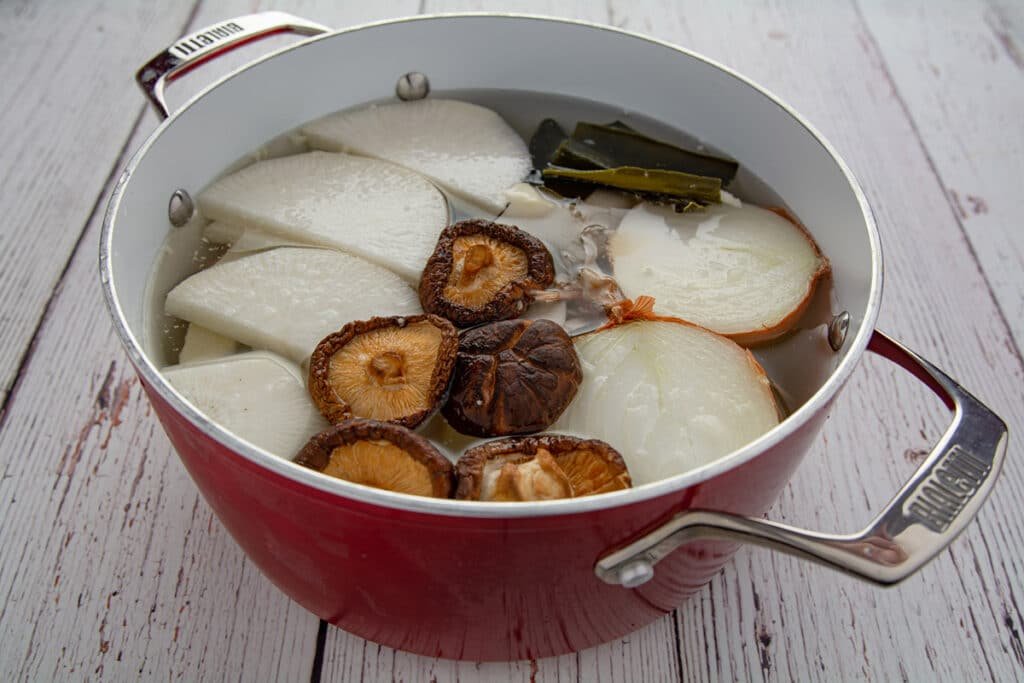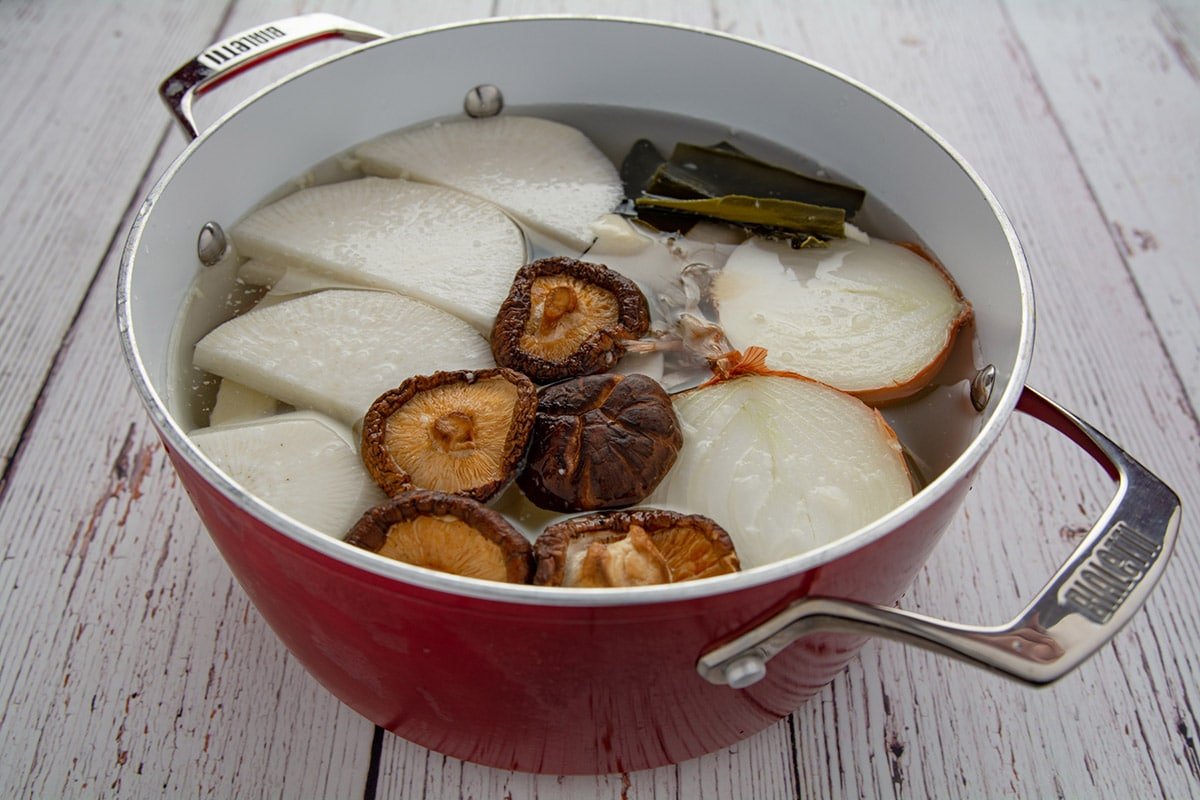 Making the stock is quite simple. First, cut the radish into slices (I used three slices) and cut off the skin. Cut the slices into half.
Add everything into the pot, even the skin from the radish. Bring to a slow boil and boil for twenty minutes. While the stock is boiling, use a skimmer to skim off the foam that will come to the top. This will help to give a clear stock. After twenty minutes, turn off the heat and let the stock cool down.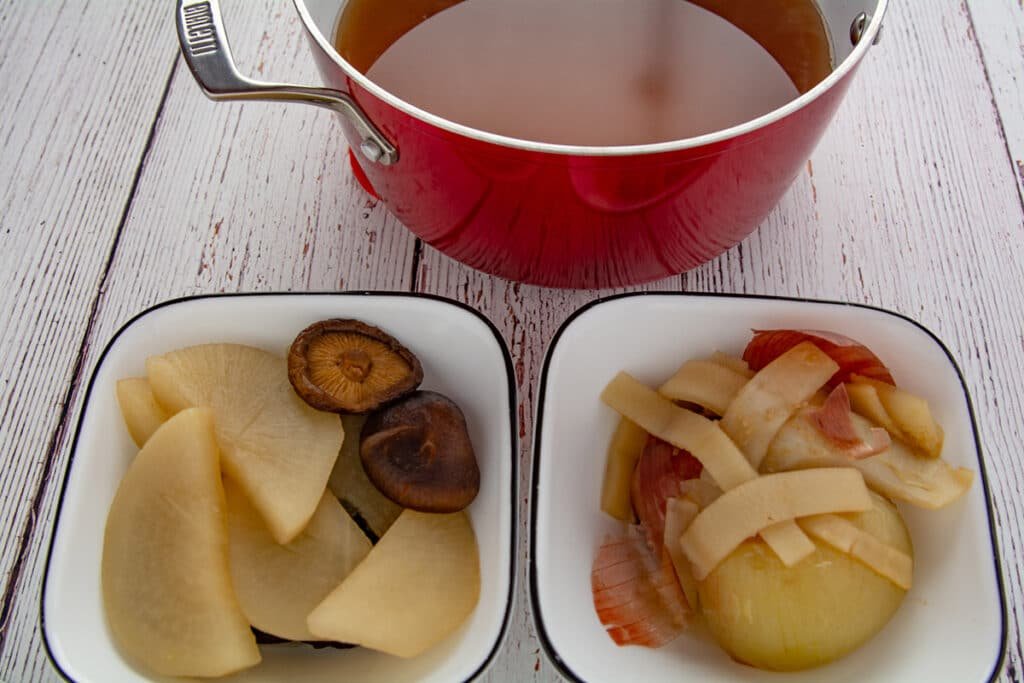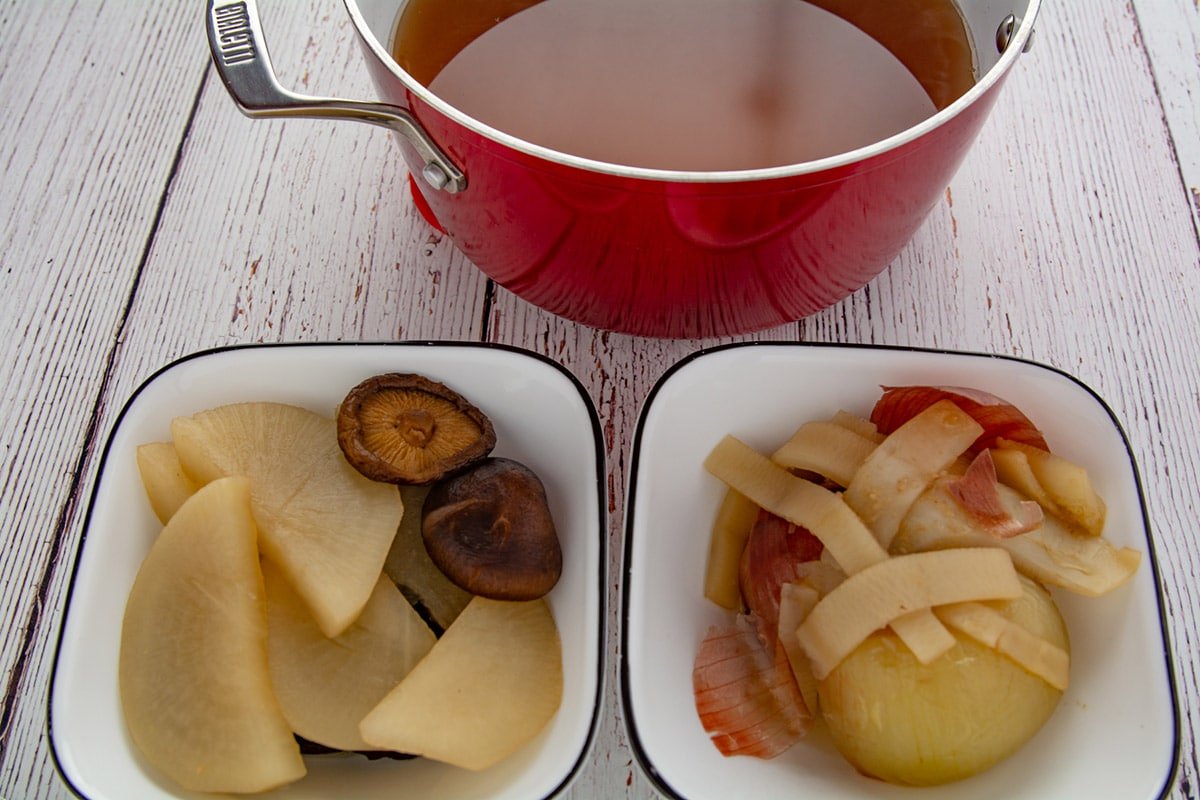 After the stock has cooled down, remove the veggies and strain. The radish, mushrooms, and kelp can be saved for other recipes. The onion and radish skin can be discarded.
After straining, you should have about eight cups of veggie stock. You can safely store your stock in the refrigerator for a few days. For long-term storage, freezing is recommended.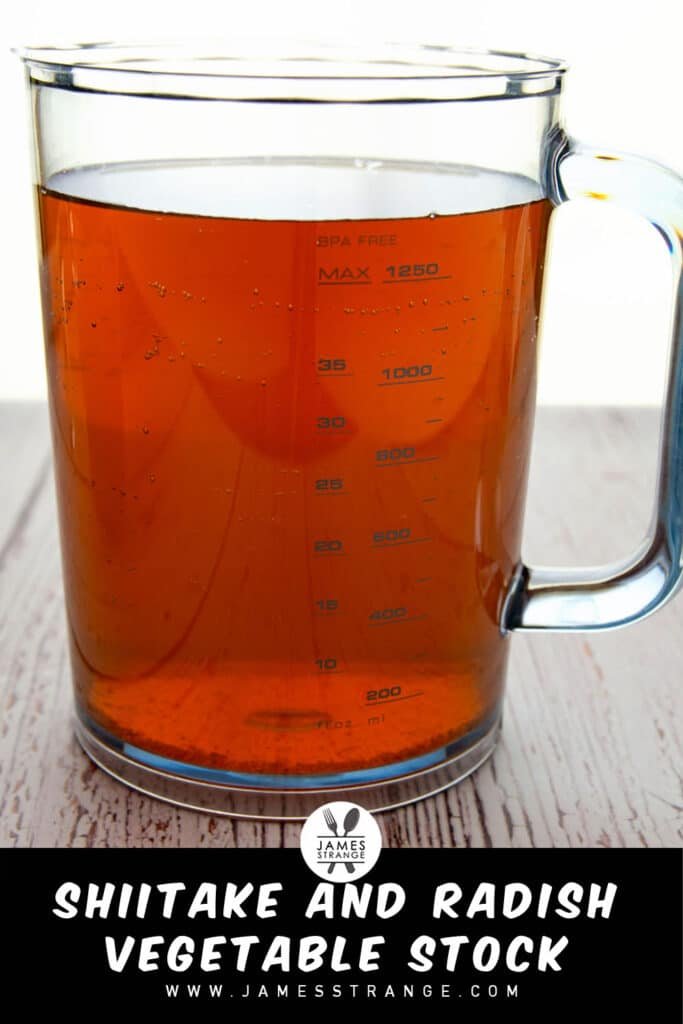 Please share this recipe with your friends.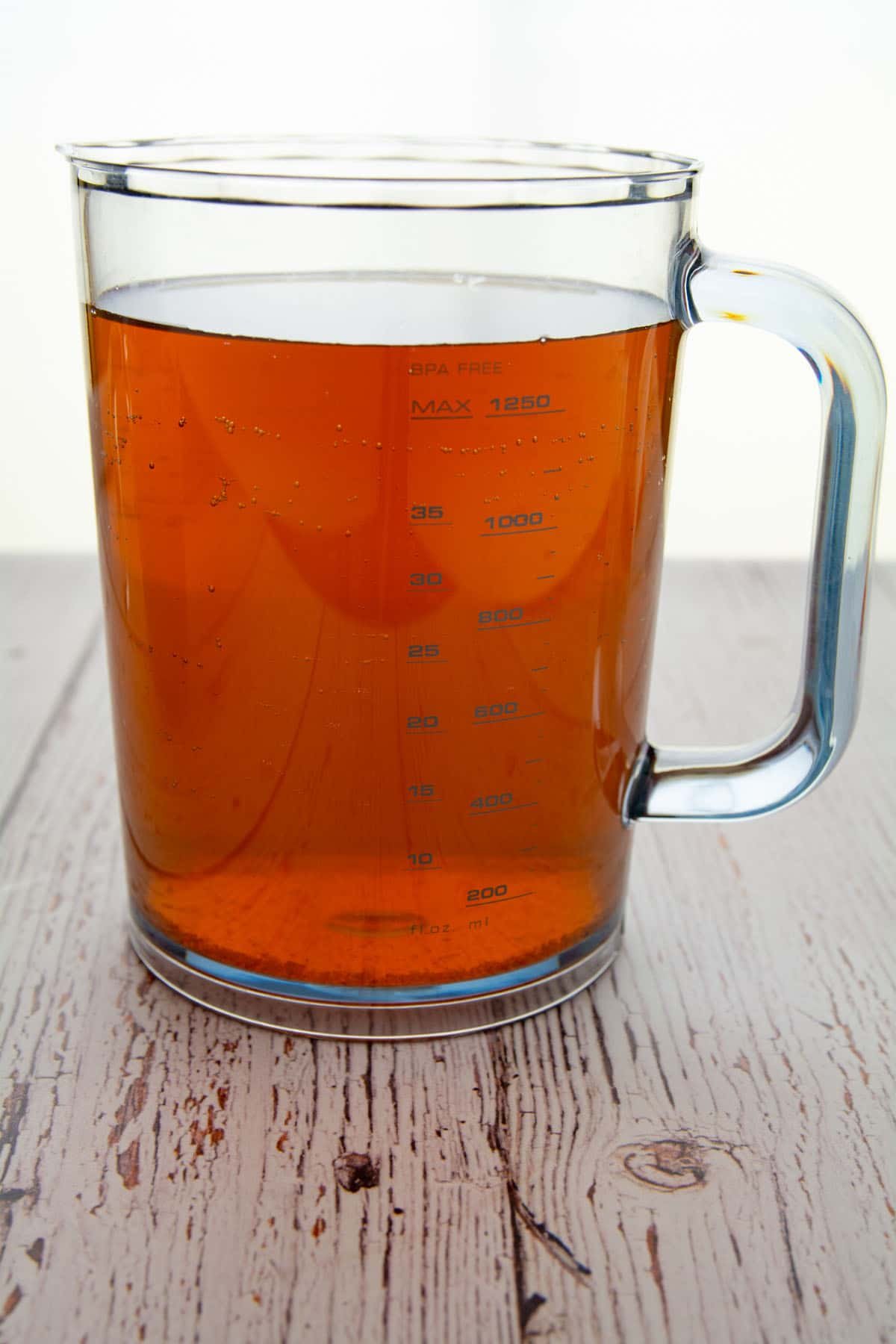 Ingredients
1

Onion

medium

12

oz

Daikon

Korean moo or daikon

5

grams

Kombu

2

cloves

Garlic

crushed

5

Shiitake mushrooms

Dried

2.5

liters

Water

2.6 quarts
Instructions
Cut the radish into slices and peel. Cut the onion in half

Add all of the ingredients to a stockpot. Bring to a slow boil, cook for 20 minutes. Skim off any foam the comes to the surface and discard the foam

After 20 minutes turn off the heat and let the stock cool

Remove the vegetables from the pot and strain. Place into the refrigirator.
Nutrition
Calories:
18
kcal
|
Carbohydrates:
4
g
|
Protein:
1
g
|
Fat:
1
g
|
Saturated Fat:
1
g
|
Sodium:
27
mg
|
Potassium:
143
mg
|
Fiber:
1
g
|
Sugar:
2
g
|
Vitamin C:
11
mg
|
Calcium:
25
mg
|
Iron:
1
mg