I have slowly started to eat more and more salads. But eating the same old salad all of the time can get very boring. To keep it from getting boring, we need to change things up. Adding different ingredients can definitely help. Changing the dressing to this sugar-free poppyseed dressing is game-changing.
The original recipe is from a friend but had to be modified to make it gout friendly.
Lets run down the ingredients:
For the Salad
Lettuce: Today, we used one head of red leaf lettuce. But it would be best if you used what looks the freshest at your market. Any crisp type is a plus.
Green onion: Has a mild sharpness to it. Feel free to use some purple onion for a stronger flavor.
Bean sprouts: They are slightly crunchy and have a clean flavor. A lot healthier than fried tortilla chips. If you are like me and live in an area where it's hard to buy good bean sprouts, I have a post for growing your own bean sprouts.
Avocado: avocados are low in purines and sugar, but they are loaded with flavor. On a side note: The Aztecs thought of avocados as an aphrodisiac, so please be careful.
Oranges: Oranges are loaded with vitamin C. As gout sufferers, we need to add vitamin C to our diets, and oranges are a great way to do that.
Seedless grapes: Grapes are delicious and have lots of health benefits. However, they contain lots of fructose, so grapes should be consumed in moderation.
Poppyseed dressing
Oil: My preference is to use a good quality extra virgin olive oil. It does not have to be expensive, but it should be one that you like.
Vinegar: The original recipe called for red wine vinegar. But we are going to use apple cider vinegar (ACV). ACV can help with weight loss and reduce inflammation if you can find ACV with the mother that is the best one to use.
Salt: Salt helps to round out flavors, but as gout sufferers, we need to limit sodium intake.
Mustard: The original recipe calls for dry mustard, but my go-to is smooth dijon mustard.
Poppy Seeds: They have a nice flavor.
Stevia: The original recipe called for a lot of sugar. Since sugar is not good for gout sufferers or diabetics, we will use Stevia. Stevia is a lot sweeter than sugar, so you will need to calculate how much to use. Here is an online sugar to Stevia calculator.
Optionally: White or black pepper.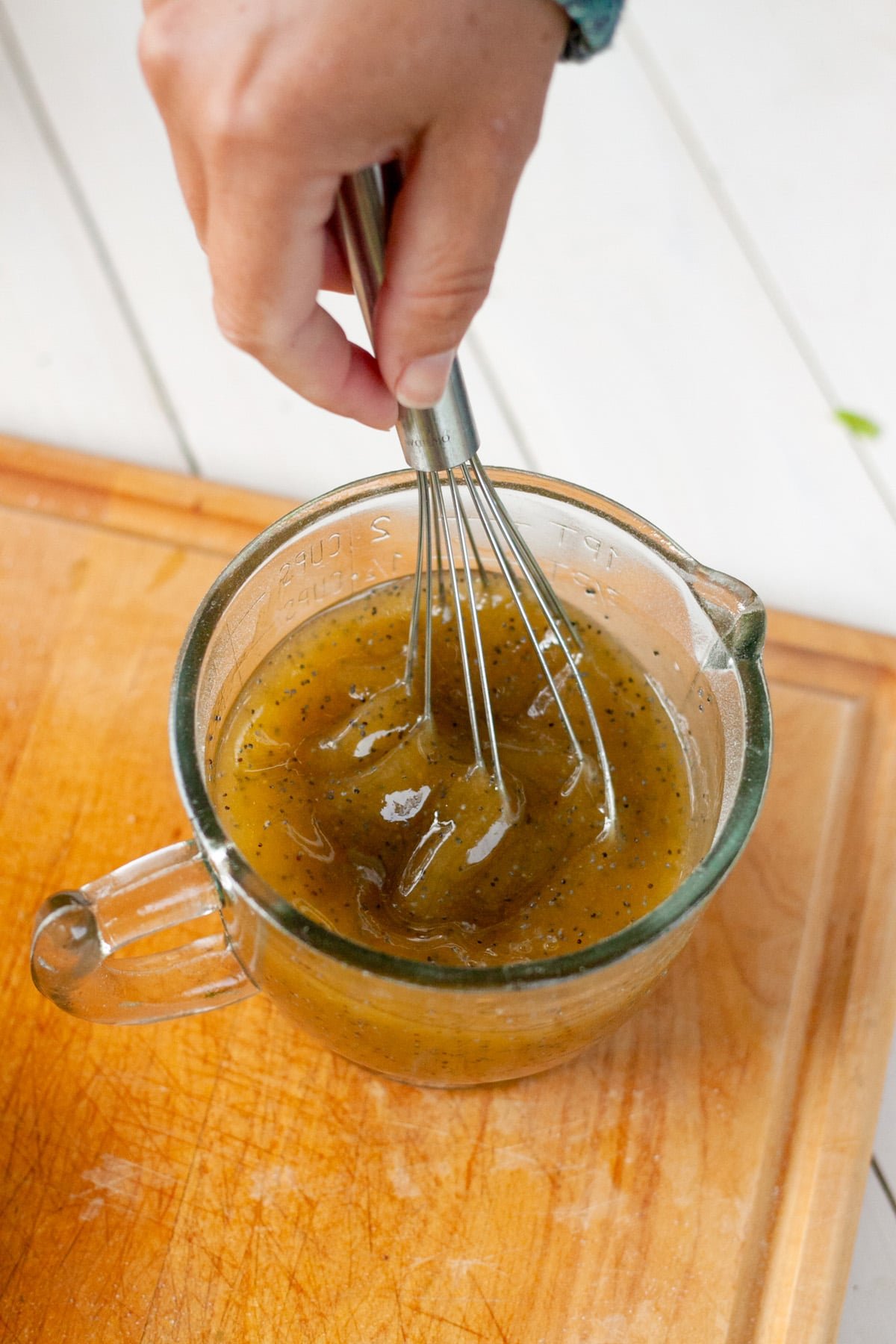 Let's make our salad dressing. Our dressing is a basic vinaigrette. For this, we need to make an emulsion of oil and acid. This is what makes the dressing thick. The ratio of oil to acid is three to one. In this case, we will use one cup of oil and one-third cup of vinegar. This ratio works with vinegar or lemon juice. The mustard also helps to form and keep the emulsion from breaking.
To a measuring cup or bowl add all of the dressing ingredients. Then whisk until the dressing thickens up. If your arm falls off while whisking just put it back on and whisk some more. Alternatively use an immersion blender. When using a powerful immersion blender the emulsion will not break as fast.
Now that the dressing is made it's time to make the salad.
I like to cut the grapes in half.
Cut the skin off of the oranges. I like to leave a little bit of the white part. It's a little bitter and offsets some of the sweetness in the dressing.
Sometimes I will use a Microplane grater and gate some of the orange parts of the skin. This I will then add to the dressing for a little more flavor in the dressing.
To the salad add some chunks of cut up avocado.
Rinse the bean sprouts, remove the heads and tails. Then add them to the salad.
Add a little of your dressing in this case two or three Tablespoons, then give the salad a toss. After tossing if it needs more then add a little more and toss again. There is no reason to drown your salad. All that you really need to do is coat the lettuce leaves.
Hopefully you will enjoy this dressing as much as we do.
If you enjoyed this recipe then perhaps you will like this recipe for a Korean spicy cucumber salad.
Ingredients
1

Tablespoon

Stevia

1

teaspoon

Dijon Mustard

1/4

teaspoon

Salt

1

Cup

Olive oil

Extra Virgin

1/3

Cup

Apple Cider Vinegar

1 1/2

teaspoons

Poppyseeds
Instructions
Add all of the dressing ingredients into a bowl and whisk until emulsified.
Nutrition
Calories:
244
kcal
|
Carbohydrates:
1
g
|
Protein:
1
g
|
Fat:
27
g
|
Saturated Fat:
4
g
|
Sodium:
81
mg
|
Potassium:
7
mg
|
Fiber:
1
g
|
Sugar:
1
g
|
Calcium:
8
mg
|
Iron:
1
mg