My guess is your going to ask why a gout sufferer is posting how to cook red meat on a blog for gout-friendly recipes. The answer is quite simple. I will never eliminate it, and most people I know with gout will also never eliminate red meat. So let's discuss the appropriate ways to incorporate it into our diet.
Beef is moderately high in purines 110 to 130 mg uric acid/100 g. The Mayo Clinic recommends that we limit servings of red meat. Of course, most of us will ask what a limited serving is. Well, the Mayo Clinic recommends "Limit the meat, fish, and poultry you eat to no more than 4 to 6 ounces a day."
The 4 to 6 ounces are per day, not per meal. So my days of sitting down at a steak restaurant and ordering the 22 oz ribeye are over. I will test and confirm my uric acid levels are less than 6.0 milligrams/deciliter (mg/dL) when I want steak. My breakfast and lunch will be deficient in purine foods, and I will have a 5 to 6-ounce steak for dinner.
My choice of steak has also changed. I now choose leaner cuts that still have some marbling. A strip steak will usually be lean with some marbling. Strip Steak, New York Strip, Kansas City Strip, and Sirloin Strip Steak are different names for steaks cut from the striploin subprimal. The name will be the same depending upon where you are buying the steak.
When I can get grass-fed beef, that will be my first choice.
Although they cook well in a cast iron pan finished in the oven, sous vide is my preferred method. Sous vide cooking allows precise control over the temperature of your steak. The long slow cooking process allows the marbled fat to break down and make your steak tender. 
The picture above is the steaks that were used for this recipe. These are strip steaks but were not grass-fed. They do have some marbling but not a lot. They were 10 ounces each, so each steak is two servings. Previously, I would have eaten one steak and any leftovers from my wife's steak.
When to Season a Sous Vide Steak
When should you season your sous vide steak? This question is the source of a lot of debate in the sous vide community. This has to do with the fact that the only seasoning to penetrate past the meat's surface is salt.
My preference is to lightly season the steak with salt and pepper before placing the steak in the bag. This is the appropriate time to add a dash of salt since it will penetrate below the meat's surface. But take it easy on the salt; a small amount at this stage will take you further than what you are used to.
Like black pepper, other seasonings can be added now like I do, just before searing or even after cooking. These are all personal preferences.
Herbs like rosemary should also be treated the same way. You can add a sprig of your favorite herb to the meat, and it will impart some flavor to the surface of the meat. But for the biggest impact (but not gout friendly), melt some butter in a pan and then add the rosemary. After the rosemary has flavored the butter serve some spooned over the top of your steak with the butter.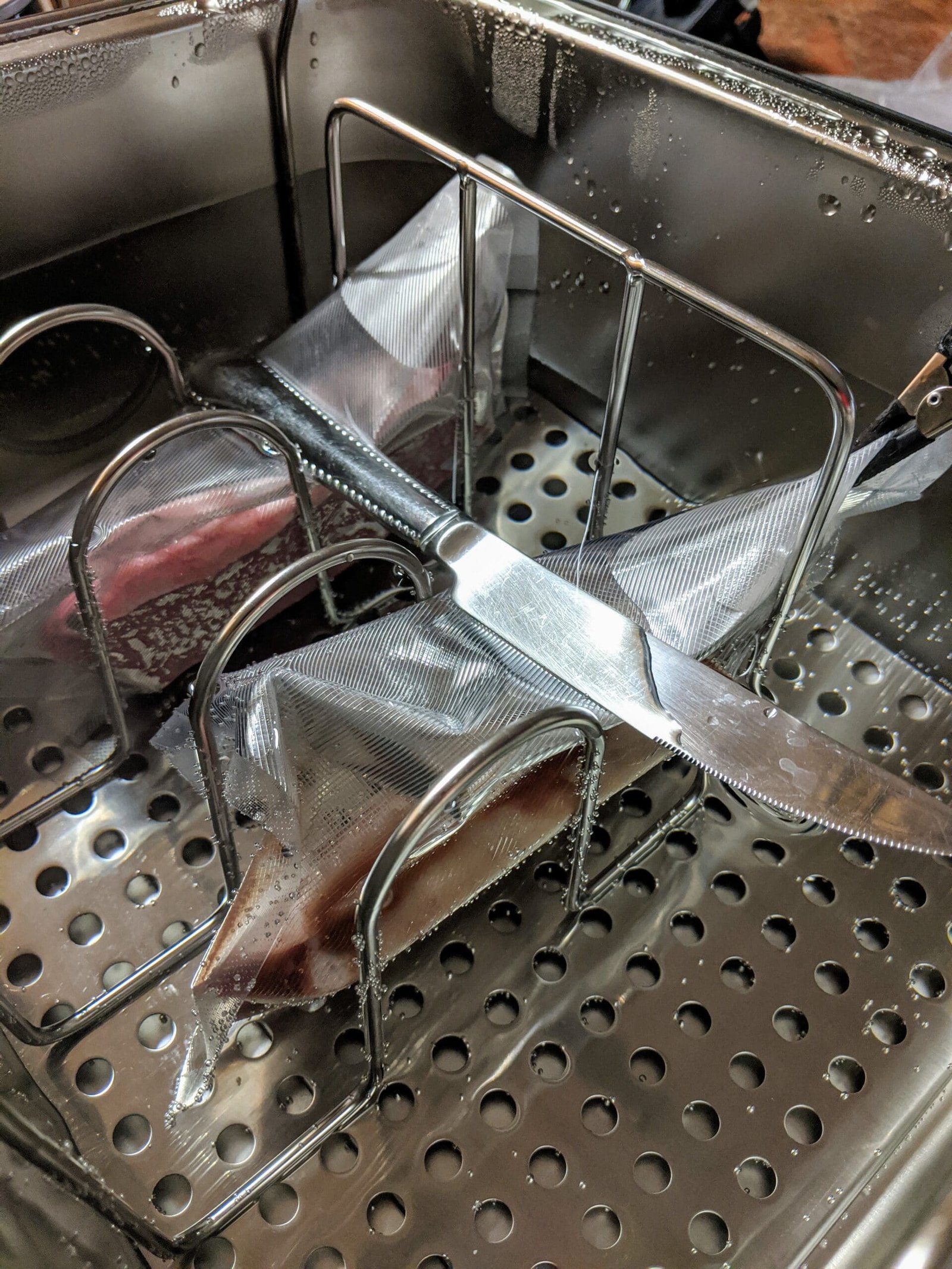 When you place your steaks in the bag, roll the top down so the steaks do not touch the sealing surface. Place the steaks into the bottom of the bag, then seal the bags. You can seal the bags with a vacuum sealer or use the water displacement method. My sous vide chicken breast recipe has information on using the water displacement method.
The sous vide bath is brought up to the correct temperature, and the bags are placed into the water bath. They stay in the bath long enough so that they are cooked thru. Since we will be eating these shortly after cooking, we only need one hour. Cooking time is determined by the thickness of the meat and the temperature of the water bath. These steaks were just under one inch, so just under one hour is good.
Can you freze a sous vide steak?
The answer is yes, you can, but you will need to cook them longer to achieve sterilization. How much longer to cook your steak to achieve sterilization depends upon the thickness and water bath temp. For a guide on time and temperature, the Sous Vide Timing Ruler is extremely valuable. This is the same answer if you will be storing your steak in the refrigerator for a day or two after sous vide.
For steaks of one-inch thickness cooking at 131F, they would need to be cooked for 2 hours and 45 minutes.
For storing your steaks, immediately after removing them from the water bath, place them into a large bowl of ice water. When they have cooled, all the way thru dry the bag and place them into the freezer or refrigerator.
When you're ready to use the frozen sous-vide steaks, defrost them in the refrigerator overnight. Then remove them from the bag and dry them off. If more seasoning is desired, add it now. Then sear using your preferred method.
How to sous vide steaks to different doneness
My preference is for a medium-rare steak at 131F. For a medium-rare, the temperature range is 129 to 134F. My wife prefers her steak medium at 138F. For a medium, the temperature range is 135 to 144F.
We used our SousVide Water Oven for cooking these steaks, which I have been using for a long time. The only drawback to it is it takes up a lot of space. But I also have water circulating sous vide machine that takes up less storage space and is cheaper. Whichever type of device you use, the process is the same.
The first steak to go in will be the one cooked to a higher temperature. In this case, the steak was cooked to 138F. After the water bath has come up to temperature, the sealed bag with the seasoned steak will go in. We added a clip added to this bag so we would know which steak was which. The steak was cooked for about 45 minutes. After that, the temperature setting for the water bath was lowered to 131F. The second steak was cooked for one hour.
I do place a butter knife on them to ensure the bags stay under the water.
After the steaks have cooked for the appropriate time, the bags are removed from the water bath and cooled in a bag of water. The steaks are removed from the bags and dried off. If you want to add more seasoning, this is a good time to do so.
One method that works great for searing is a very hot cast iron pan. A blow torch also works without making a lot of smoke, but that is my least favorite way. My favorite way to sear my sous vide steaks is with a charcoal chimney.
Is steak Keto?
Yes, steak is keto. But depending upon the macros that you are shooting for you may need to watch portion size. I have been eating mostly keto for the last six months and it has been helping keep my gout under control.
First, fill the charcoal chimney about half the way full of charcoal and light when the coals are red hot, place a small grate on the chimney. Before adding your steak to the grill use, a paper towel and add some oil to the grate. Then place your steak on the grate. After 30 seconds, flip it over.
After 30 seconds, flip and rotate 90 degrees. After another 30 seconds, flip again. This should give you nice grill marks on both sides.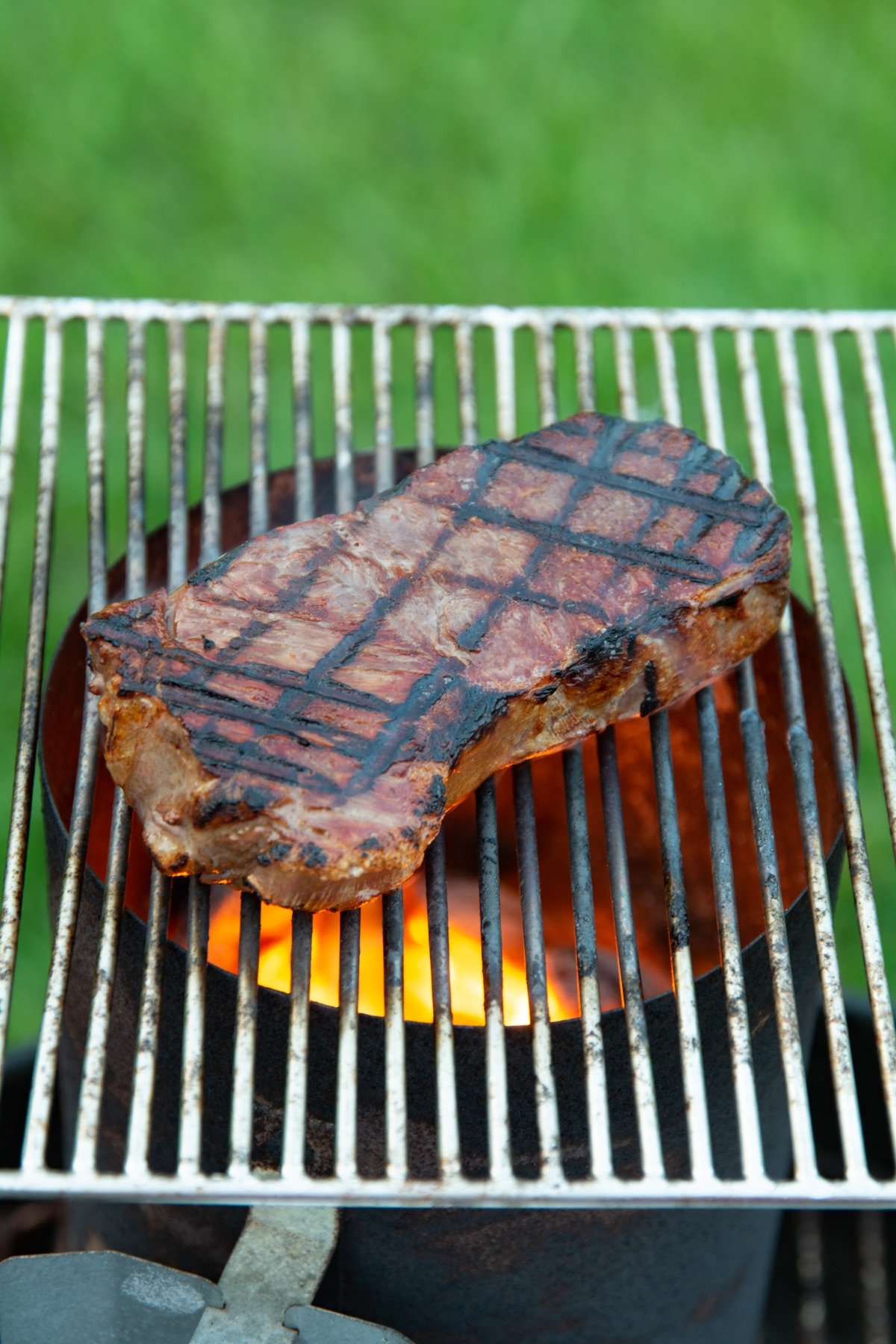 The grill marks are not perfect but I am happy with them.
Optionally you can sear the sides also. This should only take a few seconds for each side.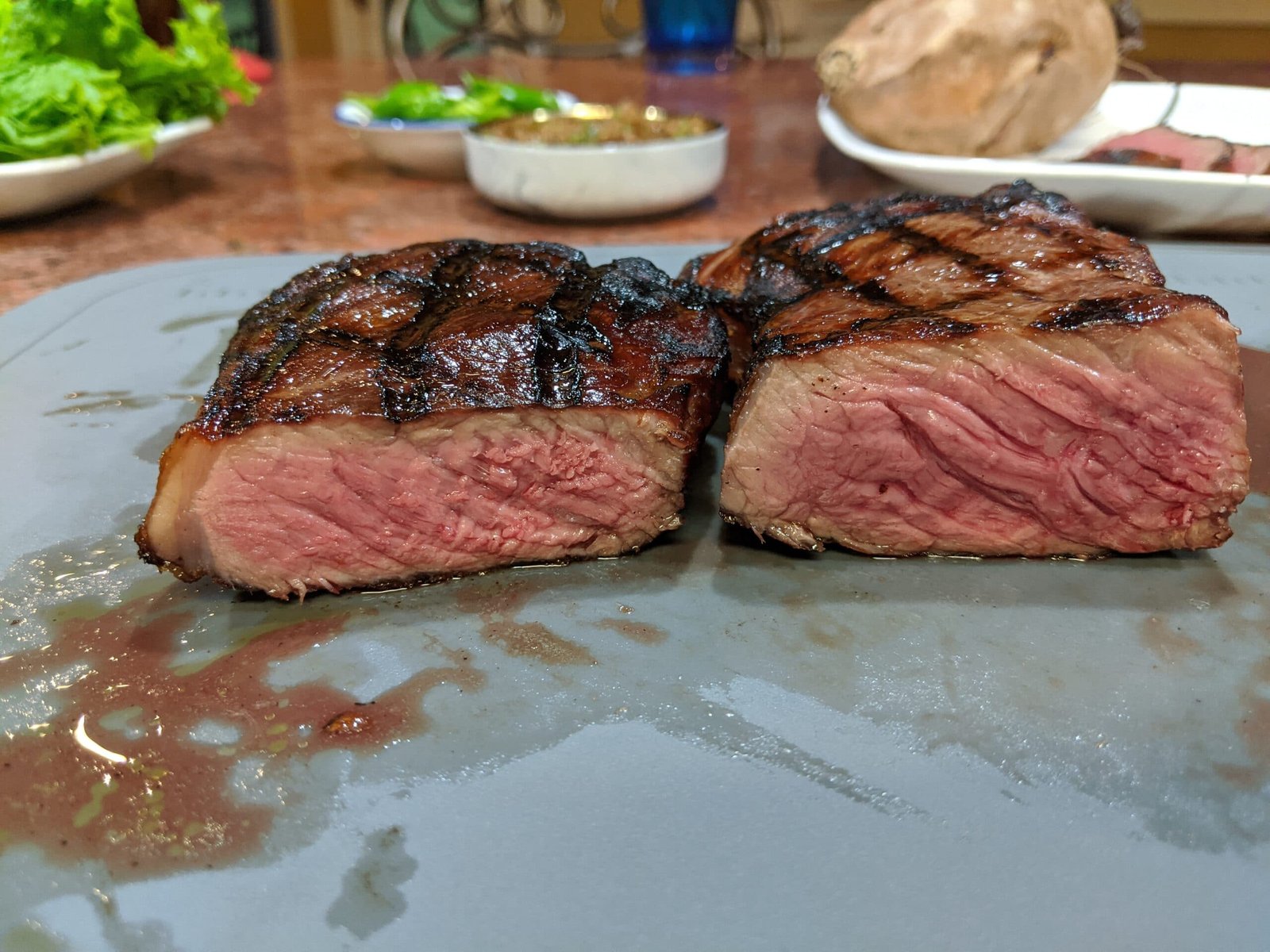 A photo of the two steaks cut in half. The one on the left was cooked to medium @ 138F. The one on the right was cooked to medium-rare @ 131F.
After cooking a steak sous vide you do not need to let it rest prior to cutting into it. But I do like to let mine sit for a minute or two after searing. But that is mainly to get everything else ready.
These steaks were served thinly sliced with Korean-style lettuce wraps. This is a great way to enjoy smaller portions of meat.
If you enjoyed this recipe perhaps you would like my other sous vide recipe post: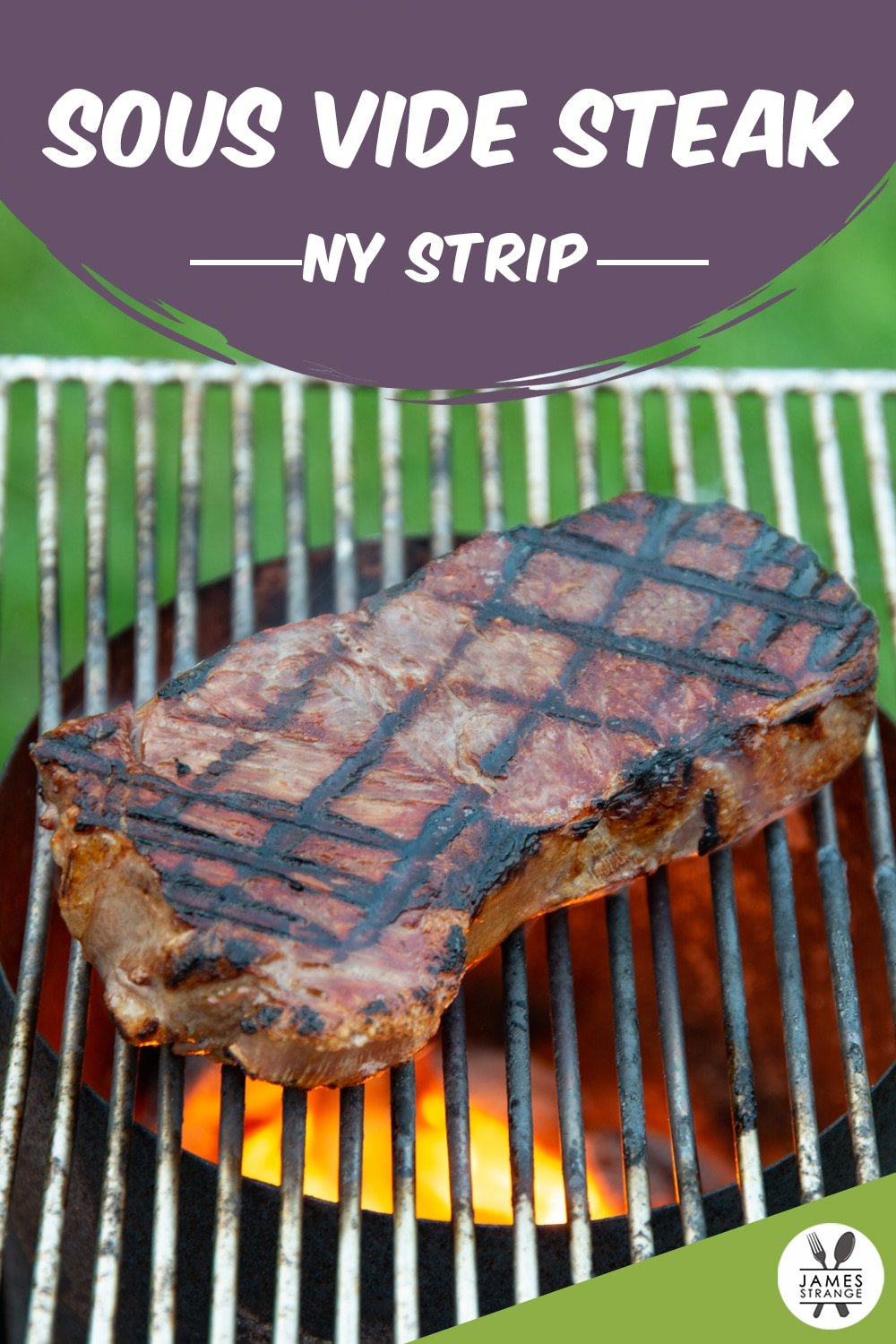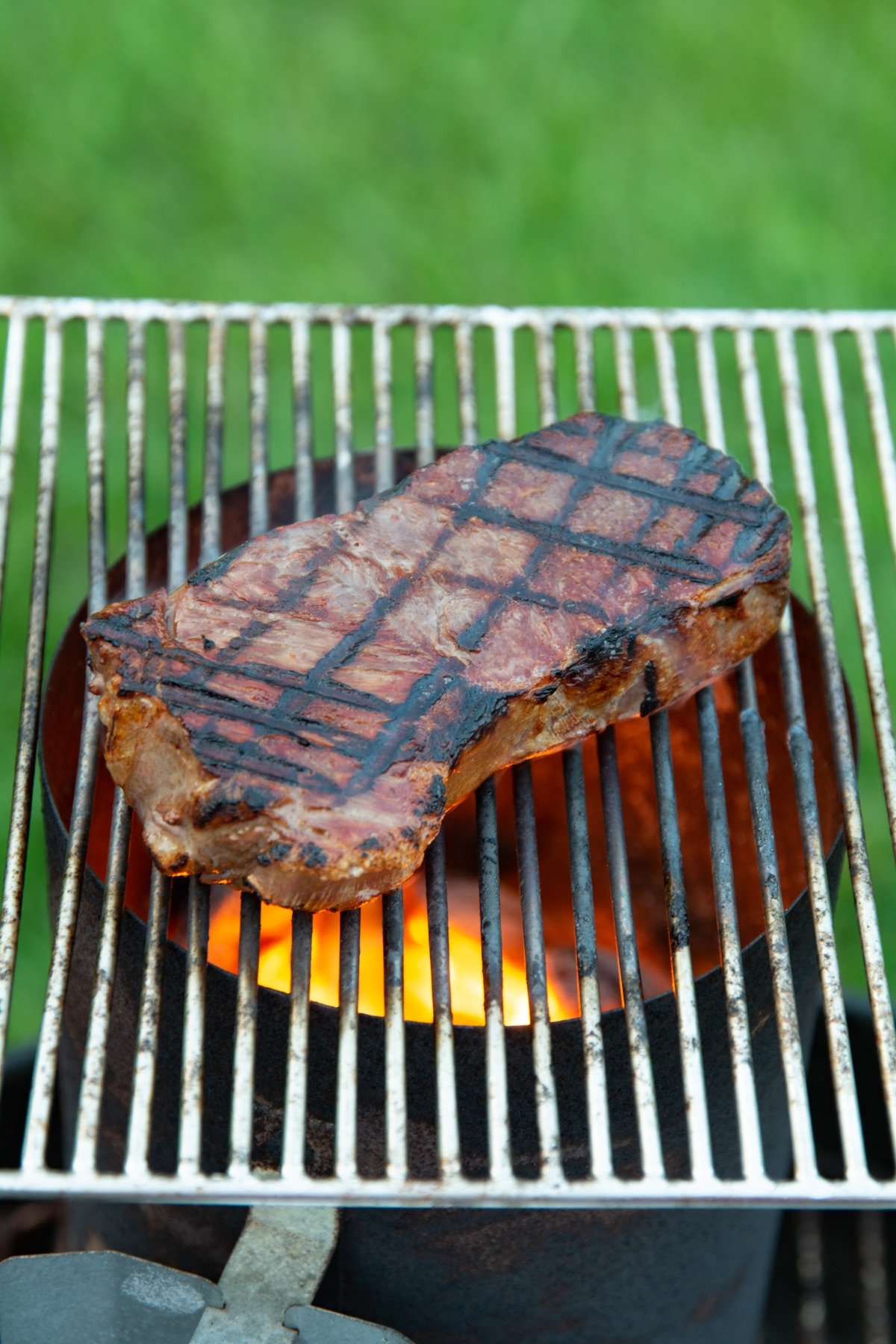 Ingredients
20

oz

Strip steak

Two 10 oz strip steaks one inch thick

1

pinch

Salt

1

pinch

Black pepper
Instructions
Set your sous vide water bath to your desired tempature

To prepare your steaks dry them off and lightly season with salt and black pepper.

Place your steaks in the bags and vacuum seal.

Place your bags with steaks into the water bath. Ensure the steaks are fully submerged.

Fill a charcoal chimney half full of charcoal and light.

Cook your steaks for one hour. Remove the bags and place into a bowl of cool water.

Remove your steaks from the bag and dry them off.

When the coals in the chimney are red hot place a small grill on top. Then sear your steaks one minute per side.

Your steaks are now ready to serve.
Nutrition
Calories:
318
kcal
|
Carbohydrates:
1
g
|
Protein:
29
g
|
Fat:
21
g
|
Saturated Fat:
9
g
|
Cholesterol:
113
mg
|
Sodium:
83
mg
|
Potassium:
444
mg
|
Calcium:
33
mg
|
Iron:
2
mg