Dak galbi is a Korean spicy stir fry using chicken and lots of vegetables. This version uses seitan instead of chicken. It also uses some veggies not normally associated with Korean cooking.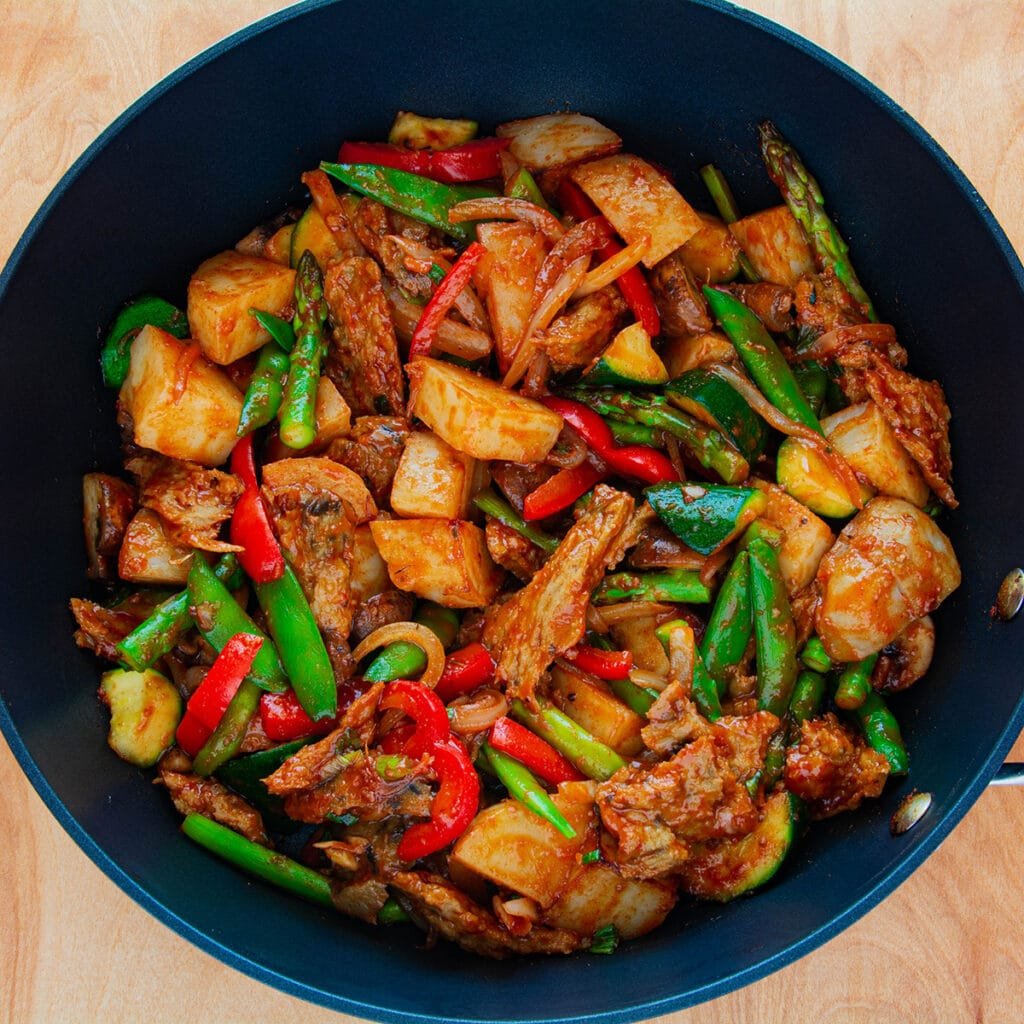 Chuncheon Korea is famous for Dak Galbi. They even have a dak galbi street lined with restaurants selling the dish. Chuncheon style uses lots of cabbage and rice cakes. It is a dish normally cooked at the table. When you're almost done, you can add rice to the pan, mix it with the leftover bits and let it get crispy. It's delicious and fun to eat with friends.
As you can tell, this version is nothing close to that, but it does have lots of healthy veggies and a spicy sauce. But you could definitely add rice and enjoy it with your friends.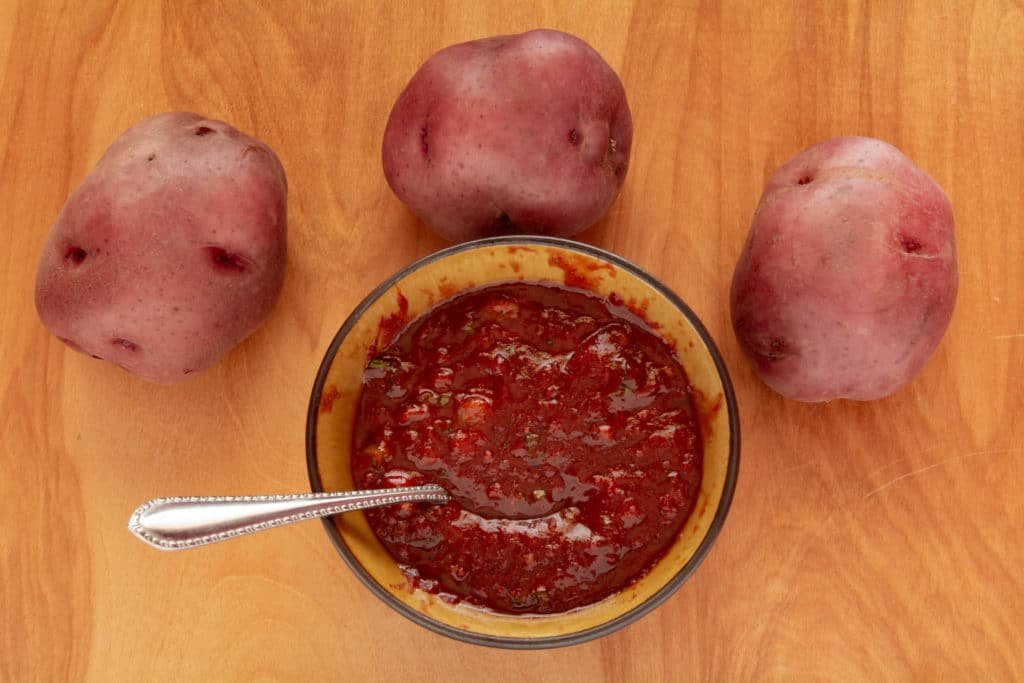 First, we need a good sauce; the sauce should be made first to give the flavors time to come together. To make the sauce, mix:
Korean pepper paste, gochujang: I like to use the ones with red pepper listed as the first ingredient.
Korean soybean paste, doenjang: Check labels; the best ones have only a few ingredients, some have fish or shellfish. When I make it, the only ingredients are soybeans, water, and salt.
Sweetener of choice: In this recipe, we used plum syrup and brown sugar. Plum syrup was also used in the Beyond Meat bibimbap recipe. It would be best if you played around to find what you like.
Soy Sauce: You can use tamari if that is what you prefer.
Sesame Oil: It's a must use ingredient but only use a little. A little goes a long way.
Green onion: Used two that were finely chopped.
Garlic: This time we used the prepared kind (lazy day).
White pepper: This is an optional ingredient.
Also shown is potatoes. Traditionally the dish is made with Korean sweet potatoes. But my wife would not let me use the ones that she had. Said they were for something else. For even cooking, bring the potatoes to a boil. After ten minutes, turn off the heat, cover, and let them sit for an hour or so. Drain the water and let them cool. They should be cooked thru but not mushy. When ready to use them, peel with a spoon and cut into big chunks.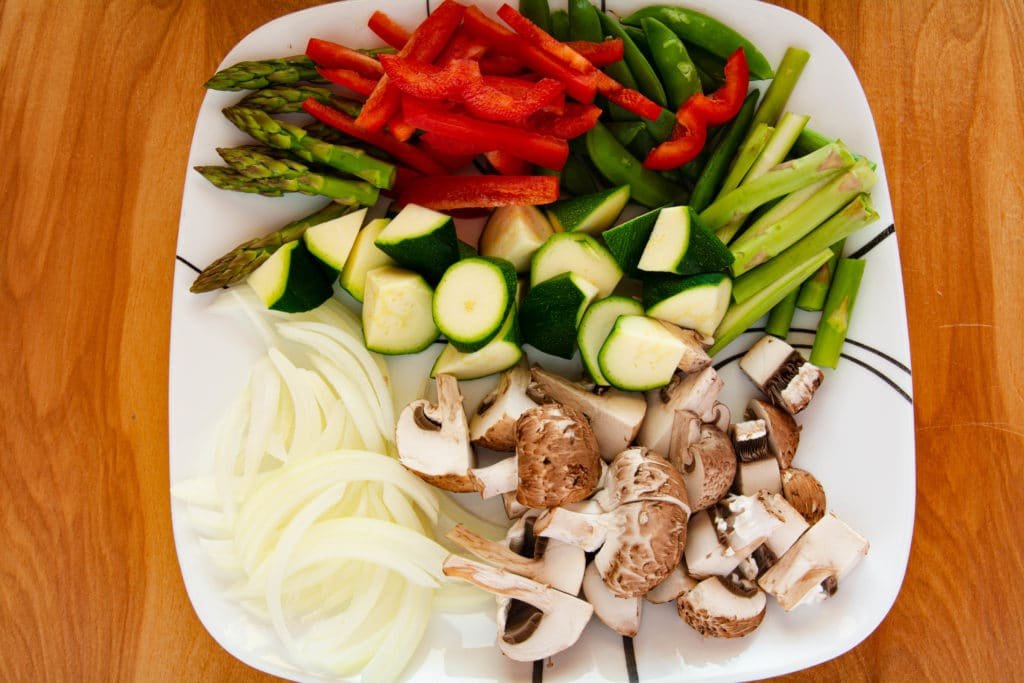 For the veggies, go crazy with what you have or can find. If you have something in the fridge that needs to be used up, throw it in the pan. After all, variety is the spice of life. To keep your stress level low, prep everything before you start cooking.
Mushrooms: We used four big ones cut into chunks.
Onion: Used about 1/4 of a big one.
Zucchini: Used a medium one cut into using the roll cut (oblique cut). This way, they look pretty in the dish. To do this, cut the zucchini at an angle, roll it a third of the way around, and make another cut. Roll again and make another cut. But you can cut them however you like.
Asparagus: Definitely not traditional, but they looked great in the market, and I love them. So why not? But I do treat the steams and tops as separate vegetables. First, remove the hard bottom. Trim the steam into sections, then split them. The tips will go into the dish at the very end, so separate them from the stalks.
Red bell pepper: Traditionally, spicy peppers would find their way into the dish. But we like the sweetness of these, and they are pretty.
Sugar snap peas: Healthy and delicious so why not.
Not shown in the ingredients is the seitan. For this, we were experimenting with washing flour to remove the starch. I am not ready to make a post on that method of making seitan. But I do have a post showing another method. Or you can buy it already made.
In a pan on medium heat with a little oil, lightly brown your potatoes on three or four sides. This helps to firm up the outsides. You may need to work in batches. The potatoes we had pre-cooked took two batches. I only used half of what was pre cooked. The others will be for breakfast.
After browning remove the potatoes and set aside.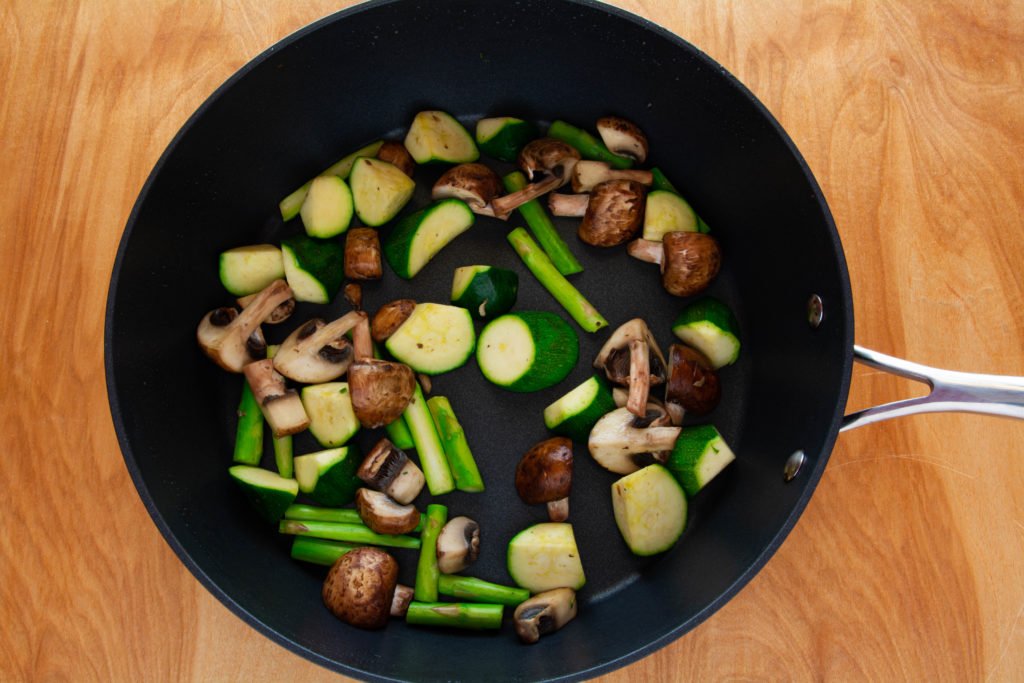 After your potatoes are browned, we can start cooking the other veggies. Start with the ones that take longer to cook. In this case, zucchini, mushrooms, and asparagus stems. Cook for about three minutes.
Do not add any more oil. If the pan starts to get dry, splash a few drops of water or veggie broth.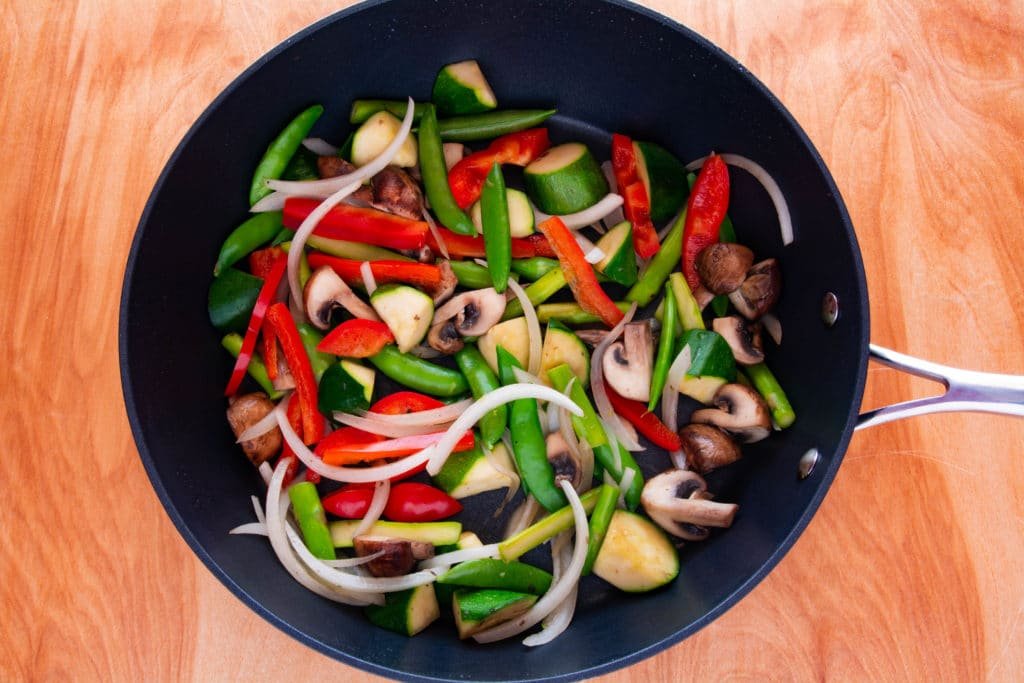 Add the rest of your veggies (except the asparagus tops and potatoes) and cook until the onions start to get soft.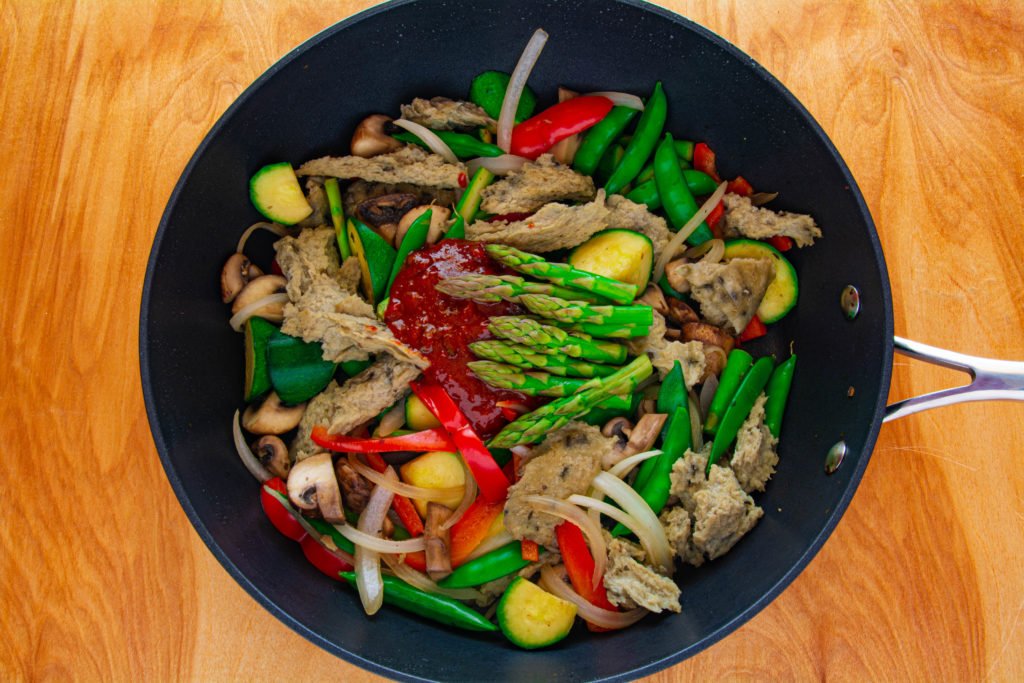 Then add your seitan, sauce, and asparagus tops. To adjust the spiciness of the dish, adjust how much of the sauce you add. We only used 2/3 of the sauce. If you really want to make it spicy, add some Korean red pepper.
Stir in the sauce. Cook for three or four minutes, then add the potatoes. Cook for another two minutes.
The leftover sauce helps to make a quick dish. Saute whatever you want to eat, then cover with the sauce, and your good to go. Or use it as a veggie dip.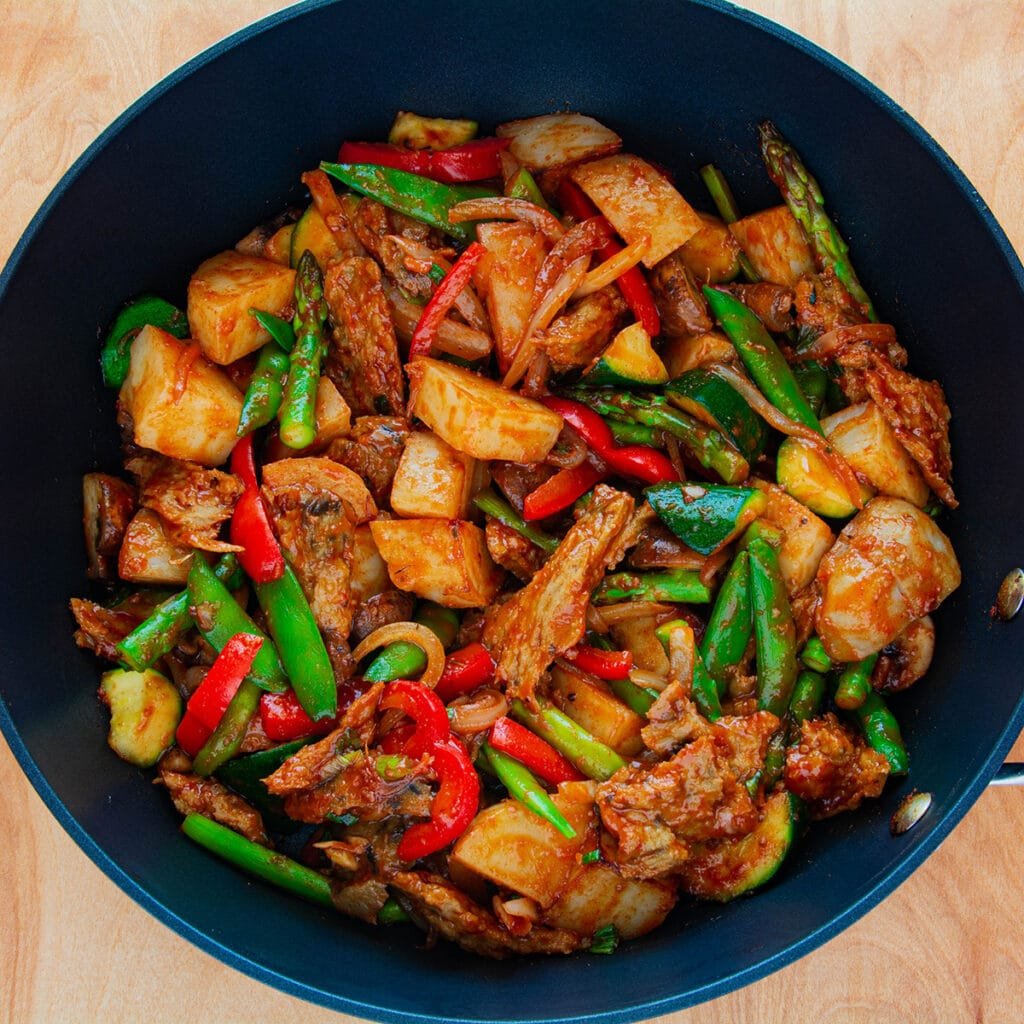 Your now ready to serve.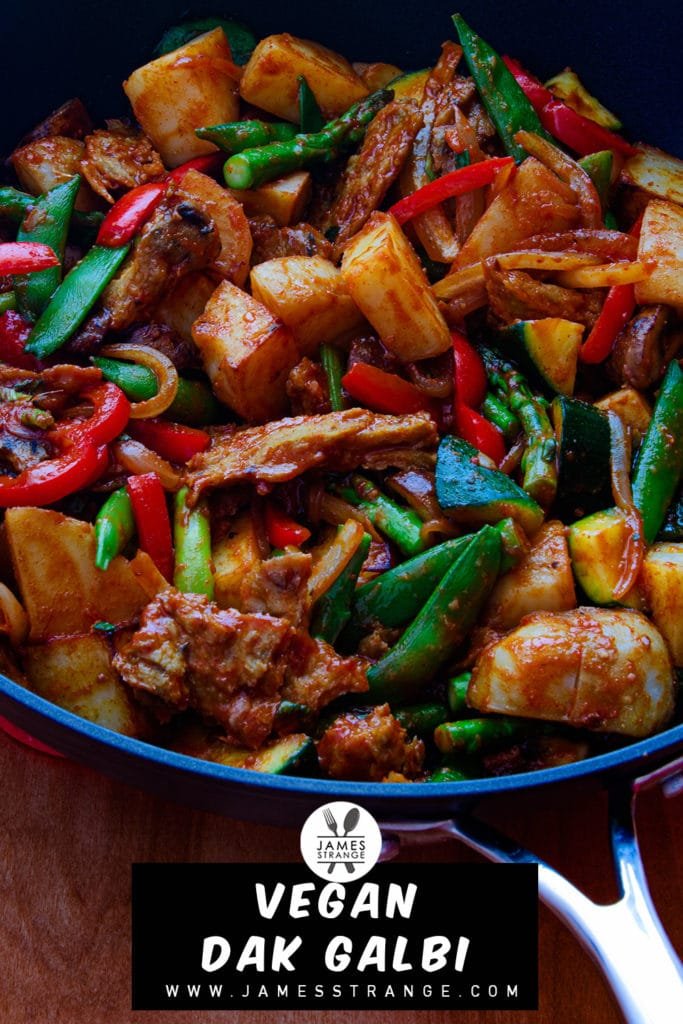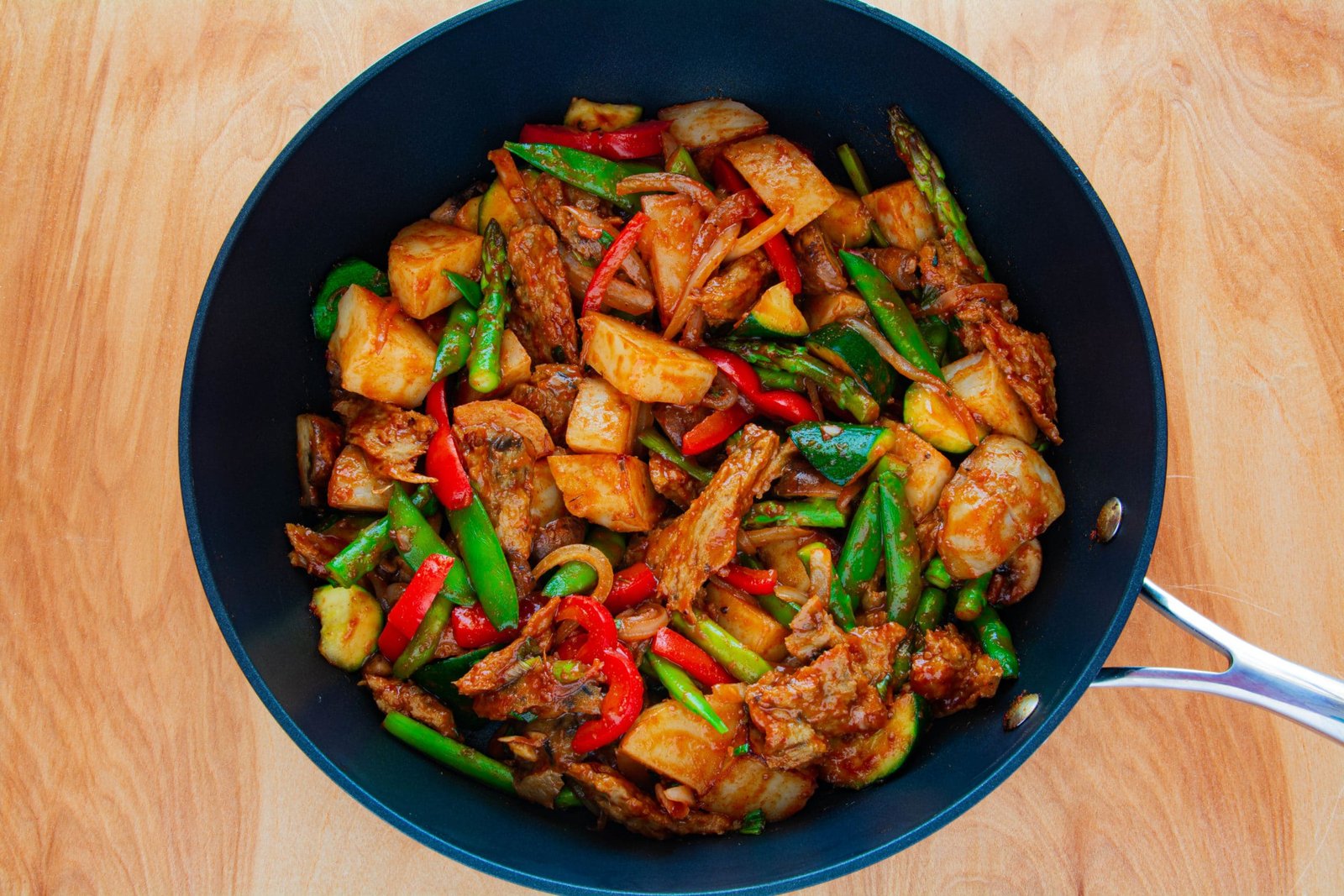 Ingredients
Sauce
Vegetables
4

each

Mushrooms

Cut into large pieces

1/4

each

Onion

1

each

Zucchini

Cut into large pieces

6

each

Asparagus

Stems and tip separated

1/4

each

Red Bell Pepper

1/4

Cup

Sugar snap peas
Other
8

oz

Seitan

2

Tablespoons

Oil
Instructions
Pre cook the potatoes
Add your potatoes to a pot and cover with water. Bring to a slow boil for 10 minutes.

Cover and turn off the heat, let sit for an hour or so.

Drain and let the potatoes dry.

When ready to cook the dish peel the potatoes and cut into chunks.
Make the sauce
Mix together 4 Tablespoons gochujang, 1 Tablespoon doenjang, 1 teaspoon plum syrup, 1 teaspoon brown sugar, 1 teaspoon soy sauce, 1/2 teaspoon sesame oil, 3 chopped green onions and 1/8 teaspoon white pepper.

Mix everything and set aside.
Cook
To a pan on medium to medium high heat add 1 Tablespoon of oil and brown the first batch of potatoes, remove and set aside.

Add half a Tablespoon of oil and cook the next batch of potatoes and set them aside.

After cooking the potatoes add 1/2 teaspoon of oil to your pan and cook the zucchini, mushrooms and asparagus stems for 3 minutes. Do not add any more oil. If the pan starts to get dry just splash a few drops of water or veggie broth.

Add the rest of your veggies (except the asparagus tops and potatoes) and cook until the onions start to get soft.

Add your seitan, sauce and asparagus tops. Stir in the sauce. Cook for three or four minutes

Add the potatoes cook for another two minutes.
Nutrition
Calories:
170
kcal
|
Carbohydrates:
12
g
|
Protein:
13
g
|
Fat:
9
g
|
Saturated Fat:
1
g
|
Sodium:
502
mg
|
Potassium:
80
mg
|
Fiber:
1
g
|
Sugar:
5
g
|
Vitamin A:
98
IU
|
Vitamin C:
7
mg
|
Calcium:
9
mg
|
Iron:
1
mg