Looking for a delicious and easy side dish? Check out our creamy cauliflower potato salad recipe. This make-ahead mock potato salad is perfect for any summer BBQ, potluck, picnic, or just to enjoy on a lazy day. Plus, it's gluten-free and easy to make vegan, so everyone can enjoy it!
Cauliflower makes such a great substitute for potatoes that in this house it is known as cauliflower potatoes.
Is cauliflower potato salad healthy?
Most of the time when I make a dish like this, people ask me if cauliflower potato salad is healthy. Usually, this is a concern due to the amount of fat contained in the dish. When our bodies are in ketosis, our bodies burn fat for fuel instead of carbs. But the answer to that question will vary based on each person's health and goals. Cauliflower is rich in vitamin C and fiber which helps keep you fuller longer – especially after a big meal (like our BBQ!). In my opinion, this recipe is healthier than the carb-loaded traditional potato salad.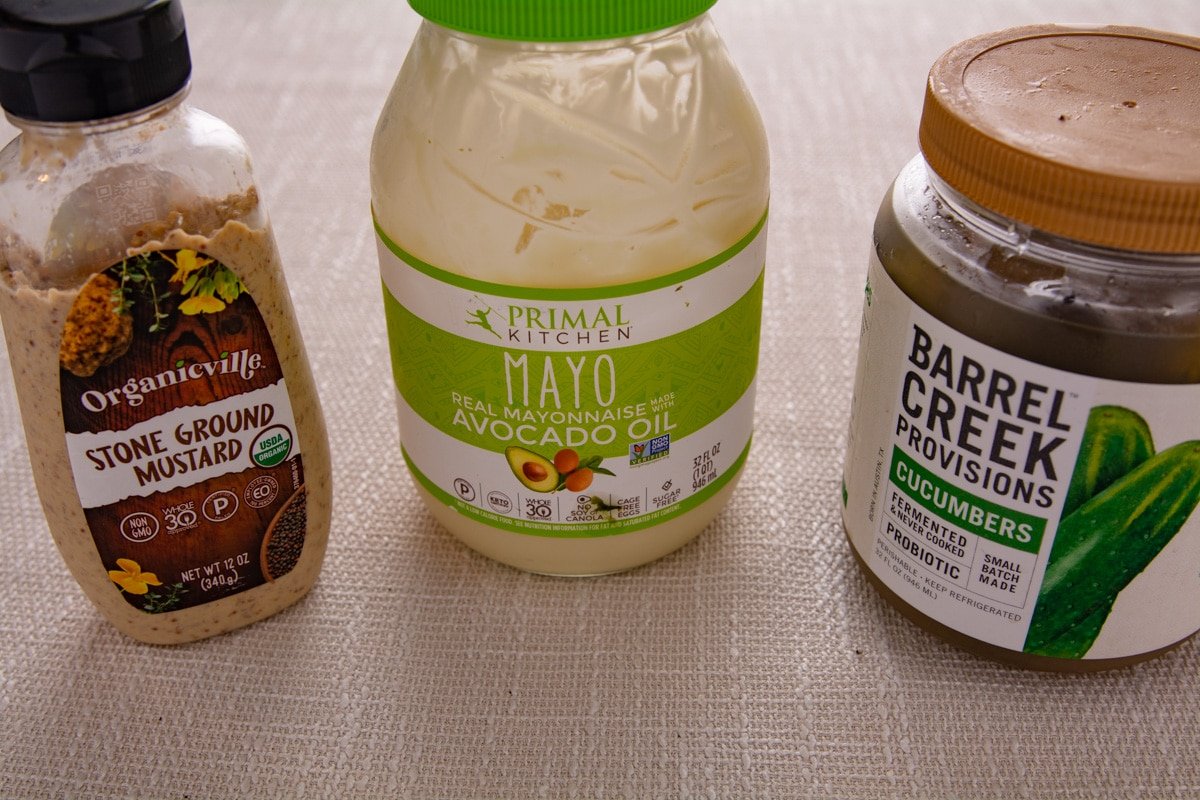 Ingredients
Cauliflower, it's in the name of the recipe so we have to use it right? For the dish, I used one head of cauliflower. But you can also use radishes, turnips, rutabagas, or even a combo of veggies. Whichever veggie you chose will allow you to keep this side dish low carb.
Pickles, before starting a keto diet I always used bread and butter pickles. But they are loaded with sugar. My wife is not too happy about that but she understands that following a keto diet helps to keep my gout under control. You can use dill pickles or like I am doing today naturally fermented pickles.
Pickle juice, I always use a little bit of pickle juice in my potato salad. It's kind of my secret ingredient.
Mustard, most people will use dijon mustard but my preference is stone ground mustard. But no matter which one you chose read the labels. You would be surprised how many brands of mustard have sugar.
Salt and black pepper. Yes, you need to season your food.
Mayo is what makes the dish creamy. To make the dish vegan you would need to use vegan mayo. If you are not a fan of mayo try using greek yogurt instead.
Optional ingredients include celery, fresh dill, hard-boiled eggs, red onion, green onion (Korean potato salad has green onions), bacon, lemon juice, or cheese. If you are from North Carolina then you can use vinegar.
What Kind of Mayo To Use
Homemade mayonnaise is the best but I am still working on my version of homemade keto mayo. I look for mayo made with olive oil or avocado oil and no sugar. I do avoid seed oils to limit inflammation. My main reason for doing keto is about nutrition and health, not weight loss. So far I am seeing very positive results. If you're trying to lose weight you may want to reduce the calories by cutting back on the mayo.
Cook cauliflower
Cut the cauliflower into small bite-sized pieces by separating out most of the individual florets. Place a large pot onto the stovetop. Add water until you have three-quarters of an inch of water in the pot. Place the steamer basket and lid on the pot. Turn the heat up to high and when steam starts to form in the pot add the cauliflower and cook until tender. Usually around seven mins.
Run cool water over the cauliflower to stop the cooking. Place into a large bowl and place into the fridge to cool all the way down.
If you do not have a steamer you can boil the cauliflower until it is tender.
Make the dressing
While the cauliflower is chilling in the fridge we can make our creamy dressing. Add all of the dressing ingredients to a bowl and give them a good mix. Cover and place the bowl in the refrigerator.
Assemble the potato salad
After everything has cooled down it is time to assemble your faux potato salad. With your cauliflower florets in a large bowl add your creamy dressing and gently toss to coat the cauliflower. You can add any garnish that you like, paprika, parsley, and black pepper. Place your salad into an airtight container and return it to the fridge.
Can you make this ahead of time?
Yes, you can. In fact, it is actually better when made ahead of time. If you are planning a barbeque make the salad the day before. Just keep it stored in the fridge until ready to serve.
This recipe would be perfect to serve with smoked tri-tip.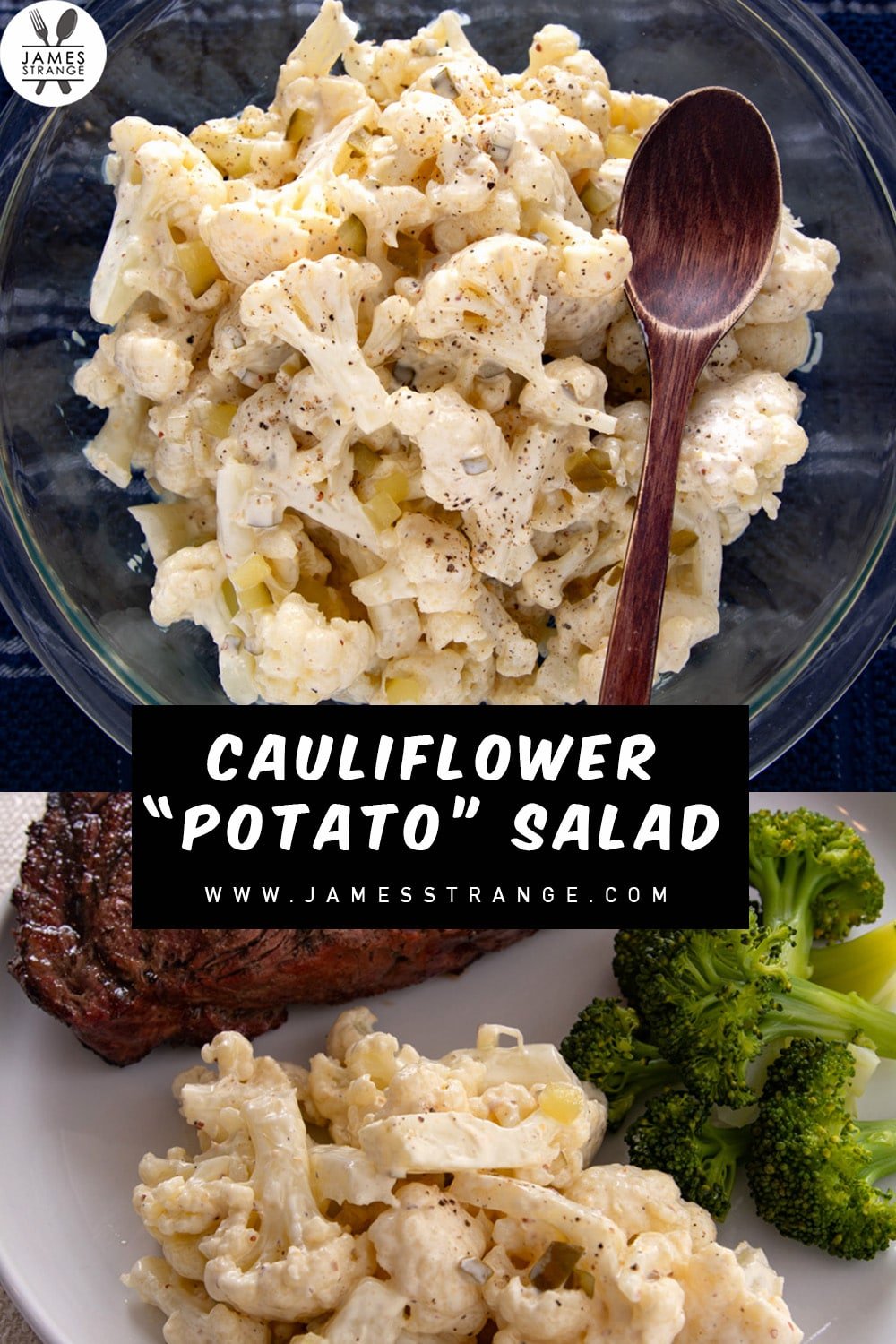 If you enjoyed this recipe then please share it with your friends.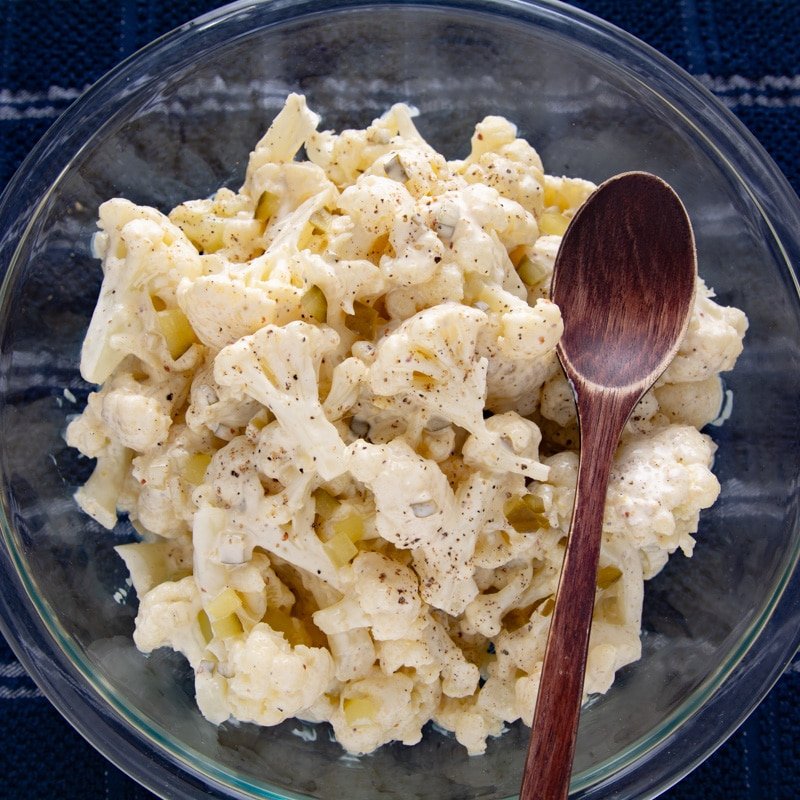 Ingredients
Dressing
3/4

cup

mayonnaise

2

tablespoons

mustard

1

spear

fermented pickle

chopped

2

tablespoons

pickle juice

1/8

teaspoon

salt

1/8

teaspoon

black pepper
Instructions
Steam cauliflower
Cut the cauliflower into bite-sized pieces.

Steam cauliflower until tender. 7 to 10 minutes

Cover and place into the fridge until cool.
Make the dressing
To a bowl and the mayo, mustard, chopped pickle, pickle juice, salt, and pepper. Give a good mix.

3/4 cup mayonnaise,

2 tablespoons mustard,

1 spear fermented pickle,

2 tablespoons pickle juice,

1/8 teaspoon salt,

1/8 teaspoon black pepper

Cover and place into the fridge.
Assemble
Place the steamed cauliflower into a large bowl, cover with the dressing and gently toss to coat the cauliflower. Cover and place in the fridge until ready to serve.
Nutrition
Calories:
165
kcal
|
Carbohydrates:
4
g
|
Protein:
2
g
|
Fat:
16
g
|
Saturated Fat:
3
g
|
Polyunsaturated Fat:
9
g
|
Monounsaturated Fat:
4
g
|
Trans Fat:
1
g
|
Cholesterol:
9
mg
|
Sodium:
322
mg
|
Potassium:
225
mg
|
Fiber:
2
g
|
Sugar:
2
g
|
Vitamin A:
16
IU
|
Vitamin C:
35
mg
|
Calcium:
20
mg
|
Iron:
1
mg