In this post, we have a recipe for Cajun chicken thighs in a delicious cream sauce. This is a one-pot dish that takes just 30 minutes to make and is so full of flavor that even your non-low-carb friends will love it.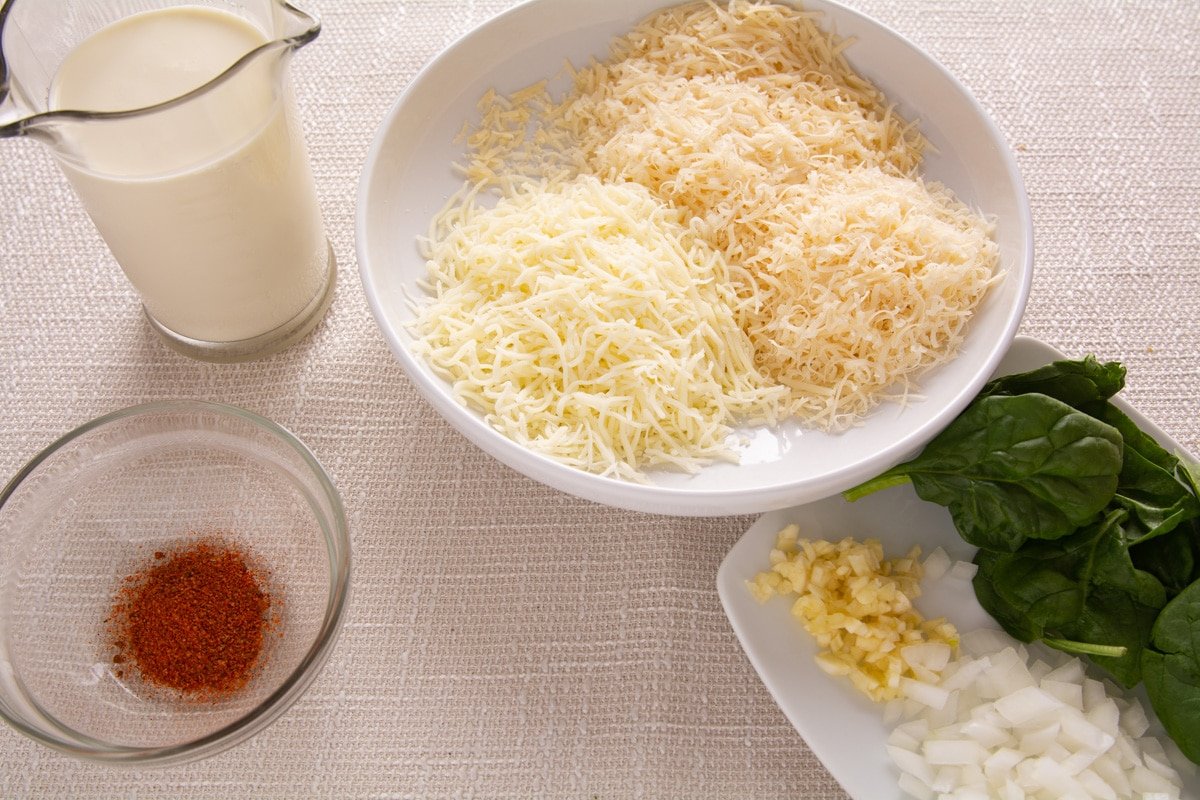 Ingredients
Chicken, I prefer thighs but you can use chicken breast. The chicken that I used today was free-range and not injected with a saline solution. It is more expensive but in my opinion, it is healthier and nutrition is why I started following a keto diet.
Cajun seasoning. My preferred store-bought blend is Slap Ya Mama low sodium blend it has just the right amount of heat from cayenne pepper with a good spice blend. Most blends have way too much salt for my taste.
Olive oil, I use extra virgin olive oil. For control of inflammation, I avoid seed oils.
Fresh garlic and onion. The cajun spice blend has onion and garlic powder but fresh ones are definitely needed for that extra something.
Heavy cream, the cream is lower in carbs than milk. For this recipe whipping cream is the same as heavy cream. Yes, the cream has a lot of calories but we do not eat this every day.
Butter, I used grass-fed butter. That is what I buy but it is not required.
Parmesan cheese, today I used freshly grated since it is cleaner but sometimes I am lazy and use pre-grated. You're not going to tell anyone, are you?
Spinach, I like it it gives some color to the dish. We do eat with our eyes.
Mozzarella cheese is mostly used to thicken the sauce but you can substitute cream cheese.
Is mozzarella cheese keto?
Luckily for us, mozzarella cheese is very low in net carbs. Depending upon the brand it can range from zero to two nets grams of carbs per ounce. However, pre-shredded mozzarella usually had things like tapioca starch which are not keto. Anytime you buy cheese watch out for added ingredients.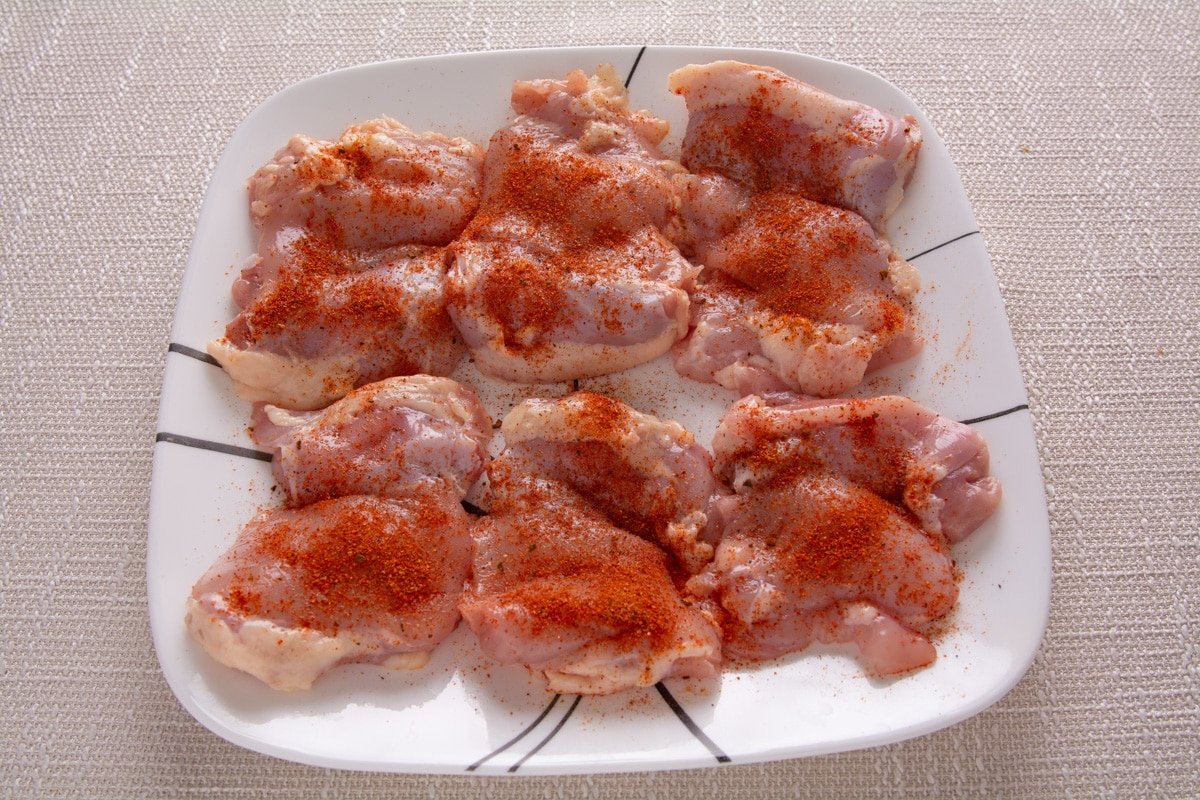 Instructions
Season the chicken thighs with your Cajun seasoning of choice and set them aside. Then dice up the onion and garlic. Measure out the cream, butter, spinach, and cheeses. Place everything close to your cooktop.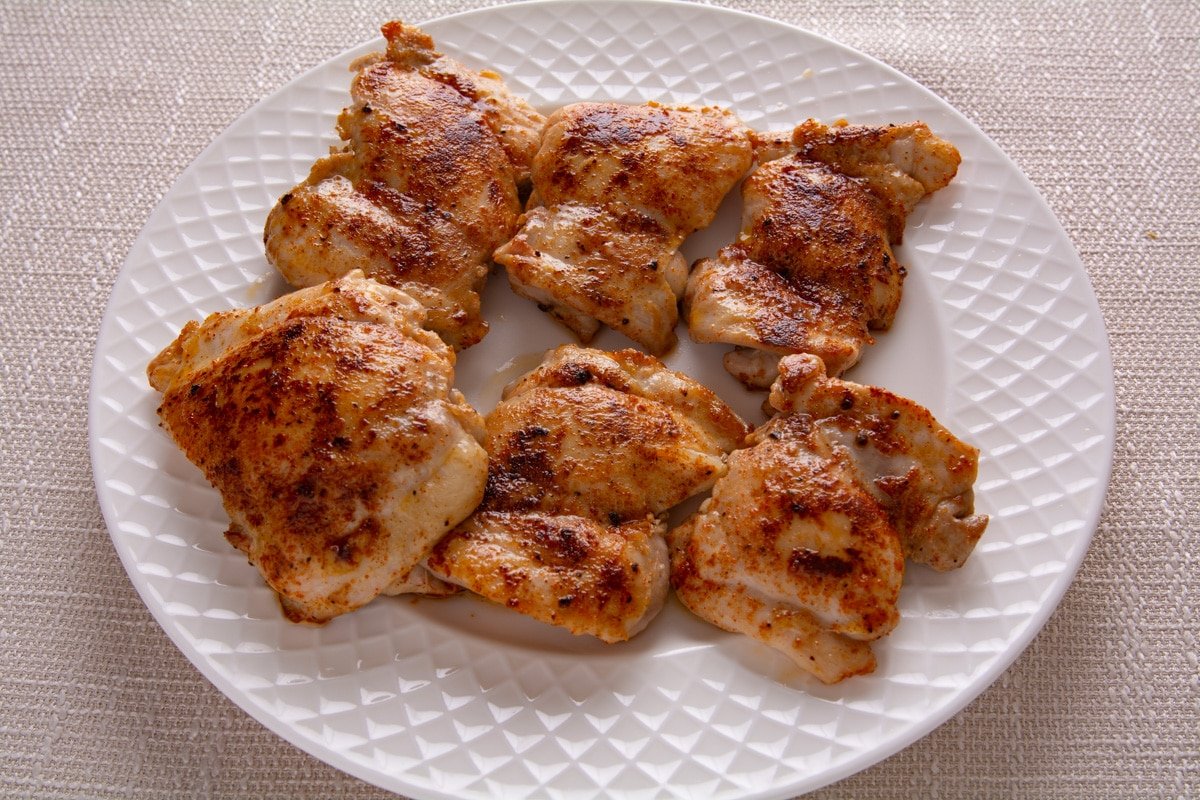 Place a skillet onto a burner on high heat. Add the olive oil and swirl to coat the pan. Add the chicken and sear on one side. This should take about two to three minutes. Reduce the burner to medium-high heat and flip the chicken, sear the other side this should take about two minutes. Reduce the burner to medium heat and remove the chicken.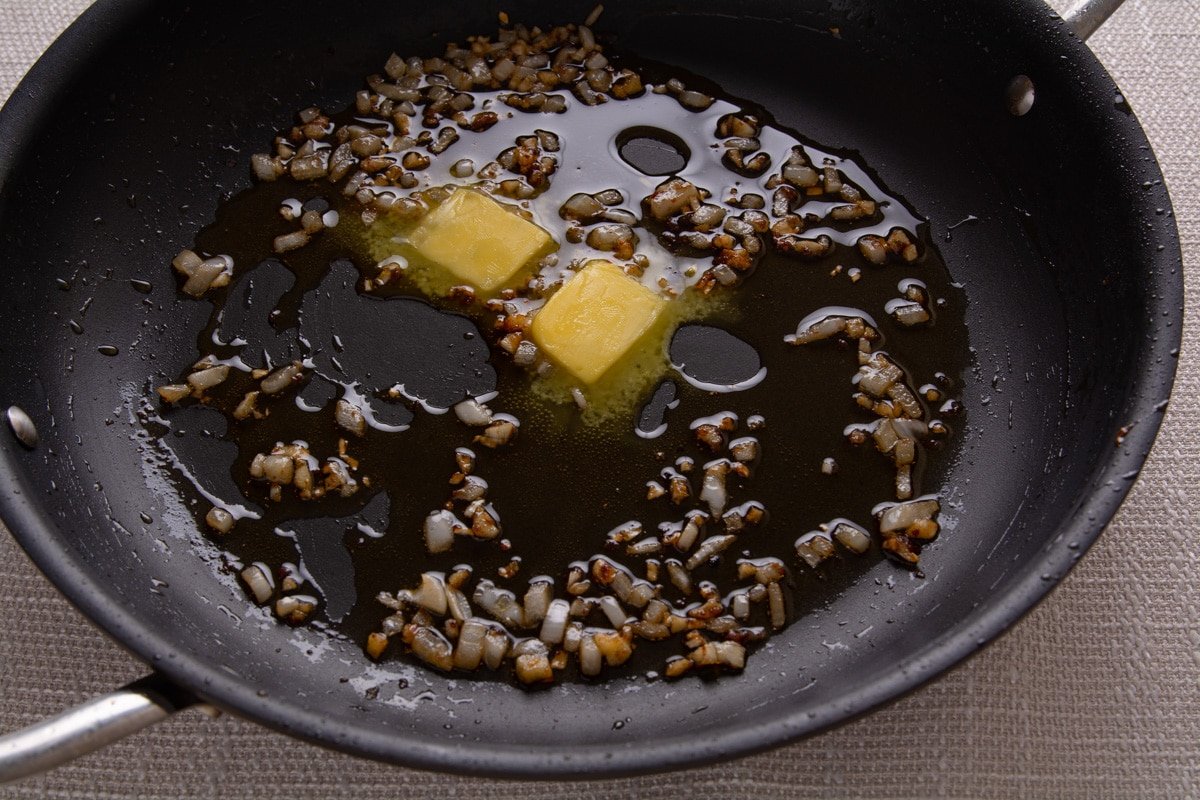 Add the chopped onion and garlic and cook until the onion starts to soften, and add butter. When the butter has melted add your cream, Cajun seasoning, and both cheese. Give it a whisk to combine and continue cooking until the cheese has melted. Return the chicken to your pan and simmer on one side for two to three minutes. Add the spinach and flip the chicken and push the spinach into the sauce. Simmer to the desired doneness. Your dish is now ready to serve.
For garnish, you can add some chopped parsley and or paprika.
What is the safe temperature for chicken?
Since we will be using a quick-cooking method for cooking our chicken it should be cooked until an instant-read thermometer reads 165F or higher. For more information on the safe cooking and handling of chicken can be found on the CDC website. https://www.cdc.gov/foodsafety/chicken.html
What to serve with creamy cajun chicken?
This goes great served over steamed broccoli or served with mashed cauliflower.
HOW TO STORE AND REHEAT cajun chicken
If you do have some leftovers place them into an airtight container and place them into the fridge. They will be safe to eat for the next few days. How long depends upon the temperature of your refrigerator. If stored in the freezer the sauce will break and be a greasy mess. For reheating use a microwave on low power this reduces the risk of the sauce breaking.
If you enjoyed this recipe then please share it with your friends.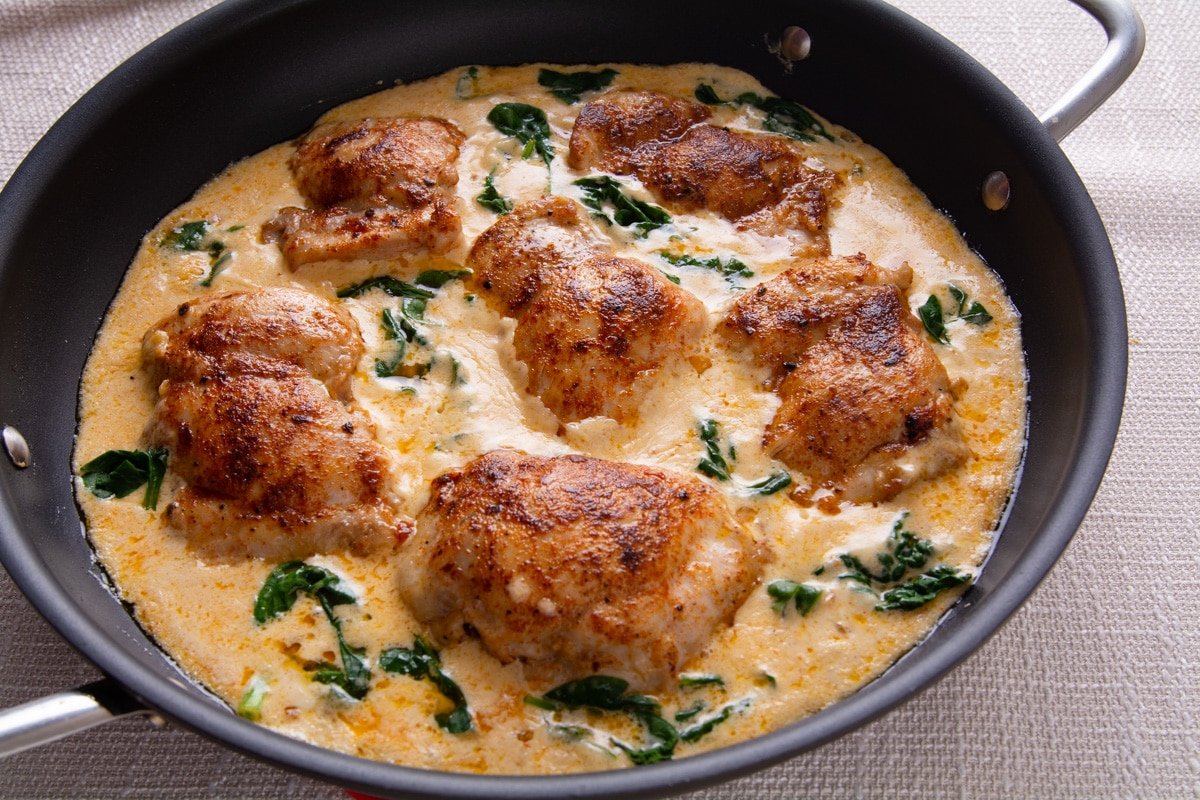 Ingredients
Chicken
6

each

chicken thighs

2

teaspoons

Cajun seasoing

Slap Ya Mama Low sodium

1

tablespoon

olive oil
Sauce
1/4

cup

onion

finely diced

2

cloves

garlic

2

tablespoons

butter

1

cup

heavy cream

3

oz

parmesan cheese

2

oz

mozzarella cheese

1/4

cup

spinach

1/2

teaspoon

Cajun seasoning

Slap Ya Mama Low sodium
Instructions
Season the chicken thighs with the Cajun seasoning of choice, and dice the onion and garlic. Measure out the cream, butter, spinach, and cheeses.

Preheat a pan on high heat, and add olive oil and seasoned chicken. Sear the chicken on both sides. Reduce heat to medium and remove the chicken.

6 each chicken thighs,

2 teaspoons Cajun seasoing,

1 tablespoon olive oil

To your pan add the diced onion and garlic. Cook until the onion is soft.

1/4 cup onion,

2 cloves garlic

Add the butter, cream, last of the cajun seasoning, and cheese. Whisk to combine.

2 tablespoons butter,

1 cup heavy cream,

3 oz parmesan cheese,

1/2 teaspoon Cajun seasoning,

2 oz mozzarella cheese

After the cheese has melted add the chicken. Cook on one side for 2.5 minutes. Add the spinach and flip the chicken and cook to desired doneness (approximately another 2.5 minutes).
Nutrition
Calories:
560
kcal
|
Carbohydrates:
6
g
|
Protein:
17
g
|
Fat:
53
g
|
Saturated Fat:
31
g
|
Polyunsaturated Fat:
2
g
|
Monounsaturated Fat:
16
g
|
Trans Fat:
1
g
|
Cholesterol:
146
mg
|
Sodium:
925
mg
|
Potassium:
171
mg
|
Fiber:
1
g
|
Sugar:
3
g
|
Vitamin A:
2149
IU
|
Vitamin C:
3
mg
|
Calcium:
496
mg
|
Iron:
1
mg