My criteria for the best brisket are tender brisket, juicy brisket, a mild smoke flavor, and thin bark. This smoked brisket recipe uses a Pit Barrel Cooker and the results tick all of my boxes.
This post does contain affiliate links that earn the site a commission. Thsi commission is what supports the site.
Cooking a whole brisket can be simple or as complicated as you want it to be. Every step can be changed or admitted as you desire. Hopefully, I will explain them enough that you can develop your own preferred method of cooking a whole packer brisket. After all your way is the best way.
Injecting a beef brisket
Injecting a beef brisket serves two purposes. Adding flavor and replacing the moisture to the inside of the meat that will be lost during the cooking process. When cooking a small brisket like this one in the Pit Barrel Cooker the meat does not lose a lot of moisture. So for this cook, it's not required.
Brisket injection recipe
The flavor profiles you want for a beef injection are beefy (of course), salty, and umami. Naturally occurring glutamates or processed monosodium glutamate (MSG) will give you an umami flavor. I tend to keep mine very simple but you should experiment to find what works for you.
Beef base: Lots of people will use beef stock but I use beef base mixed to double strength. This will add more beef flavor to the injection.
Soy sauce: Loaded with naturally occurring glutamates.
Worstisher sauce: Loaded with naturally occurring glutamates.
Fish sauce: Loaded with naturally occurring glutamates but a little goes a long way.
Optional ingredients:
Garlic powder: This is a good choice.
Onion powder: Another good choice.
Apple cider vinegar: Some people enjoy adding it but when it comes to beef it's not my thing.
Liquid smoke: I am not a fan but it's up to you.
Brisket rub recipe
Brisket rub recipe
When it comes to beef my preference is to keep my dry rubs simple while providing a savory flavor. If Salt, pepper, and garlic (SPG) are good enough for some of the most recognized pit masters then it's good enough for me. But once again feel free to experiment.
Black pepper: I use coarse ground black pepper but you can also blend in some white pepper.
Salt: Yes salt is required normally kosher salt is the preferred choice but I did not have any so I used table salt.
Granulated garlic: Or garlic powder.
Optional ingredients:
Onion powder: is a good choice.
Brown sugar: I like it for pork but not for my beef rubs.
Chili powder or cayenne pepper: nothing wrong with a bit of heat and added flavor.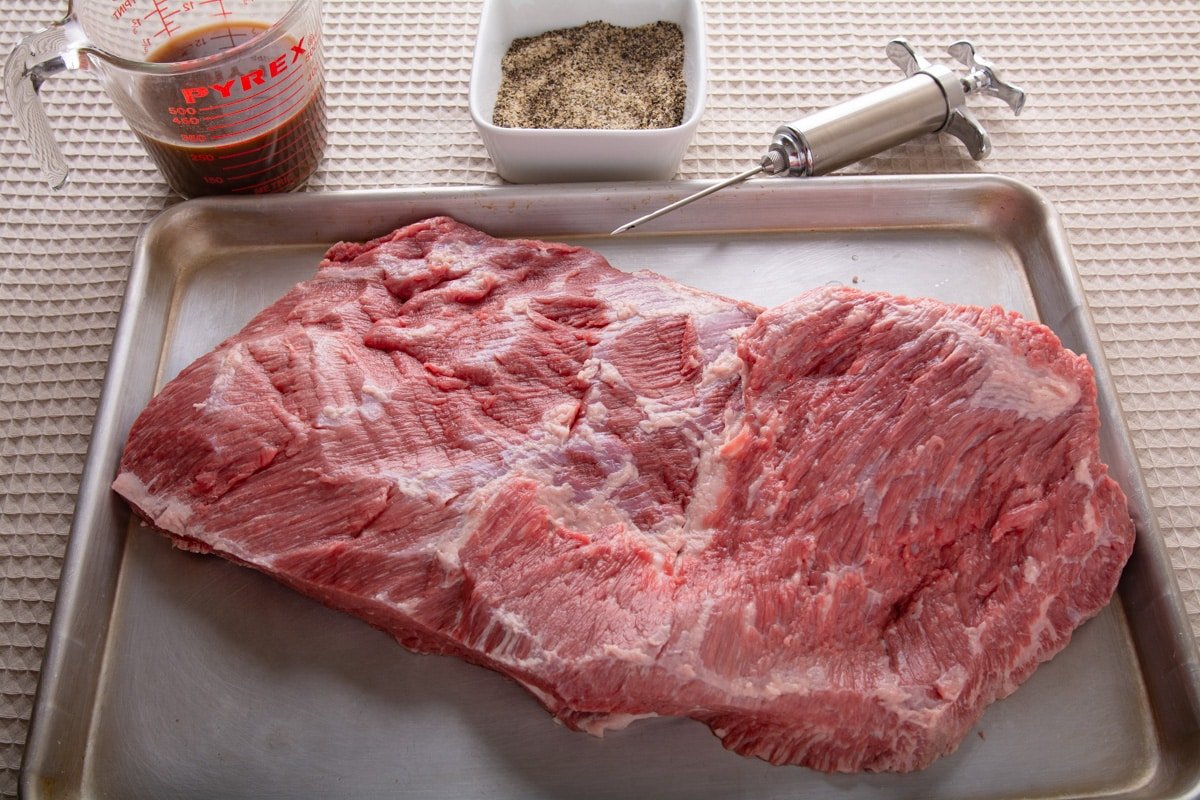 This is a nine pound brisket from Costco. I like buying brisket from Costco since they sell prime brisket for about the same price as my local grocery store sells choice brisket. This is the fat side that normally has a thick fat cap. To prevent flare-ups in my cooker I use a sharp knife to remove as much silver skin and excess fat as I can. But as you can see I am not an expert but the end results still turn out good. So do not get too worked up over trying to make it perfect.
After I get it trimmed up I will place the brisket on a sheet pan before using a meat injector to inject the injection. The reason being it is a messy process. On a small brisket like this, not a whole lot of the marinade actually goes into and stays in the meat. Just jab the brisket and inject some. Move to another spot and do it again. Keep doing this until you have injected most areas of the meat. Then use some paper towels to dry the meat.
Now it's time to apply your binder to the meat. I use olive oil but some people use mustard or even mayonnaise. Olive oil is simpler and does not add any flavor. On each side of the brisket add about one Tablespoon of olive oil and spread it all over.
Now heavily season the meat with your homemade rub. As a general rule of thumb add more than you think it needs, brisket is a thick cut of meat and heavy seasoning adds to the bark. For this cook, I did this a few hours before cooking then put the meat back into the fridge. Just take it out of the fridge about one hour before your start to cook it.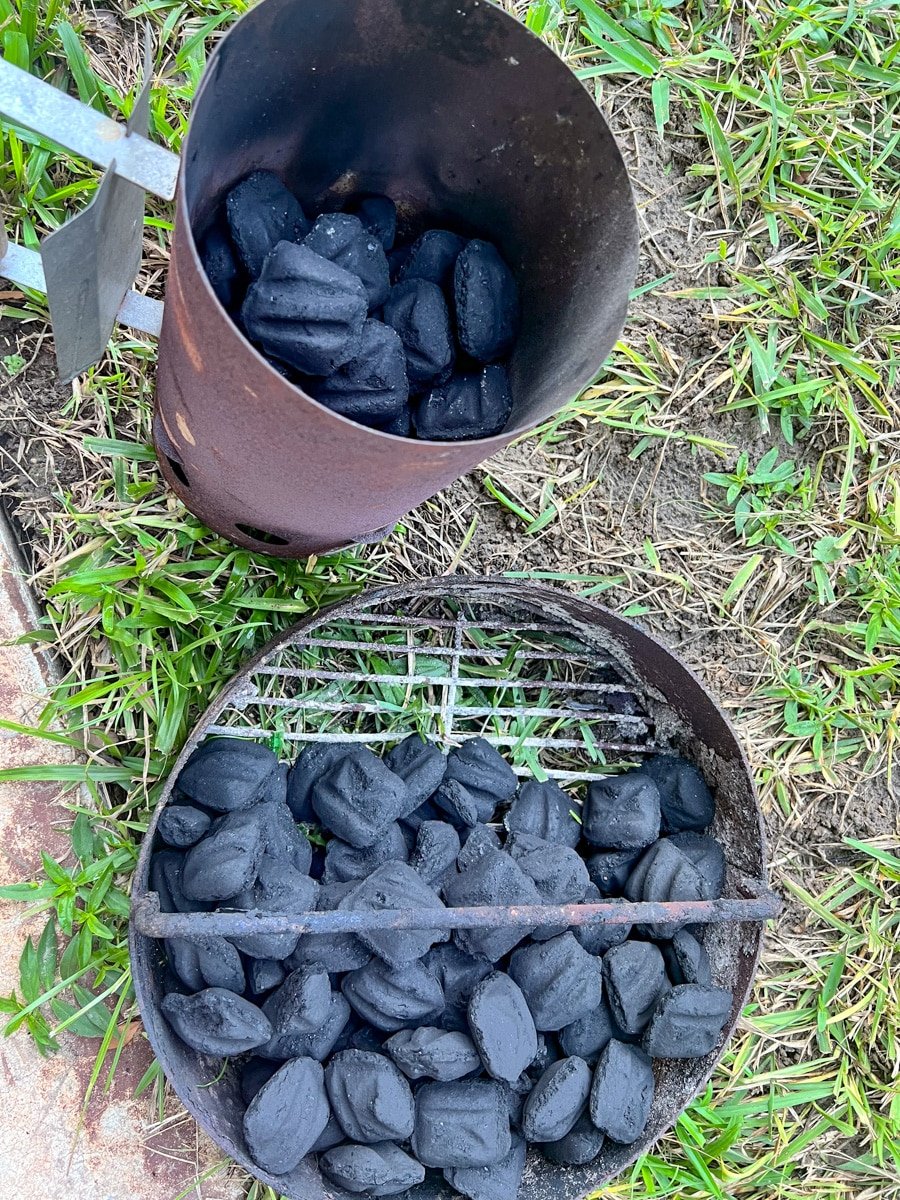 It's time to get a fire going in your cooker my pulled pork recipe has a good explanation of how I set my cooker for a long cook. Just before I start setting up my cooker I will take the meat out of the fridge and put the hooks thru a thick part of the meat.
To help develop a smoke ring keep the barrel temp as low as you can until the internal temperature of the meat is 145 degrees F. Smoke rings do not add any flavor but they are pretty. When the barrel is at your desired temperature hang the brisket from the rebar and close the lid.
To monitor the barrel temp and the temp of the meat I use a meat thermometer that transmits the information to a receiver. Mine is an older unit that is no longer made but I sure am eyeing the new Meater units.
To allow the fat to render, the connective tissue and muscle fibers to break down you want long and slow cooking no one can give you an exact time but for the best results expect this to take 8 to 10 hours for a small brisket.
If you want to baste your brisket (with a Pit Barrel Cooker I do not) fill a spray bottle with equal parts apple juice and water. Then every hour mist the entire surface of the brisket.
Cook with the brisket hanging on the rods until the internal temperature reaches 160 to 165 degrees F. At this point, the brisket is at risk of falling off the hooks and needs to be cooked on the gates. Remove the brisket from the cooker and add the grill grate. If you are happy with the bark wrap the brisket with either butcher paper or aluminum foil and place it onto the grill grate. If you want more bark then do not wrap. You can always wrap it up later. Continue cooking until you reach your desired internal temperature. For me, 200 F usually is good for me.
If you run out of fire in the cooker you can add more burning charcoal you can actually take the brisket inside and finish in the oven. A wrapped brisket will not absorb any more smoke flavor, at this point you just need a heat source. I would be willing to bet a lot of BBQ joints finish them in the oven.
At 200F I will give the brisket a small shake to see if it giggles. If it does then it is done.
After your brisket is done place the entire brisket into a cooler and lets it rest for about one hour before slicing. When slicing remember a brisket has two sections and the grain is different for each section. As always slice against the grain.
You may also want to check out my smoked chuck roast recipe.
If you enjoyed this recipe then please share it with your friends.
Ingredients
Rub
1/4

Cup

Black pepper

2

Tablespoons

Salt

2

Tablespoons

granulated garlic
Injection marinade
1

Cup

Water

2

teaspoons

Beef base

1

teaspoon

Soy sauce

1

teaspoon

Worcestershire sauce

1/4

teaspoon

Fish sauce
Instructions
Make the rub
Mix rub ingredients; black pepper, salt, and granulated garlic.
Make the injection marinade
Mix injection marinade ingredients. Water, beef base, soy sauce, Worcestershire sauce, and fish sauce.
Cook
Trim excess fat and silver skin from the outside of the brisket.

Rub 2 Tablespoons of olive oil onto the outside of the meat.

Spread the rub to cover the entire surface of the meat.

Start a fire and prepare the cooker. Target temp of 225 to 250F.

Hang the brisket form the rebar. Cook to an internal temperature of 165F.

Remove the brisket and wrap it in butcher paper. Install the grate and place the wrapped brisket on the grate.

Cook to an internal temperature of 200 to 205F.

Remove the brisket from the cooker and place into an icechest. Allow to rest for one hour.

Slice against the gran and serve.
Nutrition
Calories:
679
kcal
|
Carbohydrates:
5
g
|
Protein:
86
g
|
Fat:
33
g
|
Saturated Fat:
11
g
|
Polyunsaturated Fat:
1
g
|
Monounsaturated Fat:
16
g
|
Cholesterol:
253
mg
|
Sodium:
1870
mg
|
Potassium:
1453
mg
|
Fiber:
2
g
|
Sugar:
0.2
g
|
Vitamin A:
33
IU
|
Vitamin C:
0.1
mg
|
Calcium:
51
mg
|
Iron:
9
mg