Before I started having gout attacks I regularly ate BBQ. Now that I have to severely limit my consumption of fatty meats traditional BBQ is a very rare treat. If you follow my Instagram account you will see that I recently did have ribs but it is no longer a normal thing. But by using King Oyster Mushrooms I can have something close to a pulled pork sandwich. It is not a substitute it is delicious in it own right. When cooked right the texture is also very satisfying.
One other thing to discuss is BBQ sauce for this recipe I am going to post "vegan BBQ sauce" in the generic sense. As a gout suffer BBQ sauce should be free of corn syrup, MSG and anchovies including (Worcestershire sauce). I have just started experimenting with brands to see which ones I like. Another option is to make my own, yes there will be an upcoming recipe.
You can use any smoker but I have a pit barrel cooker. So the times will be based on using one of those. Here is a picture of mine.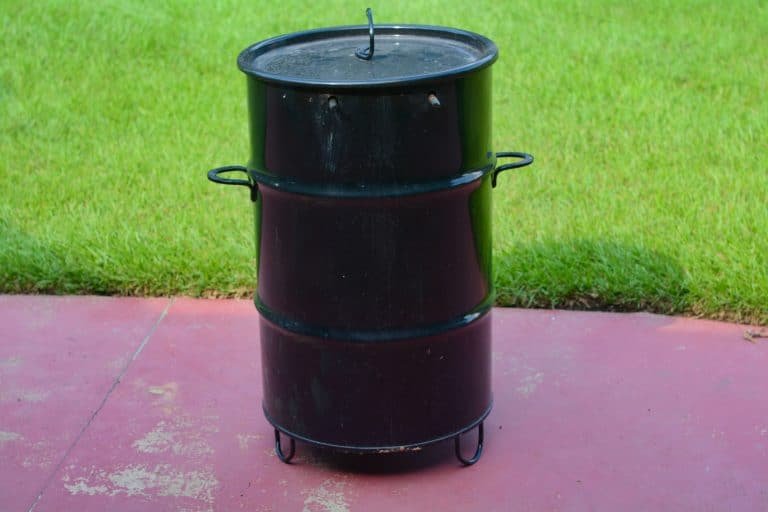 One of the things that does make the recipe special is a long cook on the onions. I sliced a big Vidalia onion into slivers, tossed with some olive oil and salt. Wrapped it in aluminum foil and put it on an hour before the mushrooms went on. They came out tender and sweet.
Just in case you do not know what King Oyster Mushrooms look like.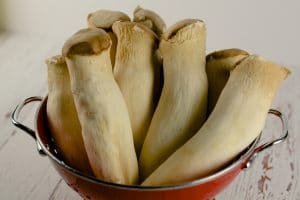 To reduce the cooking time I did cut them in half. Just before adding them to the smoker I put two small chunks of wood right on the colas. It was very surprising how quick the mushrooms absorbed smoke and changed color. This was taken after about five minutes. Just enough time for me to put them in the cooker and go get my camera.
After the mushrooms cooked for one hour I pulled them off and took them inside. Cut them in half (really should have cut into three pieces) used two forks to shred them up. If you let them cool you can use your hands.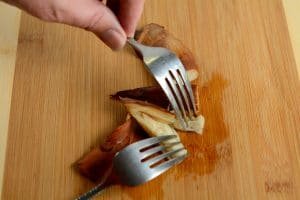 After shredding mushrooms add the onions and vegan BBQ sauce. Mix and taste you can adjust salt etc to your liking. Then put them back into the cooker for one hour.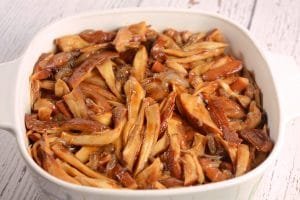 After one hour they should look like this.
Now use however you would use pulled pork, I like sandwiches but your not limited to that.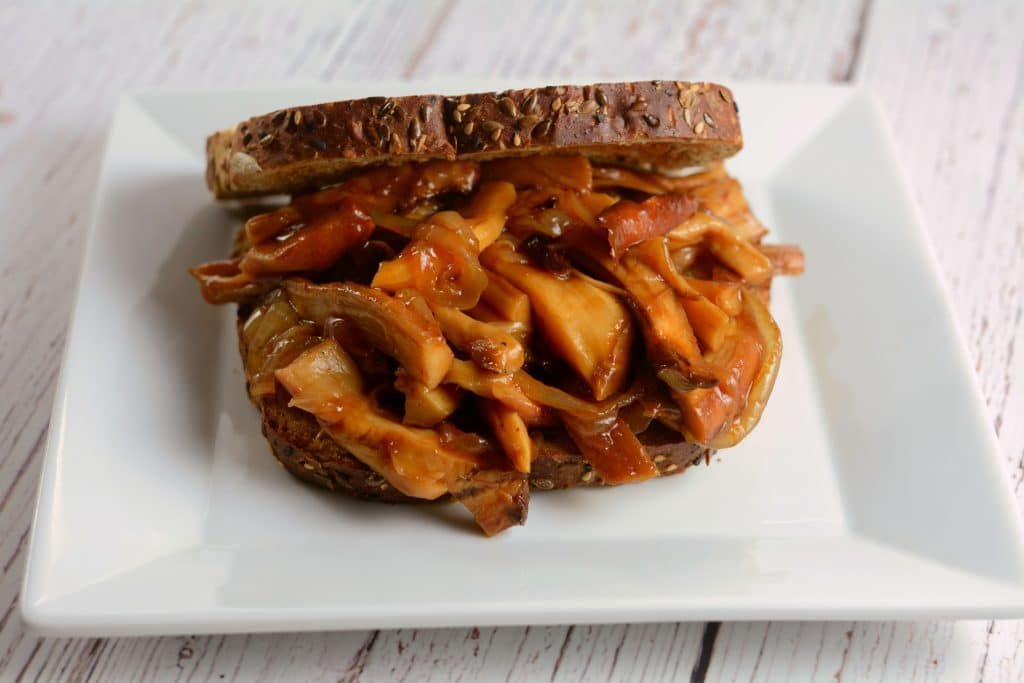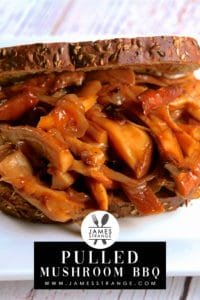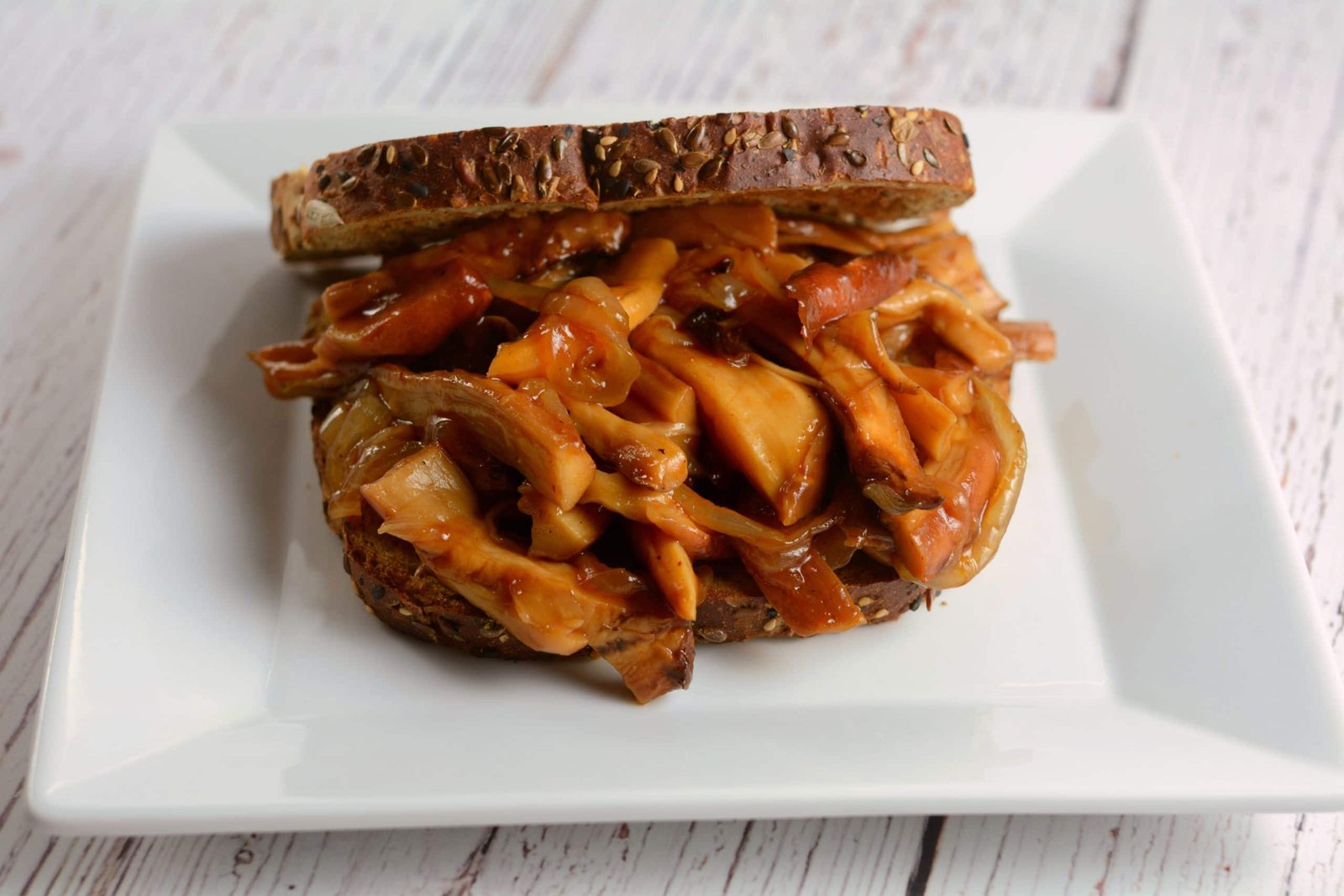 Ingredients
1

each

large Videla Onion

Sliced or chopped

1

teaspoon

oil

1/8

teaspoon

salt

3

pound

King Oyster Mushrooms

1

cup

vegan BBQ sauce

vegan or gout friendly

1/8

teaspoon

salt

1/8

teaspoon

black pepper

2

slices

bread
Instructions
Slice onion toss with oil and 1/8 teaspoon of salt. Wrap in aluminum foil and put into pre heated cooker.

After 1 hour cut mushrooms in half length wise and add to cooker.

After 1 hour remove mushrooms shred and place into a casserole dish. Remove onions and add to dish. Add 1 cup vegan BBQ sauce and mix. Taste and if needed add salt and pepper.

Place casserole dish (uncovered) with mushrooms and sauce into cooker for 1 hour.

Remove from the cooker and assemble sandwiches.
Nutrition
Calories:
136
kcal
|
Carbohydrates:
25
g
|
Protein:
5
g
|
Fat:
1
g
|
Saturated Fat:
0.1
g
|
Polyunsaturated Fat:
0.4
g
|
Monounsaturated Fat:
0.3
g
|
Sodium:
797
mg
|
Potassium:
74
mg
|
Fiber:
4
g
|
Sugar:
17
g
|
Vitamin C:
7.4
mg
|
Calcium:
20
mg
|
Iron:
2.2
mg