For a long time, Sichuan Ma Po Tofu has been one of my favorite Chinese dishes. But most of the versions to this point have contained meat (usual pork). I even have a video on YouTube on how to cook that version. To keep the dish gout friendly the pork has been eliminated. It is still flavorful so do not worry about the missing pork. From what I read the dish started out as a cheap vegetarian meal so now we go back to basics.
To me, Sichuan food is not complete without Sichuan Peppercorns. Something about than numbing effect and the fragrant aroma. But if you use too much it's not fun. If you have never cooked with it before use only a little and see if you like it. For this, I recommend using one teaspoon but save some for garnish.
My wife actually hates Sichuan Peppercorns so when making her Ma Po Tofu the peppercorns are left out.
Just before using grind the Sichuan Peppercorns in a coffee grinder. Warning do not breathe the dust, trust me on this.
Spicy Broad Bean Paste is also an important ingredient. You will need to find a market with a large Chinese section or order online. This is the one that I used today.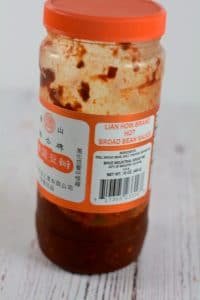 The dish also needs dried spicy red peppers. The Mexican Chile de Arbol (tree pepper) is my go-to. They are easy to find no matter where I am in the US. I do cut off the stems and shake out most of the seeds. But I do not eat them……
For oil, since this is not cooked at a high temperature you can use just about any neutral-flavored oil that you want. This dish does have a lot of oil. It is used to carry flavors but if you want to reduce that I understand.
Before you start to cook have everything ready and within reach of your cooking station.
To a cold wok add the oil, dried peppers, ginger, garlic, and Sichuan Peppercorns. Heat on medium until it starts to sizzle. Cook until the garlic just starts to get some color. This step is to flavor the oil.
After the garlic starts to get some color to add the Spicy Broad Bean Paste and green onions. Cook on medium heat for 2 to 3 minutes. Just to get it to blend with the oil and add just a little color.
Mix the vegetable stock and cornstarch and add to the work. Raise the flame to high.
When the liquid starts to boil give it a good mix to ensure the corn starch is thickening the mixture. Add the tofu pieces and heat thru while gently mixing. This should take 2 or 3 minutes.
Add to your serving dish and garnish with green onions and Sichuan Peppercorns. Unless you are like my wife. In that case, do not add the Sichuan Peppercorns.
Other Tofu recipes that you might like.
Tofu Recipe that does not suck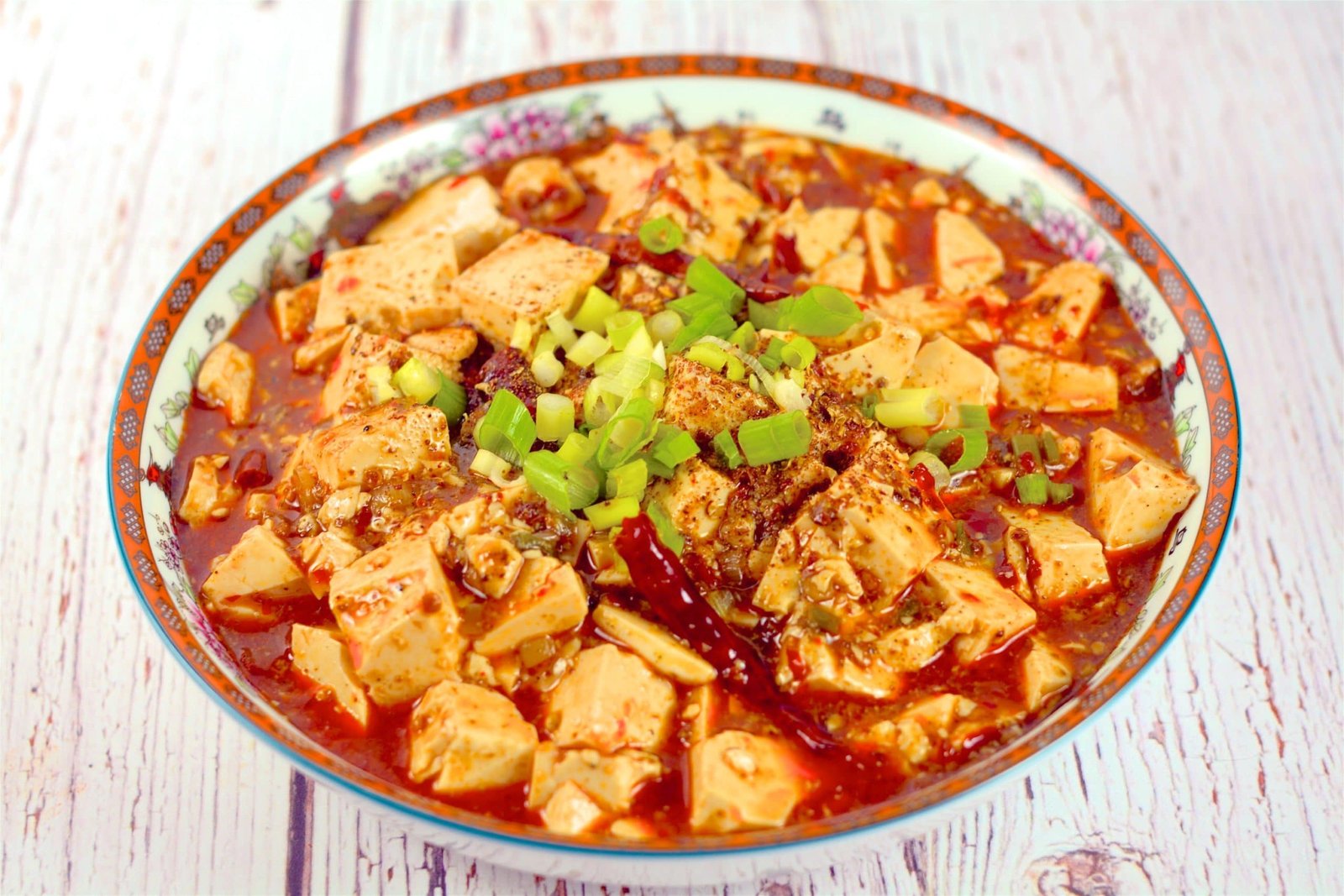 Ingredients
1/4

cup

oil

any neutral flavored oil

10

each

dried spicy peppers

I use chile de arbol

1

Tablespoon

ginger

roughly chopped

1

Tablespoon

garlic

roughly chopped

1

teaspoon

Sichuan Peppercorns

Ground

2

Tablespoons

Spicy Broad Bean Paste

1/4

cup

green onions

chopped Save a few for garnish

3/4

cup

vegetable stock

1

teaspoon

cornstarch

24.6

ounce

Silken Tofu

cut into 3/4 inch pieces
Instructions
To a cold wok add the oil, dried peppers, ginger, garlic and Sichuan Peppercorns. Heat on medium until it starts to sizzle. Cook for 2 more minutes.

To the wok add Spicy Broad Bean Paste and green onions. Cook on medium heat for 2 to 3 minutes.

Mix the vegetable stock and cornstarch and add to the work. Raise flame to high.

When the liquid starts to boil give it a good mix to ensure the corn starch is working. Add the tofu pieces and heat thru while gently mixing. Should take 2 or 3 minutes.

When serving garnish with green onions and Sichuan Peppercorns
Nutrition
Calories:
282
kcal
|
Carbohydrates:
19
g
|
Protein:
11
g
|
Fat:
19
g
|
Saturated Fat:
2
g
|
Polyunsaturated Fat:
10
g
|
Monounsaturated Fat:
6
g
|
Sodium:
20
mg
|
Potassium:
747
mg
|
Fiber:
2
g
|
Sugar:
9
g
|
Vitamin A:
1250
IU
|
Vitamin C:
228.5
mg
|
Calcium:
110
mg
|
Iron:
2.7
mg