This recipe for fire-roasted poblano chiles stuffed with cheese and leftover smoked chuck roast skips the egg batter and frying. This allows the flavor of the poblano chilies to take center stage. To make these vegetarian substitute the beef with black beans.
For those who will start screaming that this is not a true chiles Rellenos recipe, in Spanish Chiles Rellenos means stuffed peppers. Since we will be using poblano peppers this dish is sometimes called chile poblano. Some restaurants will call a plate that comes with other things (rice and beans) Chiles Rellenos and on the ala carte section will call just the stuffed peppers chile poblano.
So where is the batter? It's an egg batter and eggs are one hundred percent keto. To ensure that the egg batter will stick you need to use flour or some other starch then fry in oil. The egg batter soaks up a lot of oil that adds calories with minimal nutritional value. By skipping the oil I can add more cheese.
So where is the hot sauce? You can certainly add some red sauce before cooking these in the oven but since I was making salsa verde to go with these I skipped the red salsa. If you are not low carb you can use some canned enchilada sauce. To make your own quick version mix some canned tomato sauce, chili powder, and garlic powder. Of course, a homemade enchilada sauce is best but it takes some time.
For my peppers, I used poblano peppers. They are large enough to stuff and usually, they are mildly spicy (sometimes they can be spicy). If poblanos are too spicy for you you can use bell peppers. I will not judge you, in fact, sometimes I will use red bell pepper.
To char the peppers I placed a small grill on top of the charcoal chimney (the same works when using a charcoal grill or a gas grill). Then I placed the peppers on the grill right over the flame. Direct heat works better than Indirect heat If the fire is hot enough you will hear the peppers pop as the skin chares. When the skin in one spot has turned black move them around and turn them over until all of the skin is charred. I then placed them into a plastic bag and closed it to let them steam. You can also use a large bowl and cover it with plastic wrap. If you do not want to use a plastic bag a paper bag also works but gets soggy.
When charging your peppers black is what you're looking for, golden brown is pretty but does not burn off the tough skin.
You can char the chili pepper on a gas burner on medium-high heat, the side burners on gas grills work really well for this and keep the smells out of the house. Light the burner and place peppers right onto the burner until charred then turn.
You can also char the peppers using your oven broiler. Start the broiler, place your peppers on a sheet pan or large skillet (oven safe of course) and toss with a tablespoon of olive oil. Place directly under the broiler until charred then turn.
After charring and letting your peppers steam until cool it is time to remove the charred skin. For easy cleanup, I set everything up close to a sink. Use a paper towel to wipe off the charred skin. If needed use a knife to scrape off the black bits. But you do not need to get carried away. Then use a knife to cut a slit into the pepper and carefully remove the seed pod. You may need to cut out the pod to prevent tearing the pepper. Then along the side of each chile remove the veins where the seeds attach to the pepper. Then remove all of the loose seeds. Your peppers are now ready to stuff.
Optionally you can sauté onion I did but it's not required. due to the short time in the oven, the onion will not really cook so I saute the onion ahead of time. I did this in a nonstick skillet with a touch of olive oil. To the hot skillet, I added half of a medium onion and cooked until it was soft.
You will need some kind of stringy cheese, I used queso Oaxaca. Ameican string cheese is very similar. You can also use Monterey jack cheese. Or really any kind of cheese that you like. Just keep in mind that pre-shredded cheese usually has starch on it so it is higher in carbs.
As mentioned before I am using leftover chuck roast but you can use black beans, grilled chicken, or seasoned ground beef. You are the one cooking do them the way that you want them.
Preheat your oven to 400F (205C).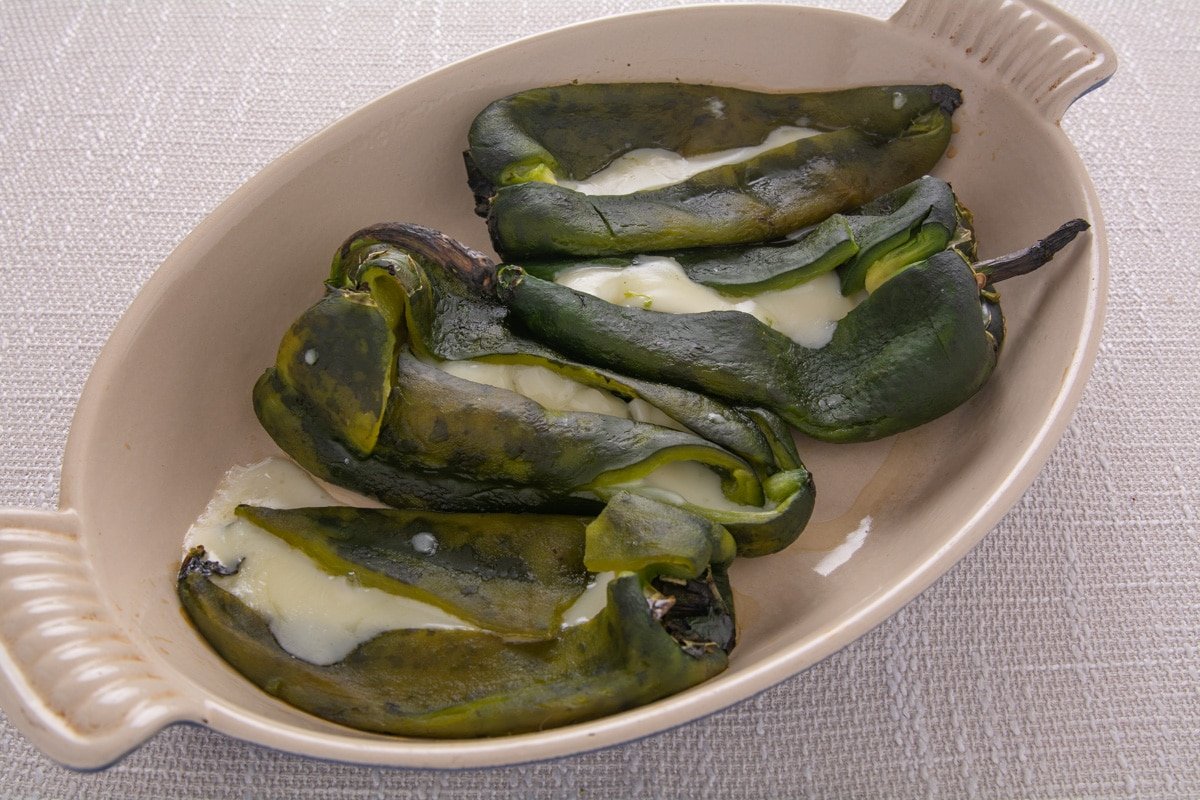 Place your peeled peppers into an oven-safe dish then stuff them with cheese. Place them into the oven until the cheese just starts to melt.
Remove and stuff with meat, saute onion, and more cheese. Turn on your oven's broiler and place the stuffed peppers under the broiler until your cheese mixture on top has some brown spots and remove them from the oven. they are now ready to serve.
The meat that I used was from when I smoked a beef chuck roast.
I served mine with avocado and roasted tomatillo salsa. You can serve your stuffed peppers with sour cream, hot sauce, or fresh cilantro (my wife says no to cilantro) a squeeze of fresh lime juice, or anything else that you like. But after a long day, these are sure to satisfy.
If you enjoyed the recipe then please share it with your friends.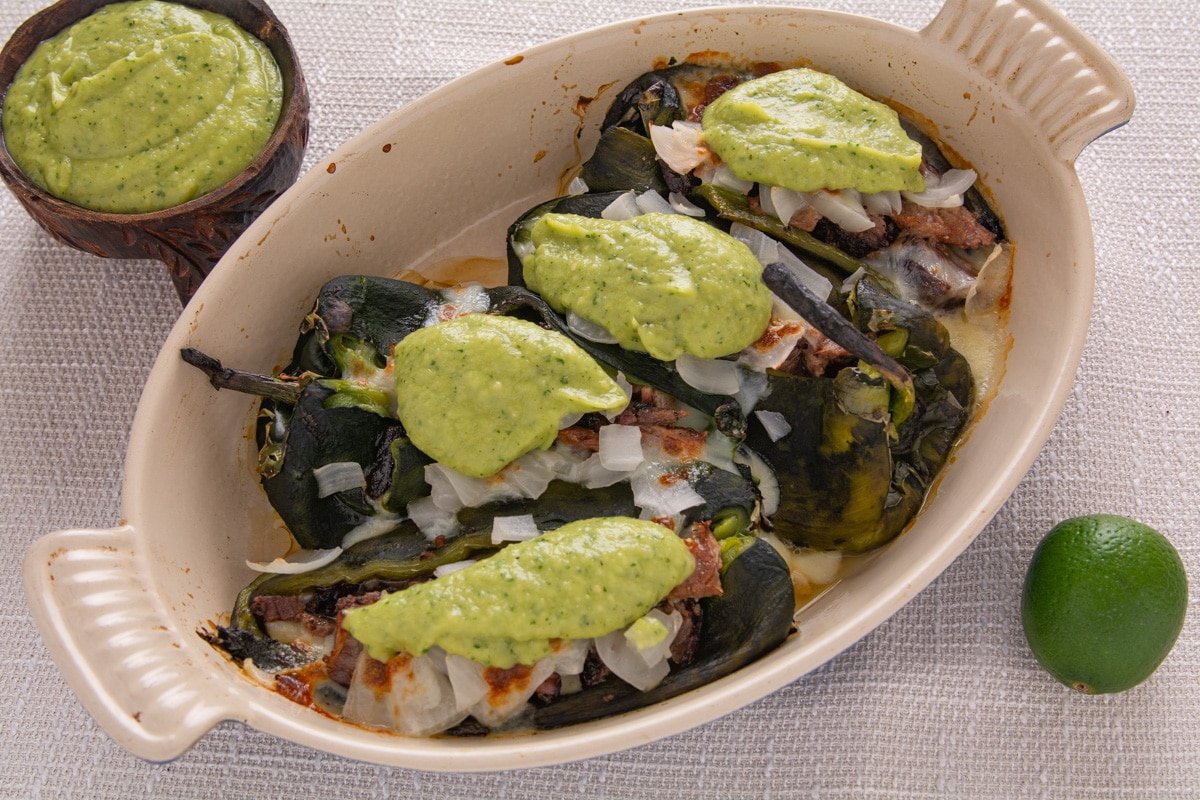 Ingredients
4

each

poblano peppers

8

oz

Oaxaca cheese

10

oz

smoked beef

1/2

each

onion

medium
Instructions
Over direct heat char the peppers until completely black.

Place the peppers into a plastic bag to steam and cool down.

Remove the blackened skin and seeds from the pepers.

Add cheese to your peppers and place them into an oven-safe dish. Place them into the oven and cook until the cheese starts to melt. 5 to 10 minutes.

Remove the peppers from the oven and stuff them with meat, onions, and more cheese.

Turn on the broiler. Place the peppers directly under the broiler and cook until the cheese develops brown spots. Around 10 minutes.

Remove from the oven and serve while they are hot.
Nutrition
Calories:
660
kcal
|
Carbohydrates:
4
g
|
Protein:
51
g
|
Fat:
49
g
|
Saturated Fat:
31
g
|
Polyunsaturated Fat:
1
g
|
Monounsaturated Fat:
8
g
|
Trans Fat:
1
g
|
Cholesterol:
139
mg
|
Sodium:
1128
mg
|
Potassium:
474
mg
|
Fiber:
1
g
|
Sugar:
1
g
|
Vitamin A:
50
IU
|
Vitamin C:
2
mg
|
Calcium:
86
mg
|
Iron:
3
mg