This is my version of green salsa with avocado or guacamole salsa. The slight tartness from tomatillos makes this a great creamy salsa for serving with rich meat tacos, like al pastor or carnitas. But can also serve as a dip with tortilla chips.
Variations of this homemade salsa verde go by many names, it is commonly a raw salsa but to add something extra I will char some of the ingredients. If your favorite taqueria has a green salsa they may call it green salsa, salsa de guacamole, guacamole salsa, or avocado tomatillo salsa, no matter the name it is a great salsa. The basics of the recipe are ripe avocados, garlic cloves, white onion, tomatillos (not green tomatoes), green peppers, salt, lime juice, and cilantro. These get blended to make a simple creamy tomatillo avocado salsa.
One of the things that I love about this creamy avocado salsa is the color. The salsa is made with mostly green ingredients so the salsa looks so fresh and vibrant it's hard to remember that it can carry a big kick from the green chiles.
Ingredients for our avocado salsa verde recipe
Serrano chile, bring flavor and spice if they are too spicy for your taste buds then substitute jalapeño pepper or even green bell pepper.
Fresh tomatillos or husk tomato is slightly tart and they help preserve the color of the avocado. To keep the color of your guacamole try adding some boiled tomatillo. Before using remove the outer husk and wash to remove the sticky stuff on the outside.
Fresh avocado this is what makes the salsa creamy. Avocado is loaded with good fats and fiber, this is a great way to add them to your keto diet.
Fresh garlic brings a nice flavor punch that I love.
Onions are similar to garlic and let's face it how can you have Mexican food without garlic and onions. For this recipe, I used white onion but sometimes I will add some green onion.
Salt, of course, we need salt and it tastes good. But please use it in moderation.
Fresh cilantro is a very controversial ingredient some love it but some hate it. I am a fan of its strong flavor but my wife hates it. This made for some interesting conversations on our recent trip to Cancun. First I would order her meal sin cilantro or without cilantro. Then I would order mine con cilantro or with cilantro. For the most part, the waiters thought it was funny.
Optional ingredient. If you really want it to taste like taco truck green salsa you will need to add Knorr "Caldo de Pollo" or chicken bullion. Since I am avoiding processed foods I do not use it. But the choice is yours.
As mentioned before you can make this a raw salsa you can also boil your serrano peppers, tomatillos, and onion until soft to make your tomatillo-avocado salsa verde. I also make those versions but one of my favorite ways of making the green salsa is to roast my fresh veggies. That is what I will be doing for this recipe.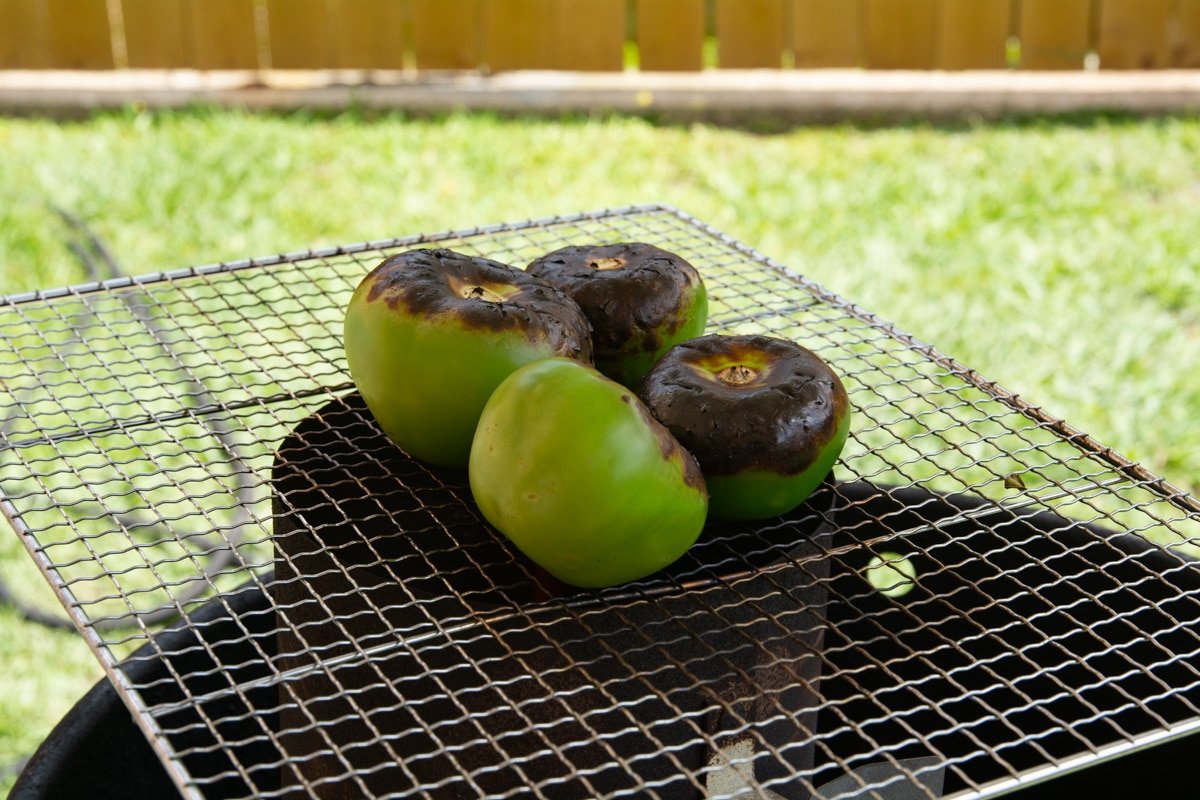 To char my veggies I placed a small grill on top of the charcoal chimney (the same works when using a charcoal grill or a gas grill). Then I placed the peppers on the grill right over the flame.
For charing the tomatillos I do not worry about trying to get all of the skin black just most of it. Place tomatillos on the grill until one area is black then give them a turn, and continue until most of the skin is black.
For charing the peppers direct heat works better than indirect heat. If the fire is hot enough you will hear the peppers pop as the skin chares. When the skin in one spot has turned black move them around and turn them over until all of the skin is charred. I then placed them into a plastic bag and closed it to let them steam. You can also use a large bowl and cover it with a piece of plastic wrap. If you do not want to use a plastic bag a paper bag also works but gets soggy.
After charring and letting your peppers steam until they have cooled down to room temperature then it is time to remove the charred skin. For easy cleanup, I set everything up close to a sink. Use a paper towel to wipe off the charred skin. If needed use a knife to scrape off the black bits. But you do not need to get carried away small black bits are not a problem. Now you have a choice to make. For a spicier salsa, you can leave the seeds in, or to reduce the heat remove the seeds and veins. In my case, I removed the seeds and veins.
Now that all of the prep work is completed it is time to make our tomatillo avocado salsa recipe. You can make this flavorful salsa in the bowl of a food processor or a blender (and sometimes I do) but unless I am making a big batch my preference is to use a stick blender.
To my container, I will add roasted tomatillos, onions, chilies, salt, lime juice, and garlic. This gets blended until smooth. If it is too dry blend add some cold water or olive oil but not too much the tomatillos will give off liquid. Some recipes call for vegetable oil but due to inflation issues, I have eliminated all seed oils from my diet.
At this point, you now have salsa verde.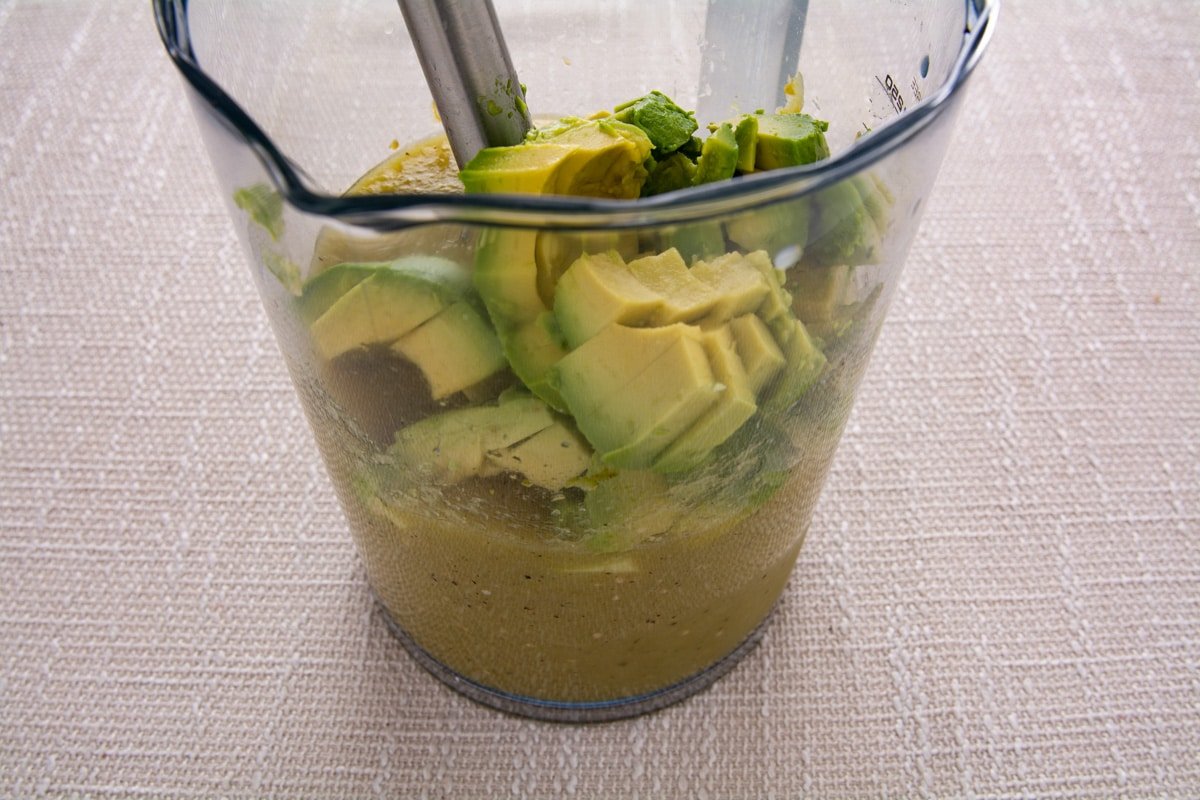 To the salsa verde add your avocado and blend until smooth. Give your salsa a taste test. Does it need additional salt? Would you like it creamier? To make your salsa creamier you can add more avocado, cream, or sour cream.
For the final step, I will add a handful of cilantro that has been roughly chopped. But before I do I will place some of my salsa in a separate container for my wife. Then I blend the cilantro into my salsa.
To store leftover green sauce place it into an air-tight container and store it in the refrigerator. It will usually keep its green color for four or five days.
I served this salsa with my beef stuffed chili rellenos.
Ingredients
2

each

Avocado

4

each

tomatillo

8

each

serrano peppers

1/2

each

onion

1/2

teaspoon

salt

1

handfull

cilantro

2

cloves

garlic

2

each

juice of two limes
Instructions
Wash and dry the seranno peppers

Remove the skin from the tomatillos, and wash and dry them.

Start a fire and add a grill grate.

Place the tomatillos on the grate and char them.

Place the serrano peppers on the grate and char them. Place them in a plastic bag to steam.

Remove the charred bits from the veggies. Optionally remove the seeds from the peppers.

Blend the tomatillos, onions, chilies, salt, lime juice, and garlic until smooth

Add the avocado and blend.

Taste and adjust seasoning.

If using add the cilantro and blend.
Nutrition
Calories:
2
kcal
|
Carbohydrates:
1
g
|
Protein:
1
g
|
Fat:
1
g
|
Saturated Fat:
1
g
|
Polyunsaturated Fat:
1
g
|
Monounsaturated Fat:
1
g
|
Sodium:
117
mg
|
Potassium:
8
mg
|
Fiber:
1
g
|
Sugar:
1
g
|
Vitamin A:
15
IU
|
Vitamin C:
1
mg
|
Calcium:
1
mg
|
Iron:
1
mg