One food that is very dangerous for Gout sufferers is sausages. We have no way of knowing what cuts of meat were used which is not a good thing. Did they use thymus glands? Thymus glands are extremely high in purine. They can also contain other possible outbreak triggers like MSG, curing salt and high fructose corn syrup. So I chose to completely avoid them, at least until now.
These delicious sausages made with Navy beans and vital wheat gluten are a great alternative.
JamesStrange.com is a participant in the Amazon Services LLC Associates Program, an affiliate advertising program designed to provide a means for sites to earn advertising fees by advertising and linking to Amazon.com. In simple terms, this means that if you click and buy something, we are paid a fee. This fee is used to help recover some of the costs of running the site.
The base of the sausages are Navy beans and gluten. Think of this a a blank canvas to flavor how you like. They do have a nice texture. I was really worried about this the first time. I like to use dry beans but this works just fine with can beans but this way I control the amount of salt.
First I soak one pound of dried Navy beans overnight. For this recipe we do not need that many but why not cook some extra?
Then the beans get cooked in plenty of water with one teaspoon of salt. And no cooking beans with salt will not make them hard. Cook the beans until tender, about two hours on a slow boil. Then let them cool off a little.
To a blender add one cup of drained beans, two and a quarter cups liquid, and any veggies that you want to add. I add two tablespoons green onion, two cloves of garlic and some black pepper. For the liquid I used extra liquid from cooking the beans. If you do do not have that much extra use what you have and make up the extra with water.
I also added one Tablespoon of red miso.
Blend all of this up and taste for seasoning. Remember you will will also be adding gluten so if is bland add more salt.
In a mixing bowl add three hundred grams for vital wheat gluten, quarter cup nutritional yeast and what other seasonings you want. I added half a teaspoon of Cajun seasoning. Then add your wet ingredients.
Mix just until you can no longer see dry spots.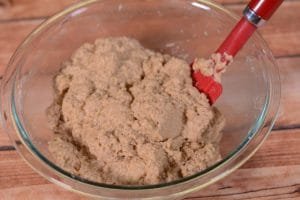 Now take some plastic wrap and add some of the mixture (the one that I weighed was eighty seven grams) and roll into a log.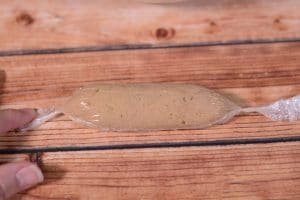 Place into a steamer and steam for forty five minutes. Let cool, remove plastic and cool in the fridge until completely cool. Do leave a little space in between your logs to allow for expansion.
Then they are ready for brown on the outside. They are cooked but for appearance and texture it is good to brown them. For these I added half a Tablespoon of oil to a pan and cooked until brown.
Next time I will make some breakfast sausages by adding sage and red pepper.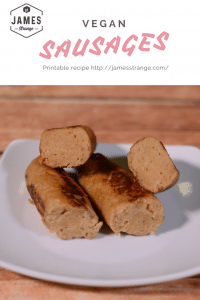 Ingredients
1

Cup

Navy Beans

Cooked

1

Tablspoons

Miso

Red or White

2

Cups

Water

or water from cooking the beans

2

cloves

garlic

2

Tablespoons

green onions

1

Pinch

black pepper
Dry
300

grams

Vital Wheat Gluten

1/4

cup

nutritional yeast

1/2

teaspoon

Cajun Seasoing
Instructions
For the wet ingredients to a blender add Navy Beans, Miso, Bean cooking liquid, garlic, green onions and black pepper. Blend until smooth.

For the dry ingredients add Vital Wheat Gluten, nutritional yeast and Cajun Seasoning.

Add the wet ingredients to the dry and mix.

Form the sausage logs with plastic wrap and steam for 45 minutes.

Let cool and remove plastic wrap.

Brown and serve.
Nutrition
Calories:
163
kcal
|
Carbohydrates:
12
g
|
Protein:
28
g
|
Fat:
1
g
|
Saturated Fat:
0.02
g
|
Polyunsaturated Fat:
0.1
g
|
Monounsaturated Fat:
0.02
g
|
Sodium:
246
mg
|
Potassium:
67
mg
|
Fiber:
3
g
|
Sugar:
0.2
g
|
Vitamin A:
50
IU
|
Vitamin C:
0.8
mg
|
Calcium:
50
mg
|
Iron:
2.3
mg