Lately I have been craving something cooked in salsa verde. But of course it has to be something gout friendly. So why not squash and mushrooms.  The most important part is a flavorful salsa made with tomatillos.
The todays raw salsa verde is just a basic salsa verde. If you want you can also roast everything then make the salsa but this way requires less clean up.
If you want to see how I make my complete raw salsa verde watch this video. This one is great on tacos.
First I need to make the salsa by adding all of the salsa ingredients to a blender and liquifying them. Then sit it aside until needed.
Roughly chop the squash and mushrooms.The squash I used today was labeled calabaza squash but zucchini would work.
Cook the veggies until they start to get some color (they will have also reduced down). Then season with cumin and ground ancho chili (optionally chili powder). Then add the salsa and cook until the squash is almost tender. Taste to check seasoning and add salt if needed. Add the cilantro (if you like cilantro) and cook two more minutes.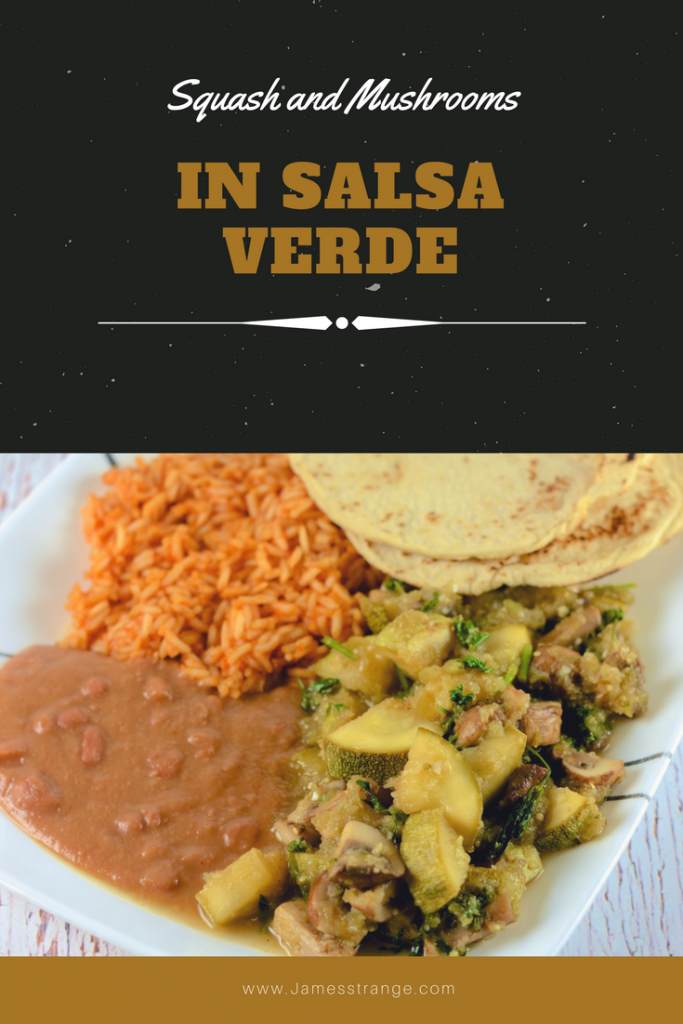 First make the salsa verde. To a blender add tomatillos, serrano pepper, onion, garlic, salt, water and lime juice. Blend until liquid.

To a hot pan add 1 Tablespoon of oil, squash and mushrooms cook until they start to get some color. About 5 minutes

To the pan add the ground cumin and ground ancho chili and stir.

Add the salsa verde to the pan and cook on medium heat for 5 minutes. If the pan starts to get dry and a little water.

Taste to check for seasoning, if needed add salt.

Add one cup roughly chopped cilantro and cook for 2 more minutes. Then serve.
Nutrition Facts
Squash and Mushrooms in Salsa Verde
Amount Per Serving
Calories 118
Calories from Fat 45
% Daily Value*
Total Fat 5g 8%
Sodium 902mg 38%
Potassium 834mg 24%
Total Carbohydrates 16g 5%
Protein 5g 10%
* Percent Daily Values are based on a 2000 calorie diet.