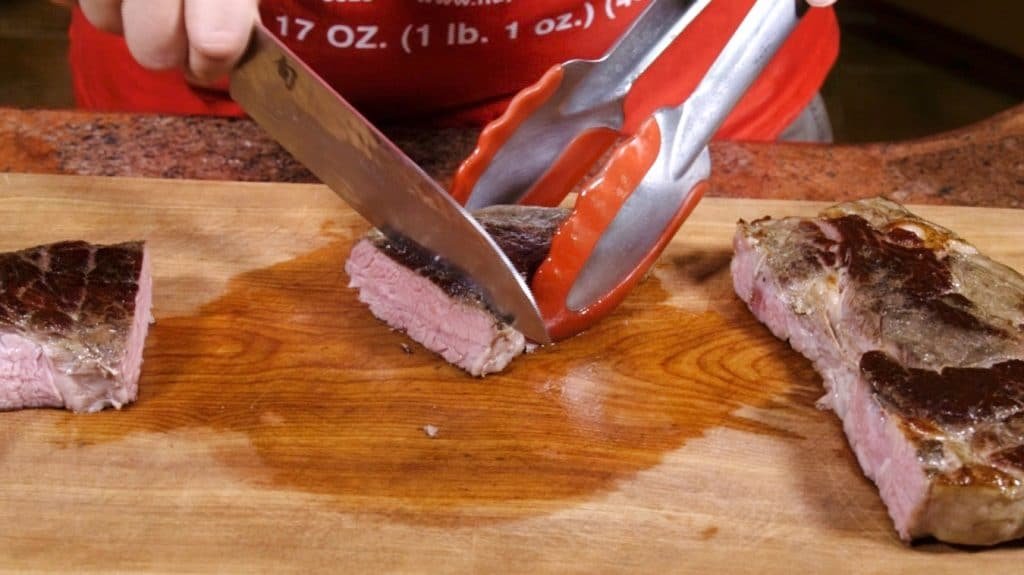 Chuck Roast is a cheap and very flavorful cut of meat. It is perfect for long cooks that's why it is perfect for making pot roast. But it's not good for quick high-temperature cooking methods. This is why it's not a good cut of meat for steak. But by cooking Sous Vide for 12 hours or more chuck roast can make for a very nice and cheap steak.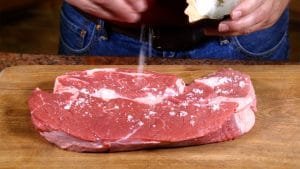 Season the steak with salt and pepper then Vacuum seal. Set your temperature on your sous vide device. I used a Sous Vide Supreme set at 130 F. And cooked for 16 hours. If you use an open container with a circulator you will need to cover the container or monitor the water level during the cook.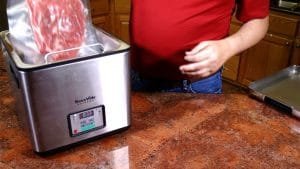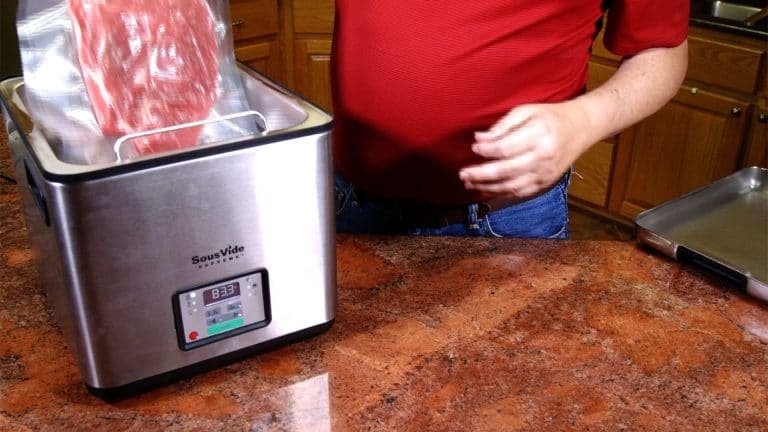 After the Chuck Roast Steak has cooked you need to make the sauce. First I cooked down the juices from the bag (or you can use beef stock) wine and black pepper. Do not add salt at this point it will have salt from cooking. You can adjust later. Cook the liquid down to 1/3 of its original volume.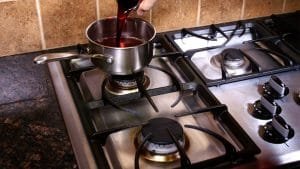 While this is reducing I cooked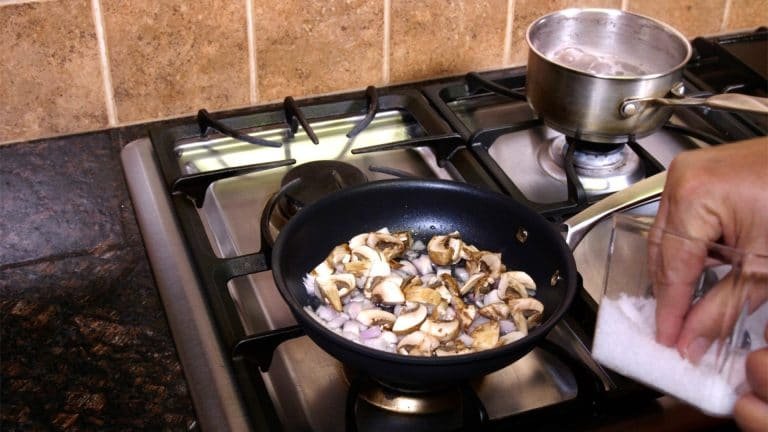 In 3 Tablespoons of oil, I cooked 2 shallots and 1 cup of roughly chopped mushrooms. When the shallots and mushrooms start to get some brown color I added 2 Tablespoons of flour. Mixed it in, lowered the flame, and cooked until the flour started to smell nutty. That told me the flour was starting to brown and was ready for liquid.
At this point, I strained the reduced liquid into the pan. Stirred it in at this point the sauce was very thick so I added some water until it was slightly thinner than I wanted. Checked for and adjusted seasoning and moved to the simmering burner.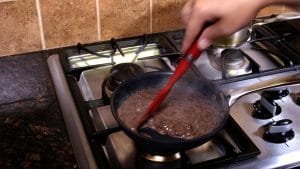 At this point, it was time to sear the steak. I heated up my cast iron griddle until it was really hot and added the chuck steak. As a side note, you really should dry the steak before searing.
When the steak was seared on the first side I added 1 Tablespoon of cold butter cut into small pieces to the sauce. When it was seared on both sides it was ready to cut and serve.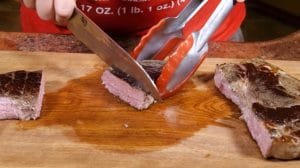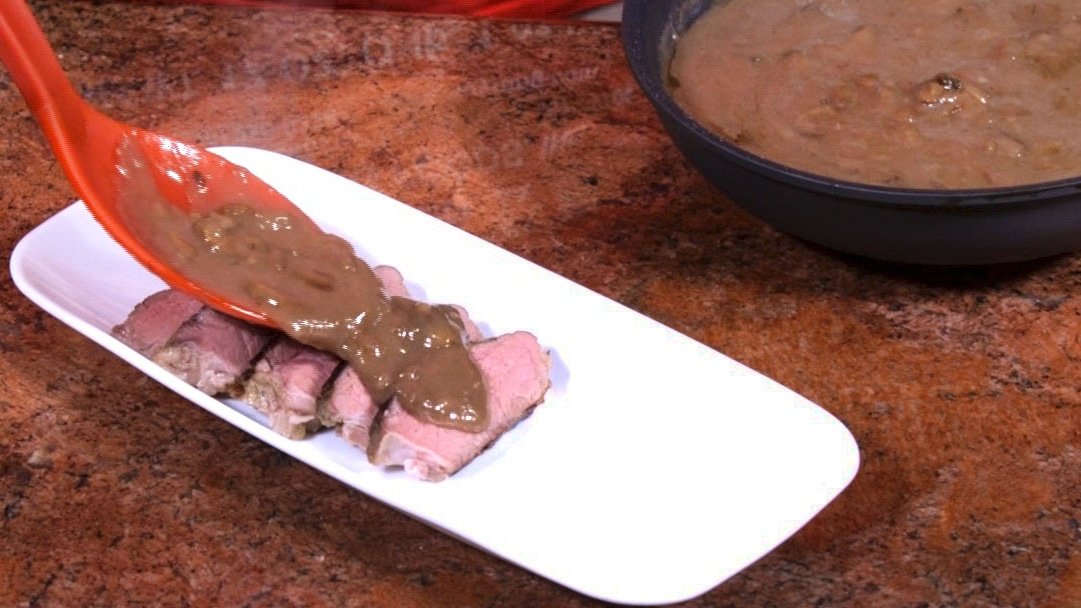 Ingredients
4

pounds

Chuck Roast

With nice marbaling

2

teaspoons

salt

In Total

2

pinchs

black pepper

2

cups

beef broth

If not using bag juices

1/2

cup

red wine

One you would drink

1/4

cup

oil

In Total

2

each

shallots

finely chopped

1

cup

mushrooms

roughly chopped

2

Tablespoons

flour

1

Tablespoon

butter
Instructions
Season steak with salt and pepper

Seal in bag and cook at desired temp for 12 to 24 hours

To a small pot add bag juices (or beef stock), wine and pinch of black pepper. Reduce to 1/3.

To a pan add 3 Tablespoons of oil, shallots and mushrooms. Cook until they start to get some color.

Make a roux by adding flour to the shallots and mushrooms, reduce flame cook until the flour is slightly browned.

Strain the reduced liquid into the roux, adjust consistency of the liquid with water or beef broth. Taste for seasoning.

Sear steak on one side and flip.

Add 1 Table spoon butter to sauce and shake pan in incorporate.

When the steak is seared on both sides remove from the heat. Carve (no need to rest) and serve with sauce.
Nutrition
Calories:
1342
kcal
|
Carbohydrates:
9
g
|
Protein:
91
g
|
Fat:
99
g
|
Saturated Fat:
37
g
|
Polyunsaturated Fat:
11
g
|
Monounsaturated Fat:
41
g
|
Cholesterol:
307
mg
|
Sodium:
1841
mg
|
Potassium:
1415
mg
|
Fiber:
1
g
|
Sugar:
1
g
|
Vitamin A:
150
IU
|
Vitamin C:
1.7
mg
|
Calcium:
80
mg
|
Iron:
8.8
mg