I love okra raw, fried, stewed with tomatoes, in curry, or in gumbo but will not eat boiled okra. Let's just say slime is not for me, enough said. Growing up in South East Arkansas I was able to eat a lot of fried okra. What's not to like about something fried until golden brown, crunchy and delicious. It is a very simple dish to cook but is best with fresh okra.
Today at the farmers market they had fresh cut okra, so today's recipe is fried okra.
First, we need one pound of fresh okra. You want them about the size of your finger. If you use ones bigger than that you risk them being tough. When I worked in Pakistan they called okra ladies fingers.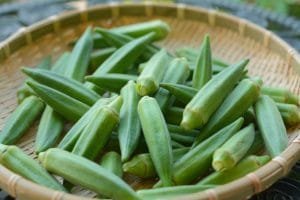 Of course, they need to be washed. After washing and drying it is time to cut them. First I cut off the stem end (throw that away), then cut them into half-inch rounds. They can be a bit bigger or smaller that's not a problem.
The round gets added to a bowl, to that we need to add two Tablespoons of milk. This can be any kind of milk that you like. If you use plant-based milk then the recipe will be vegan but coconut milk might taste a bit odd in this recipe.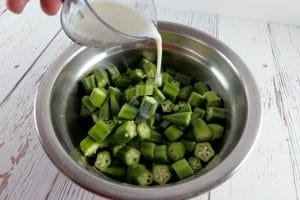 After adding the milk give the okra a good mix. Adding milk to the okra will help the cornmeal to stick to the okra. The more cornmeal that sticks the crunchier the okra will be.  
For this recipe, I used 1/4 cup of stone-ground cornmeal. Stoneground cornmeal gives the dish extra crunch. If you do not have stone-ground then you can use regular cornmeal. Sometimes I will even use a mix of flour and cornmeal. We will also add our seasonings at this time. Today I am going simple, 1/8 teaspoon salt, 1/8 teaspoon black pepper, and 1/8 teaspoon granulated garlic. Then give it a good mix and let it sit for 10 to 15 minutes. This will help keep it from falling off the okra.
In a wide bottom, pan heat up 1/2 cup of neutral-flavored oil (I used vegetable oil). Then add your battered okra.
Spread the okra out and cook on medium-high heat. Cook a little then turn over, continue to do this while cooking. This will ensure even cooking. Cook until you get lots of nice brown color.
One thing that I do after the okra is cooked the pan is propped up on one side to drain the leftover oil. This is not a healthy dish but I do drain off as much of the oil as possible.
Other recipes that you might like: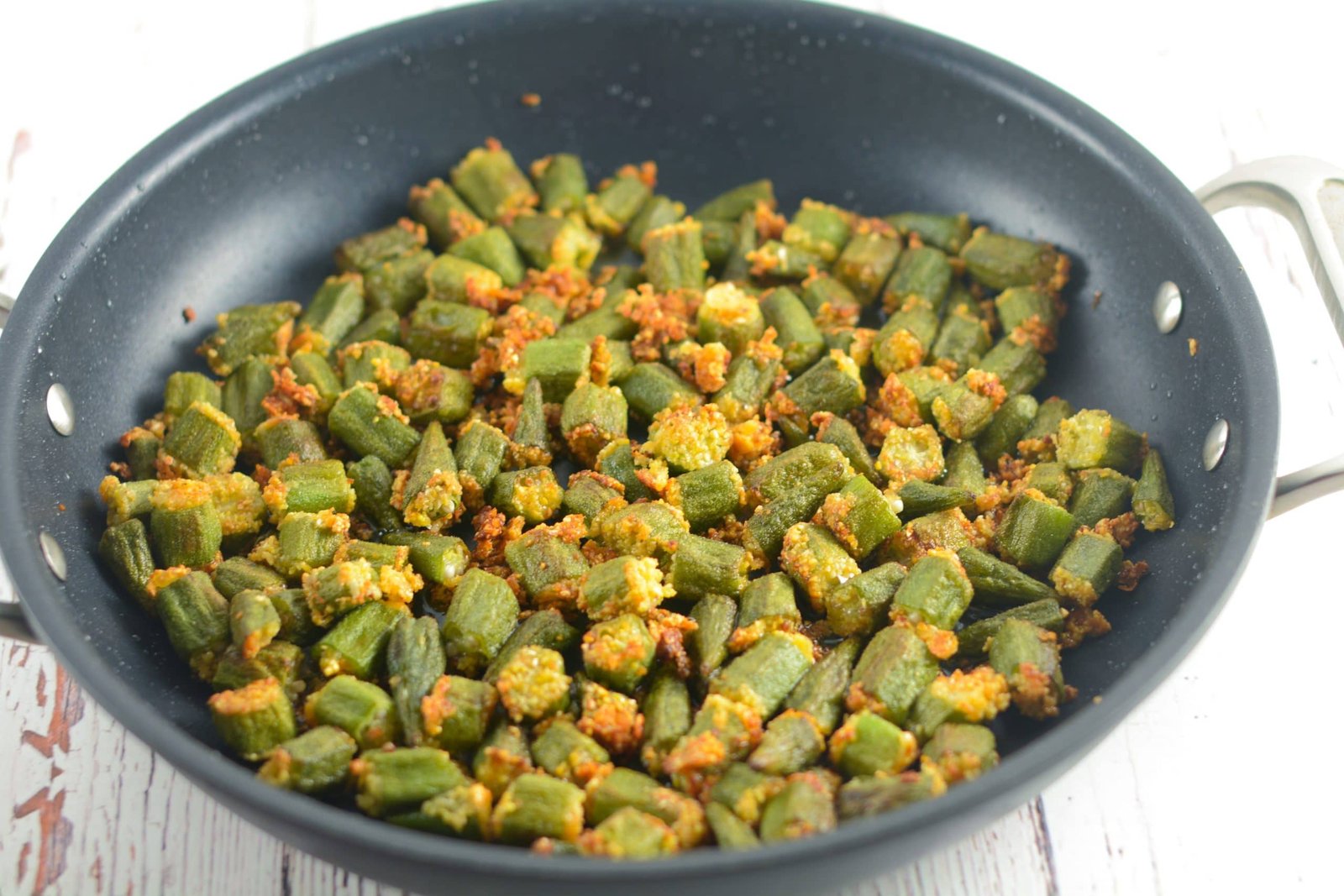 Ingredients
1

pound

okra

Fresh

2

Tablspoons

milk

1/4

cup

corn meal

1/8

teaspoon

salt

1/8

teaspoon

black pepper

1/8

teaspoon

granulated garlic

1/2

cup

oil
Instructions
Was the okra, cut into 1/2 inch rounds.

Season okra with milk, corn meal, salt, black pepper and garlic. Let sit for 10 to 15 minutes.

Cook on medium high heat. Stirring every few minutes until golden brown with crunchy bits.
Nutrition
Calories:
304
kcal
|
Carbohydrates:
14
g
|
Protein:
3
g
|
Fat:
28
g
|
Saturated Fat:
4
g
|
Polyunsaturated Fat:
14
g
|
Monounsaturated Fat:
9
g
|
Sodium:
71
mg
|
Potassium:
367
mg
|
Fiber:
4
g
|
Sugar:
1
g
|
Vitamin A:
450
IU
|
Vitamin C:
33
mg
|
Calcium:
90
mg
|
Iron:
1.3
mg