Making your own vegan shredded chicken seitan allows you to control what goes into it and how the final product turns out. It's also a lot cheaper than buying premade.
Since chicken is fairly neutral in flavor, I decided to try making a chicken or "chickun" version first. To keep this version gout friendly, it includes no nutritional yeast. Most vegan versions of seitan have nutritional yeast. Nutritional yeast is a good source of B12, but excess yeast can be a gout trigger.
When researching versions of seitan chicken, I saw a YouTube video from East Meets Kitchen. She used tofu and a minimum of other ingredients. Her video is what inspired my recipe.
To prevent issues from gout, it is recommended to limit the consumption of lean animal protein. Four to six ounces per day is considered the limit. Not per meal per day. Seitan is a great gout friendly nonanimal protein that is very versatile. Quite often, seitan will be called wheat meat. Due to the gluten, seitan has a chewy texture, and if formed correctly, it will have a texture somewhat similar to meat.
Seitan is a wheat protein (gluten) that has been separated from the starch. You can do this yourself using what is called the washed flour method. Or you can by the protein already separated; it's called vital wheat gluten (VWG). This is the method explained in this post.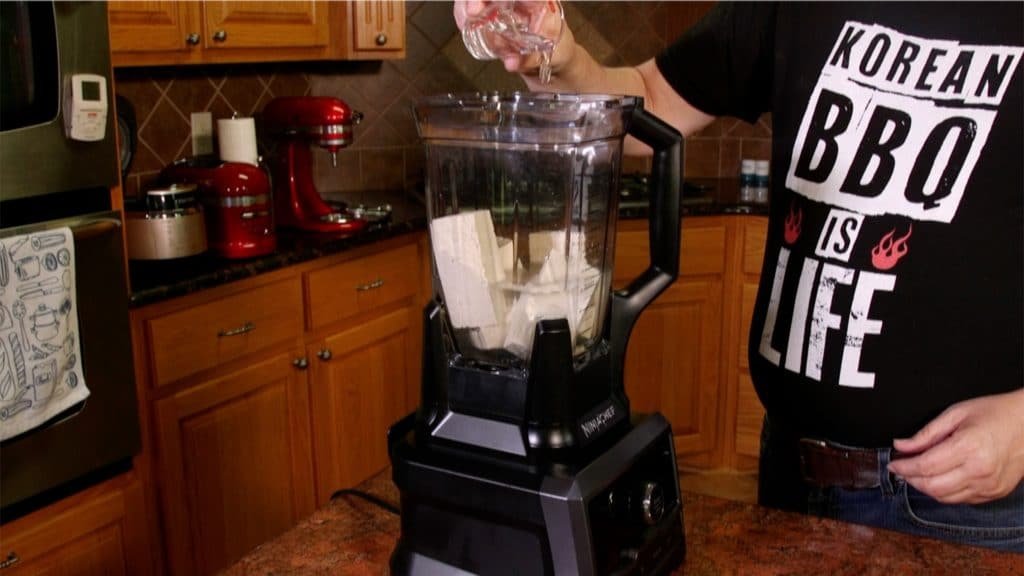 Let's get started with the wet ingredients. Place one pound of Firm tofu and 2 1/4 cups of water in a blender. Blend until smooth. Pour into a bowl and add two Tablespoons of a neutral-flavored oil like expeller pressed safflower. The oil acts as a lubricant to help make the seitan shreddable—two Tablespoons of apple cider vinegar. The vinegar helps with the slightly funny taste of vital wheat gluten. Mix add set aside.
Time for the dry ingredients. To one pound of vital wheat gluten, add three Tablespoons Vegan chicken bouillon, 1/2 teaspoon salt, and 1/2 teaspoon granulated garlic. Give these a mix, then add the wet ingredients. Mix to combine. Do not be afraid of adding seasonings. Experiment with mushroom powder etc., but I stay away from dried herbs. They do add flavor but look funny in the final product.
After mixing everything, cover your bowl with a towel and rest for one hour. This step will help to relax the gluten.
After one hour place, the dough ball into the stand mixer with the paddle attached. If you do not have a mixer, you can knead by hand. Or you can do small batches in a food processor.
With the stand mixer, knead for one minute on speed 1 or 2. After one minute stop, the mixer pulls the ball off the paddle, flip it over then mix for another minute. Do this until the dough is very stretchable. It took me five minutes.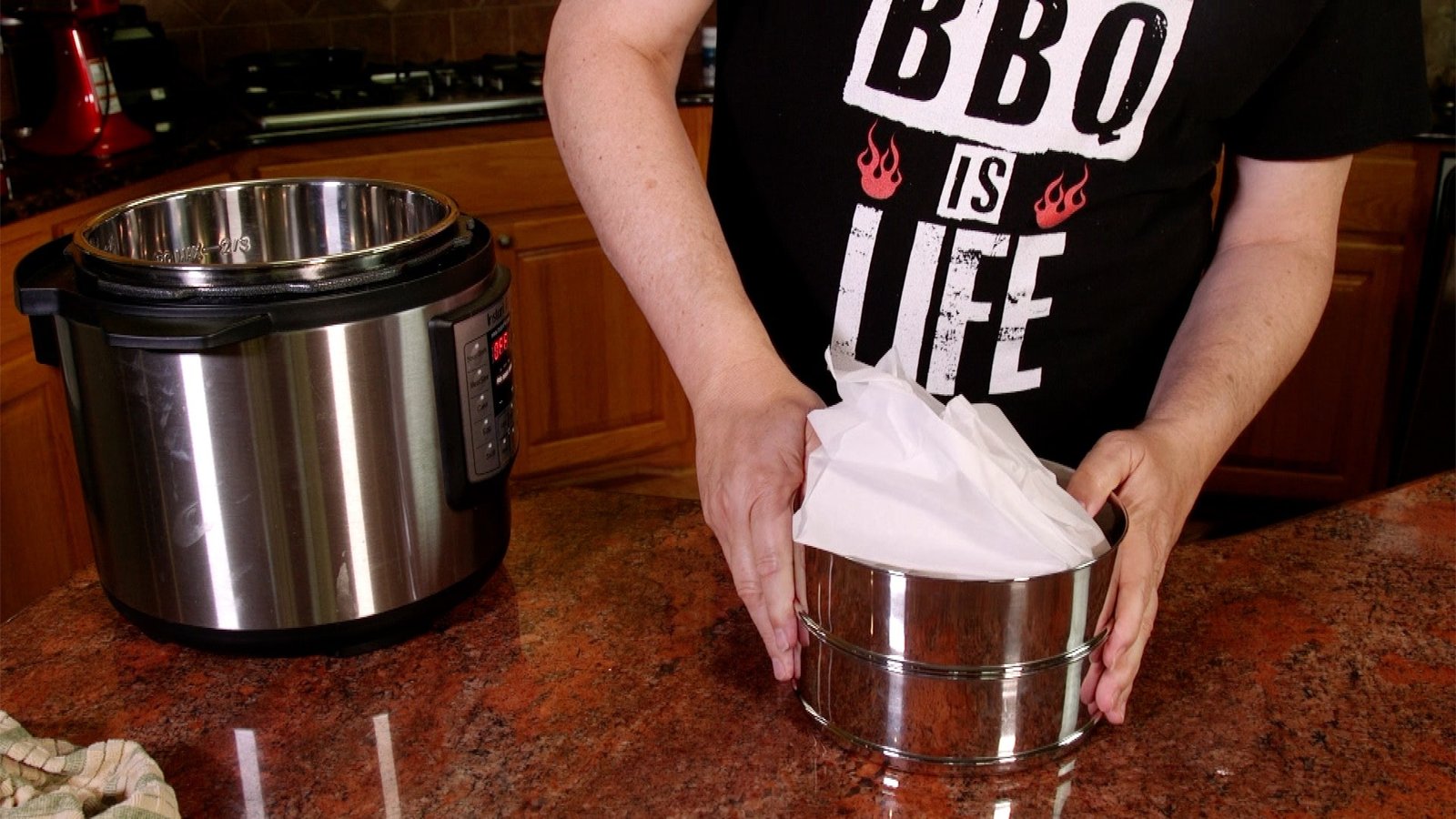 I have stackable steamer baskets for my Instant Pot. They work great for steaming the seitan. I divided the dough into two balls. Lined each basket with parchment paper, then added one dough ball to each basket. Locked them together and placed them in the Instant Pot with 1 1/2 cup of water. Set the Instant Pot to steam and the timer for two hours. After two hours, allowed the Instant Pot to natural release for twenty minutes.
After removing the seitan, allow it to cool, then shred to your desired size. This produced just over three pounds of "wheat meat." I divided it into eight-ounce portions. Some of which went into the freezer to use in future recipes. For best results, seitan stored in the freezer should be used within six months. Some of it also went into the refrigerator. Any seitan stored in the refrigerator should be used within three days.
Ingredients
Wet
2.25

Cup

Water

1

Pound

Tofu

Firm

2

Tablespoons

Oil

Neutral Flavor

2

Tablespoons

Apple Cider Vinegar
Dry
1

Pound

vital wheat gluten

3

Tablespoons

chicken bouillon

Vegan

1/2

teaspoon

salt

1/2

teaspoon

granulated garlic
Instructions
Place one pound of Firm tofu with 2 1/4 cups of water in a blender. Blend until smooth. Pour into a bowl and add two Tablespoons of a neutral flavored oil. Two Tablespoons of apple cider vinegar. Mix add set aside.

To one pound of vital wheat gluten add three Tablespoons Vegan chicken bouillon, 1/2 teaspoon salt and 1/2 teaspoon granulated garlic. Give these a mix then add the wet ingredients. Mix to combine. We are not ready to knead. Let the mix rest for one hour covered with a towel.

After one hour place the dough ball into the stand mixer with the paddle attached. With the stand mixer knead for one minute on speed 1 or 2. After one minute stop the mixer pull the ball off the paddle, flip it over then mix for another minute. Do this until the dough is very stretchable.

Divide the dough into two balls. Line two steamer baskets with parchment paper then added one dough ball to each basket. Lock them together and place in the Instant Pot with 1 1/2 cup of water. Set it to steam for two hours. After two hours allow the Instant Pot to natural release for twenty minutes.

After removing the seitan allow it to cool then shred to the desired size
Video
Nutrition
Calories:
387
kcal
|
Carbohydrates:
12
g
|
Protein:
64
g
|
Fat:
9
g
|
Saturated Fat:
1
g
|
Sodium:
251
mg
|
Potassium:
76
mg
|
Fiber:
1
g
|
Sugar:
1
g
|
Calcium:
202
mg
|
Iron:
4.8
mg